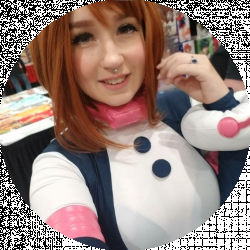 Latest posts by Katrina Dent
(see all)
Content creators come in all shapes and sizes, and it isn't hard to see why people are attracted to costuming. To be a cosplayer, you need a variety of skills: sewing, prop making, makeup, wig styling, casting, metalworking, and more. If you plan to live off your cosplay hobby, you'll even need some marketing know-how, public speaking skills, confidence, and a business mindset.
If you're a gamer, chances are you've seen or heard of several famous streamers who got their start as cosplayers. Amouranth, Emiru, and Pokimane have all either dabbled in the video game cosplay scene or wore costumes full time or during their Twitch live streams for their audiences.
The cosplay video game community is so popular and creative that many creators have made their original characters or OCs. There are endless things you can make with cosplay!
In this guide, we'll look at the best video game cosplay ideas for you to try. I separated each cosplay into 4 sections: easy, medium, hard, and harder than hard to help you decide.
Bottom Line Up Front
Our cosplay list has a selection of easy, medium, hard, and harder than hard cosplays. I recommend starting with the easy cosplays if you're a beginner, but if you love challenges, try our "harder than hard" section. These cosplays are only for true veteran sewers and prop makers.
What to Consider Before Choosing a Video Game Cosplay
If you're still new to the cosplay scene, you may find it challenging to pick a character. Whether you have no clue where to start or you're stalled by too many decisions, here's what to consider.
Cosplay Costs vs Time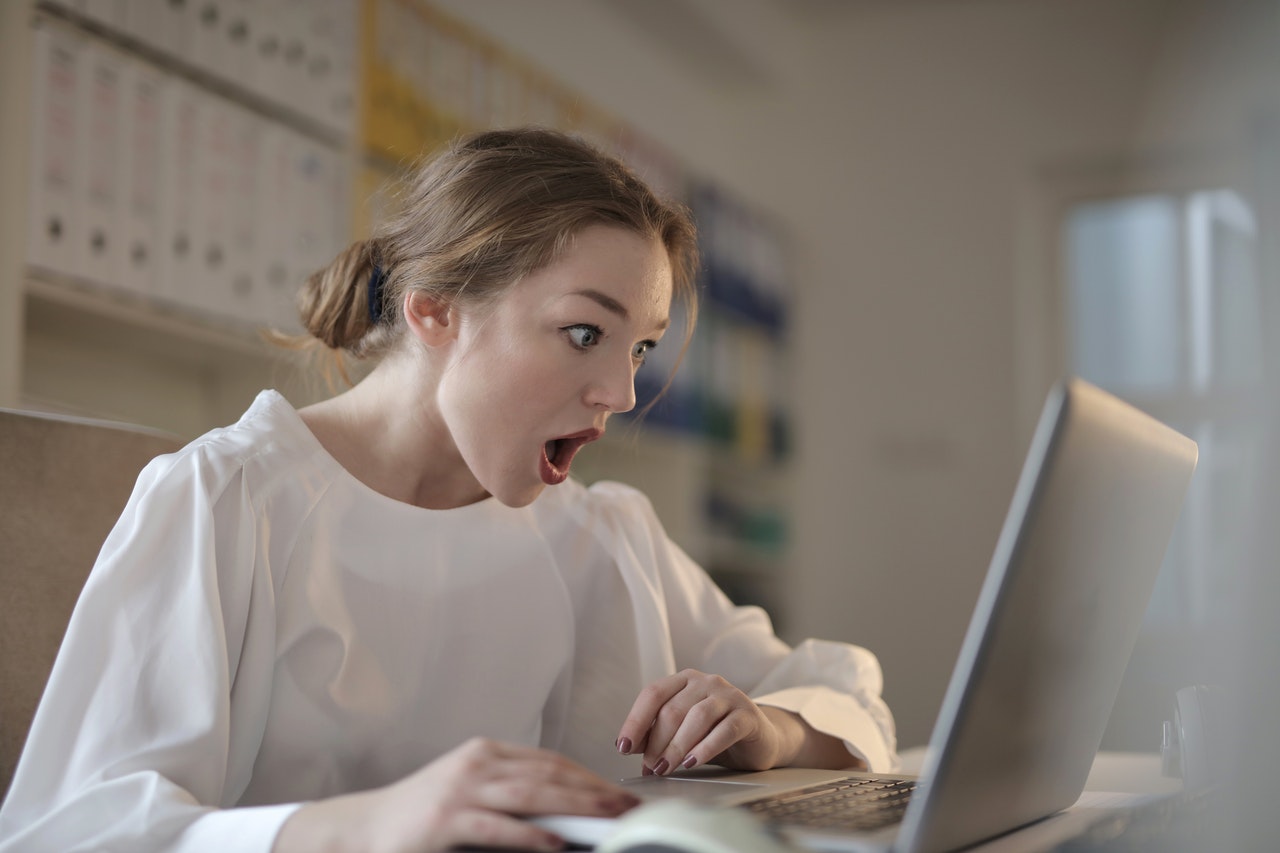 You can probably tell just by looking at a cosplay that it will be difficult, expensive, or time-consuming to pull off. When it comes to any project, you have to consider if you have enough time to create a cosplay. If you don't, consider if you can pay someone else to make it.
When obtaining your cosplay, you'll usually choose one or a combination of the following:
DIY or Make it Yourself

Buying Wholesale

Buying Second Hand

Paying for Commission

Closet Cosplay
All of these methods range in difficulty, time, and cost. For example, a DIY costume could be the cheapest option but takes up the most amount of your time. On the other hand, paying for a commission will be the most expensive. Here's a chart you'll need to help you decide:
Method
Cost
Time
Difficulty
Pros
Cons
DIY

L-H

M-H

M-H

Create whatever you want, when you want.

Making cosplay is fun.

Teaches you skills.

Can participate in contests or masquerades.

A high level of time and skill is needed.

High upfront cost for tools and supplies.

May discourage new cosplayers (but don't give up!).

Wholesale

M

L

L

Medium costs.

Pre-made costumes are easy to resell.

Refunds/exchanges.

Can't participate in contests or masquerades. 

You'll blend in.

Moderate quality.

Second Hand

L

L

L

Super convenient.

Environmentally friendly.

Low cost.

Short on options.

Can't control the condition of the costume.

Sells out quickly.

Commission

VH

L

L

Endless options.

100% yours.

No skill involved, but you get a great piece.

Very expensive.

You may not receive the quality you're expecting.

No refunds and a higher risk of being scammed.

Closet

VL

L-M

L-M

Very cheap if you know where to shop or have cosplay stuff lying around.

Basics can be hard to find. 

Cosplay won't be 100% accurate. 

Closet cosplays aren't optional for every costume.
Key: VL= Very Low L = Low, M = Medium, H = High, VH = Very High
Remember that you can save time and money by combining these methods. For example, if you aren't comfortable making boots, you can get a shoemaker to do it for you. If you bought a costume second-hand, but you're missing an undershirt, you can find one at a thrift store.
Cosplay Skill
I talked about skill briefly in the last section, but cosplay skill goes beyond costuming (although it is included). There's a lot that goes into completing a costume. From sewing to creating foam weapons to doing your makeup, there's definite artistry to cosplaying.
Like our "Cosplay Costs vs Time" section, you need to weigh the pros and cons of each cosplay. Do you need to draw on intricate makeup, or is a mask sufficient? Do you have small parts on your costume, like scales, that you need to cut, build, and paint over and over again?
Keep in mind that I'm not talking about quality. If you want to spend a lot of time on the product, then it's bound to look better, but some costumes just take longer than others.
Cosplay Purpose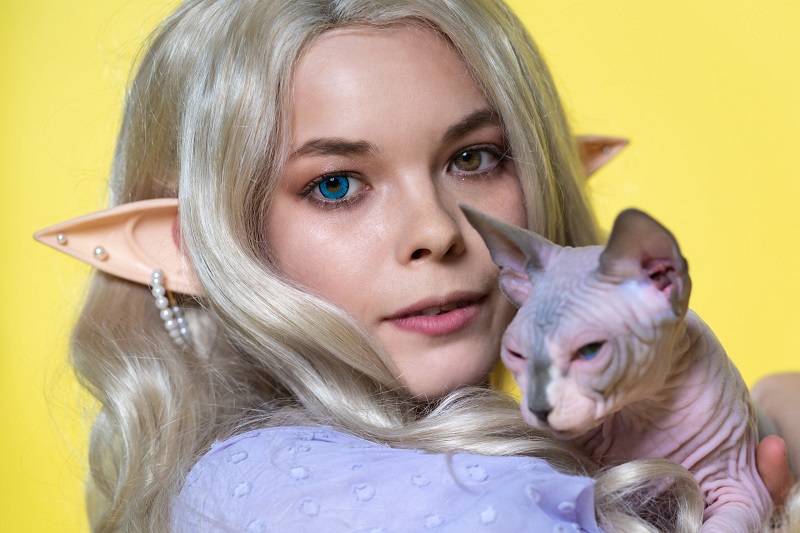 Most cosplayers participate in the art of cosplay for photoshoots, conventions, or competitions. 
Photoshoot cosplays don't have to be exact, but nearly there, because the photo editor will take care of the rest. Convention cosplays are easy to walk in and depend on the season. Cosplays made for competitions are accurate, precise, and usually clunky, but you'll change out of them.
I can't tell you how many times I thought I could last the whole day in a competition worth cosplay, only to regret it when I couldn't change out of it. Looking cool is a perk of all your hard work, but it's better to change and enjoy the con instead of being in pain.
Cosplay Comfort
Your cosplay's purpose will go a long way to help you feel comfortable at a con, but other factors could ruin your convention experience. Here are some examples:
Cosplay Temperature:

It's a good idea to wear your heavy costumes in the winter and light cosplays in the summer. The convention can get hot regardless, but if you dress for the weather, you're less likely to sweat and ruin your body paint or stain your costume.

Cosplay Assistance:

Do you need help getting around the convention? Are you wearing something that obscures your vision? Are you hitting people with your props while walking through the halls? If you need assistance to get around the con, that's a sign you shouldn't walk around in it all day. Leave it for photoshoots or competitions.

Bathroom Accessibility:

If it takes more than 5 minutes for you to comfortably go to the bathroom, don't wear it at the con. Don't commit to holding it either; it isn't healthy!

Convention Transportation:

How you get to the event determines if you can take it to a convention. For local events, you're usually fine, but If you're traveling via airplane for a con, you'll need items that can be laid flat or are unlikely to break during transport.
The logistics of cosplay can be just as important as making it, as we'll see in the next section.
Cosplay Convention Weapon Rules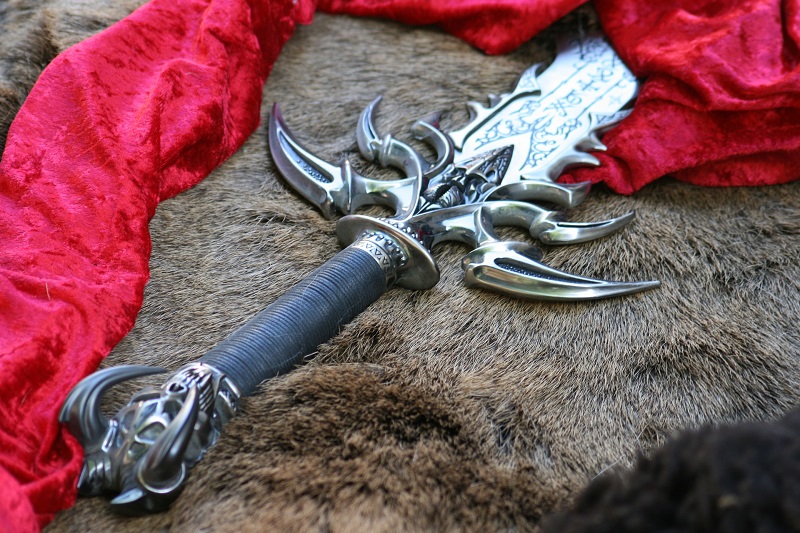 Conventions have their own set of rules that could prevent you from wearing your costume. One that will affect video game cosplayers is weapon rules. Every convention has its own rules regarding weapons. Sometimes you have to unstring a bow, take the tips off your arrows, put an orange tip on your prop gun, or reduce the size of your weapon or prop completely.
There are even conventions that don't let you bring props at all. Make sure you research your con rules before deciding on a cosplay. If you're making cosplay for a photoshoot, then this rule doesn't apply, but just know that cons won't let you compete if you don't follow weapon rules.
Cosplay Character Attachment
Cosplaying as a character you're proud of can make a big difference. While you may feel like cosplay has to be more than a hobby, remember that it doesn't have to be more than that. 
Cosplay is about sharing your passions and nerdom; it doesn't have to be competition unless you want it to be. Cosplaying as characters you like can be a great first step for beginners, but it's also a strategy veterans use. That's because it's easy to find the motivation to create.
If you got to this point and you're still not sure who to cosplay, make a list of all the characters you admire. Then, start at the top of the list and see which costumes are accessible to you.
Selection Criteria
For a cosplay to appear on the list below, it must follow the following criteria:
The cosplay has to be from a video game franchise.

If the character wasn't initially from a video game but appears in a video game, the cosplay counts as a "video game cosplay" as long as the costume was introduced in a video game. 

If a character was introduced in a video game, but one of their costumes or outfits appeared in another medium other than a video game, it counts as a "video game cosplay" because the role as a "video game character" takes precedent.

The cosplay has to be available or accessible in the easy-medium tiers.

The cosplay has to be difficult and requires some level of complex DIY in the hard or harder than hard tiers. 
In our next section, we'll look at the best video game cosplay ideas for newbies and experts.
Our Selections: The Best Video Game Cosplay Ideas
In this article, I'll be separating cosplays based on their difficulty. Beginner cosplayers should choose a costume from the "Easy" level, intermediate cosplayers should choose from "Medium," and experts can choose from the "Hard" section. For those who love a challenge or you're a veteran who only plays on the hardest difficulty, scroll down to the "harder than hard" section.
Easy Mode: 5 Video Game Cosplays
Welcome to the first difficulty, easy mode! Whether you're a beginner trying out this hobby for the first time or a veteran who wants to take a break, you'll love the following cosplays. 
2B – NieR: Automata
Although cosplaying 2B from NieR: Automata looks like a difficult task, she's one of the easiest cosplays to find on the web. Our 2B Cosplay Outfit and Ideas guide looks at this costume more in-depth, but before you go, let's examine why 2B is easy to do beyond the dress and stockings.
First off, 2B barely wears any makeup. If you purchase a see-through black cloth and place it across your eyes, all that's left is foundation and lipstick. Due to the popularity of the character, dozens of websites sell high-quality NieR: Automata cosplays for less than $100.
B.J. Blazkowicz – Wolfenstein 2: The New Colossus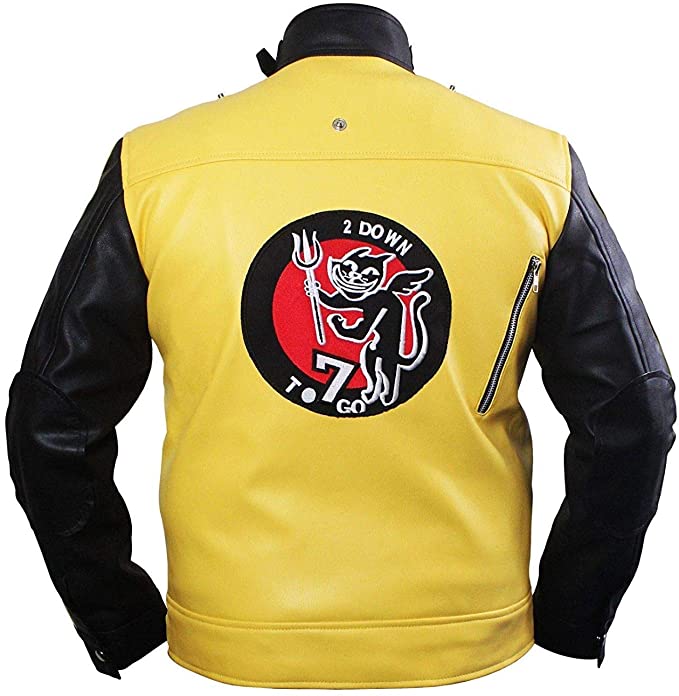 B.J. Blazkowicz from the Wolfenstein franchise is an incredibly easy cosplay, especially if you already have blonde hair. All you'll need to cosplay the Wolfenstein 2 costume is a yellow and black motorcycle jacket, a yellow shirt, black cargo pants, a chain choker, and combat boots.
His pieces are easy to find in thrift stores. You can even get a replica version on Amazon (Bethesda no longer sells the legitimate jacket) that actually looks pretty warm. After showing off your cosplay, you'll still get a lot of use out of your B.J. Blazkowicz costume, which is a plus.

As one of our favorites from our Overwatch Cosplay Costume Ideas list, Cole Cassidy is one of those cosplays that could be incredibly hard or beyond easy. For easy cosplay, choose his traditional cowboy look. I recommend waiting until Halloween to get this costume together.
No matter what costume shop you go to, you'll find a cowboy costume, a red cape, and a revolver. The only part of this cosplay that may be difficult is his robotic arm. But, this incredible step-by-step tutorial from OhBuckle makes it look simple, except it is pretty simple!
Continue reading related Overwatch cosplay outfit guides and ideas:
Chloe Price – Life is Strange
Do you have a tank top, some skinny jeans, and a beanie? Well, have I got a cosplay for you! Chloe Price is a godsend to beginner cosplayers who want to join in on the fun but don't have a lot of money. You likely have all of her wardrobe items in your closet, no matter the gender.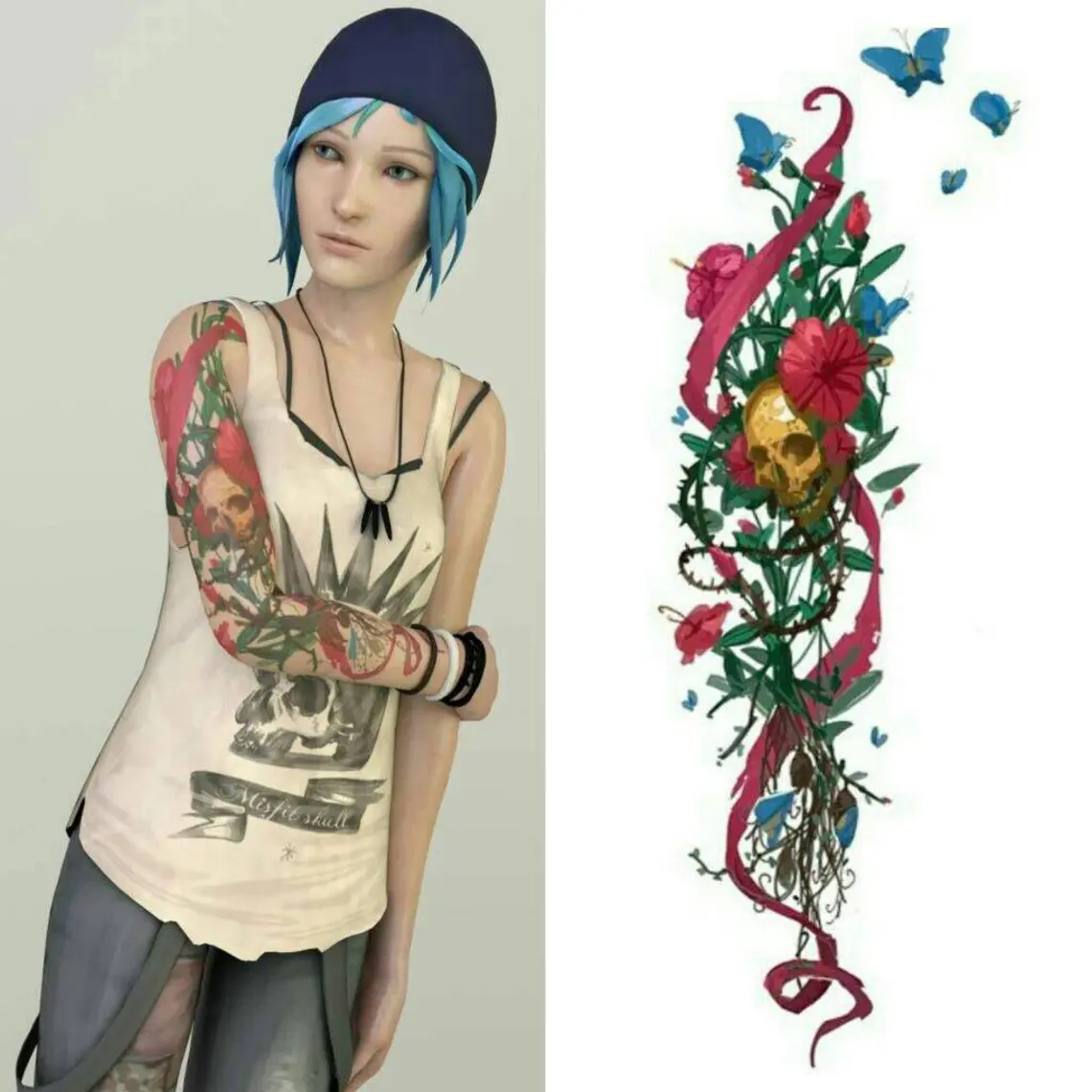 To top it off, your wig or dye job doesn't even have to be great because you're putting it all under a hat. To finish off the look, you'll need a bullet casing necklace, suspenders, and heeled combat boots. You can even get Chloe's tattoo by shopping at TATTOOSBYFRENZYFLARE.
Fortnite Heros – Fortnite
There isn't a gamer alive that doesn't know what Fornite is. Whether you love it or hate it, Fortnite characters are accessible to beginner cosplayers because none of them require armor, prosthetics, or any other complex elements. I bet you could find a Fortnite cosplay at Walmart.
Even if you don't, you can still wear your basketball shoes, skinny jeans, a belted harness, jacket, scarf, and beanie. You could even color your hair differently or grow your beard out. As long as you have a gun, sword, and some contrasting color, people will know who you are.
Continue reading related Fortnite cosplay guides and ideas:
Medium Difficulty: 5 Video Game Cosplays
Welcome to the second mode, medium difficulty! If you've already made a few cosplays or you're a competent sewer, makeup artist, wig maker, etc., I recommend the following.
Finding a decent Princess Peach cosplay won't be difficult on wholesale sites. At the same time, you can easily look up a pattern for her dress. While you will need some decent sewing skills to make the dress look great, you won't need to do much else in the prop-making department. 
Since Princess Peach is a popular character, her crown, gloves, and broach are sold at Walmart. But if you want to create them yourself, you can use foam, paint, and fake jewels sold at Party City or Amazon. Styling the wig is an easy task because her hair is pretty cartoonish. 

Nurse – Silent Hill Franchise
While the cosplay itself isn't complicated, it's hard to find a decent pre-made costume online. To make the Silent Hill Nurse especially creepy, you'll need a lot of fake blood, bandages, and a knife that doesn't look too much like a weapon. Otherwise, you won't be allowed in conventions.
The short, skirted nurse's smock is easy to track down. I've known a lot of cosplayers who use T-shirt dresses or long button-up shirts. For the bandages, use gauze and either wrap it around your head (if it's see-through enough) or around a skin-tight mask you can remove.
Mortal Kombat Sub Zero Adult Costume | Amazon
Enter the world of mortal combat with this authentic licensed costume from rubies, a world leader in the creation of costumes, makeup and accessories.
Buy at Amazon
We earn a commission if you make a purchase, at no additional cost to you.
08/02/2023 10:34 pm GMT

Sub-Zero is a classic character in the Mortal Kombat franchise that's simple and fun to cosplay. Several Halloween stores carry his outfit, but they don't look that great. If you want to make this cosplay yourself, use foam for the shins, gauntlets, mask, and rectangular chest piece.
The undershirt and pants can be found at thrift or retail stores. For the tunic, just take a strip of fabric and attach it to your belt. Your shoes can just be black because you're putting the shin guards over them. In the end, this cosplay will probably take you a week to complete.
Continue reading related Mortal Kombat Cosplay guides and ideas:
Link – Legend of Zelda: Breath of the Wild
The Breath of the Wild Link costume was a favorite choice in our Best Zelda Cosplay Outfit Ideas article and for a good reason. The pre-made, Miccostumes cosplay is pretty high quality for the price. Plus, this costume will help you stand out from a sea of classic green tunic Links.
Still, even the Miccostume Link outfit suffers from quality issues and doesn't include boots. I recommend sewing the tunic yourself and buying pants from a thrift store. The belts, shield, sword, gauntlets, Sheikah slate, bow and arrows, and hooded cape can be purchased for cheap.
Travelers – Journey
I always appreciate cosplays that don't require any wigs or makeup. Not only are they simple to create, but they give you a much-needed break after spending so much time on your other costumes. The Travelers from Journey are the perfect mix of creative, fun, and easy to pull off.
You're unlikely to find a pre-made costume at this point, so you'll have to find a pattern. Here's a great one from sewer Turnonred. They offer super detailed instructions for how to put the intricate patterns in the cloak. Plus, the sewer designed the mask so you can see out of it.
Hard Mode: 5 Video Game Cosplays
Welcome to the third difficulty, hard mode! At this point, you have a lot of skill, and you're looking to put your artistry to the test. Here are a few ideas for your next contest-worthy cosplay.
Toriel – Undertale
Toriel's dress belongs in the easy section, whereas her mask and presentation belong in hard. Let's start with the dress. Find a purple maxi dress at a thrift store, cut off the arms, and sew the blue section by hand if you aren't good with a sewing machine. Then, add the flowing arms.
Since Toriel has furry hands and feet, purchase gloves and shoes that you can sew fake fur onto. The mask should be custom-made with liquid latex. Although you will need to wash it off after (you can't preserve the mask), it'll blend better into your face than a hard mask would.
Rost – Horizon Zero Dawn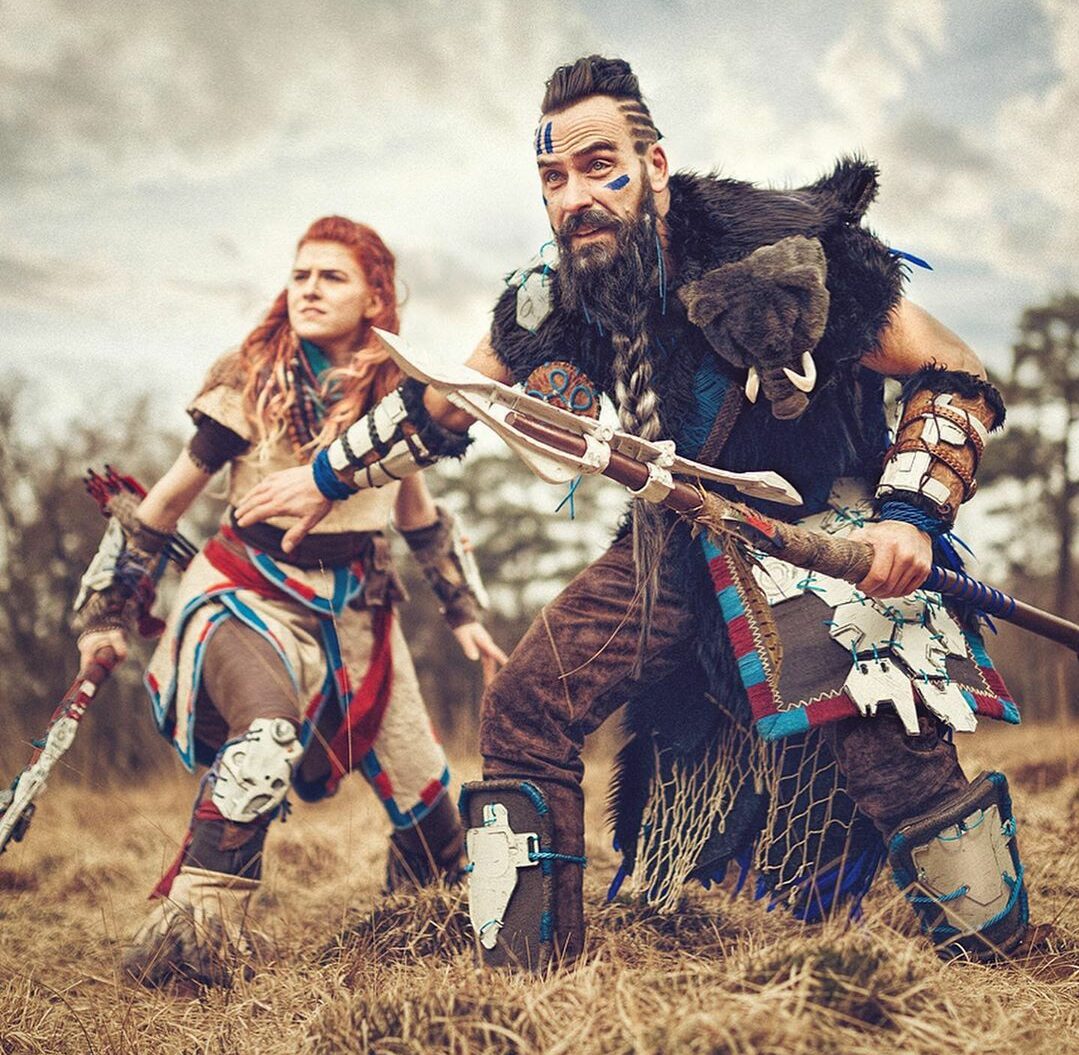 It's pretty common to see cosplays of Aloy from Horizon Zero Dawn, but Rost isn't worn as much. I can't help but ask why, as the cosplayer, Demateraliz looks incredible as Aloy's father. Just the detail on his beard alone is enough to make this costume one of the best around.
To make Rost, you'll need a lot of furs. I recommend going to a thrift store for some cheap fur coats. If you buy once that's big enough, you'll be able to rip it apart and sew it to a sash. The small intricate metal pieces can be created by hand or by a 3D printer with the right pattern.
Liara – Mass Effect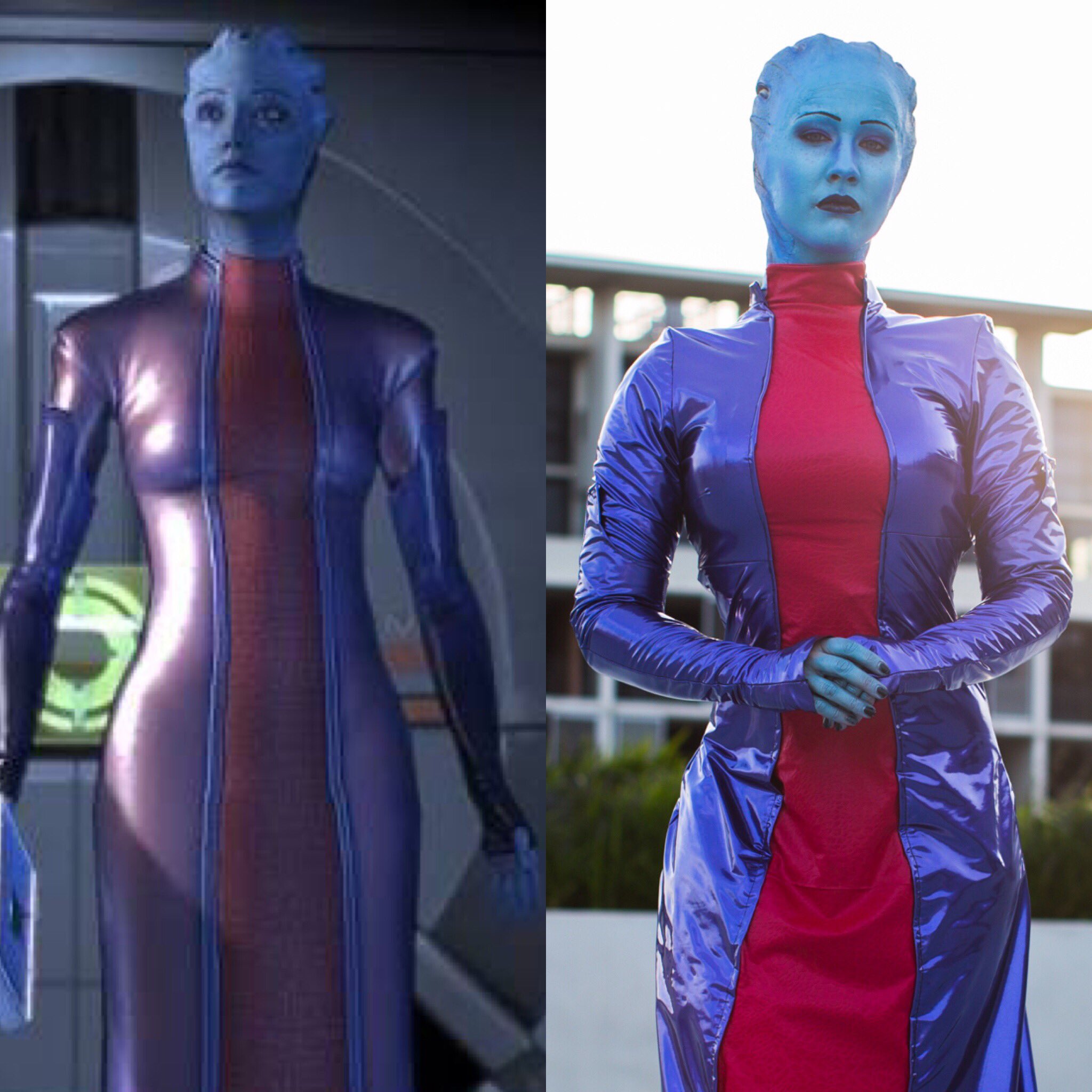 A Liara cosplay is more than just a bodysuit; you need to cast a hair/tentacle mold on the back of your head to make the costume look legitimate. On top of that, you'll need superior makeup skills to create blue skin, black lips and eyebrows, and dark blue freckles.
By looking at Soylent Cosplay's photos, you can tell a lot of work went into the bald cap prosthetic. But she doesn't stop there. Her Liara cosplay includes several outfits, all handmade. If you can get past weapons check, I recommend pairing the costume with a Banshee.
9 Toes – Borderlands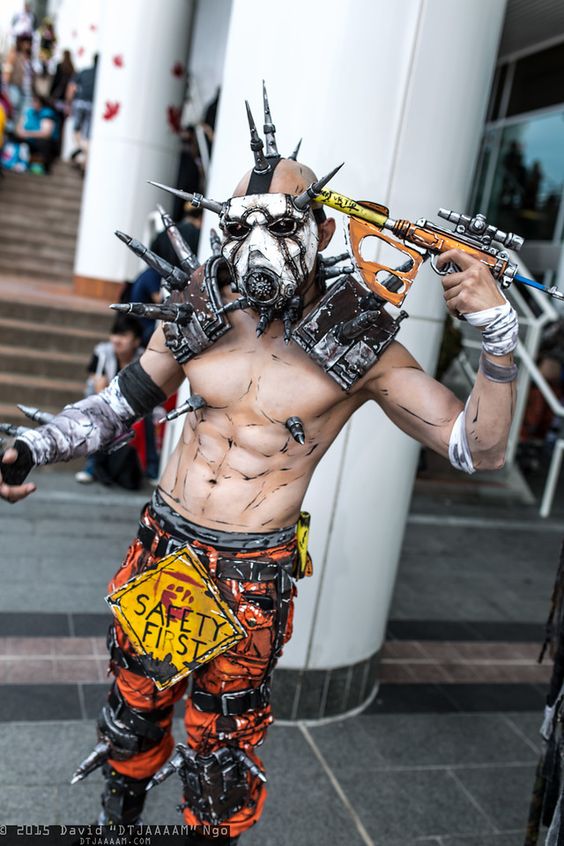 The lovable 9 Toes from Borderlands may not look that hard to cosplay just by looking at him. But I'd say it would be hard to walk around a convention without a shirt. In all seriousness, you do need to draw intricate patterns on your boxers, pants, and body that mimic comic book lines.
The more you look at the cosplay, the more you realize how much work it took to make everything work. From the gun to the mask to the shoulder pads and knee pads (and let's not forget the strategically placed "SAFETY FIRST" sign), this cosplayer looks right out of the game.
Related read: Best Borderlands Cosplay Outfit Ideas.
Hunter – Destiny
In Destiny, your Hunter is completely customizable. That can make cosplaying one a real blast because you don't have to look like anyone specific. However, if you want to cosplay someone specific from the game, you could choose Cayde-6, Mara Sov, Shaxx, or Uldren Sov.
If you don't know where to start with this cosplay, go to Indestables.com and check out SKS Props' unique armor build. He walks you through step-by-step in his process of building the base mask, adding the details, modeling, and casting, and finally, painting and weathering. 
Here's our complete Destiny 2 Hunter Cosplay Ideas
Harder Than Hard Difficulty: 5 Video Game Cosplays
Welcome to the final mode, harder than hard difficulty! You're a cosplay master and want to try your hand at the hardest costume pieces around. I dare you to make the following cosplay.
William Birkin – Resident Evil 2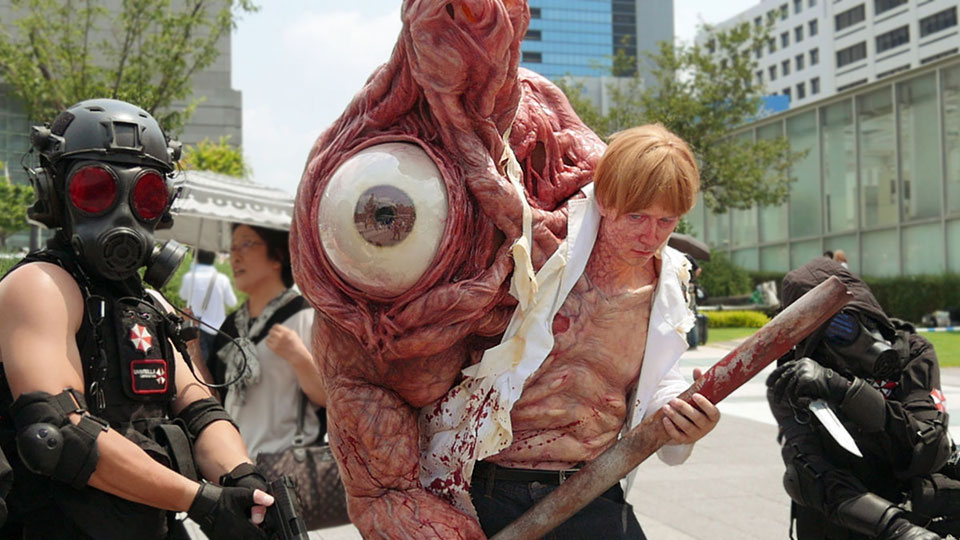 The beloved Resident Evil franchise has several easy-hard cosplays, like Leon S. Kennedy, Claire Redfield, and Ada Wong. But you can't get much harder than William Birkin (unless you try Nemesis, but good luck)! Creating his mangled arm is sure to take you several hours.
This mutated form of William Birkin, appearing in Resident Evil 2, occurred due to the effects of the G-Virus. While Mutated Birkin only appears in one game (not counting spin-offs), he's made a big impression on the fan base, including costume creator Gai, who expertly cosplayed him.
Samus Aran – Metroid Franchise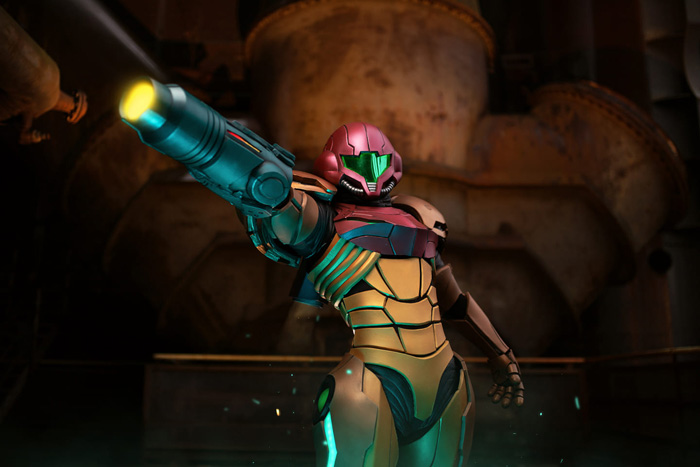 Becoming Samus Aran when she's only in her blue bodysuit is pretty simple, but making her power armor is a whole other story. Not only is it impossible to buy the suit (unless you're getting it commissioned), but you also need to make the armor flexible, so you can walk in it.
As an expert-level cosplay, you'll need a wide set of skills to pull this off. From pattern-making to prop design to painting, you shouldn't try to make this costume until you're sure you're up to the task. We offer some incredible tips on how to create this suit in our Samus Cosplay Guide.
Raiden – Metal Gear Rising
Raiden, real name Jack, had a rocky start with the male Metal Gear fan base when he appeared in MGS2 instead of Snake. Universally loved by female fans (and it isn't hard to see why), he's gained a cult following since MGS2, but his popularity no doubt peaked in Metal Gear Rising. 
Sure, Rising's Raiden looks cool, but he's nearly impossible to cosplay. Shiori Raiden spent a lot of work on the armor, faceplate, wig, and sword. If you want to take a shot at this cosplay, you'll need to dedicate several weeks, likely months, to his whole get-up.
Sarah Kerrigan – Starcraft 2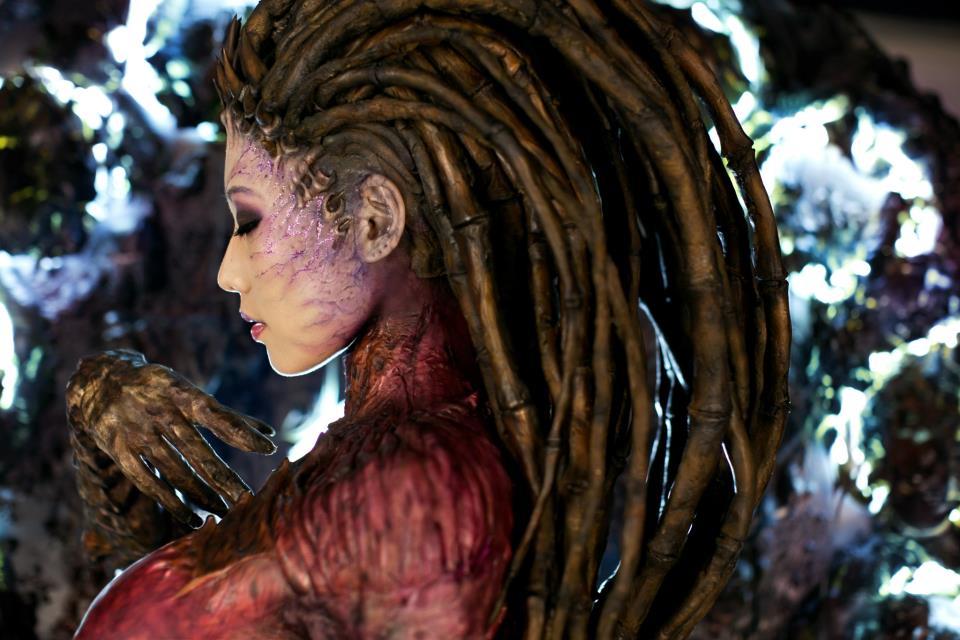 The level of detail on Tasha Cosplay's Sarah Kerrigan is so intense that it's rumored it took several artists and 4 hours of work to get her looking like that. If a single person decided to try on this cosplay, it would take them all day. There's no doubt this costume has won contests.
It's hard to imagine how long this cosplay must have taken to make, but it likely beats Raiden. You won't be able to find any of her pieces, so everything must be made from scratch and painted onto your body. Just the wig alone probably took the artist months to create.
Brotherhood of Steel Member – Fallout Franchise
The Brotherhood of Steel is a paramilitary organization that seeks to preserve and regulate pre-war technology in the Fallout franchise's wasteland. In several of the Fallout games, you can choose to align with or against this organization and/or pick up and wear their armor.
If you want to get this armor in real life, you'll have to be pretty crafty. Bethesda often sells the helmet, but you'll have to make everything else out of foam. Most custom builds of this armor are difficult to get in and out of, so you may want to save this costume for photoshoots.
FAQ: Frequently Asked Questions
Question: What Should I Do for my First Cosplay?
Answer: For your first cosplay, you should choose a character you connect with. You'll have more fun cosplaying a video game character that you love. It's a good idea to start small, not because you're afraid of the costume not looking good, but because it'll take you longer to execute your cosplay. Try a cosplay from our beginner section first, then keep growing. 
Question: Can I Cosplay Without a Wig?
Answer: There are a lot of cosplayers that don't wear wigs because they're heavy or itchy. Remember that cosplay isn't a contest (unless you enter one!), so your costume doesn't have to be exact. If you can put your hair in a similar style to the character without wearing a wig, that's awesome! Plus, there are non-permanent dyes you can use if you need an unnatural hair color.
Question: What is the Most Popular Video Game Cosplay?
Answer: Harley Quinn and 2B are probably the most popular video game cosplays you'll find at cons. While it's true that Harley Quinn was originally from Batman: The Animated Series, she does have several outfits that first appear or only appear in video games. For example, Harley Quinn's outfit from the Batman: Arkham Asylum video game was initially unique to the game.
Conclusion
Is cosplaying more fun than playing video games? That's up to your preference, but if you love to play games and wear costumes, creating and wearing video game cosplay is the perfect hobby for you. I'm sure that any one of my suggestions will get you excited for the next con.
A word of advice: Don't get discouraged if your first cosplay doesn't turn out as you expected. Unless you're a sewer or prop maker in your free time, it's unlikely that you'll be great at this hobby right away, and that's okay! Remember that every famous cosplayer started as a beginner. Keep practicing, and your next video game cosplay will be even better!
I recommend checking out our "The Best Manga Cosplay Ideas and Guide to Making Them," "Anime Cosplay Ideas Guide: Which is Right for the Occasion?" and "Movie Cosplay Ideas Guide: The Art of Imitating Art" articles for more cosplay ideas.
Continue reading related video game cosplay ideas and guides: