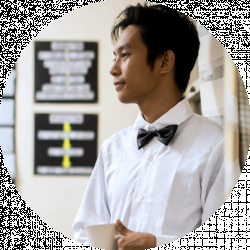 Latest posts by Arthur Monteclar
(see all)
Every 90s kid has probably played Mortal Kombat at least once. It has become one of the most popular fighting games of the generation. Nearly three decades later, it continues to be one of the most enjoyable fighting games around. Because of its popularity, the game has spawned a number of sequels and even movie adaptations to date.
With a variety of characters to choose from, it is hard to pick your favorites. But one character that stands out is Mileena. She was first introduced in Mortal Kombat II, the second installment of the game, in 1993. Her character is now a widely recognized pillar of the Mortal Kombat franchise.
Whether you are looking for an interesting character to cosplay or checking on different Mileena cosplay costume and outfit ideas on how to portray the role of Mileena best, this comprehensive guide is for you. In this guide, you will learn different DIY tips and tricks in making a Mileena costume. 
More than that, you will also have fun learning her backstory while digging an incredible makeup look! So, if you plan to make her costume for your next cosplay event or master her moves and mannerisms, we've got you covered.
Mileena: Background, Appearance, Quotes, and More
Background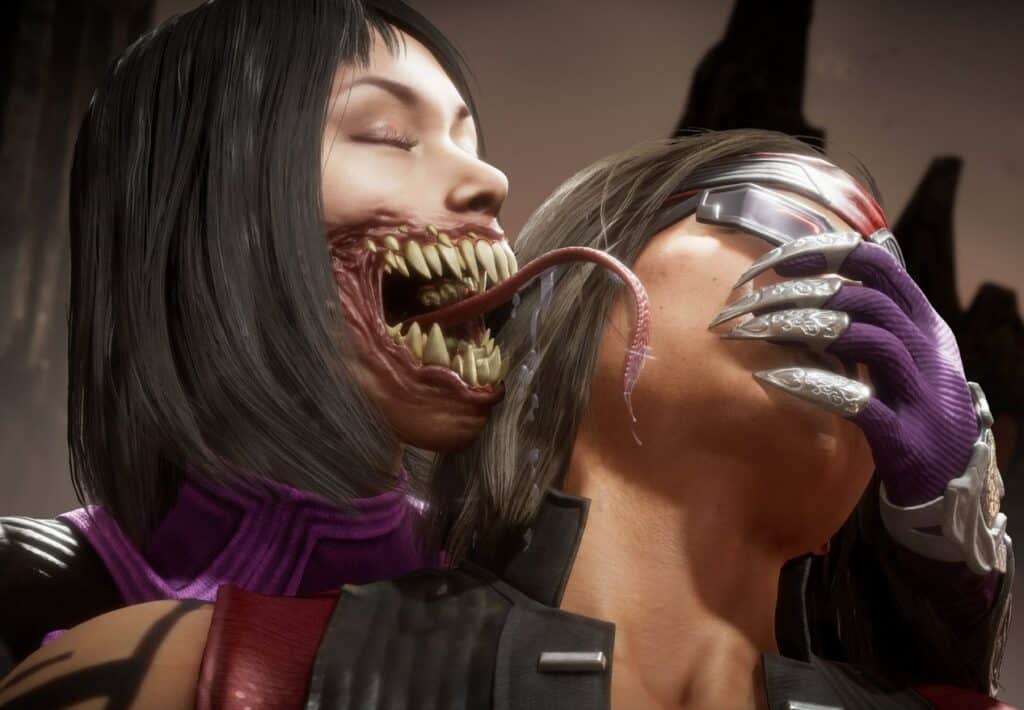 Interestingly, Mileena was created as a palette swap of Princess Kitana, one of the OG playable characters of the Mortal Kombat universe. However, her signature fighting moves and character origin are quite different from Kitana's. 
As the story advances, it is revealed that Mileena is Kitana's twin sister and arch-nemesis; her uniquely devilish smile gives more depth to her antagonistic nature. She was created by Shao Kahn, their stepfather and the emperor of the outworld. 
As Kitana's evil and twisted clone, she is a talented assassin that mirrors her twin's powers and abilities — with a twist of cannibalistic urges. Her facial features are unlike her sister's; she has deformed facial features like a Tarkatan. She hides this with a sheer veil throughout most of the series. She also has a love interest, a Tarkatan warrior, Baraka. 
Being a power-hungry villain, Mileena has bursts of general psychotic episodes highlighting her conflicting motivations too. This is probably one of the many reasons why she was just moderately accepted by avid MK players. 
Despite all these, she has appeared in different installments of the game and even served at a boss level. 
Appearance
It is without a doubt that Mileena is an incredibly beautiful and seductive character. But hiding behind her veil/mask is a terrifying Tarkatan-like mouth. Ironically, she wears bright shades of magenta pink, which usually promotes compassion, kindness, and cooperation. 
Her very first attire was a simple magenta leotard suit like Kitana's. It was nothing like her present outfits. Through the different installments of the game, her clothes became more revealing and provocative.
In Mortal Kombat: Deception, she wore a sheer veil, slightly exposing her mouth underneath. She does not disappoint in portraying the role of a villainous seductress. Her clothes were merely a long black robe covering her arms, revealing her chest and midriff. To finish off the look, she accessorized it with a black belt and boots.
She also dons a sexy outfit in her MK9 costume. You can see her in a similar revealing one-piece, just like her Deception outfit. But instead of wearing black boots, she puts on pink high-heeled boots along with a pink mask.
Yet what's surprising is her Mortal Kombat X costume. Who would have thought that Mileena would wear pants? Well, you have read that right! She wore a less revealing outfit: a sleek magenta armor-like corset top and sleek black pants and an iconic waist accessory.
Despite her seductive look and revealing character, Mileena has garnered many fans' appreciation for her unique appearance and personality. In fact, she is among the top MK characters featured in various media outside of the game.
Powers and Abilities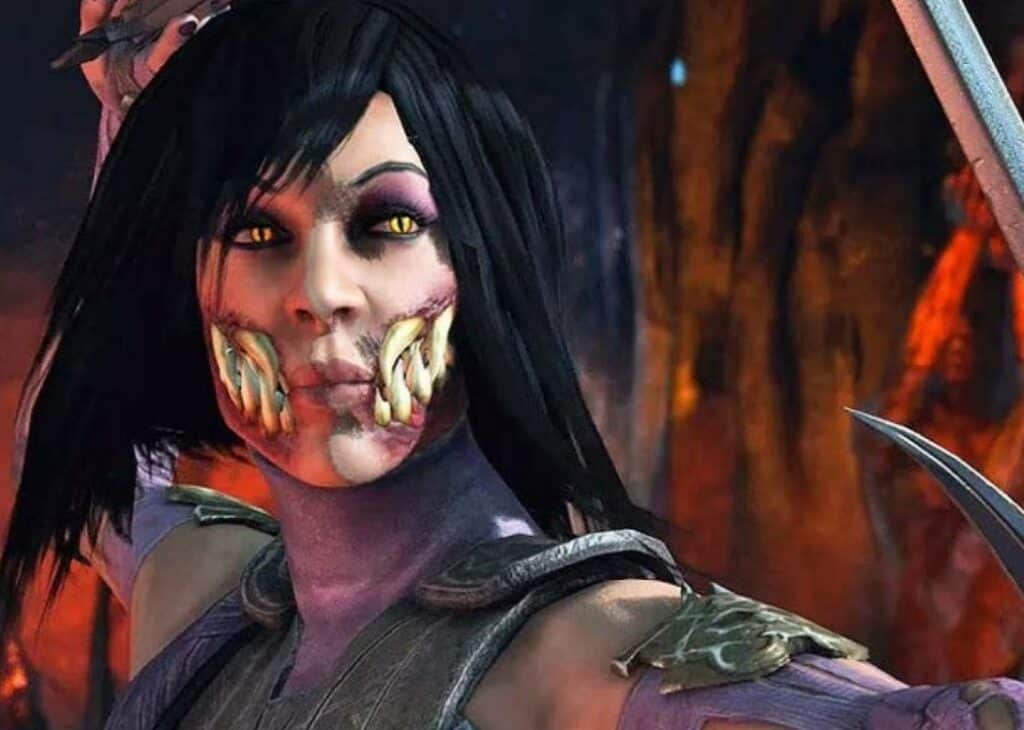 Being half Edenian and half Tarkatan, Mileena is definitely the beauty and beast you should watch out for. She possesses the same brute strength as that of Shokan. Aside from that, she is also extremely agile and flexible, performing different acrobatic stunts to evade and escape from her enemy. With her incredible speed, she is definitely among the fatal combatants in the whole franchise.
Wielding a pair of Sai, she is also able to slash her opponents and make deadly stabbing combos. Moreover, her agility makes her teleport, roll, and quickly duck from her enemies' attacks. Because of her sharp Tarkatan teeth, she can bite her opponents too. As Kitana's clone, she shares the same strength as her.
Quotes  
Aside from her enticing outfit and powerful abilities, Mileena also shows her character through her words. So, knowing some of her most popular sayings would help you portray her character better. As you strut the stage, you can say these quotes and follow her signature poses to perfect your cosplay.
"You must return with me! There is to be a celebration for my sister! She's going away…" – Mileena to Jade about Kitana. 
"You took my throne, now you wish to steal my means of reclaiming it?" – Mileena to D'Vorah.
"You will remember your love for me!" – Mileena to Liu Kang
"I serve my own!" – Mileena after Ermac says she doesn't serve the emperor's will.
"You caused my father's death!" – Mileena vs. Quan Chi
"You will help me regain my throne." – Mileena to Raiden.
"Earthrealm should have aided me." – Mileena to Jax.
 "Repulsive human!" – Mileena vs. Johnny Cage.
"Enough of your prattle. Finish me, that I may join my father."- Mileena'slast words to Kotal Kahn.
"You failed me Kano!"- Mileena vs. Kano
Because of her dark history, unique character design, and sultry appearance, it comes as no surprise that Mileena is one of the franchise's most popular characters. 
Mileena Costume Ideas: What You Need to Prep
Over the years, Mileena's outfit has been changed and revamped throughout the entire game series — either to make it more daring or less revealing. Whatever the reason may be, one thing has always been constant on her outfit and that's her color scheme. 
You might notice that she always wears magenta-colored clothes, but of course, in different styles. That's why this guide explores the different costumes of Mileena you can cosplay. So, if you are feeling bold and daring or want to show a little less skin, we've got you covered! 
1. Mortal Kombat: Deception Mileena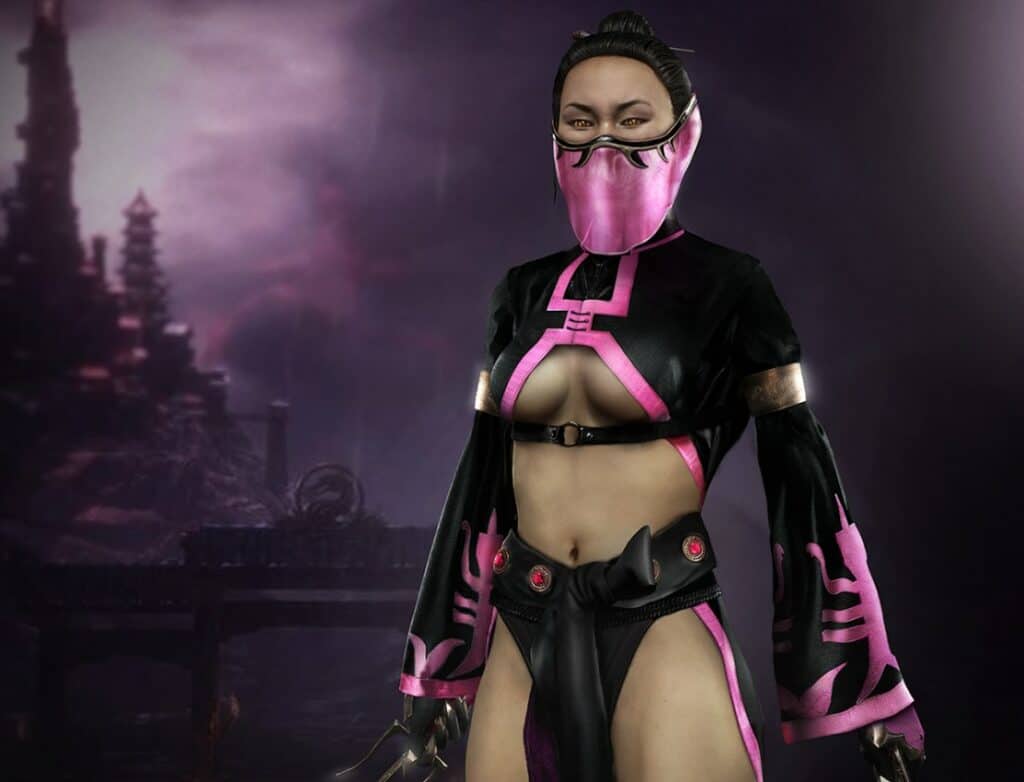 This is probably Mileena's sexiest outfit so far! While it is a long sleeve top, it barely covers her skin. You might need to do a lot of DIY for this cosplay because the costume calls for it. Unlike some costumes, you can't simply pull a Mortal Kombat: Deception Mileena outfit out of your closet. 
Clothing in Detail
Generally, you need a black and magenta cloth for both the top and the bottom. To make the robe top, you need to measure your chest area properly. Measuring your bosom and chest is the key to avoiding any wardrobe malfunctions. Don't forget to add the magenta details in her kimono sleeves too. As for the bottoms, you simply need to wear a black bikini with magenta lining.  
To conceal her extremely revealing bottoms, Mileena wears a thick sash. You can easily make your own DIY using a 4-inch thick leather belt. Sprucing it up with gold bling with a long cloth in the center adds a layer of accuracy in the detail too.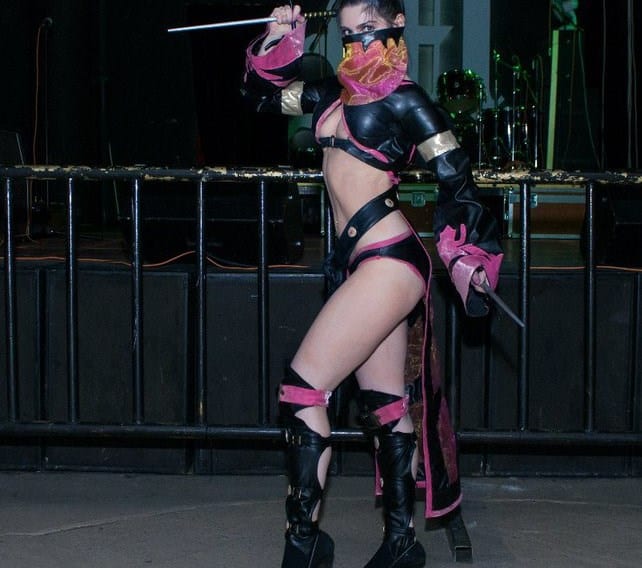 If you have dark-colored boots inside your closet, then it is time to make good use of them! You only need to add some details to make it even more accurate. Using a gold foil plus a magenta foam board, you can carve out the designs and glue them onto your boots. However, if you don't want to add this to your boots permanently, you can also use safety pins to pin the details in place. 
Knee High Boots | Amazon
Shoe 'N Tale is the story of the shoes, they are about comfort and fashion; simp,e and delicate.
Buy at Amazon
We earn a commission if you make a purchase, at no additional cost to you.
08/02/2023 09:02 pm GMT

Mask 
The mask is probably the easiest part to do. You can buy a sheer cloth in magenta and cut it to size. Make sure it is big enough to cover not only your mouth but also your neck area. The top of the mask should also have a black lining as well.
Tiger Claw Sai | Amazon
These sai are demonstration tools used by Japanese Martial Artists with round steel handles and pointed steel staff.
Buy at Amazon
We earn a commission if you make a purchase, at no additional cost to you.
08/03/2023 08:24 am GMT

Your Mileena outfit would never be complete without a pair of Sais. You can easily find a replica online for this. A simple pair would only cost less than 50 bucks. Just add more details to the Sais to replicate one like Mileena's
2. Klassic Mileena
Want to go retro? The Klassic Mileena costume is up your alley. While it still shows a bit of your skin, it is nothing like the Deception alternate. This costume is simple and very easy to do. It requires minimal details, unlike the intricate designs and embellishment of other Mileena costumes. The things you need are:
One-Piece Suit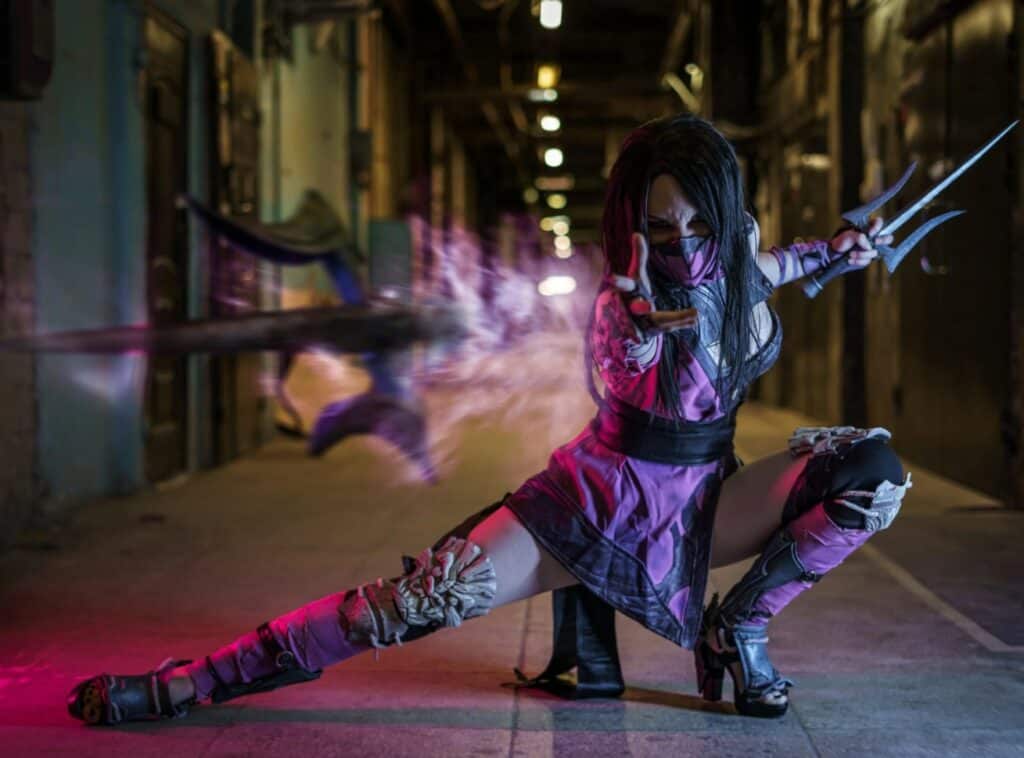 The Klassic Mileena look calls for a magenta one-piece suit with black lining details. It's relatively easy to recreate and find. Just remember the black belt to cinch your waist, adding more drama to the cosplay.
Klassic Mileena dons arm-length gloves in magenta. These gloves are extremely easy to find in stores. You can even find one online, so you will not have many problems with this accessory.
Her boots are nothing similar to that of her other boots on the other costumes. Like her whole outfit, it is magenta, goes up above her knees, and has heels. The key difference is in the details. Klassic Mileena wears a pair of plain and simple boots without any embellishments or designs on them. So, finding one is not hard to do too.
To keep her hair in place, Klassic Mileena uses a magenta turban. It is plain without any detail or design, which makes it easier to find. In fact, if you wear a purple/magenta turban while exercising, you can use that for this costume.
Strapped in her ears and covering her mouth is a magenta mask. Unlike the previous mask, this does not cover her neck. This cloth mask even exposes it. Masks are commonly used nowadays. So, you can easily find this piece online at a lower price.
Again, the Klassic Mileena outfit calls for a pair of Sais. Finding one is very easy. You can score a pair at a very affordable price. And if you want to add more details to the Sais, you can make your own custom enhancements too.
3. Mileena in the Flesh Pits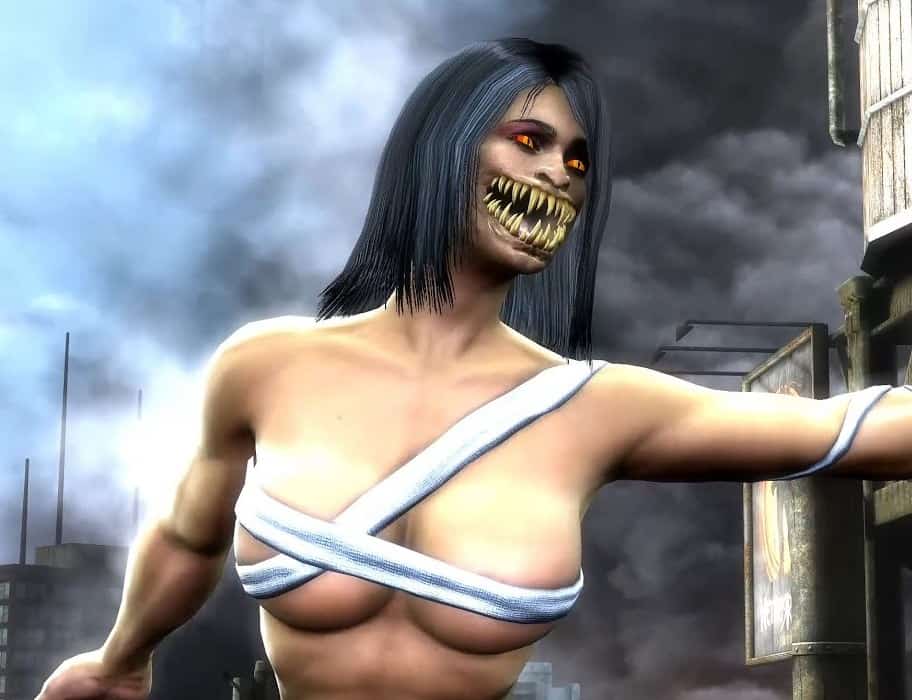 Mileena in the Flesh Pits is definitely one of the most provocative outfits of this character. This was actually her first appearance in the Mortal Kombat franchise. She was discovered by Princess Kitana wearing nothing but thin pieces of stained white cloth, covering only her intimate parts.
If you want to cosplay Mileena in the Flesh Pits, the look is really easy and simple. You do not even have to scour the internet to find the right pieces. All you need is a longer cut of white cloth to wrap it around your body.
You also don't need any other accessories. Just make sure to follow the look, especially the makeup, and you are all set!
Hair and Makeup
Since Mileena is out there in so many different versions, the first thing you need to do is to check which Mileena you want to cosplay and go from there. After that, it's time to find the perfect reference photo to mirror your makeup.
While every version of Mileena might offer a uniquely different look, the most common detail in her makeup is her dark or purple eyeshadows. If you're wearing a mask or a veil, you only need to get her eye details right. Make sure to add black eyeliner to finish off your eye makeup.
You can contour your face and add highlights to your cheekbone area as well. If you're planning to do a complete Mileena look, it can be tricky. You may either use latex prosthetics for her Tarkatan teeth or draw the teeth details directly onto your face; it's up to you too.
Preparing her makeup might take a while, but her hairstyle is fairly simple to do. Check your reference photo and see how Mileena styles her hair. Usually, you only need to wear a short black wig with fringe bangs.
Where to find everything you need
Frequently Asked Questions
Question: Should I purchase a ready-to-use costume?
Answer: If you're pressed for time and don't really have the artistic talent to replicate Mileena's intricate costume details, buying one off the rack would be the easiest way to go. This is especially true for first-time cosplayers who want to dress up as Mileena. However, always take note of all the factors before purchasing a ready-made costume.
Better yet, read the sizing chart and always ask questions if you're unsure about the costume. More importantly, you should check the reviews and seek recommendations from your friends on where to find the best ready-to-use costumes. 
Question: Can I use a different color tone for a Mileena outfit?
Answer: In the Mortal Kombat series, Mileena's character always wears a purplish outfit. However, the shades might vary. You can choose between different shades of purple. Just as a guide, her Klassic outfit is in bright purple, her MK9 clothes were in mauve, and her Deception costume was in deep magenta.
Question: Can you do a couples cosplay with Mileena?
Answer: Of course, you can. Mileena has quite an interesting romance in the MK universe. Previously, her love interest was Baraka, a Tarkatan warrior. However, in the latest Mortal Kombat 11 Ultimate release, it was then revealed that she was a lesbian and had a romantic relationship with Tanya— her Edenian ally introduced in MK 4.
Final thoughts about the Mileena Cosplay
Overall, Mileena has an intricate character design, true to the nature of most Mortal Kombat characters. She also has an interesting personality and sordid motivations. However, her whole character is worthy of accurate portrayal. Cosplaying her might be a little difficult if you're a beginner. So, if you're new to the world of cosplay, you might need some helping hands for your DIY project.
But the best thing about cosplaying Mileena is finding ready-to-wear costumes online. Be privy and meticulous in checking out different stores selling a complete set of Mileena costumes. Most shops have details and information about the costume; some even offer custom sizing. Make it a habit to read before you click to check out, so you have the perfect fit for your costume.
Don't get too pressured about the minute details. You won't have to worry about the less visible accessories; some details can be overlooked. What matters most is your makeup and overall presentation.
We hope this guide has helped and inspired you to get started on your Mileena costume. We can't wait to see what you've come up with for your cosplay!