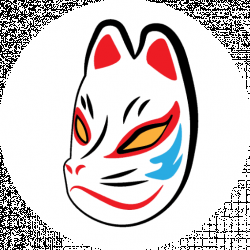 Latest posts by Core Cosplay Team
(see all)
If you are a game-lover, you may have heard or played Overwatch. Overwatch is a multiplayer shooter game published and developed by Blizzard Entertainment. That is a first-person hero shooter game where players are divided into two teams. There are six players at each time, and each player can choose from a selection of heroes.
Whether or not you have played the video game, there are undoubtedly some interesting heroes that would attract cosplayers. One such fictional character is D.Va, who is a tank hero. Her name is Hana Song, and she is a playable and one of the game's protagonists.
D.Va is a very strong character, and cosplayers will have fun dressing up as the character. She is known for her will and egotistical side. However, this makes her very strong here, one that can change the face of the game.
D.Va wears a mech suit that is used for the fight. If you are a cosplayer looking to dress up as a strong female character, D.Va is one of your best choices. The suit worn by D.Va is one of a kind and brings out her personality.
You can easily find all the necessary items required for the costume on both online and offline sites. However, due to the extravaganza of the costume, you might find it a little difficult to assemble the necessary items.
You will require several items that you will have to use to complete the costume. Apart from the main costume, you will also need other accessories that are very crucial to the whole costume.
In the D.Va Cosplay Costume guide, we have mentioned all the necessary clothing items and accessories needed for the costume. This is a DIY guide, and you will have nothing but fun while creating the perfect D.Va cosplay costume.
Let's know more about the character and the items you require for the cosplay costume.
Who is D.Va?
D.Va or Hana Song is one of Overwatch's protagonists and is a highly playable character. She was earlier a professional gamer in South Korea. However, D.Va currently pilots one of a kind mech to defend her homeland.
D.Va is Hana Song's alias from here former Starcraft 2 days. She was just 16 when she became famous for her gaming talents and was undefeated for around three years.
D.Va retired from gaming owing to an attack that occurred in her hometown, South Korea. It was attacked by a monster who seemed to emerge from the ocean. The South Korean government sent armored forces known as the Mobile Exo-Force of the Korean Army (MEKA).
The government hired pilots to drive the MEKAs and found professional gamers to be more suitable for the role. Hence, D.Va became one of the first choices as a MEKA pilot.
Personality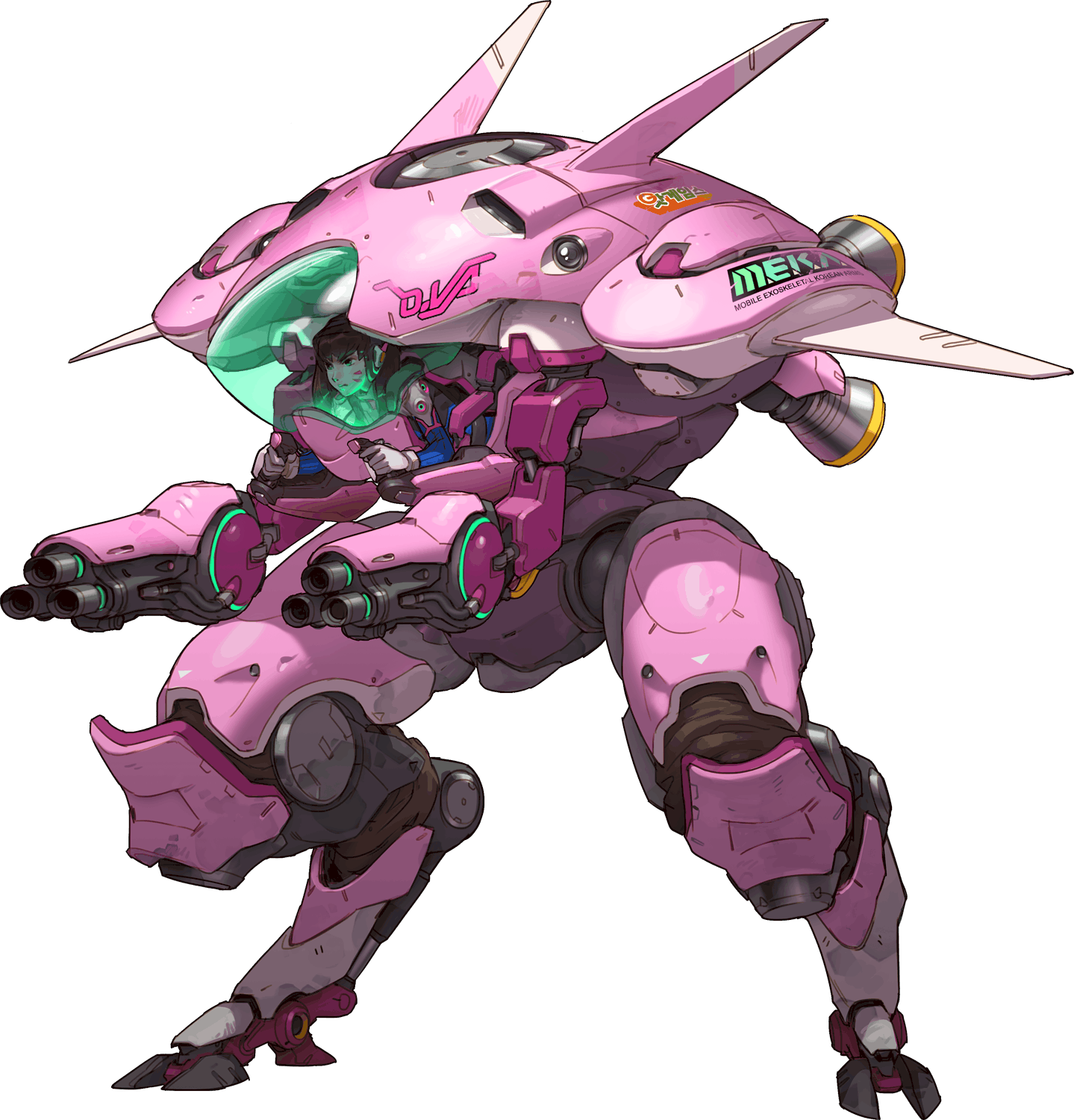 D.Va was a stellar gamer and became one of the best at a very young age. Failure was never an option for her, and she never showed mercy to her opponents. She has an egotistical personality and often downgrades her opponents during fights. Even though she has a very fierce personality, D.Va never fails to make her fans happy.
She always takes the time out to fulfill the autograph requests from her fanbase like Lúcio and Reinhardt. D.Va also thanks her audience every time she defeats one of her enemies.
Since D.Va is a professional gamer, she loves playing video games and making references to different games. You will find her using many gaming terms during her fights. Some of the gaming terms are "pocket healer," "AFK," "nerf," "GG," etc.
Apart from gaming, D.Va is also interested in her fan, Lúcio's music. It was clear from when D.Va asked him for an autograph after he did.
Weapons
D.Va uses two main weapons – one placed on the MEKA's inside and one on the outside. The one on the inside is called Fusion Cannons, while the one outside is the Light Gun. Between the two weapons, Fusion Cannons is the more powerful one. However, even this can face damages during intense fights.
Fusion Cannons is dual-wield weapons and features infinite ammo. D.Va uses this weapon for surprise attacks, where she continuously fires at her enemies. That may not be a very effective weapon, but it succeeds in annoying her opponents.
Abilities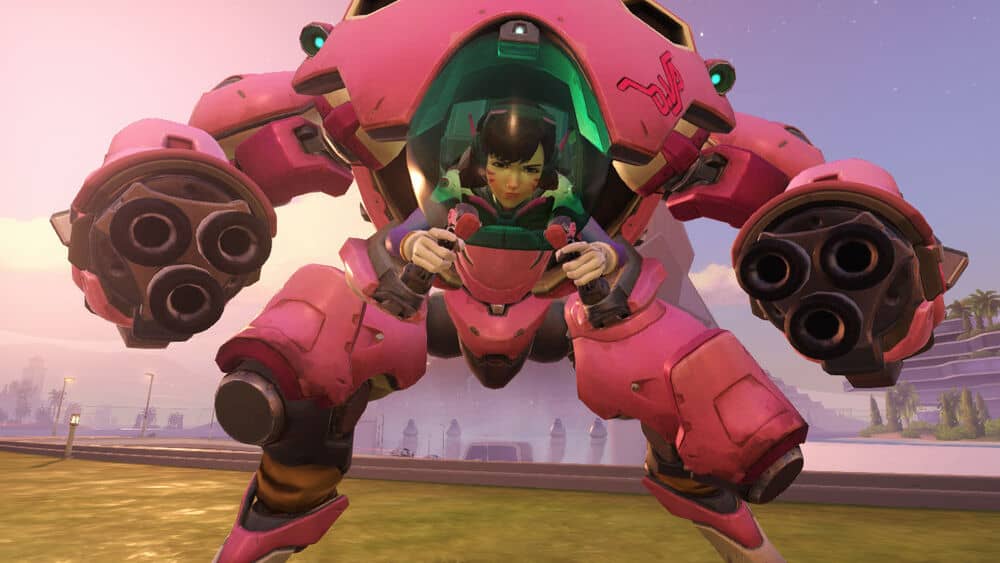 D.Va has abilities that can hinder the movements of her enemies and help her gain control over them. Her abilities do not have many cooldowns, so you can use them quite frequently. One of her abilities is the Defense Matrix that shoots the incoming projectiles to blow them out of the air.
Another one of her abilities is Micro Missiles. It launches multiple explosive rockets that have serious damage on the opponent. Her mech also has boosters that carry her forward in the air and help them change directions and turn. That helps D.Va knock back enemies and move forward.
The ultimate ability she has is to self-destruct. In this, D.Va comes out of her mech and sets it to explode, damaging several nearby opponents to a massive degree.
If D.Va's mech is damaged during the battle, she can eject out of the suit. However, she will need to use her Light Gun until she can gather points to recall the mech. If her MEKA is self-destructed, she can recall it instantly.
Why Can Cosplaying as D.Va a Great Idea?
Cosplaying is fun and art, which helps portray the different personalities of a character. If you love to cosplay, D.Va is a great character to dress up as. D.Va started as a professional gamer in her early years but moved on to become a pilot for MEKAs for the South Korean government.
The D.Va costume has multiple elements, which make it more fun. Since D.Va is a female character, this costume will be created mostly by female cosplayers. However, even male cosplayers can recreate this look if they have the necessary items.
You can use this costume to connect with other cosplayers and gain appreciation by posting it on social media sites.
The Complete D.Va Cosplay Costume Guide
Overwatch fans know how great a character is, D.Va! This fact makes it a fair enough reason to dress up as her, don't you think? The best part is, it is entirely possible to get a costume and look like her at your home. 
Playing D.Va would involve a lot of homework and buying a bunch of things, though. You can either buy all the props separately or go the DIY route, whichever floats your boat.
The D.Va outfit is a unique mix of a lot of elements and accessories. It is essential to get all of this right to attain what you call an authentic character representation. You will essentially bring out the best in the character when you dress accurately. 
Read on as we bring you an end-to-end guide to dress like D.Va and kill the show!
Things You Will Require
All the items mentioned below are essential if you want to get that perfect D.Va look. Most of these can be found on various e-commerce sites online. You might even get some of them offline if that's what you prefer. 
Cosplayers achieve various looks by using the correct costumes, wigs, accessories, and of course, props. Here's how you can be the next best cosplayer.
D.Va Suit Costume
Next up, we have the one and only D.Va costume! What else would you need to look like an Overwatch star if not an authentic costume? The costume should be stretchy and close-fitting, with a blue-grey-pink combination going your way.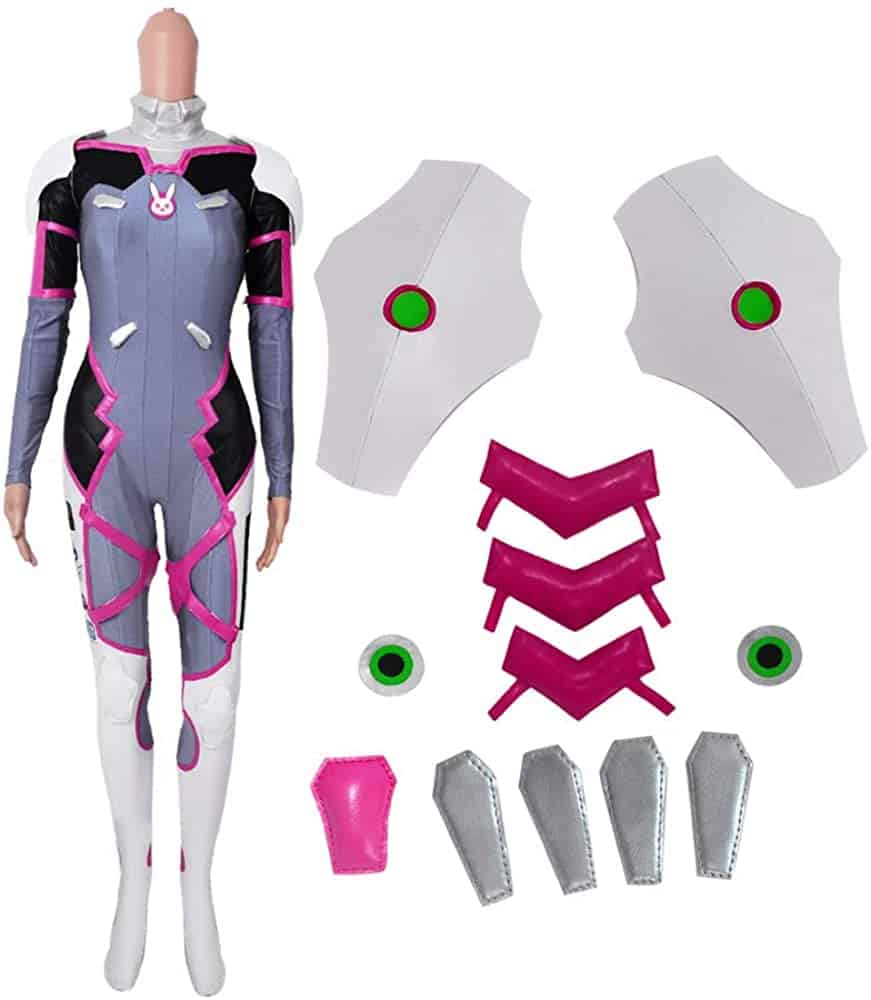 Make sure the dress is well-tailored, and all the little detailing hasn't been missed out. 
Availability

: You will most likely get the costume online on multiple sites due to the sheer popularity of the character.

Alternative

: If not, we suggest you go via the DIY costume route. There are many videos online with instructions on making and stitching that perfect D.Va costume by yourself. You better try that if the costume isn't available.
D.Va Wig
This wig is probably the top element for you to choose and buy for your D.Va dress-up. Yes, even before the other props. You must take up picture-perfect facelifts to look just like the character you intend to enact.
D.Va has brown, long hair with some flicks on the side. It is genuinely a win-win prop for you to ace that perfect look-alike feeling.
Availability

: Many online sites such as Amazon, eBay.com have the wig readily available. This wig is mostly made of first-class fiber materials and fits very well on the user's head.

Alternative

: If, in any case, you are not able to find this particular wig, we suggest you use any wig available and paint it brown using hair color. On top of it, you can cut some flicks to make them look more original.
D.Va Headphones
Here comes the prop you all had been waiting for! D.Va's headphones aren't just tools but a representation of her personality. Missing out on them is a huge mistake that we don't want you to make.
The headphones and face genuinely go hand in hand, and you should find an authentic-looking one. The gear is well maintained and fits rather well to your head.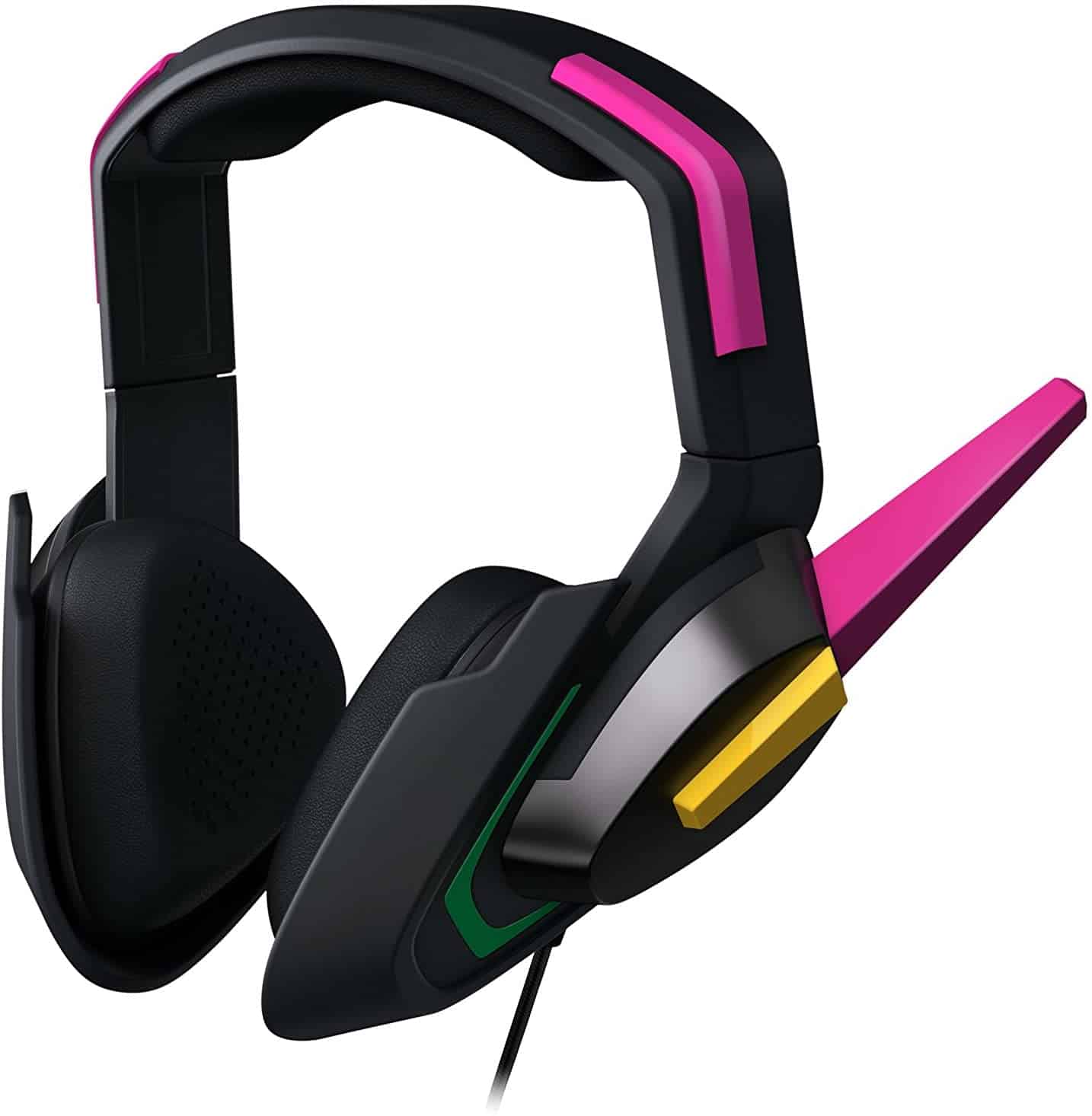 Availability

: You can find the exact-looking headgear on Amazon or eBay very easily. Buying the headphones second-hand is a great deal since the price will be low, and you will get an exact copy of what the real headgear looks like. You can also find it at certain cosplay stores since this pair of headgear is rather famous.

Alternative

: If not, go for the regular old pair of headgear at your home. Color it in grey, black, yellow, and pink to give a beautiful look to the entire headphones
D.Va Hana Song Tattoos
If you are an Overwatch fan and love D.Va, you are bound to know the beautiful stickers on her face. Without the sticker, her look would have been rather bland, we believe. Moreover, it is these tattoos that give off a more lively and mystical vibe to the character.
The color should be pink and no other. It would help get in the exact triangular shape to give a more authentic look to the whole demeanor.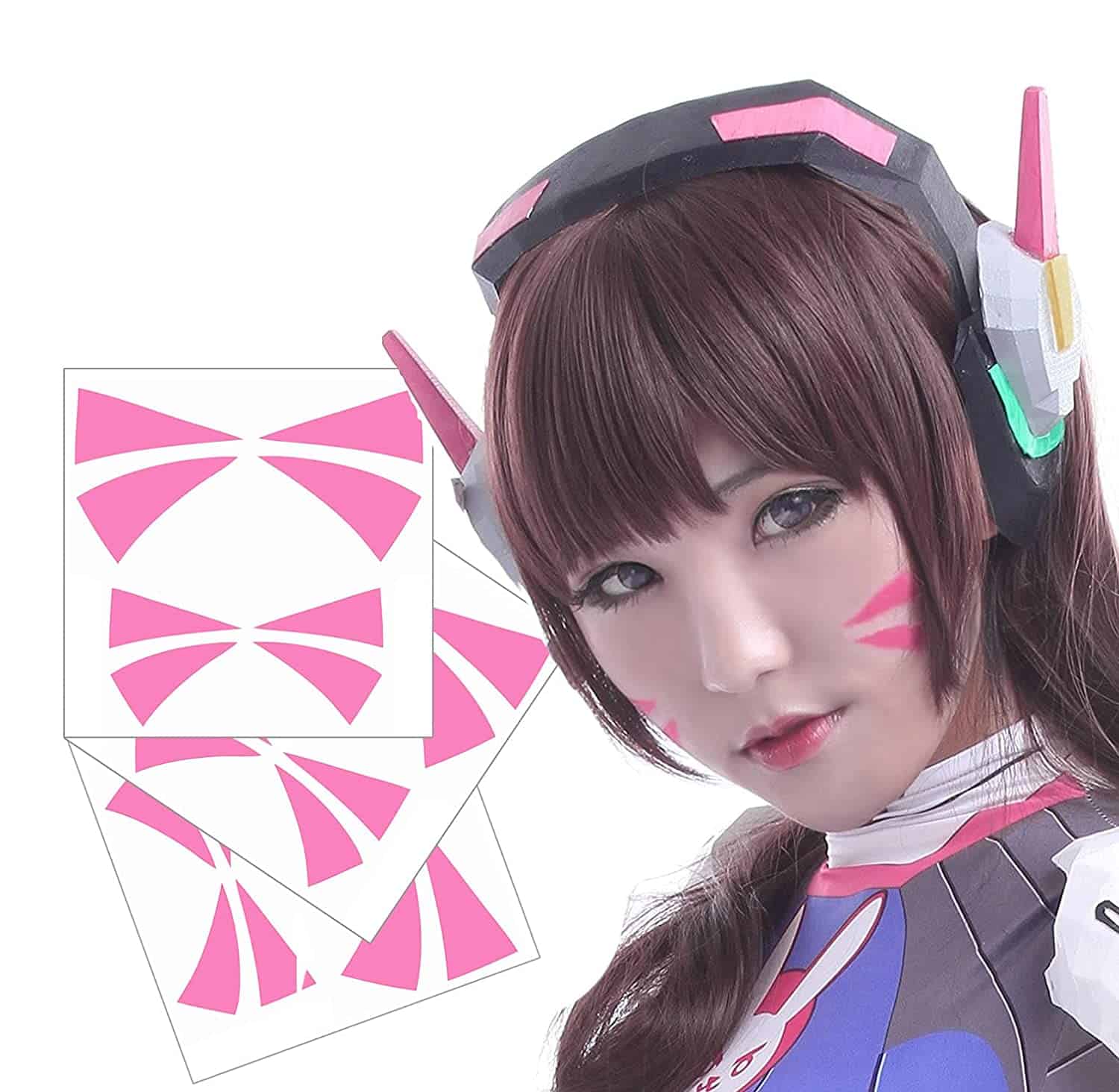 Availability

: Since Tattoos are pink stickers here, you should look to buy them first hand only. Wouldn't want you to spend money on used tattoos, would we? Amazon has a few options, and so do some other e-commerce sites.

Alternative

: The best alternative to not buying these pink D.Va tattoos will be to create them. Believe us when we say it is the easiest job ever. All you need is some sticky paper, paint it pink.
Next, you should draw the exact outline of D.Va's tattoos on the pink-painted sticky paper. Ensure the paper has a covering for now, or the stickiness will fade away after all the painting and cutting. Next, cut the paper accurately according to the drawn shape.
There you have it, your won personalized D.Va tattoos. You need to remove the back cover, and you're good to go! Pink paint or lipstick can be used as well.
D.Va Hana Song Meka
The Meka is an essential goodie you can carry to give a complete look to your outfit. It is a stylized collectible, or so to say, that stands about 6 inches tall and is a great pick for any Overwatch Fan. 
Furthermore, you can collect and display all the overwatch POP and Vinyl! All for your fun.
Availability

: The POP vinyl is available on Amazon with multiple brands selling the same.

Alternative

: The alternative for Meka looks a little tough. While you may look for it in offline stores, a DIY answer isn't a choice. You can find a similar toy and paint it in Pink and black to give it a more real D.Va Hana look.
D.Va Shoes
As they say, judge a man by his shoes, we say judge cosplay by its boots! Yes, shoes play an integral part in any cosplay or dress-up competitions. It would be stupid on your part to work so hard on the entire costume, hair, props and leave the shoes seemingly hanging!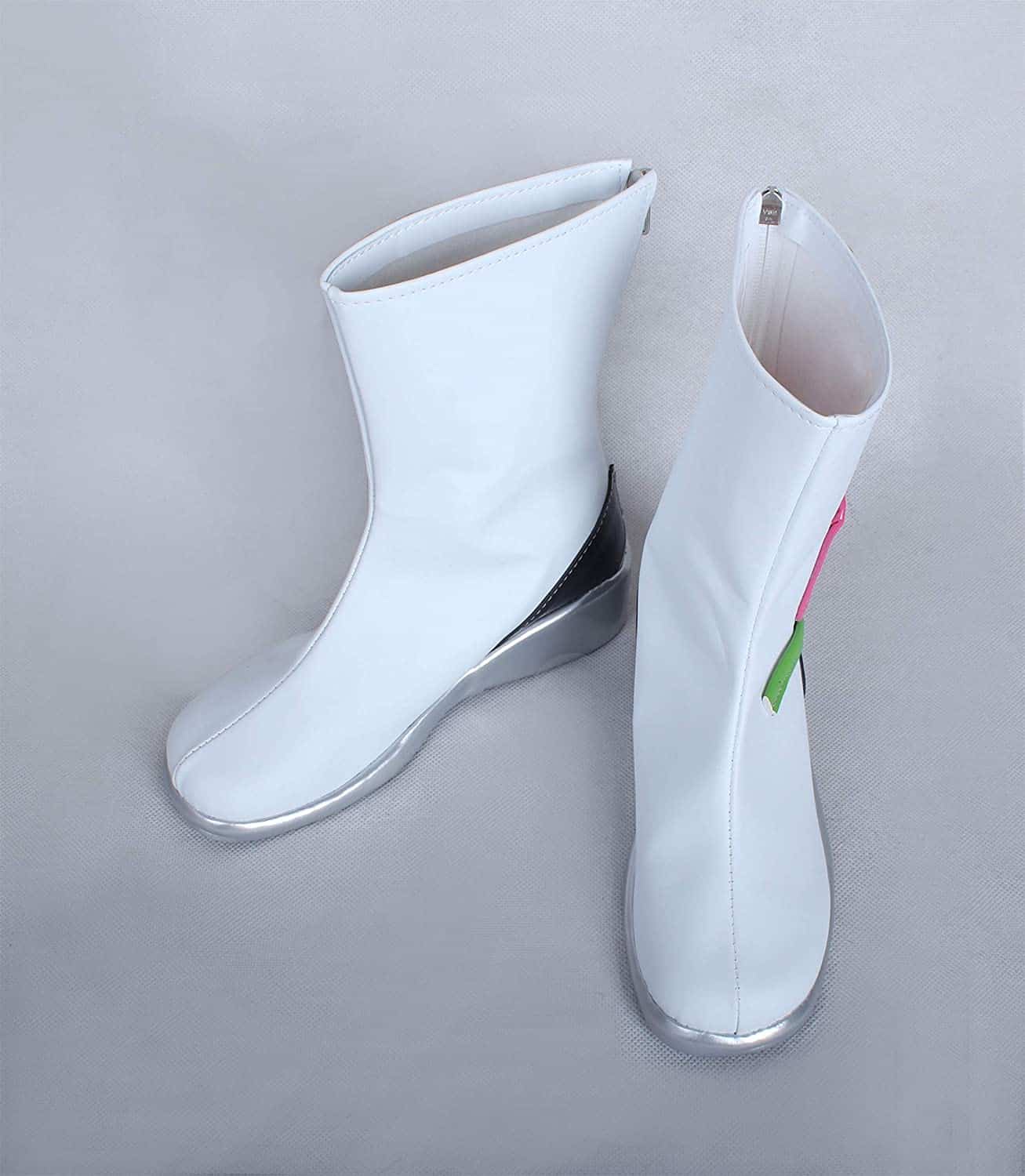 The D.Va shoes are made from top-quality synthetic leather material. They are white with dashes of pink, green, and black on the back. These boots have been created for D.Va look-alikes and dress-ups, so you know you're making the right choice.
On top of this, they are very durable and effectively long-lasting, so you could probably use them for other Cosplay events with characters who might have similar boots or shoes. They are, anyway, a great-looking pair of boots for a night out or day in during the winters.
Availability

: People searching for these boots can easily find them in online stores like eBay or Amazon. You might get ones with a slightly different color or shape, but we suggest you buy them anyway. 

Furthermore, you could try some offline stores as well. Since this is a rather common color and shoe type, the chances are that you might find them near your place too.

Alternative

: Our best alternative would be to go ahead and buy the next best white boots you see around. Once the base boots are decided, all you need is some paints, brushes, and a little zeal to color it up. You can also ask an artist friend to do it for you if you face issues doing it yourself!
D.Va Guns
The Overwatch Game franchise thrives on guns and their usage throughout the series. D.Va's gun is a big hit amongst the masses and is a great way to differentiate her.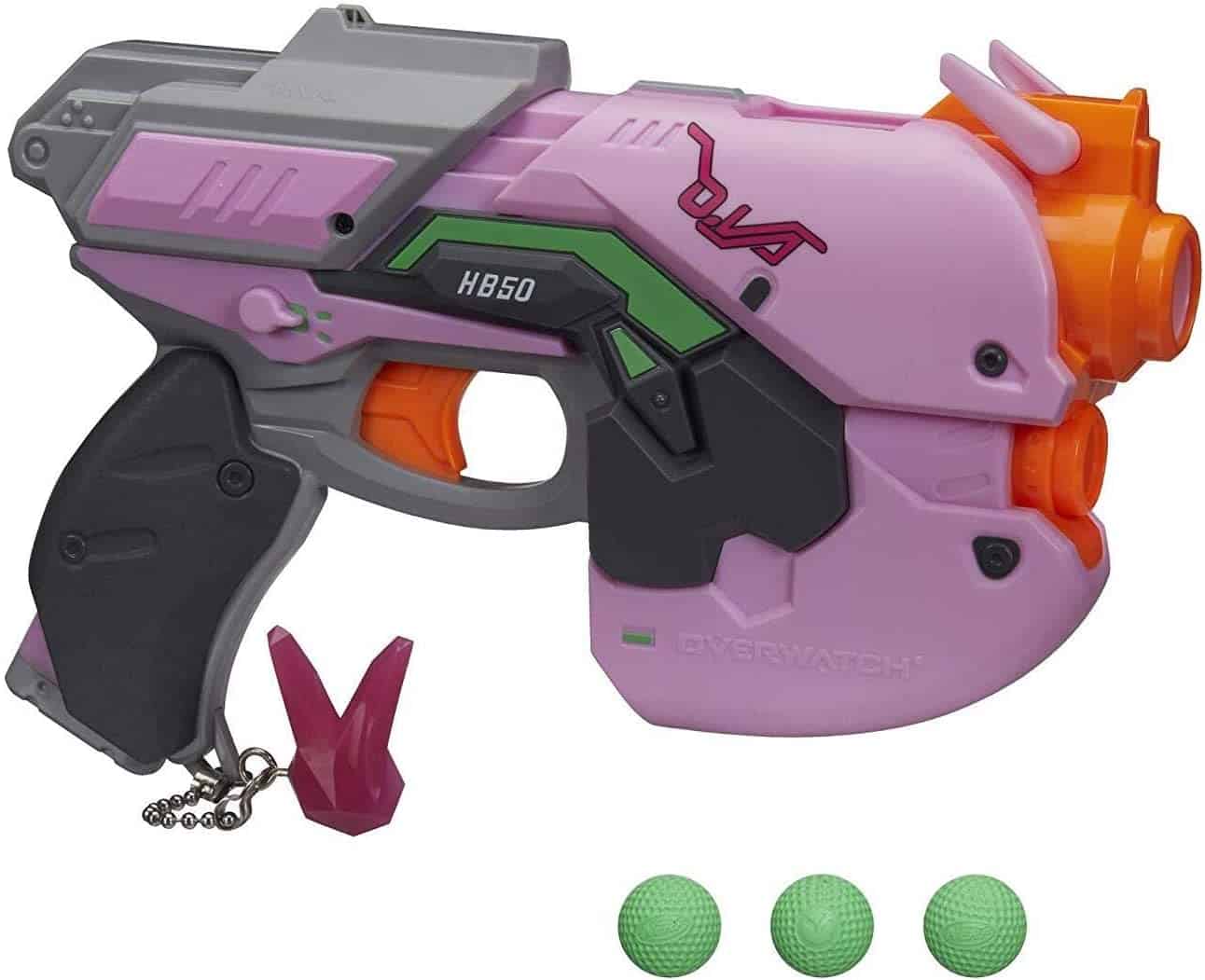 The crazy pink color, along with the black tonality, show how even though she is a woman, she's got the attitude to kill all the baddies! In all honesty, please do not miss out on the gun. Without it, your look might look bland.
Availability:

 So you can find the fun online on Amazon with the brand Mtxc. Moreover, it has a 1:1 high degree reduction too. Buyers will also get the service to get new props created with other pictures and diagrams according to their needs and wish. 

Alternative

: Although an alternative of the same would be tricky to find, you can go for a rather simple black gun with details similar to the one D.Va has. Next, roll out some paints, pink and green mainly.
You will have to make a diagram and try to copy a similar design on your gun. Moreover, attach a keyring of sorts to give the hanging bunny feeling as well.
D.Va Face Colors
The most essential in indispensable part of a makeover is the face. And what better than accurate makeup to make that pretty face of yours look just like the character.
D.va has a pretty face with tattoos. A correct mix of colors and makeup will bring out the best in you to play her! For an extensive description of her facial makeup, check out our Frequently asked question section.
Availability

: You can buy the Snazaroo Classic face and Bodypaint to get that simple yet accurate look of D.Va. Checking the makeup look from some tutorials will be a great idea for you to practice and get the best description ever.

Alternative

: The best alternative is using the makeup you already have! You can use the same products in such a way that you achieve the same look as D.Va.
D.Va: Character Trivia
Now that we have discussed all the nitty-gritty of D. Va's costume guide, it's time for some character trivia. While D.Va is one of the most famous characters, many of us don't know some crazy facts about her. Read on to get enlightened!
D.Va's name is given as Hana, which is the Korean Number 1. This number is equivalent to her personality for several reasons. The top reason is that she is a world champion and the self-proclaimed, Number one. Her jersey number was the number 1 when she was a pro player. 

Her name's stylization is very similar to Korean Pop Idols. These idols, time and again, take up pseudonyms to have a peculiarity. The only character with a name not in Hangul in the Korean Version of the game is D.Va's. She is a huge star in Korea!

D.Va is the first hero ever that uses randomized "Quick Melee" attacks in each hand, in the mech mode. When not in mech mode, the right hand is used for these attacks.

D.Va has two short-ranging rotating cannons that can lay down high-damage fire, which is continuous and doesn't need any reloading. The only negative is that they slow D.Va's movement when they are working.

The 'don't mess with me' bunny on her chest has become an image of feminism in South Korea. It shows the message of female empowerment and gender equality in all domains of life.

D.va had revealed in a conversation with McCree that she frequently plays the 16-bit Hero. That game is exactly why she is a pretty great shooter. Fans can see this scene in the Hanamura arcade in Overwatch. The mascot of 16-bit is pretty close to Jim Raynor, one of the protagonists in the game.

Well, there is a big enough reason for the South Korean Government to call D.Va. She singlehandedly stopped a GwishinOmnics Group! Yes, you heard us right.
The Best Pre-made Cosplay Options on Online Sites
We know what some of you all must be thinking! Why take the fuss of buying all these props separately? With the rise in the popularity of cosplay, many e-commerce sites have started selling pre-made options as well.
Below are the top three sites selling the Pre-made D.va Cosplay you have been hunting. Thank us later!
Amazon

Amazon has a Pre-made D.va cosplay option consisting of the jumpsuit, gloves, and socks. It goes well with the Hana Song dress-up. 
The site also provides free shipping with a range of sizes for the costume. It is made of elastic spandex material and doesn't require any ironing. 
Pros
The costume is pretty stretchy and size-inclusive

The gloves and socks make the entire cosplay complete.

Vibrant, non-blurry color
Cons
The stitching on the lower end of the costume is irregular.

Rips easily
Etsy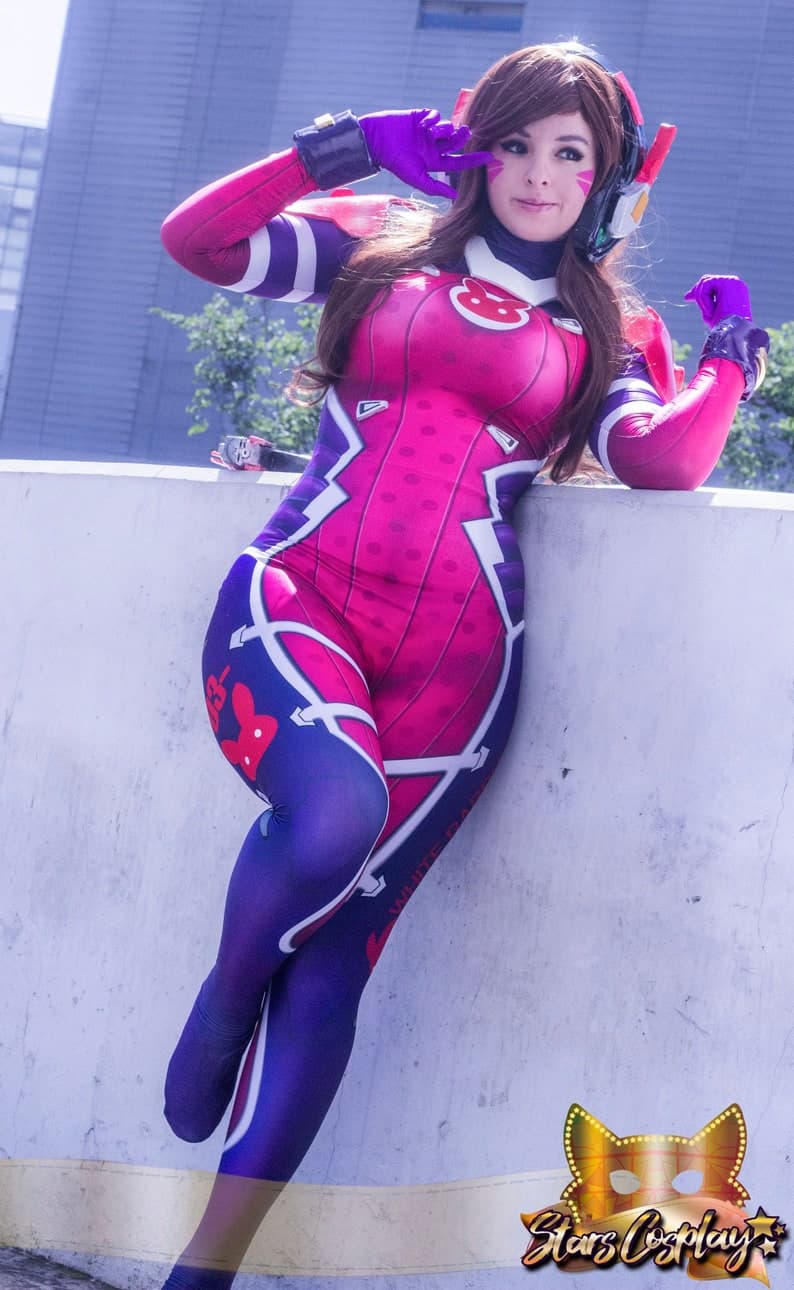 Etsy has many options for the D.va Classic Skin Costume that are ready to wear! Overall, their costume options are comfortable to wear and look good.
They have been designed through professional illustration software so that the printer produces a high-quality Spandex Lycra. The process used is referred to as the Sublimation Printing Technique. 
Pros
It looks exactly like the real character's dress.

Various sizing options are available.

It can be used both in hot and cold weather.

Free Shipping
Cons
The set will not include all the accessories. 
Miccostumes
Miccostumes have a blue bodysuit in the pilot-style with the authentic bunny insignia on the chest. It has a full set cosplay that has a bodysuit, pink piece on the collar, gloves, two shoulder pads, four pink V-shaped tattoos, 2 round pieces at the waist, and four silver pieces on your chest.
The costume is textured, completely screen-printed, along with no 3D elements. You can easily add on the other accessories such as the wig & headgear through this website itself.
Pros
It is one of the rarest kits online to have tattoos and other accessories too.

Available in a range of sizes

Amazing fit
Cons
Wearing the suit might be a hassle.
Frequently asked Questions
Question: Who is D.Va?
Answer: Hana Song or D.Va is an ex-professional gamer who has been a world champion. The South Korean Government recruits her to save the country from the present Omnic Attacks.
Question: How can you look like D.Va?
Answer: The main features of this character are her four pink triangular tattoos on the cheeks. These tattoos look just like cat whiskers, probably another representation of her agility and focus. You can find these stickers online or can also paint them with face colors or pink lipstick.
Next, we come to eyes. D.Va has rather small doll-like eyes along with very thick lashes. This fact is another reason whys eh look so Korean, so to say, making her immensely popular in the country. If you want your eyes to be just like hers, create a winged eyeliner on the top lid and then line the eye's lower lid with a white eyeliner. 
Moreover, we advise you to go for fake eyelashes and big contact lenses to replicate the doll-eyed look.
If you have long brown hair with flicks, you are good to go. If not, we advise you to go for either a wig or extensions to give that realistic look. Those with longer hair can also go for a haircut and change their look completely to correspond to D.Va.
Question: What is D.Va's skin like?
Answer: It is a rather frequently asked question, and it has a layered answer to it. D.Va is known to wear a full-body suit with the iconic white and pink bunny on the chest area. 
The bodysuit is blue, with white shoulder pads, a gray neck covering, and some white sections on the outer thighs of the footwear with many logos. Moreover, the black and pink accents on the chest and waist add more nuance to the complete look.
The previously mentioned look was the classic one, while we will discuss the Black Cat look further. Both of them have rather different looks, and you must choose between the makeover you will be carrying.
Black Cat is one of the most famous skins of D.Va. It is her take on the gothic Lolita dress. How does she pull it off? She takes a black dress, a huge neck ribbon, puffy sleeves, a purple skirt, a black corset, black gloves pair, patterned stockings, and finally, a pair of black heels. You might also want a ribbon with black heels.
Moreover, we have a secret tip. Use a petticoat beneath the skirt and up your look by ten times. The whole outfit will get a bit puffier, making it look real and just like what D.Va wears.
Lastly, she has a blonde hair look these more recently. It is styled in twin tails and some pretty pink ribbons in the best way possible. D.Va also takes up a pair of black cat ears and some pink accents.
Final Thoughts
That's it from our side on all you need to know about the whole D.Va Cosplay Costume. D.Va is one of the most appreciated characters all over the globe. If you have taken the responsibility to dress up like her, you better do it well.
Through this guide, you should make the best out of the options available online or offline. You must use the best of best options available to get the most authentic look ever. 
If you cannot get the exact prop, go for the alternatives mentioned in the guide and frequently asked questions. Hopefully, they will do the job. Here's to D.Va and her crazy impression that you will make. All the best!
Check out related costume guides to different overwatch game characters: