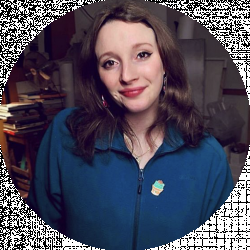 Latest posts by Emily Rowe
(see all)
Animal Crossing is a beloved video game and one that got me through 2020. After all, it's set in a peaceful world and offers the perfect escape from reality. So why not transform your own love of this cozy, popular video game into a cosplay outfit for your next convention or Instagram post? 
Animal Crossing Cosplay: A brief summary
There is no single way to do an Animal Crossing cosplay. With so many characters and interpretations of them out there, having a go at an Animal Crossing inspired cosplay is an opportunity to get creative. 
The bottom line? Look closely at the character art online and search for hashtags on Instagram — for example, if you want to dress up as Tom Nook, search #TomNookCosplay. 
Most characters in Animal Crossing are animated animals, so unless you're planning on splashing the cash on a Disneyland-style costume suit, chances are your cosplay will be more Animal Crossing inspired than an exact replica of the character, so have fun with it. 
In this guide, I'll cover some of the best Animal Crossing cosplay outfits and suggest ready-made costumes you can buy or what you need for a DIY Animal Crossing cosplay. You'll find tons of inspiration for a range of characters and suggestions for how to accessorize, style your hair, and do your makeup. 
What is Animal Crossing? 
Animal Crossing is a video game series from Nintendo. There have been loads of Animal Crossing games since its first release in 2001, but most of us are familiar with Animal Crossing: New Leaf and the most recent game, Animal Crossing: New Horizons. 
Animal Crossing puts players into a small village or island that gradually fills with adorable, animal villagers. From raccoon shopkeepers to seagull sailors, these iconic characters each come with their own personality, outfit, and dialogue. 
The cute outfits and iconic nature of these characters makes them popular amongst cosplayers, so let's dive into the best Animal Crossing cosplay ideas out there. 
The best Animal Crossing cosplay ideas
1. Isabelle
It's no surprise that Isabelle, town mayor in New Leaf and head of resident services in New Horizons, is a popular cosplay. She's easy to cosplay, very recognizable, and extremely cute. 
Isabelle has various outfits across the games, but the most popular look is her New Leaf mayor outfit, which consists of a green checkered vest, a white short-sleeved blouse with a red ribbon instead of a tie, a navy skirt, and, of course, a bell tied into her bun that jingles as she walks.
If you want to cosplay as Isabelle in New Horizons, you can still follow the makeup and hair tips below, but pick up a pink Animal Crossing shirt like this one and pair with a cream skirt.  
Full and pre-made costumes
AliExpress is the cheapest option, but I'd recommend the CosplayFU costume, since this can be custom made to your size and requirements. 
DIY
Lots of the parts of this costume could be purchased in a thrift shop or your local Target or Walmart, but I've included some online suggestions too. 
Hair and makeup
For Isabelle's hair, you could pick up a full Isabelle wig like this one, which includes ears, a blonde wig, and a top bun with ribbon. Alternatively, you can do it yourself. For a simple Isabelle cosplay, take the top portion of your hair, leaving your bangs down if you have any, and tie it into a top knot. Then tie your red ribbon with a jingle bell attached and you're done.
For a more advanced Isabelle look, you'll need a blonde wig with bangs if your hair isn't already like that and follow the above instructions. For her yellow ears, you can buy a yellow animal ear headband, ideally with some big fluffy ears, remove the ears and attach these to either side of the wig. 
Cosplayers tend to keep Isabelle's makeup simple. Some brown face paint applied as a small circle on the end of your nose with simple, natural makeup and rosy cheeks will give you a cute Animal Crossing look.
2. Ankha
Another popular Animal Crossing cosplay is Ankha, the ancient Egypt-inspired cat and one of the game's snootiest characters. Ankha has a pretty simple outfit, with a simple white dress, Egyptian style neck piece and a cobra hair accessory, you can get many of these pieces from a costume store. Her signature blue and yellow ears are a bit harder to find ready made, but there are options out there. 
Full and pre-made costumes:
DIY
Hair and makeup
I've suggested above picking up a blue cosplay wig with bangs for an all-round Ankha look. This, with a cobra accessory pinned at the center of your bangs will look spot on.
As for makeup, you need to get either electric blue or black liquid eyeliner and apply it in a Cleopatra-esque style with a wing at both corners of your eye. If you really wanna go full Ankha, get a lot of yellow body paint and cover yourself in it. 
3. Celeste
Celeste is a fan favorite amongst Animal Crossing players. This adorable owl has appeared in several games, most recently as a stargazing expert in New Horizons. 
The most popular Celeste cosplay outfit is her New Horizons look, which consists of a pink checkered vest and a big pink bow at the back of the head. But as you can see from the images above, there are lots of ways to interpret a Celeste cosplay. 
Full and pre-made costumes:
DIY
Hair and makeup
Celeste has a row of white dots on each of her eyebrows. There's a variety of ways you could do this, but I would recommend buying some adhesive rhinestones, like these ones, and applying them as a row across your forehead with an indent downwards between your eyebrows. 
Celeste has a yellow beak and while you could buy a costume beak, I really like hoshiyocosplay's interpretation, using yellow makeup or face paint on your nose for a similar effect. 
Finally, lots of cosplayers buy a crimson, burgundy, or pink wig for their hair when cosplaying as Celeste, but this is optional. 
4. Pietro
Pietro may be a love or hate character in Animal Crossing, but when it comes to cosplay, he's everywhere. An especially fun cosplay for makeup artists with a flair for clown makeup, Pietro's rainbow colors and jester costume in New Horizons make him an especially fun cosplay. 
As you can see from the images above, Pietro can be interpreted in a lot of ways, so have fun and get creative. Plus, there aren't pre-made Pietro costumes unless you commission a seamstress. Nonetheless, here are some suggestions for putting together a fantastic Pietro cosplay. 
DIY
Hair and makeup
For hair, any rainbow clown wig will do, though you could try out an alternative by purchasing a rainbow cosplay wig like this one. 
For a Pietro cosplay, it's all about the makeup. Pietro has a white face, an exaggerated red nose and lips as a clown has, a pink heart over one eye and a blue tear under the other. Get yourself a rainbow face paint palette and some white face paint and check out the cosplayers above, especially louistato for inspiration. 
5. Daisy Mae
Daisy Mae was newly introduced in New Horizons in 2020 and was an instant hit with players. This turnip-seller is an adorable boar, dons a kimono and a basket of turnips on her head, and has an instantly recognizable nose drip. 
Full and pre-made costumes:
DIY
Hair and makeup
Daisy Mae has light brown hair with bangs and her bangs and a few wisps of hair poke out the front and sides of her head wrap. If you don't have bangs, these clip-in bangs are perfect. 
If you cosplay as Daisy Mae, you must include her signature nose drip. A piece of light blue felt or card cut into a long tear drop shape and affixed to your nostril with makeup glue will do the job. Other than that, rosy cheeks and natural makeup are all you need. 
Bonus: More Animal Crossing costume ideas from cosplayers
Dodo Airlines
I LOVE these Dodo Airlines pilot and air hostess looks from @xheeheex and @cowbuttcrunchies. Simple versions of each look would be easy to recreate with light blue trousers or a skirt, a white shirt or blouse, and a red tie for Wilbur the pilot or a light blue waistcoat and hat for the hostess. If you're dressing as Wilbur, be sure to add some aviator sunglasses, a black headset, and a black utility belt. 
Timmy and Tommy
I love this couples costume inspired by Timmy and Tommy's outfits in New Leaf. If you and your friend or partner wanted to dress up as the New Horizons Timmy and Tommy, all you need are a couple of Animal Crossing shirts and some brown bear ears (I know they're raccoons, but they have bear-like ears okay!).
Shino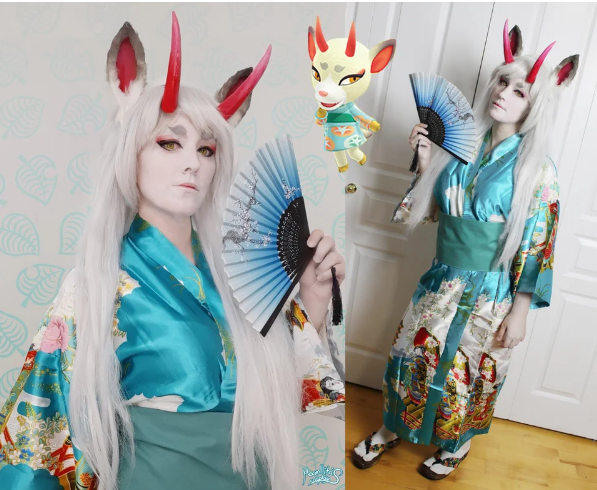 I'm obsessed with this Shino cosplay uploaded by Redditor moonllita. While the red horns and ears might be more difficult to make or buy, the rest of the costume is simple yet effective. A long turquoise kimono with a blue sash, white body paint, thick black eyeliner, and a long white wig. The traditional geta sandals and fan are also a fantastic touch. 
Blathers
If you're going as Celeste to your next costume party or cosplay event, why not get your friend or partner to come as Blathers? For a simple Blathers cosplay, a tweed-style brown blazer, brown checkered sweater vest, black glasses, a white shirt, and a turquoise bow tie are all you need. 
Doomguy/Isabelle crossover
This Doomguy/Isabelle crossover is SO cool. Mads' cosplay is amazing and very well constructed, but even if you can't make a replica of this, use this as inspiration to consider Animal Crossing crossover cosplays. An undead Tom Nook could be your next Halloween costume. 
Accessorizing your Animal Crossing cosplay
Plushies
A quick and easy way to show everyone who you're cosplaying as is to add an Animal Crossing plushie to your look. For the best Animal Crossing plushies, Build-A-Bear has the best quality selection. That said, you can certainly find cheaper versions on Amazon. 
Bell bag
The bell bag is an instantly recognizable object from Animal Crossing. Whether you make one yourself or purchase a bell bag plush toy, adding this to your look will make it clear you're a true Animal Crossing villager. 
Umbrella
There's no need to fear the rain when you get into your Animal Crossing cosplay. Buy an Animal Crossing themed umbrella, like this Nook Inc. Umbrella and stay dry while completing your look. 
Blue and white question mark
In Animal Crossing, when a villager gets confused a big question mark appears above their head. This is a cute DIY accessory for your outfit as you can make it with cardboard and some blue and white paint. Simply cut out a question mark and affix to a wooden stick that can be fastened to your hair or held as an accessory. Paint it white and then paint the outline blue. 
Personality
The final must-have accessory for your Animal Crossing costume is that villager's personality! Every villager has a unique personality and their own set of interests. In Animal Crossing, personalities are split into eight types: Normal, Lazy, Sisterly, Snooty, Cranky, Jock, Peppy, and Smug. 
Google your chosen character and find out their personality, see what their interests are, and see if they have any catchphrases you can use at your party, cosplay convention, or on your Instagram post. 
FAQs
Question: Where can I buy Animal Crossing cosplay?
Answer: For ready-made Animal Crossing cosplay costumes, AliExpress has a great selection at a good price. For the best quality cosplay costumes, consider getting a custom made costume. Or, try out making your own — there are tons of guides online for sewing your own costume or check out the DIY tips above. 
Question: Are Animal Crossing cosplay costumes expensive?
Answer: Ready-made cosplay costumes, especially high quality ones, are often upwards of $70, and that doesn't always include accessories. Fortunately, this guide has included tips for DIY costumes, many of which you can get parts of on Amazon, Ebay, in thrift shops, or at any basic clothing store. 
Question: How do I do Animal Crossing makeup?
Answer: While makeup artists like louistato are doing amazing Animal Crossing makeup, for many of the characters you can use natural makeup with rosy cheeks and perhaps some brown or black face paint on your nose to give yourself an animal-like nose.