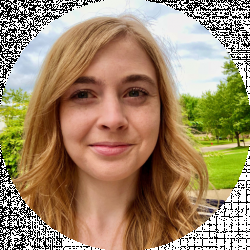 Latest posts by Erin Jamieson
(see all)
I watched the original Star Wars films when I was very young, with my family. And now the love for Star Wars lives on, with many of my family members going to see the latest series. The Rise of Skywaller and Force Awakens showed, once again, how Star Wars is a story of character transformation. And of course, Kylo Ren's transformation is not only harrowing but also spectacularly tied to his helmet.
If you've considered cosplaying as Kylo Ren, his helmet is a must. You may know that his helmet is a sign of his allegiance to the Dark side. It's also his tie to his grandfather, Dark Vader. But when you're selecting a helmet for cosplay, there's a lot that needs to go into your selection.
I fully believe that to embody a character as powerful as Kylo Ren, the accessories you choose to make all the difference. And while I don't think a deluxe helmet is always needed, there are ways you can make sure you're doing this character justice.
Read on for the very best Kylo Ren helmets you can play with- and be prepared to embrace the dark side.
Bottom Line Up Front Summary:  Kylo Ren is one of the most fascinating- and perhaps divisive- characters in the latest Star Wars series. To Cosplay as Kylo Ren, you'll need to embrace his confidence, often forceful hot-headed, and conflicted personality. That instability can be channeled through a great Kylo Ren helmet- a must-have for any cosplay! The best Kylo Ren helmets feature realistic details, are breathable, and provide the movement you need to cosplay.
If I had to recommend just one of these Kylo Ren helmets, it would have to be the Ep. 7 Deluxe Kylo Ren Helmet. This officially licensed helmet (for adults) includes comfortable inner foam and is detailed enough to embody the formidable character of Kylo Ren. You also get mesh openings for your eyes, all constructed with a design that's practical for long hours of cosplaying.
My Top Picks
My Selection Criteria
If you're set on cosplaying as Kylo Ren, you need to fully embrace his character. So before I even share my selection criteria, I highly recommend watching the films (again) to capture his personality- and to decide what type of Kylo Ren you want to embody. Do you want to showcase Kylo Ren before his turn to the Dark Side or after?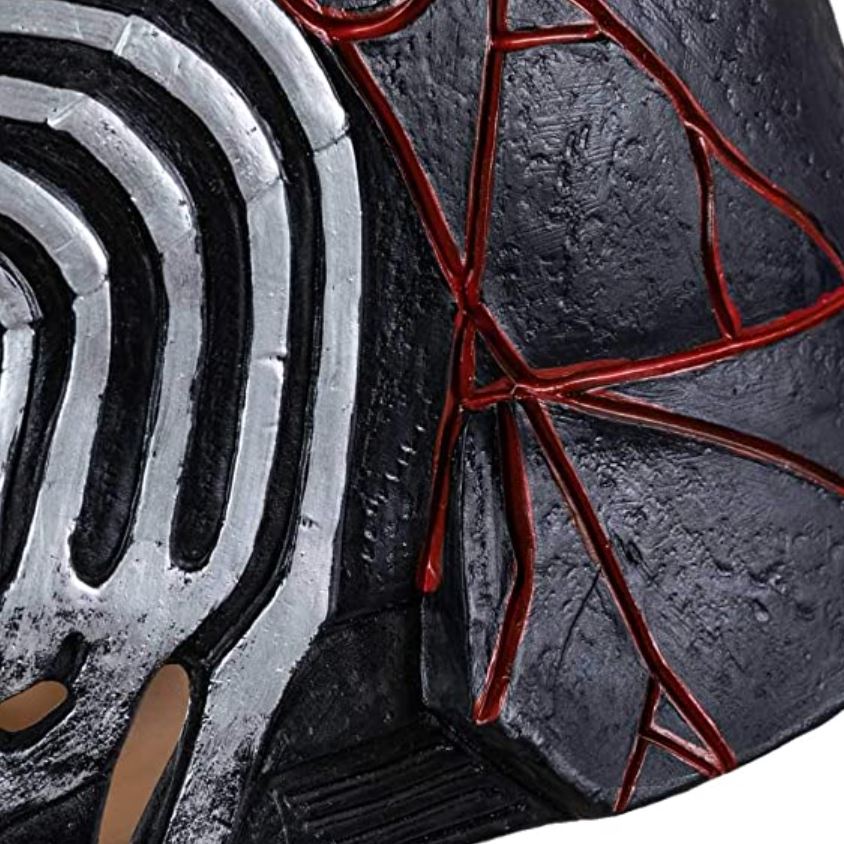 Either way, carry yourself with confidence. Kylo Ren is confident yet unsteady, powerful yet conflicted. While he is known for being unforgiving, even ruthless, there's more to unpack. No matter what helmet you choose, don't forget that Kylo Ren is intelligent. As Ben Solo, his personality is most aligned with an INFP.
With that said, here's how I selected the best Kylo Ren helmets to bring your Kylo Ren depiction to life.
Showcasing Kylo Ren's Transformation
There are two Kylo Ren helmets I looked for: the one before the Rise of Skywalker, and the one representing the events after. I'm showing you the original helmet, and the one after it was repaired and damaged. For me, it was important to show these two eras, as Kylo's helmet tells his story. The repaired helmet had to have distinct red cracks that mirror the scars on Kylo Ren's face.
High-Quality Details
Paint color saturation, ridges, and shape all make a big difference in how authentic- or cheap- a Kylo Ren helmet looks. While a cosplay helmet does not need to meet the same standards as a helmet you're displaying, I wanted to select helmets that brought Kylo Ren's story to life. Above all, I looked for helmets that make you easily recognizable about Kylo Ren- and would look fantastic with other accessories. I also looked for helmets with asymmetrical details to provide an authentic look.
Breathable
I know all too well that dressing up like a character isn't always comfortable. If you're cosplaying as Kylo Ren, it's not exactly the lightest look to pull off. I included masks that include breathable fabric and mesh to keep you comfortable and in character. I also opted for fabrics that are pretty easy to clean- because chances are, you aren't going to cosplay as Kylo Ren just once.
I'm also including half helmets- which are a great compromise if you want to pull off the Kylo Ren character without the bulkiness of a full helmet. I gave extra attention to helmets with comfortable addition- like EVA foam.
Moves with You
Kylo Ren is fast and agile, even if he is better known for his Force powers. To cosplay as this powerful Star Wars figure, you need a mask that will stay secure when you move. I searched for Kylo Ren helmets that offer a secure fit- whether with a strap, fastener, or otherwise.
Stores I'd Shop At
All of these Kylo Ren helmets come from stores I'd also feel comfortable buying from. What does that mean? For me, that means a website with a secure connection, secure payment methods, and clear pricing. I even looked into the store's history and overall customer experience reputation for everything from quality to shipping. One of the most frustrating things about buying cosplay outfits online is finding something great only to have problems with the store. Return policies, shipping, and more need to be laid out so you know what to expect.
The reason I'm not including Etsy helmets on my picks is that they are not only fan-made but also go in and out of stock pretty quickly. I want my links to be more reliable. That said, you can always look there if you want something unique.
Fair Prices
I love the world of cosplay- but it's not always cheap. Cosplaying can be an expensive hobby, and I don't want to leave anyone out. While I didn't go for the cheapest Kylo Ren helmets, I included helmets with a variety of price points and tried to find ones being offered at fair prices. There are even budget-friendly ones for under $25.
Top Kylo Ren Helmets
From one size fits all to deluxe helmets, here are a few Kylo Ren helmets that are perfect for cosplay.
Force Awakens Kylo Ren Helmet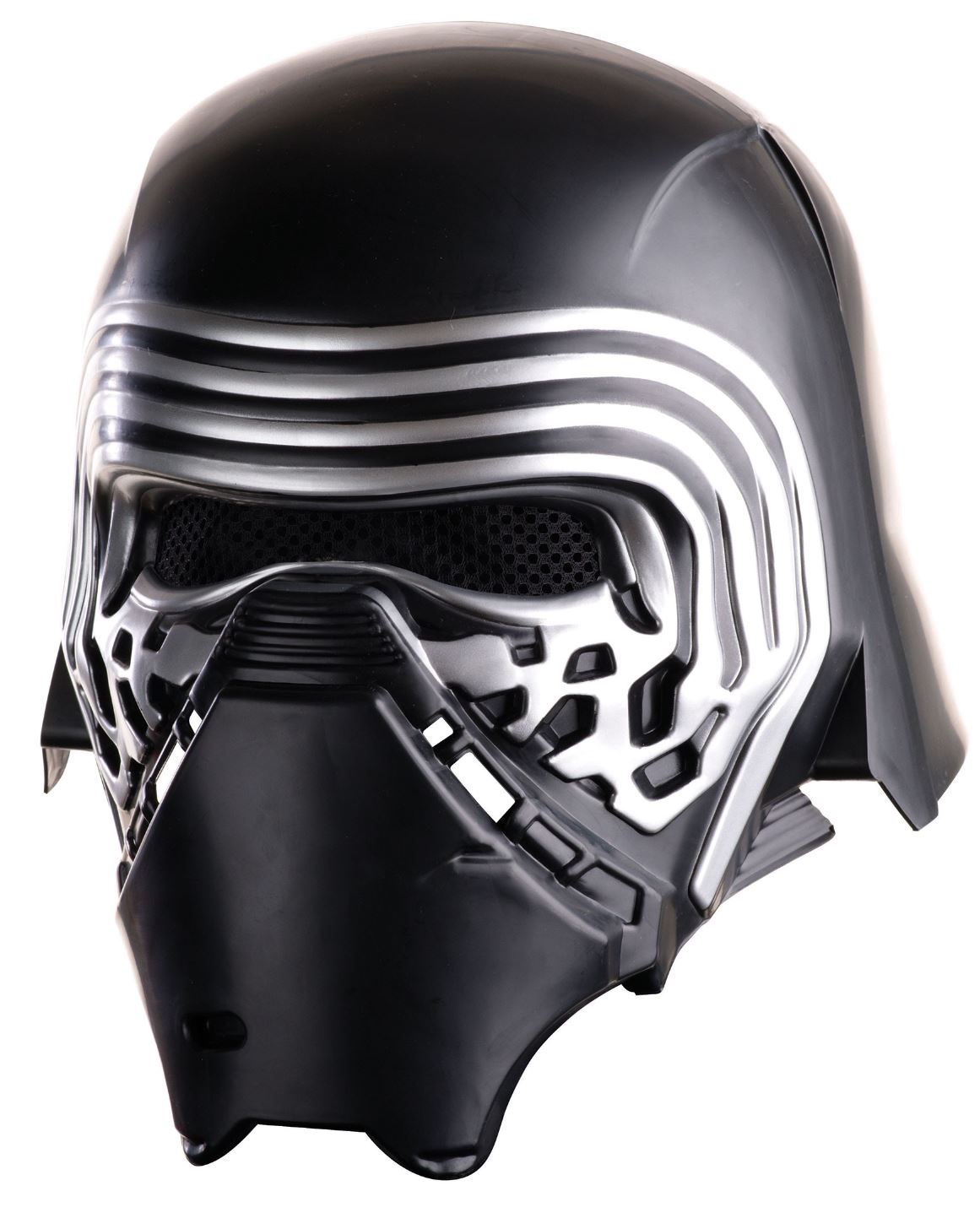 This officially licensed Kylo Ren helmet is a great fit for a kid who's looking for a way to cosplay as this iconic character. What I like about this helmet is that its hook and loop fastener keeps it in place- and can be adjusted. It captures the iconic look of Kylo Ren's helmet during the Force Awakens. The mesh fabric is breathable and the perfect touch to this 2-piece molded helmet. Even better, this store sells coordinating gloves, wigs, and scar tattoos. Buy Here.
Pros
Officially Licensed
Breathable Mesh
Hook and Loop Fastener
Cons
More Limited Visibility
Can be Damaged with Heavy Play
Supreme Leader Kylo Ren Force Rage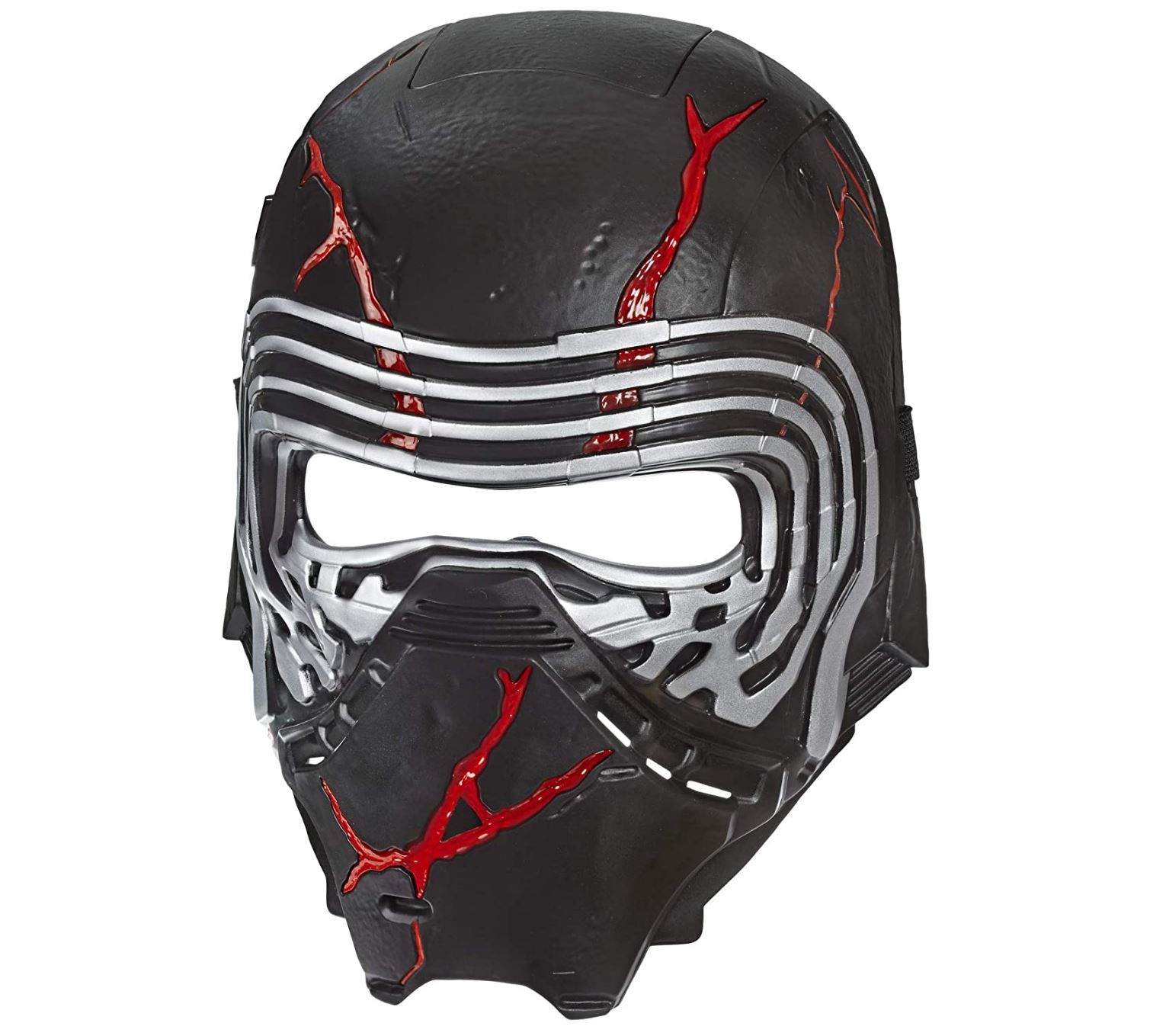 I wish this Kylo Ren helmet wasn't just in a kid's size, because it stands out. This electronic helmet/ mask captures the full rage and power of Kylo Ren's Force powers. This sound-controlled helmet includes special effects lighting and is perfect for cosplaying as Kylo Ren in his dueling height. Inspired by The Rise of Skywalker, it's a well-designed mask, with adjustable elastic straps in the back.  And this is one of those accessories that makes it easy to keep the rest of your cosplay outfit plain. Buy Here.
Pros
Light Effects
Special Sound Effects
Adjustable Elastic Strap
Cons
No Comfort Mesh
Only For Kids' Sizes
Ep. 7 Deluxe Kylo Ren Helmet
If you're looking for a comfortable and adjustable Kylo Ren helmet for cosplaying as an adult, this is one of my favorite designs! This helmet is inspired by The Force Awakens, with great attention to detail and a lot of personalities. The mesh covering around the eyes makes it breathable, while foam padding makes it easy to wear even for longer conventions. Add to that a fastener setup, and this helmet is both a great representation of Kylo Ren and practical for long events. Buy Here.
Pros
Comfort Foam
Mesh
Officially Licensed
Cons
Some Visibility Limited
No Customer Reviews
Kylo Ren Mask/Poe Dameron Helmet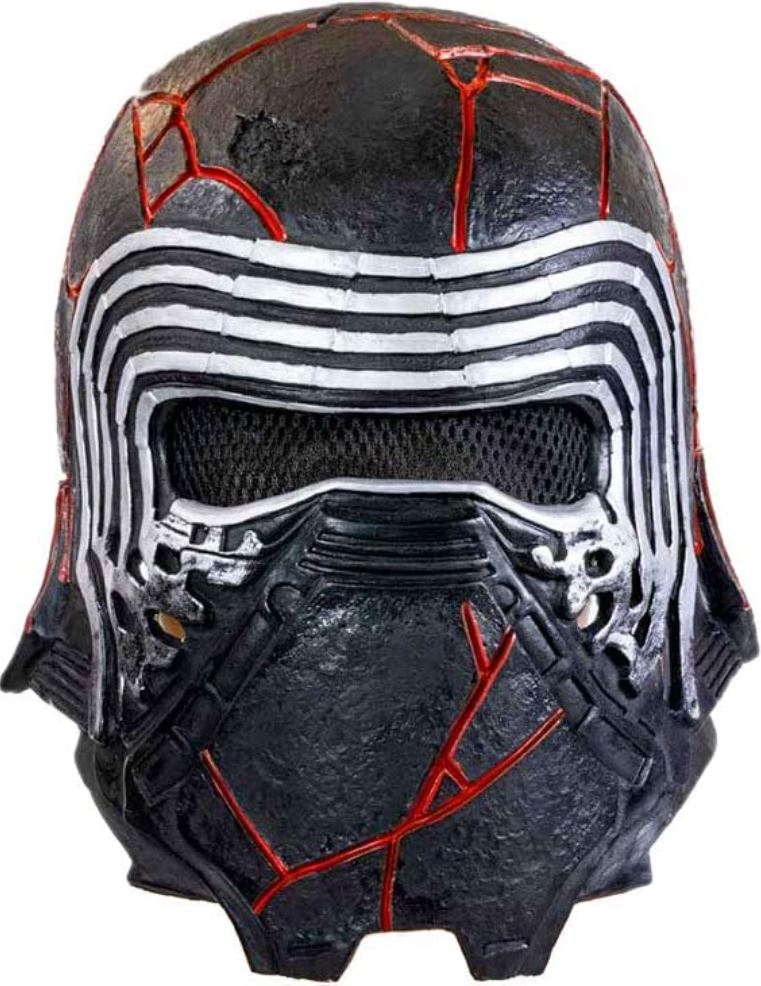 It's oddly hard to find a decent Kylo Ren mask from The Rise of Skywalker, which is a shame. If anything, the Rise of Skywalker masks is going to be all that much more enjoyable to cosplay with. I enjoy studying and parsing out characters amid an identity crisis, and the rage of Kylo Ren is exhibited in this dramatic helmet. The latex is lightweight, easy to clean, and breathable. But it's the painted details and red cracks that showcase why this is a good helmet to choose. The company also offers a 100 percent satisfaction guarantee, and this is a helmet that will photograph well. Buy Here.
Pros
Painted, Dramatic Details
Comfortable Latex
Easy to Care For
Cons
A Bit Flimsy
Can Pull Hair
Rubie's Store Kylo Ren Helmet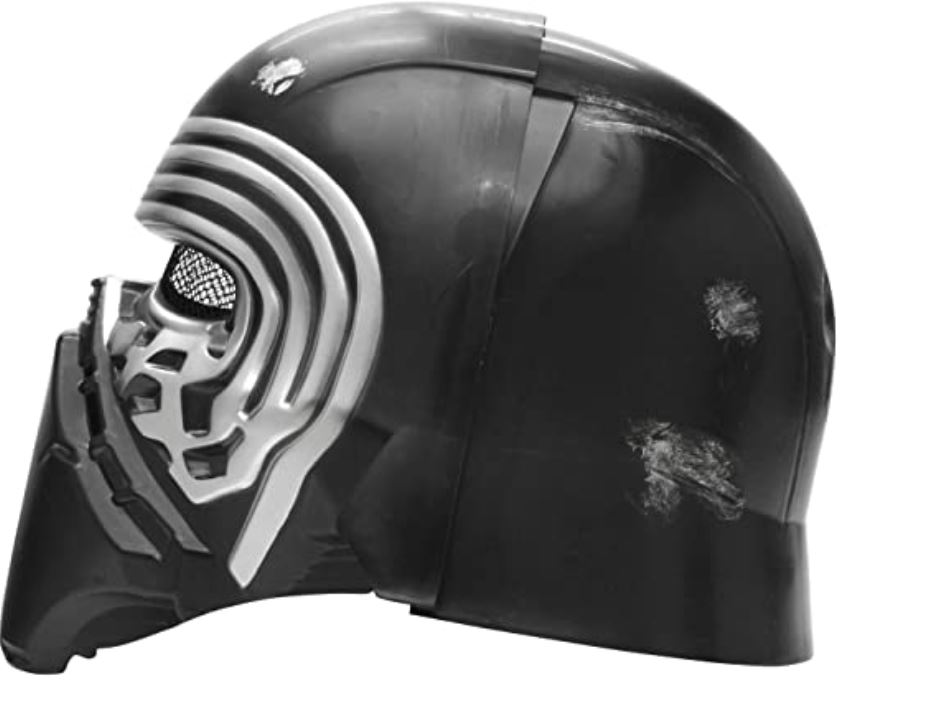 Somedays I'll feel up to going full out on something, and somedays I want something practical. And I also know it can be a pain to upkeep costumes. With that in mind, this Kylo Ren helmet is a great choice for anyone who's looking for a two-piece helmet option. While it looks great as a whole helmet, I could even argue for a half helmet look if you have great accessories and want to improve its breathability. What also stands out about this helmet? The little signs of 'damage' for realistic cosplaying. Buy Here.
Pros
Two in One
'Damage' Details
Soft, Breathable Polyester
Cons
May Need Foam Lining (Runs Large)
Paint Details Sometimes Vary
Black Series Kylo Ren Voice Changer Helmet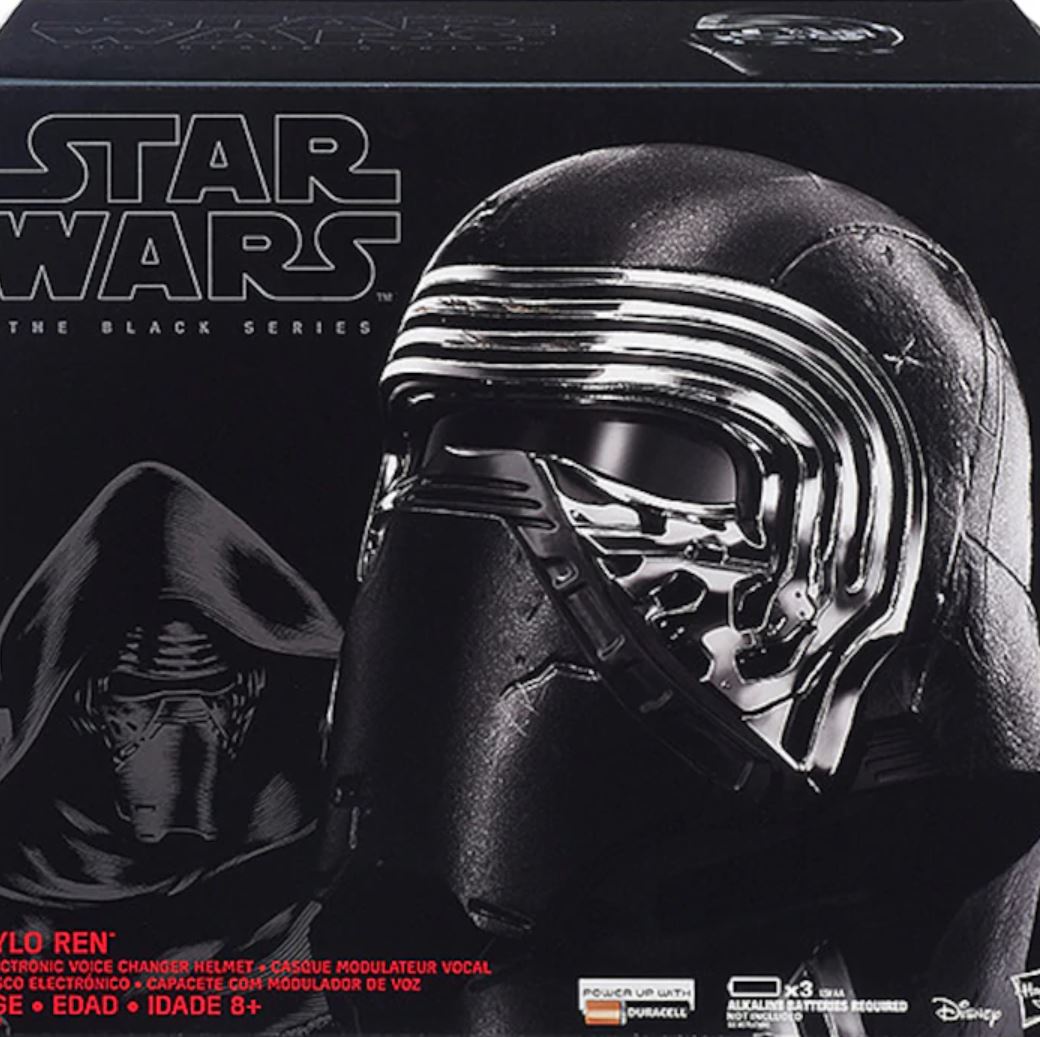 This Black Series Kylo Ren helmet is popular enough that it's out of stock at many stores! When I finally found it at Target, I knew I had to add it to this list. I would add this to a helmet or display collection- but it can be worn for cosplay as well. Equipped with an electronic voice changer, this is a great helmet to get into character. Both the front and back are equipped with straps and the design is highly detailed for a bold and eye-catching look. Some have declared it one of the best helmets they own for the details alone. Buy Here.
Pros
Excellent Details
Includes Voice Changer
Adjustable
Cons
Sensitive Mic
Voice Changer Not as Accurate as It could be
Frequently Asked Questions
Question: Why does KYLO Ren wear a helmet?
Answer: Kylon Ren doesn't need a helmet: it doesn't enhance his powers. Instead, Kylo Ren's helmet is a symbolic metaphor for his struggle and changing identity. Eventually, his helmet can be seen as his alliance with the dark side. The helmet has obvious parallels with Darth Vader's helmet. In this way, Kylo Ren's helmet also showcases his connection to his grandfather, the Sith Lord
Question: Why is Vader's helmet melted?
Answer: Luke Skywalker, Dark Vader's son, has the mask and helmet burned with his father's body at a funeral following the events of the Return of the Jedi. While this melted Vader's helmet, it did not destroy it. Constructed out of extremely durable materials, the main shape and integrity of the helmet remained- even though it had a melted appearance when Kylo Ren came across it. Burning the helmet and mask was symbolic of the end of Darth Vader, and, perhaps for Luke, a way for his father to finally cast off his role as the Sith Lord.
Question: Who fixed KYLO Rens helmet?
Answer: Kylo Ren's helmet was reconstructed during the events of The Rise of Skywalker. These repairs had drastic implications for Kylo Ren's identity and the path he would ultimately take. After destroying his helmet in anger, Kylo took it to a metalsmith named Albrekh. The repairs included using materials that bolstered Kylo's Sith powers. Likewise, the new design was meant to mimic the facial scars Kylo ren acquired.
Question: Why does KYLO Ren have Vader's helmet?
Answer: Kylo Ren has Vader's helmet because it's a symbol. It's a symbol both of his relationship with his grandfather and his allegiance to the galaxy. Not only that, but we can see his reverence for both Vader's legacy and his helmet, with the way he displays this helmet. While we don't know for sure how Kylo Ren acquired the helmet, it's one of the most powerful storytelling symbols that showcases a change in identity and transformation.
Final Thoughts
Kylo Ren helmets are one of the most powerful and awe-inspiring symbols of Star Wars fandom. Cosplaying as Kylo Ren just isn't complete without one. As you can see from my selection, finding a great Kylo Ren helmet takes some work, but many hit the mark for details any Star Wars fan would recognize. And if you're in a pinch and want something handmade, you can always check out fan-made Kylo Ren helmets on Etsy, too. (Or, if you're crafty, you can even DIY a Kylo Ren helmet).
Final Recommendations
Getting ready to cosplay as Kylo Ren and still aren't sure which of these helmets is the best buy for you? Out of all of these Kylo Ren helmets, my top pick is the Ep. 7 Deluxe Kylo Ren Helmet. It checks my marks in many different ways: it's officially licensed, includes comfort foam, and details true fans will recognize.
Continue reading related Star wars cosplay guides: