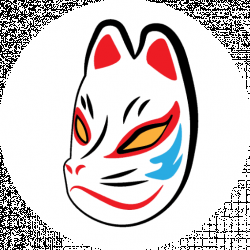 Latest posts by Core Cosplay Team
(see all)
The popularity of Fortnite is no surprise to game lovers across the globe. The game has several modes and exciting characters that take you to a different fantasy altogether.
Similar to popular Marvel and DC characters, video game characters have always fascinated cosplayers. The characters from popular video games are unique and possess traits different than the overplayed movie or comic book heroes.
One such character in the famous online game Fortnite is Raven. Yes, he looks like the bird of the same name. Also, he has an enticing aura that cosplayers will enjoy putting on. Male cosplayers will adore the dressing sense of this dark outfit from Fortnite.
Also, with Halloween approaching, dressing like Raven will be a wonderful and scary idea. Importantly, you don't need to be a novice cosplayer to look like Fortnite's Raven. A couple of dress items, a basic idea of the personality, and you are ready to spread darkness!  
This guide to raven cosplay costume ideas will prove utile if you want to go all guns blazing and buy a full-fledged Raven outfit. Regardless, if you want your own simple DIY Raven look, we got that covered as well. So, before moving on to the costume ideas, let's get conversant with Fortnite's Raven.
Who is Raven from Fortnite?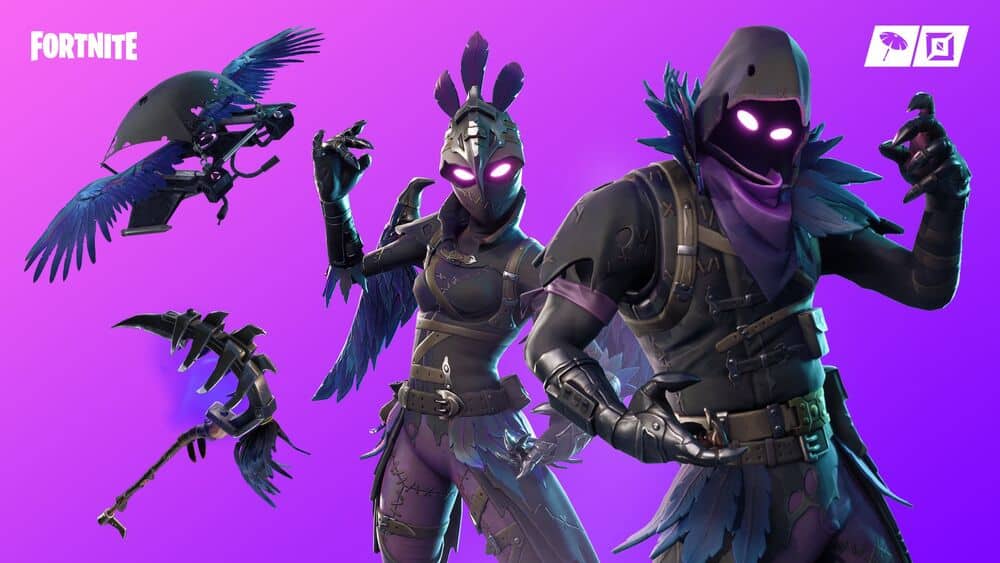 Raven is a Fortnite character available in the Nevermore set. He is a rare soldier avatar who falls under the legendary type.
This character design draws its inspiration from the raven. These birds are dark, mostly black, and signify an element of mystery. The overall appearance of Fortnite's Raven matches all such qualities.
When you think of Raven as a character, the mystery is a synonymous trait. Fans know little info about this dark game outfit. The highlight of his appearance has to be those shiny purple eyes lurking from a mysterious unknown face.
It is important to realize that Raven is a tall male character. So, if your height is anywhere above the 6 feet mark, this costume will suit you perfectly. Here are some of his features.
Enormous Height
The most peculiar thing to notice about Raven is his height. He is approximately 6′ 7″ tall. (Quite tall, isn't he?). So, cosplayers that are tall and slim will enjoy dressing up as Raven.
Dark colors suit well to tall individuals. Hence, the developers have kept every facet of Fortnite's Raven dark and black. Overall, cosplaying as Raven can be a wonderful winter outfit as well.
Purple Scarf around the Head
Like Batman has his cape and Iron Man has his helmet, Fornite's Raven has a noticeable purple scarf.
This scarf covers the entire head and hides any facial skin from others. The basic idea of such an appearance is to highlight Raven's mysterious persona. Also, if you don't talk much, a scarf will always help you hide those introverted emotions.  
Radiating Dark Energy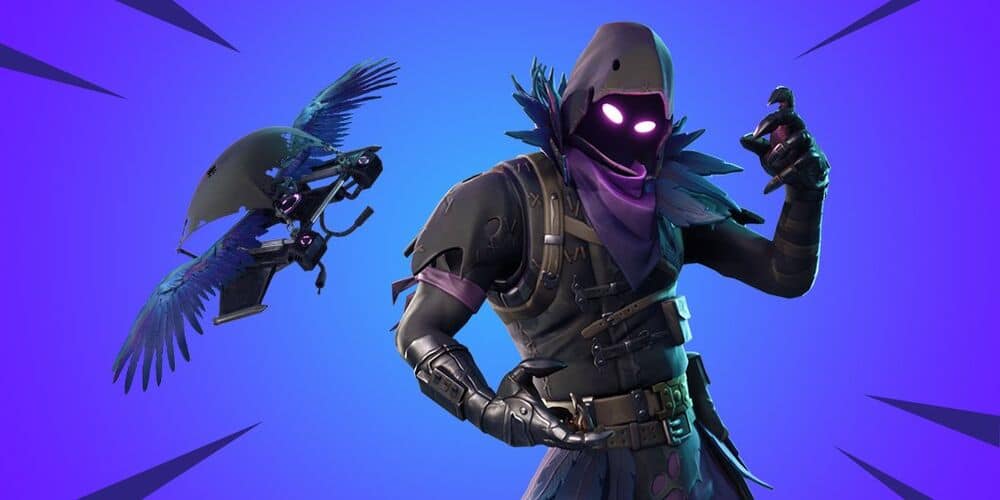 The whole idea of Raven as a character is to radiate a mysteriously dark aura to others. The game has elements of surprise and characters to lure every person.
Likewise, Raven is a character that connects with calm and shy people. Some fans discuss that Raven is loyal to himself and won't participate without a fixed purpose.
You can understand this backdrop from his catchphrase: 'Brooding master of dark skies.' Moreover, Raven resembles other cosplay characters like Grim, Raven from DC, and Crow.
Immovable Confidence
If you want to walk around dressing up like Raven, it's vital to have the right posture. Observing Raven's photos can do the trick. However, there are certain markers you should be fully aware of to cosplay as Fortnite's Raven.
First, Raven looks confident, and it's evident from his folded hands. This outfit avatar isn't one to mess with, and his posture reflects this fact. Thus, to cosplay as Raven successfully, it's vital to stay calm and stand straight.
Don't Forget the Feathers
Finally, Raven is all about the lethal and mysterious bird. And birds have feathers. You can observe the same accessory in Fortnite's Raven.
The bluish or dark purple feathers cover the back portion of Raven's neck. This look accentuates his style and makes him fierce.
Also, Raven carries a hefty ax named 'Iron Beak.' It signifies his mastery over close combat and martial arts. Overall, Raven is a human with the feel of a subtle bird!
Why Can Cosplaying as Raven be a Great Idea?
Cosplaying is vital to make people happy. Many cosplayers feel satisfied after portraying their favorite character in festivals, comic cons, or parties.
It gives a sense of freedom to people and the ability to forget their mundane problems. In addition, cosplaying lets people explore their creative side by designing DIY costumes at home.
So, if you decide to design your DIY costume, Fortnite's Raven is a hassle-free character. You don't need to buy many fancy things or spend several days exploring complex accessories.
Raven is a simple yet mysterious character. Furthermore, Fortnite's popularity has improved Raven's reach leaps and bounds. The idea of dressing up as a legendary Fortnite character will always make you feel special.
Finally, you can become popular through Instagram and social media dressed up as Raven. This character has few cosplayers compared to the likes of:
Wonder Woman

Iron Man

 

Scarecrow

Jason

Freddy Kruger
It's always a great idea to cosplay characters that are yet to become overly popular. Hence, cosplaying as Fortnite's Raven can be a unique and lucrative idea.
The Complete Raven Cosplay Guide
https://in.pinterest.com/pin/123849058492719572/
If you are a Fortnite enthusiast, and you know even a tad bit about the gaming world, you must have heard or read about the incredibly unique cosmetic elements of Fortnite. 
A survival game with an enormous fan base and an array of options of super cool skins. Outfits in Fortnite are not equipped with any superpowers. 
Thus, if you plan to dress up like Raven and think your costume would not be as dope because it is a fake or a DIY, rest assured. After all, the original Raven has a normal-powerless costume/skin too. 
The character Raven has one such remarkable outfit with some never seen spooky effects to it. With the help of this raven costume guide, you will be sorted as to how you can nail that cosplay. 
First and foremost, understand that the looks have to come out spooky, Mysterious, haunting, and Gothic. So, if you're picking up or assembling an outfit piece by piece, put together a look that gives a similar vibe and fits all the qualities mentioned above. 
Things You Will Require
Here are all the things you will require while assembling your very own Raven outfit. Remember that it is not necessary to incorporate all of them. The aim is to have a Raven-like persona, not to replicate him. So, if you are unable to find a couple of items, it is perfectly fine. Enjoy the cosplay, do not try to be in some competition.
Black Hoodie
The first item on the list is a mandatory black hoodie to attain that dark look. Raven vaunts a jet black hood dropping down to his face, almost covering his countenance and making him appear all dark. It makes the glistening violet eyes glow extensively. Furthermore, make sure the hood fits you well. An oversized hood would ruin the look.
Availability:  You can get yourself a plain black hood from Amazon or look for it around in the local markets. Since Raven flaunts skin-fit outfits, look through your wardrobe and see if you have a similar item. If not, ask your friends and family may be, but look out for the size. Slightly oversized is make do but not ideal.
Alternative: If you cannot find a black hood, go for black tights. If you go for black tights, you might have to purchase or arrange a black cape that would replace the hood. 
Purple Satin Fabric
After the glistening violet eyes, the first thing you notice is the satiny, majestic purple scarf wrapped around his neck. 
Availability:  Order it online and look for it in the local fabric stores or check with scarf dealers and brands. Make sure that the shade of purple is not too different from what is required.
DIY: If you cannot find a scarf in the market, ask your mother and sister if they have a similar-looking fabric. If you find the fabric, cut it into a square according to your size and fold it into a triangle shape. Now, wrap it around your neck. Later, Secure it with a safety pin to fix it in the right position. 
The Gleaming Eyes
Not necessarily something you can achieve, but sometimes cosplayers like to delve deeper and match every aspect of the outfit. If that is you, you might have to loosen your wallet a bit because the closest alternative, the RGB LED goggles, can cost you somewhere around $100 at minimum.
DIY: Although it can be a tad bit tricky, it is possible and attainable. You might have to Channel the coder inside you and tackle some technical practicalities for the same. For this DIY, Head to YouTube and look for some suitable videos!
Purple Trousers
Lots of purples! Well, for this, you might have to look around a bit because finding purple pants can be pretty tough if only you happen to have a pair (lucky you!)
Alternative: If you cannot find a pair of purple trousers, go for black tights because they will be covered with accessories anyway. Also, a little cheating is always okay!
DIY: If only your hands are magical around the sewing machine, or you know someone who could do it for you. Purchase the fabric and get them "tailor-made" for you.
Black Ski Mask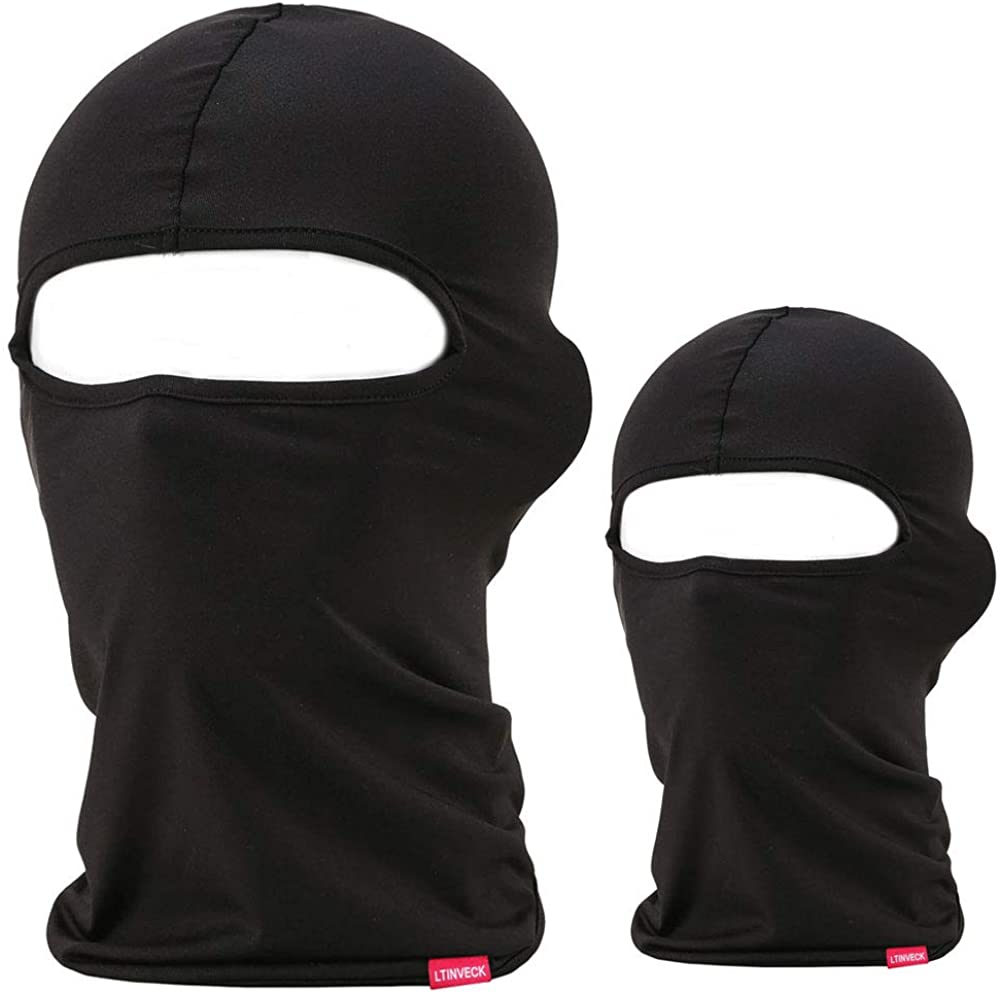 Not a must-have but always an option for cosplayers who want to go all out there. Also, ski masks and cover-ups are best for when you don't have the hood and goggles because they really make your eyes pop. It is best to achieve that dark, mysterious persona which is the main flex about being Raven.
Black Gloves
A crucial item, an element of the costume that is readily available and sitting around in our houses. If you own a pair of black gloves, brilliant! If not, Amazon them because they are a useful item, and buying them would never be a waste even after you are done with the cosplay.
Buckle Belts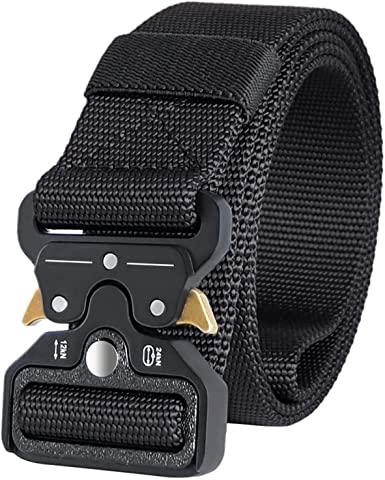 You can't miss out on buckle belts. They make Raven's personality more defined and elevate his grandeur. Add a couple of belts, at least one if not more. Even amazing if they have gold detailing. 
Utility Belts
Next up, another type of belt. Raven, in his pictures, can be seen wearing two belts, one casual buckle belt, and one utility belt with some little bag-like things hanging around. 
Therefore, it is again a must-have. The appearance, the detailing, or the number of bags hanging around would not matter until and unless your utility belt is dark-colored and adds value to the outfit.
Black Combat Boots
Combat boots are an easy one because mostly everyone has them since they are a wardrobe staple. So, take out those combat boots because Raven loves to vaunt those daring looks. 
In case you do not own a pair of combat boots, buy them. They are easily available on Amazon and are never out of style so that you can use them even after the cosplay thing.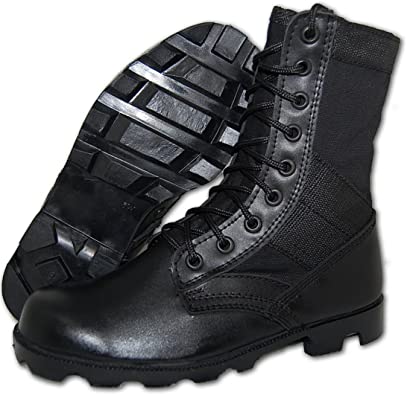 Purple and Blue Feathers
Did you think we were done with purple? Well, feathers may be the last on the list, but that doesn't make them any less important. Feathers are an unmissable element of Raven's spooky and menacing costume. As mentioned above, Raven is a human with the feel of a subtle bird. Thus, incorporating feathers is a must. Also, ensure that the feathers are bluish or dark purple. 
If you can find feathers online, great! Get them and position them around the head area. Refer to Raven's pictures if and when required. That will help in the perfect positioning of the feathers. Furthermore, weave them into a waist belt and wrap them just beneath the buckle and the utility belts. 
If you cannot find feathers (which is rare), order some felt online in blue and purple colors. It can be slightly tedious, but you might have to draw feathers on the Felt sheets. After drawing, cut them and place them wherever you would position feathers, and voila!
Accessories
All the characters from Fortnite have some really cool gears and accessories, which have become a part of the characters' costumes over time. Here is the list of additions and equipment that our favorite dark character Raven boasts in the gameplay.
Fortnite Ax or the Iron Beak
It is an ax-like weapon that Raven poses within the Fortnite characters catalog. It looks like a harvesting tool. Besides, taking an original out to cosplay can be both dangerous and lethal. In contrast, taking a fake one would serve the purpose while maintaining the boundaries of cosplay.
Axe is an unmissable part, as this is the symbol of Raven's powerful combat, his gameplay, and martial arts. Foam Fortnite axes are always available on Amazon. You can order them and complete your Raven look. However, if you don't prefer ordering, go ahead and DIY it!
DIY: Follow this step-by-step guide to achieve the perfect Iron Beak, just like Raven's. 
Materials required: 4 to 5 big Styrofoam/Thermocol sheets, some cardboards, toothpicks, glue, spray paints, feathers, scissors, and paper cutter.
Step 1 – Draw the rough designs on both Styrofoam/Thermocol and cardboard sheets and cut them through with paper cutters and scissors, respectively.
Step 2 – Since you will be making a 3D weapon, cut the cardboard sides accordingly. Meaning, you have to toss the Styrofoam/Thermocol cutouts inside and please the cardboard cutouts on the four external sides.
Step 3 – Spray the final article with spray paints after securing the Styrofoam/Thermocol and cardboard parts with glue and toothpicks.
Step 4 – And finally, place the feathers and some card flaps around the ax. Refer to Raven's ax's pictures to get the details in order.
Back Bling
Another essential accessory flaunted by Raven is his feathered back bling, which makes him appear baleful and eldritch. Any DIY method cannot achieve the back bling, but you can attain a similar look with a shoulder holster. 
All you have to do is arrange or purchase a brown/Black shoulder holster and adorn it with some bluish dark purple feathers to complete the perfect Raven look.
For the Female Gamers out There
If you have been a Fortnite fan and a Raven fan for a long time now, you might know how loved Raven is as a character. He is, as his rarity, legendary. 
However, as female fans, you might have always wondered when the female version of Raven would rock the gameplay. Well, Fortnite respected this wish back in 2018, when they released Ravage, the female version of Raven. 
So, if you were thinking about acing the Raven look to this year's Halloween, hold yourself and consider Ravage. The preparation is much similar to that of Raven when it comes to cosplay. 
There are just two additions, the armor-like helmet or headgear, and the majestic wings covered in purple and blue feathers. Everything apart from these, including the glistening eyes, the purple pants, the black gloves, and the combat boots, remain the same. 
Raven: Character Trivia
You can never know enough about a character, can you? Well, even if you are a Fortnite fanatic and a die-hard Raven fan, there might be some facts you didn't know about him. To find out more, read on!
Did you know that Raven is a character inspired by another gaming character? Yes, you read that right! The character Revenant, the lead in Epic Games' now stalled MOBA Paragon. 

If you did know that, here is another one. Did you know that Raven, unlike other characters, has his own voice? Yes, indeed. Other male characters share one default male voice, except for Raven. 

And lastly, how old do you think your favorite spooky hero might be? Well, keep the guesses because they might not even be near his age, i.e., 174! 
Frequently Asked Questions
Now that you know how to dress up like Raven, it's time to answer some general fan questions. Here's what most Raven cosplayers wonder about before donning the Raven outfit.
Question: Do I need any makeup to cosplay as Raven from Fortnite?
Answer: Raven is a dark character. So, you do not need any extravagant makeup to cosplay like him. The only type of makeup you can use is a dark concealer to hide your face.
In reality, you can effectively hide your face under the purple scarf. So, even beginner cosplayers can pose as Raven without the need for sparkling makeup. Dressing up as Raven is easy, fun, and filled with mystery.
Question: What DIY items can I use for a Raven cosplay?
Answer: If you do not want to spend some bucks buying a new Raven costume, look for items in your closet. You can make use of simple clothes and accessories to create your Raven look.
Here are some common suggestions to work on:
T-shirt

Pants

Scarf

Gloves

Belt

Boots
Our dressing guide already mentions the detailed descriptions of each item. So, you can follow it or get creative yourself!
Question: Can I cosplay as Raven irrespective of my height?
Answer: In the video game, Raven is a tall outfit character. So, men or boys with good height can look better than Fortnite's Raven.
It is, however, not mandatory to possess adequate height for Raven cosplayers. You can even dress up with the black-purple combo costume and look spooky and mysterious.
Some cosplayers successfully attend comic cons dressing-up like Raven or other tall characters like Superman. You can browse their photos and find the necessary inspiration for the same. It is important to realize that cosplaying should make you happy and creative.
Question: How can I modify the original Raven look?
Answer: Many cosplayers like to experiment with additional accessories to highlight the different powers of their favorite hero. In the case of Fortnite's Raven, the origin and weapon info are limited.
Still, we recommend using small knives, blades, and a knuckle band to pose as Raven. Also, you can add dark purple feathers to the gloves for a unique look.
To modify original video game characters, you can find ideas from the existing roster. For instance, Fortnite has different outfits with special features and items. Thus, you can get creative and use such things to modify the game look.
Question: What are other Halloween cosplay characters that compete with Raven?
Answer: Raven is an excellent character for comic cons and Halloween vacation. However, certain video game characters have the same level of requirement as Raven. They are:
Link

Death

Ghostface

Raven from DC (Teen Titans)

Injustice 2 Raven
All these characters are dark and require similar preparation as Fortnite's Raven. So, if you want to use some items to look spooky, Raven will have his whole team. If you are a girl and like the Raven appearance, Fortnite has a female outfit too! Ravage is another nevermore set outfit that resembles Raven's female partner.
Final Thoughts
Raven is one of the easiest and spookiest characters from Fortnite. He is a legendary hero that looks perfect for adding a touch of mystery to any event.
Hopefully, now you can buy or create a suitable Raven costume without any hassle. Getting the right items is the key to realistic cosplay. Follow our steps, and you will turn into the beloved Fortnite character in no time!
Also, remember, it's not just about the costume. You need to understand the outfit's overall persona. So, note the points in the intro and rule the night!