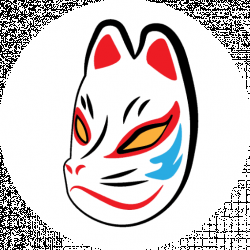 Latest posts by Core Cosplay Team
(see all)
Following its launch in 2016, Overwatch lost no time cementing its position as one of the best multiplayer games. The game's casual play and competitive ranked play modes provide gamers with a lot of flexibility, making it all the more fun to play with friends.
However, the standout feature of the game has to be its characters. Overwatch comes with 24 heroes to choose from, each classed under the following categories, depending on their abilities – Tank heroes, Damage heroes, and Support heroes.
Additionally, many characters don't appear in the game but are an integral part of Overwatch's extended media. What all the Overwatch characters have in common is this: They're all excellent choices for cosplaying!
Video game characters have always been popular amongst cosplayers. This is because video game characters are unique, and it's always an exciting challenge to replicate them. Even anime characters have been traditional fan favorites.
And, when the characters of Overwatch can give cosplayers the best of both worlds, it comes as a little surprise that, with each passing year, an increasing number of cosplayers are choosing to dress up as their favorite Overwatch character.
This Halloween, it's your turn! In this guide, you will find ideas that you can use to unleash your passion for video games. We have picked characters from across the ranks, so you are sure to find an idea that resonates with you!
Why Can Cosplaying as Overwatch Characters be a Great Idea?
You probably know that Overwatch was developed by Blizzard. There's an annual cosplay event that goes by the name of BlizzCon, and it takes place in California. The latest BlizzCon took place online between 19-20 February at the Anaheim Convention Center.
So, what is it all about?
To put it simply, it's an event dedicated exclusively to the Blizzard fans, where they can gather and bond over their shared love for cosplay and the various Blizzard games. Since 2016, many fans have cosplayed Overwatch characters.
There's a lot in store for those who choose to cosplay Overwatch characters. For starters, most characters are easy to emulate. This means that DIYers can have the time of their lives, creating costumes and accessories from scratch.
Even those who aren't big on creating costumes by themselves can easily find readymade costumes and accessories online, thanks to the skyrocketing popularity of the game.
Moreover, gamers who have played Overwatch know that each character comes with an intricate origin story. When your imagination and creativity meet these backstories, the possibilities become endless.
Are you someone who likes cosplaying characters that sit well with your personality? The astounding variety that Overwatch characters bring is quite unparalleled. From attires, powers, stories to weapons – no two characters are the same. Rest assured; you are sure to find a character that clicks flawlessly with you.
Finally, by cosplaying Overwatch characters, you get an opportunity to realize and relive the videogame in real life, alongside others who are just as passionate about the game as you are! Nothing can be better than this, don't you think?
The Complete Overwatch Cosplay Guide
The heroes in Overwatch have diverse profiles, so it's going to take some effort and great attention to detail when it comes to cosplaying them! For this guide, we have picked some of the coolest characters.
This section covers each of the chosen characters in detail, including the following aspects: the things you'll need to replicate the costume, the accessories, and some really cool trivia about the character. Additionally, we'll tell you what makes each of the Overwatch characters we picked wonderful choices for cosplaying.
So, without further ado, dive right in!
1. McCree
McCree, one of Overwatch's Damage Heroes, is the epitome of precision, stealth, and speed. His weapon, known as the Peacekeeper, operates with a unique technique that makes it really powerful and equally unpredictable.
McCree is known for being a strategist and has abilities like the Combat Roll, Flashbang, and Deadscan. What makes McCree all the more interesting is his uber-cool attire. If you want to replicate the look of this star Overwatch marksman, you'll need the following things:
Cowboy Hat
This is an essential item, as McCree is rarely even seen without his cowboy hat on. His hat has a distinctive brown shade, with a black belt-like strap running through the middle. Further, the strap features gold buckles. You can easily find this hat online.
DIY: You can try to refashion an old hat or create a new one using brown and black cloth pieces, and some golden felt for the buckles.
Red and Orange Flannel Scarf
The Red Flannel Scarf gives McCree a truly formidable look, so it's something that you cannot miss. While the scarf is predominantly red in color, there are distinct patterns of orange that you need to get right.
You'll find many scarfs online, but finding an exact lookalike of McCree's scarf can be hard.
DIY: Can your fingers make the sewing machine dance to their tune? If yes, feel free to take a plain red flannel scarf and sew the patterns onto it with orange cloth or ribbons. There are many pictures of McCree and his scarf online that you can use for reference!
Brown Shirt and Pants
McCree seems to be obsessed with brown garments. Considering that he wears body-hugging clothes, try to find a brown shirt and a pair of brown pants that fit you perfectly. If you're looking to nail McCree's look to the T, you can also throw in a pair of brown leather chaps.
Gloves
While McCree's weapon Peacekeeper is swanky enough by itself, it looks a lot cooler in the marksman's ornately gloved hands. There are two types of gloves you'll need: brown leather gloves and latex gloves.
The latex gloves need to have shades of gray, with tinges of silver. While putting on the gloves, make it a point to slip on the brown leather gloves only after wearing the latex gloves first.
If you are not very particular about getting all the elements right, you can consider dropping the latex gloves altogether.
Golden Armor
You can easily find gold armor in toy stores near you, or you can buy it online. Just ensure that the armor makes for a snug and comfy fit.
Cowboy Boots
Get a truly striking pair of brown cowboy boots to complete the trademark McCree look. If you don't own a pair yourself, you can consider asking others who might have one. Alternatively, you can purchase them online.
Remember to buy boots that can reach your knees.
Accessories
McCree has quite a few accessories, and listed below are the ones you must have:
A puff cigar
A revolver (to represent the Peacekeeper)
A gun holder that goes around your waist
You can easily find toy revolvers in your local toy stores at super affordable rates. And, finding a puff cigar should also be a breeze.
DIY: If you aren't keen on buying a gun holder (holster), you can easily make one out of cardboard. You'll need the following materials: cardboard, corrugated cardboard, glue, and a couple of clamps.
Step 1:  Cut the cardboard into the necessary shapes
Step 2:  Also, set aside a few small pieces of cardboard to make the clasp
Step 3:  Glue the various cardboard pieces together
Step 4: Paint the assembled belt brown to achieve the leather finish
McCree Trivia
Here's some interesting scoop about McCree that you simply cannot miss:
His catchphrase is: "Justice ain't gonna dispense itself"
His full name is Jesse McCree
McCree's videogame design was inspired by Chris Metzen's sketch of a character known as Prospector Logann
2. D.Va
It won't be wrong to say that D.Va is one of the most popular and well-liked Overwatch characters. Classed as a Tank Hero, D.Va is a super-skilled mech pilot. She has top-notch mech weapons to complement her skills, namely the Fusion Cannons and the Light Gun.
Add abilities like Self-destruct and the Defense Matrix to the mix, and you've got yourself a character to reckon with. If you're someone who thrives in competitive situations, D.Va is who you should be cosplaying. Here's what you'll need to achieve her look:
The Bodysuit
In Overwatch, D.Va wears a custom bodysuit that's not easy to replicate. Her suit is dominated by shades of blue, black, and pink. Considering that the costume is crucial, it would be best if you bought it online.
The D.Va costume is usually made of spandex and matte leather, making it super comfortable to wear.
Wig
D.Va is characterized by long and wavy brown locks. If you don't have long or wavy hair naturally, you can consider wearing a wig. You'll find that the wig is easily available online.
Makeup
You'll need some makeup to nail D.Va's look. Many YouTube tutorials can help you in this regard. However, we have also listed the steps below:
Step 1: Apply moisturizer on your face
Step 2: Apply any face serum
Step 3: Once you have applied the face serum, follow it up with some foundation
Step 4: Apply a fairly thick coating of eyeliner to your eyes
Step 5: If you'd like to, you can opt to wear a pair of fake eyelashes
Step 6: Use a face contour cream to achieve a complete look
Step 7: For the lips, keep it minimal with very light shades of orange. You can seal the look with some lip gloss
Step 8: You can use lipstick or body paint for the whiskers. Just make sure that you get the shade right
The Boots
Like the costume, D.Va's boots can prove to be hard to replicate. That's why it is recommended that you buy them online. Alternatively, if you happen to have a pair of white rain boots or gumboots lying around, you can use those.
In that case, you'll have to paint the heel region grey, with a coating of black color to go with it.
Accessories
When it comes to D.Va, the following accessories become really important:
The D.Va Headset
The D.Va Handgun
Considering that D.Va is a really popular Overwatch hero, you can easily grab a D.Va Headset and Handgun online. Or you can reach out to fellow Overwatch fans. If someone has cosplayed D.Va before, they're sure to have the accessories you need.
D.Va Trivia
Even if you call yourself a die-hard D.Va fan, there are a few facts about her that you need to know:
Her real name is Hana Song
She has donned many hats with absolute ease – professional gamer, mech pilot, and an actress
Quite fittingly, her catchphrase is: "I play to win"
3. Mei
A Damage Hero in Overwatch, Mei has the wizard-like ability to bend the weather to her will. She's an incredibly strong fighter, and her weapons and abilities like the Endothermic Blaster, the Cryo-Freeze, the Ice Wall, and the Blizzard make her a force to reckon with.
While Mei might not be a conventional cosplay choice, there's still a lot of fun to be had! To transform yourself into this Overwatch character, you'll need the following:
The Fur Overcoat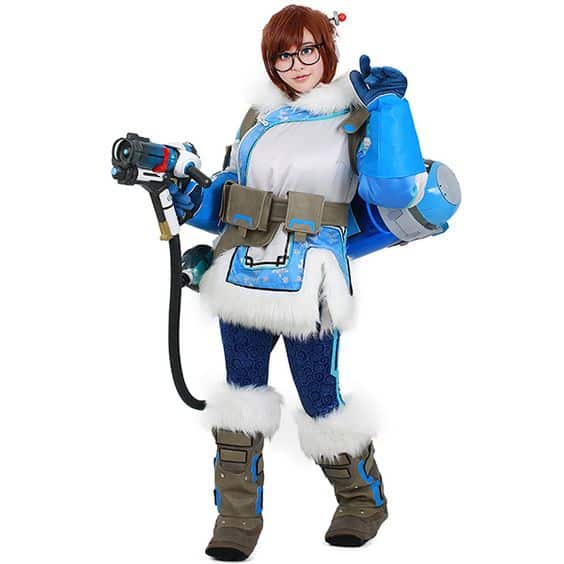 Mei's Fur Overcoat is a key aspect of the costume. Her overcoat is mostly dominated by blue and white colors, with fur lining throughout the edges. While you can buy the overcoat online, this piece of costume has something for the DIYers as well!
DIY: If you have an overcoat with a design that resembles Mei's, you can consider attaching fur on the edges with superglue. You can also sew the fur if that's more comfortable for you.
Blue Pants
This part of the costume is probably going to be the easiest to replicate. Mei's pants look very similar to a regular pair of blue denims. And, that's all you'll need. You can achieve the exact look of the pants with a little DIY.
DIY: Take felt cloth, chart paper, or ribbons that are light blue in color. Cut them into long strips, such that they cover the entire length of the denims. Fix them onto your pants with some superglue, and you'll be good to go!
The Gloves
In Mei's case, the gloves happen to be one of the headline features of the costume. There are many complex aspects of the gloves that are hard to replicate, so you can consider buying them online.
The Boots
You'll need black or brown knee-length boots that have straps running around them. As was the case with the overcoat, you can attach a layer of fur across the opening of the boots. For added effect, you can attach spikes to the boot soles.
Here's a tip to keep in mind: Ensure that the boots are roomy, as that's the kind of effect you'd want to aim for.
Wig
In Overwatch, Mei has short, dark hair that is tied up as a top bun. You won't need a wig if your natural hair color resembles Mei's or if you're willing to color your hair.
If neither of the two options mentioned above is lucrative, you can always nail the look with a wig. It would be helpful if you looked at Mei's hairstyle and color before choosing a wig that is just right for the occasion.
Accessories
Take a look at the accessories you'll need to compliment your costume:
A pair of black-rim glasses
A replica of Mei's primary weapon, the Endothermic Blaster
A multi-purpose belt running across the waist
For reference, Mei's multi-purpose belt looks exactly like the one an electrician wears to keep all his tools in one place.
Further, the Endothermic Blaster is the key accessory. You can purchase it online or ask around in your circle of Overwatch fans.
Mei Trivia
Has Mei got you intrigued? Read our trivia to know more about her:
Mei is originally a climatologist by profession
Although Mei looks young, her chronological age is 40!
Her catchphrase embodies her fighting spirit and never-say-die attitude: "Our world is worth fighting for".
4. Tracer
Everything about Tracer is super cool. She's a Damage Hero and one of the most skilled Overwatch agents in the game. What makes her truly amazing is her ability to 'blink' her way through space and time.
When coupled with her weapons, Pulse Pistols, and Pulse Bombs, Tracer's speed and close-range exploits make her a hero whose motto of 'righting the wrongs' is truly noble and inspiring.
If Tracer is the one you'd like to cosplay this time around; you'll need the things listed below:
The Bodysuit
Tracer's bodysuit is big on shades of fiery yellow that tapers into equally fiery shades of orange towards the bottom. If you try to recreate the bodysuit by yourself, the chances are that you might miss a few details.
You can purchase the Tracer bodysuit online.
The Brown Jacket
Tracer's brown jacket is not only funky but also very easy to replicate. You can use any brown winter coat that's been lying around in your closet. However, there are a few boxes that your brown coat needs to check:
It should only reach up to your waist
It should have a zipper
Preferably, it should be a leather jacket
The Gloves
Usually, when you buy Tracer's bodysuit online, you'll find that the gloves come along with it. Therefore, you needn't worry much about this aspect of the costume.
However, if you're willing to depart from the blueprint and drop the white attachments that Tracer's gloves typically have, things can become a lot easier for you. A pair of regular, black biker gloves will suffice.
The Wig
Tracer's mopped brown locks are instrumental in lending her the no-nonsense look. If you already sport cropped hair, you can achieve Tracer's hair-do with minimal effort. A bottle of hair gel and hair styling tools are all you'll need.
Alternatively, you can pay a quick visit to a costume store near you and check out the wigs they offer. Try to find a wig that matches Tracer's hairstyle, and you'll be set!
The Boots
At first glance, Tracer's boots can seem to be deceptively simple. They almost resemble a regular pair of white Crocs. However, there's more to them than what meets the eye.
Thankfully, since Tracer is a very popular Overwatch hero, you can find a pair of boots online. Or, if you know someone who has cosplayed her before, you might be able to borrow from them.
Accessories
Tracer has only two accessories, and she wears them with utmost grace and poise:
A pair of yellow protective goggles
A toy replica of her Pulse Pistols
Bear in mind that the yellow goggles need to be oversized. Also, you'll need two Pulse Pistols.
Tracer Trivia
There's a lot to love about Tracer's fearless personality. Here are a few facts about her that you might not have known previously:
Her catchphrase is: "Cheers, love! The cavalry's here!"
She used to be affiliated to the British Royal Air Force
She plays a key role in reforming Overwatch
5. Soldier: 76
Are you looking to cosplay a character who is a warrior in the truest sense of the term? If this sounds like you, then Soldier: 76 is your man.
He started by being a part of the army and lost no time cementing his position as one of the best-trained warriors. Soldier: 76 is driven by a single goal: to discover the truth behind Overwatch's collapse.
Armed with cutting-edge weapons such as the Helix Rockets and the Heavy Pulse Rifle, Soldier: 76 is the ultimate combat warrior you'd definitely want on your team.
Here's a roundup of everything you'll need to cosplay Soldier: 76:
The Soldier: 76 Jacket
Soldier: 76's jacket is guaranteed to stand out anywhere, thanks to its wonderful color combination of blue, white, black, and red. What's more, the jacket has the number '76' engraved in bold at the back.
On the flip side, it can be quite tricky to achieve the exact combination and material of the jacket.
So, if you're particular about getting all the elements right, it would be a good idea to buy Soldier: 76's jacket.
Black T-Shirt
Hands down, this has to be the easiest element of Soldier:76's costume. After all, everyone has a black t-shirt in their closet. The t-shirt's neck needs to have a silver lining, which you can easily add in a single rapid-fire DIY session.
DIY: Take a silver strip of felt cloth, ribbon, or any shiny material. Cut the strip to fit your t-shirt's neckline. Stick it onto your t-shirt with superglue. For a more permanent result, you can sew the lining.
Grey Pants
If you thought that a regular pair of grey, formal pants would do the trick, think again! Soldier:76's costume has a very glossy and rubbery finish. And your grey pants need to have that too. Try to find grey pants made of knitted fabric and ensure that they come with a leather finish.
The Boots and Gloves
If Soldier:76's jacket was a tricky affair, the boots and gloves only serve to complicate matters further. Generally, you will get the boots and gloves as add-ons when you buy the jacket online.
DIY: You can replicate Soldier:76's gloves by painting one side of your black biker gloves red. Alternatively, you can stick glossy pieces of red cloth too.
The Wig
Soldier: 76 has silver hair, which he wears in a short and cropped manner. To attain his hairdo, you'll have to raid your local costume store or buy a wig online that meets all the specifications.
Accessories
Soldier:76 loves his accessories, and you'll have a great time rocking them. See for yourself:
Face Mask Helmet (with red goggles)
A Pistol Belt
A Soldier: 76 gun
A Spring Air Pistol
A shoulder belt
Leg bags
Boot tops
Soldier: 76 Trivia
Has curiosity got the cat? Jump right into some behind-the-scenes trivia on Soldier: 76:
You know that he's a pureblood soldier when his catchphrase reads: "We're all soldiers now"
His real name is John Francis 'Jack' Morrison
He's in his mid-fifties but can still send enemies packing with utmost ease. How cool is that!
Frequently Asked Questions (FAQs)
Now that you've got a taste of some of the coolest Overwatch Cosplay Costume Ideas, it's time you've discovered answers to the questions that might have been nagging at you:
Question: What are the other Overwatch characters I can cosplay?
Answer: When it comes to Overwatch, the options are endless. I addition to the ones mentioned above, you can also consider cosplaying:
Reaper – He's the ultimate Overwatch villain
Junkrat – His costume can prove to be super difficult to emulate. But, if you're someone who loves challenges, this character is guaranteed to keep you super busy
Ana – If the saying, "Age is just a number," was a person, Ana would be that. Despite being 60 years old, she can do great things on the battlefield. She also has a swanky eye tattoo!
Genji – Genji is who you get when a ninja meets a robot. His costume makes him a great cosplay choice for males and females alike.
Question: Can I modify the look and costumes of the characters?
Answer: This question is a bit tricky to answer. For starters, the costume and the look of the characters are what make them who they are. So, it would be best to get at least the important aspects right. For example, D.Va's pink whiskers and Mei's accessories.
As far as the costumes go, you might have a little flexibility. This is because, in Overwatch, characters come with cosmetic skins. After you've chosen your character, you can check out the cosmetic skins associated with them.
If you find the original outfit difficult to replicate, you can replicate a cosmetic skin instead.
Question: What are the DIY Materials I'll require?
Answer: Thankfully, the materials you'll need are those that you can easily find at your home. For instance, listed below are a couple of DIY materials you'll need to cosplay as any Overwatch character:
Strips of felt cloth or ribbon
Paint of different colors
Superglue and scissors
Cardboard pieces
A sewing machine (for McCree)
Final Thoughts
Yes, each of Overwatch's 24 heroes is indeed an amazing cosplay choice. Nevertheless, if you dig deeper, you will see why McCree, D.Va, Mei, Tracer, and Soldier: 76 stands out from the rest.
Not only are their costumes unique, but these characters also have interesting backstories that make them so popular amongst Overwatch fans across the globe. The key to a successful cosplay also lies in how well you can get into the character's skin.
Therefore, read up as much as you can about the character you choose. Also, don't forget to bring your vibrant personality to the party too!
We hope that it's only a matter of time before you make heads turn with your wonderful cosplay costume!