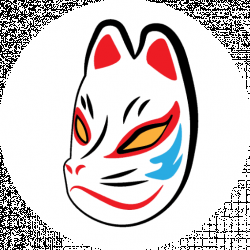 Latest posts by Core Cosplay Team
(see all)
Many have faves from manga, anime, games, movies, and comic books, among other things. We may fantasize about what it would be like to see them come alive in real life. To a certain extent, cosplay (or costume play) satisfies this desire.
2B is a very integral part of the video game Nier: Automata. Her fans love her and leave no stone unturned to represent at any chance they get. The best way to do that? Cosplay, of course!
These days, cosplay has become more prevalent among the growing anime and gaming fan base. Are you looking for some amazing outfits and ideas to bring your favorite 2B to life? Well, don't worry.
In this 2B Cosplay Outfit and Ideas guide, we have curated a list of everything you might need to do a perfect 2B cosplay and given some of the best outfits too. Have a look, like right now!
Who Is 2B?
2B is the protagonist of the popular video game Nier Automata. It is a role-playing action game that follows 2B's tale as a part of YoRHa units fighting adversaries in an open environment. It is a third-person viewpoint videogame that is similar to a hack & slash action game. 
2B is a fashion queen for admirers as well as an excellent android with combat abilities. Her character is dressed in a sophisticated black gown in the game, which adds to her sexiness.
2B's Amazing Personality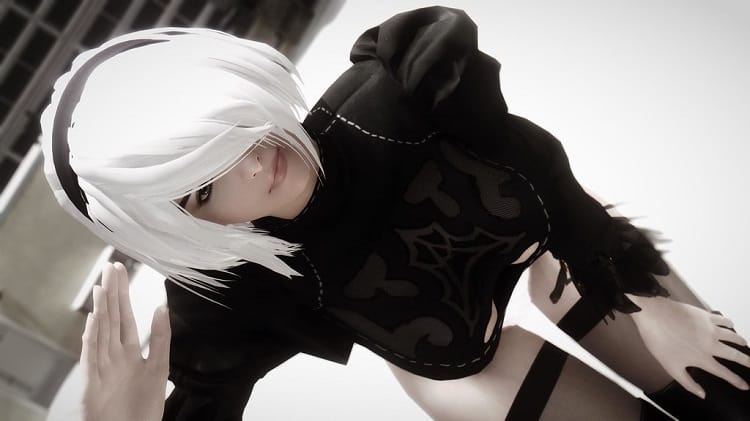 2B is a quiet, determined blade. She is reserved towards people and does not promote idle discussion on frivolous things as a combat android. She also portrays strong regard for the command chain and seldom challenges her orders, contrary to her companion. 
Yet 2B, sometimes, has a sarcastic wit amid certain events. She may be a bit hot-headed at certain moments. 2B is truly a genuinely kind person on the inside. She is concerned about her buddies. 
She pets her Pod as if it were a pet and even searches for a flower picture for Operator 60. She is very extremely considerate of others' wants. 
While she and 9S are searching for the android's memories with amnesia by visiting various locations, 9S asks why they are so significant. 2B simply says that memories are essential to her, and that's all that counts to her. 
Furthermore, considering her professional attitude, 2B dislikes 9S addressing her as "ma'am," finding it "unnecessary." Her icy and distant demeanor is primarily a defense mechanism against the tragedies of life and the truth of her training. 
In some instances, 2B's dispassionate persona is vulnerable to slipping. She gets more gregarious and willing to discuss in conversations as 9S, and she grows closer. She, for instance, amuses 9S when he mentions taking her shopping when the Machines' conflict is over. 
She also uses his favorite nickname, 'Nines,' although she soon retracts it. As 9S decides to help the Resistance representative in the Amnesia side mission, 2B gets jealous and accuses him of yearning for her. 
When she sees 9S in serious condition during the final fight against Adam, she explodes with wrath and loathing for the Machine Leader, declaring she will kill him.
Why Can Cosplaying as 2B be a Great Idea?
2B is a style icon, and cosplaying her will always be a hit idea. Her style is sleek, smart, and, most importantly: black. It can never go out of trend.
Being an extremely loved character, dressing up as 2B at a cosplay event can gain you immense admiration and respect. For all makeup lovers, it can be a perfect opportunity to showcase your talents. 
If you cannot buy the costume, you can always DIY your way through it. We even got you in that aspect. Later in this article, we will discuss how you can DIY a 2B costume.
Not just women, even men can play around with her character and show off a gorgeous 2B outfit. If you want to know more about such a role reversal, a perfect example would be Datto.
The Complete 2B Cosplay Guide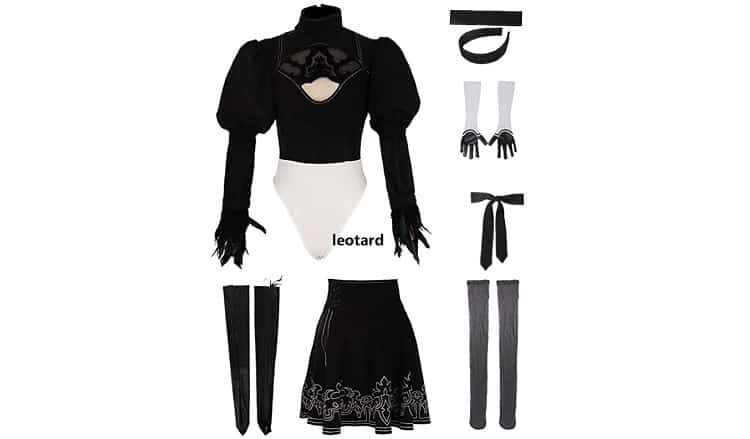 If you are a fan of Nier: Automata, you'd know how each character has quite an appealing fashion sense. Of course, 2B is their queen. 
Her character is dressed in a sophisticated black gown in the videogame, which adds to her sexiness. If you've been looking for 2B Costume on the internet, this is what you should read:
Things You Will Require
Each of the items listed below is a necessary part of the 2B ensemble. The majority of them may be found in a variety of internet stores. It is acceptable, though, if you cannot locate one or two items from the checklist. 
Cosplaying is all about having a good time with various characters and various styles. It is simple to enter a competition, but that eliminates the enjoyable aspect of this method. 
You can construct a unique outfit out of the available components while maintaining the character's personality.
2B Dress
Girls had been intimidated by 2B's beautiful black outfit in the game Nier: Automata. You can grasp the gown and instantly take on her personality. It should be black, comfortable, and at the same time, gorgeous. 
2B is smart and athletic. Your dress should be too. Her dress is a billowing velvet piece with an intricate cut-out at the back and adorned with a high collar. It is quite short that complements the character's long legs.
2B's style feels to be a rendition of Gothic Lolita, a fashion subculture in Japan.
2B Mask
As a hero, you're expected to maintain a smirky yet eerie demeanor at all times. Including the black exotic clothing, 2B also wears an eye mask. Actually, rather than an eye mask, it is a blindfold. 
The mask is a must-have because it is light and allows you to imitate 2B's delightful demeanor. It must fit comfortably any face and is also fairly sturdy. It should have an uneven design and should cover a bit of your cheek.
2B Hair Wig
You can't completely copy 2B's persona without emulating her sophisticated haircut, can you? So, get a hair wig that will allow you to recreate her style and proudly showcase your fandom to one and all. 
2B's hair color is silvery white, which is precisely what you need to look for in your wig. The wig should be short, the hair lying just above the shoulders. Moreover, 2b has curtain bangs, so you can cut them out yourself to give an apt look.
The wig should be of good-quality synthetic fibers and have a natural appearance that will serve you well. It must include a cap that makes it very easy to put on and take off. The cap's straps may be adjusted to fit your head properly.
2B Boots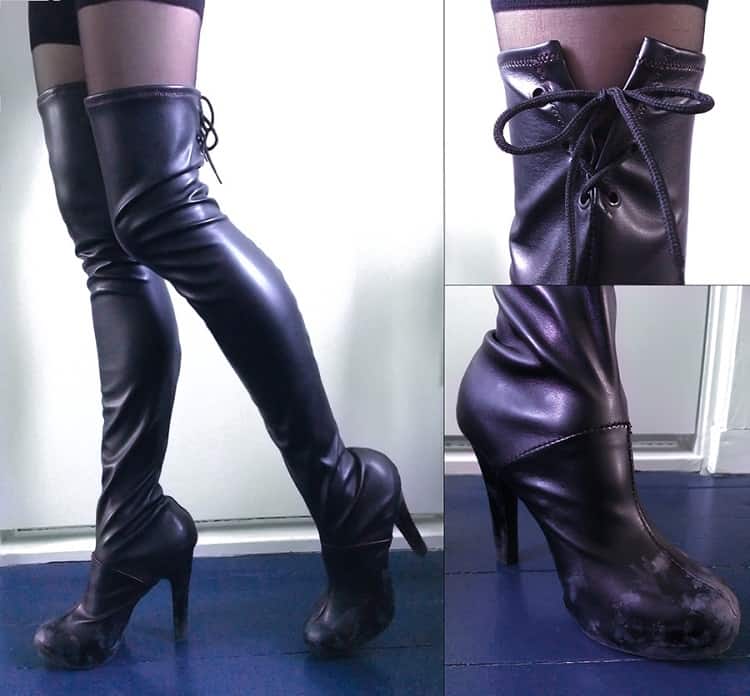 The footwear, combined with the elegant black gown, has undoubtedly elevated 2B's overall appearance in Nier: Automata. Black faux leather boots can be a blessing. The boots need to be thigh-high and of good quality, so you don't regret your existence later on. 
Get a comfortable insole swell. If the insole is somewhat padded, your feet will be comfortable and supported throughout the day. Another amazing addition can be adjustable ankle slip. The boots will be easier to put on and take off.
2B Sword
What counts most is a heroine's weapon! Grab on a sword that looks exactly like the one from Nier: Automata. The sword should be easy to grab onto. Search for a sword with steel finishing and a wooden handle for better grip. 
These are the most prominent characteristics of 2B's sword. Also, pay close attention to the sword's detailing because that is what makes it unique.
Top Outfits Available To Buy Online
All the items mentioned above make up the whole 2B look. Now that you know what you need, you might be thinking about the places from where you can procure them. We have curated a list of the best 2B outfits available online.
"Miccostumes Womens No. 2 Type B"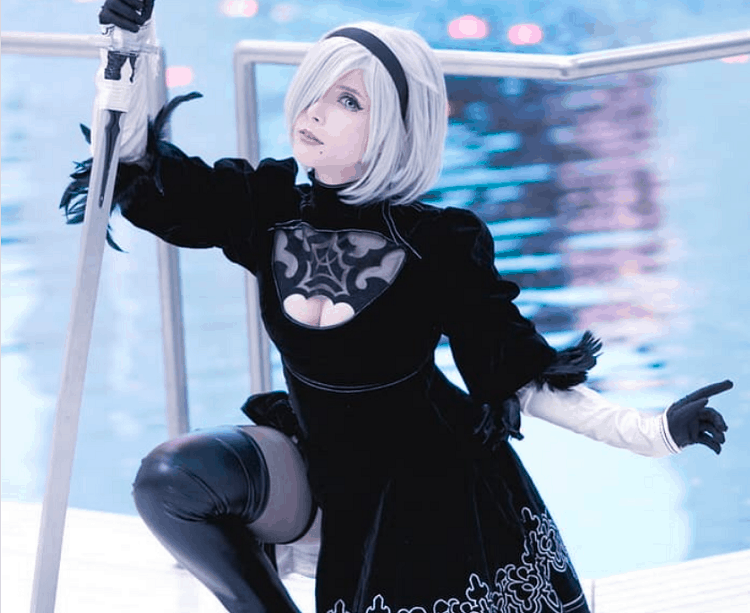 It is a wonderful costume that is available in a variety of sizes for consumers to pick from. The costume, including the dress and additional elements, are all well-made plus realistic-looking. They're both all attractive and comfy, which is unusual for a costume. 
As you may be aware, cosplay outfits are intricate. As a result, the manufacturer frequently overlooks the costume's comfort level. However, because of its comfort level and breathability, this outfit is completely fine and comfy.
Pros
It is crafted of high-quality materials, giving it a natural and beautiful appearance. It is comprised of high-quality elastic PU leather and suede leather, making it sleek and appealing. 

It includes a large number of accessories, some of which are imported. 

Silky stockings, a skirt, a leotard, and stockings, are included. It also includes two pairs of gloves, one headgear, and a blindfold. 

It's also adorned with a lovely bow. 

The bodysuit comprises a firm and flexible fabric that makes you look great while still keeping you comfy.

It includes a black skirt that is heavily embellished to offer an actual appearance in the game. 

This costume has puffy sleeves of faux leotard feathers, which adds to the details. 

The skirt's hem features a one-of-a-kind and lovely embroidery that you will undoubtedly enjoy. 

It consists of a white crotch and a black colored leotard top, which is very useful in preventing exposure. 

It has a simple zipper that makes it easy to put on and take off. 
Cons
The headband does not rest correctly on top of the head.
"Discos Us Size No 2 Type B Cosplay Leotard Dress 2b Costume With Blindfold"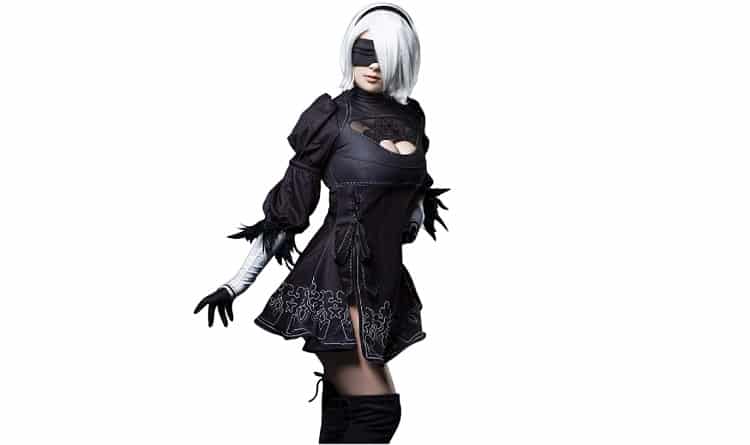 It's a well-fitting and attractive 2b costume. The dress's quality is superb, plus it is also really attractive. It's the sorts of outfits that will suit you perfectly and make you seem stunning. 
This fantastic costume is made of high-quality cloth and includes all of the accessories with 2B outfits. It comes in various sizes to ensure that the outfit fits you perfectly, regardless of your height.
Pros
These outfits include a leotard and gloves in the package. Accessories include a blindfold, a headband, and other items. 

You will also receive a bottom, stockings, and a petticoat.

With your outfit, you'll get an "elastic air layer." 

It comes in many sizes and presents a size chart to assist you in selecting the right costume for your needs.

They can be worn practically everywhere, including comic cons and other events. 

It includes an absolute free return policy, which implies you may return it if you aren't pleased with it. 

This costume's embellishment is quite lovely and classy.
Cons
The zipper is difficult to operate.
"2B Hoodie Sweatshirt"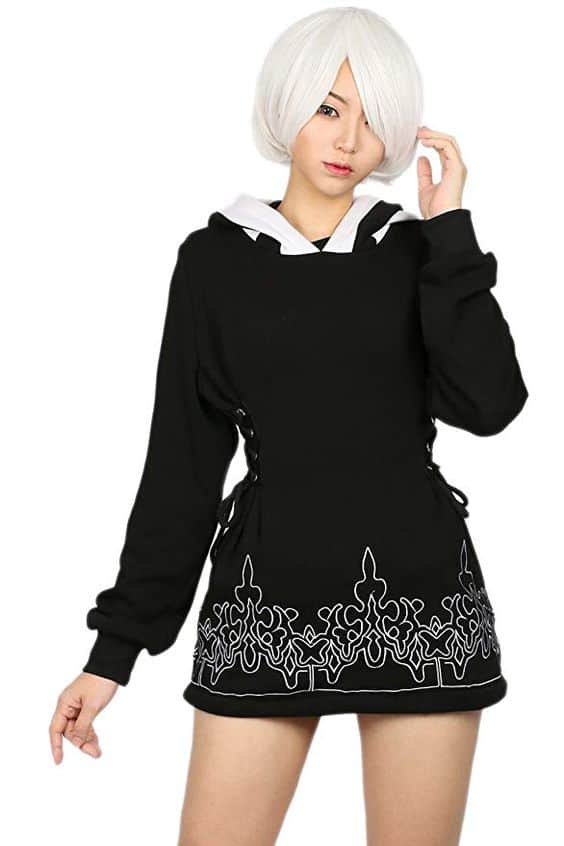 This costume differs significantly from the preceding 2B outfit. This is a hoodie that comes with the design and several other characteristics of the Nier automata's 2B. This is an unusual hooded outfit that is both comfy and airy.
The overall style of the sweatshirt is pretty distinctive since it closely resembles 2B's classic costume. It will assist you in two ways. First, it will give you a breathable and comfortable costume. Second, the outfit is very charming!
Pros
Even though it's a sweatshirt, you get features that are the same signature pattern as the classic 2B costumes. 

It's black and includes all of Nier Automata's additional accessories. 

It is constructed of cotton, making it exceedingly pleasant to wear. 

The biggest advantage of this outfit is that you may wear it as a regular hoodie as well as for any other event. 

It comes in various sizes, including S, M, L, XL, and XX, and is available in black. 

It includes a size chart, much like the last one, to help you pick the proper size. 

It is a sleek and appealing "2B Nier Automata" sweatshirt, making it among the top "2B Nier Automata" outfits.

It includes multiple gorgeous accessories.
Cons
It does not include a ribbon for tying up the side.
"Miccostumes Women's 2b White Two Piece Dress Outfit"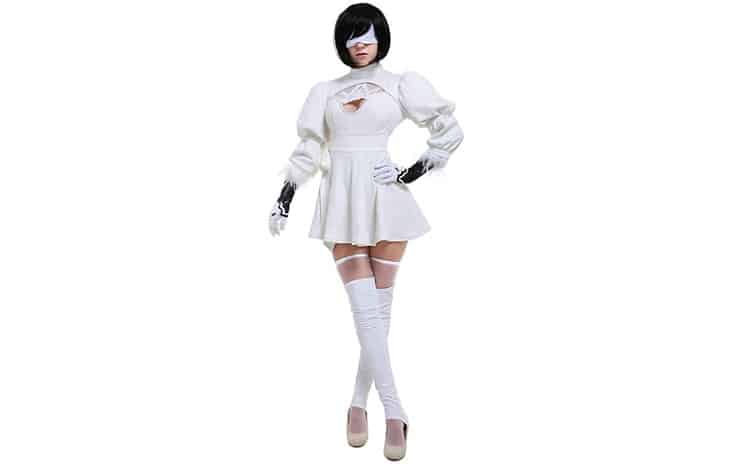 This is yet another "Miccostumes 2B cosplay" costume, with the main difference being white instead of black. So, if you're seeking the finest 2b cosplay costumes- Nier Automata in white, you should attempt it. 
This costume is one-of-a-kind in terms of shape and design. Even though it is a 2B costume, the design of this amazing gown is rather different from the others. This outfit will allow you to try out a different style of 2B costume.
Pros
This one is composed of Elastic PU leather and suede. 

It includes all of the original 2B character's accessories. 

All of the accessories are imported. 

This one comprises silky stockings, a skirt, a leotard too. 

This costume's fabric is comfy, as it is elastic and heavy. A fake feather is attached to the puffy sleeve flap. 

The hemline of this lovely gown is embellished with exquisite and gorgeous embroidery. 

It has a white top as well as a black crotch to cope with the exposer. 

It is quite comfy and simple to put on.
Cons
The boots are a little short, but this isn't a major flaw.
"Cfalaicos Short Pure White Costume Hair With Free Wig Cap"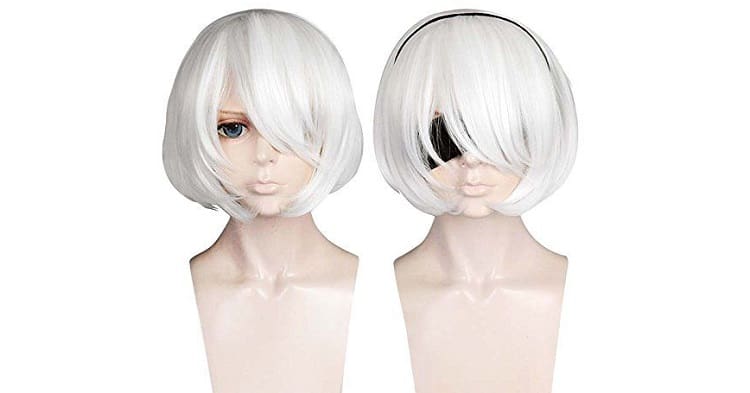 The outfit varies slightly from the other 2B costumes we looked at. Just the band, wig, and other top-of-the-head accouterments are included in this outfit. This wig is regarded to be among the top "Nier Automata 2B" cosplay outfits. 
The wig is highly popular among 2b cosplayers. Several costumes don't put much work into the headpieces. As a result, numerous customers frequently are unsatisfied with the headland or the wig that comes with it. 
Hence, the head accessories and the wig are the focal points of this costume.
Pros
The wig has been completely brush-treated to look flawlessly puffy, just like the central protagonist 2B in Nier Automata. 

It's also super comfy and breezy. That implies that you can wear this wig comfortably because it enables a lot of ventilation to pass through without ruining your hairdo. 

It's made of dazzling white material and includes a wig cap. 

The wig's material is extremely temperature resistant. Hence you may wear it for any event without worrying about deformed air fibers. 

It is appropriate for any type of gathering involving the game or any other subjects.

The wig is fully customizable and fits snugly over your head. 

This wig is simple to clean and does not lose its color or any other features post washing. 
Cons
The wig's length being the same for folks who prefer varying hair lengths could be a problem.
Buying Guide: What to Look for Before Getting Your Dream Outfit
Whenever you look for your perfect costume, there are certain factors that you must keep in mind. Let us go through these important factors.
Get The Entire Look
The "2B Nier Automata cosplay" outfit should include gloves, dress, hair bands, gloves, eyeshade/blinder, underpants, and stocking. Certain stores may even allow you to purchase the shoes (heels) individually to finish the look. 
As 2B's hair is silver white and her eyes are gray-blue, you can get contact lenses and a silver wig that mirrors her eye color to make you look like you've stepped right out of the video game series.
Sizing
Most merchants provide S, M, L, & XL sizes. However, certain may also offer XS, XXL, and XXXL. Suede and Polyester are popular selections for the material utilized to create the outfit. You can choose between these two alternatives depending on your preferences.
Color Scheme
The 2B cosplay outfit is typically available in black, which is the protagonist's primary color palette. Nevertheless, if you look around a little more at different internet stores and vendors, you might find two additional color options: white and red. 
Keep in mind that black-colored clothing is likely to be the most expensive of the three color options. 
Pricing
The cost of the outfit varies depending on the vendor and from where it is transported to your location. Therefore, be sure to look around at a few different online retailers to guarantee you receive the greatest bargain. 
If you want to order accessories like wigs or heels, see if the costume vendor provides them; if they do, you might be able to get a good deal or a discount.
Accessories
Ensure the costume includes all of "2B's Nier Automata" accessories. Accessories are required for the greatest 2B cosplay costumes- Nier Automata. If you don't have them, you'll seem like a Ferrari sans a steering wheel, which is rather humiliating.
Comfortability 
The most common consumer issue about such costumes is that they aren't all that comfy or breathable. You would find it impossible to appreciate any occasion, festival, or carnival, due to a lack of comfortability or breathability. 
Therefore definitely try it on before you purchase it, or you can end up regretting your purchase. 
Design
You must ensure whether your outfit is similar to the actual 2B costumes in terms of design. For shoppers who need a slightly altered costume, the outfits should be relatively similar to the classic. These altered costumes can be sweatshirts and other types of outfits.
The hand sleeve or hem has a certain design that is characteristic of any nice 2B outfit. As a result, ensure the sleeves and needlework on the skirt's hem resemble the authentic costumes.
DIY Your Own 2B Costume Version
For 2B cosplay, you'll need the 2B black gothic outfit, thigh-high boots, black thigh-high stockings, and a short silvery wig. Additionally, you will want to get white-colored long gloves – around 18 inches long.
Finally, an unsharpened Katana sword that has a white nylon handle will complete the look. You can construct your personal 2B cosplay costume if you happen to be a DIY lover. You would need to invest a lot of effort and time.
Starting with a base 2B set, you may add various decorations and weaponry to provide the whole outfit a realistic look. That is how you may get an authentic look.
You could even attempt making the costume from scratch, though this will take a lot of time and effort. It's a difficult task to get the mesh design and cut-out just perfect. You must guarantee that the pattern on the clothing matches the one in the game. 
You'd also have to choose the correct fabric that drapes nicely to help you appear attractive. If you're not sure you're up to it, start with a 2B base set.
FAQs
We are sure that you know what you need to get your perfect 2B outfit by now. On a final note, we'll discuss all the frequently asked questions. We hope to clear your answers.
Question: What is Cosplay?
Answer: Cosplay is the act of dressing up as a distinct character from a film, anime, or video game. The outfits are extremely different from what you'd expect. Their manufacturing procedures are also distinct since they need distinct characteristics. 
Since most anime or video game characters are vibrant, the cosplay outfit appears to be more colorful. The cosplay outfit consists of clothing, a wig, plus various accessories such as a stick, gun, sword, or another type of item.
Question: Who is 2B?
Answer: 2B is the protagonist of the popular video game Nier Automat. It is a "role-playing action" game that follows 2B's tale as a part of YoRHa units fighting adversaries in an open environment. It is a third-person pov game that is similar to a hack and slash combat game.
Question: What is Neir Automata?
Answer: This is an action-adventure role-playing game set in a world reeling from the after-effects of an apocalypse. Inside this post-apocalyptic universe, you'll have to play as a man-made robot. You will fight a war for world control against a mechanical army.
The central protagonist is an android who is a member of YoRHa, the Android force. 2B is a well-known figure who is notable and the game's key characters. 
Question: How Much Money is Required To Get a 2B Costume?
Answer: It is dependent on the outfit you are purchasing, and it's quality. You must search for the solution to this query to get the finest 2B cosplay outfits as a Nier automata character. Generally, the price of the costumes is below 100 dollars.
Question: What Color Should You Go for When Getting a 2B Costume?
Answer: You may purchase any type of 2B outfit in any color you like since it's all up to you. Get a black one if the original look of 2b of Nier Automata is more appealing to you. You can purchase costumes in additional colors if you desire a one-of-a-kind color scheme. 
Finally, color is entirely a matter of personal preference and taste.
Question: Can You Make a 2B Costume?
Answer: Why not? If you possess the skills and expertise of a talented tailor, go ahead. You may easily construct 2B costumes on your own. However, you must ensure that you acquire all of the necessary fabrics and additional materials.
Question: Can You Get Separate Accessories and Wig?
Answer: Yes, you can purchase a 2B wig and additional accessories separately. You can also go for customized wig costumes. As a result, multiple 2B distinct outfits are easily available.
Final Thoughts
2B is a gorgeous character who is an inspiration to many. She is the main attraction of Nier: Automata. She is a person of substance. A lot of her personality is expressed through her outfit.
Thus, if you want to go to a cosplay event dressed up as 2B, you need to pay attention to all the details of her whole get-up. Her gown contributes to her primary outlook. You can get the amazing gown on the internet easily. We listed some of the best ones for you in this article.
Keep in mind the factors that are most important to you. These factors range from pricing to color scheming.
And that is about it! We hope you liked the article. All the best for bringing 2B to life!