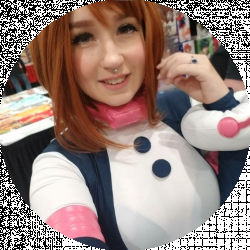 Latest posts by Katrina Dent
(see all)
In this Jolyne Cujoh cosplay ideas guide, you'll get to transform into this character.
Jolyne Cujoh (or Kujo) is the main protagonist of JoJo's Bizarre Adventure: Stone Ocean and is the only female JoJo protagonist to date. She is the daughter of Jotaro Kujo, who appears in Stardust Crusaders, Diamond is Unbreakable, Vento Aureo (Golden Wind), and Stone Ocean.
Although Jotaro Kujo is considered a fan favorite, a lot of people sleep on Jolyne Cujoh. Up until 2022, Stone Ocean wasn't an animated part, making her character basically unknown to non-manga readers. But even with manga readers, her part is often skipped over or disliked for its ending. I think if more people gave this part a chance, their opinion would change.
Besides Giorno Giovanna, Jolyne Cujoh is my favorite protagonist. I've cosplayed her several times, and I want to share what I learned from the experience and pass it down to you.
Like most Jojo Cosplays, Jolyne Cujoh can be difficult to cosplay, primarily for wig styling. Thanks to Jolyne Cujoh's run in the "Fly High with GUCCI" campaign, you'll have a lot of outfits to choose from. And, no, you won't have to pay Gucci prices to make a great Jolyne cosplay.
Bottom Line Up Front
To pull off a Jolyne Cujoh cosplay, put a lot of focus on the wig. After perfecting her hairstyle, you can choose from ten cosplay outfits to start, but you can mix and match her style with alternate costume items and styles. Finish off her look with makeup and her signature tattoo.
What to Consider Before Choosing a Jolyne Cujoh Cosplay
Cosplaying Jolyne Cujoh is going to be tough, all because of her hairstyle! However, once you manage to find or make a decent wig, you can start picking out or creating your dream cosplay.
Styling vs Buying Jolyne's Wig
Let's face it, Jolyne Cujoh is 90% hair and 9% personality. The other 1% is the rest of the costume. If your wig isn't high quality, the rest of the outfit won't scream "Jolyne Cujoh." 
But it isn't easy to find a great Jolyne wig. I used this wig from EZCosplay the first time I cosplayed her, but It still took me an hour to fix it. Even with hair products, styling, and shaping, I was too embarrassed to wear it in public. The structure of the wig was too flimsy to wear.
The second time around, I commissioned an artist. I'm a good wig styler, but I found her hair too complicated for my skill set. I'm sure most hairstylists couldn't create her hairstyle if they tried.
That is until I found Satoken.
Credit: Satoken's Hair Labo
Satoken is an incredible hairstylist out of Omotesando, Tokyo, who deserves more attention. He's included the wigs he used in the Youtube description, but you'll have to watch the video to see what hair dyes and styling tips he utilized. As you can see, this hairstyle is challenging.
If you have the money, I recommend commissioning a talented wig stylist like Satoken. But, if you want to buy a pre-made wig instead, this AnimeFiG one is the best wig I can find.
Buying vs Making Your Cosplay
I already explained how difficult it can be to make your own Jolyne wig, but if you're brave, you're welcome to try it. However, you won't need to be too brave when creating most of Jolyne's outfits. With few exceptions (specifically the spacesuit), most novice sewers can make her costumes. If you want to add more flare, you may need more sewing experience.
But what if you aren't a great sewer? Can you find a decent costume? Yes and no. I find the Miccostumes one good for the price, and you can easily adjust it to your body type. The costume is made out of spandex and PU leather, making it eco-friendly and flexible.
Still, the Miccostumes cosplay doesn't connect the pants with the boots, and I can't find a pre-made costume that does. You'll either have to connect the costume yourself or go without.
Comic/JoJo Lines and Makeup
Also called cell shading, JoJo characters are often drawn with distinct comic book-like lines across their face, neck, arms, and torso. To really make your cosplay pop, you'll need to draw several defined lines on your nose, temples, jawline, lips, eyes, and anywhere else they appear.
Going without this aesthetic choice may not be the best idea. After all, JoJo characters are larger-than-life interpretations of real people. Using makeup to make it look like you popped right out of the manga is one of the best ways to give your cosplay depth at the expense of realness.
Here's Bumble Tea Cosplay putting on JoJo makeup:
Credit: Bumble Tea
But does a JoJo character have to look real? Absolutely not. Considering you'll be walking around with black and green hair buns, realism isn't something you need to worry about.
Comfort (Nakedness)
Jolyne's main outfit doesn't even make the top 50 on a list of the most revealing outfits. Anyone who's seen Kars in Battle Tendency knows JoJo characters hate clothing. Even so, Jolyne still has her midriff showing and prefers to wear tight leather pants or fashionable mini-skirts. 
There's nothing wrong with how Jolyne dresses or showing skin in general, but if you aren't comfortable wearing her main outfit, you have other options. For example, Jolyne wears a spacesuit made by Weather Report that covers the body completely. But if you can't get your hands on a spacesuit, you can wear a tank top underneath or tailor the outfit, so it shows less skin.
When choosing a cosplay for a con, always keep your comfort in mind. You won't want to walk around in 3-inch heels and a scratchy wig for 6 hours. Jolyne's leather pants and shirt may feel oppressive after a few hours, so consider switching materials when making your cosplay.
Convention Season and Weather
The best thing about any JoJo cosplay is the ability to charge your outfit with the season. Jolyne wears a midriff-baring top, sure, but she also wears a prison jacket, a pink bomber jacket, and a long coat in other appearances. You can pull from these outfits to make your costume warmer.
The last thing you want to do is cover your cosplay with a jacket that doesn't fit with your costume, but you also won't want to wear an oversized coat in the hot summer months.
When preparing your costume for a convention, pay attention to the weather. If you want to wear Jolyne for a competition, have a backup cosplay you can change into that's more comfortable. Or, you could simply take off your jacket once the competition is over.
Mix and Match or Original Outfit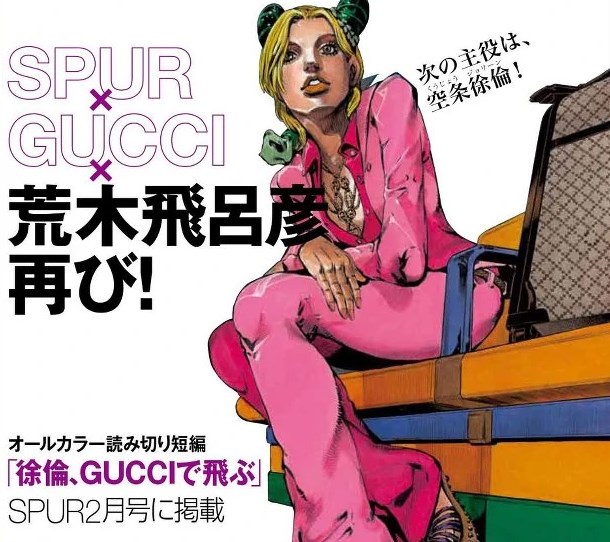 JoJo protagonists in later series, like Steel Ball Run and Jojolion, are often depicted in several outfits. Jojo's creator Hirohiko Araki loves to draw his characters in different poses and costumes, especially as cover art or for promotional purposes. His "Fly High with GUCCI" campaign is a great example of how versatile Jolyne and other JoJo characters can be.
I added an "Alternate Style Choices" selection, so you can create your own unique costumes using different sources. You can either add these clothing choices to the original outfit, or you can pull from it entirely. Either way, you'll stand out at conventions and in competitions.
You can even find several of Jolyne's outfit staples, including her tattoo, on websites like EZCosplay. By utilizing your sewing skills and wallet, you can truly customize Jolyne.
Selection Criteria 
For a cosplay to appear on the list below, it must follow the following criteria:
The cosplay has to be something Jolyne Cujoh has worn.

The outfit has to be designed by Hirohiko Araki or be approved by him.

The outfit has to appear in either the manga, anime, official video games or in promotional art Hirohiko Araki created for other publications.

The cosplay below can include parts of an outfit, so long as it was designed by Hirohiko Araki or approved by him. This makes it easier for cosplayers to mix and match.

The cosplays on this list must be wholly or partially available online to purchase.

The cosplays will vary in difficulty, ranging from easy (bought) to hard (hand-made).
In the next section, we'll look at the best Jolyne Cujoh cosplay ideas for newbies and experts.
WARNING: Spoilers for JoJo Part 6: Stone Ocean below
Our Selections: The Best Jolyne Cujoh Cosplay Ideas
Jolyne Cujoh has worn her fair share of outfits during the series. Whether you want to make and wear her main outfit, the prison jacket, or you prefer something more unique, this list has it all.
Main Outfit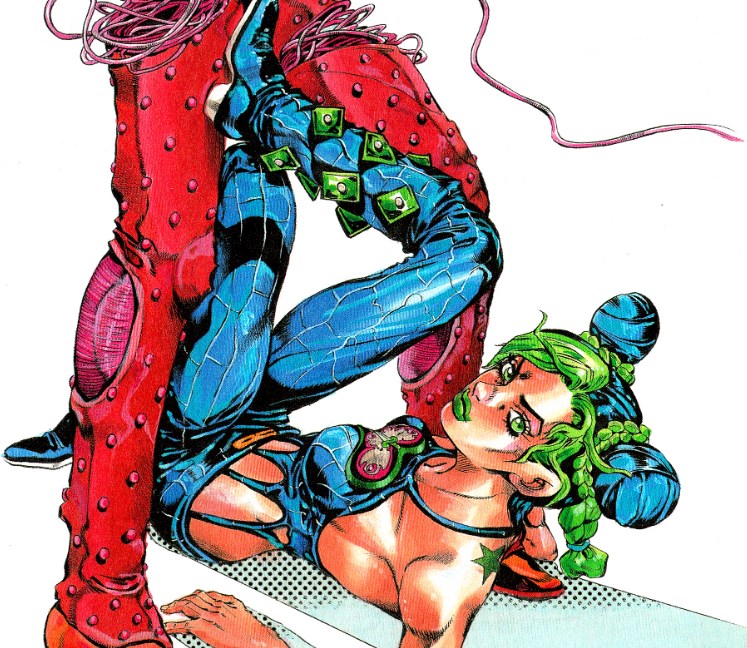 JoJo fans have a headcanon that Jolyne inherited Joseph Jostar's hoochie mama pants. 
I can see that theory holding weight, especially when you look at the bottom of his shoe, where you can clearly see the butterfly medallion. Although the pattern on Jolyne's pants is different, you'll notice individual leather patches at the bottom, which are unique to her outfit.
If you want to cosplay her main prison outfit, you're in luck because several online stores offer it. As stated, you won't find a costume that connects the boots to the pants. However, you can cuff and sew the pants directly onto your shoes if you bought a costume like this one.
If you want to make it instead, you won't have any trouble (unless you make the wig). For makeup, use green lipstick and apply JoJo lines. Use similar makeup for the rest of the ideas.
Don't forget to add the JoJo Star birthmark on the back of her shoulder, paint her nails, and add the tattoo on her forearm. These little touches will bring a lot of personality to your cosplay.
Main Outfit with Prison Jacket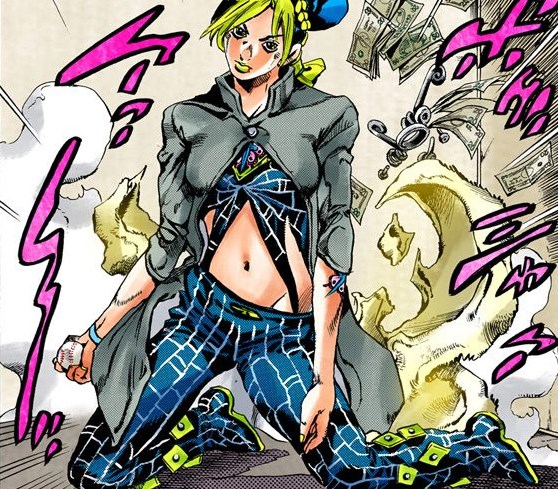 Jolyne Cujoh spends some of the series in prison, although she stays in a place called "Green Dolphin Street Jail" in the Japanese version. This was partially fixed in the dub, but the jackets still say "G.D. St. Jail" on the back. Just keep that in mind if you want to make this jacket. 
In most of her manga appearances, Jolyne wears a gray jacket, but there are some instances where it's colored aqua—pictured below. I personally like the colored jacket better.
In the anime, manga, and some video game appearances, she's also seen wearing a long gray coat. Most prison jackets are worn over her main outfit and have "G.D. St. Jail" on the back.
Bra Top with Flower Pants
While this outfit never officially appears in the manga, anime, or video games, it's a great take on her main outfit. This cosplay replaces her usual top with a bra and colors her pants pink. You'll also notice that the flowers are a part of the pants and not tacked on to the fabric itself.
Handcuffs with Spiral Pants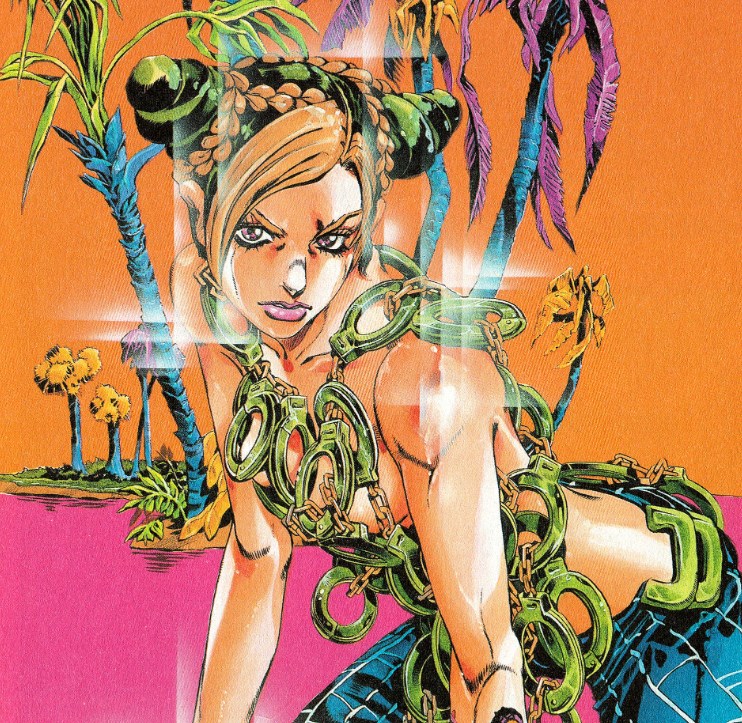 I'm not sure how anyone could wear this, and not because it's a risky outfit. If you were to use real handcuffs and they weren't tied down in some way, cold metal would slam against your breast and rib cage. Not a pleasant experience, but I think I know how this could work.
If you use realistic-looking fake chains, you could pull them tight enough to your body that they won't sway. Double-sided tape could keep the handcuffs where they need to be.
But instead of relying on her main outfit, you can make the cosplay more interesting by sewing a pair of spiral pants. You could even make a separate orange outfit, like in the picture below.
If you want to wear her skirted outfit instead, you can use the following picture as reference.
You'll also notice that her top looks more ragged and looks great in black.
Main Outfit with Prison Jacket (Alt Colors)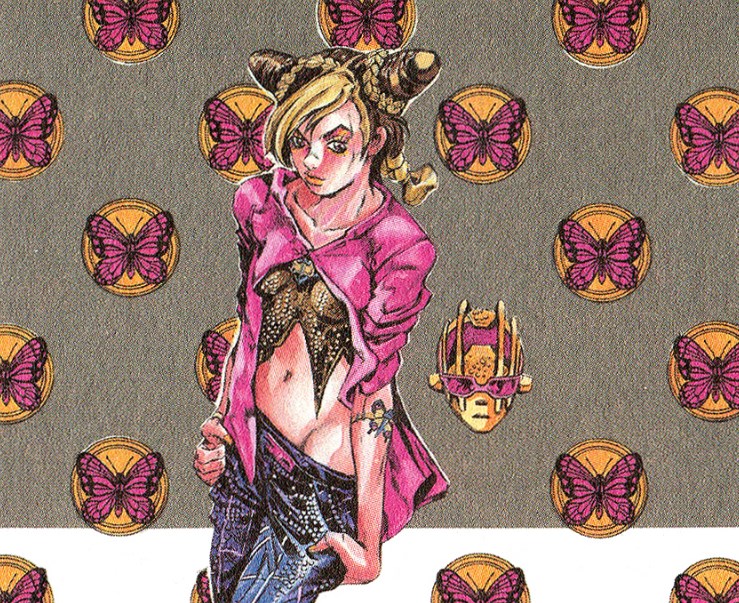 When Hirohiko Araki gets bored of drawing the same outfit, he changes it. Although most of the alt designs are only used as manga covers, they're really cool and worth cosplaying. In the first example above, the color of her jacket has changed, and her prison clothes include round studs.
The example below shows a kaleidoscope of colors. It reminds me of the colors you'd see in an oil puddle. But considering she's on top of a snakeskin shoe, he may be initiating snake scales.
In the "Alternative Style Choices" section, you'll see more alternate colors of her prison attire.
Main Outfit with Skirt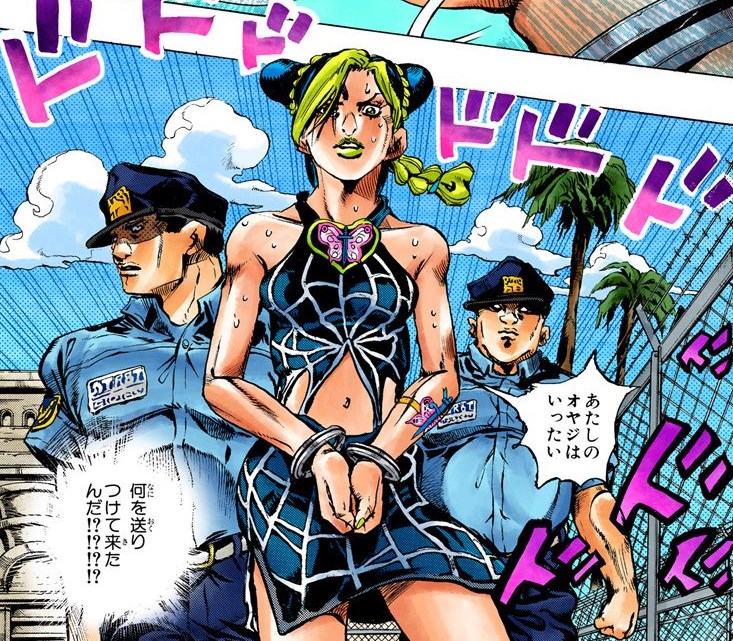 When Jolyne initially enters prison, she's wearing a slitted skirt. I can't confirm this, but I have a feeling Hirohiko Araki changed this design so he could put her in more action poses. While it isn't impossible to fight in a skirt, it no doubt limits Hirohiko Araki's ability to draw her.
Although she doesn't wear the skirt for long, you can still find this outfit at most cosplay retailers. As a positive, skirts are much easier to sew than pants, especially ones that connect to boots.
Between manga chapters, Hirohiko Araki drew a few alt versions of the outfit. Pictured below, you can see a purple and green number that has "JoJo's Bizarre Adventure" across it.
In the final example, you'll see a totally different outfit. There's so much going on here, from the armband to the different colored boots, to the strange strobe effect. But the best part about the design is the Forever 21 shirt she has on. Seriously, you can get that shirt almost anywhere.
This design looks similar to the one pictured in the "Alternative Style Choices" section, except the one above is way busier. If you want to tone it down, lose the armband and accessories.
Technicolor Dream Coat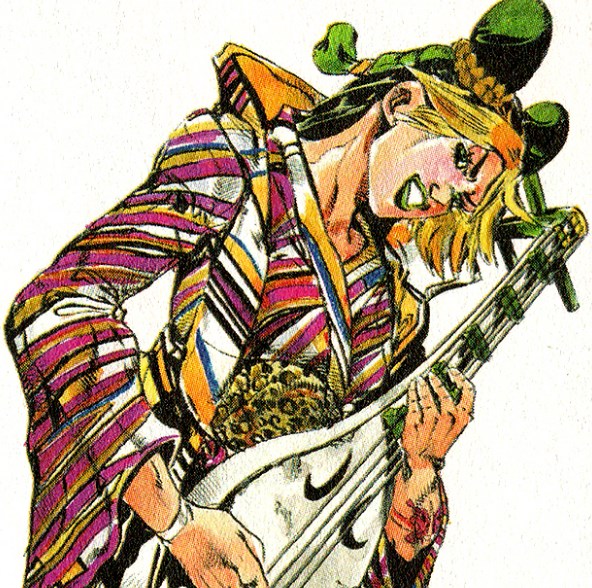 How can you see this design and not be reminded of "Joseph and the Amazing Technicolor Dreamcoat?" While this version doesn't hold a candle to Joseph's, it's still a great look. If you can wait until summer, look around department stores and H&M for a version of this coat.
Jolyne's coat almost looks like a kimono, so you may be able to hem one to match the silhouette of the outfit. The shoes will be a challenge, and you probably won't find anything that looks like them. I recommend sewing or gluing fabric and foam letters to the knee-high boots.
Age 14 Jolyne (Long Hair)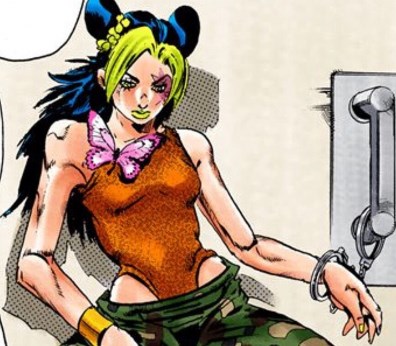 Although 14-year-old Jolyne appears for mere seconds in the manga, she's a popular cosplay. The fact you can find her wig at EZCosplay should tell you that much. But good luck finding her actual outfit on cosplay websites, but I doubt you'll need to. Her outfit is easy to track down.
The orange bodysuit is available at most stores that cater to teens, but I'm not sure if those lines are meant to be leopard print. The anime confirms it isn't, so we'll go with a plain bodysuit.
Low-rides are hard to find, but camouflage pants aren't. Unfortunately, Jolyne liked to connect her boots to her pants, even as a teenager. You'll need to sew them together.
Unlike the rest of the cosplays on this list, Jolyne has a pink star on her left eye. Use bodypaint to fill it in. Then, pin a large pink butterfly on her right shoulder. Use fabric to shape it, not paper, even though it looks super thin. Add a bracelet on your right wrist and handcuffs on the left.
Space Suit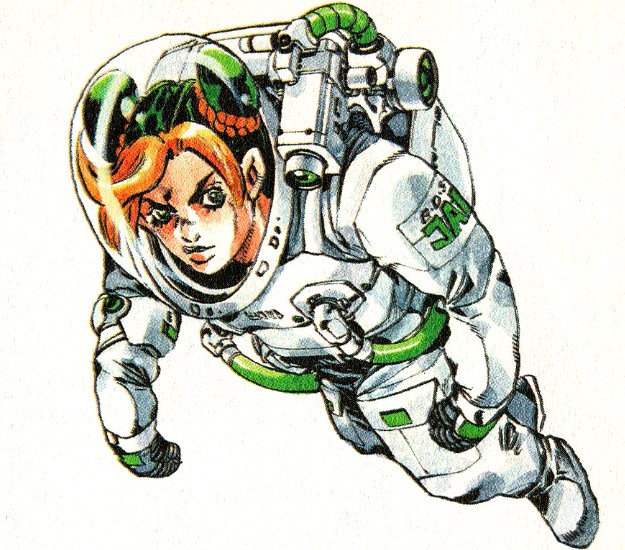 While you can purchase a decently priced space suit online, you're not going to find one that looks like Jolyne's. You can buy replica NASA space suits, as well, but they're thousands of dollars. If you want to make this cosplay, it's cheaper and more fun to make it from scratch.
While audreyobscura's suit isn't exactly what you're looking for, it provides a decent base to work from. You can even insert LEDs to make the suit light up, which is super cool. Don't forget to add electrical equipment for the camera on her shoulder if you want it to work.
Fly High With GUCCI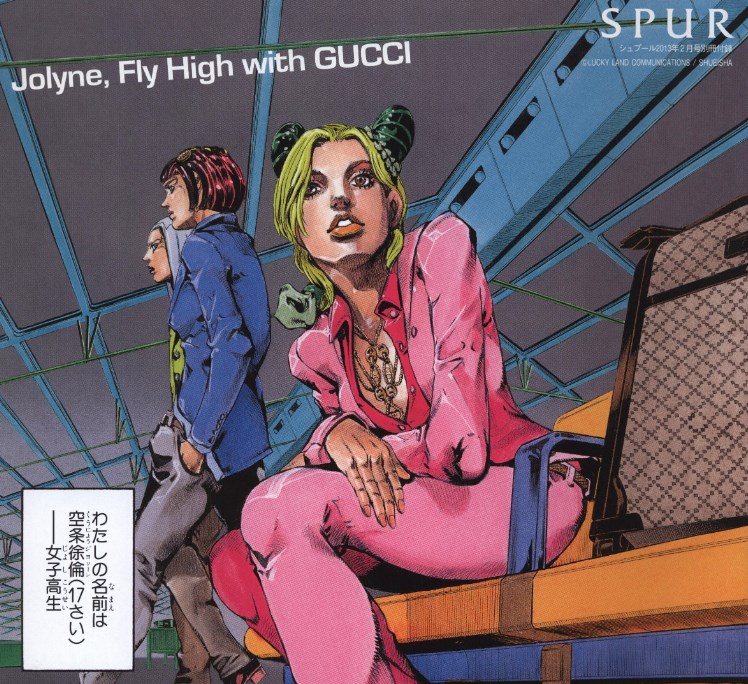 "Jolyne, Fly High with GUCCI" is a one-shot manga presented in full color featured in the February 2013 issue of women's fashion magazine Spur. It was created in collaboration with Gucci's creative director, Frida Giannini, and went on to inspire the 2013 Cruise collection.
Initially released on December 22, 2012, as a stand-alone project, the story follows Jolyne and her adventures in Tokyo. There, she meets Vento Aureo (Golden Wind) characters Bucciarati, Abbacchio, and Polpo, who are looking for a unicorn seen in the photo above the paragraph. 
Unlike the rest of the cosplays on this list, you could actually buy all of the clothing pictured off the rack. Well, from designers. Check out Look 28 and Look 29. Do they look familiar?
While all of these looks are incredible, especially as a cosplay, the pieces themselves cost an arm and a leg. I can't even find an eBay listing for any of the products, so you've likely missed your chance to nab one of these high-fashion beauties. Still, most of these outfits are easy to find at clothing stores that aren't Gucci. You can probably find the following green dress at most stores.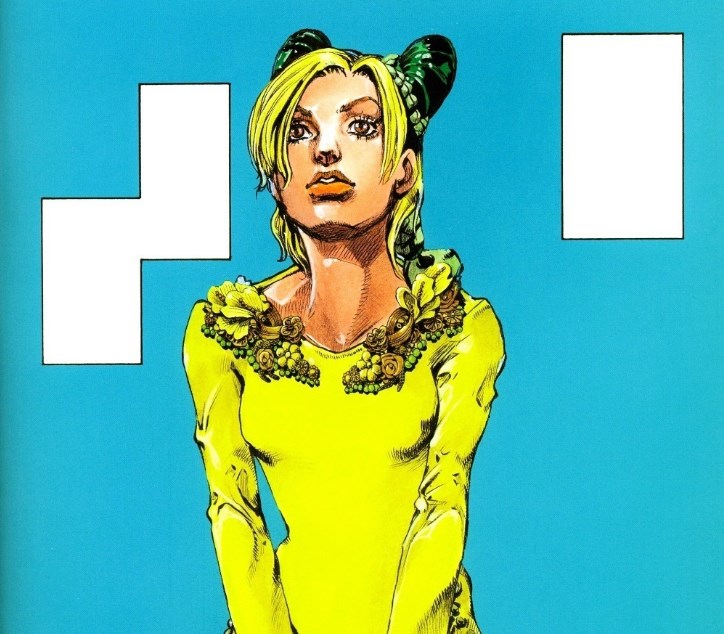 I also think you could find the floral, purple maxi dress and brown trench coat in the summer. But you'll probably need to sew some flowers on the trench if you can't find the exact item.
Did you take a look at Jolyne's hair in the picture with the purple dress? Instead of green braids, she's sporting pink. That choice makes sense, especially against the contrasting background.
Hirohiko Araki loves to partner with fashion designers to create interesting pieces. At the beginning of 2022, he did a Stone Ocean bag collaboration with SAMANTHA VEGA.
Alternate Style Choices
(Editor: Photo Credit)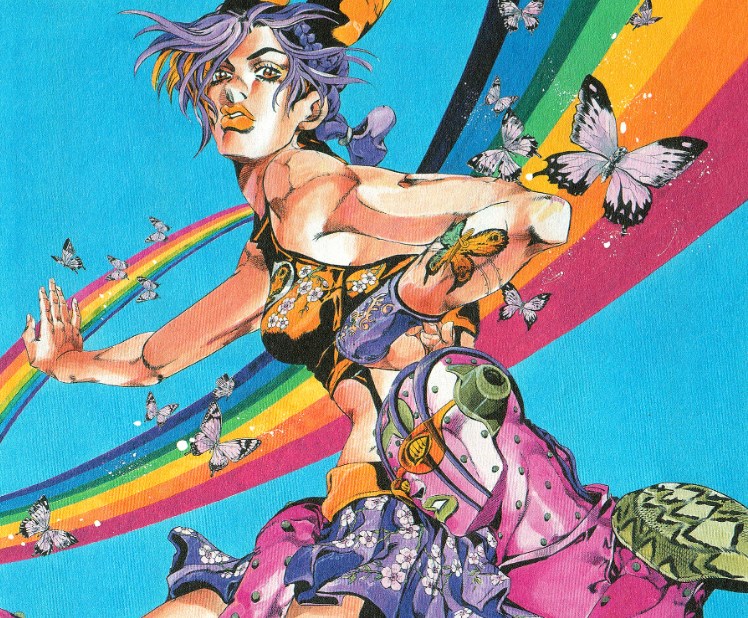 It's bizarre to write this, but people who love fashion will also equally love JoJo. Hirohiko Araki reads fashion magazine's frequently and has a fondness for customizing his characters and putting them in different outfits. For this reason, I think it's a great idea to pull from his artwork.
In the photo above, Jolyne is wearing her skirted prison outfit, but instead of stripes, it's adorned with flowers. The colors are also different. You'll notice she's wearing purple and yellow.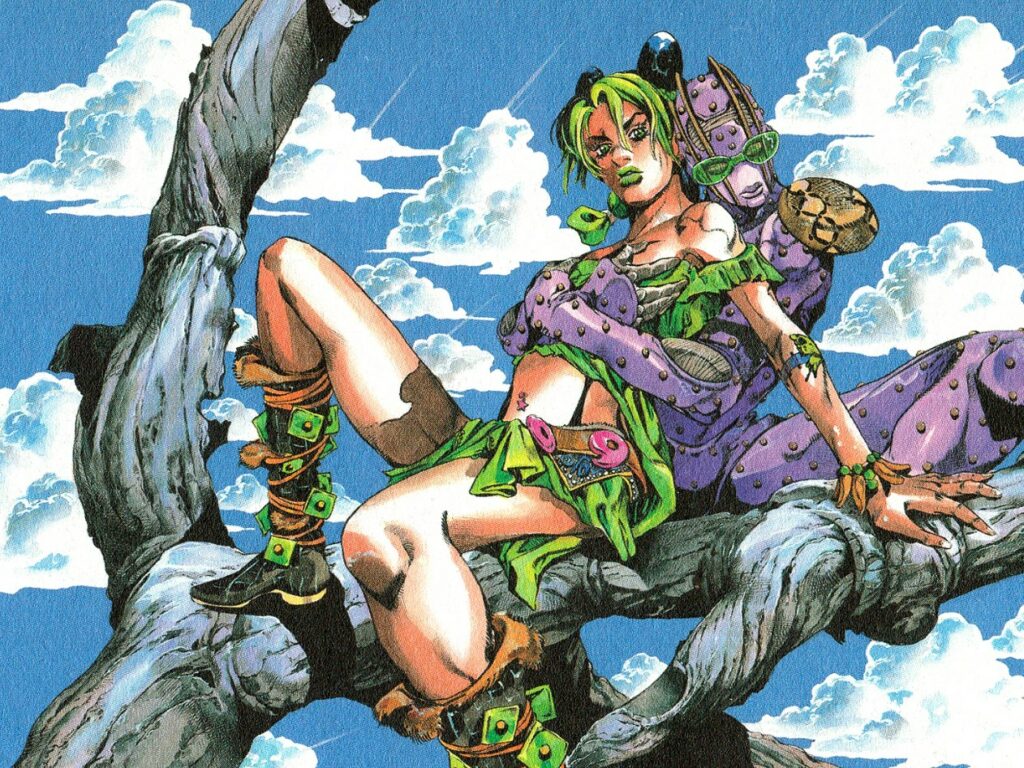 But it doesn't stop there; look at this costume idea. Jolyne's green skirt and top are more flowy, and her boots are super furry and dressed up with orange string. She's also wearing a bracelet.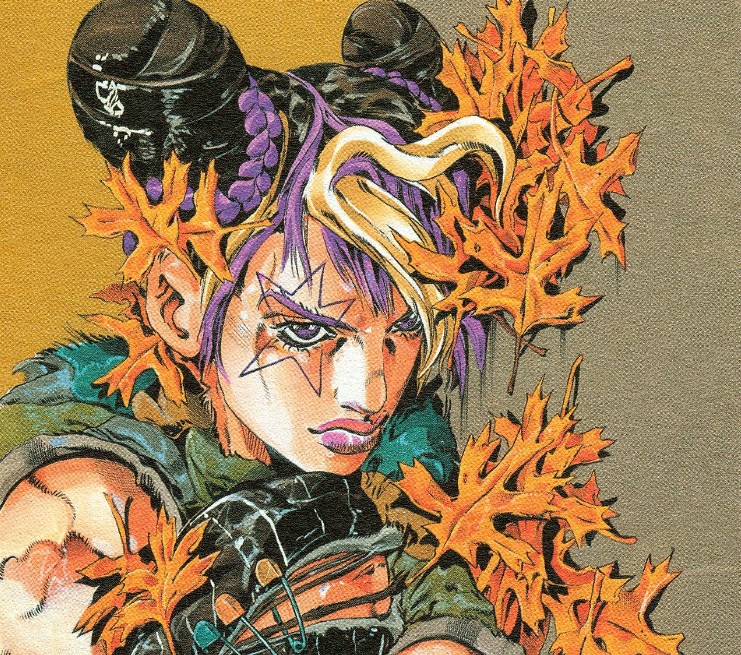 Speaking of customization, you don't even have to keep Jolyne's hair green. In this manga cover designed by Hirohiko Araki, Jolyne is sporting purple and yellow bangs, a star graphic on her eye, and ripped jeans. Araki made sure to include patches across her pants.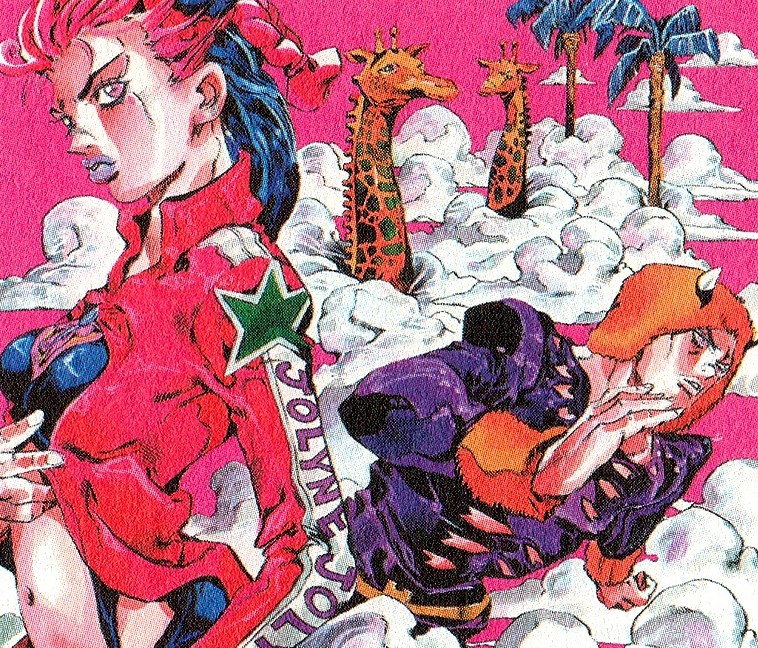 Here's an example of how to make your cosplay warmer without relying on the prison jacket. This adorable bubblegum pink racing jacket is so awesome, I'd want to wear it outside of cosplay. Also, did you notice her hair? She must have dyed it pink and blue to match her outfit.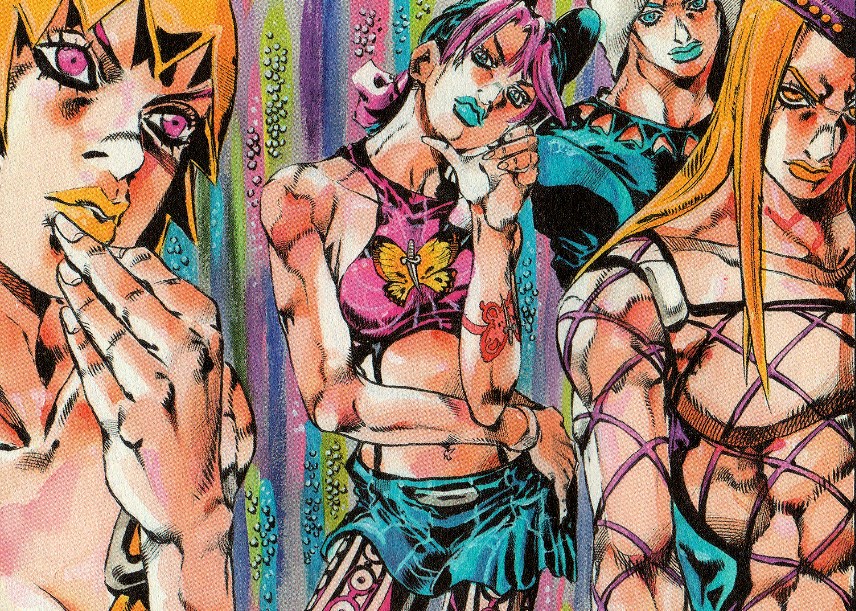 This number adds pink patterned tights and a pink top to her original skirted outfit. Her hair and makeup are different. Jolyne really likes to pair her hair and makeup with her clothing.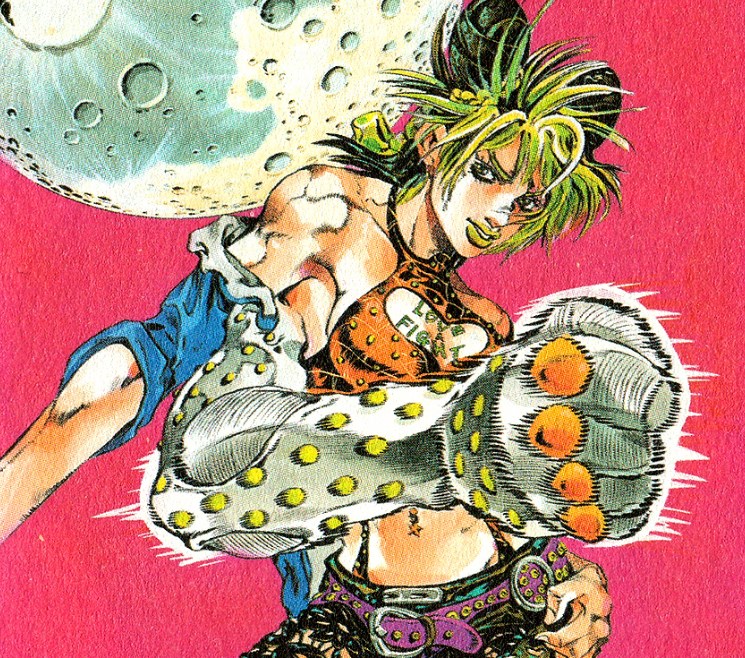 Speaking of tights with patterns, these pants are equal parts cool and difficult to find. It looks like she's wearing felted couch fabric on her legs, but you'll need spandex to keep it tight.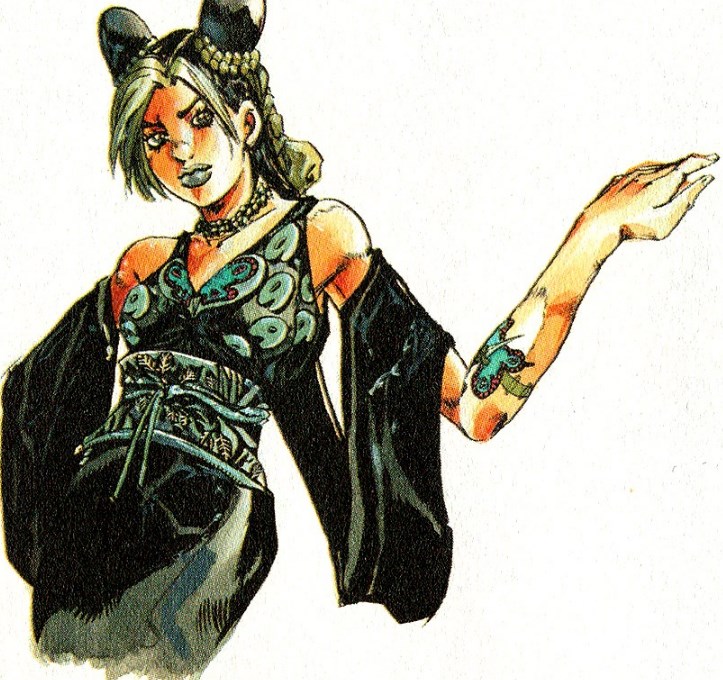 With a half Japanese dad, it makes sense that Jolyne would wear clothing from her father's culture. But this kimono isn't the full-coverage variety your mother would wear. She definitely altered the outfit to add patterns and an off-the-shoulder silhouette, and a plunging neckline.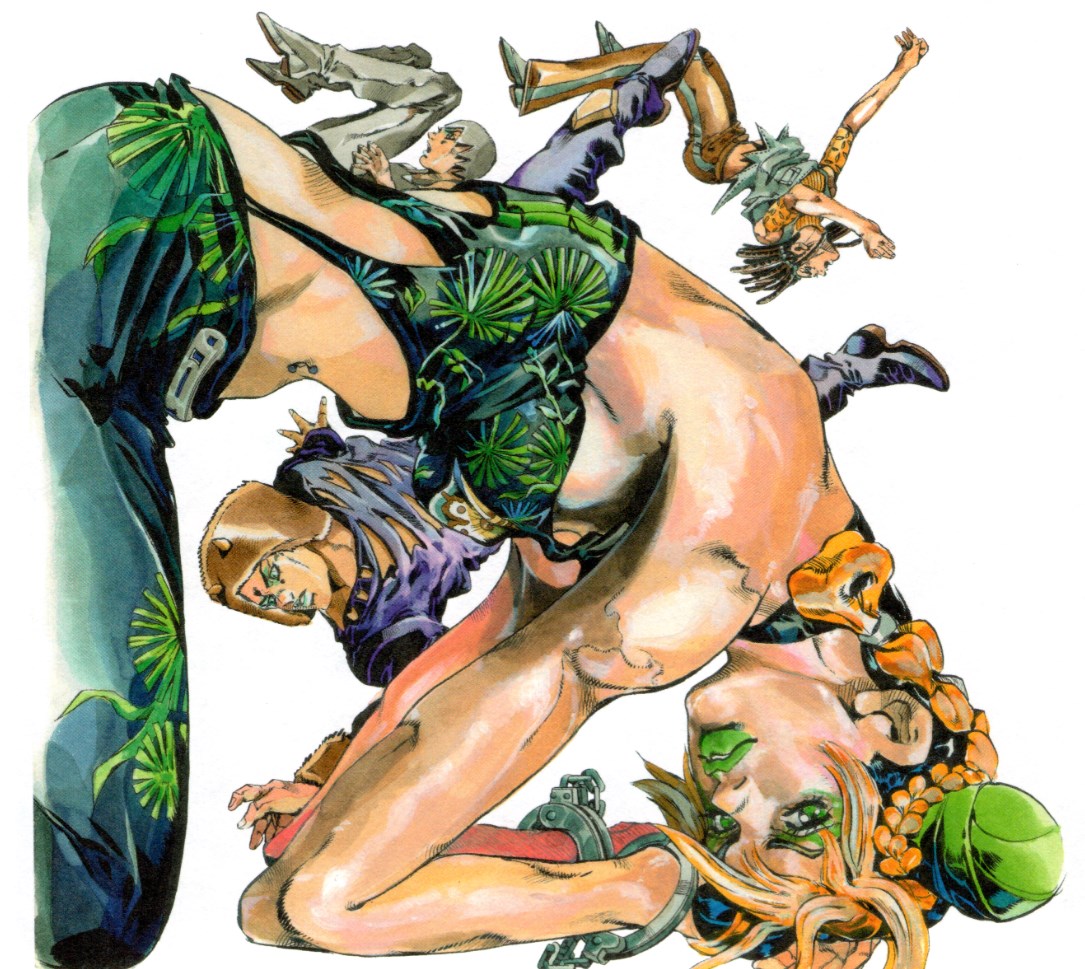 Here's another remix of the main outfit. Instead of stripes, her prison attire includes palm trees and a less harsh blue for the base. It's an interesting but easy-to-do take on her look.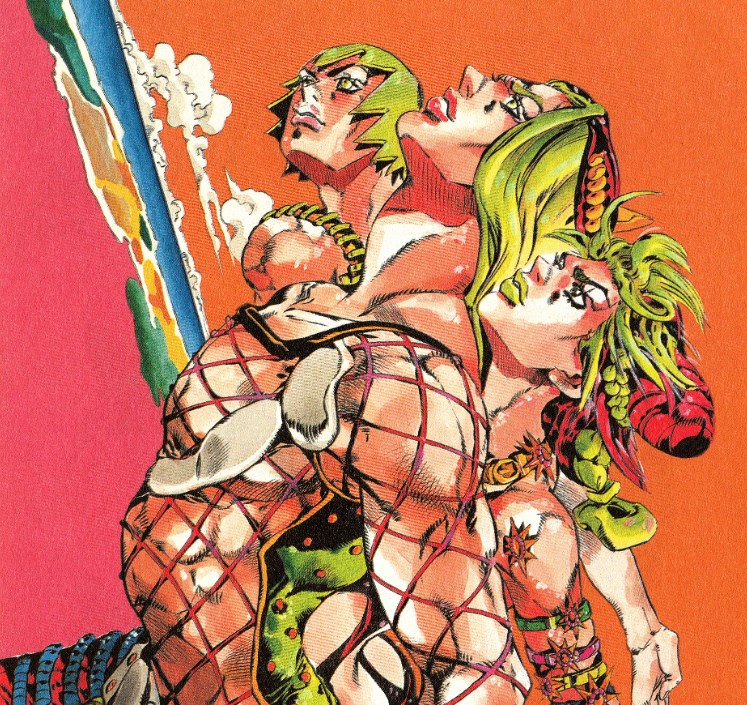 In this photo, you can see used several arm and belt accessories on her pants, most of them featuring suns and studs. Her outfit has also changed from blue and green to red and orange.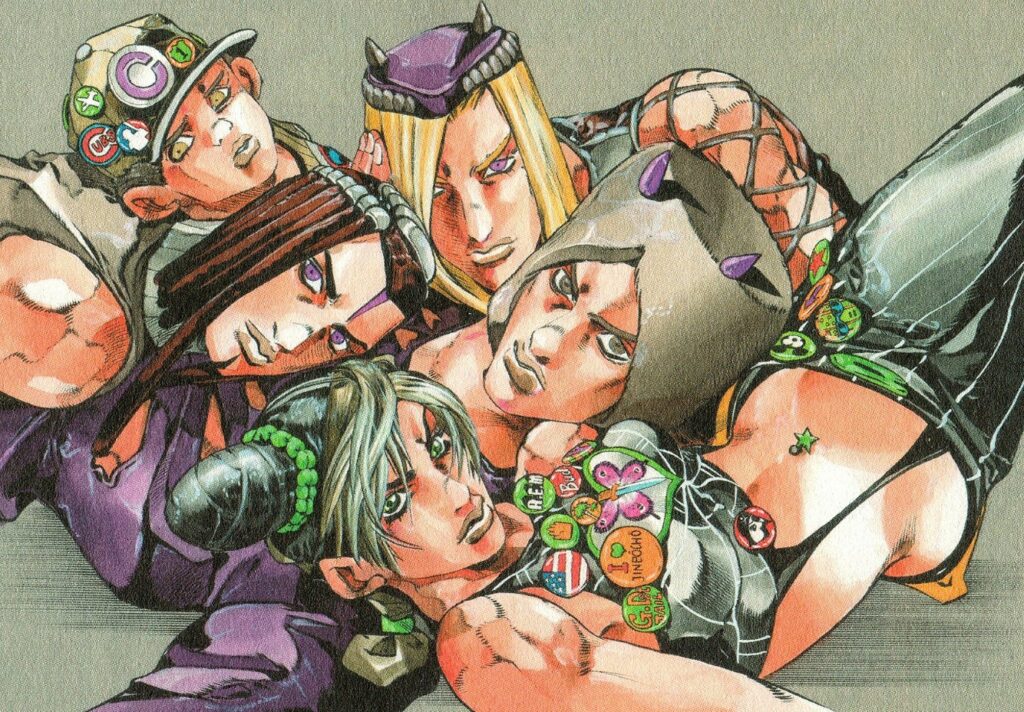 Want to literally add flair to your costume? Why not stick a bunch of buttons across your torso and pants? If you look closely, you can see a R.E.M, Mickey Mouse, and Shonen Jump button.
FAQ: Frequently Asked Questions
Question: How do you style a Jolyne wig?
Answer: Styling a Jolyne wig will be difficult, but if you start with a wig base, you'll achieve better results. For example, if you purchase a decent wig from Aliexpress or another retailer, you'll be able to take it apart and add hair extensions to give you enough hair to work with. 
Still, if you're a hairstylist or you have some experience with wigs, the best results come from creating your own custom piece. That's because her hairstyle is so complex and dimensional. 
It's okay if you don't feel up to the challenge. There are several artists that create custom wigs for a living who could style Jolyne's hair for you. However, your commission will be expensive.
Question: What age is Jolyne Cujoh?
Answer: Jolyne Cujoh is 19 for the majority of the series, so you can rest easy knowing that the clothes she's wearing aren't inappropriate for her age. At some points in the story, she's depicted as a 14-year-old, but her costume changes to an orange bodysuit and camouflage pants.
Question: Is Jolyne Cujoh a girl?
Answer: Jolyne Cujoh is indeed a woman, but some people are confused by her gender due to Hirohiko Araki's art style. While he used to only draw muscular characters, especially men, he uses more slender body types in parts 5, 6, 7, and 8. It's a big reason why fans initially thought Narancia was a girl, or another Stone Ocean character, Ermes Costello, was a man.
Question: How do you make a Jolyne Cujoh cosplay?
Answer: To make a Jolyne Cujoh cosplay, you can either purchase some or all of her outfit online, or you can sew it yourself. Since the pattern to create a Jolyne cosplay isn't readily available, you'll need to make your own or buy it from another cosplayer. You'll need PV leather fabric, elastic, cotton fabric, paint, glue, and a sewing machine for the best results.
You can find tutorials by searching online. Although the following artist (Mendokichi) is doing the skirted version of Jolyne's outfit, it's still one of the best main outfit tutorials out there.
Making Jolyne Cujoh's Outfit | Jojo's Bizarre Adventures | Costume DIY
Credit: Mendokichi
Mendokichi has several other great JoJo tutorials, like female Kakyoin, Jotaro, and Reimi.
Conclusion
Jolyne Cujoh made it possible for female-presenting cosplayers to show love for one of their favorite shows without genderbending, not that there's anything wrong with that! With my Holyne Cujoh cosplay ideas, you'll be able to make unique costumes for all of your anime conventions. 
A word of advice: I know I've said this a hundred times throughout this article, but it's really in your best interest to commission your Jolyne wig. It makes sense to buy a pre-made wig to save money. However, most of them are either unusable or fall apart quickly. Trust me, I've worn popular and easy-to-find Jolyne wigs, and neither of them stand up to conventions.
For more great character-specific cosplay ideas, check out our "Bakugou Cosplay Outfit Guide: MHA's Explosive Hero" article, our "Kakegurui Cosplay Outfit Ideas: A Cosplay That Isn't A Gamble On Quality" blog post, and our "The Best Hinata Cosplay Outfit Ideas Guide" post. We're sure you'll love what you'll read!