Within Nerd culture (our favorite kind) there is a collective of people that love nothing more than to adorn new garbs, play around with some EVA foam, and become their favorite characters from their respective fandoms. If you have found yourself reading this, then you know this pastime quite intimately, the art of cosplay. Cosplay has always been present in our culture in some shape or form. There have always been fancy dress parties, amateur productions of popular media, and of course, Halloween which allowed fans young and old to become their idols, at least for the day. However, we need to draw a line here, as cosplay is more than just buying a costume in a local store and wandering around. In our eyes, and we hope yours, Cosplay is art.
Cosplay is a practice where artists, enthusiasts and often convention attendees will put countless hours of time and effort into deciding what character to replicate and then making all the essential parts to bring them to life. This practice requires dedication, skill, attention to detail and a great knowledge of the source material. However, even with all of that, Cosplay has a steep point of entry, as not everyone is naturally great at combining accessories, molding foam into props, and wielding a hot glue gun. Well, that's where we come in.
Here at Core Cosplay, we want to help beginner cosplayers enter this wonderful and whimsical world of color, custom costumes, and creativity. We want to showcase all the tips and tricks that we wish we knew heading to our first comic con, but also, we want to offer something for all you veterans out there so that you can take your costumes to the next level. Whether you just want to fit in with your friends, or you want to hone your craft and become a cosplay Instagram icon, we are the first step on your journey. Welcome to Core Cosplay, the professionals of playing pretend!
Here at Core Cosplay, we have a team of established Cosplay Buffs who have spent over a decade honing their craft. Collectively our team has turned about 1000+ refined and polished looks, have spent years perfecting their prop production skills, and also know a thing or two about the community aspects of Cosplay, and how to market your looks via Social Media. If you want to become comfortable with Cosplay, this is the place to be!
Our USP (Unique Selling Point)
Before Core Cosplay even came to be, we sat down and asked ourselves, what will this website do that the others won't? Then after some deliberation, we went with the thing that we wanted to see within the community. Our USP is that we only offer firsthand, expert input from genuine cosplayers. No SEO regurgitated content pointing you to pre-made costumes on Amazon. We want to give you autonomy over your designs and looks. We want to show you how to make your own props, how to stylize your look with attainable resources, and how to keep the look in line with the source material.
To be the best Cosplay website around, you need to have contributors that are just as strong as writing content as they are at creating authentic cosplay, and thanks to us taking that approach right from the off, we can guarantee genuine expert led content!
So we decided the only way we could really do that was with Cosplayers that have been there, done it, and made the t-shirt. All of our contributors are those you will find dressed to the nines at conventions, or flaunting their new creations online. In short, we care about the info we dish out, and as a result, we believe we are the most authentic Cosplay website on this side of the web!
What We Offer
So the question remains, what does Core Cosplay have to offer? Well, a plethora of things, all tailored for the beginner and veteran cosplayer alike. We provide content that is super accessible, allowing those only dipping their toes into the world of cosplay to get something out of it. While, those who have been around the block will also be accommodated with expert tips and tricks. We even have difficulty ratings on our ideas and suggestions so you can gauge whether the ideas listed are right for you.
Cosplay is all about individuality. It's taking something you love, and tweaking it to make it your own. So we aren't here to tell you what do to, or offer strict step-by-step guides. We want to offer a wide variety of ideas, tips, and nudges in the right direction. Meaning that you end up with a design that you can be proud of.
Then speaking of ideas, we try to stay on-trend and offer content on the cosplay that fans want to see. So if there is something that has just penetrated the zeitgeist, whether that be a breakout video game, or a Netflix original that is a runaway success, rest assured that we will have a cosplay design that you can take and make your own. Here are some of the articles that you can expect to find on Core Cosplay:
Cosplay Character Ideas
Targetted Character Cosplay Tips
Accessory Articles
Prop Ideas
General Hints and Tips (Wigs, Make-up, etc)
Community Spotlights
Interviews w/ esteemed cosplayers
Much, much more!
Core Cosplay's Core Values
Here at Core Cosplay, there are so many attributes that we look for in our contributors, but if we had to narrow it down to just our core values, these listed below would be the attributes that we hold most dear. Check it out:
Authenticity
Creativity
Community Spirit
Experience
Passion
Our Team
Katrina Dent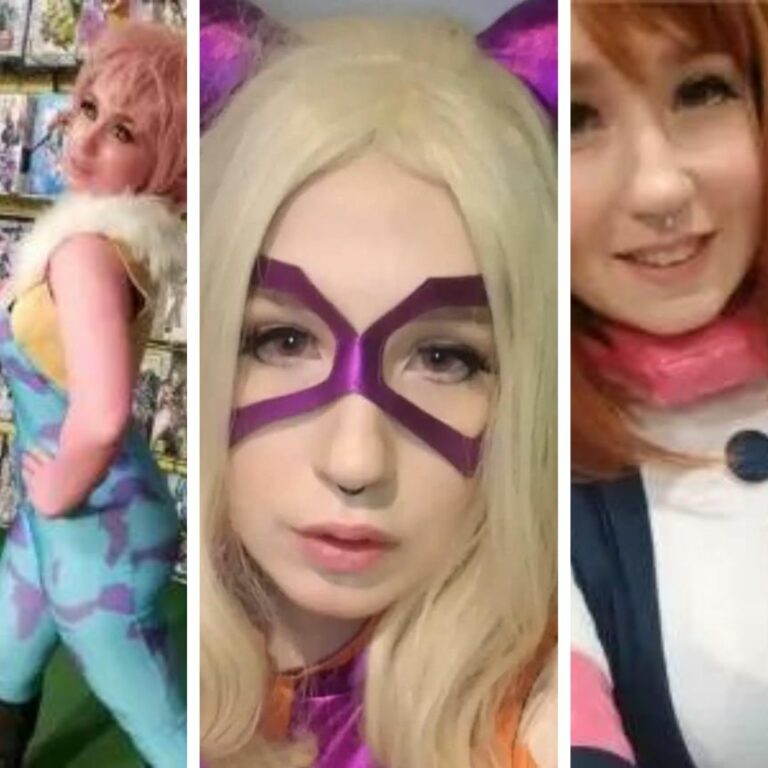 Emily Medlock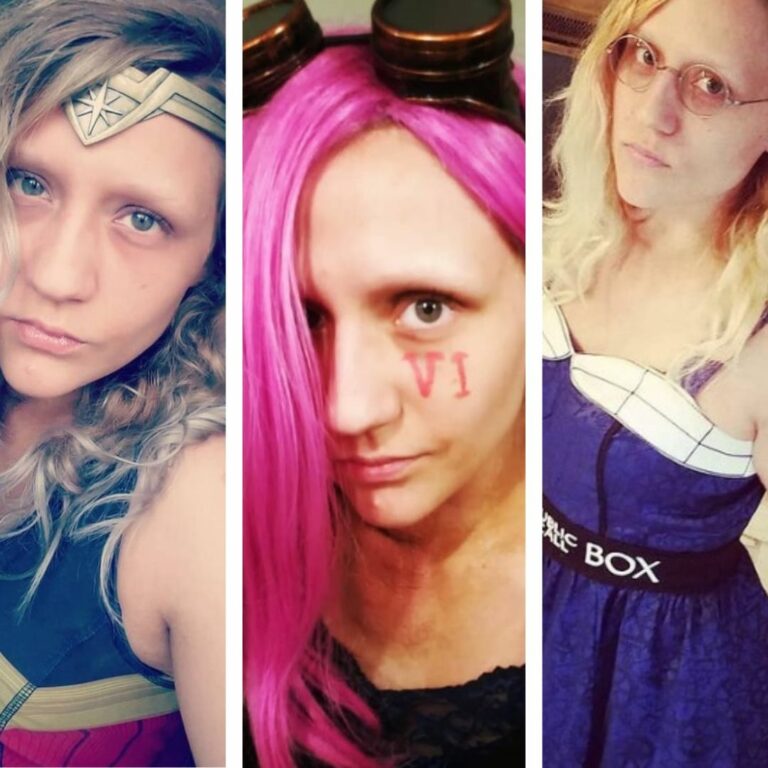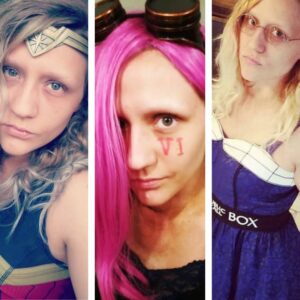 Emily is a gaming writer by trade, having worked at some great outlets like GamingBolt, ReadyGameSurvive, and TheGamer. However, when she isn't settling in for a long session of ARK, she's often trying out some new character makeup, sewing outfits together, or drawing out concept designs for her next look. She's done loads of cosplay looks in the past, including Vi from League of Legends, Wonderwoman, and The Tardis from Doctor Who, as seen above. However, if you check in regularly, you'll see that Emily is quick to move on to new and exciting characters, stay tuned!
Anthony Yates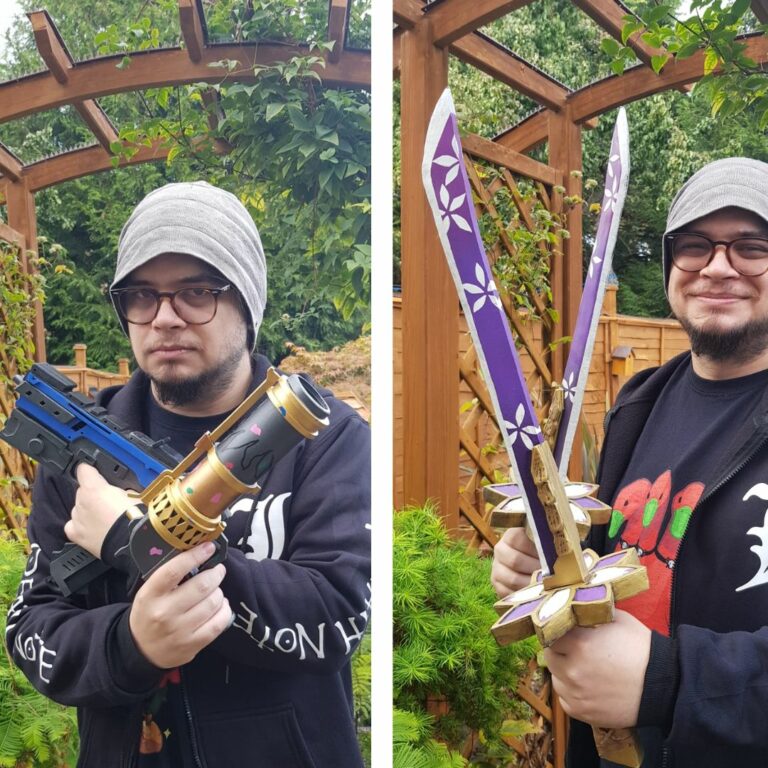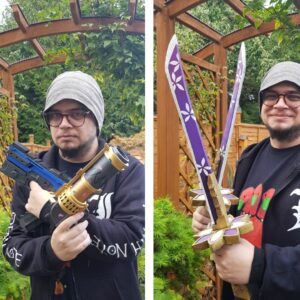 Anthony is a keen admirer of the art of Cosplay, and while he doesn't dabble in the performative side of the phenomenon, he is still a certified expert when it comes to producing authentic and creative looks. He is a professional prop designer who has crafted countess unique swords, bows, staffs, and shields for cosplayers around the world. So while he might adorn the costumes, he probably knows more about Cosplay than those out there doing it, making him an invaluable asset to this team!
Balint Lacza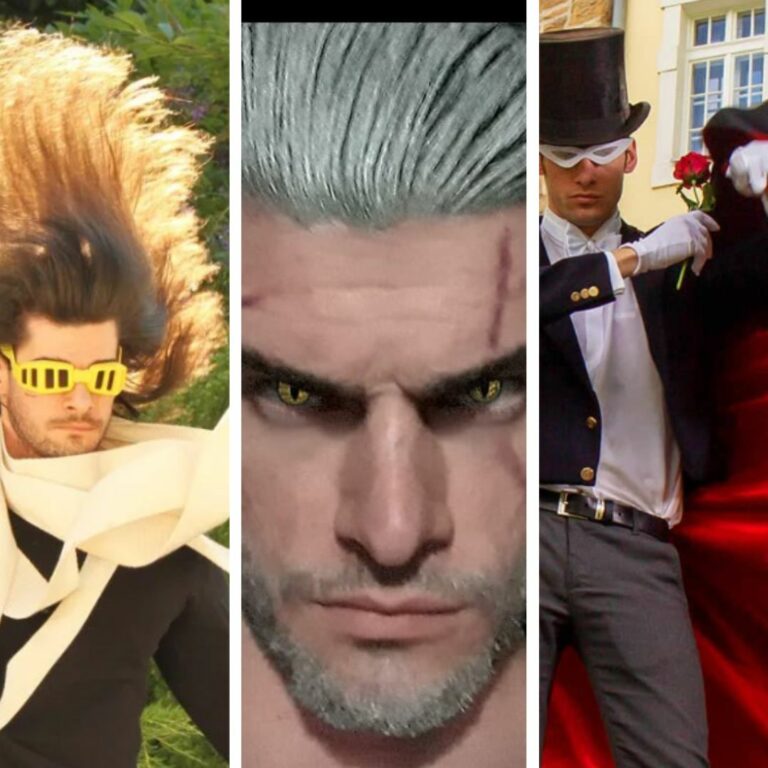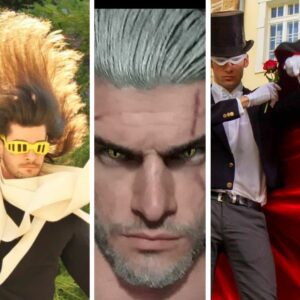 Balint is a cosplayer that has been honing his craft since 2018, serving up a variety of different looks and replications of his favorite anime, gaming, and movie characters. Since his humble beginnings as a cosplayer, he has opened up his own shop which takes commissions for masks and other props, and he has also built up a pretty respectable IG following too! Balint is a true expert and a handy guide to have when jumping into the world of Cosplay!
Lillie Forteau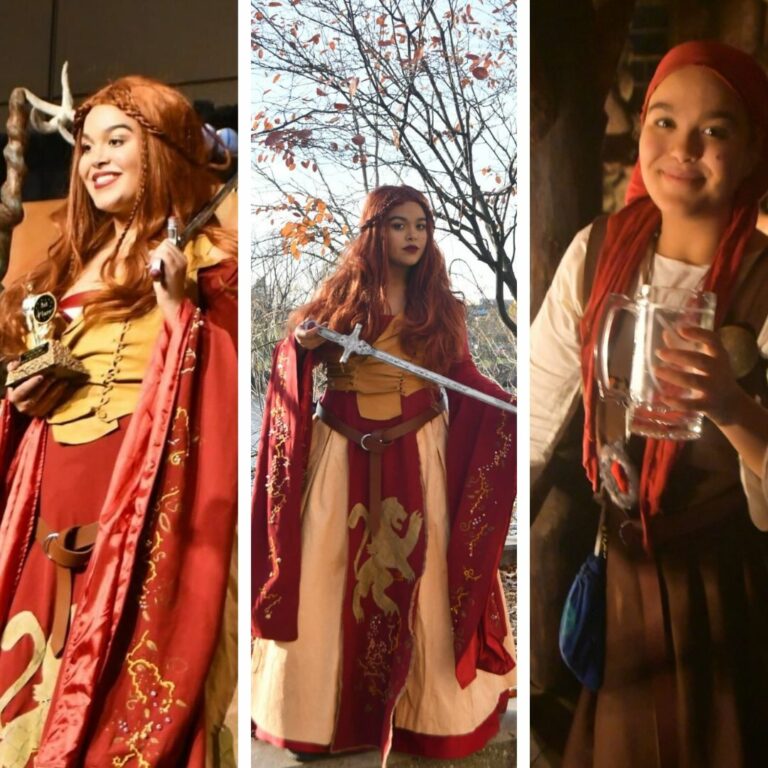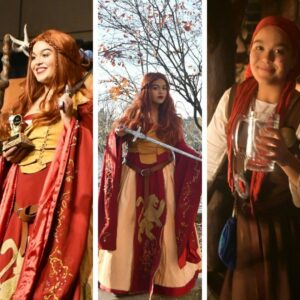 Lillie is an award-winning cosplayer and seamstress. She's been cosplaying for almost ten years now, and hopes to keep expanding her wardrobe. She loves changing up her look, often going for cosplays that take her look back in time, but she isn't averse to a modern look. Lillie grew up in a digital content family, writing for her family's travel and food website from a young age. So she knows a thing or two about eye-catching content and SEO. However, her true passion has always been Cosplay.
She's also a keen gamer and her mission moving forward is to play every Nintendo game known to man. Her main squeezes when it comes to games are Animal Crossing, Stardew Valley and any Zelda title past or present.
Kairei Chan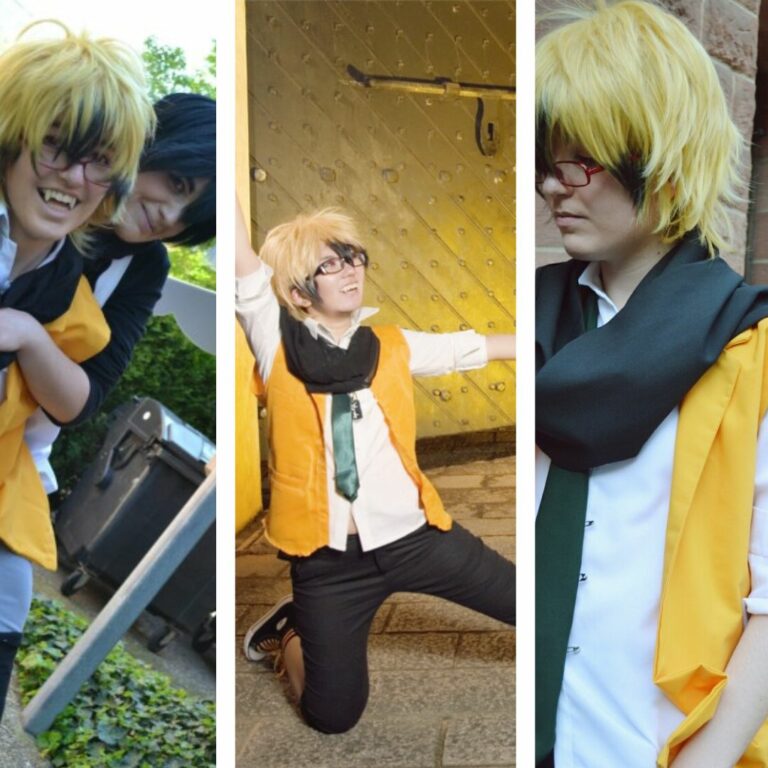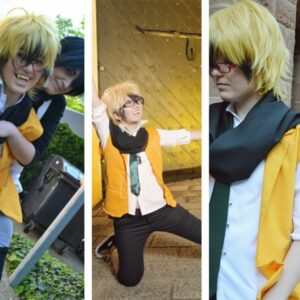 Kairei is a Singapore-based Cosplayer who loves showing off her love for anime by replicating her on-screen faves! She has a modest following on Tumblr, loves offering tips and tutorials to potential new cosplayers, and she even makes her own costumes and props when the need arises. In short, she is the full package and a great fit here at Core Cosplay!