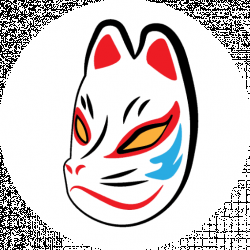 Latest posts by Core Cosplay Team
(see all)
Jojo's Bizarre Adventure anime and manga is one of the most recognizable series of all time. It has amazing characters, an awesome drawing style, and some of the best memes. This is why characters from Jojo are one of the most popular cosplays to do, especially for guys. 
I do think that making the perfect Joseph Joestar – and those of other Jo's – is not something a beginner will be able to do right away. Next to quite a lot of props, you will also need to have some makeup. Of course, this is only when you are going for perfect and not great or good. 
Joseph Joestar is one of the most well-known characters in the series and is a part of several arcs. There are two versions of him in the anime. The first one is the young version, the one we are going to discuss here, and then the older version. The older version is not the main character in the anime. 
In this Joseph Joestar Cosplay Guide, I am going to talk about what you need for the perfect costume. I will also discuss the character's background, personality, and then share some people's favorite (well, my favorite) quotes. At the very end of the article, I am going to answer some of the most often asked questions people have about Joesteph Joestar and his costume. 
Joseph Joestar background, personality, and quotes
Background
Joespeh Joestar is the son of George Joestar II and thus the grandson of the very first protagonist of the story, Jonathan Joestar. His mother was forced to go and hide when Dio Brando's zombies killed George Joestar II. He has been living in hiding for most of his youth. 
Personality
Joespeh his personality changes quite a bit during the series. In the beginning, he is hotheaded and confrontational. His first reaction to any problem is violence. As a kid, he got into a lot of brawls and had been imprisoned seven times growing up. 
The only people whose authority he respects is his Grandmother's and Lisa Lisa's. Joseph also loves swearing and taunts people daily. He is also someone who considers himself to be extremely lazy and hates hard work.
During the series, he develops into a more playful guy who loves to slack off. As he gets older, he gets a lot more mellow. As an older guy, he still is as goofy as he was when he was young. Joseph also isn't as lazy or violent anymore when he is old.
I do like the young Joseph the most. He is also pretty fun to cosplay if you like to stay in character. He is very cheerful and loves tricks. He is also a bit of a playboy when he feels like it. 
Joseph Joestar quotes
Here are some quotes I thought were great to understand more about the character and are easy to remember. This way you can get an even better understanding of who Joseph is. This will make your cosplay perfect! 
"Shoot me if you want to! But you better be prepared to face the consequences. The moment you try to pull that trigger, I'll snap your fingers in half like matchsticks!"
"Well, my arms are folded and my eyes are closed, this is a victory laugh, Esidisi. You lost today because you snoozed for 2000 years."
"Well, if I'm gonna be sitting around for 30 minutes, I've got nothing better to do. The best place to wait is right in front of Lisa Lisa's door. And if my eye just happens to wander near the keyhole… Niiiiiice."
As you see young Joseph, is a cocky self-confident guy who loves to taunt his enemies. He also has a great sense of humor. 
What you need for a great Joseph Joestar costume
As I said before, I am going to discuss the Joseph Joestar costume that he wears when he is young. This is what he is most well known for and it also looks the coolest in my opinion. He wears this in the manga series second installment, Battle Tendency.
Joseph wears his iconic green tank top everywhere he goes. This makes the cosplay great for the summer. You should opt for a dark green color. If you want, you can buy yourself a set of fake abs to wear under the tank top. You can also attach these abs directly under the tanktop by spreading out the glue and letting it dry.
This way the abs have more definition and the cosplay looks even cooler. This does make you sweat a lot more since the silicone will isolate your abs and heat won't be able to escape.
Optional: Brown Jacket:
Sometimes Joseph wears a brown jacket made of leather. You can wear this if you want to wear a jacket or if it is cold outside. This makes Joseph also a good pick when it is winter, and you do not want to be cold while cosplaying. 
You should get some black fingerless gloves for this cosplay. There are quite a lot of anime characters who wear these kinds of gloves, so you might be able to use them for another cosplay later on. Of course, you can wear this in real life too.
So I would suggest you invest in a nice pair. This way you can use it for years, and you don't need to buy a new pair every time you do cosplay. The gloves should be brown and come across halfway through your forearm.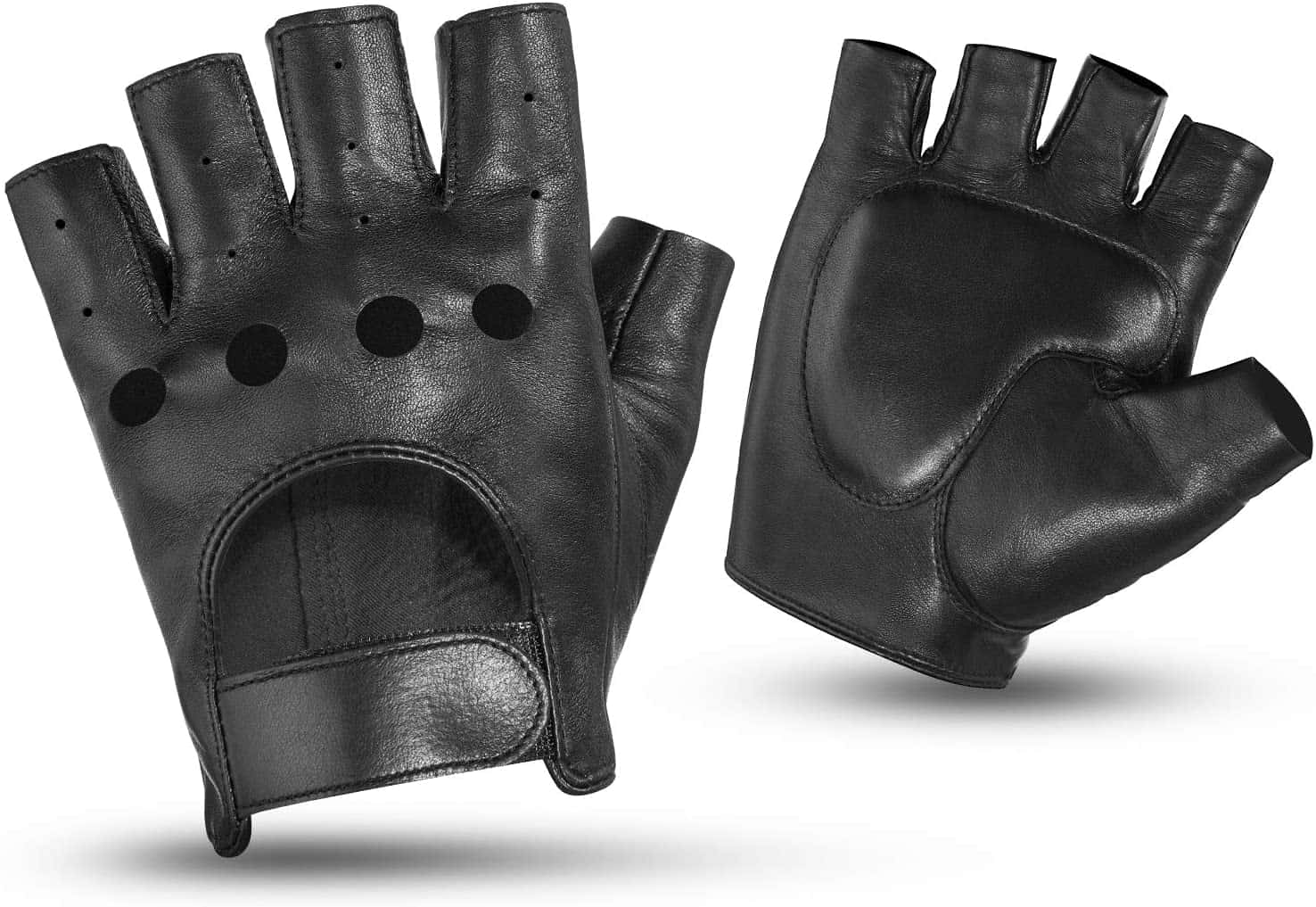 Gold Bracelet:
Well, it doesn't need to be real gold of course! You can just use a gold-plated bracelet. These are a lot cheaper. You could also make one yourself by using gold spray paint. This is an item that is not that important for the costume. If you do not have one, it isn't an essential prop for the costume. 
Regular jeans:
Joseph Joestar wears regular jeans, so you don't need to go out of your way to buy a special pair of jeans for this cosplay! If you want some guidance on picking the right jeans, I have some tips. First, make sure the pants are dark-colored jeans.
The second tip, I think it is a great idea to not use completely new jeans, but one that has been worn down a bit. Joseph is a tough guy who gets into fights quite often! 
For this cosplay, you are going to need a scarf over your tank top. Joseph his scarf is mainly green, with thin yellow lines. It is a quite thick scarf. If you can not find a scarf with this pattern, you could also go and buy a green scarf. After you bought it, you can add the thin yellow lines yourself with a special dye for clothing. 
You need a brown belt for this cosplay. You wear it just like any other regular leather belt. Again, make sure it is a pretty dark brown color and it doesn't have to be shiny new. You can use faux leather. The belt should be of a regular width. 
High-top boots:
Joseph wears tall leather boots. These are black and have pretty high heels for boots. You do not need to have a pair of real leather, faux leather is more than enough for this. You can also use regular dark brown or black leather shoes. 
Makeup:
This cosplay needs some makeup to make it completely perfect. You are going to need to have your cheekbones come out more. This is not something an amateur can do. You will need to have either a friend who is an expert at makeup and shading or a real makeup expert. If you go for the latter option, you should find someone who is experienced in things like Halloween makeup.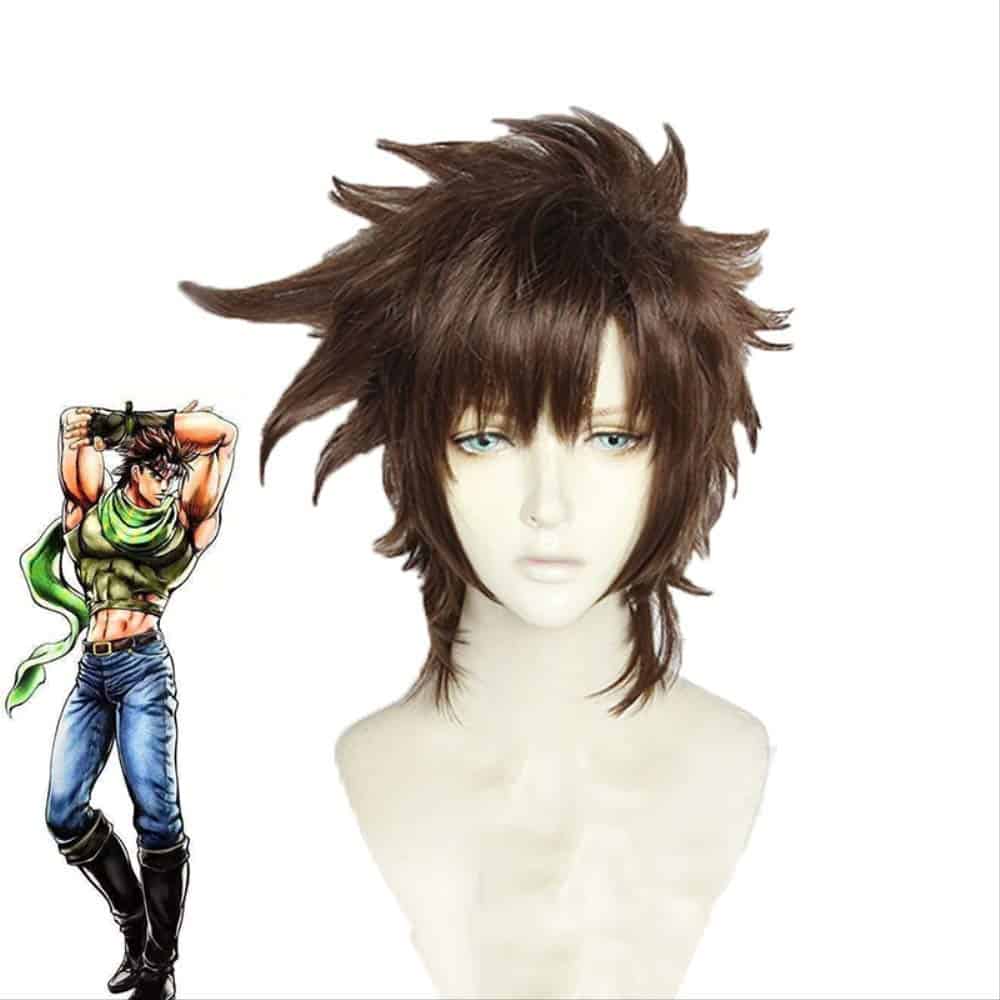 You are going to need a wig for this. You need a brown colored wig with pretty long hair. You are going to have to cut the back of the hair short, and apply a lot of hair gel to the front of the wig to make sure it resembles the haircut in Jojo's bizarre adventure. You can of course also style your hair that way if it is long enough. 
As you see, you need quite a lot of things you need to make this cosplay work. A lot of those are regular items, so buying these could make this costume work. However, I do recommend you to be very careful when picking non-Joseph suspicious items for this cosplay. If they are not similar enough, odds are nobody is going to recognize you. 
Magic Acgn Joseph Joestar Anime Wig | Amazon
Breathable rose net within the network make you feel comfortable when you wear it.There are two adjustment straps at two side of the wig, which can be intertwined to a fix position to suit different head sizes.
Buy at Amazon
We earn a commission if you make a purchase, at no additional cost to you.
08/03/2023 09:33 am GMT

Should I buy premade Joseph Joestar props? 
There aren't a lot of premade Joseph Joestar props you can buy online. However, I found one that is not a cosplay co,stume specifically, but is going to make your costume and the whole vibe of your cosplay a lot more awesome! 
You can get yourself a Stone Mask like the one in the anime. In the anime, there is a lot to do about this stone mask. Well, you can get it for yourself and add this to your costume.
The pro about this is that almost nobody is going to think of doing this, and it makes your costume a lot more recognizable right away.
The downside is that you need to be carrying a kind of heavy resin mask with you, which can become pretty annoying after a while. 
Where to find everything you need
Frequently asked questions about cosplaying Joseph Joestar
Question: What are the most important items for the Joseph Joestar costume? 
Answer: There are a couple of items I think are more important than the others. These are the ones that will make you more look like Joseph, and you thus can not replace them. For both the tank top and the scarf there are no substitutions. 
You can not just use a shirt or a sweater in dark green. You need to be wearing a tank top. The scarf too is not replaceable by something else. You will need to find one that is green with yellow stripes. The combination of these two items is going to make it a lot easier to recognize your cosplay. 
Question: Can you do a couples cosplay with Joseph Joestar
Answer: Yes, Joseph has a girlfriend named Suzi Q, so you can do cosplay as a couple. However, the problem with this is that besides Jojo fans, nobody knows who this is, let alone recognize her. 
This is why I do not think doing this is a good couple's cosplay, and you are better off picking other characters. If you want to cosplay with other guys, then Jojo's bizarre adventure franchise is one of my favorites for this. 
Question: Do I need to wear makeup for this costume? 
Answer: It isn't an essential part of the costume. You could also just go without makeup. You will need to have an expert to do this makeup as it is very complex. The goal is to accentuate your cheekbones and give your face a more square look. 
Final thoughts about the Joseph Joestar cosplay
For this cosplay, you need a lot of everyday items. It is hard to find a pre-made costume for this character, as the things he wears, are things regular people wear. This has the benefit that you might already have a couple of items of this costume in your wardrobe at the moment. 
The downside is that you will need to be careful in your selection of clothing. If you are off too much in color or style, it is going to be a lot harder to recognize this character. While Joseph is well known amongst anime fans, he is pretty hard to recognize as a cosplay if it is not done right. The two items you should get right are the green tank top and the yellow and green scarf. If you want to go all out you should get consider getting makeup to bring out your jawline by shading your cheeks and jaw. 
It is an even better cosplay if you enjoy acting a bit. Joseph has a very interesting personality. Jojo's bizarre adventure cosplay is even better if you have a group of friends that enjoy cosplaying too and are willing to dress up as characters from the anime.