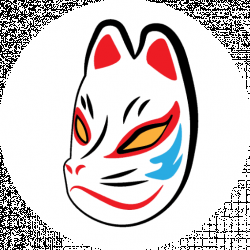 Latest posts by Core Cosplay Team
(see all)
If I could describe Kakegurui in one word, that would be exhilarating. It takes the basic idea of gambling and transforms it into a crazy world of madness and excitement. It literally gave me goosebumps from watching the psychological battle of wits and strategy between two opponents who willingly risk their lives over the simplest of games just for the thrill of it.
Kakegurui rose up in popularity during the summer of 2017; I think it's safe to say that it was one of the most anticipated shows of the season, and on top of that, it was being produced by Mappa Studio, so you can imagine that everyone had high hopes for it.
Kakegurui is known for its aesthetic looks, the concept of gambling, and some crazy cast of characters who are driven by the same goal – to be the best gambler and gain control over everyone else. There are a few exceptions, of course, Yumeko and Midari, who just love gambling for a completely different reason.
It's no surprise that Kakegurui is a top choice for cosplayers and tiktokers. The simple high school uniform along with the characters and their diverse personalities, allows cosplayers to experiment with looks, details, and performances according to their preference.
What I'll cover
The amount of people who are dressing up after the crazy cast of Kakegurui is quite surprising to me, so I'll be covering as many of them as possible to help you decide on your look.
Here is what I will cover…
Fan-favorite Jabami Yumeko
Boastful Saotome Mary
Crazy girl Midari Ikishima
Adorable Runa Yomozuki
Nail-biter Itsuki Sumeragi
Traditional Yuriko Nishionotouin
The queen Kirari Momobami
Jabami Yumeko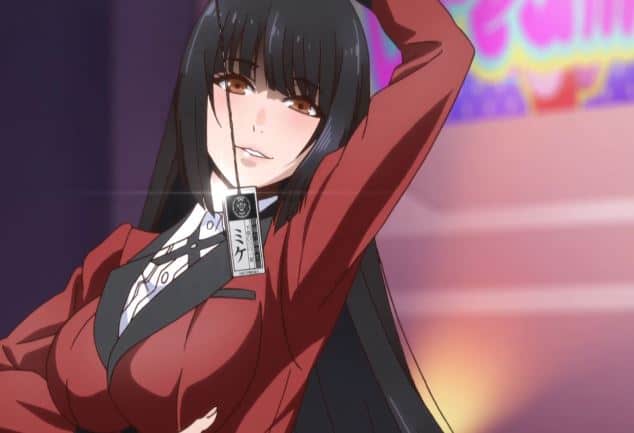 Yumeko Jabami is a new transfer student at Hyakkaou Private Academy and the protagonist of the Kakegurui series. She is a gambling addict who loves to gamble for the thrill and excitement of it. She came to this school in hopes of going up against the student council and challenged Kirari Momobami who's family is aligned with hers.
Yumeko is usually quite cheerful and charismatic who attracts the affection and interests of many people. She is friendly and easy to get along with, and she can even befriend the people who initially hated her because she never holds a grudge against anyone except Midari.
She might seem like your average happy girl, but that isn't true all the time. Anytime she notices someone cheating in a game, her bloodthirsty side emerges, seen by her red eyes and the excitement on her face, and her desire to destroy her opponent completely.
Custome
Throughout the entire show, Yumeko wears the standard female Hyakkaou academy uniform, which consists of a red blazer with black trim linings around the collar and cuff, a buttoned-up white dress shirt with a black tie, and for her lower half, she wears a dark-gray pleated skirt with long stockings and also the school-issued footwear – brown heeled loafers.
For the props, you can try the house-pet necklace she wore after going into debt. She also wears a ring around her left thumb.
Hair
Yumeko has beautiful long black hair in a hime-cut reaching down her hips; you can achieve this easily with just a hime-cut if you already have decent long black hair.
You can also purchase a black wig if that is something you prefer.
Eyes
She has burgundy-colored eyes, so get yourself a pair of brown/burgundy contact lenses to make your cosplay look more amazing.
Her eyes turn bright over the excitement she gets from gambling, so you can even get some bright red contacts if that's what you're interested in.
Makeup
Yumeko doesn't wear any makeup in particular, though she does blush a lot during her gambles, so you can put makeup shade underneath her eyes. She also wears a peach-colored lip balm and paints her nails red.
Quotes
"Instead of living on in ignorance, wouldn't you rather die, knowing everything?"
"I dislike situations where I know for sure If I'm going to win or lose. Because it's not really gambling."
"Gambling is my life's purpose. I don't need anything else."
Saotome Mary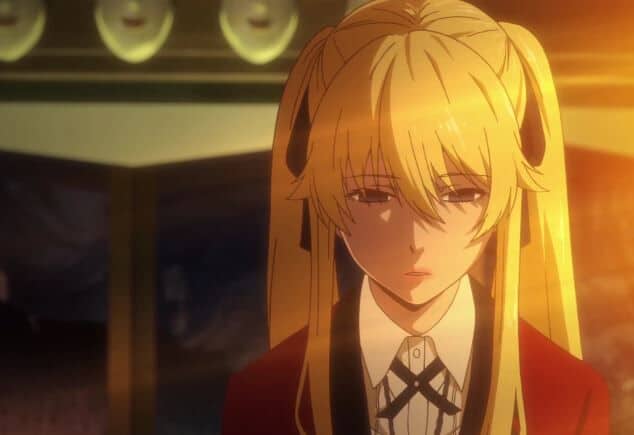 Mary Saotome is a student at the Private Hyakkaou Academy and the deuteragonist of the Kakegurui series. She is a classmate of Jabami Yumeko and also the first person to challenge her and lost, though she despises Yumeko for defeating her at her own game but decides to become friends with her anyways to take down the student council.
She is initially shown to be quite sadistic and boastful, treating everyone like they are below her and using his influence over the whole class to cheat in her match against Jabami Yumeko but still ends up losing and experiencing the life of a housepet she is eager to regain her status.
After regaining her status from the Debt Settlement Game, she seems to be not so arrogant and cruel toward her classmates, but now all she wants is to take down the student council.
Custome
Mary wears the standard school-issued female high school uniform which is composed of a buttoned-up white shirt, red blazer with golden buttons and with trim lining around the cuff and collar parts, and a black tie.
For the lower half, she wears the school-issued short dark-grey pleated skirt with brown loafers and knee-high socks.
As for props, you can try the house-pet necklace to bring your cosplay a little closer to the real deal.
Hair
Mary has long blonde hair, styled into two ponytails that are held by a black ribbon with two hair strands and short hair on the front, and it might take some effort to recreate this.
If you don't want to spend your time creating her hair or you have different hair color, you only have to buy her wig.
Eyes
She has dark yellow eyes, similar to the color of her hair. So, you can get yourself a pair of yellow or dark yellow contacts to give cosplay a little more realistic look.
Makeup
Though she is sometimes with a powder foundation in her hands and likes to wear mascara, the only makeup visible on her face is the pink-beige lipstick.
Quotes
"Someone controls your life, so what? Put some wins under your belt and turn the tables. It's no reason to give up your ambitions!"
Midari Ikishima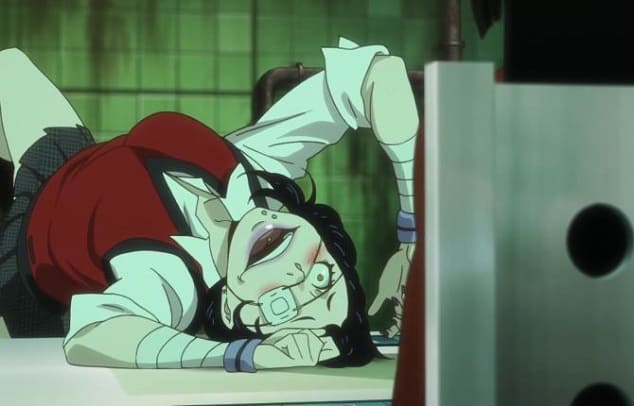 Ikishima Midari is a 2nd-year student at the Private Hyakkaou Academy and a supporting character in the Kakegurui series. She is also a member of the student council and somehow the president of the beautification council. She is intrigued by Yumeko's actions toward the student council members and takes a liking to her, inviting her to play a sadistic game of life and death to satisfy his Masochistic and Suicidal tendencies.
What you gotta know about Midari is that she is a Masochist (some who enjoy pain humiliation), as shown in her back story where she stabbed her own eye to pay off her debt to the president, she appears to be annoying, intimidating, and weird to other students because no one wants to take part in playing her sadistic games.
Custome
Ikishima is seen wearing a variation of the Hyakkaou academy uniform where instead of a black and red blazer, she wears a sweater of the same color variation with a buttoned-up white dress shirt underneath, she lets go of the black-tie leaving her collar open, and she wears a purple hairband with a heart patterned bow. She has bandages on her forearms with purple wrist cuffs on each and wears a white medical eye patch on her left eye.
Hair
Midari has short black hair, styled in a bob-cut. She uses a purple hairband with a heart-shaped pattern bow.
Eyes
She has yellow-green eyes and extremely tiny pupils (almost scary). She wears a medical eyepatch over her left eye. In the manga version, it was stated that she had purple eyes similar to her clothing style.
You can decide on either of those two colored contact lenses to make your cosplay the real deal.
Makeup
Midari has pale skin compared to the rest. She wears purple lipstick and has purple painted fingernails. She also appears to have piercings, two of them underneath her mouth (on the left side), one piercing on each ear, and one on her tongue.
Runa Yomozuki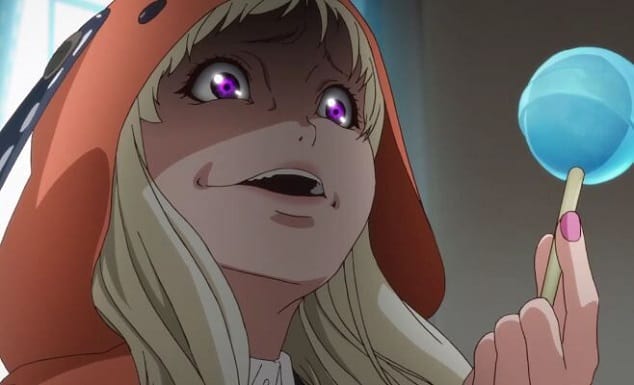 The adorable and cute Yomozuki Runa is also a member of the student council and an overseer election committee and the election gambling matches also moderates the broadcast of the election, announcing which players are in the lead. She is a neutral party who does not take part in the elections; the motto of the election committee is absolute neutrality.
Runa is shown to be quite cheerful and charismatic during her public broadcasts and doesn't seem to take her role seriously as one of the student council members, such as playing video and eating snacks during the council meetings and not caring about whatever goes on in the school. However, she understands her role as one of the student council members and takes it very seriously.
Custome
The costumes are starting to get interesting with these characters' unique outfits. Runa wears an orange rabbit onesie over her high school-issued standard uniform like every other character in this list with the unique addition of her socks. She wears black and white zebra-striped socks with a garter belt connecting to her dark-gray pleated skirt.
She is always seen with her game consoles in her hand and an orange lollipop which some cosplayers have taken quite seriously.
Hair
Runa has long platinum blonde hair reaching down to her hips, styled as a split in the middle to form two long hair strands.
All you need is a long platinum blonde wig to complete this look; if you have blonde hair, you can use some platinum color to make platinum blonde.
Eyes
She has dark-colored eyes with a shade of purple, and sometimes her eyes gleam whenever she is thrilled. Get yourself some purple-colored contacts to look amazing than the rest.
Makeup
Runa has a fair complexion compared to the rest. She wears an orange lip gloss and has light pink painted fingernails. She is seen with various lollipops sticking out of her mouth and sometimes leaves food powder around the lips.
Quotes
"As they say, the less you know, the better you sleep."
Itsuki Sumeragi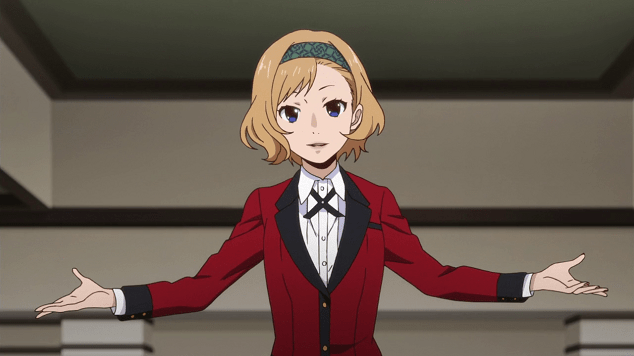 Sumeragi Itsuki is a first-year student at the Private Hyakkaou Academy and a supporting character in the Kakegurui series. She is also a student council member as her father runs a prominent toy-making company in Japan. Her goal of coming to this school is to become student council president and promote the gambling toys made by her company.
Like almost every other character in Kakegurui, Sumeragi appears quite friendly, but she also has a sadistic and twisted side. She is manipulative and doesn't care about others, painfully taking away other people's nails without giving them a second thought. However, the tables are turned when she is up against Yumeko, and the thought of losing her nails sends shivers down her spine. So she acts cowardly, begging for her not to take them.
Custome
Sumeragi wears the standard female high school-issued uniform consisting of a buttoned-up white shirt, a red blazer with black trim linings decorated with golden buttons, and a black-tie.
For the lower half, she wears a dark-gray pleated short skirt and her unique thigh-high socks with white stars on both sides, along with the standard high school brown loafers.
Hair
Sumeragi has short light caramel-brown hair with short bangs that reach to eyebrows. She wears a green headband as well.
You can easily recreate her hairstyle if you have short hair and brown hair (you can be creative with the color); all you need is a green headband to finish her hair.
Eyes
She has big piercing blue eyes which gleam whenever she is thrilled; get yourself a pair of sharp blue contacts if you're a pro cosplayer.
Makeup
Sumeragi doesn't wear any makeup on her face and nor does it show in the anime, though she has multiple colored different nails with star-like decorations on them.
Quotes
"Someone controls your life, so what? Put some wins under your belt and turn the tables. It's no reason to give up your ambitions!"
Yuriko Nishinotouin
Yuriko is a third-year student at Hyakkaou Private Academy, a member of the student council and head of the Traditional Culture Research Club, and among the first few council members to go up against Yumeko. She initially invited Yumeko to play a game with her to test her skills as a gambler and to break her spirit, but upon playing against her, Yuriko realized that Yumeko was not an ordinary gambler and she could actually lose a lot of money which made her extremely scared.
Yuriko is extremely calm and well-mannered as her usual self but has a spiteful and manipulative side to her. Her true nature is that she is cold toward people who have no value to her and dismisses those who she deems are not worthy of her time. She is easily angered when provoked by simple insults.
Custome
As head of the Traditional Culture Research Club, she wears a red and white kimono with a slight shade of pink at the end and flower patterns on it. The costume includes a blue top to wear beneath the white flowery kimono, a long red skirt along with a red sash to wear around the waist, and a big red bow on the back of her hair.
Hair
Yuriko has long brown hair which splits in the middle and to form two short bangs around her eyes and wears a big red bow on the back of her hair. She also has two long hair strands on the
Eyes
The color of her eyes stays unknown as they are never known in the anime, always depicted as if they are closed.
Kirari Momobami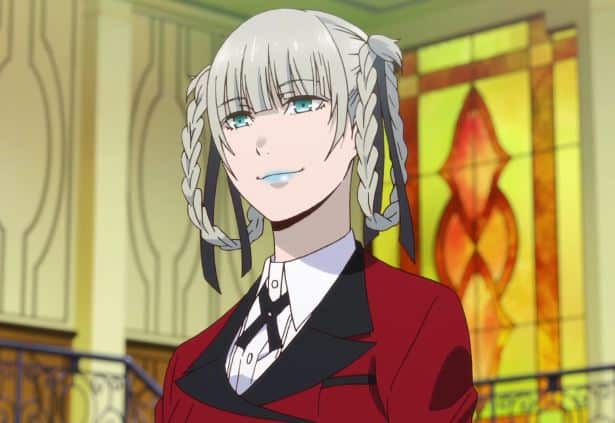 Kirari is the student council president at Hyakkaou Private Academy and the major antagonist of the series. She is also responsible for the current hierarchy system at the school and the "dog" and "cat" system. It is said that she won the election, not through votes but through gambling, the former student council president, and implemented the system which oppressed strongly against those who are weak at gambling.
She is a proper lady on the outside, the definition of cold beauty. She is truly a manipulative and psychopathic individual who doesn't care about anyone but herself. Being the one responsible for creating the pet system, it is easy to see that she encourages mistreatment and bullying between students. She has no regard for human life and simply follows through with her desires.
Custome
Unlike everyone else in the school who wears the standard high school black and red blazer, Kirari wears a unique Peaked Lapel Blazer which only helps to show her authority as the president of the student council and her white dress shirt with a unique cuff style than the rest.
Everything else in her attire is just the standard high school uniform.
However, she does, on some occasions, wear a black kimono with her family crest on it.
Hair
Kirari has long white-gray hairs that she wears into knotted rings intertwined with black ribbons on each side. If you can achieve the accuracy of this hairstyle, I will say that you are amazing.
Additionally, you can use a gray hair dye and do the rest yourself or purchase a wig if that is easier for you.
Eyes and Makeup
Kirari has piercing blue oceanic eyes which often gleam during her stare, matching with her blue lipstick and her blue-painted fingernails.
Quotes
"They say humans are irrational creatures, but coming this far without reason is rare. Gambling doesn't get them anything; they only lose something. But even so, we still gamble. We do that because we enjoy the risk."
Frequently Asked Question
Question: Is Kakegurui a Bad Anime?
Answer: Kakegurui is not a terrible anime, not in the slightest. Some critics think that it's a terrible anime because of the "Terrible" plot which rewards our protagonist for her careless nature and decisions. In truth, Kakegurui is an amazing anime that gets you excited and keeps you glued to your seat, that in my opinion, is the quality of an amazing anime.
Question: Who is Yumeko in Love With?
Answer: No one! There isn't an official ship between Yumeko and any other character, especially not Suzui; though I can understand why most people are curious about it, Yumeko seems almost caring when it comes to Suzui.
Question: Is Kakegurui a Harem?
Answer: Definitely not. Kakegurui has similarities with Food Wars! Which most people on the internet also think is a Harem anime. Kakegurui is just your average show where characters get crazy aroused while gambling.
Final Touches to Kakegurui Cosplay Outfit Ideas
It is better if you get down the mannerisms of certain characters, though most of them just love to boast about their status and make hand gestures while they talk, some the crazy ones flaunt their props, such as Midari, who is always shoving her gun down her throat in excitement or Yumeko when she uses her house-pet status to challenge the student council.
You can be creative with the poses. Most of the characters have a certain pose or a facial expression that makes them unique, just don't go crazy with it, or better, go be crazy. That is the entirety of this show.