Latest posts by Balint Lacza
(see all)
My Hero Academia is one of the most popular animes today. If you think about starting cosplaying now, an MHA character is a perfect choice. If you go to a convention, you will encounter lots of Deku's, Todoroki's. and Bakugo's. Cosplaying is a great conversation starter at cons. If you dress up as a My Hero Academia character, people will definitely approach you for asking for a photo or just complimenting your costume. Cosplaying is role-playing as well. Have some poses in mind that would look cool on a photo and are specific to the character.
In this guide to My Hero Academia Cosplay Outfits, I'm going to talk about two characters I have already cosplayed from MHA.
Their outfits are not so complicated, and they have props that are very distinct. I enjoy prop making, so I am more likely to choose a character to cosplay with some cool props. They are both men, but I often see women cosplaying Aizawa (maybe because of the long hair) and even Overhaul. Let's get into what you'll need to cosplay them.
Eraser Head (Shota Aizawa)
Aizawa sensei is a Pro Hero and the homeroom teacher of class 1-A. Kind of an equivalent of Kakashi with his tendency to expel students, and he uses his eyes in battle. Some fans also call him husbando.
I like his attitude; he is strict with the students but also watches over them. In the beginning, he just sleeps in his sleeping bag, even during lessons, but later, he shows his strength when fighting villains.
Things you'll need
Clothes
black long-sleeved shirt
black pants
black boots
Props
Hair and makeup
black shoulder-length wig
stubble
the scar under his right eye (since the U.S.J. Nomu)
brown eye pencil
white contact lenses
Clothes
The clothes are quite simple; almost any black sweatshirt and pants will do it. Get loose clothes if possible. You may not have tall boots at home; you'll have to buy them if you want a full costume. If you don't want to spend much, then just go with black shoes that you already have.
Props
His signature prop is the yellow goggles he uses during combat. I wasn't completely satisfied with the goggles I've found on the internet, so I have made one myself. If you have a 3D printer at home, you can print it yourself as well. The 3D models I've made are available here.
The Capturing Weapon is shown in the anime as a strong strap, yet many cosplayers use ordinary clothes or scarves for it. I have used a long strap intended for moving furniture; it doesn't wrinkle, as it is thick. It is sturdy enough to tie a villain.
The utility belt is something you may need to craft yourself. I recommend using EVA foam which is the most common crafting component for cosplayers. Try looking in a local hobby store for about 2mm thick sheets. You may also have to paint them grey if you can't find matching colored sheets. The size of the pockets on the belt is approximately 2×3 inches. You'll need 8 pieces of them.
Draw it on an EVA sheet, and cut it out. First, fold the lower part up, then fold the two sides over and glue it on. Fold-down the upper part to close the pocket. Attach them to a belt. It isn't difficult, is it?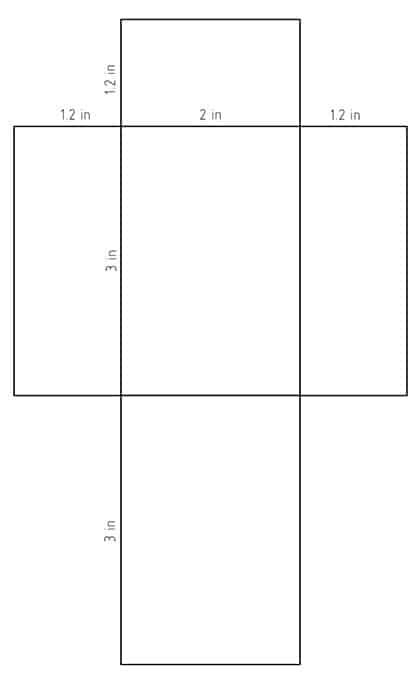 Hair and makeup
Buy a wig, and style it. Since Aizawa is not one neat person, you don't have to put much effort into it, especially if you buy a character wig. Or if you have a similar hair length as I do, you don't even need a wig. I have dark brown hair, not black, but I don't worry about it.
I have stubble anyway, so this was the easy part for me. If you don't, just grab a black eye pencil, and try to draw hair on your face while looking closely at a picture of his face.
Draw the scar with a brown eye pencil, and apply a few layers of scarring liquid I have linked above. While applying it, make sure to be in a well-ventilated area, and I recommend closing your eye closer to the scar because it may cause a little irritation. It puckers the skin and makes a lifelike scar effect. Let it dry before applying another layer. You can easily peel it off later. I have made quite a small scar, but you may want to do a bigger one. You can also add some darkening under your eyes to make that tired look Aizawa always has.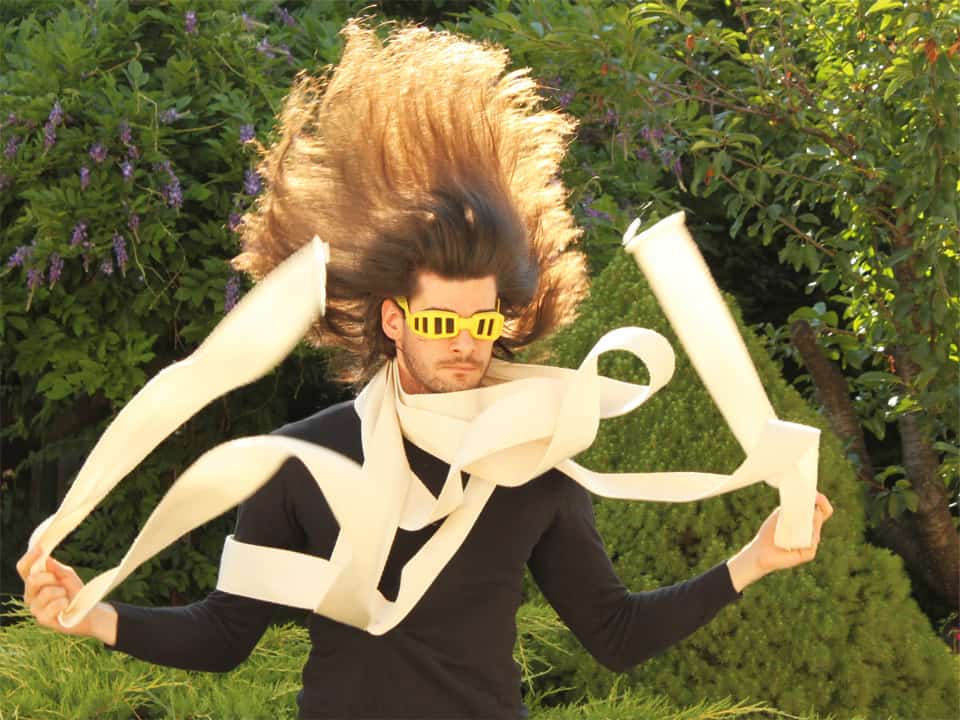 Serious cosplayers use contact lenses. Aizawa has black eyes, so brown eyes are close enough, in my opinion. However, I often see fellow cosplayers using white contact lenses, which only show their pupils, thus making their eyes visually smaller. I actually don't think it is necessary, as it looks weirder in real life than a 2D character drawn with a small iris.
That is my actual hair. Fun fact: to make this photo, I was headbanging like hell to make this anti-gravity look. Guess it couldn't have been done with a normal wig, as it would have fallen down on the first movement. Also, I used pins on the strap to attach it to my clothes at some points. The 'lenses' on the goggle have a net structure of black plastic which allows me to see through but also covers my eyes from the outside.
Specific poses
tired eyes, hands in pocket
goggles on, angry expression, strap in hands
or you just buy a yellow sleeping bag and lay down on the ground
Quotes
(To Uraraka) "If you're here to socialize, then get out. This is the hero course."
(To Midoriya) "No good hero is a one-trick pony."
(To a Pro Hero, during the Bakugo VS Uraraka battle) "Is the one who said he's toying with her a pro? How many years of active duty? If that's what you're taking away from this, then you can leave—no point in watching. Go home and start looking at job-hunting sites. She's come this far, and he knows her strength. His caution shows that he recognizes her as a worthy opponent. It's exactly because he wants to win so badly… that there's no room for carelessness or holding back."
Overhaul (Kai Chisaki)
Overhaul is a villain, but he's still cool. His Quirk makes him very powerful. I was surprised when he used his Quirk for the first time at the beginning of season 4. I hadn't thought before that this anime would get this dark. You know you're doomed when he starts to pull off his gloves.
By the way, we could interpret some of his actions as taking social responsibility. He doesn't want to be touched by others. He prefers sanitary environments. He always wears a mask, and as a leader, he also makes his subordinates wear masks. All these things were quite relevant recently.
Things you'll need
Clothes
black shirt
grey necktie
black pants showing his ankles
brown belt
white shoes
dark green jacket with purple fur
Props
Hair and makeup
brown short wig
the scar above his left eye (since the first meeting with the League of Villains)
light red eye pencil
yellow contact lenses
Clothes
The black shirt and pants are elegant. You may have these at home. The necktie isn't a big deal either, and I already had a brown leather belt as well. I used my white shoes, which are not exactly the same as the reference image, but that's not a big problem.
The green jacket is great to have, but he doesn't wear it all the time, so it is not an essential thing to get for a casual budget cosplay.
Props
The most important signature prop is the creepy plague doctor mask. Again I wasn't entirely satisfied with the one I've found online, and also, I wanted to make the mask myself. I have made the 3D model and 3D printed it. I also did the post-processing. I have used acrylic paint and attached strings. I've got these supplies from a local hobby store. If you have a 3D printer, you may be interested in downloading the files here. But if you don't, you just go with the mask I have linked above. I have seen multiple cosplayers with that one.
White gloves are also important as Overhaul has germaphobia. They are quite cheap as well, so don't miss out.
The three piercings in the left ear are only needed if you are a maximalist cosplayer. Most people wouldn't even recognize, but if you want to do every detail, then do it. I assume you don't have your lobes pierced three times, so I looked for magnetic fake earrings.
Hair and makeup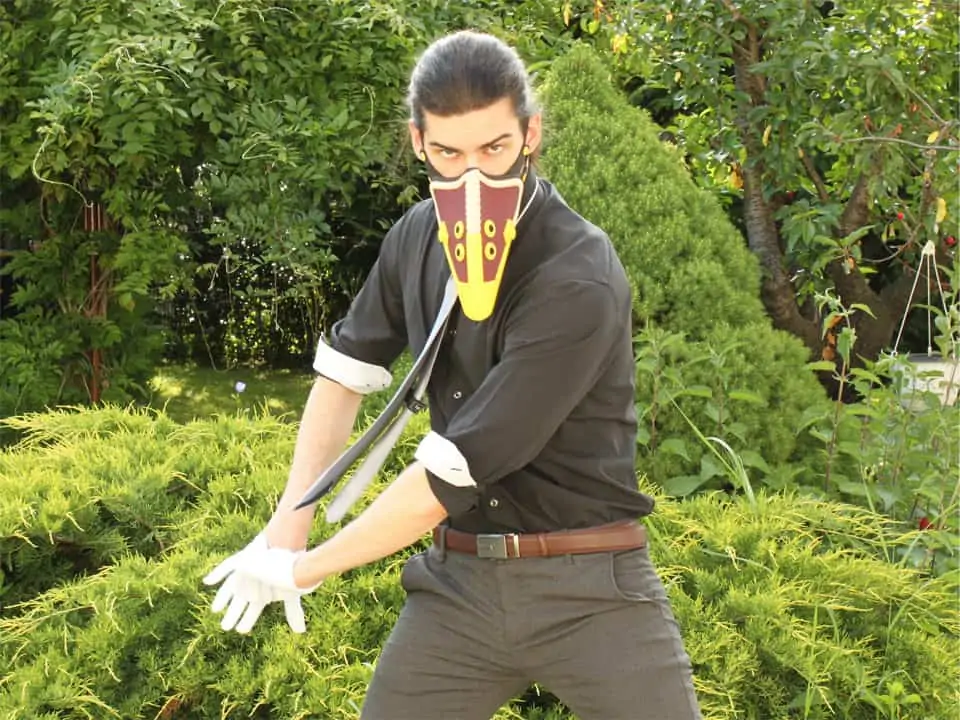 This one I missed, but I still recommend getting a wig if your hair is very different. If you have short brown hair, then you just need to part it right and style it with some wax.
Draw a small scar on your forehead with light red or pink eye pencil. It is not so nasty as the one Aizawa has, so you may not have to use the scarring liquid on it I have mentioned earlier.
Use contact lenses to have the same eye colour. It can really add to the look.
Forgive me for the unfinished cosplay, but I mostly focus on just making props. When I went to the latest convention, I was also wearing the mask on the street, and the looks people gave me were hilarious. At that time, wearing a mask was not obligatory already. Even though I don't have to wear a mask, I think it is still safer to go to a crowd while wearing a mask. You can choose to cosplay masked characters for safer conventions.
Specific poses
holding an arm out, open palm facing up
pulling down gloves menacingly
pointing at the side of your forehead
Quotes
(To Shigaraki) "So join me; I'll become the next leader and put you to good use."
(To Mirio) "I'm just sensitive to dust and grime."
(To Midoriya) "None of you are looking at the big picture here!! What I'm annihilating is the world itself!! Its very structure!! So a pathetic little would-be hero driven by his emotions… reaching out for whatever petty sense of justice he stumbles across… can't stop me!!"
Frequently Asked Questions
Question: How much are My Hero Academia wigs?
Answer: Most wigs are around $19. Very rarely, you may get one under $10, but decent, carefully styled wigs are more expensive.
Question: Who is the easiest My Hero Academia character to cosplay?
Answer: I think All Might, in his weak form, is the easiest to cosplay. White T-shirt, and green pants. You only have to buy his wig. Do the makeup with a black eye pencil. You could also add some fake blood on your mouth and chin, as All Might often coughs blood. It's a comfy and fun cosplay to wear.
Question: Can I get ready-made costume sets?
Conclusion
A My Hero Academia character is a good start for cosplaying. When putting together your costume, the signature prop is the most important. You can choose how much you want to spend on your clothes. Start with the more important and spectacular pieces and continue with the smaller details. If you are not a serious cosplayer but still want to dress up casually for a convention with friends, you can also get a Kacchan wig and a Plus Ultra T-shirt. Everyone will get your passion for the show.
Plus Ultra!
Budget tips?
If you plan on cosplaying multiple students, you could order their training or school uniform. You can use it for all U.A. students. After that, you would only have to buy the wig for the specific character.
Continue reading related My Hero Academia Cosplay Ideas