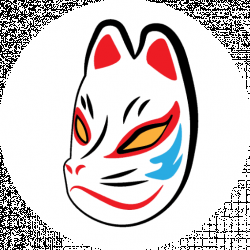 Latest posts by Core Cosplay Team
(see all)
Uraraka is a famous Manga character of a popular series – My Hero Academia. The Manga series is based on a superhero theme, and Kōhei Horikoshi has written and illustrated the series.
It revolves around a character called Izuku Midoriya. This character has superpowers, also known as quirks. He later becomes Japan's greatest Hero. On the other side, Uraraka is Izuku's closest friend and one of the important characters in the story.
You might know Uraraka by her popular dialogue, "When I saw him struggling, with the odds stacked against him… it got me thinking… Who protects the heroes when they need protecting?" This dialogue got every Manga fan thinking.
Furthermore, you would also like Uraraka for her chirpiness and adorable charm. If you're planning to cosplay Uraraka, you have made a great choice! She is a much-adored character, and dressing up as her is simple, quick, and her outfit is easily available.
Hence, if you plan on cosplaying her, you would surely have some eyes glued to you! Uraraka is fashionable and adorable. In this guide, you will find ideas for cosplaying Uraraka. In addition, you will also find alternatives if you cannot find the outfit online or in the local cosplay stores. So, without further ado, read on!
Who Is Uraraka?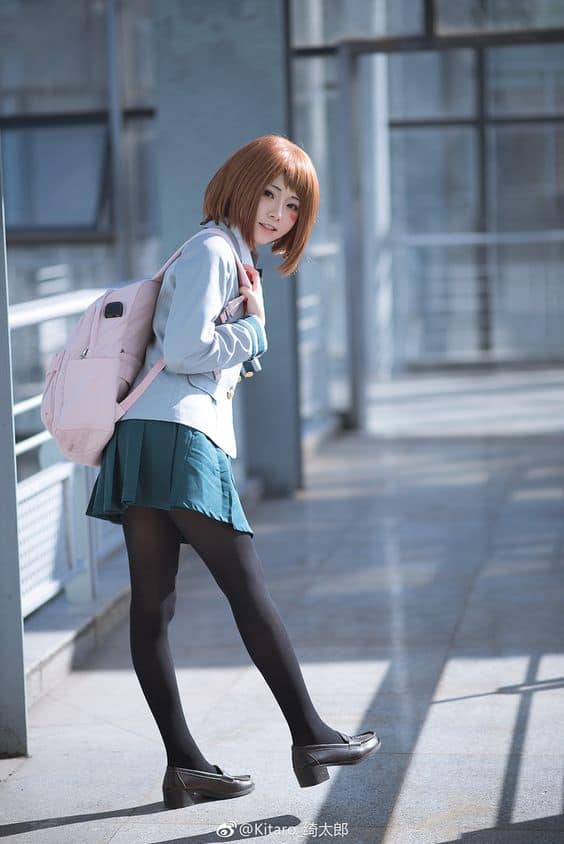 Ochaco Uraraka, or for short Uraraka, is a significant protagonist in the Japanese series, My Hero Academia. The series revolves around superheroes with Quirks. The series is a comic or Manga as well as a show. 
Uraraka is a trainee student in a school called U.A. High School. She trains to become a Pro Hero. Izuku Midoriya, the main protagonist of the story, is one of Uraraka's closest friends.
As many individuals have watched or read this story, the series is one of the most popular Manga. All the characters in the series have unique quirks, abilities, personalities, and skills.
Moreover, Ochaco Uraraka is a sympathetic Gravity Hero. She is a skilled combatant and a hero with a great combination of Quirks. She has the skill of zero gravity.
Appearance
Cosplaying Uraraka, you would need to understand her appearance and the features that distinguish her. Uraraka is shown to be a teenager. Hence, her appearance looks quite young—she has bobbed hair with bangs, a small face, and flushed cheeks.
Uraraka's eyes are the wide and lighter hue of brown. The longer parts of her hair hang on the side of her face. Her small eyebrows hide behind her bangs.
Ochaco has three outfits throughout the series.
Hero costume

U.A. High School uniform

Gym outfit
Her Hero costume is a full-body suit, navy blue-colored. On the torso, she has white patches and pink markings on her shoulder. She wears pink knee-high boots and thick, baby pink gauntlets. Around her neck is a hot pink, thick choker. A light pink belt around her waist has a dark pink marking on the center. Moreover, she has two navy blue dots on her choker because of her design company.
If you're planning to cosplay Uraraka, the hero costume is a perfect choice.
Personality
As Ochaco Uraraka is a teenager, she is cheerful and lively. Moreover, she is also a very open-minded, outgoing, and optimistic girl. Her youthfulness makes her chirpy and excited about every little thing.
The main personality trait is that she overreacts and exaggerates. You can see a peek of the same personality trait in her close friend, Izuku Midoriya.
Ochaco is aware of flaws and virtues. However, she views situations and thinks about them positively most of the time. Moreover, Uraraka has a warm personality, and she is empathetic. Therefore, she is a sympathetic Gravity Hero.
Uraraka is kind and has people's backs. Nevertheless, she is always there for anyone who needs her assistance. Ochaco has a knack for reading people and understanding social cues. Therefore, she understands the rivalry between Izuku and Katsuki. In addition, Uraraka is the first one to know when Izuku is upset.
When a situation calls for it, Uraraka can become quite the contrast of her usual personality. Thus, she can become intimidating, extremely determined, and focused. Ochaco has an unwavering attitude as a Hero and can face even an overwhelming force without flinching.
Ochaco's main driving force is her parents. Therefore, she is always determined to be a Hero.
Ability
Uraraka's hero identity is Gravity. The name derives from her last name, Uraraka, and her Quirk, zero gravity. Therefore, combining the two becomes Uravity.
She can manipulate gravity, and hence she can make herself fly, make other objects weightless, or float.  The only downfall of her Quirk is she feels nauseous and can puke if she overuses her Quirk. To reduce the effect, she wears her hero outfit, which can minimize the negative effect.
Here are the abilities of powers Uraraka possesses.
Zero Gravity Manipulation

Strength

Durability

Speed

Reflexes

Stamina

Agility

Endurance

Skilled Martial Artist

Skilled Acrobat
Uraraka is extremely passionate and determined to be a pro hero. Therefore, she trains herself by tumbling down a mountain in a plastic sphere to adjust her inner ear canals to zero gravity. Hence, with adequate training, she can reduce her nausea and lift extremely heavyweights.
Why Can Cosplaying As Uraraka Be A Great Idea?
My Hero Academia is one of the most-liked Manga, and Uraraka is the main protagonist's closest friend. In addition, Ochaco is a favorite character of all the Manga and My Hero Academia fans.
Many individuals have cosplayed Uraraka over the years. Thus, you can easily find Uraraka's battle outfit and High school uniform, along with the accessories.
Moreover, if you're looking for a character with a minimal yet fascinating costume, then that's Uraraka for you. Not only is her outfit extravagant, but it is easy to put on too.
Choosing Ochaco, you get three outfit options: Hero outfit, uniform, and gym uniform. Thus, you can explore the costumes of a single character. In addition, you can tweak up the costume, and it would still get along with Uraraka's vibe. 
As Uraraka's Quirk is zero gravity manipulation, you need not carry extra gear or superhero armor. Therefore, you can flaunt your outfit and have a great time at the CosplayCosplay without having to burden yourself with the extra armor.
Moreover, Uraraka's costume is extremely fashionable; her boots, the bodysuit, and the accessories all go along very well.
The Complete Uraraka Cosplay Guide
https://www.pinterest.com/pin/1548181108118431/
https://www.pinterest.com/pin/1548181108118431/
If you love My hero academia and want to go to a Cosplay with your partner or a friend, cosplaying Uraraka and Izuku is a great idea. Moreover, cosplaying Uraraka is extremely simple and quick. In addition to her outfit, her hair and makeup are dainty and adorable.
Moreover, if your personality resembles Ochaco's—outgoing, adventurous, determined, and someone who gives a tough fight, then you should certainly Cosplay her.
Uraraka's outfit perfectly symbolizes the message – cuteness should not be fooled. If you're planning to cosplay Uraraka and want to collect ideas for the costume, you should go through this guide.
The guide consists of the costume ideas and ways to dress for the Cosplay if you cannot find Uraraka's costumes online.
Things You Will Require
You can find Uraraka's battle costume and the school uniform online. However, if it does not fit your budget or the costume is unavailable in your region, the following guide can help you dress as Uraraka. Bonus! The hair and makeup tips are also included.
To dress as Uraraka, you first need to decide whether you want to wear her battle outfit or her school uniform. You decide it based on:
Availability

Budget

Comfort

Preparation effort
Therefore, once you have decided, it will be easy for you to start collecting the clothes and accessories and budget the CosplayCosplay.
Here is the guide to dressing as Uravity – battle outfit and as Uraraka – school uniform.
As Uravity
Uravity is extremely determined and skilled. Her outfit symbolizes her personality. Moreover, the outfit also reduces the negative effect of overusing her Quirk. Therefore, her outfit as Uravity is a body fit and one of a kind, in which she can flaunt her youthful charm and fight fiercely.
Black Bodysuit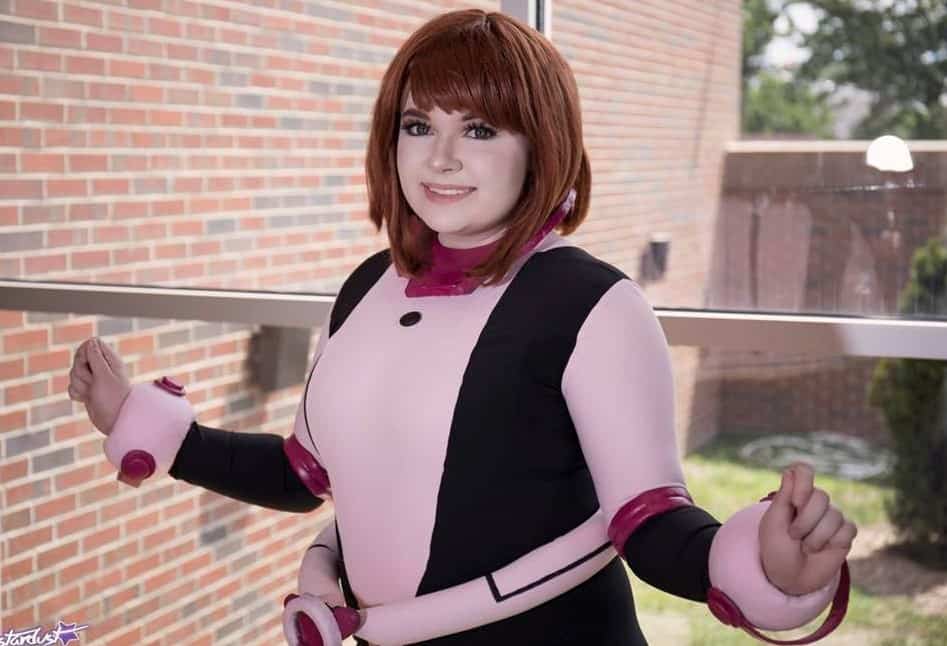 Uravity wears a black bodysuit and pairs it with a pair of knee-high boots and hot pink accessories. Moreover, her black bodysuit comprises white patches resembling a vest.
The black bodysuit is like a jumpsuit. In addition, the bodysuit is made of a breathable material, enabling her to fight comfortably. Thus, the bodysuit is a stretchy fabric with a comfortable fit.
As heroes are always on the go and need their outfits to be easy to wear, the black bodysuit zips up at the back. Moreover, you will be comfortable and happy with this costume as it does not require a lot of preparation; you can wear the costume hassle-free.
Availability: You can find the black bodysuit easily in

several stores online

. In addition, you can also find Uraraka's bodysuit in a local cosplay store. 
Alternative: If you do not find the bodysuit in a cosplay store, you can wear long, skin-hugging tights. In addition, you can pair the tights with a long-sleeved white shirt or turtle-neck. Along with the two, you can wear a vest or design a jacket on your own by cutting and shaping the vest according to the outfit.
A Pair Of Pink Boots
Uravity wears a pair of knee-high boots with her Hero outfit. In addition, the black boots look unique, and they differ from the regular boots.
Availability: Usually, you can find a pair of pink boots along with the bodysuit on an online store.
Alternative: If you do not find a pair of pink boots online, you can purchase regular knee-high boots and blend them with your Hero outfit.
A Pink Headpiece, Belt, and Bracelets
These three pieces of accessories are light pink and have thick cotton padding.
Availability: You can find these with the cosplay outfit available online or at a local cosplay store.
Alternative:

The best alternative

is to use a regular one available at the local store selling accessories or making D.I.Y. accessories with cotton paddings and color it with fabric paint.
Pair Of Pink Bracers
The bracer is cotton-padded with handles on her bracers that serve as grappling hooks. A bracer is a protective gear chosen by the superheroes covering the ventral surface of the bow-holding arms. However, Uraraka does not need a bow and arrow, but she wears it as protective armor.
Availability: You can find the bracer in a cosplay store or any other store. However, you should make sure it is pink in color.
Alternative: Finding a pair of pink bracers can be difficult. In such a case, you can get a pair of D.I.Y. pink bracer. Therefore, you can use a fabric paint spray over white bracers. 
Uraraka Wig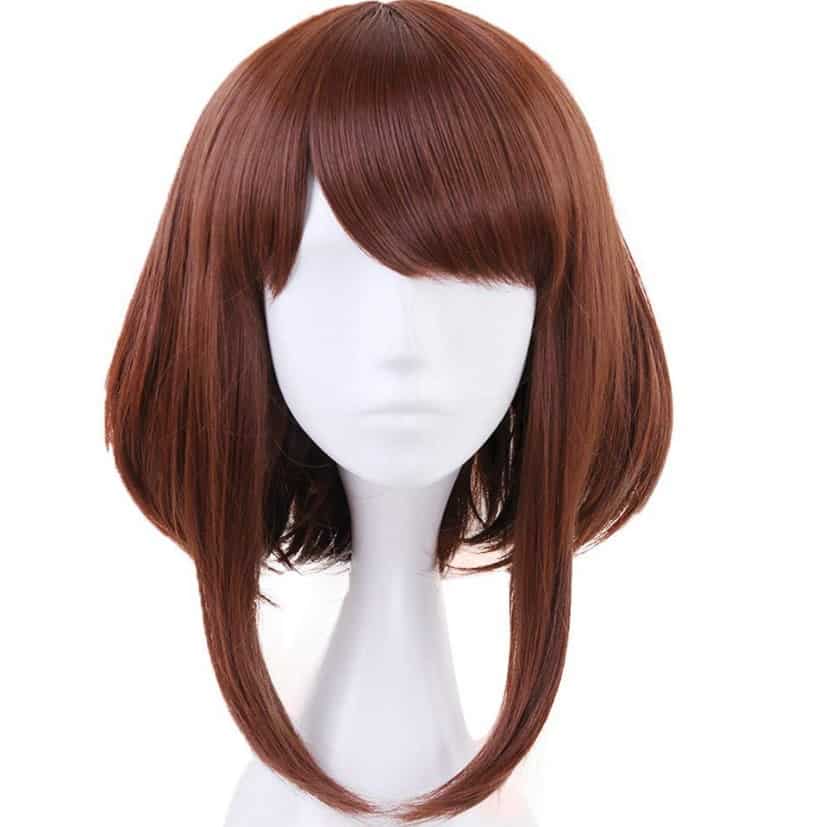 Uraraka's wig is as unique as her costume. She has bobbed hair with bangs. In addition, the longer parts of her hair hang on the side of her face. Her small eyebrows hide behind her bangs. If you have a bob cut, then you can style yourself accordingly. However, you can wear a wig too.
Availability: Uraraka's wig is easily available in several online stores. Furthermore, her hairstyle is extremely popular in Japan. Hence, you will find the wig.
Alternative: If you do not have the budget for Uraraka's wig, you can purchase a normal wig and give it a cut yourself. However, ensure the two parts of either side of the wig remain longer than the other strands.
Pink Pads On Fingertips
The pink paw-print-like appearance on her fingertips is nothing but pads that help her activate her Quirk. Thus, for the pink pads on the fingertips, you can use a pink piece of fabric.
Availability: You would surely not find the pink pads on the fingertip with the cosplay outfit on the online stores.
Alternative: The best alternative is using a pink piece of fabric over your fingertips.
Thick Pink Choker Necklace
The thick pink choker resembles a collar.
Availability: Most probably, you will find the thick pink choker necklace with the cosplay outfit itself.
Alternative: Making a thick, pink choker resembling the original one can be extremely difficult. Hence, you can wear a thick, pink choker available at any store selling accessories.
Academy Uniform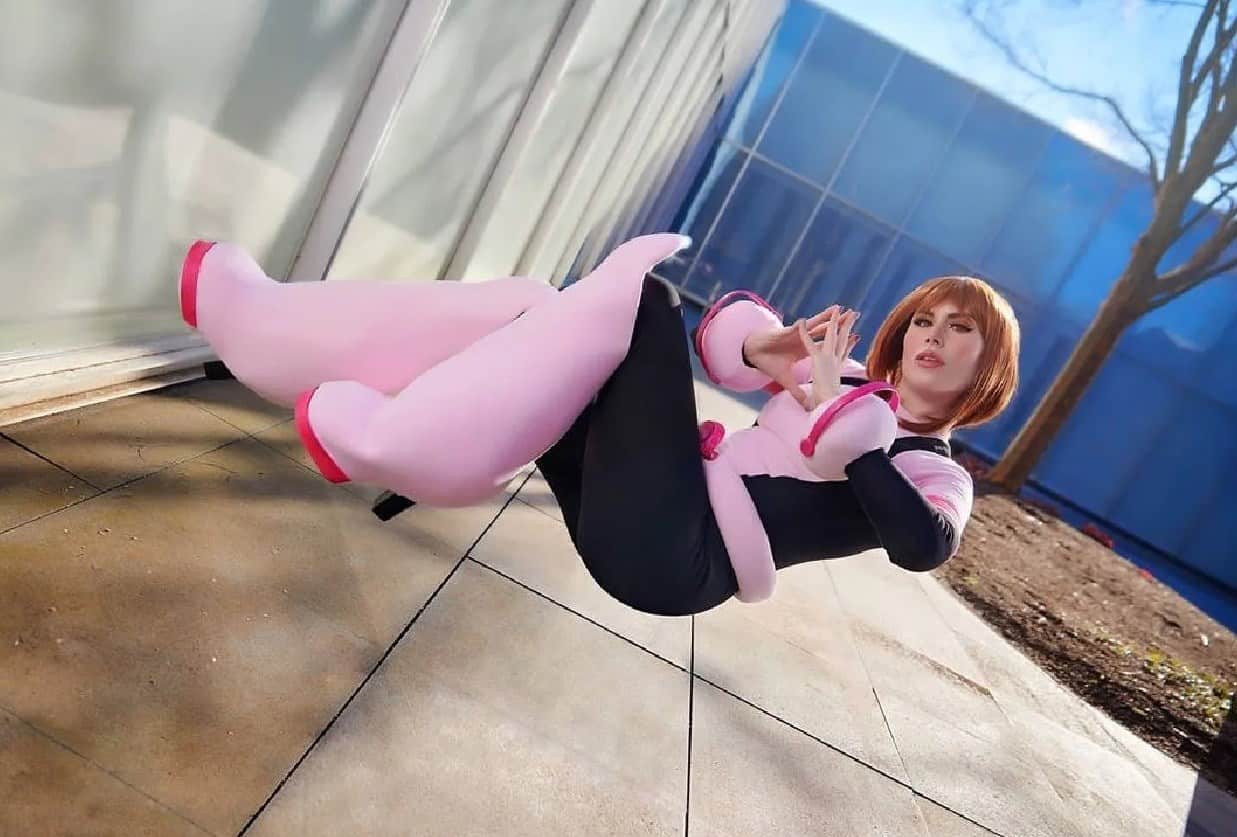 The Academic style is all about a lined blazer with dark green stripes and yellow buttons.
Wearing a white blouse beneath is a fantastic complement to your collection. Tsuyu Asui or Uraraka Ochako's outfit is completed with a crimson tie.
Black Tights
The black tights serve as the foundation of the outfit. This applies to both men's and women's outfits. These tights do not have to be a single piece. It will, nevertheless, aid in simpler management and unrestricted mobility.
Pick the tights that are the right fit for you and are durable.
Availability: The black tights are an easy addition that can be acquired from any clothes shop online. This may be from a store like Marks & Spencer's.
Alternative: It's fine if you cannot find the appropriate tights or the right size tights in a store. You may easily replace them with black stockings or long socks.
White Shirt
A white shirt is the next essential component of the outfit. It is preferable if you can have a grey-lined blazer to go with. The white blouse or shirt adds aesthetic, so avoid replacing it with another color.
Availability: A white shirt can be purchased from any online clothing retailer or local store. It would be easy to obtain a white blouse or shirt with a blazer if you lived near a costume store.
Alternative: There are few viable alternatives to a white shirt. However, this is the most basic component of this costume and is easily accessible. Just make certain that quality is what you require.
Red Necktie
Another important piece of the costume is a red tie. It may appear to be a pretty simple item, yet it completes the whole appearance. This is also one of the easy-to-find components in this outfit.
Availability: A red tie can be purchased at any clothing store or online. However, be sure you choose a medium red hue that is not too bright.
Alternative: If you have no other choice, you could wear a different color tie. However, anything around red would be ideal. Otherwise, a red scarf will suffice.
Dark Blue-Green Short Skirt
The Skirt is one major element that completes the costume. Pick one with a distinctive two-layer design and a movable pocket on the connected Skirt. The silhouette is best broad and flared towards the bottom.
Availability: These skirt colors may be tough to find in a local retailer. Choosing one from the internet is the finest option. Unless you can buy one from a costume store, you may have to compromise on color.
Alternative: While a thick-good quality is required, you may purchase a lighter one on Amazon. They are often less expensive, although size may be a concern.
A Gray Jacket
As previously stated, a gray blazer is required. However, keep in mind that a grey jacket is also an excellent choice to wear over the white blouse/shirt. If you don't want to spend a lot of money, this is your best option.
Availability: A grey jacket may be more easily found at a formal neighborhood store or even online. It is vital, though, to have a sense of its quality. The grey hue is on the paler side.
Alternative: If not formal, your only choice is a slightly athletic jacket. If this does not work, having it sewn is your next best option.
Gym Uniform: Blue Two-Piece Short-sleeve Tracksuit
The My Hero Academia training suit is a two-piece costume that includes a shirt with a zipper. It has a closing and pants with an elastic waistband. The cloth used to construct the Boku no hero academic suit must be of exceptional quality.
Its aesthetic is brought out with the white lines that look like it says U.A. It also has distinct blue-green stripes on the collar and sleeve cuffs.
Availability: This costume is widely accessible on internet retailers such as Amazon. If not, it is rather common in costume shops, particularly those that specialize in anime outfits.
Alternative: Your other best option is picking a dark blue shirt and matching pants. You can easily paint white stripes on the pair.
Uraraka Makeup
With this cosplay makeup, you can transform into Ochako Uraraka from the anime Boku no Hero Academia!
As Gravity
After you've assembled the products mentioned below, use this photograph to complete the outfit.
Circle Lenses (Green)

False Eye Lashes

Bottom Eye Lashes

Concealer Palette

Manshili Sweet Cat Rude Blush Palette

Sigma Liquid Pen Eyeliner

NYX Professional Makeup Concealer

TONY MOLY Foundation Face Mix Skin No.13

Mix Vanilla Sigma Liquid Pen Eyeliner

DUO Eyelash Adhesive

Urban Decay Eyeshadow Primer
Academy Uniform
Refer to this image to complete your look in the academic costume.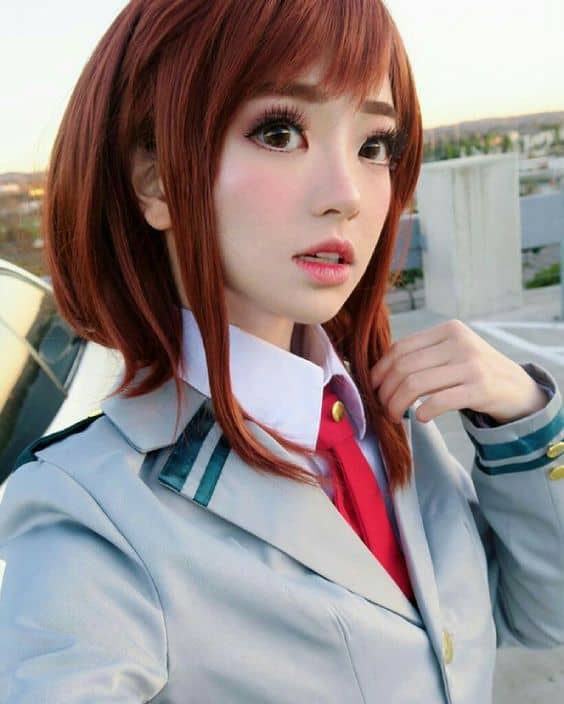 Uraraka: Character Trivia
Ochaco Uraraka, known colloquially as Gravity, is a Class 1-A student at U.A. High School studying to be a Pro Hero. She is one of the major characters in My Hero Academia.
If you're waiting to dress up as the character, here are some interesting facts to help you understand what she's all about. Choose the ones that will help you most closely resemble her.
Other classmates have characterized Ochaco as 'the most relaxed, relaxed girl' in her classroom.

She is also known as 'quite effervescent and a little bit of an airhead sometimes.'

Ochaco's reactions, like Izuku Midoriya's, are overdone and extremely funny.

Ochaco may not appear to be one of the finest competitors at first look. Still, her talents won her third place in the University of Arizona Entrance Exam and tenth place in the Quirk Apprehension Test during her tenure at U.A.

Ochaco was able to momentarily restrain Kurogiri, an extremely capable antagonist, during the U.S.J. Crisis.

While Ochaco was not the most intellectually efficient student in her class, she compensates with her strategic thinking. She also can detect an opponent's vulnerabilities.

Ochaco's Quirk allows her to negate the gravitational effects on tangible things. These include both living and nonliving by contacting them with the padding on her fingertips.
FAQs
You are already aware of the many components required to complete the outfit. Certain questions may occur in your thoughts while you put together your outfit.
This guide covers some frequently asked questions about your costume.
Question: Is it easy to dress up like Uraraka?
Answer: Ochaco's dress comes in simple layers of clothes, such as tights, vests, shirts, and so on. As a result, it is rather pleasant and easy to dress up. However, certain people who are not used to cosplay dress-up find it complex.
You can dress comfortably so that you don't feel out of place. The amount of comfort will vary depending on the materials used for your clothes.
Question: Do I have to be of a specific body size to dress up as a Uraraka?
Answer: Uraraka is often slim and hourglass figured.  As she is a student, she can have any time of body size that may not look the same.  When cosplaying, you can be of any shape. All you need to do is pull off the look.
Carrying the costume depends on your personality, regardless of how you appear. If you can accurately depict the character and demeanor, the outfit will look fantastic on you.
Question: What are some accessories you need to be Uraraka?
Answer: Uraraka Ochaco has shoulder-length, voluminous strands of puffy red hair. This wig is one you'll need to get. She also wears two pink patches on her shoulders. There is a heavy pink choker necklace and dark pink armbands that usually go along.
She wears circular wrist guards with a dark pink handle on the back and wide knee-length boots. She also has a belt around her waist and a helmet on her head with a tinted, pinkish look.
Question: What does Uraraka's Makeup look like?
Answer: Uraraka has wide brown eyes, pink spots on each cheek. She also has little lower eyelashes resembling dots. This style may be recreated using facial paint, blush pink, black mascara, and eyeliner. If not, the makeup products are also mentioned above in this guide.
Question: What is Ochaco's Character like?
Answer: Ochaco Uraraka is the main actor of the My Hero Academia anime series. She is a student training course to be a successful Pro Hero in the future. She is one of My Hero Academy's most delightful characters because of his effervescent and sluggish personality. She has a cheery grin and a passive attitude.
Summarizing
For everyone who likes anime and desires an iconic outfit, Ochaco Uraraka is an excellent choice. Ochaco Uraraka is a little girl with a very sleek, feminine form and one of the leading characters of my hero academy.
Although Ochaco cosplay has two possibilities, her academic outfit is the greatest suggestion. You can understand why this is the case when you look at the cosplay photographs.
The combat attire of Ochaco also looks adorable, which for its personality is appropriate. It also proves that sweetness should not fool you since Ochaco is a strong personality.