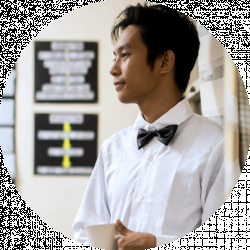 Latest posts by Arthur Monteclar
(see all)
Growing up, you have probably idolized one of the most revered sidekicks in the DC universe: Robin. Who doesn't like Robin? He is one of the best things that happened to DC comics. His fun-loving yet down-for-justice character just gives another layer to his story other than being simply the companion of the most influential and popular comic superhero, Batman. 
More than that, Robin has also become its own main lead through iterations from different animated series and comics such as Young Robin, Teen Titans, and Teen Titans Go! It's no wonder why he is a fan favorite when it comes to cosplaying. If you are interested to learn more about how you can cosplay Robin (from Teen Titans) in the best possible way, you can check out this guide. In this guide to Robin cosplay costume ideas, we discuss his quirks, physical appearance, weapons, and his most popular quotes! 
About Robin and Teen Titans 
Robin has been an extremely popular character. He is known to be the sidekick of Batman. But in the show "Teen Titans," which first aired on Cartoon Network in 2003, Robin became even more popular to kids across all generations. Teen Titans is an adaptation of the DC comic books produced in the early 1980s. The Teen Titans are made up of a group of young superheroes who teamed up to protect and save their city from evil doings. 
The first-ever Teen Titans were composed of Robin, Starfire, Cyborg, Raven, Beastboy, and Terra. Robin was then the leader of the group, but everyone brought a powerful impact to the team. Each played with their own strengths and explored their own weaknesses to protect the world from evil. They take on their missions seriously, always determined to be triumphant in the face of adversaries.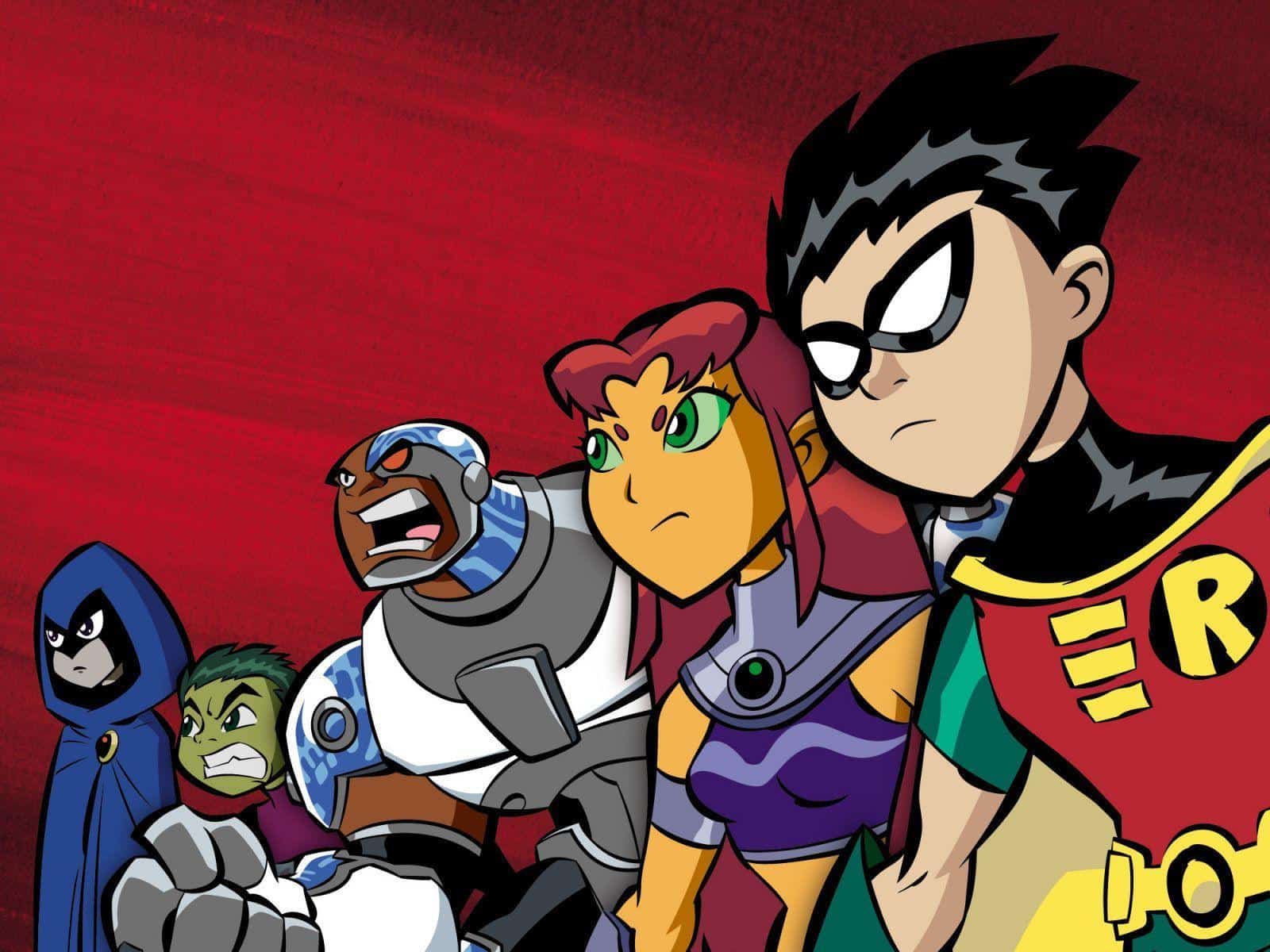 Robin: Personality, Skills, and More
Personality
As the leader of Teen Titans, Robin wants anything less than perfection, but his whole team is definitely far from flawless. While his authoritarian leadership might be off-putting for some, the Titans frequently dismiss his orders. Yet, his secret admiration and obvious crush for Starfire have deeply influenced how fans see his character and colored past. 
While both deny that they have feelings for each other in Teen Titans, everyone around Robin's circle knows about it; even a few enemies have realized just how smitten they are. Sometimes, it is even shown during Robin's jealous moments. 
Aside from that, he is quite arrogant — and he is proud of it. In some episodes, he believes and acknowledges that his whole team is the best among all the superheroes. The only exception to this is how he sees Justice League being greater than everyone else, even his team.
While Robin's strong-willed attitude and iron-clad discipline are usually counterproductive, he is a totally well-intentioned leader. In fact, no one else has the same kind of commitment and dedication Robin has. He may be prideful, yet his heart is in the right place: to fight for justice. 
Related read: Starfire Cosplay Outfits and Costume Ideas
Appearance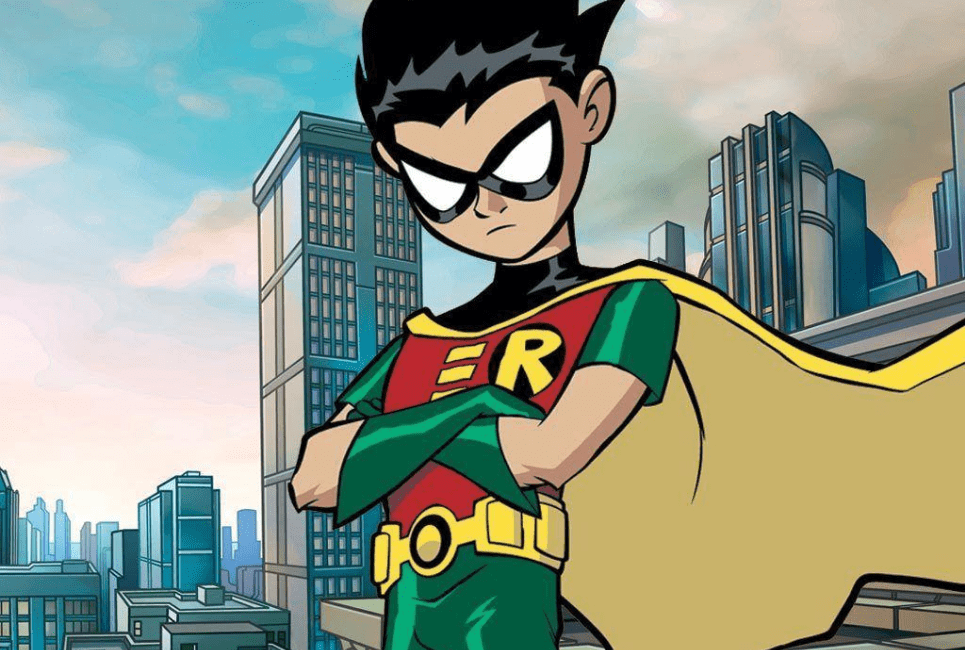 From being a spineless teenage boy, Robin has transformed and become one of the most revered superheroes of his time. While he has many iterations, he usually wears green tights with black ankle-high steel-toed boots paired with a short-sleeve green t-shirt with a red armored vest embellished with his trademark initial "R" inside a black circle. 
As for Robin's accessories, he dons his superhero outfit with green elbow-high gloves, a yellow utility belt, and a black robe with a yellow interior. Along with these accessories, he sports a black a black-and-white domino mask. He never wears his hair down; it's always spiked backward. This makes you see his whole expression clearly despite the mask. 
He has light skin and an athletic build despite his young age. During his apprenticeship with Slade, he wore a black bodysuit and armor plating on his legs, knees, forearms, and shoulders. His suit's top half design is split into black and orange sides. He wears this outfit with an ash-gray utility belt. However, despite Robin's cool appearance and rad outfit, the other Titans still make because of his height. 
Skills
Robin's dorky stature might look weak, but his wits and overall abilities are definitely something to watch out for. Unlike Cyborg and Beast Boy, he was born as a powerless human; he did not encounter any power-giving accident. 
Whether he is born powerless or not, he always has the natural ability to fight for justice. He heavily relies on his acrobatic prowess and crime-fighting equipment to win against Jump City's villains. 
Weapons and Equipment 
Staff
This is Robin's main melee weapon. It is an extendable metal pole that usually gets several upgrades across the different iterations of the character. 
Smoke Bombs
Aside from the staff, Robin always has smoke bombs handy. He uses cartridges of high-density smoke to make a stealthy entrance and getaways whenever necessary. This is probably one of the most frequent weapons he uses in battles.
Birdarangs
Familiar with Batman's Batarangs? Well, Robin has his own kind of Batarang, which he calls Birdarangs. These are shuriken-like throwing weapons that can help disarm or injure foes at a distance.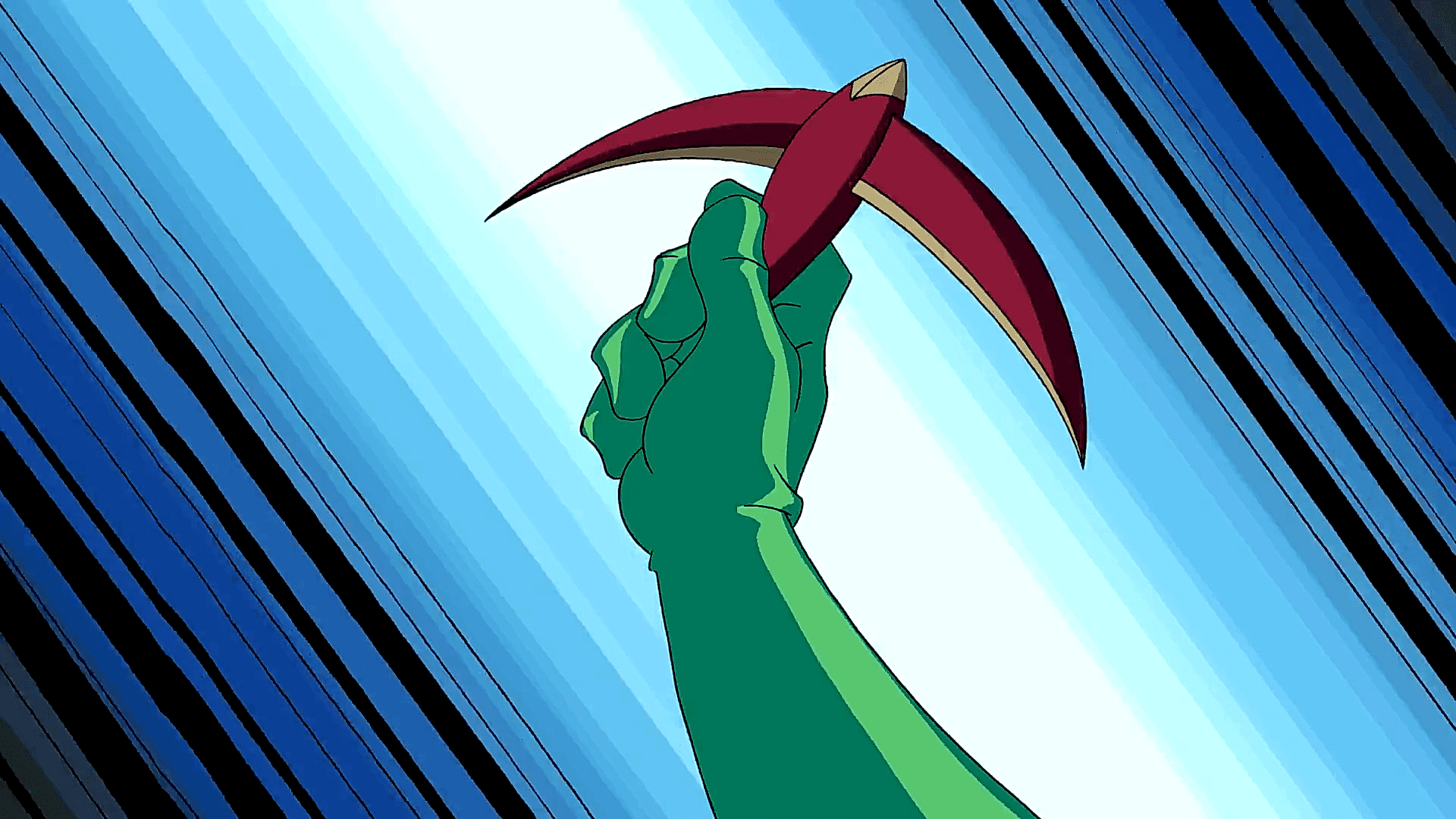 Grappling Gun/ Rope
Since Robin can't fly, he uses a grappling gun or rope to ascend tall buildings or clear large distances. 
Net Gun
When the Teen Titans defeat the villains, Robin finishes off the task by using his net gun to catch the enemies and secures them to ensure they do not escape. 
Vehicles
As the leader of the team, Robin literally holds the steering wheel. He drives and operates different kinds of vehicles for the team, including the T-Jet, T-Car, T-Ship, and his very own R-Cycle. He has also driven Batman's own Batmobile at some point. 
Quotes 
Are you interested to learn more about Robin's personality? Here are some of his most famous lines that would definitely give you a better perspective of his quirks and mannerisms. Knowing all these quotes will also help you reel into his character. So, take time and check some of these quotes to help you perfect your cosplay. 
"There is Good, and there is Evil, but the line between them can be almost impossible to find. Does one good deed make him a hero? Am I to blame for all of it because of a single mistake? In the end, all I really know is that the answers don't come easy. It's supposed to be simple. But it's not."
"I doubted myself, Star. Focused, serious, determined…as much as I hate to admit it, he and I are kind of alike. But there's one big difference between me and Slade: he doesn't have any friends."
"There are those who commit crime, and then there are those who stop them." 
"Because of you. You don't realize it, Raven, but you're actually the most hopeful person I've ever met. From the day you were born, they said you were evil, that you were created to do unspeakable things. But you wished for more. You dared to hope that you could be a hero."
"Selling out our world for your own personal gain seems pretty cut-and-dry to me."
These quotes and famous lines really highlight Robin's values. He is bold, daring, but a bit of a control freak who's always willing to go the extra mile for justice. 
Cosplaying As Robin
Explore the looks and cosplay options to recreate. You can spruce up your look and dress as the leader Robin, who we all know from Batman, but who leads the rest of the teen superheroes in the Cartoon Network animated series. Face off with evil from every corner of the world in your Robin Cosplay. Browse through the costume guides to make recreating this cosplay idea super easy.
Best Robin Costume: What You Need to Prep
Ready to cosplay Robin? It is time to put on your A-game and get your friend to cosplay with you like the Teen Titans! Grab your capes and tights and wear your black-and-white domino mask while impersonating your best Robin character. All you need is a bold attitude, a mind for justice, and a superhero getup. If you are even more extra, you can add in a motorcycle (R-cycle) as an accessory. 
Cosplaying Robin is definitely one of the most exciting costume preparations you can do! You might need to get your hands dirty and start a DIY project for his weapons. While cosplaying this character may not be the easiest, some of the things you need might even be in your closet. Here are some of the items you will need: 
For the Top
Green T-Shirt
Robin wears a plain green t-shirt. You can simply pick a regular tee or a muscle tee to accentuate your muscles. This is fairly easy to find. In fact, you don't have to scour the internet to find an exact replica of the shirt. If you don't have one, you can order any plain green shirt online or buy it at the nearest clothing store.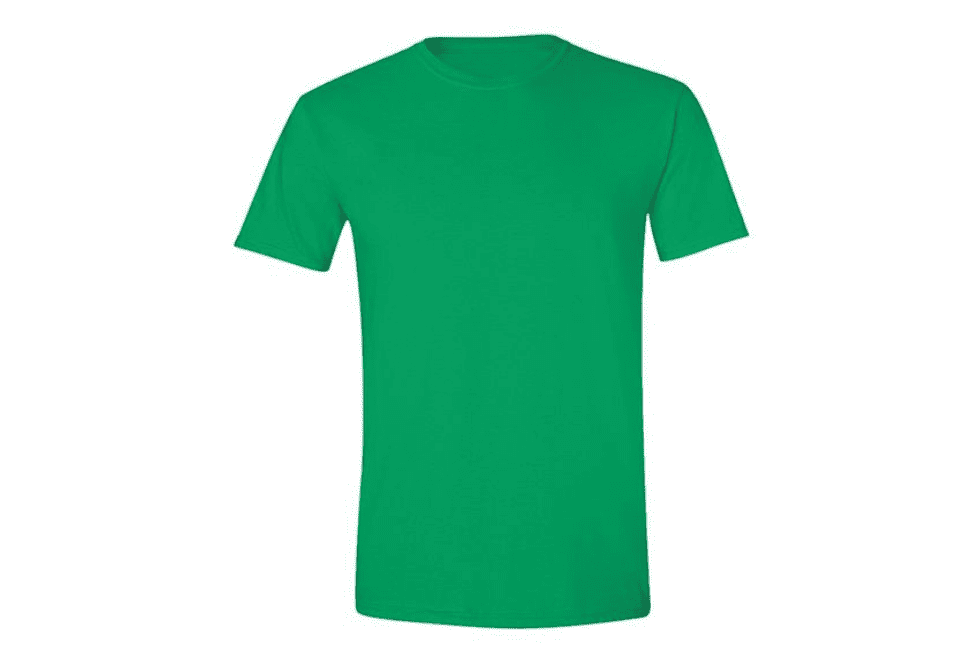 Red Vest
Unlike the green tee, this needs a bit more detail. While you can find a red vest in the malls, you might need to add more detail to it. So, we suggest you go the DIY route. You can make your own red vest and add in the yellow details and the R logo. Make sure you get the color right; the main color of the vest is red with yellow lines on the chest area and a combination of black and yellow for the logo.  
RTW Option: Jacket
To mirror the perfect Robin get-up in a quick and easy way, go for ready-to-wear Robin jackets available in the market. You can easily find one on Amazon, and it gives that nice, clean finish with almost all the exquisite details of the superhero's outfit.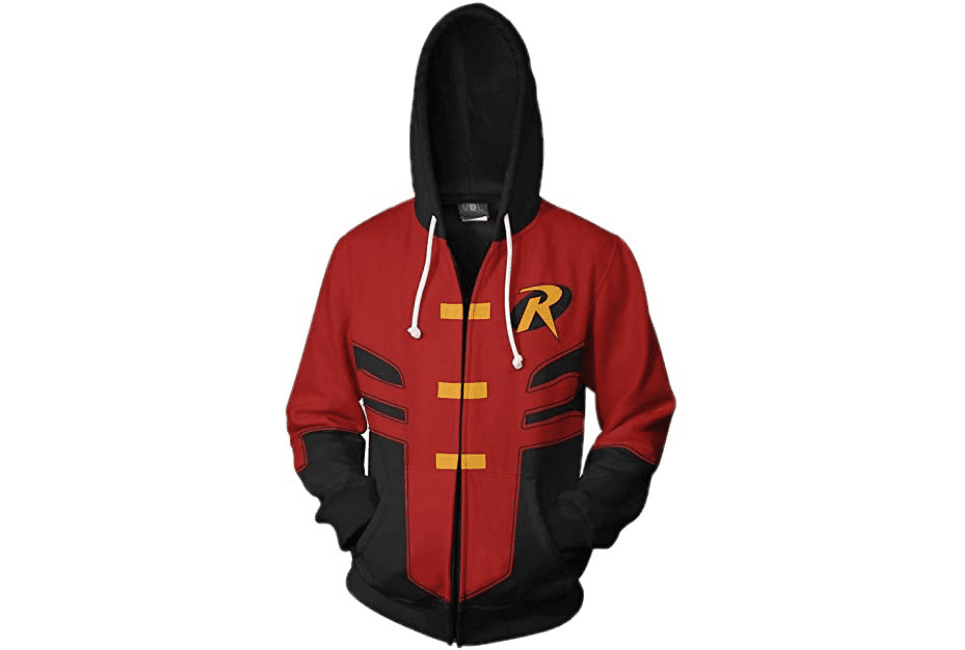 For the Bottoms 
True to the character's get-up, you can wear a pair of green tights. Usually, you can go away with any green pants. However, if you want to go a little bit extra, you can always don body-hugging pants. This gives shape and accentuates your body, creating a nice silhouette that is definitely a Robin signature. 
Always remember to select a pair of good-quality bottoms — one that leaves no clues for flaws and other defects. 
For The Accessories 
Cape and Mask
One of the most important elements of every Robin costume is his cape and mask. You can never be recognized as Robin without these two. That is why you need to get this down pat. The details are simple and easy to recreate. You need a lot of black cloth, a white mesh cloth for the mask, and a yellow cloth that is floor-length for the cape. But if you lack the time, you can always find these pieces online.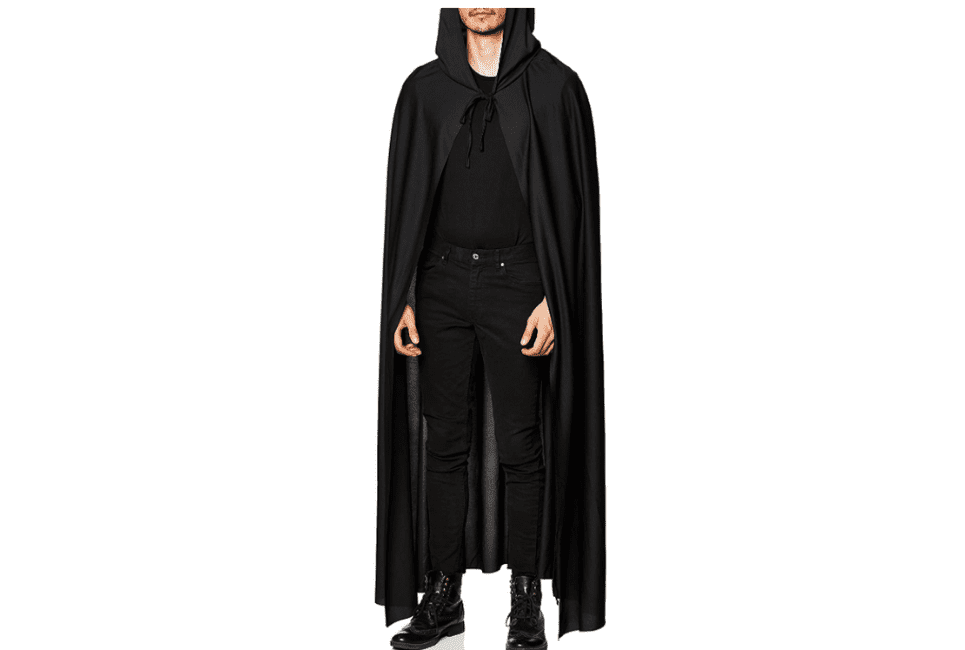 Gloves
Like the cape and mask, Robin's gloves add an extra layer of oomph to his get-up. The gloves tie the look together and are one of the most enthralling features for typifying this personification to the very extent. 
Find a pair of gloves that have palm patterns and fin-straps designed with detail in mind. You can also opt into buying leather gloves that are perfectly crafted for your whole Robin ensemble.
Utility Belt
While it seems like a tiny detail, Robin's yellow utility belt is actually an essential accessory. It adds value to the whole outfit, as he is known to carry different kinds of weapons and trinkets in this belt. You can make one on your own by using a yellow foam board and a stiff cloth. This might be a cheaper DIY alternative than buying a utility belt you may never use again.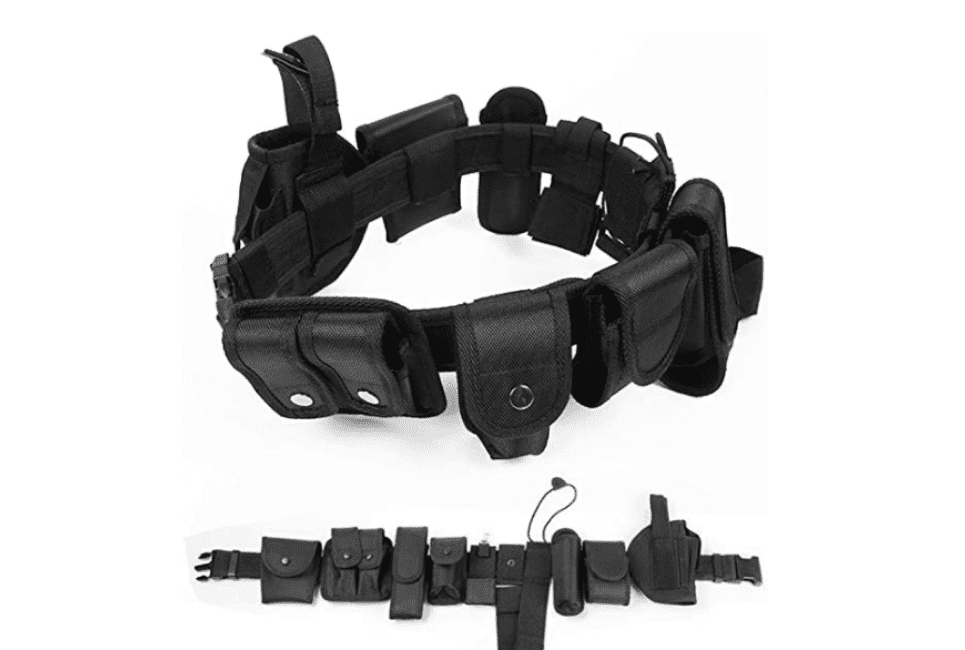 Boots
You've got your mask, cape, gloves, utility belt; what more do you need? Of course, you need a pair of knee-high boots to finish off the look. Find something that is well-built and designed for comfort, not just for style — one that comfortably arches at the bottom. This way, you can do your Robin poses without having to worry about your aching feet. Go on and choose a pair of stylish and functional boots to achieve an amicable Robin walk style.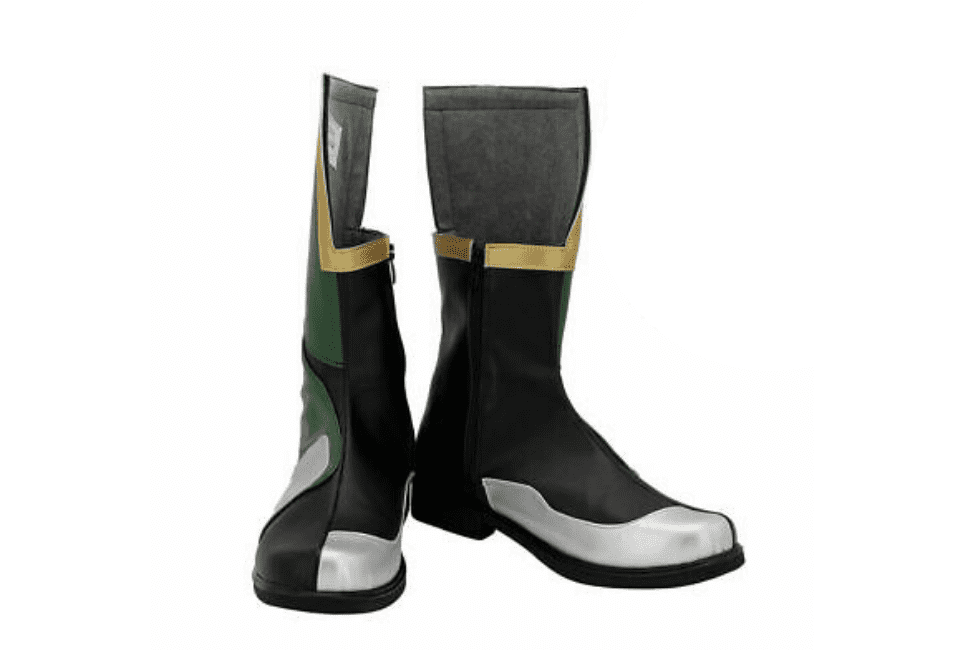 Alternative Robin Costume Designs
Robin is not just one person, but more of an idea, because it is the superhero name of Batman's sidekick. After a Robin grows up to become a hero of his own, another Robin fills in the empty spot. So, there are many alternative Robin costumes that you might like to try on as well. However, the outfits of these Robins actually look pretty similar with some different elements here and there, so it would not be that noticeable. The main outfit being featured here is Dick Grayson's Robin.
Gotham Knights' Robin
Gotham Knights is an upcoming RPG set to release in 2022. It features four of DC's finest heroes including Nightwing, Batgirl, Redhood, and the wonder boy himself, Robin. However, Robin has a different outfit in this appearance. Here, Robin sports a Windbreaker, which resembles a red leather jacket with black leather pads on his shoulders and arms. On the left side of his chest is the "R" logo which stands for Robin. This leather jacket has a hoodie along with it as well. The insides are completely black.
Also, he wears army green pants with black knee pads coupled with black boots that reach a few inches below his knees. He wears green gauntlets and black fingerless gloves to protect himself, as well as his iconic mask to hide his identity. If you want to complete this look, first find a "red rust" leather jacket with a hoodie for your top. You can stitch in the "R" logo and the shoulder pads if you really want perfection. Buy green pants as well with shoulder pads and black boots. The green gauntlets can be improvised; the most important aspect is the black fingerless gloves. Do not forget to have that mask for your eyes too.
Red Robin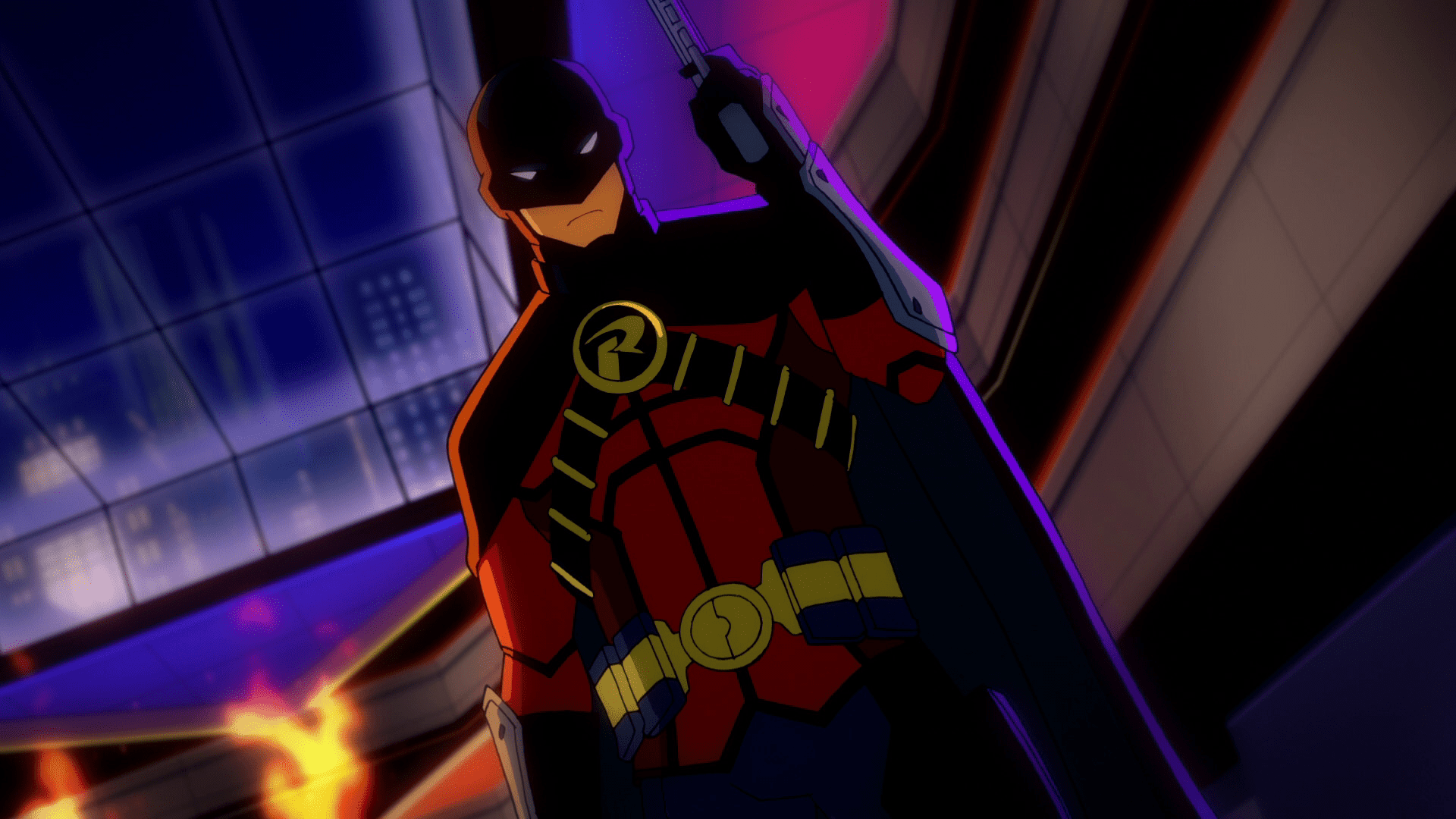 Red Robin is the moniker that was made by Tim Drake, the third Robin. After coming back to Gotham away from being Robin, he learns that a new Robin is already active. So, he comes up with Red Robin, which is a much different attire. Red Robin's mask covers his eyes and nose very similar to Batman's mask. He dons a black cape, although some of his appearances feature him donning a red cape with black strips not reaching the end of the cape.
He wears a red suit with black highlights in particular areas such as near the elbow, rib, etc. The bottom of this suit turns fully black instead of red. He wears black gauntlets and gloves similar to military gauntlets. A golden emblem sits at the top of his chest with a black mark on top resembling the letter C turned over. Black leather straps are attached to the emblem with golden metal pieces added. He wears a yellow belt around his waist with several pockets.
Achieving this look is not an easy feat mainly because of the suit and the accessories. As always, you can find the whole outfit on the internet for sale, but you can also buy one that is similar in style. You might have to make the emblem with the straps if you plan on customizing one instead of buying one. The belt is simple to innovate; just buy a big yellow belt and add pockets to it.
Frequently Asked Questions
Question: Can I Do a Couples Cosplay with Robin?
Answer: Planning to attend a cosplay convention with your significant other? Well, cosplaying as Robin surely allows you to do a couples cosplay! While Teen Titans come as a team of superheroes, you can always tell your girlfriend to cosplay as Starfire. 
She is Robin's love interest. In most episodes and iterations, you can even see both Robin and Starfire being intimate to each other. As for the costume, your girlfriend might simply need a purple turtleneck crop top and skirt. She also needs a pair of thigh-high boots to get the look right. 
Question: Can I Make a DIY Robin Outfit?
Answer: Well, you can! But it might be tedious and overwhelming. So, if you are a beginner, you can simply find pieces that you can mix and match to make your cosplay work. 
However, if you are not new to the world of cosplay, you can always challenge yourself by making the whole outfit from scratch. Most professional cosplayers have created YouTube videos on how you can design and create your own Robin costume. 
Question: Is Purchasing a Ready-made Robin Costume Set a Great Idea?
Answer: The answer might not be as simple as a yes or no. There are actually a lot of factors to consider before buying a ready-made costume set. First, you need to make sure that the quality of the costume is good, so you don't have to worry about wardrobe malfunctions during the cosplay event.
Next, you also have to consider the sizing. Make sure that the costume set fits and flatters your shape. This way, you can comfortably don your Robin cosplay. Lastly, always find a shop that has good reviews. Always ask your cosplay friends where to find good-quality products. 
Question: I am a Woman. Can I Cosplay as Robin?
Answer: In cosplay, genderbending is a popular concept. Whether you are a young girl or boy or even a lady, you can always style and dress up as Robin. You can jazz up your cosplay game and find unique ways to give justice to the character by sticking to his color scheme and portraying his mannerisms and quirks, whatever gender you may identify with. 
Question: What are the Ideal Hair and Makeup Looks for Robin?
Answer: Robin's hair and getup are usually that of a teenage boy. Since he wears mostly green and red colors and covers his eyes with a mask, you don't have to wear a lot of makeup. Probably, you will need a foundation to give his iconic pale look. 
As for his hair, he generally wears the same hairstyle throughout the series. To achieve it, you need to use a crazy amount of hair gel to spike up your hair — just like Robin did. However, in the rarest circumstances, he also had his hair down without using hair gel. 
Final Thoughts About Doing a Robin Cosplay 
Robin is an excellent and familiar character to cosplay. His character is great, with an exciting backstory. More than that, he also sports a lot of interesting accessories and weapons you can choose from. You have a lot of outfits you can pick from too. Aside from cosplaying Robin in Teen Titans, you can pick out his different iterations. 
For Robin, it is best to go for a pre-made but high-quality costume. There are dozens of online stores selling costumes that are extremely detailed and accurate to the comic book and animated character. You will never have to run in on someone where they ask you: "So, Which character are you supposed to be cosplaying?". That is why cosplaying Robin is an easy bet. 
You can even bring the whole gang with you, making them cosplay alongside you like the Teen Titans. All of you can portray the whole animated characters: Robin, Starfire, Cyborg, Raven, Beastboy, and Terra.