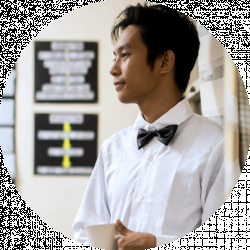 Latest posts by Arthur Monteclar
(see all)
Scooby-Doo is definitely one of the most popular and watched comedy animated series across many generations. The original Hanna-Barbera cartoon series Scooby-Doo, Where Are You, has definitely been a part of almost everyone's childhood. With over dozens of spin-offs and a couple of seasons throughout the decades, it comes as no surprise that the show has become a quintessential classic.
And if you've seen the show, you are probably familiar with the gang: jock Fred, fashionista Daphne, hippie Shaggy, brainiac Velma, and of course, talking dog Scooby-Doo! The gang highlights a fun-filled and mysterious adventure riding their green van, the Mystery Machine. And even when they're not out searching for mysteries, weird phenomena usually come their way.
Are you looking for an interesting cosplay costume idea this coming Halloween? Well, why not dress up as Velma? In this Velma cosplay costume outfits and ideas guide, you'll see that you can find yourself wearing her comfortable clothes and having fun posing for pics with your orange get-up; whether you're dressing up alone or with your whole gang, cosplaying as Velma is truly a fun and no-nonsense choice!
Velma: Personality, Background, Quotes
Among the whole Mystery Gang, Velma Dinkley is the smartest member. She often uses her wits and intellect to solve crimes, unfold mysteries, and discover clues. As a naturally curious person, she is seen, most of the time, reading books and studying new subjects.
The gang relies on her extensive knowledge and initiative to decipher and understand clues, which can ultimately lead them to unmask the true villains. However, despite her wits, Velma always seems to be losing or misplacing her glasses. In fact, this happens every episode where she can't see anything at all.
Personality
Velma is a good friend to everyone in the gang. However, you can see an occasional banter between her and Daphne. She's also sarcastic and sly at times, but this makes her character more dimensional and relatable.
Often, she conceals important details and information from the gang when she's on to something. This way, she can concentrate on solving the problem rather than having to argue with Daphne or Shaggy. While you might think she's a sly person, Velma genuinely cares about her friends and helps everyone to safety.
Background
Velma Dinkley loves reading detective novels; it's no wonder why she is a natural when it comes to problem-solving and finding clues. And when the Mystery Machine crew stumbles upon a brand new mystery, she's got it figured out before anyone else — that's a genius-level intellect indeed!
At a young age, her parents pushed her to excel in her studies. That is why she is often the smartest person in the room. During her schooling, she garnered a lot of awards for outstanding achievement.
However, like all the members of the Scooby-Doo gang, later ret-conned as Mystery Incorporated members, Velma has various personal backgrounds and backstories in different series. In the original flagship cartoon, Scooby-Doo, Where Are You! series, Velma attended the same high school with the whole gang. However, in a rather new Scooby-Doo Movie, it was soon discovered that Velma graduated from a different high school.
While "Jinkies" is Velma's notably famous catchphrase, it was also revealed in the Scooby-Doo: Behind the Scenes that she simply said "Oh my!" — which isn't catchy enough!
Quotes
Want to know more about Velma's quirks? Here are some of the most popular quotes that would definitely help you understand her better. It's also the best way for you to develop your cosplay and get even her tiniest mannerisms down pat. Hopefully, this will make your cosplay perfect!
"Jinkies!"

"He dumped me for a dog. A dog! And then he was all like, "I want you, Velma," so I sent him back to his dog! So yeah, there were a few trust issues."

"Everything makes you hungry."

"There's a very logical explanation for all this."

"Where are my glasses?"

"Oh, I don't know – maybe he's actually here to try and solve some crimes."

"It's very simple. When the barometric pressure dropped, and the warm offshore air came in contact with an inland cold front, we ran into some unnavigable nucleation."

"Which part, the rampant commercialism or the pressure to identify oneself in the context of a socially acceptable couple?"

"Mystery is my mistress. I must heed her sweet call."
Based on these quotes, it's quite a giveaway that Velma is a daring, smart, sly but a bit careless of a girl who's always up for solving new mysteries and unmasking the truth.
Best Velma Dinkley Costume: What You Need to Prep
If you are a real-life Velma – a fun, glasses-wearing genius, maybe you are set out to crack a few mysteries! It's time to spruce up your cosplay game and wear your bright orange sweaters. All you need is a curious mind, a geek-chic get-up, and a perky attitude.
Whether you have always been the brainiest among your friends or just simply want to don a simple outfit for your upcoming cosplay convention, dressing up as Velma Dinkley makes sense.
Cosplaying Velma is one of the easiest costume preparations you can do! You just need a few basic things. Some of them might even be already in your closet. Here are some of the items you'll need: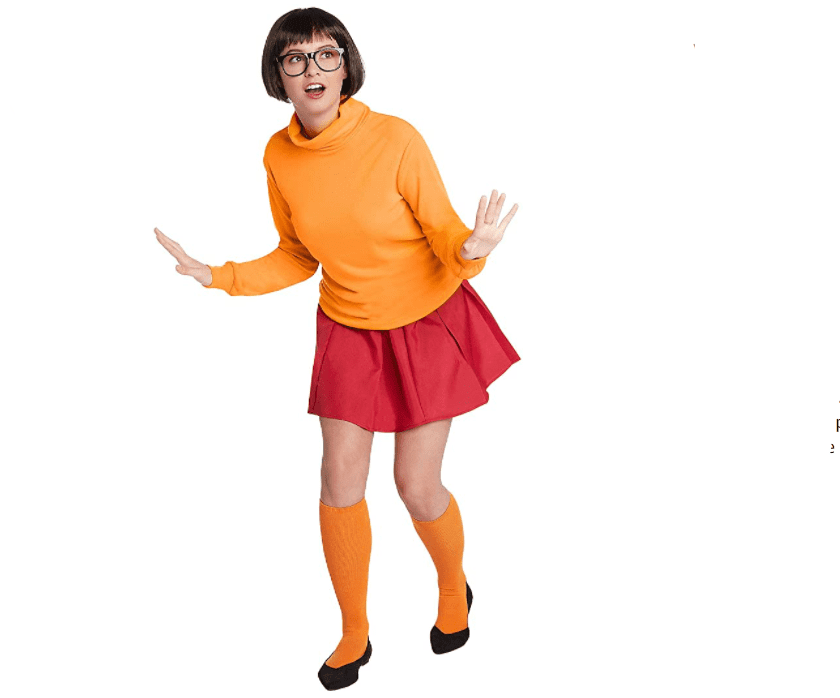 You will always see Velma in her iconic orange turtleneck sweater. From the original cartoon to the latest animated series, she's always been sporting that oversized orange turtleneck sweater. So, go ahead and score one!
Make sure to find a comfortable and climate-appropriate sweater. During the summer season, you might want to wear something that's made from lightweight clothing so that you won't have to bathe in sweat and feel icky while cosplaying.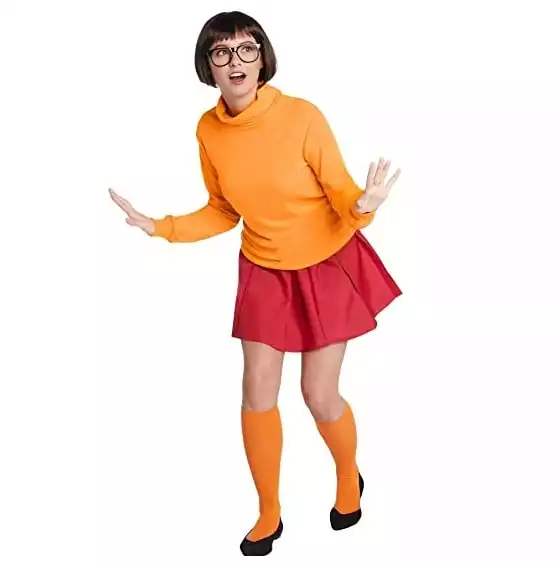 Velma sports a red-pleated skirt to pair with the orange sweater. This makes the whole outfit even more simple to pull off. Her bright skirt definitely pairs well with her whole color scheme. It also shows her quirky fun side and often looks extremely cute yet bold – just like her strong personality.
Take note of the details; make sure to get the colors right. You can also mix and match the textures of the clothing. A featherweight corduroy skirt with an elastic waistband is sure to be the most comfortable outfit to pair with the orange sweater.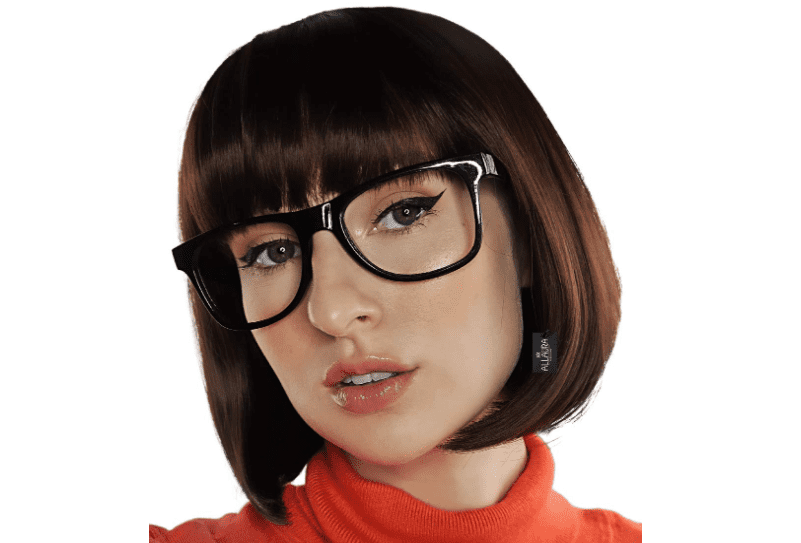 While you would still be recognized as Velma without the glasses, a pair of thick, nerdy glasses will certainly tie the whole costume together. You can easily find square frame glasses to accessorize your look.
For a few bonus points, you can try dropping your glasses every so often and getting down on the ground while squinting your eyes to look for them. You can do all this while saying: "Where are my glasses?", or perhaps, "My glasses! I can see without my glasses."
Orange and red are definitely Velma's favorite colors to mix and match. Aside from wearing an oversized orange sweater, she also sports a pair of fun orange knee-high socks. Get to walk on the wild side while solving mysteries whenever you wear these classic combos. These flat-knit socks will truly help you bring Velma's funk and sass everywhere you go.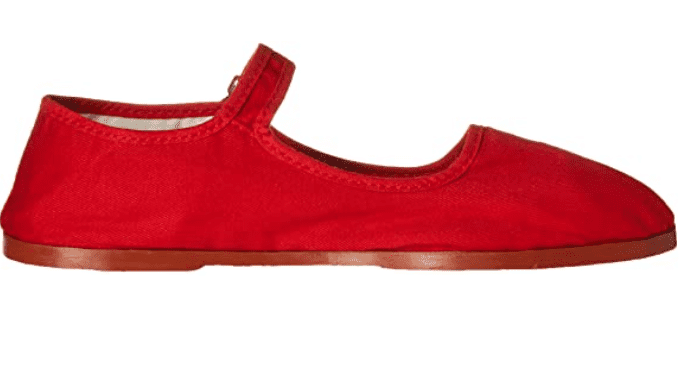 In the truest sense, Velma is a geek-chic girl. She knows how to look good and dress up. Even with her baggy and oversized orange sweater, Velma knows good shoes. In most of her iterations, you can see her wearing red-heeled Mary-Jane shoes.
Mary Jane's shoes are extremely comfortable. They also look great for styles that deliver a girlish look with a hint of sass. The pointed toe design adds a bit of drama and a unique shape to your appearance. It also elongates your body in a flattering and glamorous way.
However, Velma also wears various kinds of shoes in different versions of the animated series. Sometimes, she wears red loafers, red calf lace-up boots, or even floppy white socks and red ballet flats.

Velma sports an iconic reddish-brown wig. If you have brown hair and you mean to cut it for some time, maybe it's time to visit the salon and have it trimmed to match your Velma cosplay. However, if you don't want to style your own natural hair, getting a wig is always an option! You'll find dozens of wigs on Amazon at the best price. Some wigs designed for Velma cosplays even come with a wig plus glasses bundle. How's that for "convenient"?
Teaming Up with the Gang
To really impress the crowd at your next costume party or cosplay convention, gather up some of your friends to dress up as the rest of the Mystery Gang: Fred Jones, Daphne Blake, Norville "Shaggy" Rogers, and the infamous Great Dane, Scooby-Doo!
Spicing Things Up: Add Some More Details
Don't Forget the Accessories
It's no secret that Velma is a genius intellectual who loves to read. So, you can always play with that detail. Once you've got all the basic costume items, it's time to take your costume up a notch. You can do this by bringing a spyglass or a book to make your Velma cosplay even more accurate.
Make It Chic and Hip
While Velma is notably popular for her baggy sweaters, you can always deconstruct and modernize her outfit to a whole new level. Oversized sweaters are out, and chic crop tops are definitely in! You can even wear a long-sleeved orange v-neck or a body-fit orange top.
You can also experiment in changing the whole look; instead of Mary Janes, you can wear red platforms. And don't forget to add more drama with some cherry-red nail manicure and ruby red lips.
Chucks Instead of Heels
Are you tired of wearing Mary Jane heels? Hate wearing red platforms? Who's to say you can't wear anything else? Like Velma's several iterations, you can sport a pair of Chuck Taylors whenever you cosplay. Chuck Taylors are casual sneakers popular for their functional and ultra-comfortable design, plus their chic silhouette. So, if you're looking to add a little spice to your Velma cosplay, you can wear some red Chucks instead.
Where to find everything you need
It's All About the Details!
For our "thicc" queens, you might be wondering whether wearing you should be cosplaying as Velma. And the answer to that is definitely YES! While Velma might have a slender and petite physique, this should not stop you from sporting a Velma costume. In fact, there are pre-made plus-sized outfits you can readily buy online!
Frequently Asked Questions About Cosplaying Velma
Question: Can I do a couples cosplay with Velma?
Answer: This is a very common yet interesting question. At some point, you might attend a costume party with your SO, and you'd rather wear a simple and comfortable look like Velma's, but what should your SO wear?
Well, he can sport Shaggy's outfit since they've been a couple for some part of the show. Or you can also tell him to wear a Johnny Bravo costume. Wondering why? During some crossover episodes, Velma and Johnny have built quite a spark and started dating too.
Question: When should I not do Velma's Cosplay?
Answer: Typically, you want to avoid cosplaying Velma during the summer season. Wearing thick sweaters might be uncomfortable with the summer heat.
However, there are certainly several workarounds to make your costume work for all kinds of seasons. Just like what we've mentioned, you can change those baggy sweaters to light crop tops — this will certainly make your outfit comfortable even during the heat.
Question: Can I make a DIY Velma outfit?
Answer: Of course, you can! Just simply follow the patterns available online and create your own design with your body measurements. But it's best to find these types of clothes in your favorite branded outlets. Velma's clothes are relatively easy to find, so you don't have to spend a lot of time sewing your outfit.
Question: Is purchasing a ready-made Velma costume set a great idea?
Answer: It actually depends. You've probably checked the internet and found that hundreds of online sellers are selling a complete set of Velma costumes. However, you should always remember that buying online might be a different experience. You can't wear and fit the clothes to your liking, and replacements might even take some time.
So, be cautious. Check the reviews on the costume's sizing, fit, and quality before even buying one online. This is the best way for you to get the best deals!
Question: What type of body is required to Cosplay as Velma?
Answer: We did talk about how girls of different body types can cosplay like Velma. Just to be true to the cartoon character, petite and short girls can portray Velma the best. If not, you can always jazz up your cosplay game and find unique ways to give justice to the character.
Question: What is the ideal hair and makeup look for Velma?
Answer: Velma's hair and makeup are highlights a bright up if color. Since red and orange are among the most prominent colors in Velma's entire outfit, sporting a beautiful dark bob hairstyle is definitely a giveaway. Your hairstyle should also include her iconic bangs.
As for her makeup, she generally wears less makeup. But, of course, you could always change that! You can don a vibrant blend of eyeshadow shades, such as deep oranges and yellow highlights. Don't forget to don a deep nude lipstick to give you that natural look. More than that, you can also add some freckles to tie your whole look together!
Final Thoughts about Cosplaying as Velma
Velma is truly a smart and witty character. This is one of the reasons why many young girls or even adults love to cosplay the character. And her quirks and funny antics are certainly some of the reasons why you choose to cosplay Velma.
More than that, she has very few accessories for you to create. In fact, most of them are readily available online. Some even come in a complete set, so they're perfect if you're looking for a quick yet impactful character.
All you need to remember is her iconic glasses and orange-red color scheme; if you've got this on point, you're good to go. This means you can show up to any costume party or informal dress-up events without spending too much time or effort dressing up!
Probably, the only thing you'd have to worry about when cosplaying Velma is that she is a popular choice. So, you shouldn't be surprised that many would also cosplay the character. Whenever you run into another, just smile, take a couple of photos, and say "Jinkies"— since that's probably a very Velma thing to say!