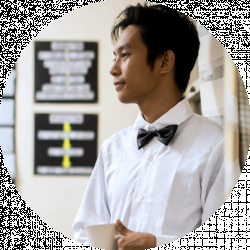 Latest posts by Arthur Monteclar
(see all)
Have you watched Avatar: The Last Airbender? If you haven't, then it's time to binge-watch it on Netflix because you're definitely missing out on a great show. It's probably one of the well-loved and popular animated series for all the best reasons. It highlights the journey of a 12-year old Aang, who is the current Avatar and the only surviving Air Nomad. Aang's mission is to unite the four nations: Earth, Water, Fire, and Air, by winning the war against the Fire Nation.
At the beginning of the story, Aang is found in a ball of ice by his would-be friends Katara and Sokka. Katara plays a significant role in the whole journey of Aang, as he masters the four elements. That's why it comes as no surprise that many people, from kids, amateurs, and pro cosplayers want to dress up like fourteen-year-old waterbender Katara. 
Katara: Personality, Background, and Quotes
Personality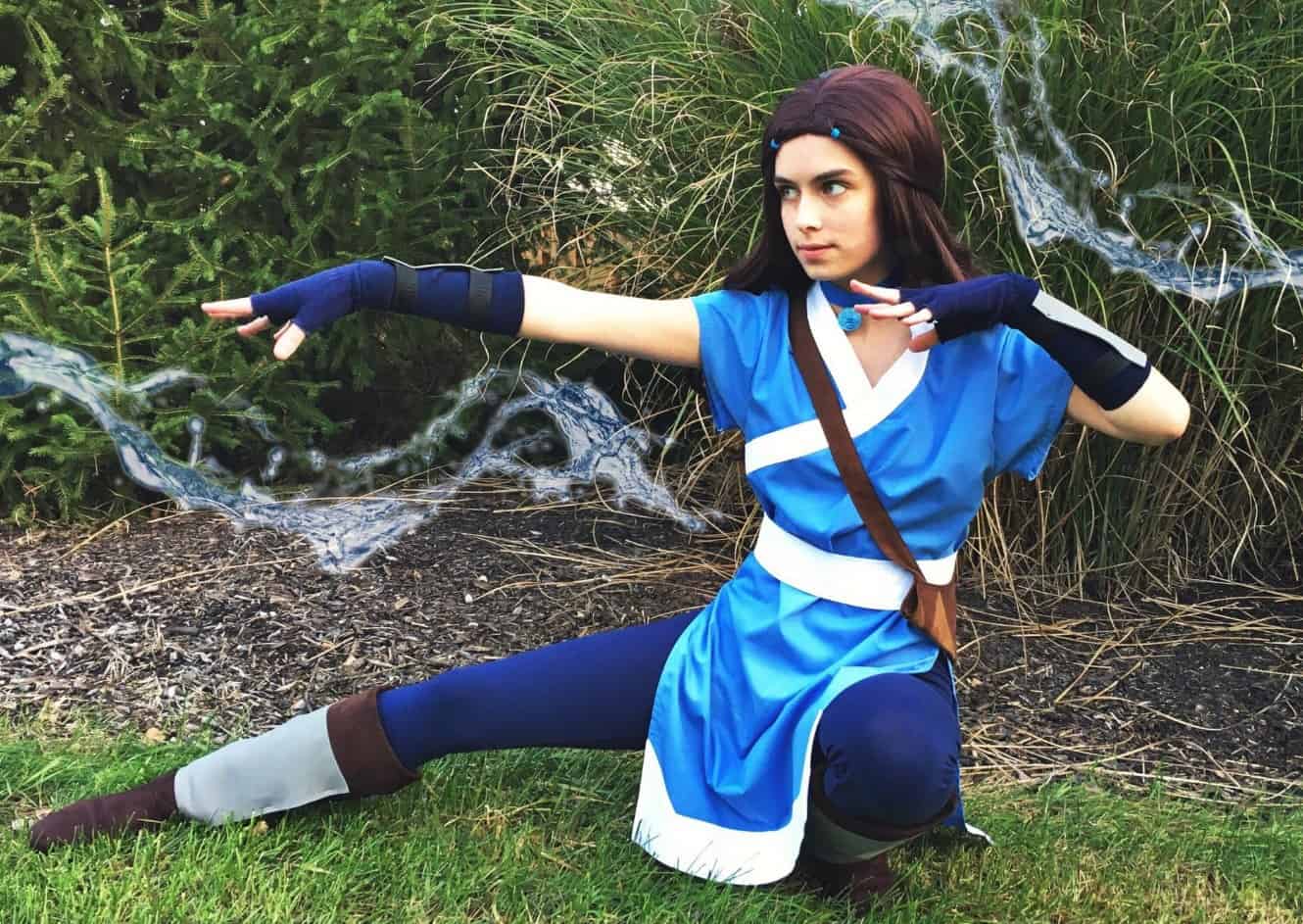 She most likely tops the list as the most cosplayed character from the series. Katara is a caring and fearless heroine who has helped the gang throughout the whole show. While she is brave, she never ceases to show compassion and dedication to the afflicted and the elderly.
Background
Since she was young, Katara was forced to fend for her family and take on a huge responsibility since the Fire Nation attacked her village and took her mother. Her father was away from their home fighting the war.
While Katara's powers weren't immensely strong at the beginning, she has become — quite possibly — the strongest waterbender by the end of the series. She has bested different powerful benders from different nations. She has even learned a new skill, bloodbending, which allows her to control blood inside the living creatures.
Quotes
Here are some of the most popular quotes that would definitely help you with your cosplay routine. It's also the best way for you to get to know and understand the character even more. Hopefully, this will make your cosplay perfect!
"We're getting out of this desert. And we're going to do it together. Aang, get up. Everybody, hold hands. We can do this!"

"… The other Airbenders may be gone, but you still have a family. Sokka and I, we're your family now."

"You make one step backward, one slip-up, give me one reason to think you might hurt Aang, and you won't have to worry about your destiny anymore."

"I will never, ever, turn my back on people who need me."

"

But now you're not letting yourself feel anything. I know sometimes it hurts more to hope, and it hurts more to care. But you have to promise me that you won't stop caring.
Based on these quotes, it's extremely obvious that Katara is a loving, carefree, and loyal companion who's willing to protect her loved ones whatever it takes.
Katara Cosplay Costume Ideas: The Classic and Common
Indeed, there is no cooler power than controlling water, creating ice, and even bending blood to your will. And Katara can do all that. To prepare you for your cosplay, it's best to practice her moves. This way, you can be more convincing in portraying her.
As for her classic Water Tribe outfit, you will need about only five things:
Pair of Elastic Navy Blue Leggings
Katara notably sports dark bottoms for a huge chunk of the show. This makes the cosplay relatively easy to pull off. You should opt for a pair of elastic navy blue leggings. This way, you won't feel restricted with the whole costume.
Of course, a pair of leggings will also be the best option since you might perform water-bending stunts and poses while cosplaying.
Light Blue Robe Top
You will notice that Katara always wears the colors of the Water Tribe — blue and white. Her top is reminiscent of most water benders' clothing. You can find a blue robe and sew in the white accents.
Don't forget the details. Katara's top has a v-shaped neck feature and a thick white belt to cinch her waist. By tying a wide white belt around your waist, you can create more movement to the costume. More importantly, the white belt is actually a distinguishing factor that ties the whole outfit together as it symbolizes Katara's powers to control ice.
Fingerless Gloves
What's more distinguishable in Katara's outfit is her dark blue and black gloves. She is usually seen sporting these. However, in a few episodes, you can also see her wearing a blue wristband. To match Katara's gloves, you can use any regular blue gloves and cut them to the desired length.
However, if you want to go extra, you can sew your own piece and follow the color scheme with the right colors for accuracy. There are also other ways to spice up this outfit. You can even wrap a long blue cloth on your arms to achieve the look.
Dark Suede Boots
Just like a true South Water Tribe native, Katara sports a pair of brown boots. It looks quite similar to the famous Uggs. So, if you own one, you are good to go. But if you need to buy or find one, and brown suede boots or dark-colored boots will do.  This will bring a pop of color and will surely make your cosplay more accurate.
Signature Water Tribe Necklace
Everyone who has watched the show would definitely recognize Katara's necklace. She's worn it since the beginning and has even fought tooth and nail to get it back once she realized that it was lost. It is only befitting to add this extremely important detail to your costume.
For most people who love to DIY, making this necklace is quite easy. You need a blue ribbon and a Water Tribe pendant. All you have to do is pin the pendant to the ribbon, and voila, you got yourself a Water Tribe Necklace.
However, if you're pressed for time or looking for an exact replica of the necklace, there are dozens of online stores on Etsy selling a necklace that looks exactly like Katara's.
Wig and Hairstyling
If you have long dark hair, you can simply style it like Katara's. However, if you have silky blonde hair, you can add a basic wig and style your wig just like hers. Remember, Katara wears and styles her hair differently depending on her outfit — so take note of that.
Usually, she wears her hair in a ponytail with hair loopies. You might also see her wear her hair in a top bun with most of her hair untied, but still with hair loopies.
More into Katara's Costume Ideas
Looking for unique Katara Costume Ideas? Well, we've got you covered. Aside from her basic Water Tribe outfit, you might notice that Katara loves to dress up and style herself whenever there is a need for it. She is dolled up for a number of occasions and has probably worn a lot of clothes throughout the three seasons. So, it is high time we take a deep dive into some of the possible Katara costume ideas you can do!
Katara in Fire Nation Clothes
As the journey furthers on, the whole gang is forced to pretend as citizens of the Fire Nation. Once they enter a Fire Nation, they need to guise themselves as regular and unpretentious people. That's why in an episode, they were forced to steal Fire Nation clothes to help their disguise.
If you want to sport Katara's Hotwoman outfit, you need to simply prepare an asymmetrical red top, red bell-bottoms, or loose capri pants. Don't forget the hairstyle. It's time to lose the hair loopies and sport a top-knot.
The Painted Lady
In season 3, episode 3, entitled "The Painted Lady," the gang wanders into a Fire Nation village that heavily suffers from a plague of illnesses and starvation. Sokka, Katara, and Aang heard the story about the Painted Lady, a river spirit of the village, who has long been idle and absent, causing severe problems in the village.
Wishing to help the whole town, Katara disguises herself as the Painted Lady. She has helped the villagers by providing food while they sleep and even healing the sick during dawn.
In this episode, Katara dons an interestingly different look. She wears a conical top hat and a sheer veil like the village spirit, which perfectly disguise her true identity. Underneath the sheen silk veil, she sports her Fire Nation clothes.  She also wears red makeup on her face with a very distinct marking.
If you're planning to style as Katara's The Painted Lady on your next cosplay, be keen on the details.
Tearbender Katara
This is probably one of the quirkiest costumes you can do portraying Katara's character. Tearbender Katara is a satirical version of Katara brought to life in a play performed by the Ember Island Players.
Just like the classic Katara outfit, you'll simply need a  pair of elastic navy blue leggings, fingerless gloves, a light blue robe top, a pair of boots, and the distinct Water Tribe necklace. Unlike the classic outfit, a Tearbender Katara wears excessive eyeshadow and lipstick. Make sure to highlight that whenever you want to cosplay this look.
Frequently Asked Questions about Cosplaying Katara
Question: Should I buy premade Katara props?
Answer: Since Avatar: The Last Airbender is an extremely popular show, you can easily find dozens of online shops selling premade or fit-to-size Katara outfits. However, you must be extra careful when shopping online. You might end up buying the wrong size or even a bad-quality costume. Of course, you don't want your costume to rip in a middle of an event. Better yet, read the reviews or go the DIY route. This way, you can really guarantee that your costume will look great on you.
Question: What are the most important items for the Katara costume? 
Answer: If you can't get the whole costume accurately, you might wonder which ones are the most important. Well, the answer actually depends on the Katara cosplay you are doing. Generally, you need to stick with wearing the necklace, hair loopies, and the blue top for the classic Katara outfit. The combination of all these items is definitely going to help your cosplay be more recognizable. You can go away with not wearing the fingerless gloves or the boots but never with the three features mentioned above.
Question: Can you do a couples cosplay with Katara?
Answer: Of course, you can! The main character, Aang, is Katara's love interest, so you can do cosplay as a couple. You can even have your whole friend group dress as the gang in the series. You can invite your fellows to wear cosplay outfits for Sokka, Toph, and even Zuko.
Question: Do I need to wear makeup for this costume?
Answer: Makeup might add to the flair of the whole look. However, the young Katara rarely wears any makeup. So, if you're not an expert in applying makeup, you can definitely go without it. If you want to cosplay Katara's Painted Lady character, you should definitely apply makeup to recreate the right markings. The goal is to accentuate the look of The Painted Lady and introduce a sense of mystique into the character. For the rest, a simple winged eyeliner, a couple of highlights, and even nude lipstick will definitely make your whole outfit rock!
Question: Can I wear a Katara cosplay during summer?
Answer: More than anything, you need to remind yourself that Katara's outfits are generally light and airy. While she sports a thick fur coat on the series, the most common clothes she wears may be made from thin and sheen material.  This makes it ideal for the summer season.
Question: Where is Katara From?
Answer: Born and raised in the Southern Water Tribe, Katara grew up alongside her older brother, Sokka. She is the daughter of Chief Hakoda and Kya. She is the last native of the South Pole who is capable of water bending.
Key Takeaways on Katara Cosplay
Katara is among the easiest animated characters to cosplay. You simply need everyday items that are probably in your closet. And if you do not have the right clothes to sport the cosplay, premade costumes are always available. There are dozens of stores selling Katara costumes; the only thing that's left to do is price match and check the reviews to get the best deals.
The best thing about a Katara Cosplay is that it is easily recognizable even outside the whole fandom. You just need to make sure you get the hairstyling and colors right. If you want to go all out, you should consider wearing makeup to bring out the facial features of Katara.
It is an even better cosplay if you do some of Katara's most popular waterbending moves. Aside from that, you can tag your friends along and dress up as characters from the whole animated series!
We hope you learned a thing or two with this guide on cosplaying Katara. Have we missed out on any details, or do you want to share your experiences cosplaying this character? Don't hesitate to leave a comment down below and let us know! We're excited to hear your thoughts and experiences on your cosplaying journey.