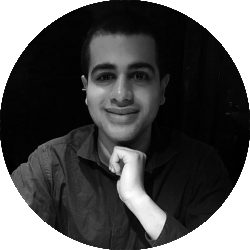 Latest posts by Ruel Butler
(see all)
Kimetsu no Yaiba (otherwise referred to as Demon Slayer) has taken the world by storm. During its initial run in print format, the franchise saw minimal growth in popularity. However, after receiving an anime adaptation, the IP has since exploded into the mainstream. 
This all culminated with the release of the Demon Slayer movie, Mugen Train. Mugen Train quickly rose to become the highest-grossing animated movie of all time, surpassing the legendary Spirited Away of Studio Ghibli and Hayao Miyazaki fame. 
Needless to say, with the popularity of Demon Slayer increasing day by day, people are going to want to cosplay some of the amazing characters! Today, we'll be taking a brief look at some of the main Demon Slayer characters and some secondary characters that will be easier and cheaper to cosplay. This list will cover the following characters:
Due to the uniform of the Demon Slayer Corps, most of the main characters are very easy to cosplay. All that is needed is a long flowing cape and some black, formal, button-down shirts. However, in this guide to Demon Slayer cosplay outfits and Ideas we'll be sure to go over all the smaller details to ensure your cosplay is looking as good as possible!
We'll also include a list of clothing, accessories, hair dye, makeup, and body paint to get you started!
Nezuko
Nezuko has won the hearts of viewers across the globe due to her combination of iron will in the face of such adversity and her adorable cuteness during the moments of downtime throughout the series.
Nezuko, having been transformed into a demon, resists the urge to feast on human flesh under the belief that her brother will one day return her to human form. 
What you'll need:
Wicker Basket (for die-hard Nezuko fans only or those looking to be carried)
Costume: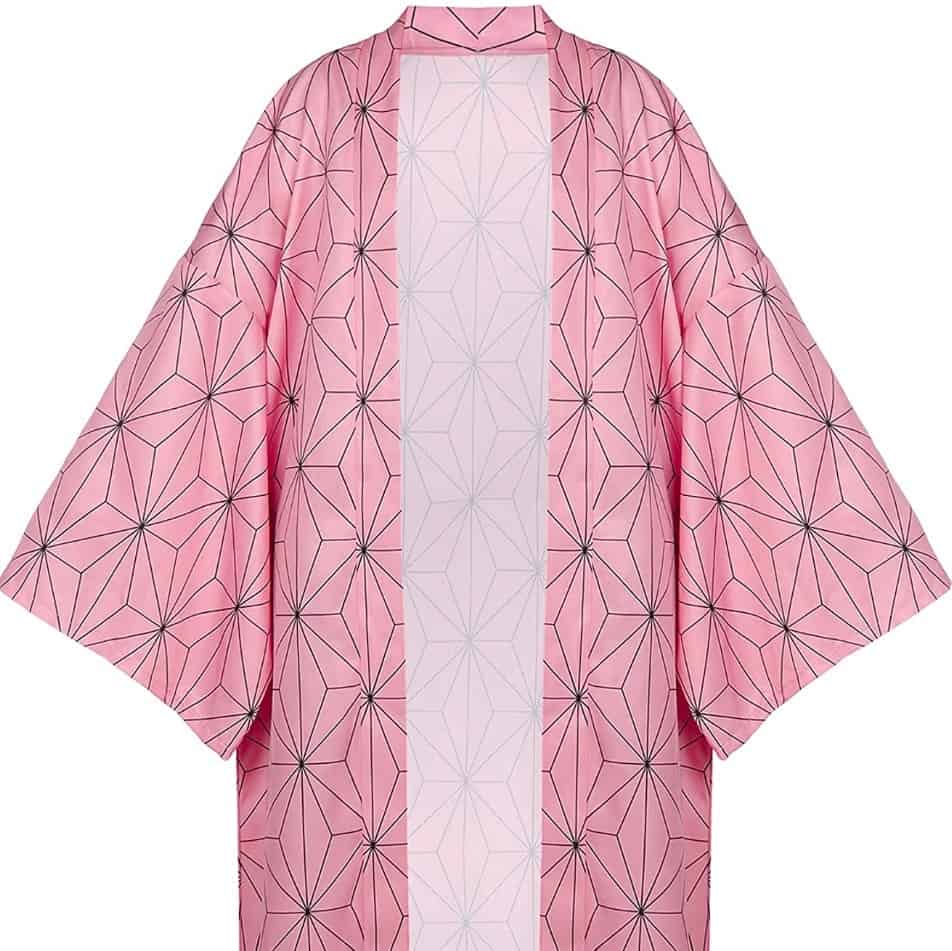 Nezuko's costume is fairly basic and easy to pull off. That being said, the most difficult item to purchase will probably be the Kimono. Kimono's themselves are not too expensive but, for an authentic-looking Nezuko kimono matching her style, the price may start to steadily increase. However, for those on a budget, any pink kimono will do the trick, along with a red and white sash to tie it up!
After this, you will need a long black robe or shirt. The important thing to remember when purchasing this item, in particular, is that it needs to drape all the way down to your calves and the sleeves should be able to envelop most, if not all, of your hands.
We recommend at least a 2-3 size increase on whatever your normal size would be. Nezuko also wears a pair of puffy socks atop her pink sandals, and these can be found fairly easily through most cosplay sites or even Amazon.

Makeup
Nezuko's makeup is fairly understated and she does not wear any face paint. Accentuating the upper eyelashes to ensure your eyes look as large as possible is the name of the game here. 
Accessories: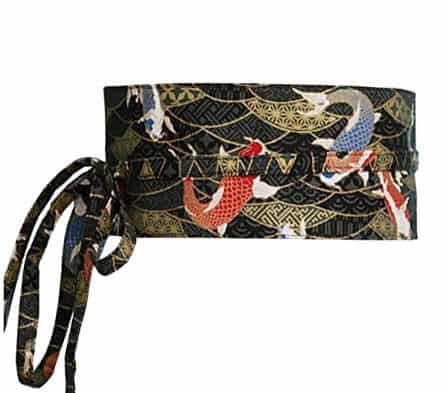 What is it that makes Nezuko; Nezuko? Is it her long drooping kimono? Is it her bright pink eyes? No! The thing that makes Nezuko instantly recognizable is the fragment of bamboo places into her mouth!
The bamboo is meant to act as a preventative method for Nezuko to avoid tasting human blood either by accident or purposefully. Somewhat like a muzzle, it protects not only Nezuko herself from giving in to her desires but the other Demon Slayers she meets along her journey.
This purchase can be a little tricky. Authentic Nezuko bamboos can be purchased through reputable cosplay outlets. However, it is just as easy to paint a medium-sized toilet roll and pop that into your mouth!
Finally, Nezuko wears a pink ribbon on the left side of her head, and those not naturally gifted with such will need to pick up a pair of pink contact lenses as well.
Hair: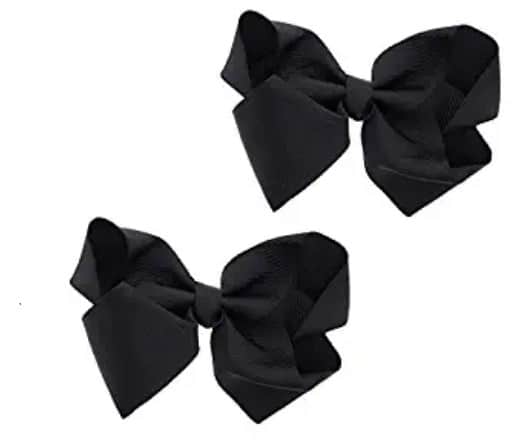 Nezuko's hair is pure black but does have orange tips on some of the lower sections  
Quotes:
"Mmmph mmph mph mmmph."

"MMMMMPH!"

"Mmmph Mmph…"
Inosuke
Inosuke is the brutish and hot-headed member of Tanjiro and Zenitsu's trio. Constantly wearing the mask of a boar, fans were surprised to see just how beautiful Inosuke is underneath his headpiece! Still, for fans looking to cosplay as Inosuke, it shouldn't be too difficult!
Continue reading our full guide to cosplaying Inosuke.
What you'll need:
Brown fluffy apron

Swords

Blue hair dye
Costume: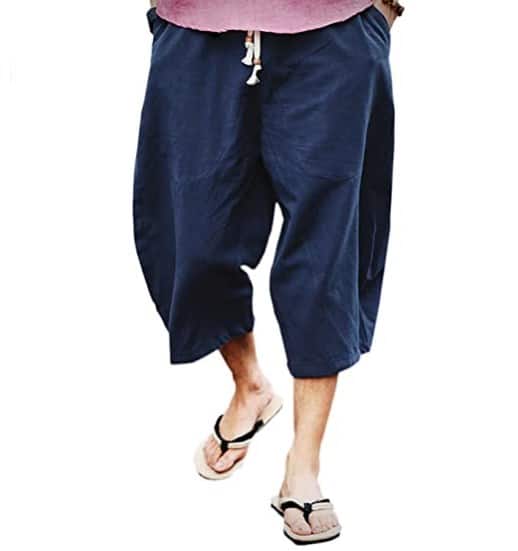 Inosuke is probably the easiest demon slayer to cosplay. Resembling a wild animal so much, Inosuke wears very little clothing in his everyday life. The three main parts of Inosuke's costume are his hairy apron (closely resembling animal fur), his shorts, and his toeless socks.
These can all be purchased with relative ease from an online outfitter. The key difficulty in cosplaying Inosuke comes with the large and instantly recognizable boar head he constantly wears.
Those looking for 100% authenticity will probably need to have this item specifically ordered. Any pig head may do the trick but, for such a key piece of the ensemble, we recommend shelling out a little for this one item. 
Makeup
Inosuke doesn't wear any makeup canonically, but his eyes are incredibly large. A little mascara and eyeliner will do wonders in making your eyes look much larger. 
Accessories: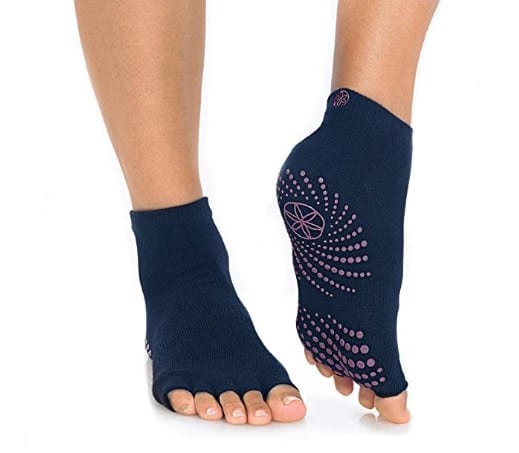 This one's going to be a little tricky. Another staple of Inosuke is his dual swords with cut jagged edges. These can easily be created using items found about the home but, for those with less than satisfactory DIY skills, we recommend purchasing a pair of replicas from an online cosplay store. 
Hair: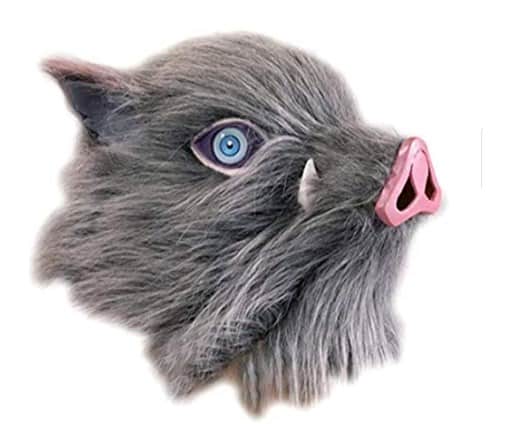 Those committed to staying inside their boar mask for the duration of comic-con, feel free to skip over this part. However, those looking for a breath of fresh air every now and again should ensure that they look the part of Inosuke inside and out! Inosuke has pitch black hair cut to just over shoulder length. The ends of his hairstyle, however, are dyed a dark blue. 

Quotes:
"When you lose to someone smaller than you, it destroys your soul!"

"Don't cry, even if you feel regret!

"If Hell doesn't exist, I'll create it for you!"
Rui
Rui is the villainous leader of the spider demon cult and a member of the Twelve Kizuki. His battle with Tanjiro was the last big showdown before the events of Mugen Train transpired.
Despite his limited screentime, he left a huge impact on fans across the globe due to his relentless pursuit of Nezuko and his overwhelming power. Rui offered us one of the greatest fights in anime history, and so, why not pay homage to him through a unique cosplay!
What you'll need:
Red sash

Red/White face paint
Costume: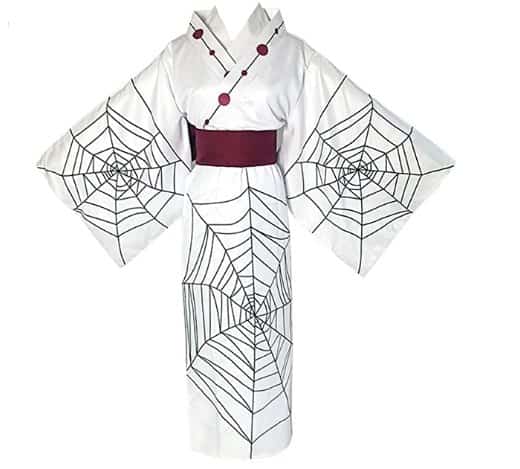 Rui is an incredibly simple cosplay for anyone looking to cosplay Demon Slayer on a budget! Rui only requires one piece of clothing! This being, of course, the signature yukata he wore during his fight with Tanjiro.
The robe itself is designed with spiderwebs, and these may have to be sewn in manually. Alternatively, purchasing a ready-made Yui yukata is just as effective!
Makeup
Rui's face is incredibly white and pale, so a full-body coat of white face paint may improve your cosplay's authenticity. Additionally, Rui's face has smatterings of red markings, including circles and lines.
Accessories: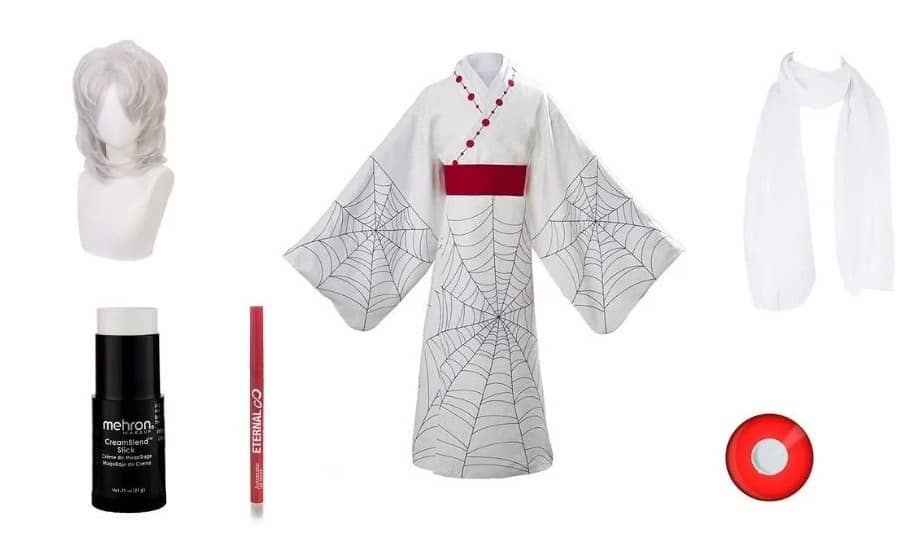 Rui's weapon is his signature spider web, able to cut through almost anything. Fans can purchase any cat's cradle or skip out on this entirely. 
Hair:
Rui's hair is incredibly white and jagged. It would be difficult to mold one's own hair to such a design, so we recommend picking up a replica wig. 
Quotes:
"Father… Mother… I can't go to the same place as you, can I?"

"Don't disturb my family's peaceful life."

"I won't let anyone get in our way."
Akaza
Here is your spoiler warning for Kimetsu no Yaiba Mugen Train! Mugen Train pushed the story of Demon Slayer to new heights with its inclusion of ground-breaking animation and thoughtful storytelling. We gained a deeper understanding of the Flame Hashira Rengoku, and we expanded on the stories of our main trio.
The ending of the movie sees Rengoku square up against a powerful demon named Akaza. Akaza desires nothing more than to find a powerful opponent with whom he can fight for all eternity. However, after Rengoku refuses his offer to join the dark side, the two square off! Let's take a look at this newer Demon Slayer character for those wanting to cosplay something a little different. 
What you'll need
Red Vest (buttoned)

Bodypaint (blue)
Costume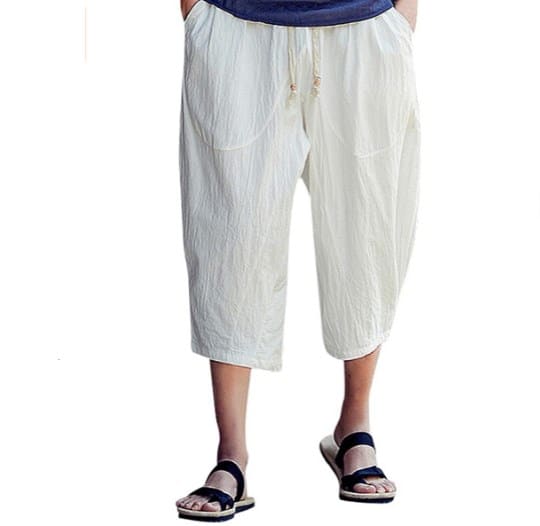 Akaza is another relatively easy character to cosplay. All that's needed is a pair of white harem pants, an open pink/red vest that allows for your naked chest to be exposed, and a green belt made from a rope!
Makeup
The main form of body paint needed for Akaza is the tribal markings enveloping his entire body. These are deep blue and travel all the way from his head to his waist. 
Accessories:
Akaza carries very few accessories because he prefers hand-to-hand combat. However, attached to his belt are two distinct tassels.
Hair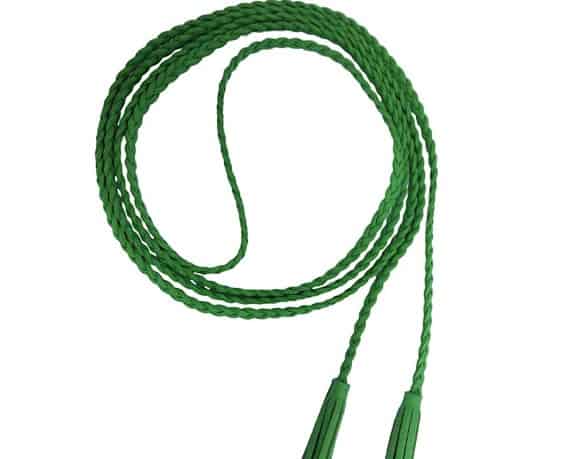 Akaza has a short, bright-pink, spiky hairstyle. Several wigs are available for purchase that replicate the design perfectly but, those with similar hair can just as well dye their own pink!
Where to find everything you need
Quotes
"It would be a shame to kill you now. You haven't reached your physical peak yet."

"You still don't get it? That if you continue attacking, you're just getting closer to death, Kyojuro?"

"Consider becoming a demon, Kyojuro."
FAQ
Question: Who is the cheapest Demon Slayer character to cosplay?
Answer: Rui is the cheapest Demon Slayer character to cosplay. Many people would probably point to Inosuke due to his lack of upper-body garments. However, those looking to pull off an authentic Inosuke cosplay will need to invest in a boar mask and his patented swords which could end up being a little pricey. On the other hand, Rui only requires a plain white yukata (which can be decorated if needed) and some red face paint. 
Question: Where can I buy ready-made Demon Slayer cosplays?
Answer: Those wanting to cosplay a character whose design is a little more intricate should check out Amazon for a lengthy list containing several costumes for all your favorite Demon Slayer characters!
Alternative websites include Miccostumes, which has a plethora of great costumes to choose from as well! Micocostumes also sells a lot of the Demon Slayer accessories separately as well, allowing for you to DIY most of your outfit and pick up any leftovers through their online shop!
Micocostume Demon Slayer Costumes
Question: Which Hashira from Demon Slayer is the easiest to cosplay?
Answer: The easiest Hashira to cosplay is Shinobu (for women) and Sanemi (for men). The Hashira's are unique in that most of them wear relatively similar outfits. They are usually distinguished based on the shoal they wear, which often gives insight into their personalities. Both Shinobu and Sanemi have very simple designs that do not require excess accessories or face paint. Gyomei and Tengen would probably be considered some of the more technical and difficult Hashira to cosplay.
Question: Which Demon from Demon Slayer is the easiest to cosplay?
Answer: Rui is by far the easiest villain to cosplay in the Demon Slayer Universe. Next to him, Kibutsuji Muzan is also fairly simple to pull off. All that's needed is a black suit, white bottoms, and a white fedora with a black rim. Muzan also gets extra points as both men and women can cosplay him (depending on which form they choose). Women should don her signature yukata with floral print.
Women's Black Kimono Cosplay Costume | Amazon
Female Muzan Kibutsuji kimono works well for almost all occasions like Halloween, theme party, cosplay, on the stage, daily wear, etc.
Buy at Amazon
We earn a commission if you make a purchase, at no additional cost to you.
08/03/2023 08:54 am GMT

Conclusion: Which Demon Slayer Cosplay Outfits and Ideas Are Your Favorite?
So, there you have it! These were some of our suggestions for cheap and affordable Demon Slayer cosplays tailored towards those on a budget. We decided to exclude Tanjiro from this list in favor of recommending some more unique cosplay options.
Surely, once quarantine restrictions lift and people can return to conventions, there will be a sea of Tanjiro's to choose from, so why not stand out from the crowd! Which Demon Slayer are you most looking to cosplay this convention season?