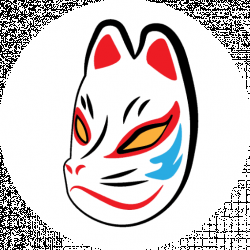 Latest posts by Core Cosplay Team
(see all)
Are you a big fan of Demon Slayer: Kimetsu no Yaiba? If yes, then you must know Inosuke. For others who don't, Inosuke is one of the protagonists in Demon Slayer. He is a Demon Slayer in the Demon Slayer Corps and the traveling companion of Nezuko Kamado, Tanjiro Kamado, and Zenitsu Agatsuma.
Whenever someone talks about the Shonen Anime genre, their fans have a lot to talk about. The demon-hunting world of the Demon Slayer, wherein the modern world of Japan is crept by demons lurking in the night just like some vampires, is interesting.
As mentioned previously, Inosuke is a part of the Demon Slayer corps that uses the Breath of the Beast Swords Style, which he started! His biggest enemy was the powerful demon, Doma, a member of the twelve Kizuki and held the Upper Two position.
The back story is that Doma was the killer of Inosuke's mother. This entire rivalry stemmed from the very same incident. Inosuke, who was just a baby then, took it on himself to avenge the death of his mother by killing Doma.
He eventually succeeded in his expedition when he destroyed Doma during the Muzan Kibutsuji's Dimensional Infinity Fortress raid.
Now you know why fans love Inosuke for his courage and zeal. It is no surprise that Inosuke has become the top choice for many cosplayers and slayer anime fans. Many of them try creating the costume by themselves rather than investing in all the props one by one.
If you are one of those many fans of Inosuke looking to get the best guide for his cosplay, you are at the right place, buddy! Read on as we give you a detailed insight into what goes into building an Inosuke mannequin.
Before we dive in into our recommended Inosuke cosplay costume ideas, here are some features of Inosuke that you must keep in mind before impersonating him. The whole point is to be the best damn version of Inosuke, and picking up on each of these factors would be amazing!
Who is Inosuke?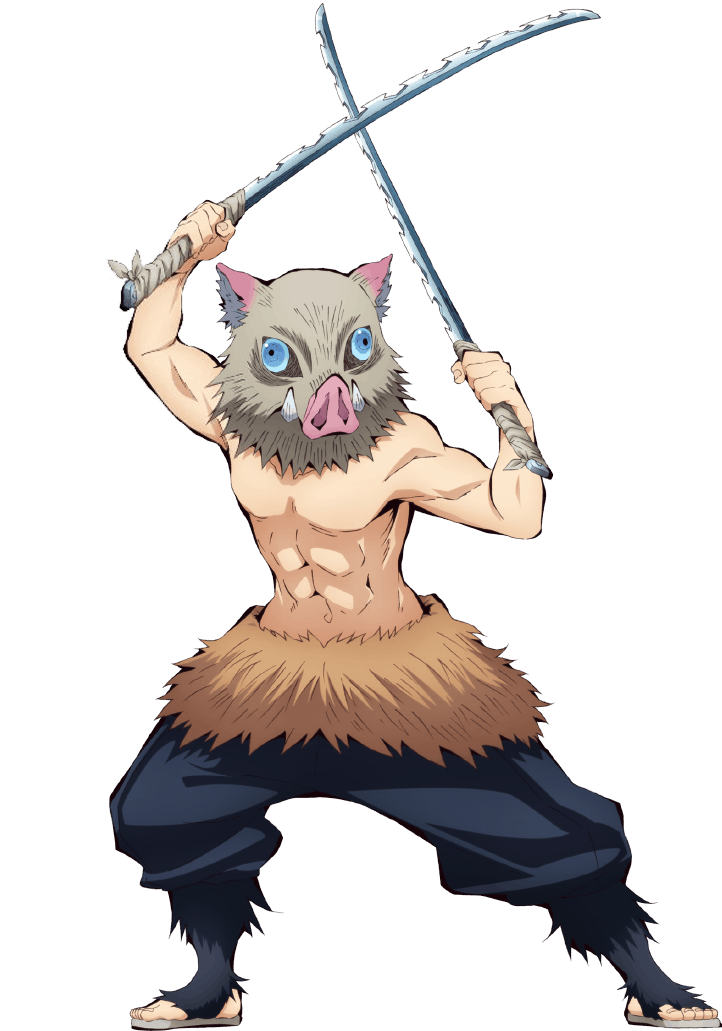 Inosuke is a hot-headed character and a rebel in the most real sense. Boars raised him for a large chunk of his life before the Final Selection took place.  Later on, it was revealed that he was born into a family with an abusive father. This factor is the main reason behind why he ran away with his mother, far from him.
All was not going well for Inosuke when Doma took over his mother in the Paradise Faith Cult. This situation was when Inosuke was still an infant. She would sing to Inosuke every night! But who knew danger was on its way.
When his mother found out that Doma ate his worshippers, she fled the village with her son. She ran to find a human village but all in vain!
Eventually, his mother ended up on a top of a cliff where there was no route to escape. The only way out was to save Inosuke, and that is exactly what she did! She dropped him below the cliff into the river.
Unfortunately, that was the only good she could see because Doma then devoured her. Post this incident, Inosuke was raised by boars. And he made it his life's goal to kill Doma!
Appearance
Inosuke is a young man with a rather average height. He has a pale complexion and an extremely toned and muscular build. All in all, he's got a great body, people!
Inosuke seems to be pretty fit considering his age; specifically, those abs are a surprise. On the other hand, his face is pretty feminine, with wide eyes and very long eyelashes. Inosuke's irises are a little dark to pale green, and he has a well-mannered mouth.
As far as his dress-up is taken, he wears an altered version of the Demon Slayer Uniform that only has the Baggy hakama Pants. His pants are a dark gray-blue that fastens around his hip and has a thick fluffy belt of animal fur.
On the contrary, he doesn't wear a Haori; the otherwise usual cloth leg-wraps are replaced with knee-high socks from a furry hide. This arrangement exposes his toes and heels.
The best and most differentiating feature of Inosuke will have to be his grand boar's head. A definition of his origin, Inosuke wears this to mask his eyes to allow him to vision while he wears it.
We also get to know that this boar head was his adoptive boar mother, who also passed away.
Personality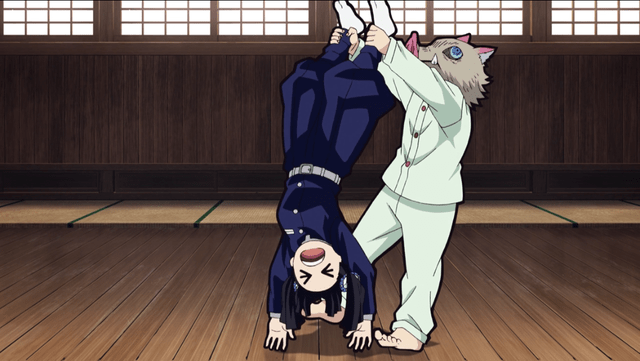 Inosuke has a short-tempered and proud personality. He always feels that he is the strongest fighter in every situation and is always ready to pull a fit.
Moreover, he often puts himself in unnecessary danger by pulling challenges with the most random people ever. He also refuses to believe that he has lost a fight visible on his defeat from Father Spider Demon.
He tries to goad to others a lot of time which comes from his want to be perfect in all instances. Inosuke has very little understanding of human nature and interaction. He had an ongoing thought wherein every man who approaches him wants to kill him.
Inosuke is unable to understand what kindness is and that people can also be sweet to him. Since he's so far from the idea of kindness, he isn't kind himself. It's almost like a vicious circle in which he is stuck, and there seems no way out.
On top of this, he cannot read or write, which makes it very difficult for him to call the right names for others.
Well, not to be sad, because his behavior and humor improve further as the story moves on.
Abilities
Ah, we have got a hell lot to say here! Inosuke is no doubt one of the strongest peeps around in Demon Slayer. His abilities are multitude, and there is very little that the man cannot do.
Overall Abilities: Inosuke has a wide range of top-notch abilities and attributes. He is gifted, which is the least we can say when it comes to his fighting skills. Moreover, with his very own breathing style and superb flexibility, demons better are scared of what comes their way.
Animalistic Combat: Due to his age-long connection with boars, Inosuke has many of their habits. The swordsmanship and hand-to-hand combat style have been taken up from none other than these animals and beasts.
Enhanced Touch: Life in mountains could be risky, which taught him to have a sharp sense of touch. Inosuke can also feel the small vibrations in the air. Through this mechanism, he can even figure out if someone has a hostile intention towards him.
Enhanced Flexibility: Talking about flexibility, Inosuke wins all the awards! He is so flexible that he can bend backward till the point his head reaches between his feet.
Animal Imitation: Inosuke can imitate many behaviors of animals, specifically boars that makes him a pretty good and raw fighter. Tanjiro Kamado mentions that the fighting style of Inosuke almost seems unnatural and resembling a four-legged beast.
Immense Speed and Reflexes: Inosuke is pretty fast with his movements and can easily stop an enemy with his agile attacks.
Extrasensory Perception: This character's senses are so great that he has a form of extrasensory perception. Through this perception, he can detect things that others can't.
Why Can Cosplaying As Inosuke Be A Great Idea?
Cosplays are their best when they are simple, attractive, and can get those heads turning. Are we right or not?
Looking at all the characters in Demon Slayer, Inosuke probably has the wackiest yet simplest costume. There is nothing to cover the upper body; you just need the blue pants and the brown hairy skirt! You're good to go. (There are add-ons though, read further!)
There are many other pros as well, starting with a two-piece outfit, the skirt haor is enough to stimulate the character, the trousers fit the body properly so no dangling bits here and there! For instance, FitKage makes a pretty great appearance in the Inosuke Cosplay.
The best part? Women can wear it too! You just need a tad bit of a creative mind, and an Inosuke cosplay is ready for you.
The Complete Inosuke Cosplay Costume Guide
If you're a fan of Inosuke and want to cosplay him, you are at the right place. Inosuke is probably one of the simplest Demon Slayers to dress up as, and you are bound to have a lot of fun.
We have tried to list all the props required by the cosplayers in the list below. Along with that, we have mentioned the availability and alternative for each of the products. Let's dive in!
The most striking feature of the character is his head. While we are now aware of the back story, we are also known to the fact that without this boar head, Inosuke loses all his charm.
The good part here is that as wacky this head sounds, it is readily available online at the comforts of your home!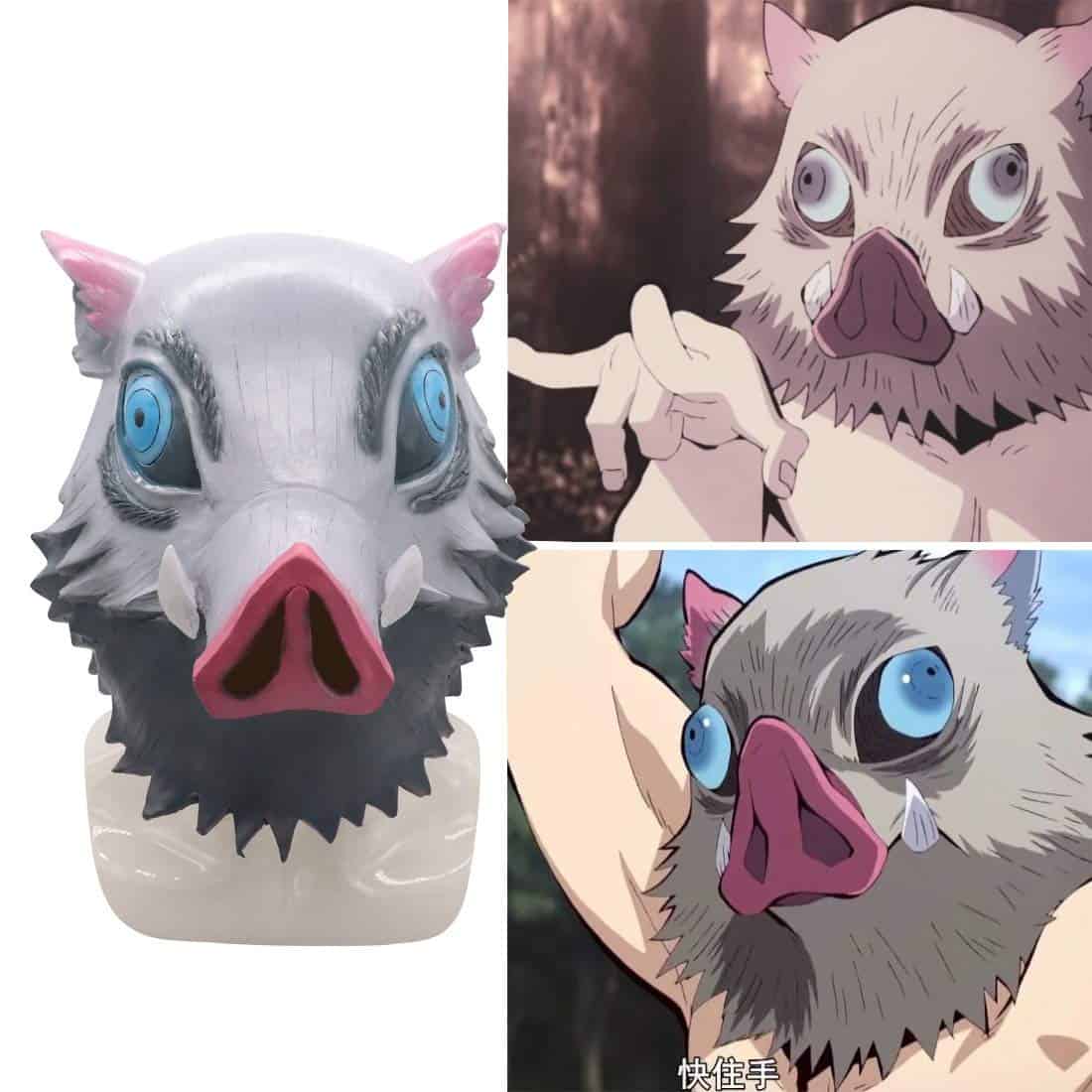 Availability: You can easily buy the boar head at a medium to high price online. Sites such as Alibaba.com,

Amazon

have the head readily available.
Alternative: If you want to get that authentic look and are worried about whether or not to buy it. We are here to help! You can build the head on your own using cardboard, paint, foam, and some tapes with scissors.
While we might have mentioned it simply, the head is kind of a tricky zone, and you might have a little bit of a hard time building it from scratch. For more advice, go through this video on how to build the head!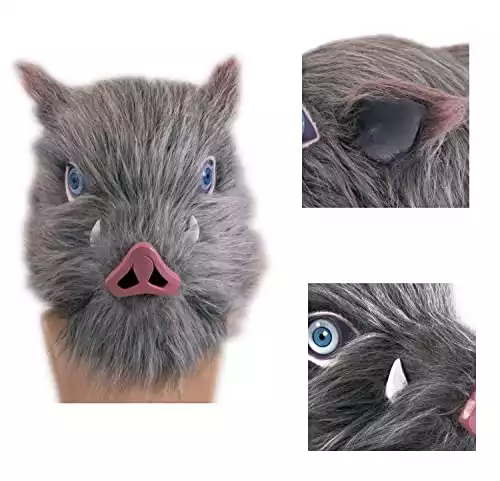 Top
Now, factually speaking, Inosuki doesn't wear a shirt. He is a generally bare body, and how else would he be able to show off the hot bod? Wink Wink.
But we do understand that you might not be comfortable doing so! Men and women both can resort to other options to cover their chest area and even give the muscular look Inosuke has
Availability: If you look deeper, you might be able to find some ab-textured body covers online. Go for the one option that best suits you.
Alternate: You can buy a skin-colored top from your neighborhood or order it online. Make sure the color readily matches your skin tone. Moreover, if you feel like moving out without the shirt, you can paint your body's abs and muscular look using somebody's paints.
On the other hand, women could wear a crop top with a similar shade of their skin too.
Here comes the easiest part! Pants are part of this assemble, which might take you the least time in first finding and, if not, creating it from scratch. Let's look into it.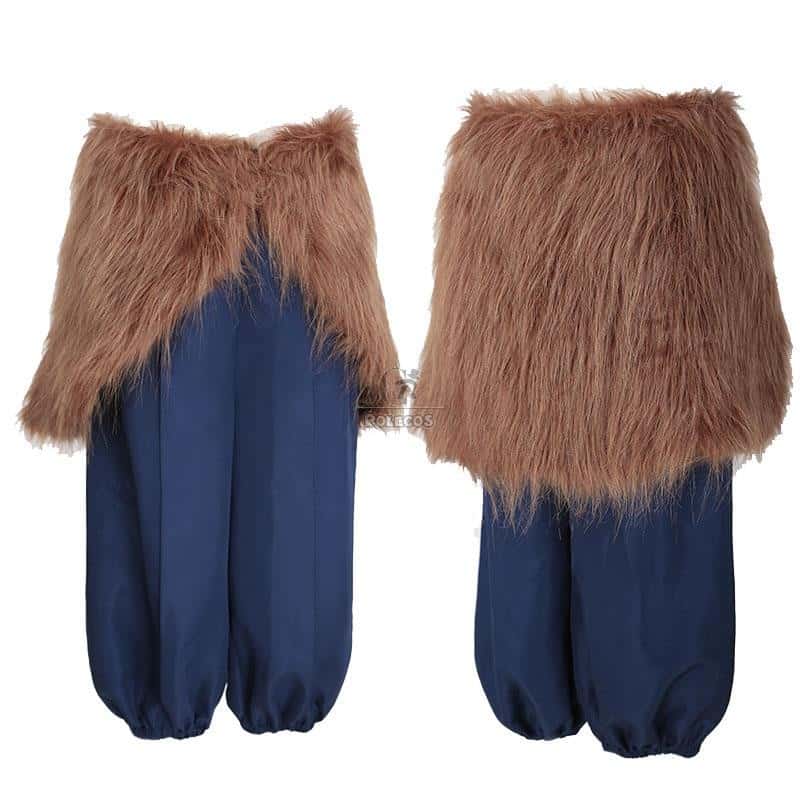 The pants of Inosuke consist of blue-colored loose pants with elastic ends. On top of it, you have a layer of fur, giving it an authentic look that you crave. How should you go about it?
Availability: There are multiple cosplay costume sites online that will readily sell these pants along with the furry assemble to you!
Alternative: Alternative for these pants is extremely sorted. You can buy any navy-blue pants that fit you well but give the loose look at the bottom. You can even get a pant-like that stitched from scratch. Might as well use it later on!
For the furry cover, look for a furry shawl in your mother or grandmother's almirah. We are sure you will find it somewhere. If not, you could buy a fur-based shawl online to give an authentic look to the entire cosplay.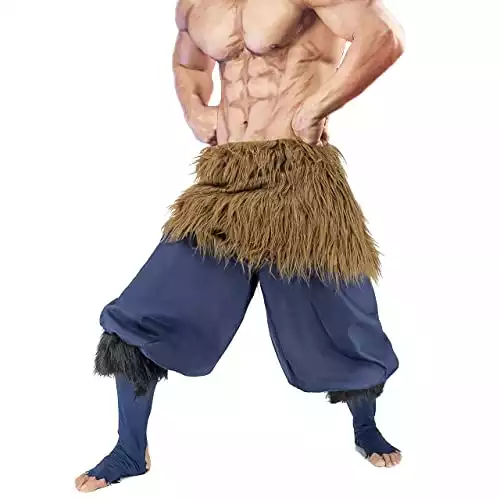 Didn't see this coming, did you? Well, Inosuke has a completely different look without the boar head. His wig is a combination of black and blue hair. This may be a great option for women with relatively long hair, but what about men trying to ace this look?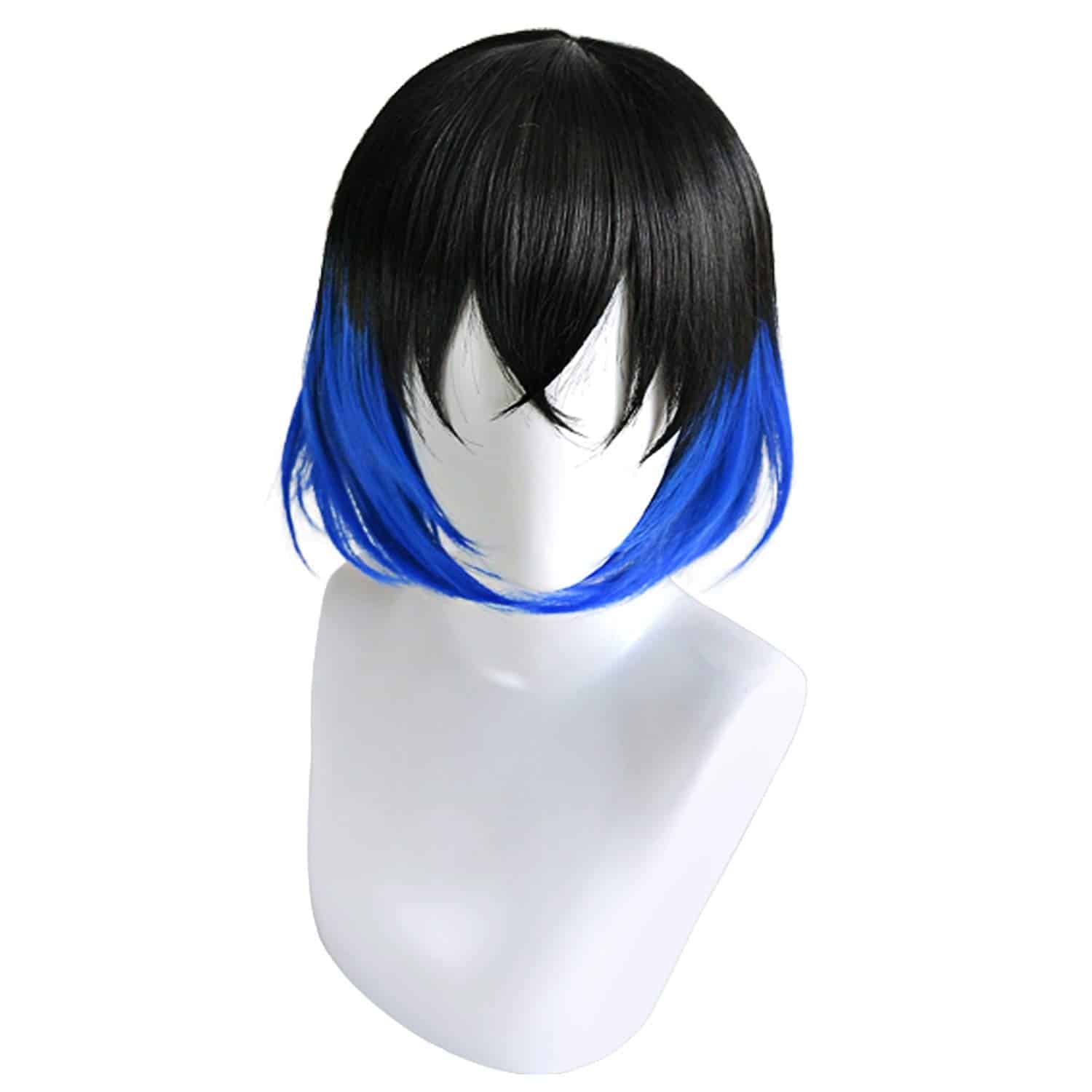 Well, no worries. We have some great options for you and women with short or non-black hair.
Availability: You can find the wig on

Cosplayfu.com

. If not, you can order any wig with blue highlights that can be found on various e-commerce sites like amazon.
Alternative: Keeping in mind that wigs might be a no-no to some women. There are alternatives available too. For women with black hair, you can use some hair paint or spray to get the exact look; If you're blonde, you might have to go an extra mile to color your hair black first and then blue.
You could probably take a wig and dye it to get the blue streaks, specifically for men with shorter hair.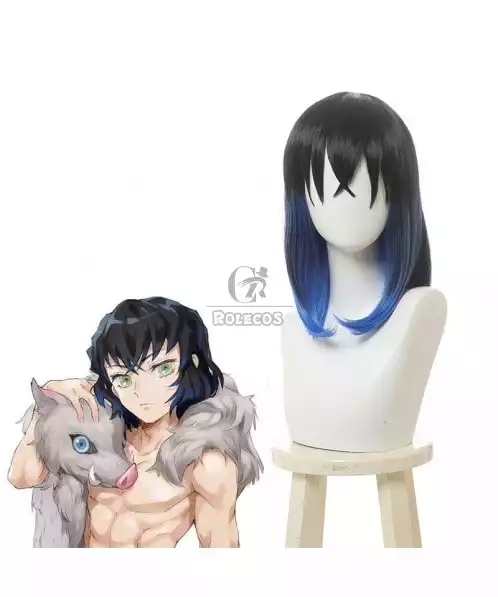 Shoes
As far as the shoes are concerned, Inosuke doesn't wear any per se.  You, of course, will! Attached below is a reference to the Inosuke boots you can buy online.
Availability: You can buy the Inosuke boots comfortably

here

. These boots will go well with your blue and furry lower.
Alternative: If you cannot find the correct-looking boots, go for a regular pair of boots and paint them black. You can buy some fur patches and can conveniently paste them along the top of the boots. There you go! Your personalized shoes for the best Inosuke Cosplay ever.
If you're an avid fan of Inosuke, you know swords make this character's entire look. Without the swords, you truly miss out on the absolute authenticity of his character. Inosuke is born to kill, and if you are looking at acing that cosplay, you better carry his swords.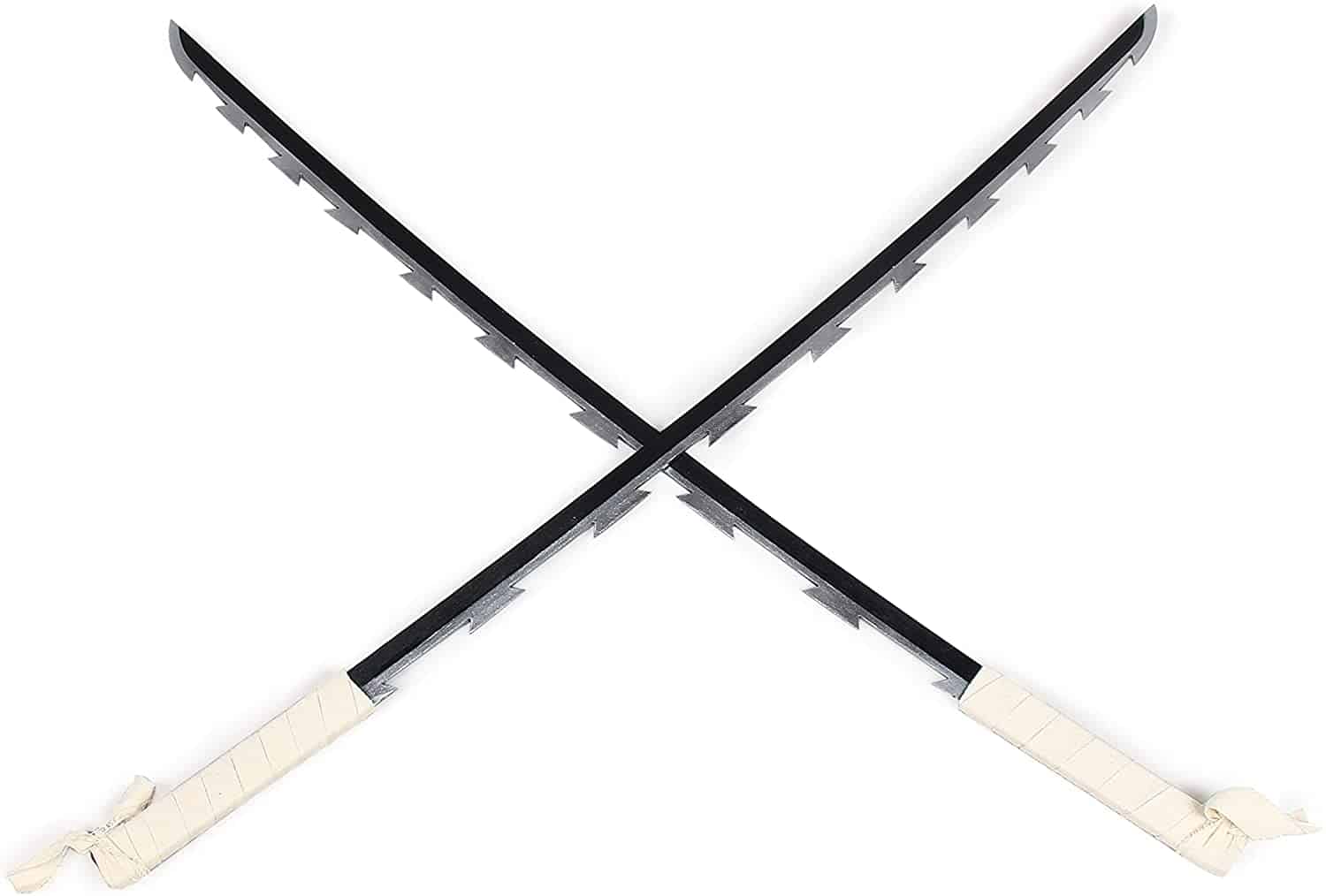 Availability: Swords, just like other props, are easily available on online stores such as Amazon or Alibaba.com. You can also buy them from an offline cosplay store. Considering the popularity of the character, you will easily find it.

The only downside is that the price might be on the higher end

Alternative: If you don't want to spend your precious money on buying an item that you may never use in your life again, we understand.
We are here to give you a list of the other options that you can choose
Buy random swords from the market or a child's toy store and revamp them into the swords of Inosuke. You will have to add some black chits on top of the sword to give an edgy look, as Inosuke has. The handle, on the contrary, should be white!

You can also buy some cardboard and paint to construct the swords yourself. Yep, it's pretty easy, and you can use some tutorials on the internet to get an idea of how it is done. Make sure to get the look and size right for the sword to get an authentic yet awesome look as per your need.
Makeup
While makeup generally should not be an issue, you might need some for the blue hair look because of the boar head. What we suggest is to check out some makeup tutorials and go all-in with the nitty-gritty, if you want to!
You could contour your face in a way that gives a very similar look to that of Inosuke.
That's it, fellas! All that you need and that you would want to know on Inosuke Cosplay Costume guide.
Inosuke Trivia
Now that we have discussed who is Inosuke and how you can get that perfect cosplay let's look into more facts about this character. If you thought you knew everything about Insouke, we are sure you will find some details in the coming pointers that are fresh!
Also, pss… spoilers ahead, so you better read with caution.
Inosuke is pretty bad at socializing. As an infant, he was left alone by his mother and Damo. After that, he was adopted by boars. He hasn't had a comfortable life, you see
Since the only species around him were animals, he had difficulty behaving properly with other human beings. Moreover, his nature to pull a fight with anyone he sees indicates this very anti-social and awkward attitude.
As far as flexibility is concerned, Inosuke wins the race, hands down. He can even bend his head back far enough to reach the ground easily. Inosuke can even dislocate his joints whenever he likes. No, we are not kidding!
This flexibility is not outer but goes up to his internal organs as well. He can even shift his heart to various locations, which is exactly why Daki could not pierce through his heart.
Uniform makers don't find Inosuke charming! Why? Because he doesn't wear any shirts, and whenever he gets a new uniform made, he rips the shirt off almost instantly.
Uniform makers despise the fact that they have to make new uniforms for him constantly.
That boar head you see on Inosuke? Yes, that is the face he got from his late adopted mother. Many fans feel that the boar head is just to showcase the eccentricity of Inosuke, but that isn't the case. It has a bigger story behind it.
Inosuke did fight the lower Moon One Enmu. This takes place in the Mugen train arc in the Manga, shown in the Demon Slayer movie, not the anime. The battle between both of them proves to be rather tough for Inosuke, and he realizes fighting with an Emu isn't that easy.
Inosuke is a lover of strenuous exercises. He sees them as an improvement; that is how harsh he is to himself. During his time in the Hahira Training Arc, the demon slayers were asked to go through very hard exercises. While most of them hated it, Inosuke was rather fond of these exercises and felt they made him a better demon slayer.
It was none other than Inosuke, who used his unique breath of the beast to attack Doma. This is the exact moment when he is recuperating from his strong kick.
The negative here was that Inosuke misjudged this attack and, instead of slicing the stomach of Doma, sliced his own eye.
Although, it didn't affect Inosuke since he has a pretty high pain tolerance
Frequently Asked Questions
Now that we have dealt with the most things regarding Inosuke, you must be clear with the nitty-gritty. If not, no worries! We have compiled some of the frequently asked questions that might come into your head. Read on!
Question: What type of body is required to Cosplay as Inosuke?
Answer: We did talk about how Inosuke is fairly well built and strong compared to people his age. He has a muscular body and even some abs if we must say.
If you want to do a proper enactment, we suggest only go for it if you have a muscular built.
If not, you can always paint those abs or wear a cover that gives a more arched appearance to your tummy region.
Question: What is the makeup required to become Inosuke?
Answer: The best part about being Inosuke is that your head will be covered with boar-mask all the time! Now that may count for some sweats, but it relieves you of any possibility of applying to make up.
All you need is the boar head, and Woah, you're just ready to ace the entire look!
On the other hand, if you are planning to ace that blue hair looks, you might have to go through some online tutorials to get the exact beat.
Question: What are the various rankings of Inosuke in the popularity polls?
Answer: Inosuke ranked in 5th place in the first popularity poll. His total votes are about 1977. On the other hand, he got the 6th position in the second popularity poll with a very high number of 8750 votes. These numbers show that the popularity of Inosuke has only risen with passing time!
Question: Do DIY looks of Inosuke look authentic?
Answer: Yes, yes, and thousand times yes. The DIY looks of Inosuke are pretty comfy to attain, barring a few things, and give a very real look as well. You should be good with painting, cutting, and building things from scratch and you, my friend, are on the right track!
Where to find everything you need
Final Words
Cosplay is a fun activity, and you must try to make the most of it. Building a character, especially one you admire, is a great way to have fun and feel good.
Inosuke is one such character who has been through the hardest of times, but the man never stops. It is probably those rough patches in his life that have made him the rebel he is today.
If you're looking at becoming Inosuke, this guide should be very helpful. We have tried to cover all the props, costumes, looks, details, and even mannerisms of this character. Hope you ace that looks in the very best way possible! All the best.