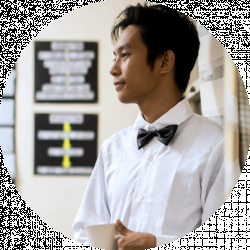 Latest posts by Arthur Monteclar
(see all)
Growing up, you have probably watched The Incredibles. Over the years, this animated film has etched its way to pop culture; and that is for a very good reason. This movie has brought to life a lot of awesome characters, including Elastigirl.
Elastigirl, also known as Helen Parr, is among the most popular members of The Incredibles. Throughout both the animated movies, she is voiced by Holly Hunter. Surprisingly, she once wanted to break into the male-dominated world of superheroes. And she did; that is why she never expected to be married. But then, she met Bob Parr and fell in love, so she went on to live a humble life as a housewife and mother after the superheroes were banned. 
Indeed, her character is a role model for everyone. That's why she is also among the most cosplayed characters in The Incredibles franchise. If you want to attend your next costume party with your family, dressing up as Elastigirl from The Incredibles is an excellent choice. Your family members can cosplay the rest of the gang from the show.
Whether you are looking for inspiration on your outfit or searching for some ideas on your Elastigirl cosplay, we've got you covered. This article to the best Elastigirl Cosplay Costume Ideas will also discuss everything about Elastigirl — from her superpower, quirks, outfits, and more.
About Elastigirl
Elastigirl is not only a woman, a mother, or a wife. She is among the most popular superheroes in Metroville. She has a unique superpower of elasticity. This allows her to contort and shapeshift her whole body in any way possible. In fact, her flexibility superpower lets her stretch any part of her body up to 100' (30 m) to a minimum thickness of 1 mm.
This superpower has become a very handy skill around the home, where she tends to her whole family. Her unique abilities and unparalleled organizational skills are among the reasons why you can call her a super mom!
Elastigirl: Personality, Appearance, Abilities and More
Personality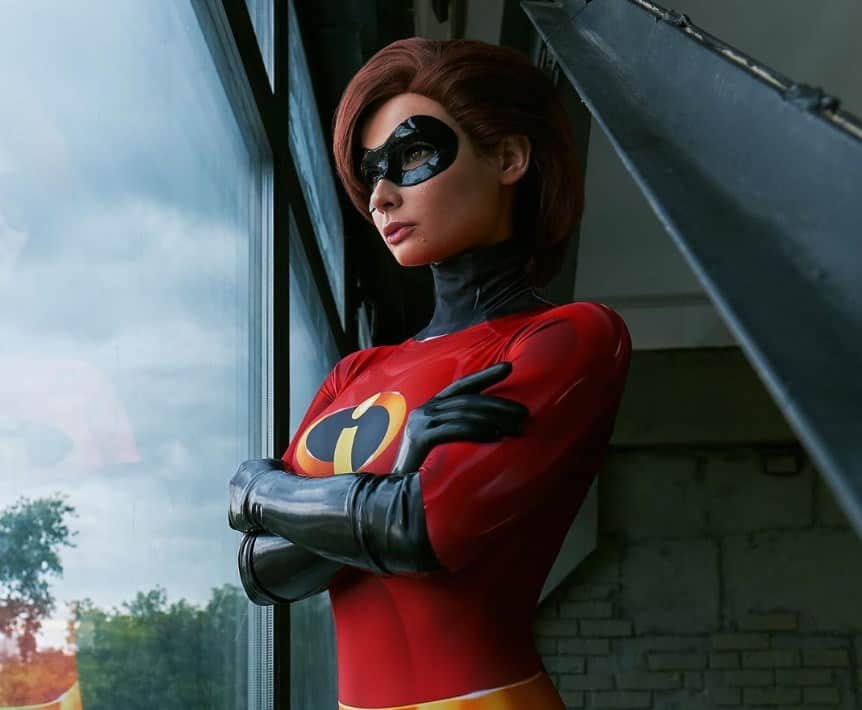 In her glory days, Elastigirl was very stern in playing a pivotal role in the world of superheroes. She always wanted to represent women in a male-dominated world. It was no secret that she was an activist. However, since anyone with superpowers is banned, she changed her mindset into a more conservative and traditionalist mind. 
As a caring wife and mother, she wants to protect her family's true identity. This makes her character quite irritable yet composed. Sometimes, she gets panicky and even agitated under pressure. True enough, Bob, her husband, fears her authoritative and domineering attitude.
Physical Appearance
How old do you think is Elastigirl? Well, some might be surprised that she is a lot older than she seems. One would assume that she is still young for her voluptuous figure, but she is already in her late thirties.
Elastigirl is quite tall, standing over 5'8" (172 cm) in height and weighing 125 pounds (56 kg). She also has a fair complexion, rosy cheeks, and pinkish lips. Her auburn hair and brown eyes are just some of her most noticeable physical features.
Powers
Elasticity
Elastigirl is known for her superhuman elasticity, converting her body to a highly malleable and flexible material. With this power, she can stretch, deform and compress her body to any object that one can imagine. She once formed into a canopy, parachute, or even an elastic shield during combat. 
Agility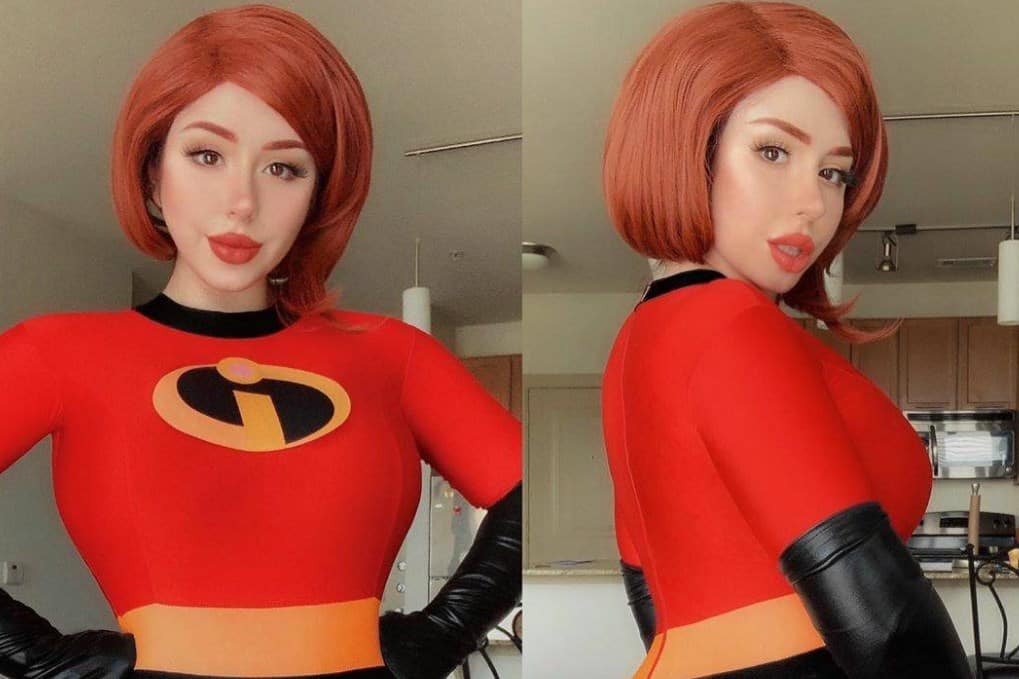 Because of her flexibility, Helen also possesses extreme agility. During battles, she can leap and move quickly by performing different acrobatic and gymnastic movements. Her nimbleness also contributes to her defensive skills, where she can avoid and escape the enemies without harm. 
Shapeshifting
Just like her superhuman agility, Elastigirl owes her shapeshifting abilities to her main superpower: elasticity. Evidently, you can see her transform into a boat to send her children, Violet and Dash, to shore. She also transformed into a parachute while saving Jack-Jack.
Enhanced Endurance
Since Elastigirl's body is extremely malleable and elastic, she has an increased ability to suppress physical injury. Her elasticity, coupled with unique protection from her, makes her immune to bullets and any gunfire attacks.
Unique Abilities
Aside from her superpowers, Elastigirl is also skilled in controlling any aircraft. She is also an exceptional combatant as she thinks about her tactics and attacks while considering the moves for her enemies.
What's more? Just like any other mom, Elastigirl can probably find anything her kids look for. And that's because of her enhanced eyesight. She can see very small things even at far distances.
During her glory days, Elastigirl also drove her very own motorcycle that was called Elasticycle. This makes her an experienced motorcyclist. Different scenes throughout the two films demonstrated her expertise in driving a motorcycle.
Quotes
Do you want to prep for your characterization of Elastigirl whenever you cosplay? Understanding her personality and quirks is as important as getting her whole getup accurately. For you to portray her character better, you can check on some of her most famous lines across the two animated films. Knowing all these quotes will help you embody and internalize Elastigirl's personal values and unique traits. 
Remember the bad guys on the shows you used to watch on Saturday mornings? Well, these guys aren't like those guys. They won't exercise restraint because you are children. They *will* kill you if they get the chance. Do *not* give them that chance.

You didn't want me to *worry*? And now we're running for our lives through some godforsaken jungle?

Settle down, are you kidding? I'm at the top of my game! I'm right up there with the big dogs! Girls, come on. Leave the saving of the world to the men? I don't think so.

Of course, I have a secret identity. Can you see me in this at the supermarket? Come on! Who'd want to go shopping as Elastigirl, know what I mean?
As you read these quotes, you will really realize how Elastigirl is as a mom and as a superhero. She continues to be brave and steadfast in fulfilling her role as a superhero. However, she also goes the extra mile to ensure that her family is always safe from any harm. 
Cosplaying the Character
If you want to transform as Elastigirl, you've actually got a lot of options. From the classic Mrs. Incredibles jumpsuit to Elastigirl's first-ever costume, you will be spoilt for choice. It is time to reclaim your inner power and dress up as your favorite animated heroine.
Classic Getup: Mrs. Incredibles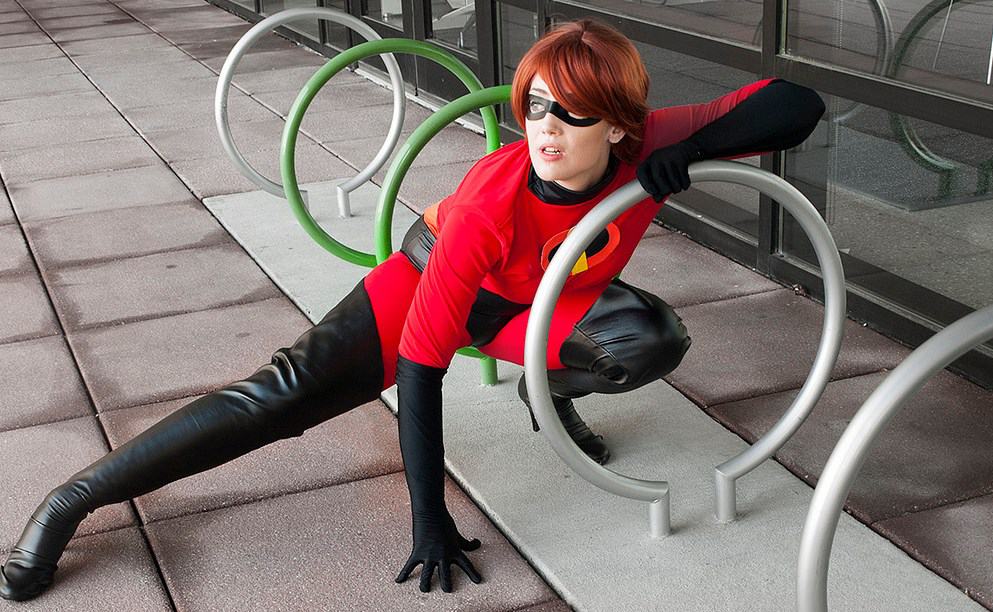 You have first seen Elastigirl in her red and black outfit on The Incredibles. She wears this for the rest of the movie. Once you slip into this outfit, you'll certainly feel empowered and confident strutting on stage.
Just like The Incredibles whole ensemble, you'll need these pieces for the classic getup:
Iconic Red and Black Bodysuit
The Mrs. Incredibles bodysuit is similar to the rest of The Incredibles superheroes. It highlights the red and black combination with an orange belt for added details. It also has the popular logo and a black lower leotard, leg, and collar accents.
Finding a bodysuit that resembles Mrs. Incredible's getup is ultimately easy. You don't have to call Edna for her to make one just for you. But while there are a lot of ready-to-use bodysuits available on the internet, you can still make a DIY costume of your own. This way, you can get the most accurate sizing.
Black Boots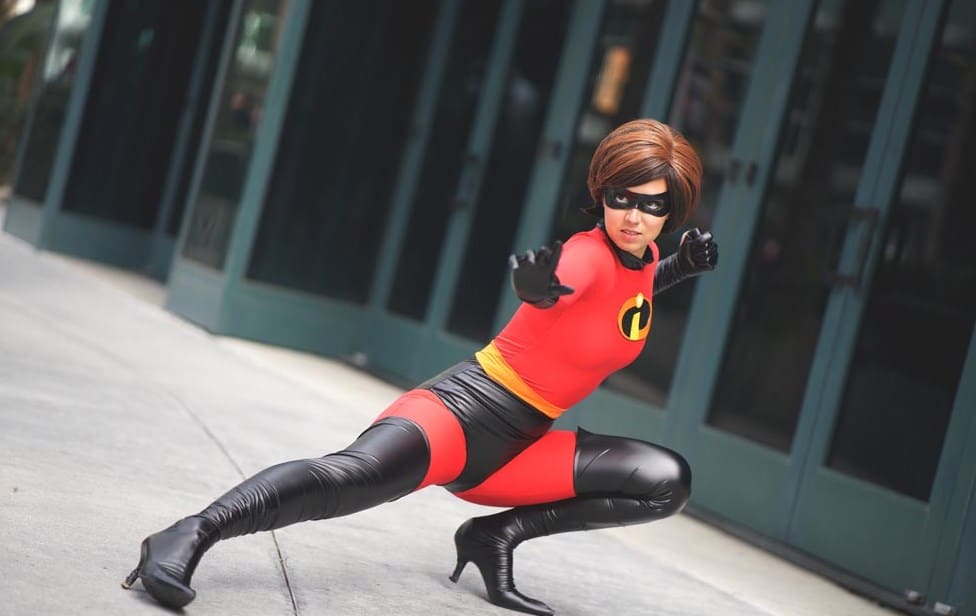 This is probably among the easiest pieces for the whole costume. You can get away by wearing black boots with two-inch heels. However, any black latex thigh-high boots will bring the whole costume up a notch if you want to go extra.
Mask
Surprisingly, one of the most recognizable pieces in every The Incredibles costume is the mask used to conceal their true identity. Ironic, isn't it? For the mask, you can simply purchase one online for less than 10 bucks.
However, if you have spare time, you can make an extremely comfortable one too. To start your DIY project, you'll need a black foam board and any soft cloth. Find a mask guide on the internet and trace it onto the material. Piece everything together, and voila, you've got yourself a comfy mask.
Gloves
Just like the mask, Elastigirl's gloves tie the whole costume together. It adds intrigue and mystery, which highlight the whole vibe of this classic outfit. Find a pair of gloves that has an elastic or stretchy material, just like latex.
Back in Her Glory Days: Elastigirl in White Bodysuit
Before marrying Bob Parr, Helen was then a successful crime-fighting heroine who sports a comfortable one-piece top. Its colors are a combination of white and red. Accentuating her waist is a red belt. It also has a clever logo design inside a black circle.
Whenever you look closer, you'll see that the logo forms both an "E" and a "G," which stands for Elastigirl. To cosplay this look, you will need the following:
White One-Piece Suit
Unlike the previous costume, this white bodysuit isn't paired with any tights. It screams chic, sexy, and youthful. A nice yet simple costume if you want to stand out from the rest of the crowd. Finding Elastigirl's OG costume is not entirely difficult. You can browse the internet and find dozens of pieces available.
Red Boots and Gloves
This time, you'll definitely need red thigh-high boots and a thick belt. Make sure that both pieces match the red shade this costume calls for. Look for something shiny; a hot red color will do the trick.
Mask and Belt
Since you're already looking for boots and gloves, it might be best to search for your mask and belt as well. These accessories should have a similar kind of material so that your outfit would look nice and put together.
If you're pressed for time, you can even find all these accessories as well as the bodysuit here.
A Modern Take on the OG: Elastigirl Grey Suit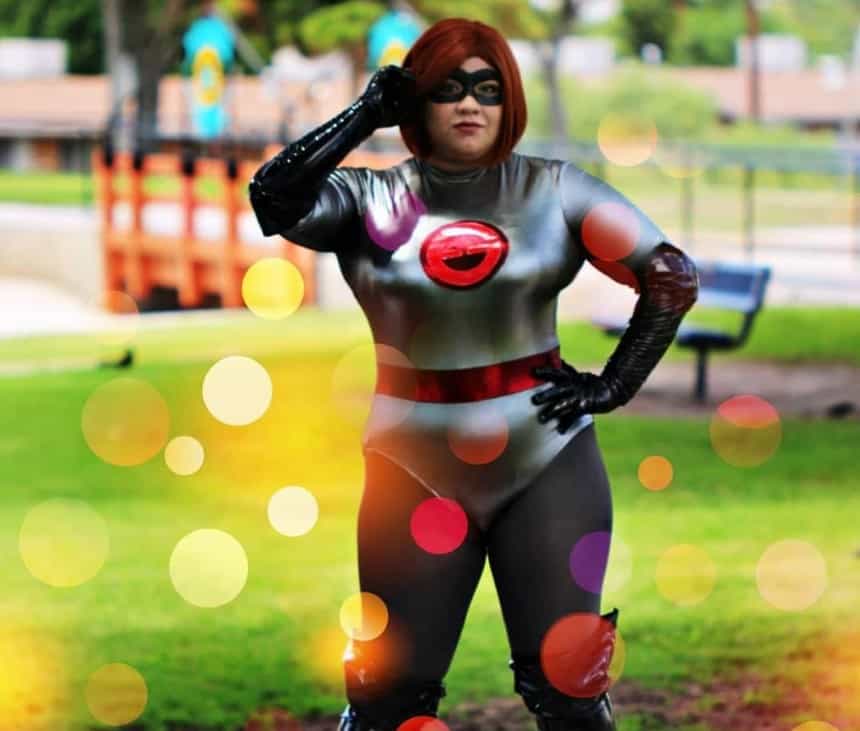 In the sequel of the movie, Elastigirl's OG super suit was modified by Edna. The suit has played a pivotal role in Elastigirl's plans to legalize the supers. The film has a minuscule camera located just above the Elastigirl logo that records everything that Helen does while saving the city.
For the grey suit, you will need just about the same items as the previous outfits. However, you will need them in a different color scheme. Instead of a white-and-red suit, it is detailed with a grey torso and dark tights. It also has a dark red belt and black accessories, including gloves, boots, and a mask. You can find a complete outfit here.

Where to find everything you need
The Best Disguise: Regular Mom "Helen" Outfit
While Elastigirl is known for her voluptuous and body-hugging superhero suits, you could never go wrong with wearing casual "mom" clothes. Throughout the films, she has changed into different kinds of casual clothes.
However, she mostly wears a pair of pants and a shirt. Helen loves to wear black capri pants paired with a light-colored polo top. She also likes straightforward and no-nonsense kinds of shoes; you can see her frequent black flat shoes. To make the whole ensemble more recognizable, you can bring a Jack-Jack plushie too.
Prepping for the Hair and Makeup
You are down to the last step. It is time to get your hair and makeup done. If you have long hair and don't want to cut it just yet, you will need to find a bob-length wig — for the grey suit and classic red-black combo.
However, you might need more time prepping for the white suit since you need to sport long red hair. You can pull this off by buying a wig or dyeing your own hair. Typically, purchasing a wig is always the best solution whenever you're debating about this option.
As for the makeup, you just need to add a pop of color onto your lips; a bright shade of lipstick might do. However, you can always go extra and create a glam look complete with eyeliners and shadows to spruce up the whole look.
Frequently Asked Questions
Question: Can you do a couples cosplay with Elastigirl?
Answer: There is no doubt you can. The animated movie centers on a family, so you can definitely bring your SO and have him portray as your very own Bob Parr or Mr. Incredibles. Ideally, you can also bring your whole family and have them dress as The Incredibles children, Violet, Dash, and Jack-Jack.
Question: Can I make a DIY Elastigirl outfit?
Answer: When it comes to making costumes, the sky is the limit. Your imagination is at play; you can create your very own version of Elastigirl's outfit. There are also a lot of professional cosplayers who have gone through this route. You can check out their tutorials to help you on your DIY journey.
However, starting a DIY project can be quite tiresome and overwhelming. So, if it is your first time cosplaying, you can find different kinds of ready-to-wear and customizable outfits online.
Question: Is purchasing a ready-made Elastigirl costume set a great idea?
Answer: Usually, people are quite skeptical when it comes to buying ready-made costumes. Of course, quality comes into play. Aside from that, there are also a lot of factors to consider before making a decision.
But, for an Elastigirl costume, buying a ready-made piece off a reputable website and seller might not be a bad idea. You won't have to source out everything yourself. And more than anything, you get all the accessories to color match.
Question: What are the most important items for the Elastigirl costume?
Answer: Whenever you can't get the whole costume down to the accessories accurately, you usually ask which ones are the most important pieces that you can never toss aside. For Elastigirl, it will be the mask and the bodysuits.
Generally, you need to wear the mask and bodysuits since this piece speaks to the value Elastigirl upholds — keeping her true identity a secret. The unique combination of these items will certainly help your cosplay be a lot more recognizable. You might take your own liberty between the rest of the accessories but not with these two.
Final Thoughts About Doing an Elastigirl Cosplay 
Just like most of the Disney Pixar characters, Elastigirl is an extremely popular character. It's worth noting that cosplaying her is quite common. So, you might stumble and bump a few lookalikes on your next cosplay event. Be sure to spruce up your cosplay with different iterations and deviate to the classic red-and-black look.
You can gear up in a white or grey suit just to give a new look to this well-loved character. More than anything, you should also remember to take it easy. You can forgo some of the details and wear the most important ones. Getting the whole look accurately is absolutely nice, but the goal is to always have fun while cosplaying.
That's why you should bring the rest of your family with you, making them cosplay "The Incredibles" too. All of them can play the rest of the animated characters: Bob, Violet, Dash, and of course, Jack-Jack.