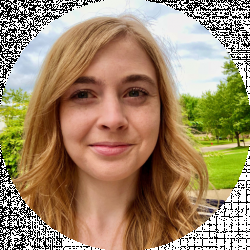 Latest posts by Erin Jamieson
(see all)
Super speed strength, x-ray vision, and so many other abilities. Power Girl is a stand-out from the DC comics and a great character to cosplay as. But to unleash your inner Power Girl, you'll need a guide to find incredible cosplay outfits.
Superwoman and Supergirl may often get the spotlight, but the latest buzz is that it's Power Girl who could get her feature film treatment. The Supergirl film buzz, though, for now, is more wishlist than it even is speculation. Posted on Nerdist, it seems that many feel it's high time the iconic character is featured on the big screen. 
This request comes after the announcement of Supergirl ending after its Sixth Season. The series suffered from lowered ratings and shorter seasons due to the pandemic and competition. This may seem discouraging for a potential TV show or film about Power Girl, but many argue that there's a different way to see it. 
Instead of dedicating an entire show to Power Girl, many see promise in adding her to another series, such as Superman and Lois. By doing so, Power Girl will be introduced to audiences but with less risk. Power Girl could still be showcased as she deserves to be– and also deepen the existing show. 
But no matter where you fall on the debate, there's no denying that Power Girl is a great character to cosplay as. In this guide, I'll tell you about Power Girl's personality, strengths, backstory, and weaknesses. I'll also give you fantastic power girl cosplay outfit ideas so you can represent the character with confidence. 
Who is Power Girl? 
In my opinion, Power Girl is highly underrated. The problem is people mistake Power Girl as being the same as Supergirl– and while there is a strong connection between the two characters, they aren't the same. Power Girl very much deserves her cosplay, and here's what you need to know about her backstory.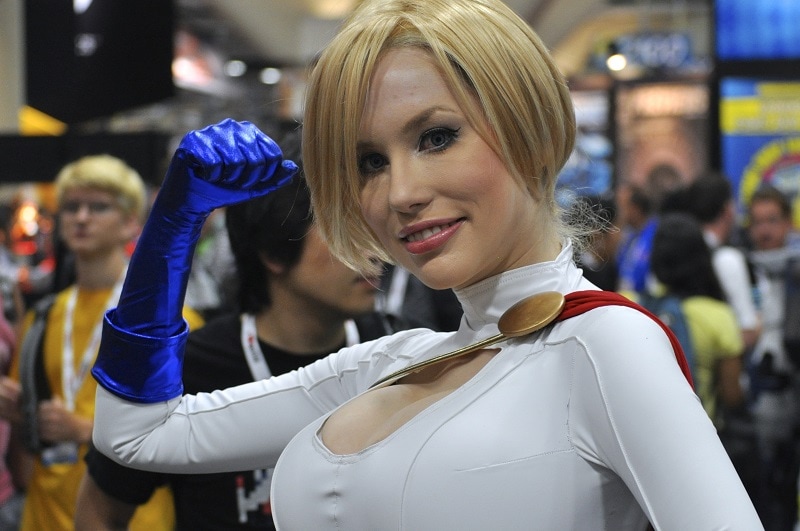 Who created Powergirl?
Power Girl, who is also known by the names Kara Zor-L and Karen Starr, was introduced as a DC comic superhero in the January and February edition 1976 of All-Star Comics. 
Is Kara Zor Power Girl?
Kara Zor-El is another name for Power Girl. This name is used mostly to refer to her childhood; it's only when she reached adult age that she became known as Power Girl. 
What is Power Girl's, Origin Story? 
Power Girl is Superman's cousin in an alternate reality. In this way, she exists alongside a different universe– but one in which she is related to Superman and also originally from Krypton.
Like Superman, she was sent via rocket ship to Earth as Krypton was being destroyed. Only in this case, Power Girl arrived on Earth-Two, the alternate universe version of Earth. 
Is Power Girl in Prime Earth?
Power Girl has had countless adventures, and one of them happened in Prime Earth. During an alien invasion, Power Girl was sent to Prime Earth, void of memories, and left near Harley Quinn. What ensued was a series of events, including meeting a Fake Superman and struggling to recraft a bright society. 
Is Power Girl the same as Supergirl?
The reason why Power Girl is mixed up with Supergirl is confusing: they're technically the same person. Loyal to DC's propensity for multiverse realities, Power Girl and Supergirl in that they are both related to Superman in the same way, have the same parents, and both originate from Krypton.
However, the differences between Supergirl and Power Girl lie in their personality and their strengths and weaknesses. The idea is that the alternative universe results in Superman's cousin having a different set of abilities and personalities due to other changes. So, cosplaying as Power Girl is less common– but also quite different than cosplaying as Supergirl. 
Is Power Girl a villain?
For some reason, there's been talk and miscommunications about Power Girl being a villain, but that's simply not true. Power Girl is as much of a hero as Super Girl and has been featured in iconic superhero teams ranging from the Suicide Squad to the Justice Society, Birds of Prey, and the Justice League. 
How did Power Girl get pregnant?
One thing you may not know about Power Girl is that she had a baby. Her pregnancy was revealed during the Zero Hour event, where she gave birth to a son, Equinox. The pregnancy was not a happy one, as Power Girl became pregnant after her grandfather forced a demon's seed.
Equinox grew up to be a villain– which is perhaps why so many falsely believe Power Girl to be a villain. Equinox also has superhuman strength like his mother, as well as pyrokinesis and cryokinesis. 
Power Girl Personality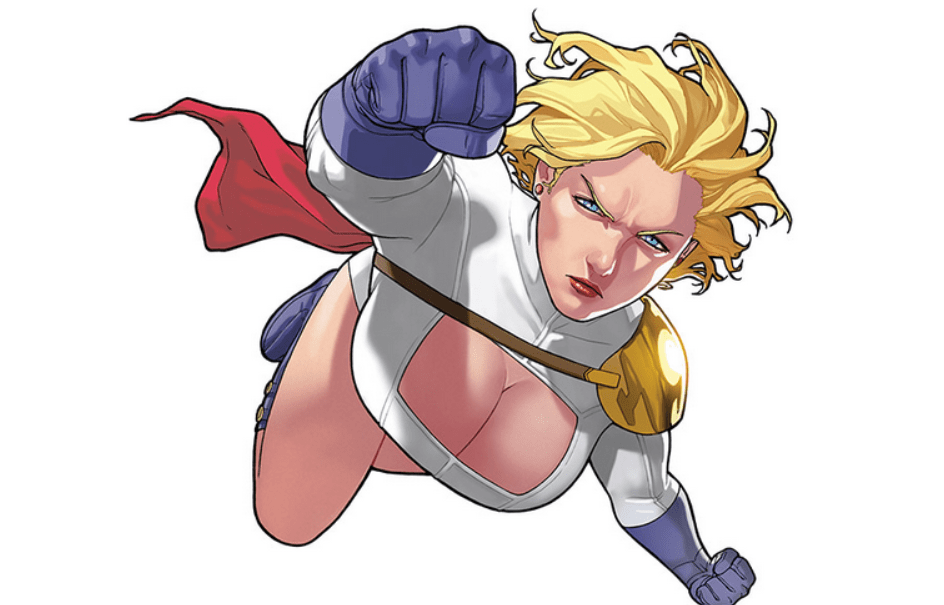 Now that you know some of Power Girl's backstory, what about her personality? She doesn't have the same personality as Super Girl. One of the main differences is that she's said to be much more mature and controlled than Supergirl. She may be known as a great fighter, but she has a certain level of control that Supergirl doesn't have.
She's very focused and secure and doesn't spend time focusing on her past. While she's polite and kind to others, she's incredibly powerful in her ability to tackle challenges without complaint. In many ways, she has much of the drive and toughness of Super Girl, but her power is also in her ability to control her emotions and stay focused on the task at hand. 
How smart is Power Girl? 
In addition to her mental and physical toughness, Power Girl is also known to be clever. She's able to memorize information. Some even compare her abilities as only second to a computer program. It's a lesser-known attribute since she doesn't often get to use this ability, at least in Power Girl comics.
Power Girl Strengths and Weaknesses 
As is true of all heroes, Power Girl has strengths and weaknesses. After all, it wouldn't be that interesting to cosplay as a character without any downsides. Power Girl, like her cousin Superman and her alternative persona, has superhuman strength, agility, and speed, as well as x-ray and heat vision, super hearing, and a freezing breath attack. 
How much can Powergirl lift?
It's hard to say exactly how much Power Girl can lift, but it's another strength of hers. In one comic, she lifted something that weighed around a million tons. She's not stronger than Superman, and she's as strong as Super Girl– though she has the advantage of longer attacks due to her maturity and focus. 
What is Power Girl's weakness?
Power Girl has an unexpected natural weakness: natural items. This means anything from the Earth, like a piece of wood, can diminish her powers. Unlike her cousin, Power Girl is immune to Kryptonite. However, Power Girl also needs to sleep, as she experiences natural fatigue unless she's garnering power from sunlight, the way her cousin can. 
Who can beat Power Girl?
Many have confidence that Power Girl can beat many adversaries–including She-Hulk, Thanos, and Ultron– but there are some enemies she might struggle with more. Doctor Strange, Doctor Doom, Loki, and Absorbing Man would be quite challenging, but it's hard to say for sure. 
Power Girl Quotes
Unfortunately, Power Girl doesn't have many quotes to pull from, but she does have a few from Injustice: Gods Among Us:
"Karen Starr of Earth-2"

"Karen, I love that cape."

How many friggin' Earths are there?"

Ever feel like you don't fit in?"
Power Girl Costume Explanation 
Power Girl has a distinct style with her costume. Her look features a fitted (often depicted as spandex) white bodysuit. The bodysuit is distinguished by a high collar, a scoop cut out, and long sleeves. She always has a red cape trailing behind her, as well as knee-high boots and long gloves– normally blue.
She wears a red belt with a gold medallion around her bodysuit, and you can catch her with red tights or just bare legs. Her hair is medium blond with a shaggy bob cut above the shoulders, sometimes with side-swept bangs. 
Why Does Power Girl have a hole in her costume?
There's some debate, but the hole in the costume is simply referring to the deep scoop neck of Power Girl's white bodysuit. It's mostly to differentiate her costume, but also to draw attention to her figure. Some fans claim the hole is symbolic of a flaw and a weakness as opposed to Superman. 
However, the new Power Girl costume– which not everyone loves– is more or less the same, except the bodysuit is now a full pantsuit with a higher neckline. 
Power Girl Costume Ideas 
Now that you know all about Power Girl's personality, back story, strengths, and weaknesses, I'll give you some of my favorite ideas for costume cosplay. You find most of your Power Girl costumes on Amazon. While not perfect, they do a nice job of representing Power Girl's costume as displayed in the comics.
I'm focusing on the classic Power Girl costume, but I'll also include some full white pantsuits if you like the new version of her costume, under my family buying recommendations. 
As a final note, be wary of buying Power Girl cosplay just anywhere. I came across several listings on websites that have failing ratings from the Better Business Bureau and a history of poor customer service, including websites designed for Cosplay costumes. 
White Bodysuit 
Of course, you're going to need a great white bodysuit, or you can find a pantsuit if you prefer the new vs comic costume style for Power Girl (see under Final Buying Recommendations).
I've included a mix of white bodysuits, some of which nail the style more, and others are a little bit of a creative twist. All of these could easily become staples for your wardrobe, both for casual and night-outs. 
MANGOPOP Women's Sexy Cutout Front T-Shirt Long Sleeve Short Sleeve Bodysuit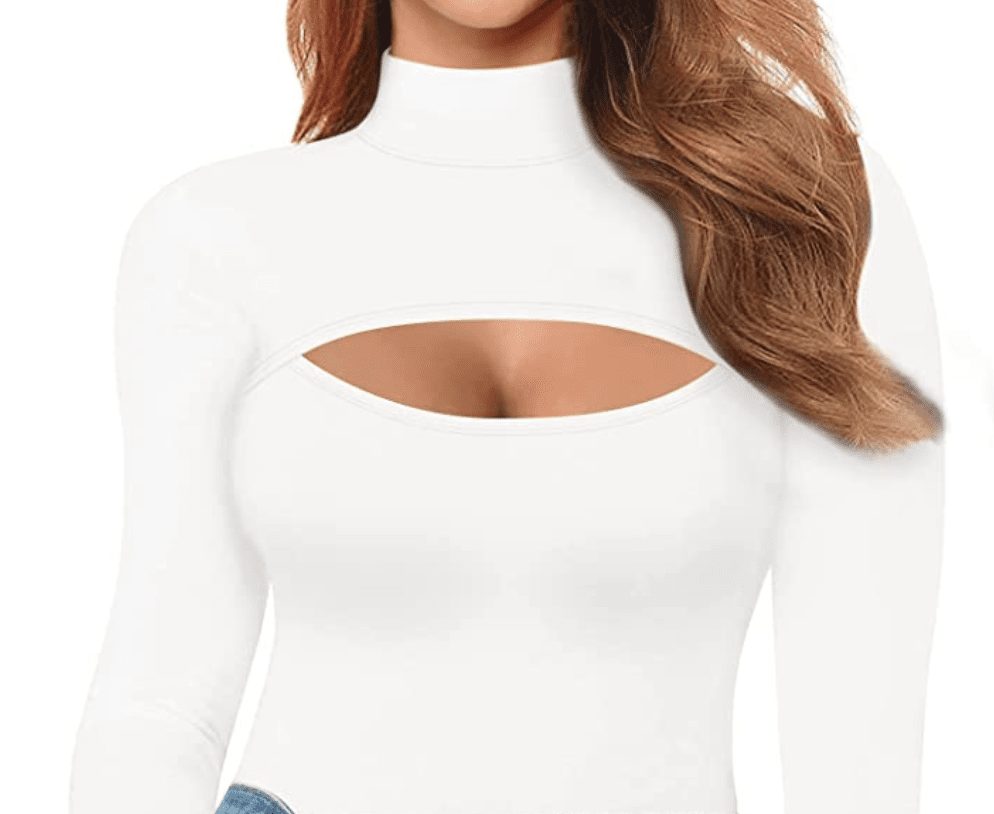 This stylish white bodysuit features a great cutout that embodies the Power Girl classic outfit. The soft and stretchy material is 95 percent rayon and 5 percent spandex.
The snap closure adds subtle detail, while the crew neckline is a classic. Machine washable and highly rated, this is great for cosplaying and wearing with a pair of great jeans. Buy Here. 
Pros
Soft, Stretchy Material

Easy Snap Closure

Machine Washable
Cons
Cut Out May Sit Awkwardly on Longer Torsos

Difficult with Bra
Women's Long Sleeve Bodysuit Zipper Turtleneck Jumpsuit Leotard Top Bodycon Stretchy Romper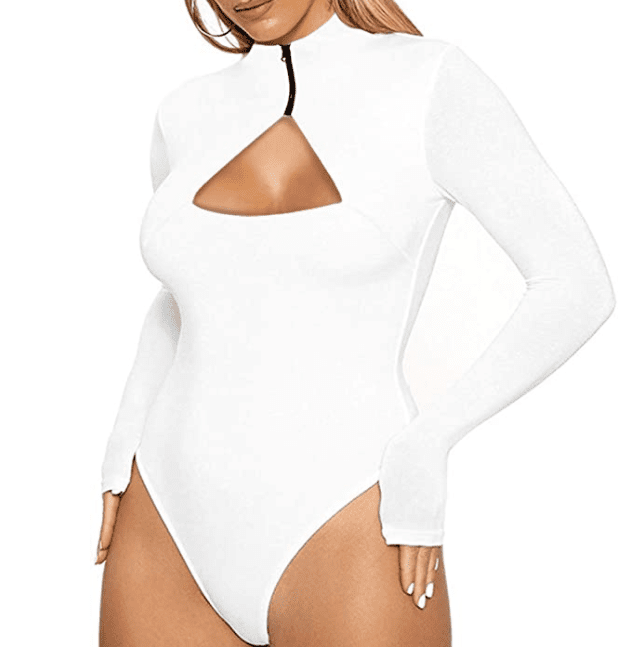 Another great fit? This turtleneck leotard bodycon romper. The polyester and spandex fabric is comfortable, breathable, and quick to dry. 3 easy close buttons make for easy wear, and I love the zipper detail, even if it's not quite a Power Girl comic cannon.
Rated highly and at a great price, this looks fantastic worn alone or paired with tights. It's a subtle but powerful look to emphasize Power Girl's strength and unique character. Buy Here. 
Pros
Breathable and Flexible Fit

Great Zipper Detail 

Versatile
Cons
Different than Classic Comic Style

Only Available in up to Size 12
PRIMODA Women's Bodycon Long Sleeve Crisscross Cutout Front Bodysuit Top Leotard Night Out Clubwear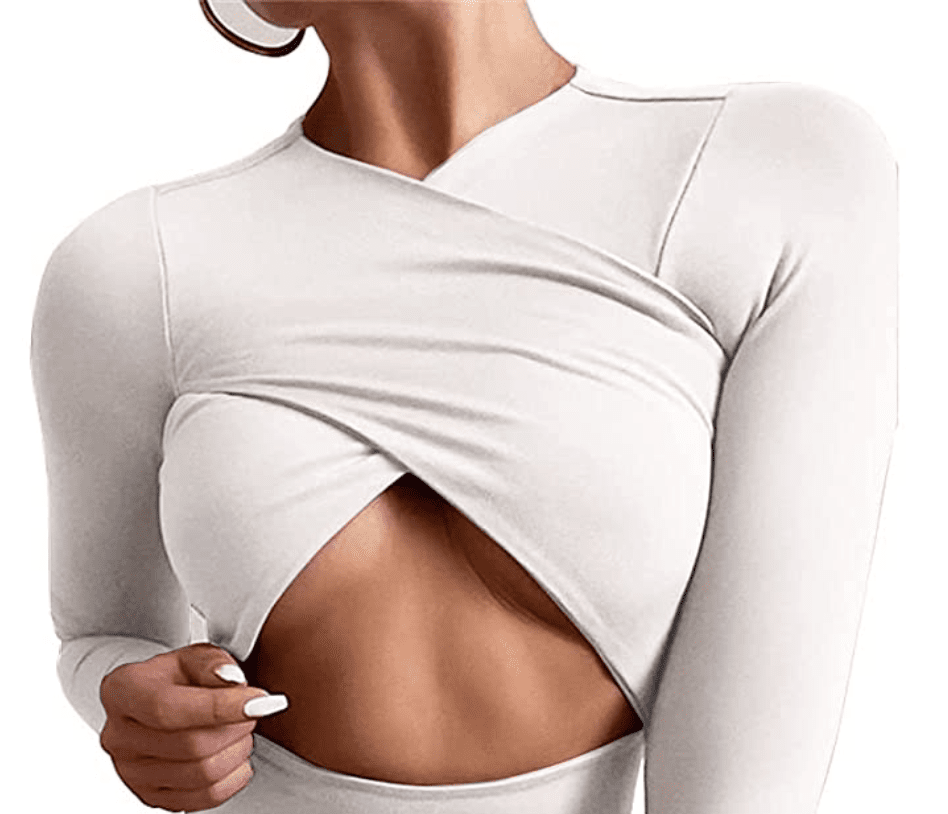 I know– this is a slightly different style than what you'd expect from Power Girl, but one of the fun things about cosplay is that you can be creative and throw in some twists if you'd like. This bodysuit features a cutout– just a different one with a daring style. he
Thigh waist and stylish wrap cutout are made out of polyester and spandex. Lightweight with plenty of stretches, it's meant to flatter and hug curves. It's a nice find on Amazon, even if it's not quite as popular as my other picks. Buy Here. 
Pros
Unique Cutout

High Waist

Breathable and Flexible 
Cons
Further from Power Girl's Style

Cut Out Not Practical For Cold Weather
MANGOPOP Mock High Neck Long Sleeve Sexy Cutout Bodysuit for Women Tops Jumpsuit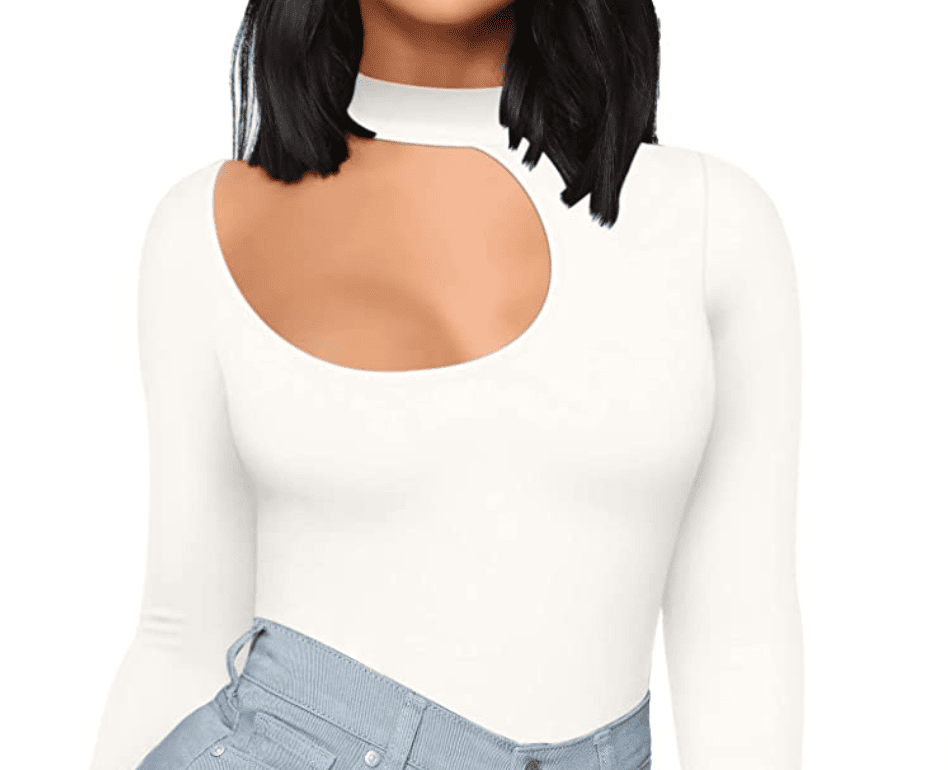 A classic touch but with a unique cutout– my final pick for white bodysuits for Power Girl is this MangoPop bodysuit. You'll get the same soft and stretchy fabric, with 95 percent rayon and 5 percent spandex.
The asymmetrical design draws the eyes, but it still looks recognizable with all other accessories. Snap closure and easy care make it a great pick for cosplay and beyond. Buy Here. 
Pros
Modern Asymmetrical Neckline

Easy Snap Closure

Breathable 
Cons
Different than Power Girl's Typical Neckline

Runs Large; Size Down
Red Capes
You'll need a red cape to wear on the back of your white bodysuit to cosplay as Power Girl. You don't need to get too fancy with the red cape- a simple style will do. Just select something with a great red hue, and that's a comfortable length for you, and you're good to go.
Amscan 395888.4 Solid Red Costume Cape, 30″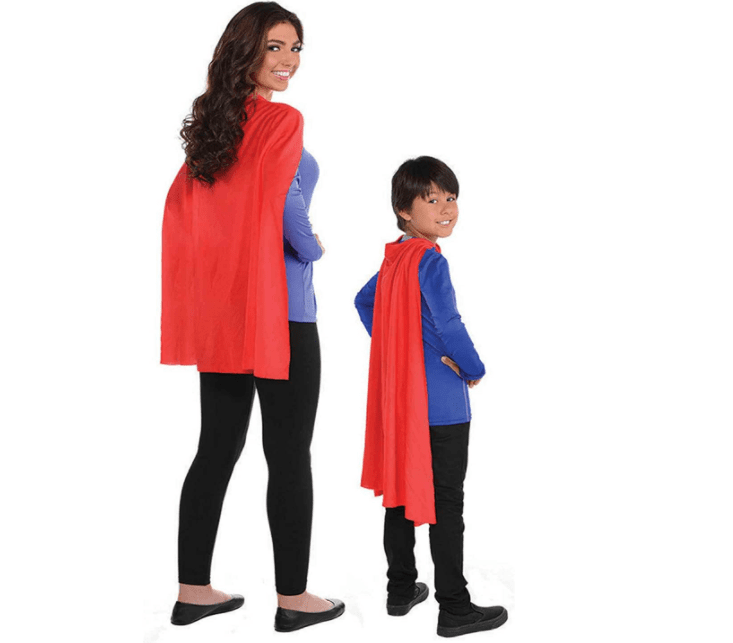 This economical cape is all you need. A great price, high ratings, and simple design works just fine if you have other great accessories. The solid red cape features a simple hook and loop closure.
It's not the most stunning cape, but it works just fine for cosplaying as Powergirl, and there's no Power Girl outfit without a cape. It measures 30 inches long for the unisex adult size. Buy Here. 
Pros
Affordable

Comfortable Length

High Ratings
Cons
Very Plain

Thinner Fabric
Everman Adult Superhero Cape | Superhero Capes for Adults | Satin Costume Cape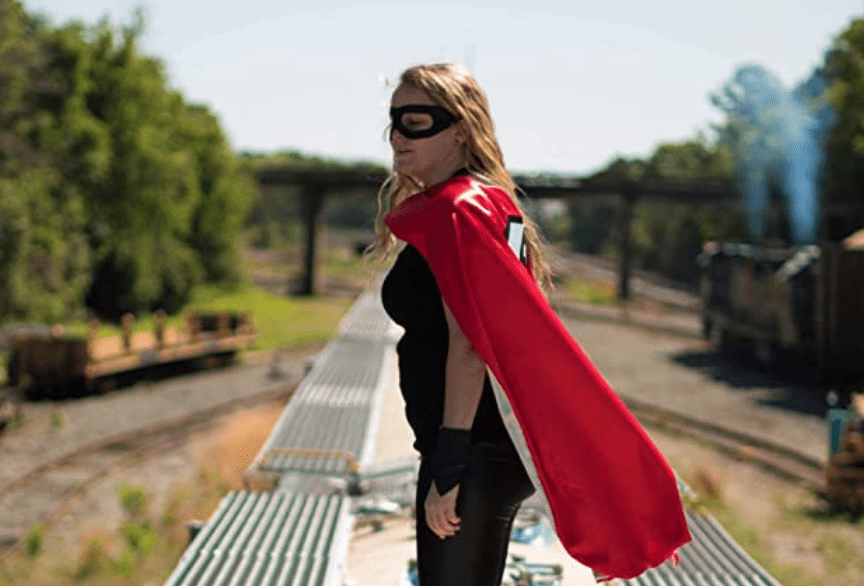 Looking for a cape with a bit more shine? This red cape is still a fair price, but the polyester satin fabric makes it a more striking option for a Power Girl cosplay outfit.
Another upgrade is the velcro fastening around the neck, plus an extra 8 inches in length (38 inches in total). It's made from a company that specializes in superhero attire, and the reviews are promising too if you're still not convinced. Buy Here. 
Pros
Shiny Finish

Stretchable and Breathable 

Great Movement
Cons
More Expensive

Velcro Can Wear Out
Superhero Capes and Masks for Teenagers and Adult Bulk Pack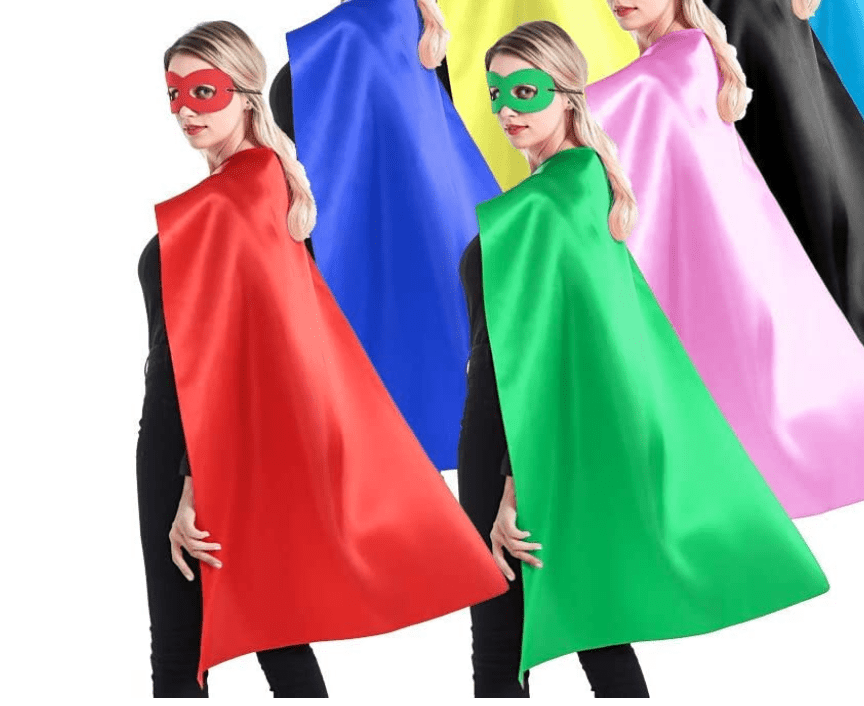 Have a cosplay party or want several capes on hand? This bulk pack of capes is a great value, and you'll get a red cape that works well for cosplaying as Power Girl. 100 percent polyester capes are paired with matching masks, with 7 capes and 7 masks in total.
They measure 43.5 inches, the longest cape on my list. Buy Here. 
Pros
Great Value

Variety Pack

Long Length
Cons
Thinner Fabric

Can Only Buy in Packs
Blonde Wigs
You could also dye and cut your hair– but why do that when you can buy a great, affordable wig? Amazon has a few cosplay wigs that work for Power Girl cosplaying, depending on your interpretation.
Since Power Girl's comic costume style and popular images can vary a little bit with her hair, I've found a few great buys in slightly different styles. All still stay true to Power Girl's general aesthetic, with a blonde, layered bob style. 
OneDor Shoulder Length Side Part Lace Front Short Wavy Hair Bob Wigs for Women (M6182 – Blonde Blended)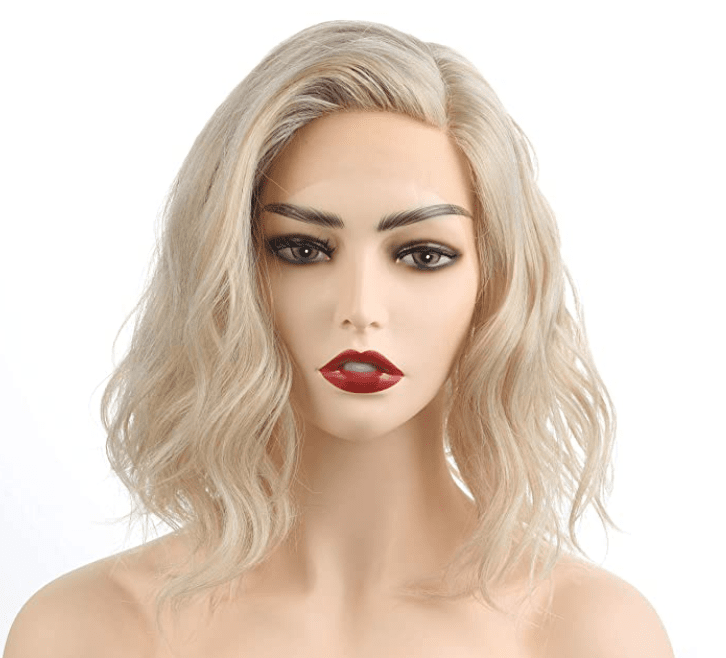 Made with 100 percent Kanekalon Futura, this wig is a slightly longer take on Power Girl's blond locks. The blended blonde hue adds dimension and has a hand-crocheted lace forehead for a naturally blended look.
It's easy on and off with a mesh cap. You can straighten or dry it, as it's heat resistant for up to 377°F. Washing is easy with shampoo and cool water. If this shade isn't for you, the listing also offers options for medium and dark blond hues. Buy Here. 
Pros
Hand Crocheting 

Heat Resistant to 377 F

Naturally Blended Blond
Cons
Wavier than Power Girl's Conventional Look

Not as Realistic as Advertised
Lydell Short Layered Shaggy Wavy Full Synthetic Wigs (L16/613 Blonde Highlights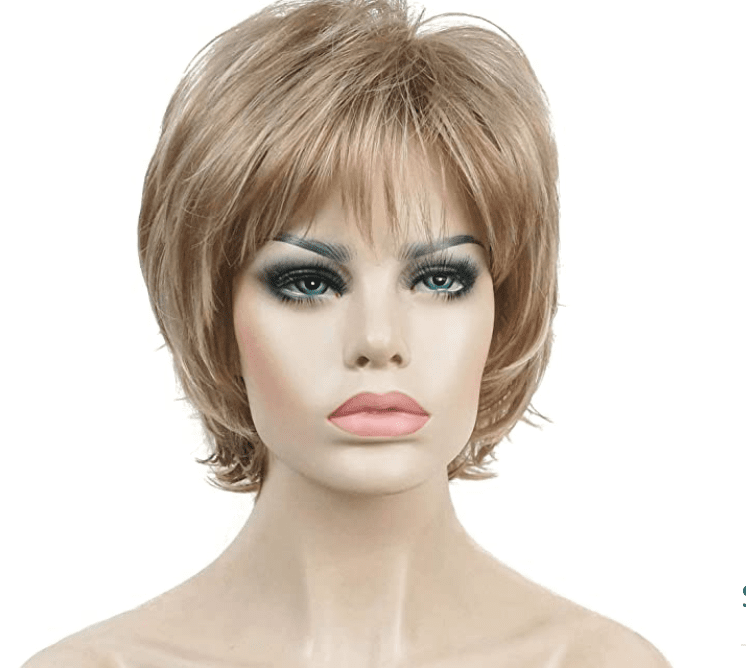 This shaggy wig is spunky and captures Power Girl's classic look. Layered shags move naturally with you, and highlights make for a more stand-out color. The synthetic hair fiber has an easy on and off, with a secure fit.
Adjustable straps help you fit the wig to your head. Care includes cold water and gentle shampooing. Buy Here. 
Pros
Classic Shag Style

Highlights For Dimension

Adjustable
Cons
Bangs Can Get in Eyes

Better for Larger Heads
SWACC 11″ Women Short Straight Synthetic Bob Wig Candy Color Cosplay Wig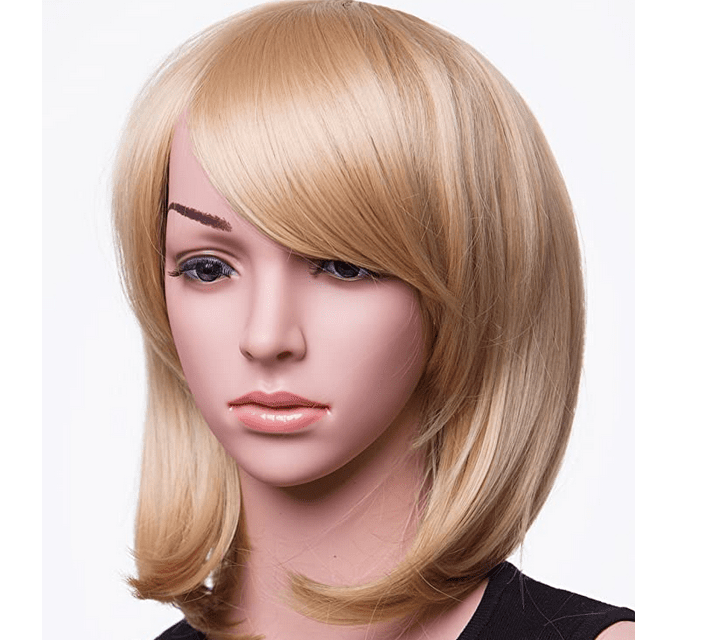 This longer blond bob is a stylish, modern take on Power Girl's style. A deeper medium blonde hue is featured with a bob that naturally curls in. The wig is fully adjustable without pins or tape and measures 10 to 12 inches long.
You can heat the synthetic hair fiber as well as gently wash. It moves with you, perfect for keeping up to pace with Power Girl's incredible speed. Buy Here. 
Pros
Natural Movement

Stylish Cut

Fully Adjustable 
Cons
Not Immediately Recognizable as Power Girl

Thinner Wig 
Red Tights/ Leggings
Now, these are optional. Many times you'll see Power Girl sans red tights. But I like adding tights because it provides a bit more coverage and is simply more comfortable. Plus the red tights add a bold pop of color that emphasizes her power as a character.
Since I've expanded the definition and added leggings, some of these work for lounging around the house. 
Silky Toes Opaque Microfiber Comfort Tights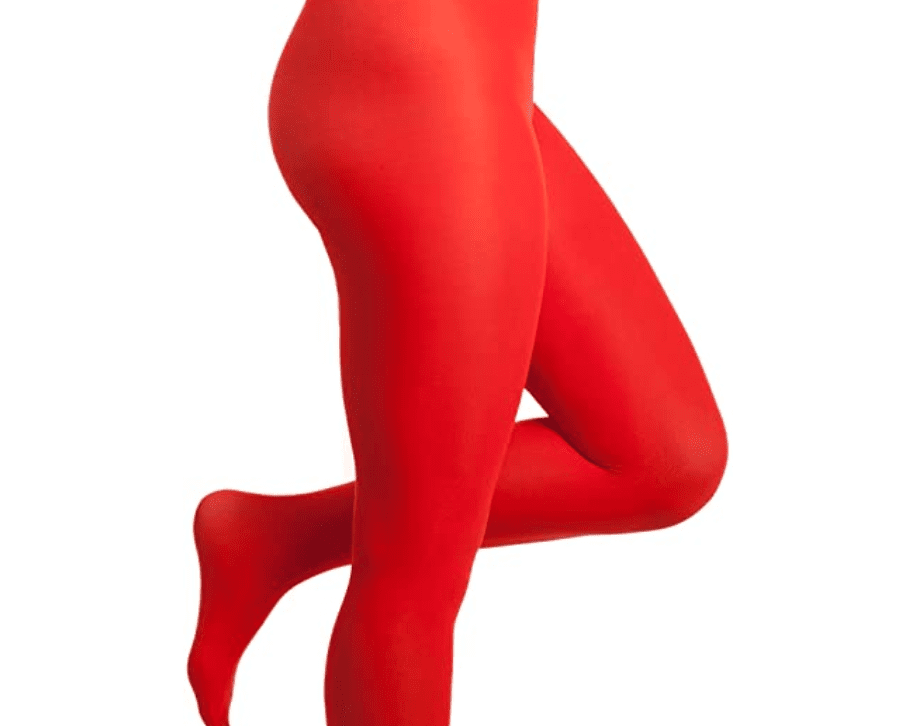 If you're like me, you're not super fond of tights. But these striking tights are meant to be comfortable enough for a full day of cosplay. Made with a blend of comfy nylon, spandex, and microfiber, these tights provide stretch and have an opaque shade.
The elastic softly shapes your body without seeming too tight and causing discomfort. Buy Here. 
Pros
Comfortable Stretch

Comes in a 2 Pack For a Great Price

Gentle Shaping
Cons
Must Hand/ Line Dry

Runs Small 
Diocese Women's 80 Denier Tights Soft Semi Opaque Solid Color Footed Reinforced Pantyhose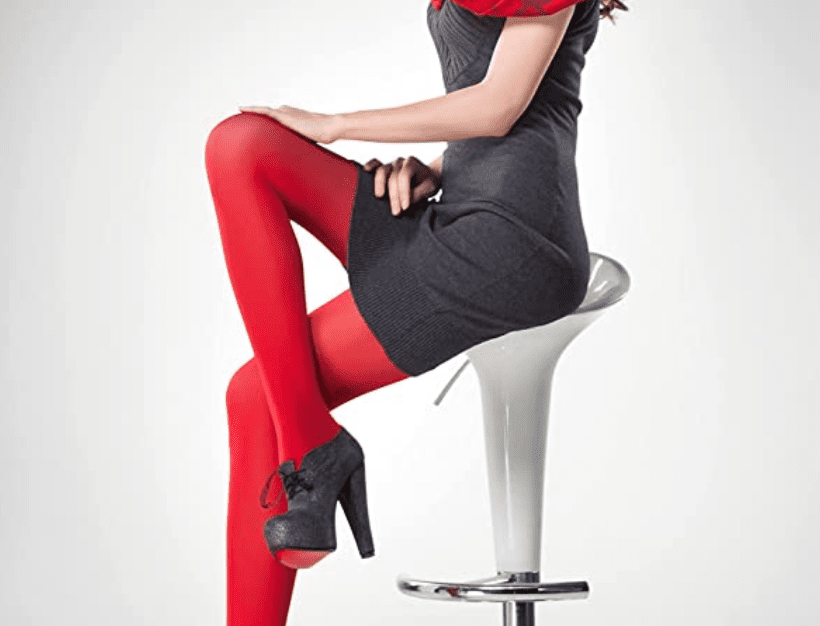 These nylon and spandex tights are of great value, with a solid opaque red hue and medium-weight thickness. 3D spandex provides more stretch but also a closer fit than you'd expect. 
There are two sizes available: regular and sizing, though plus size accommodates up to 180 pounds. These are simple red tights that work when you just want a little more coverage with your white bodysuit. Buy Here. 
Pros
Affordable

3D Spandex Technology

Fade Resistant
Cons
Sizing is Limited

Better For Petite to Average Height 
Leggings Depot Women's High Waisted Warm Fleece Lined Leggings Tights Pants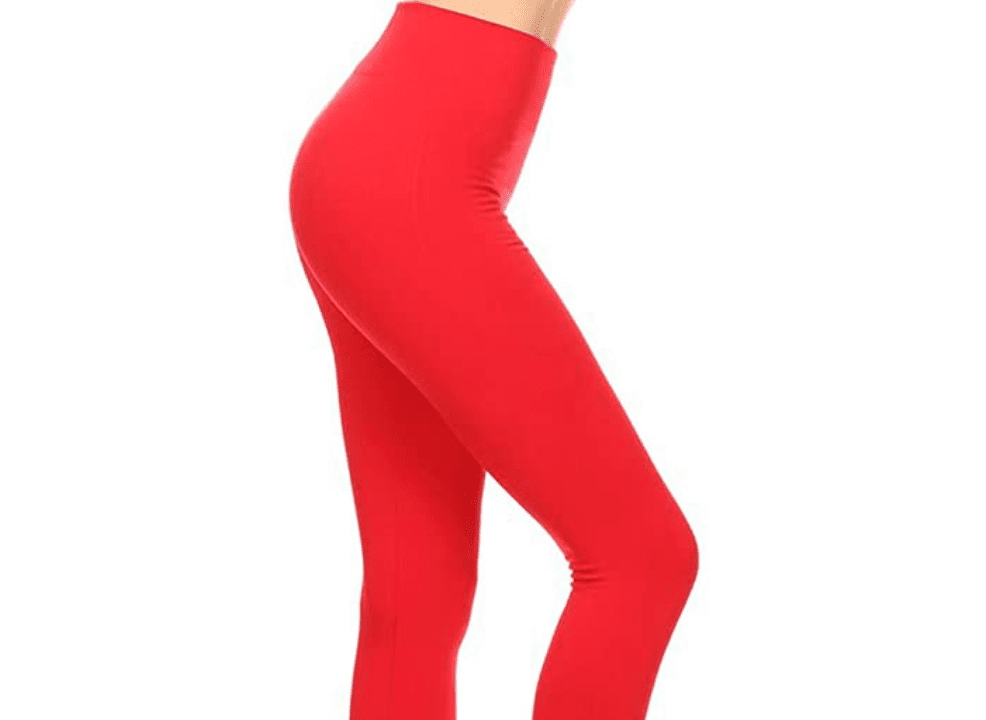 Tights may be a more classic cosplay move, but why not mix it up with something you might wear again? These comfy leggings are made with 8 percent spandex and 92 percent polyester with a smooth finish.
You get fleece lining, a comfortable fit elastic waistband, and the coverage you need. They're machine washable and work for cosplay and just lounging around on a winter day. Buy Here. 
Pros
Fleece Lining

Comfortable Stretch

Smooth Exterior
Cons
Hand Wash Recommended

Gentle Wash- Material Can Pull
MAHOUACHI High Waisted Leggings for Women Tummy Control Butt Lifting Yoga Pants Workout Compression Tights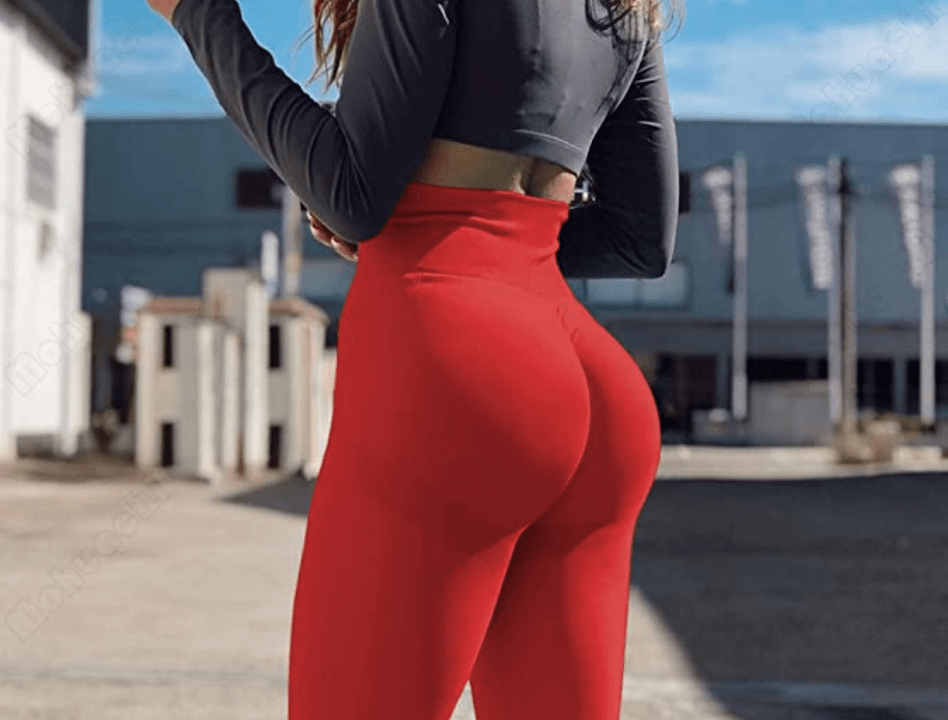 Whether you love hiking, yoga, or are always on the go, these leggings do double duty. Not only do these leggings work well for cosplay, but they also are designed to keep you comfortable and stylish while you're active.
The polyester and spandex leggings feature a ruched design on the bottoms to enhance your curves. The high waist also enhances curves while providing lift, compression, and control.
The material is likewise moisture-wicking so even if you're sweating and running around all day as Power Girl, you'll stay comfortable. Buy Here. 
Pros
Figure Shaping with Compression

Lightweight and Moisture Wicking

Stylish 
Cons
Not Conventional for Cosplay

Runs Small- Order Up 
Blue Gloves
Power Girl needs her blue gloves. Without them, the Power Girl costume simply isn't complete. So no matter how many ideas you have for your interpretation of Power Girl's costume, I recommend snagging a pair of Amazon gloves.
Sure, you won't be wearing these out much, but you could use them for cosplaying a few other characters as well. 
BABEYOND Long Opera Satin Gloves Stretchy Adult Size Elbow Length 15 Inches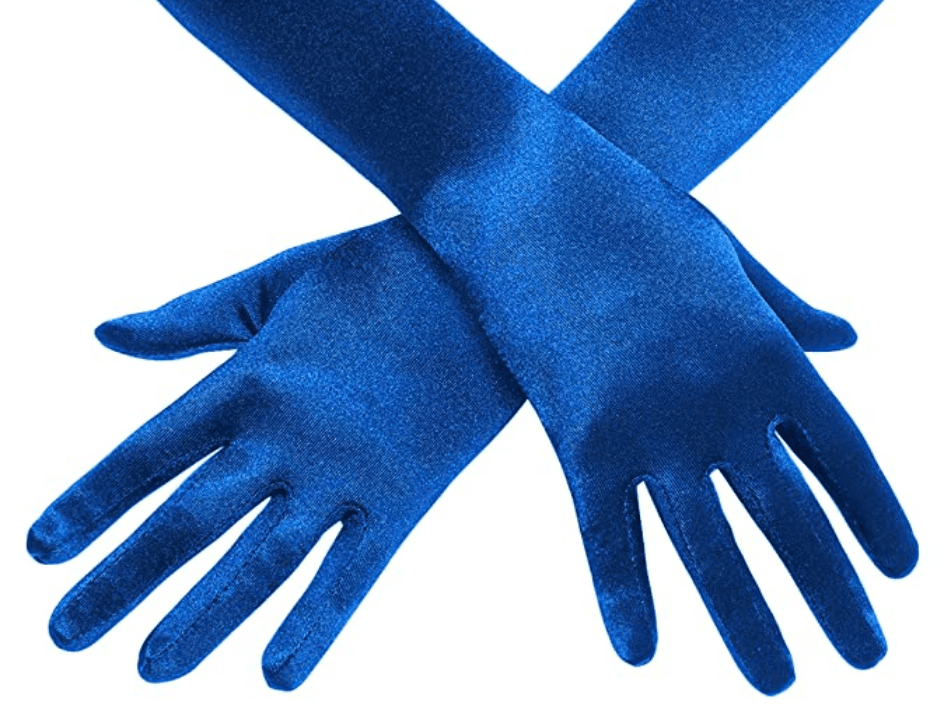 These playful satin gloves have a retro feel to them– but also work as a Power Girl costume accessory. A pull-on closure makes them easy to wear. The exterior is smooth and classic, with a comfortable fit.
These gloves measure 15 inches long, which is a great length. Buy Here. 
Pros
Satin Finish

15 Inches Long

Comfortable Fit 
Cons
Can Get Sweaty

Runs Large 
Seeksmile Classic Adult Size 22″ Length Spandex Gloves Above Elbow Cosplay Costume Glove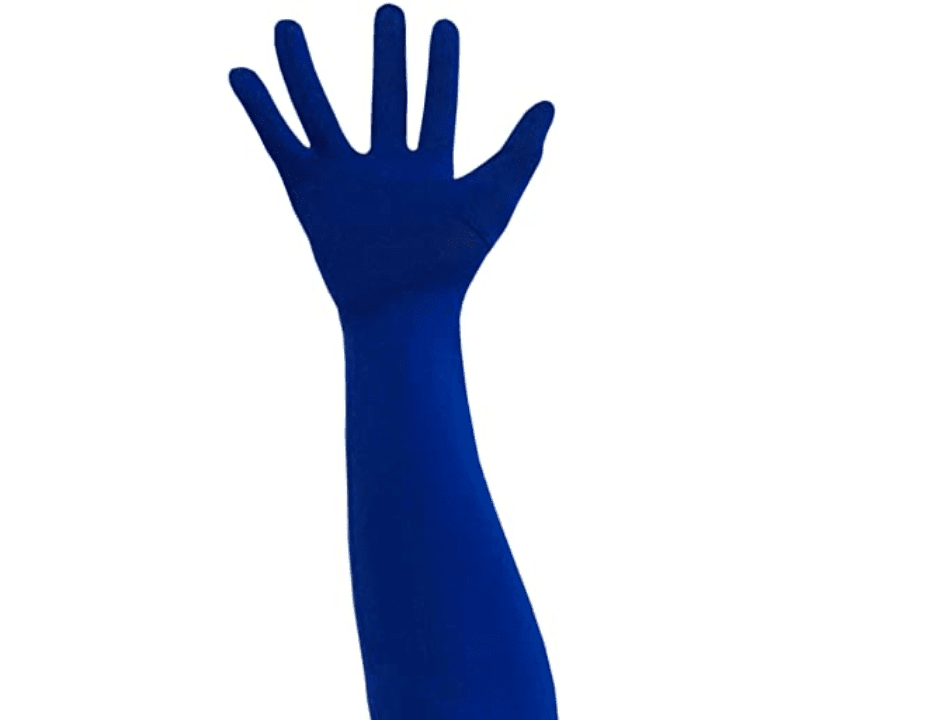 Want an even longer glove? These 22-inch gloves are made out of flexible, breathable spandex. These are my top recommendations for a Power Girl outfit and probably the most classic style.
The elbow length gives you full coverage, and it's a nice deep, vibrant blue. 74 percent of customers awarded these cosplay gloves five out of five stars. Buy Here. 
Pros
Elbow Length

Classic Spandex Material

Highly Rated
Cons
Fingers are Sewn, Not Seamless

One Size Fits All Maybe Limiting 
DreamHigh Women's 22 "Finger Mittens Over Elbow Long Black /White Evening Gloves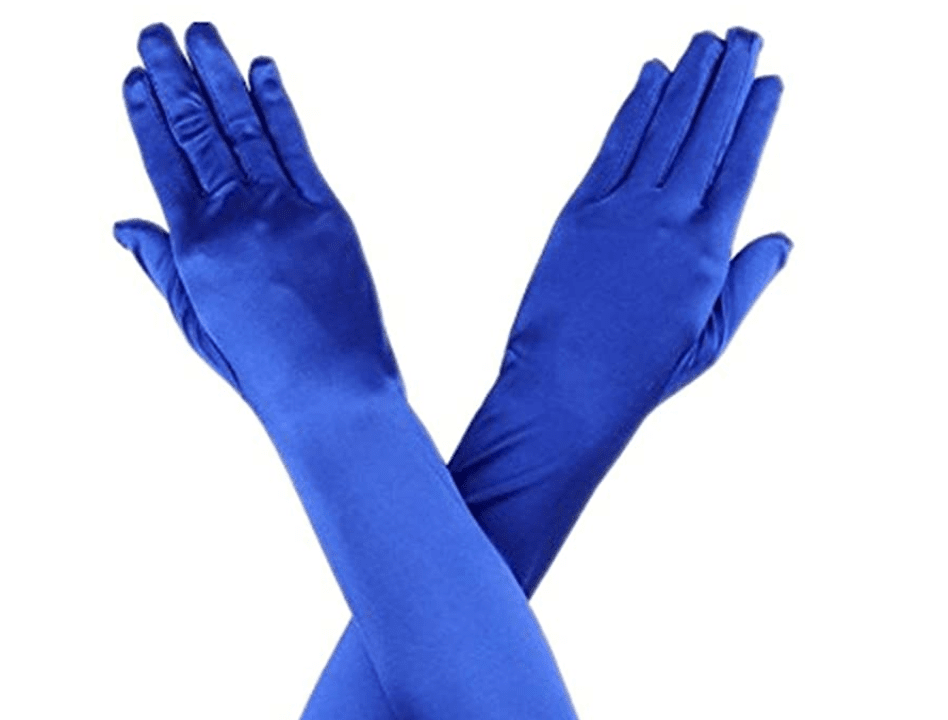 My final idea for affordable gloves for Power Girl is this pair of 22-inch gloves. Made out of 90 percent polyester and 10 percent cotton, these gloves have a satin exterior for a smooth and sleek look.
They're at once great for cosplay and also offer a touch of elegance with simple pull-on wear. One size fits most hands. Buy Here. 
Pros
22 Inch Length

Satin Finish

Breathable Fit
Cons
Hand Wash Only

One Size Fits All 
Red Belt with Gold Buckle
Now here's where nailing Power Girl's outfit gets tricky. If you want the more costumey look, sometimes you're better off with a full-body Power Girl costume for that red belt and gold buckle.
But I want to include some modern interpretations as well. Let your style and personal taste guide you for the best belt accessory– but you need a belt to provide a finished look to cosplay as Power Girl. 
Women Leather Skinny Belts 10 Holes Thin Waist Dress Belt with Pin Buckle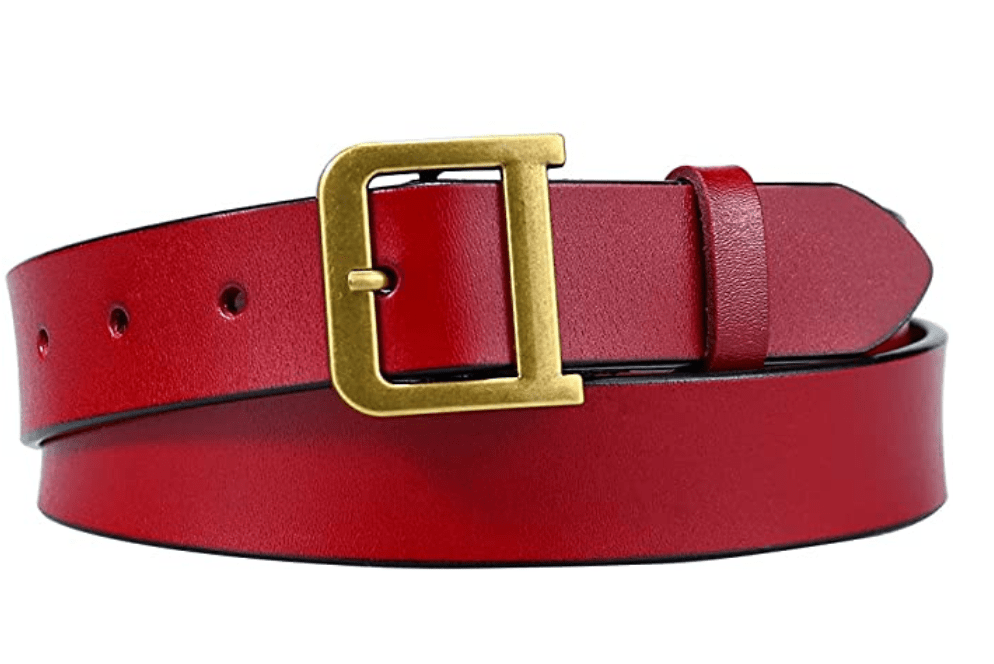 This 100 percent leather belt features a crimson red hue and a gold-tinted pin buckle. The simple style features a thin strap so it won't look bulky with your white bodysuit. You have 10 holes for adjustment and a double ring style.
Belts ship in a packaging box meant for gifting or just keeping your belt safe. It also has excellent customer ratings, all for a fair price. Buy Here. 
Pros
100 Percent Leather

10 Hole Adjustment

Modern Style
Cons
Not Typical Cosplay Style 

May Need to Sew in Loops/ Other Means To Keep in Place
ALAIX 2 Pack Women's Belt Dress Belts for Women Gold Metal Buckle Skinny Stretchy Waist Belt Elastic Waistband 1 inch Wide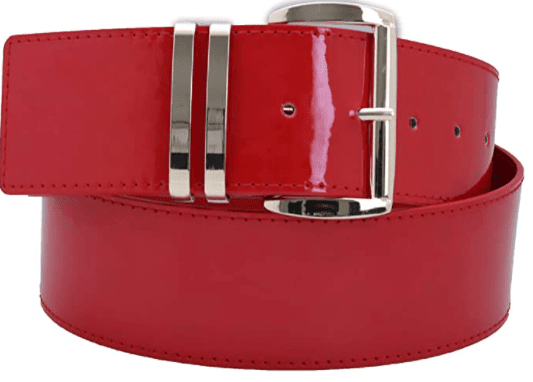 2 for the price of one. These elastic waistband belts are a breeze to wear and a little closer to cosplay (and Power Girl's) personal style. The belts are 1.4 inches wide, made with careful stitching and adjustable, flexible fabric.
The gold buckle interlocks without fuss, and the belt is designed to be used for bodysuits, dresses, pantsuits, and more. The red belt also comes with a black belt. Buy Here. 
Pros
Elastic Waistband

Designed for Bodysuits

Flattering Style
Cons
Limited Sizing

Must Buy 2 Pack 
Black butterfly Wide Elastic Vintage Cinch Retro Metal Interlock Buckle Belt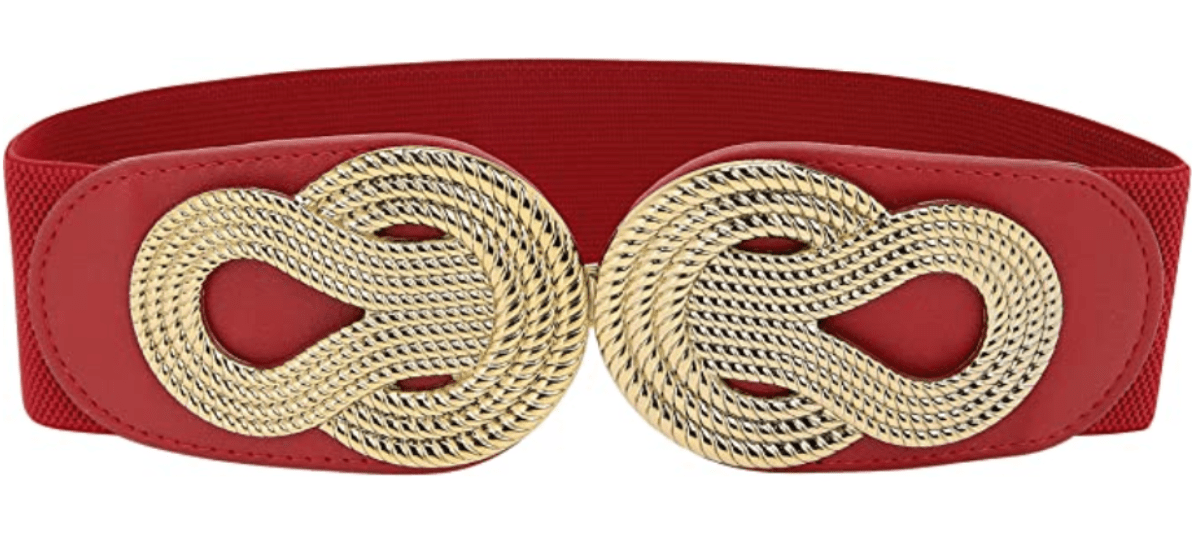 Add a little pizazz to your cosplay costume style with this belt. This elastic waistband has a hook fastening with a nice stretch. The faux leather finish pairs with a metallic buckle and a bit of sparkle for a super-power touch.
It's a unique design that adds your personality to cosplaying as Power Girl if you want to stand out– but still capture the essence of her style. The band is made out of 55 percent polyester and 35 spandex, along with the metallic buckle.
Pros
Elegant Touch

Comfortable Elastic Band

Versatile Outside Cosplay
Cons
Women Skinny Belt for Dresses Retro Stretch Ladies Waist Belt Plus Size Set of 4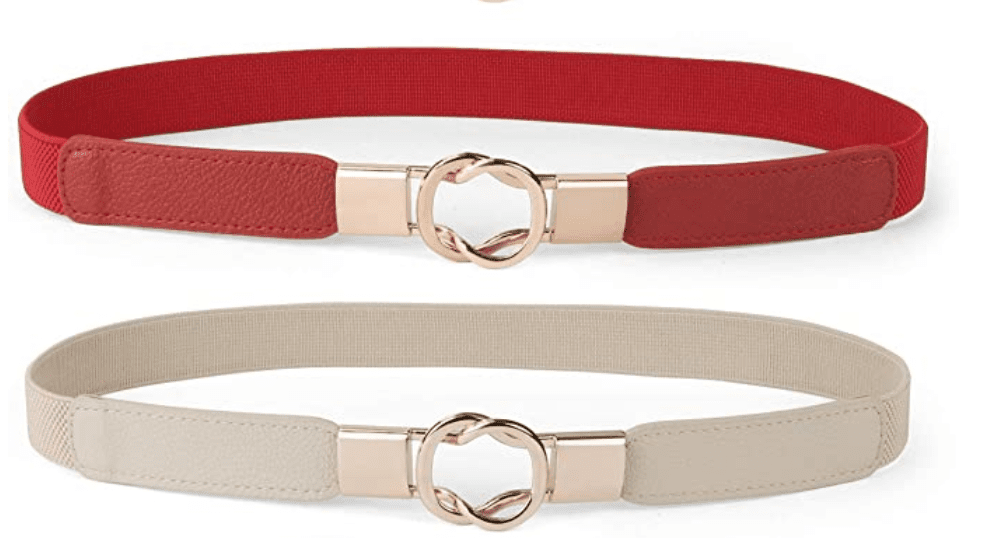 These slim belts are designed for dresses and body or jumpsuits, with a great elastic stretch and a comfortable fit. The interlocking metal buckle adds a gold touch to the red design, keeping it in line with Power Girl's colors.
It's made out of microfiber leather and is popular on Amazon, with around 90 percent of reviews giving it 4 or 5 out of 5 stars. Buy Here. 
Pros
Interlocking Metal Detail

Nice Stretch

Great Price
Cons
Must Buy in Packs of 4

More Subtle/ Further From Power Girl's Style 
Blue Boots/ Boot Tops
You're going to need some great high blue boots if you want to play to Power Girl's strengths. You can either buy a full pair of boots or a boot topper that goes over your regular boots.
These are some of my favorites from Amazon to score that confident Power Girl look. And who knows, maybe these blue boots will guide you to your next cosplay outfit. 
Forum Adult Blue Super Hero Boot Tops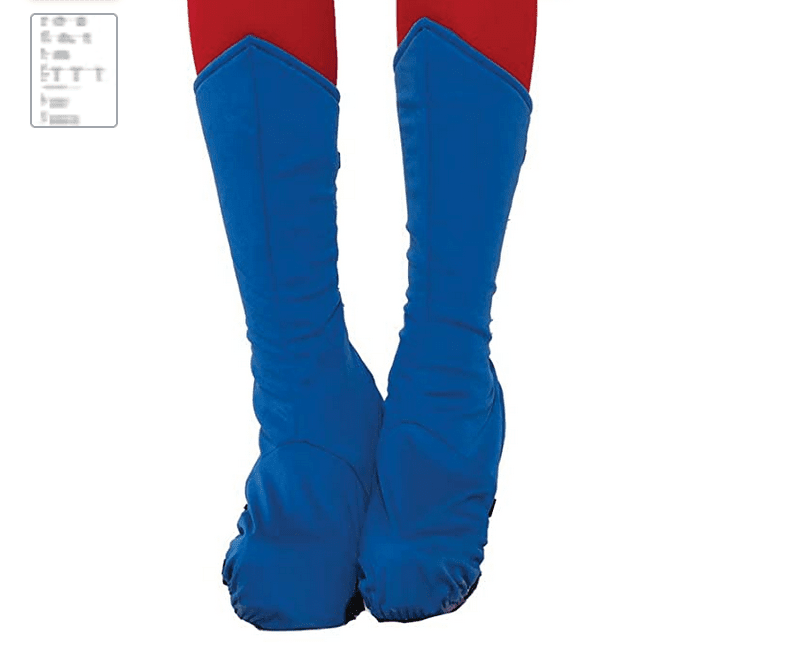 Already have a great pair of boots? These boot tops fit directly over them for an on-the-nose, cartoony look that would make Power Girl proud. The 100 polyester cover is a simple touch and adds that blue, soft cartoon aesthetic without adding weight.
The deep blue makes a great statement if you love the original comics' look. Buy Here. 
Pros
Works With Your Boots

Stretchable Polyester

Cartoony Power Girl Style
Cons
Not Useful Outside of Cosplay

Fit Limiting for Larger Shoe Sizes
Ellie Shoes Women's Go-Go Boot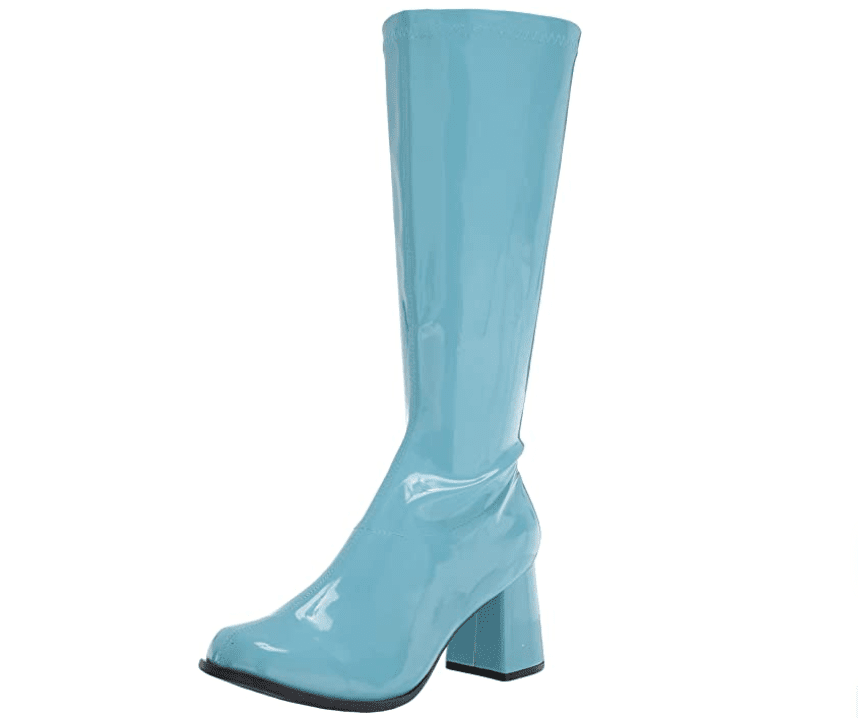 There's something undeniably charming about these go-go boots. While the sky blue hue isn't as traditional for Power Girl, it works when you want to add some flair to your cosplay.
The boots feature a rubber sole, a comfortable 13-inch opening, and a classic stacked heel. The stretch polyurethane may not be fancy, but it's great for wearing out in the weather and is a breeze to care for. Plus, it has a little shine to the finish. Buy Here.
Pros
Iconic Retro Style

Easy Care

Stacked Heel with Rubber Sole
Cons
Different Shade than Power Girl's Boots

Curtain Sizes are Expensive 
TOP Moda Data-1 Women's Shoes Cute & Comfort Round Toe Flat Heel Slouchy Mid Calf Boot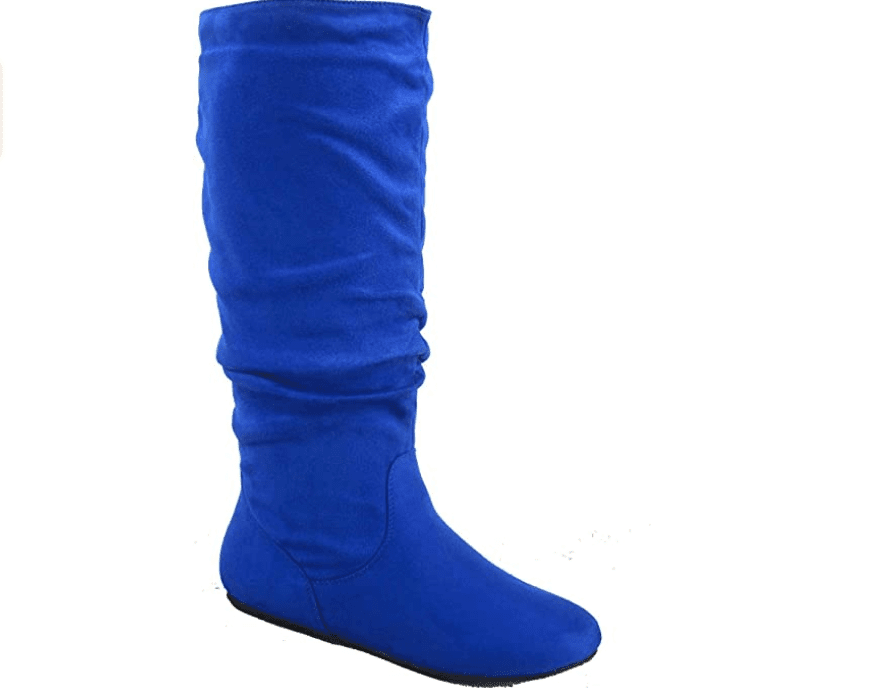 These comfy blue calf boots are great for cosplaying as Power Girl. The bright cobalt blue is immediately a power move- perfect for a hero known for her strength. A rubber sole provides some stability to the slouchy, relaxed style.
You'll also get a little comfort padding for all your adventures as Power Girl. The very low platform works for anyone not used to or able to wear higher-heeled boots. Buy Here. 
Pros
Padding on Insole

Comfortable Low Heel

Cobalt Blue Color
Cons
Many Sizes Sell Out

Runs Small 

Best For Wearing Indoors
Full Body Power Girl Costume
Don't want to mess with piecing together your outfit? You can also buy a full-body suit designed specifically for cosplaying as Power Girl. Of course, you'll still need to buy a wig and any other accessories you want, but this is a good option if you're in a pinch or even if you're just new to cosplay costumes. 
Miccostumes Women's Power Girl Kara Karen Cosplay Costume Bodysuit Leotard with Red Cape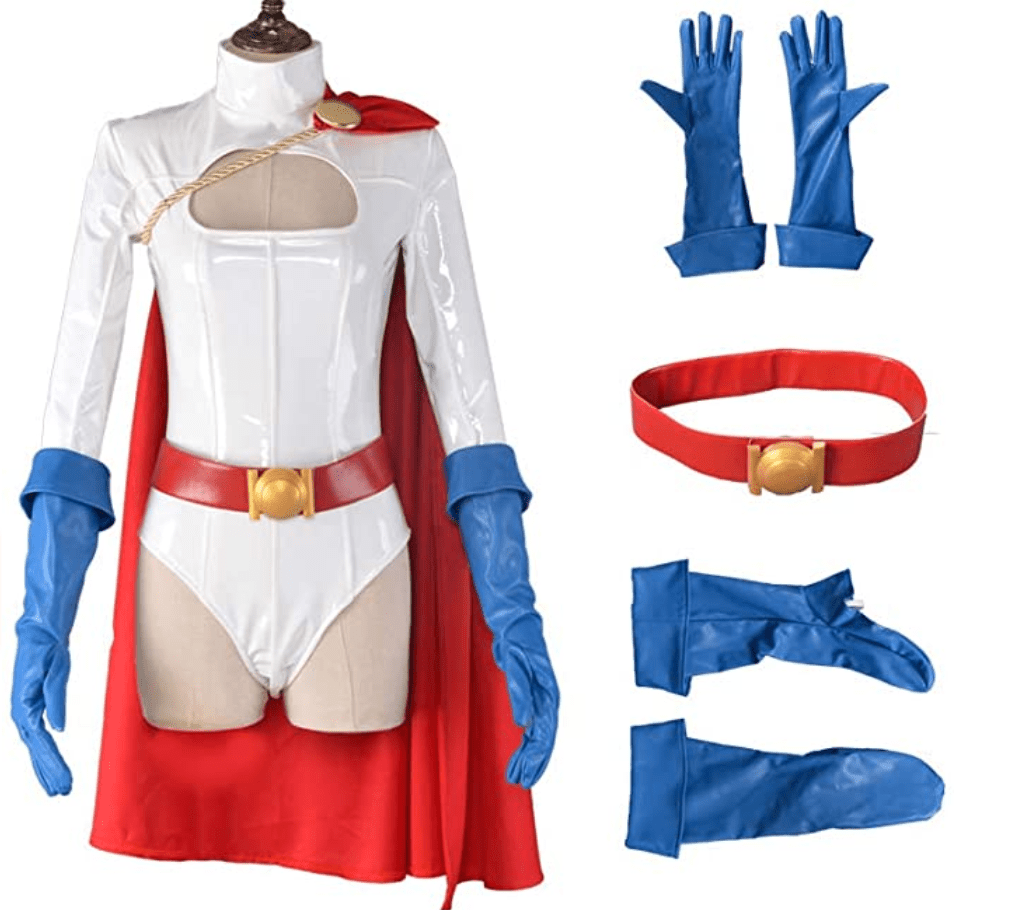 Looking for an on-the-nose cosplay outfit? It doesn't get much better than this Power Girl costume on Amazon. This costume nails the cartoon depiction of Power Girl, complete with a cloak, leotard, belt, gloves, and boot covers– at a pretty great value.
The white leotard bodysuit is meant to be skin tight, with a classic cutout, turtleneck, and long sleeves. The bodysuit is flexible since it's made out of PU leather. All you need is a wig, and you're ready to start cosplaying as Power Girl. Buy Here. 
Pros
Great Depiction of Power Girl

All in One Shopping

Good Value
Cons
Sizing is Tricky

Mixed Reviews
Frequently Asked Questions
Question: Does Kara get pregnant in Supergirl?
Answer: Just as Power Girl had a child, Supergirl also has a child though, in a more happy way. Kara has a romantic fling with Mon-El during an Earth invasion. Their daughter is Rose Rose.
Question: What's Power Girl's jewelry style? 
Answer: Power Girl isn't typically depicted wearing jewelry. The only element of her style that incorporates accessories is her gloves and the metallic chain detail with her red cape. It's tricky to find a red cape that comes with metallic detail, but you can always opt for a simple gold brooch as an accent. 
Question: Why can't Supergirl fly in space?
Answer: It's unclear where this idea came from. In theory, Supergirl doesn't have any obstacles to flying in space. As she is from Krypton, she stores solar energy and should be able to fly in space as her family members can. 
Question: Can Supergirl beat Wonder Woman?
Answer: Something you may not know is that Power Girl's regular universe counterpart has battled Wonder Woman more than once. Unfortunately for Supergirl, she lost the battle to Wonder Woman twice. There's no denying that Super Girl has incredible powers, but Wonder Woman is more strategic and experienced. In this way, I'd argue that Power Girl may be able to defeat Wonder Woman in ways where Supergirl falls short. 
Question: Who is Powergirl vs Supergirl?
Answer: Powergirl and Supergirl are both cousins of Superman, but they exist in a different universe. Power Girl is said to be the more mature and experienced of the two, and exist in the alternate universe. Supergirl is better known by many fans since she exists in the regular universe.
Final Thoughts
Power Girl deserves more attention, and she's a powerful character to cosplay as. She's arguably a stronger hero than Supergirl, with her gift for memorization, experience, and focus. Embrace her confidence and concentration for the best cosplaying experience possible. 
Final Buying Recommendation: Full Body Jumpsuit
Embrace the new Power Girl outfit by ditching the regular bodysuit and tights for a comfy full-body jumpsuit– just replace these with one of my bodysuit picks above. Jumpsuits may be more comfortable, cover more, and are great for cool weather. They're also very much in style right now, so as a bonus, you can get double use out of this and wear it outside of cosplay, too. 
MEALIYA Women Embroidery Zipper High Neck Bodycon Jumpsuit 
Sure, this isn't the exact look of the new Power Girl jumpsuit costume. But it happens to be of the top-rated Amazon jumpsuits and popular, with nearly 1,500 ratings and counting.
The polyester fabric provides a great stretch for a soft and comfortable fit. The bodycon look is very much in theme, but even with full coverage, it's more lightweight than you'd expect.
Wear it for your cosplay, and dress it up for a right out with accessories. They do recommend sizing down, as the suit runs large. Buy Here.