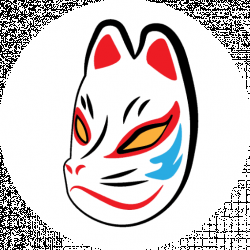 Latest posts by Core Cosplay Team
(see all)
Naruto is one of the most beloved and amazing shows from our childhood, the story of young teenagers who overcome many hardships and challenges to become full-fledged shinobi is something to get excited about, the intricate plots will keep you glued to your seats. Though Naruto is a shonen anime nonetheless, it still has many valuable qualities which make it stand out from the rest.
Naruto is mainly known for its cast of amazing characters which we all have grown attached to, amazing soundtracks which bring out so many emotions and befitting of every situation, the intricate and complex story which continues to evolve, unveiling the injustices and the cruelties of the shinobi world and the incredible animation which only gets better.
It won't be a lie to say that Naruto has taught us many life lessons and we grew up alongside him. I remember watching the show when I was a kid around 8 years old along with Dragon Ball Z and One Piece.
It's no surprise that Naruto is a top choice for cosplayers, the amazing cast of Naruto with their diverse personalities and outfit designs allow cosplayers to experiment with looks and help them choose which character compliments their personality.
What I'll Cover
There are hundreds of cosplayers who love to cosplay as the cast of Naruto and while most of them dress up as the main cast there are also those who cosplay as less popular characters. I'll try to cover as many Naruto cosplay outfits and ideas as possible to help you decide on your favorite Naruto costume.
Here is what I will cover.
Unpredictable Ninja Naruto Uzumaki
Byakugan Princess Hinata Hyuga
The Avenger Sasuke Uchiha
Cherry Blossom Sakura Haruno
Copy Ninja Kakashi Hatake
Drag King Shikamaru Nara
Beautiful Ino Yamanaka
Weapon Master Tenten
Pervy Sage Jiraiya
Strongest Medical Ninja Tsunade
The Sand Kunoichi Temari Nara
Naruto Uzumaki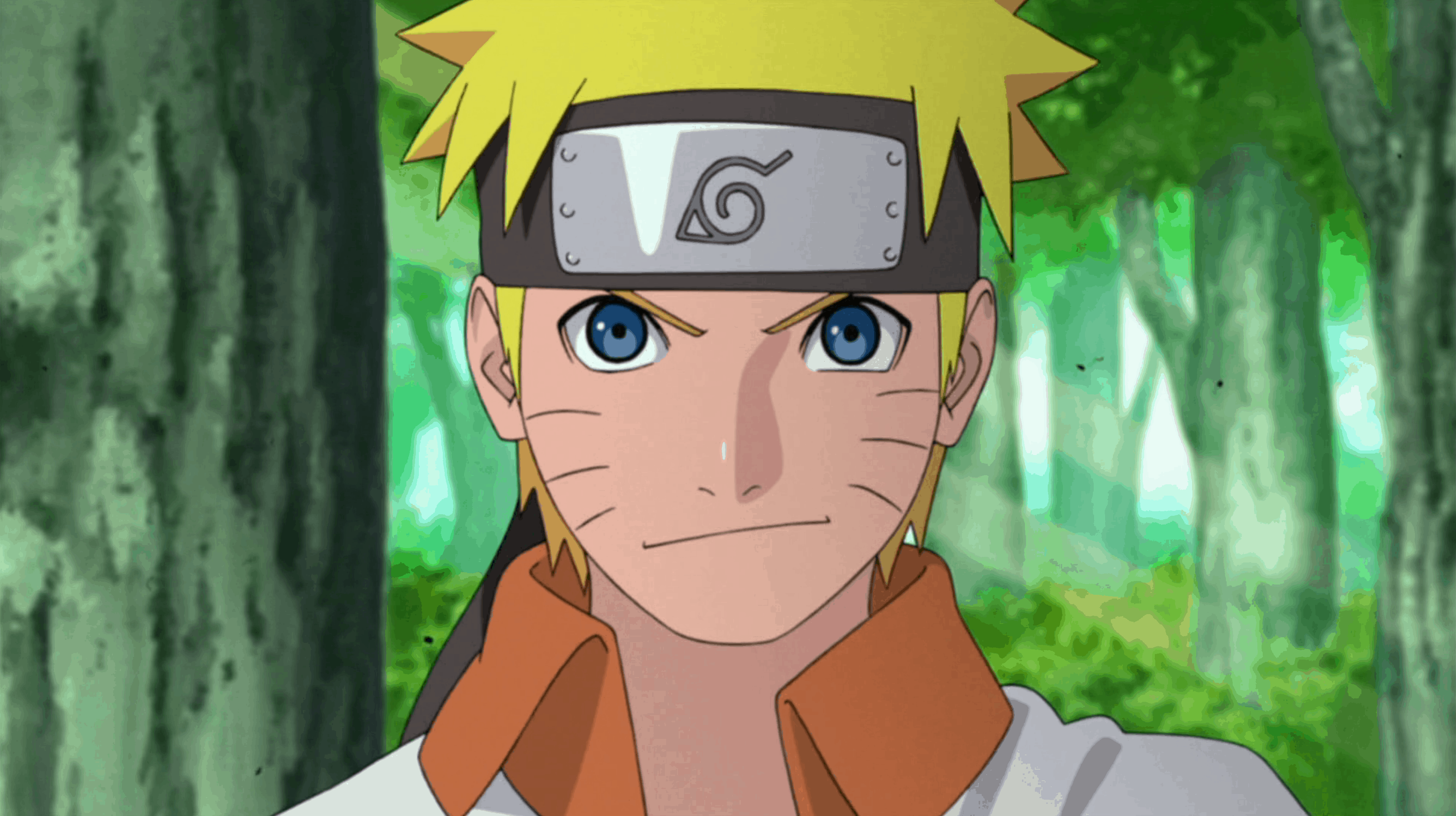 Naruto is the shinobi of Konohagakure village's Uzumaki clan and also the protagonist of the series Naruto. He was a mischievous little kid at the early stages of the show, always causing trouble in the village to get everyone attention, he is the Nine-tails Jinchuriki which is why he was cast aside and shunned by the village, but despite everything, he never stopped chasing after his dream of becoming the Hokage.
Naruto is known to be cheerful and unpredictable which landed him the name of "unpredictable ninja", one of his most redeeming qualities would be that he is able to use his words and persuade the enemy to change their way of thinking. Naruto grew up an orphan and suffered through the hatred of the whole village so he is able to understand his enemies and what the cruel shinobi world has done to them.
What You'll Need
Orange and black jacket
Orange trousers
Hidden leaf headband
Froggy money pouch
Kunai leg bag
Open-toed ninja shoes
Costume

One of the simpler costumes to recreate is Naruto's 2nd outfit which he wore during Naruto Shippuden, the outfit is composed of a half black and half orange jacket with plain orange trousers which Jiraiya Sensei bought for him, open-toed ninja shoes to complete the base of the outfit. A hidden leaf headband, a froggy money bag which we see him use until the very end, and a kunai leg bag on his right leg tied over a white bandage.
Hair
Naruto has yellow-blonde spiky hair which he inherited from his father, you can achieve this by using a hair dye but you might have to use bleach first and let it rest for a few minutes before using the hair color. Alternatively, you can purchase the Naruto hair wig if that is easier for you.
Eyes
Naruto has blue eyes which he inherited from his mother Kushina, so a pair of blue contacts would bring a spark to your cosplay.
Accessories
During his training of becoming a sage, he was often seen wearing a cloak and carrying a huge Ninja Scroll on his back, you can even use a Kunai if that's what you prefer.
Quote
"I'll never go back on My Word. That's my Nindo: my ninja way!!"
Hinata Hyuga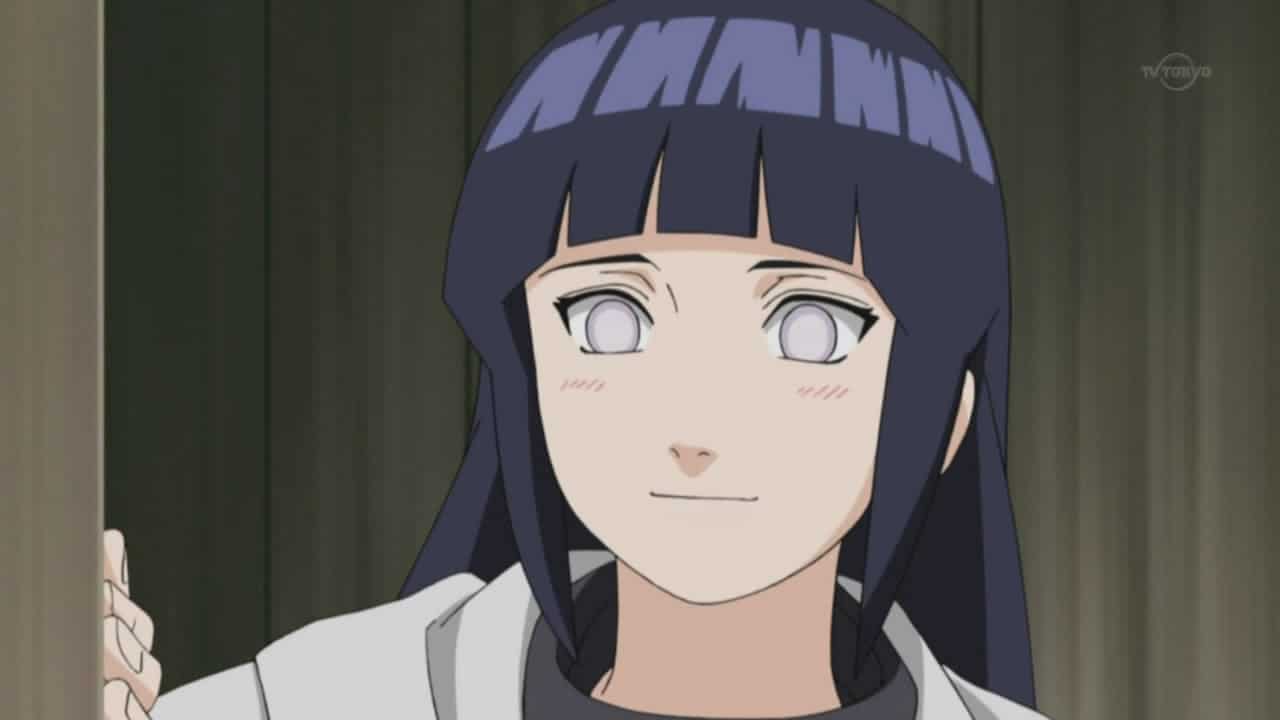 Hinata Hyuga is a kunoichi of Konohagakure village, and to many of us 'the heroine to Naruto series', she was the former heiress of the Hyuga clan but she lost that position because she was deemed unworthy of carrying the responsibilities of leading a clan, instead the position the was given to her younger sister Hanabi who showed great resolve and superior talent, Hinata was later sent to the ninja academy under the care of Kurenai Yuhi.
Ever since Hinata was a child he was under a lot of pressure from his family who expected great things from her as she was supposed to be the heiress to the Hyuga clan and lean them, her timid and sensitive personality prevented her from truly excelling, Hinata is a soft-spoken and polite girl who doesn't like being confronted, she is always thinking about others more than herself, making her unable to speak or act in fear of offending someone.
What You'll Need
Lavender and white-colored jacket
Fishnet top
Navy blue trousers
Hidden leaf headband
Black open sandals
Kunai leg bag
Costume

One of my favorite outfits to see cosplayers in is the Lavender Hinata outfit from Naruto Shippuden, to recreate this costume you need a few things. A fishnet top, worn beneath a lavender and white jacket which wouldn't normally work but looks amazing on Hinata, navy blue trousers above her ankles, and open black sandals to complete the base of the costume. A hidden leaf headband and a kunai leg bag on her right leg.
Hair
Hinata has long dark blue hair in a hime cut throughout the series, during the movie: Naruto The Last, Hinata had black hair so you can go with either color. You can use a blue hair dye to get the dark blue hair, you would also have to cut short your bangs in a hime cut.
You can even purchase a simple long black wig and do the hime cut yourself, or buy a Hinata wig.
Eyes
Hinata has the Byakugan which is a white featureless eye, a distinguished trait of the Hyuga clan, you can purchase white contacts to get similar eyes.
Accessories
The Hyuga clan doesn't use any weapons and relies only on their visual prowess and fists to take down their opponents, though we have seen Hinata training herself with kunai knives so you can use a kunai prop.
Quote
"When I Watch You, I Feel Strong, Like I Can Do AnythingーThat Even I Am Worth Something."
Sasuke Uchiha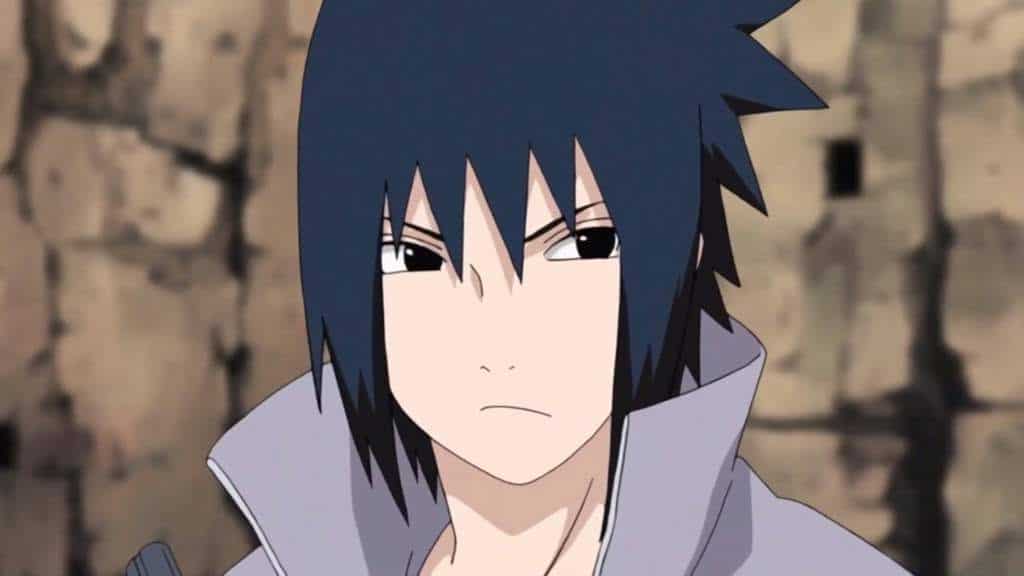 Sasuke Uchiha is the Shinobi of Konohagakure village, the deuteragonist of the Naruto series, and the last surviving member of the Uchiha Clan, he is driven by his goal to avenge his clan who was slain at the hands of his older brother Itachi Uchiha. After joining the ninja Academy he was assigned to Team 7 along with his rival Naruto Uzumaki, he was quite the popular kid in the academy as opposed to Naruto who was considered a troublemaker.
Sasuke was shown to be a happy child, always working hard so he could live up to the Uchiha name, his closest bond was with his older brother Itachi, just mentioning his name can trigger strong emotional reactions from Sasuke, he adored his older brother more than anything in this world, when he was a child he would try to go along his big brother on his missions.
What You'll Need
Grey zipper top
Blue waistcloth
Dark blue pants
Purple rope
Black sandals with long shaft
Costume

A more unique look would be Sasuke's outfits during his time away from the village working for Orochimaru, to create this masterpiece of a look you need a gray Tee with a zipper in the middle, dark blue pants, a waistcloth around his waist held up by using a purple rope and black open-toed shoes with long shafts.
Hair
Sasuke has short black spiky hair with bangs to his eyebrows and hair strands on both sides, you can simply use hair products to make your hair look like Sasuke's, you need to have hair at least the height of your shoulders. Alternatively, you can purchase Sasuke's wig if that is easier for you.
Eyes
Sasuke has dark black eyes just, like many other Uchihas. The Uchiha clan has unique eyes known as the Sharingan which is awakened when one goes through extreme emotional conditions. The Sharingan eyes contact lenses will make your cosplay look incredible.
Accessories
Sasuke is seen using a Katana while serving under lord Orochimaru and even after he was done, Sasuke uses a straight katana with a black sheath.
Quote
"No man chooses evil because he is evil; he only mistakes it for happiness, the good he seeks."
Sakura Haruno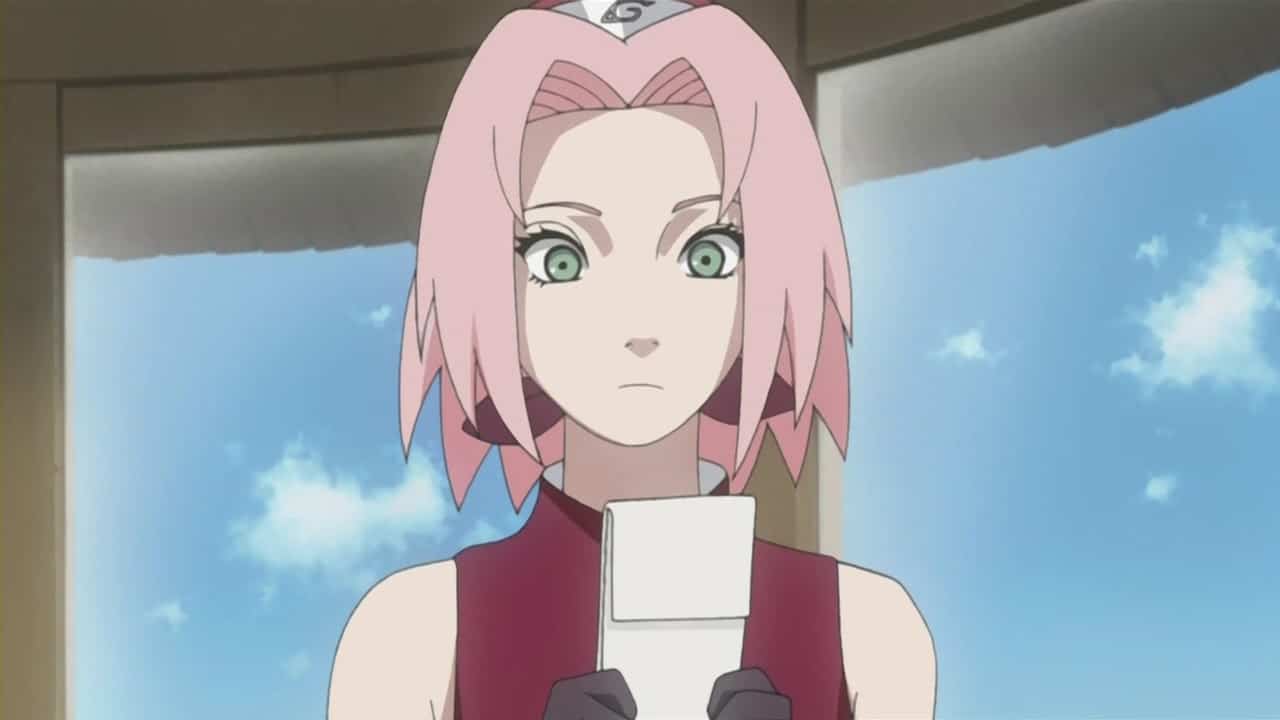 Sakura Haruno is a kunoichi of Konohagakure village and the official female protagonist of the series, she is also a member of team 7 along with Naruto Uzumaki and Sasuke Uchiha. Just like every other girl in the academy she was someone who absolutely adored Sasuke and disregarded Naruto, the entire Naruto fanbase hates Sakura more than anything because she never cared about Naruto after everything he did for her.
Regardless of how she may seem, Sakura is incredibly selfish and only cared about her relationship with Sasuke, she was always boastful pretending to be someone else, she was always trying to take the spotlight, making herself believe that was equal to her teammates. Sakura was recognized as the best medical ninja in the world after training under the legendary Sannin Tsunade.
What You'll Need
Red sleeveless jacket
Light-pink apron skirt
Black gloves
Knee-high boots
Black shorts
Hidden leaf headband
Kunai leg bag
gray elbow protectors
Costume

Sakura wears a red sleeveless jacket with a zipper and underneath a light pink apron-skirt cut in the middle from the lower part, black shorts, black gloves, gray elbow protectors and knee-high open-toed boots to finish the base of the outfit. A hidden leaf headband and a kunai leg bad tied around her right leg.
Hair
Initially, Sakura had long pink hair because she heard a rumor that Sasuke liked girls with long hair, but later she realized that her long hair was only a hindrance to her in battle so she decided to keep them short, her real hair color is cherry blossom pink and you achieve similar results by bleaching your hair and then using light pink hair color.
You can even purchase a short hair light pink wig if that is easier for you.
Eyes
Sakura has large green eyes so a pair of green contact lenses would go a long way to make your cosplay look amazing.
Accessories
Sakura isn't seen using any weapons and only relies on her strength and medical ninjutsu just like lady Tsunade.
Quote
"All I've been doing is watching you two from behind… Now, get a good look at MY back!"
Kakashi Hatake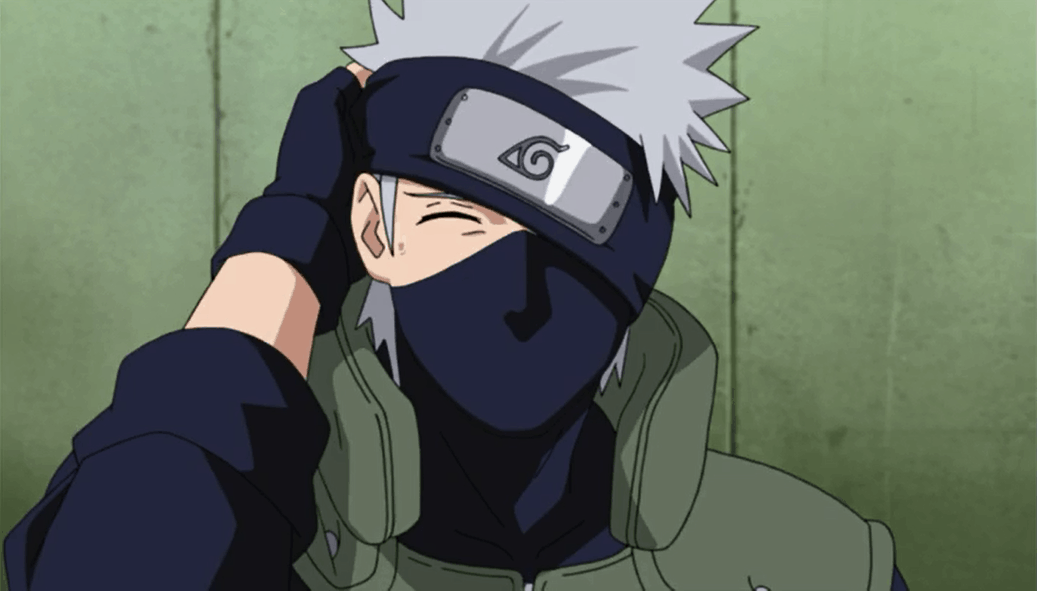 Kakashi Hatake or more commonly known as the Copy Ninja of the Leaf is a shinobi of Konohagakure village and the instructor of Team 7, he is considered to be one of the most talented shinobi of the Leaf village. Despite being shown as someone who is not responsible, he always emphasizes the importance of friendship to his students, and always failing the ones who don't take it seriously.
Kakashi was raised by his father 'Sakumo also known as White Fang, Sakumo was considered to be one of the strongest ninjas of that era, Kakashi respected his father and wanted to be just like him. On one of his mission, Sakumo prioritized saving his friend instead of completing the mission which resulted in failure. He was belittled and disgraced by other shinobis and the teammates he saved for abandoning his duties, not being able to handle all this hatred, he committed suicide.
After seeing what his father went through, Kakashi decided to follow the Ninja Rule and always prioritize his missions more than anything else until someone came along and changed his life 'Obito Uchiha.
What You'll Need
Green flak jacket
Dark blue pants
Dark blue long sleeve shirt
Blue face mask
Open-toed ninja shoes
Fingerless gloves
Kunai leg bag
Costume

Kakashi wore the simple military uniform throughout the series, like many other Jonin in the village, he was always on missions so they kept their uniform on all the time. The Konoha military uniform consists of a dark blue shirt and pants with a green flak jacket to keep their ninja equipment, a blue face mask Kakashi uses to hide his face along with the hidden leaf headband to cover his left eye, fingerless gloves with metal-plated bars on the back, open-toed ninja shoes and a kunai leg bag on his right leg.
Hair
Kakashi has silver hair often leaning to his left side, you can use a silver hair dye and hair gel to get similar hair like Kakashi. Alternatively, you can purchase Kakashi's wig if that's easier for you.
Eyes
Kakashi has black eyes during his early age as a genin ninja until he was given a Sharingan from his friend Obito who supposedly died being crushed under a giant rock. He hides his left eye, the Sharingan.
Quote
"I'm Hatake Kakashi. Things I like and things I hate? I don't feel like telling you that… my dreams for the future? Never really thought about that. as for my hobbies… I have lots of hobbies."
Shikamaru Nara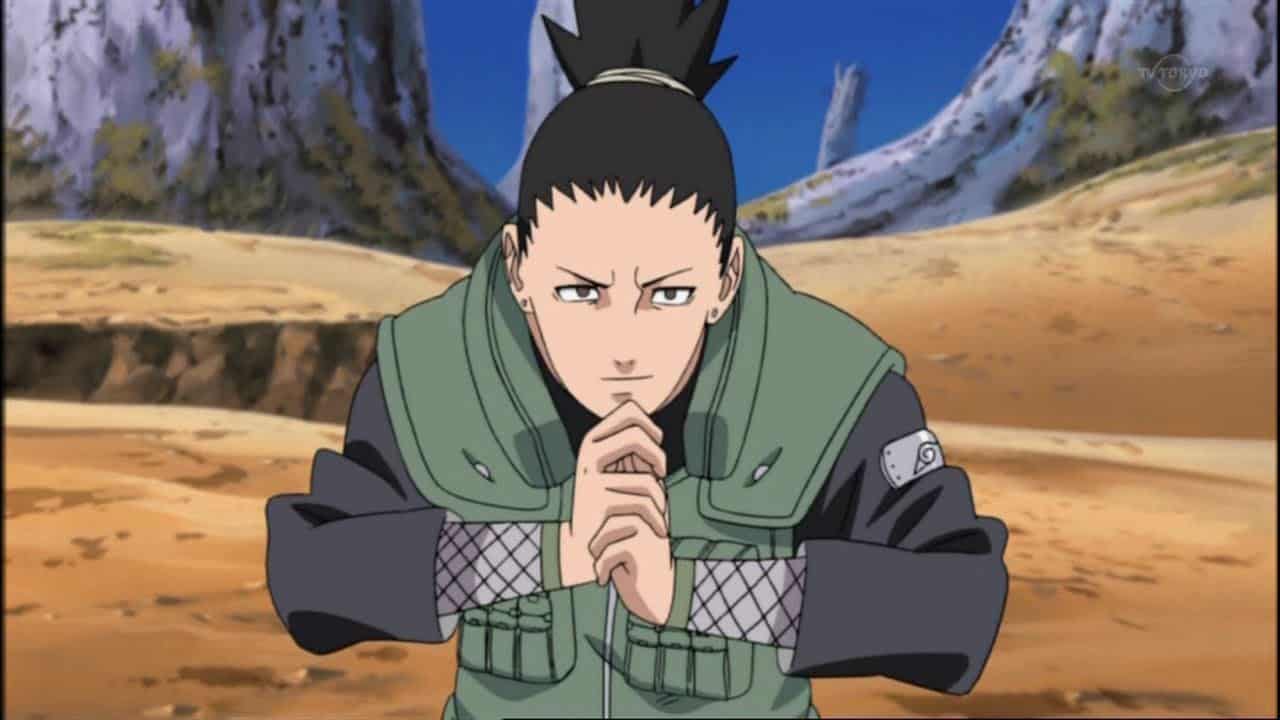 'What a drag…' is the catchphrase of our beloved Shikamaru Nara, He is a shinobi of Konohagakure village and a member of the Nara Clan who specializes in capture techniques, he was among the only few people in the village who never saw Naruto as a monster or someone to be scared and treated him as a friend. To be honest, he is a rare individual, while most people in the world are fueled by emotions and their instincts, Shikamaru always relies on his battle wits and tactics to win his battles.
He is a member of Team 10 also known as Team Asuma, along with Ino Yamanaka and Choji Akimichi recreating the infamous Ino–Shika–Chō formation which was originally created by their parents.
What You'll Need
Green flak jacket
Black pants
Black long sleeve shirt
Open-toed ninja shoes
Kunai leg bag
Hidden leaf headband
Costume

Unlike many other Chunin who had personalized different outfits, our Shikamaru wore the regular Konoha military form because he isn't about being flashy, he's all about being efficient (and lazy).
But unlike all other Jonin, Shikamaru wore black instead of dark blue, his outfit consists of black pants and full sleeve shirt, a green flak jacket to keep their ninja inventory, open-toed shoes, a kunai leg bag, and a hidden leaf headband warped around his left arm.
Hair
Shikamaru has black spiky hair which he ties in a tight ponytail which wouldn't normally look good on someone but somehow Shikamaru rocks his hairstyle, you can achieve this easily if you have spiky rough hairs and you can tie them into a ponytail.
You can even purchase a Shikamaru wig if that's easier for you.
Eyes
Shikamaru has brown eyes with small pupils, his eyes always give the impression that he is either tired or bored. So, get yourself a pair of brown contacts to look more like Shikamaru
Accessories
Shikamaru is a kunai knife expert something which we saw during his fight against Hidan (servant of lord Jashin), he is often seen with multiple kunai in his hands.
Quote
"Laziness is the mother of all bad habits, but ultimately she is a mother and we should respect her."
Ino Yamanaka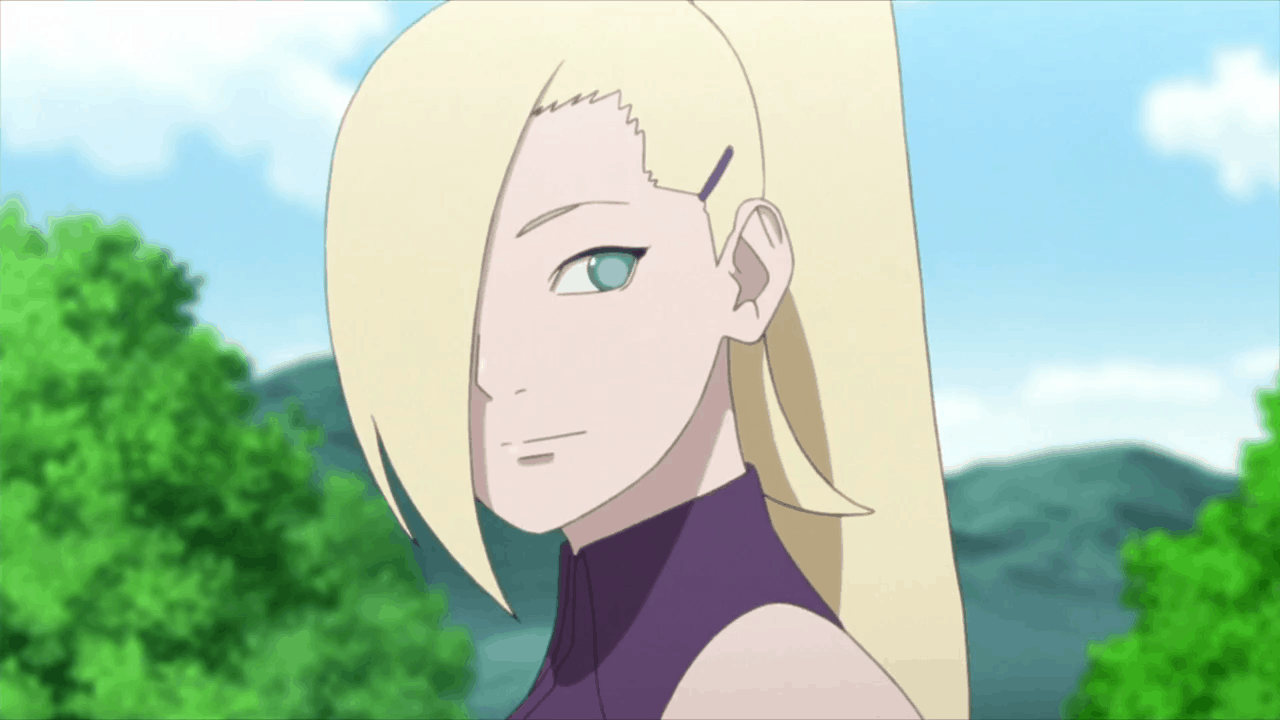 Ino Yamanaka is a kunoichi of Konohagakure village and the member of Team 10 along with Shikamaru Nara and Choji Akimichi known as their generation's Ino–Shika–Chō trio. Ino is a childhood friend of Sakura and just like every other girl in the ninja academy, she was in love with Sasuke Uchiha. Earlier in the series, she was shown to be incredibly rude and boastful, she would make fun of Sakura because of her big forehead.
Ino is shown to be quite incredible when it comes to his ninjutsu, she can sense chakra around her and share that information with her allies, her mind-reading techniques allow her to share information on a broad scale network like a frequency being transmitted to each person.
What You'll Need
Sleeveless purple crop top
Purple skirt
Mesh elbow and knee armor
Mesh shorts
Open-toed shoes
Costume

Ino's current outfit is quite an upgrade over her previous ones and revealing too, to recreate her cosplay costume you need the following items: a purple buttoned-up sleeveless crop stretching inwards toward her neck, a purple wrapped skirt buttoned up from the front wore on top of a mesh pattern shorts, mesh pattern elbows and knees pads and open-toed ninja shoes.
She let go of her hidden leaf headband in this costume.
Hair
Ino has long platinum blonde hair that she ties in a ponytail that reaches down to her waist bangs that cover most of her face from the right side and a red hair clip on the left side that she uses to keep her bangs from her face.
You can bleach your hair before applying the platinum blonde hair color to get her hair color right or purchases a long platinum blonde hair wig and do the hairstyle yourself.
Eyes
She has gleaming blue eyes so get yourself a pair of blue contacts to shine bright among other cosplayers.
Poses
The mind control Jutsu is the specialty of the Yamanaka clan and they weave a unique hand sign to perform it, It is similar to creating a heart by joining your thumbs away from your other fingers, leaving space in the middle.
Quote
"It's Not A Matter Of Can Or Can't, I'm Doing It!"
Tenten
In my opinion, one of the most underrated characters is Tenten, she is a Kunoichi of Konohagakure village and a member of Team Guy, she initially wanted to be a medical like the legendary Sannin Tsunade but she soon realized that she didn't have the chakra control to be a medical ninja so she changed her goal to becoming a Fuinjutsu Ninja (A sealing Jutsu which encumber both, objects and living beings)
Tenten was always depicted as someone reliable, caring and observant, her dream was to become a strong Kunoichi like Lady Tsunade to prove that girls can be just as powerful as boys when it comes to Taijutsu, Tenten is very dependant and can handle her own in any battle, she is also incredibly caring toward her friends.
What You'll Need
High collar white blouse
Maroon Hakama pants
Black fingerless gloves
Hidden leaf headband
Black high heel sandals
Costume

In every outfit that Tenten has worn, we can always see some traces of the Chinese culture, as a genin she wore a Chinese style Qipao top which she later upgraded to a little modern style, to recreate Tenten's current outfit you need a white high collar blouse with a maroon outline and maroon Hakama style pants for the base of the outfit.
She also wears fingerless gloves, a hidden leaf headband, and high heel black sandals.
Hair
Tenten has black hair which she wears in a Chinese style two Chinese style buns, you can easily achieve this by using black hair dye and doing the hairstyle yourself, It can work on both short and long hair.
Eyes
Tenten has dark gray eyes which later changed to a slightly brown color so you can choose either one of these colors for contacts.
Accessories
Tenten is a Fuinjutsu Ninja so you can overboard with the ninja equipment to showcase with your cosplay, be it kunai knives, shurikens, or even ninja scrolls. She's got it all.
Quote
"I want to be a great and powerful ninja! To walk in the footsteps of the legendary kunoichi, Tsunade!"
Temari Nara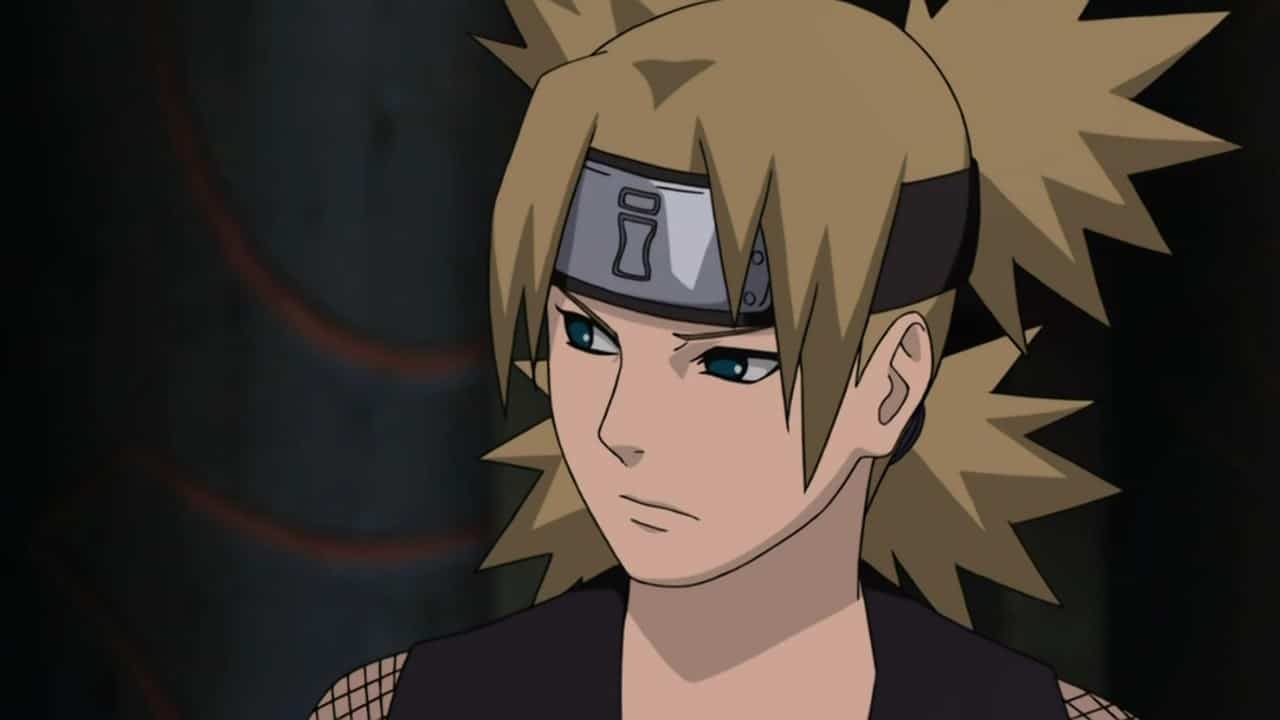 Temari is a former Kunoichi of the Sunagakure village from the Kazekage Clan and elder sister of Gaara (Fifth Kazekage) and Kankuro. However, after getting married to Shikamaru she became part of the Nara Clan and migrated to Kohogakure's leaf village, her most rememberable act is that she was among the first few shinobis who went against Madara Uchiha and lived to see another day, during the Infinite Tsukuyomi we can see that Temari's dream is that her brothers always rely on her for everything.
Unlike many other girls, Temari is a blunt and stoic individual who isn't afraid to speak her mind which is because she is an older sister who has always tried to take care of her young siblings, she would always protect Gaara from the other children and people of the village.
What You'll Need
Black kimono
A red sash
Black fingerless gloves
Hidden sand headband
Black sandals
Costume

Temari's black kimono is one of my favorites because of how simple the design is and how amazing Temari looks in black, to recreate this you need a simple black kimono with slits on the right side, a red sash tied around her waist, black open sandals similar to Hinata's for the base of the costume, next you need black fingerless gloves and black sandals.
Hair
Temari has sandy blonde hair which she ties in four pigtails and hair strands on both sides down to her eyes, you can use a sandy blonde wig for the hair color and the rest is the hairstyle, you can go to a hair salon for it, or have an expert do it for you. Alternatively, you can even purchase Temari's wig if that's easier for you.
Eyes
Temari has gleaming teal eyes so get yourself a pair of teal or turquoise contacts that would make your Temari cosplay look even more amazing.
Accessories
Temari always carries around a huge Japanese-style paper fan to compliment her wind nature-type Jutsu.
Quote
"Sacrifice is an inevitable part of missions… Didn't you receive emotion training?"
Jiraiya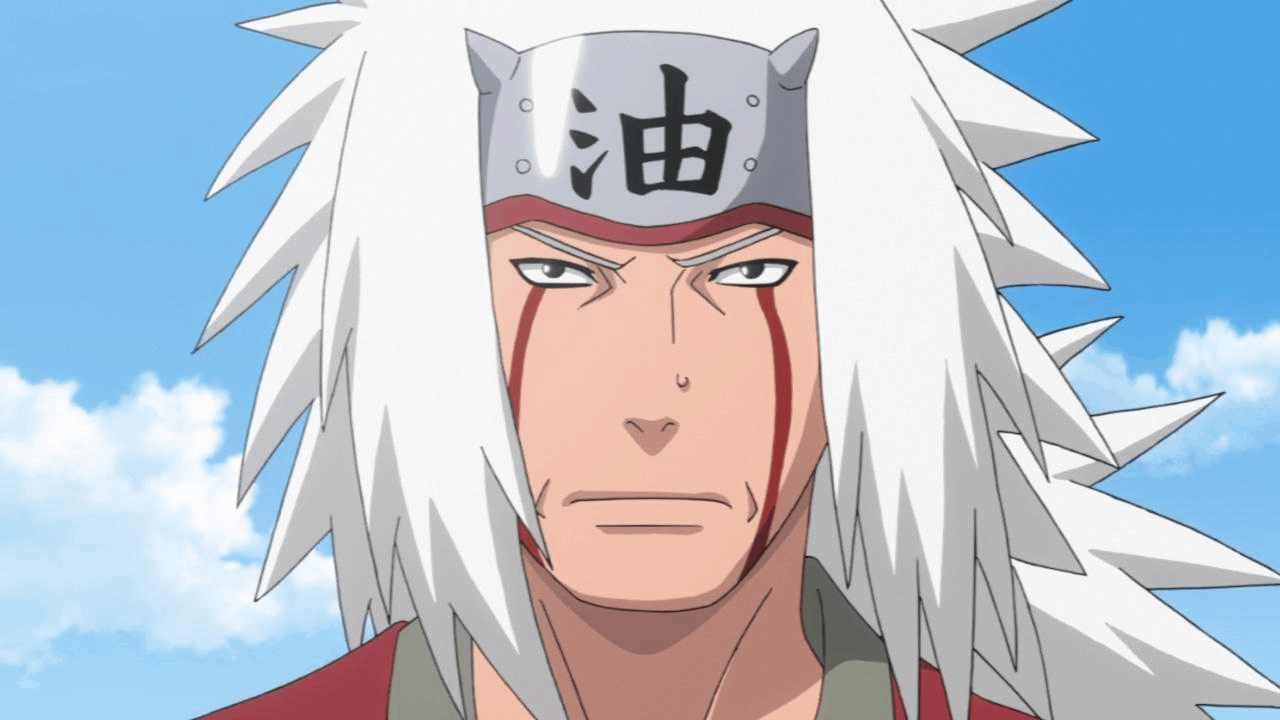 Known as one of the great legendary Sannin, Jiraiya was known as the Toad Sage or a perverted hermit, Jiraiya visited the whole world in search of knowledge that would help him and his friends and wrote many novels including one of the most popular books of the era 'Makeout Tactics' which we know Kakashi is a huge fan of, we have seen him obsess over that book so many times. He would later pass on that knowledge to his godson Naruto Uzumaki.
Long ago one of the great toads told a prophecy that one of Jiraiya's students will save the entire world and bring out peace and justice, ever since then Jiraiya has been quite serious about passing his knowledge onto his many disciples such as the Ame Orphans who Jiraiya met in the hidden rain village and train them to be fine Shinobis.
What You'll Need
Maroon vest
Crocodile green short kimono
Crocodile green pants
Black belt
Full body mesh armor
Handguards
Toad sage headband
Traditional Japanese sandals
Costume

Jiraiya's outfit is one of the most iconic costumes of all time and something we fans will always remember, to recreate something similar you need a full-body mesh armor and crocodile green kimono and pants wore on top of it, a maroon vest with two holden circles on both sides around his shoulder, a black belt to hold it all together, simple handguards on the back of his hand and maroon Japanese traditional sandals for the base of the costume.
As a toad sage, Jiraiya wore the mount Myobokuzan symbol for Oil 油あぶら, to show his affiliation with them.
Hair
Jiraiya has long spiky hair which he ties back in a ponytail down to his legs and two hair strands on the sides of his face like a frame, you can simply use a hair dye to achieve similar results and use some hair product to make your hair stick out or just leave it hanging, I've seen cosplayers leaving his hairs down and it honestly looks quite good.
The easiest way to get his hairstyle is to purchase Jiraiya's wig.
Eyes and Makeup
Jiraiya had normal black eyes though he had really small pupils, something unique about his eyes was the red lines under his eyes which extended lower down his face as he got older.
Accessories
Jiraiya carried around a huge scroll when he was traveling with Naruto, It was said to be the key to the "Eight Trigrams Seal" which held the Nine-Tails Inside Naruto.
Quote
"Let me explain something to you, there is only one thing that matters if you are a shinobi, and it isn't the number of Jutsu you possess. All you do need is the guts to never give up."
Tsunade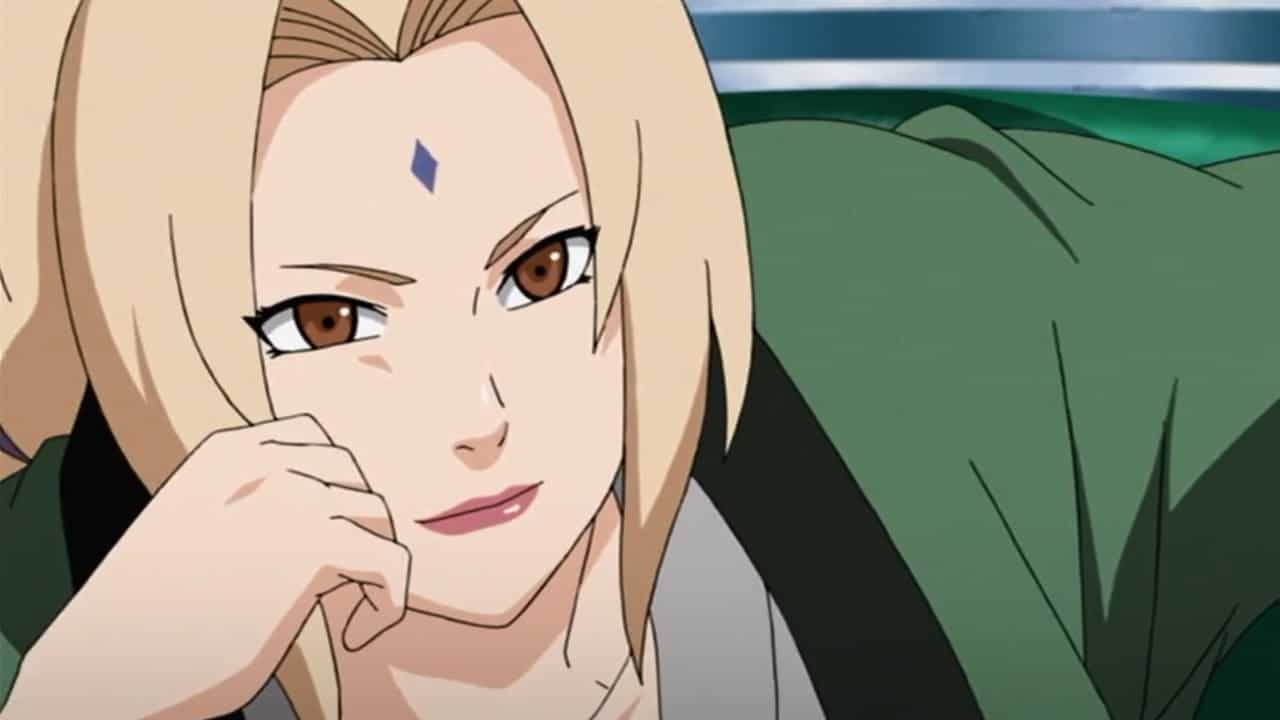 The fifth Hokage of the hidden leaf village, Tsunade is one of the three legendary Sannin chosen by Hanzo, she is a descendant of the great Senju clan and Uzumaki clan and is also known as the strongest medical ninja in the entire world, she also has a different title known as "the legendary sucker" because she is known for losing every bet she ever makes in her gambling journeys.
She chose this lifestyle after experiencing the loss of her loved ones, she mentioned that she has developed a fear of blood which renders her useless as a medical ninja. she eventually did overcome her fear of blood when Naruto saves her from Kabuto by defeating him with a Rasengan but he is critically injured in the process, Tsunade then saves Naruto by healing him, she gets afraid that he might die just like Dan.
What You'll Need
A gray sleeveless blouse
Green haori
Blue-ish gray obi
Blue-is gray pants
Black sandals
Costume

Did you know that Tsunade is considered the most beautiful kunoichi in the world? Her simple outfit is really easy to recreate, all you need is a gray sleeveless blouse with vertical black lines which is held close with a blue-ish gray obi that matches the color of her pants, a green haori with the world spelled "gamble" inside a red circle and your average black sandals.
Hair
Tsunade has straight blonde hair that separates above her forehead forming two bangs that frame her face and rest she ties in two loose ponytails, you can use bleach if you have naturally black hair before applying the blonde hair color.
You can easily achieve her hairstyle with a simple blonde wig and then doing the adjustments yourself.
Eyes
She has gleaming brown/hazel eyes so a pair of simple brown or hazel color contacts will make your cosplay look even more amazing.
Quote
"I will die before I let you touch him!"
Frequently Asked Questions
Question: Who is Naruto in love with?
Answer: The one and only Byakugan Princes, Hinata Hyuga did always admired Naruto and always cheered him on, looked up to him for inspiration, and wanted to be there to help him whenever he was down, though her shy nature stopped her so many times for entering his life.
Question: Who did Tenten marry?
Answer: No-one Tenten is still not married in Boruto she is an instructor at the academy and she is single, there are many theories that Tenten is married to Rock Lee but that just isn't true, Rock Lee married a girl named Azami
Question: What age did Naruto marry?
Answer: Naruto got married to Hinata 3 years after the fourth great ninja war ended, the official age of Naruto during his wedding was 20.
My Conclusion to Naruto Cosplay Outfits and Ideas
There are so many amazing cosplay costumes, and characters with their individual personalities and characteristics to choose which is the best for you, my advice would be to go after the character which you really like so you can enjoy doing your cosplay.
The best thing would be to get down the mannerism of your favorite character such as their hand gestures, speaking style, their tones, or how their hold their weapons, and be creative with the poses characters have unique facial expressions which make them stand out.