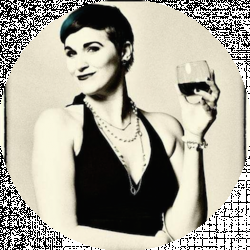 Latest posts by Jessie Dax-Setkus
(see all)
Unless you have been living under a rock, you are at least aware of Netflix's series The Witcher starring Henry Cavill. This widely watched series is based on a book by the same name and is a medieval-inspired show about Geralt of Rivia's quest to protect Princess Ciri while encountering and slaughtering various monsters and beasts. 
Although Geralt's background is pretty unknown at this point, we do know that he did not have control over becoming a Witcher and that he does not completely know if he would have taken on the task had he had the choice. 
Geralt is somewhat cold but shows the people he values compassion in his way. To Princess Ciri and Yennefer of Vengerberg, he mentions that both are very important to him. Although Yennefer and Geralt are star-crossed lovers of some sort; they never seem to get the timing right with their love, and even somewhat lame each other for mishaps in their respected quests. 
Related: Complete Yennefer Cosplaying Guide
As for Princess Ciri, he has been told and claims she is his "destiny." He searches for her the entire first season until he encounters her when she runs into his arms. He puts his life on the line keeping her safe because of her powers that she can't 100 percent control yet, and even exorcizes Voleth Meir (a demon that feeds on pain) from her.
The Witcher received popularity when the show premiered on Netflix in 2019. It took roughly two years to premiere the second season, and it has been confirmed that Netflix has re-upped for a highly anticipated third season. There is also a prequel, The Witcher: Blood Origin said to be released in 2022.
Geralt of Rivia is the main character of the show, and as such is the character people most want to cosplay. If you plan to cosplay him in any upcoming events, want to learn how to portray his personality, or just want to gain some knowledge on his background, we have you covered below in our comprehensive Witcher Cosplay Ideas Guide.
Geralt of Rivia's Background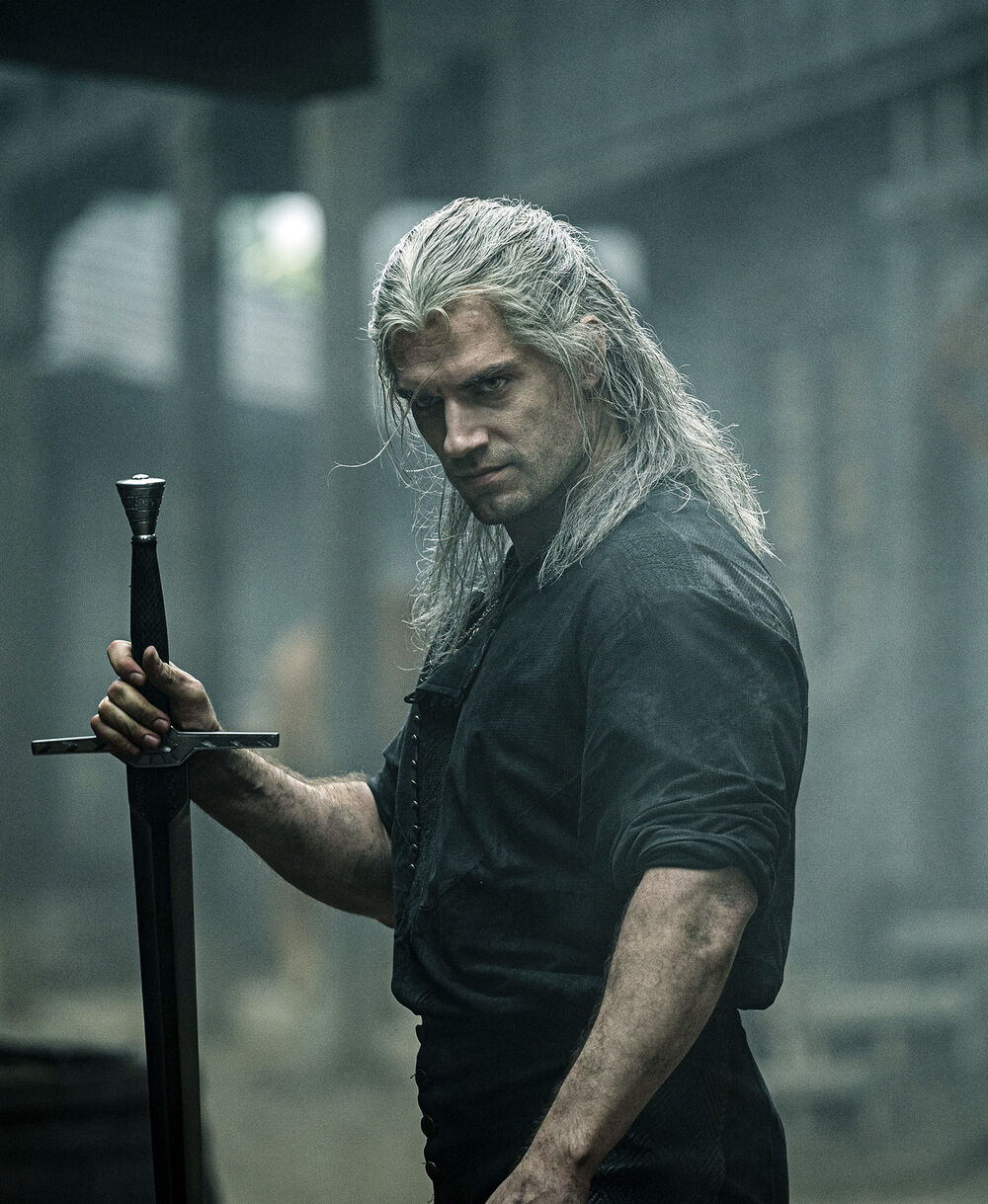 Not much is known about his early background besides he was born as the son of the sorceress Visenna and (presumably) the warrior Korin. After his birth, his mother left him with the School of the Wolf at the stronghold of Kaer Morhen. Geralt of Rivia began his training to become a Witcher there. 
Geralt was trained by his mentor, Vesemir, who then took on a father-figure role in Geralt's life. Geralt was tested many times to become the Witcher he became. One test included being tied up and blindfolded in the woods. The test was that he must return to the keep by morning or he would fail. The elf, Aideen, helped him out of the binds enabling him to complete the training. 
Related read: Best Elf Cosplay Ideas
Due to his successful training, Geralt was selected for additional mutation experiments. He not only survived these experiments, but he gained his stark white hair and piercing yellow eyes because of it. When he first became a Witcher, Geralt was initially enthusiastic about the job and had faith in protecting the innocent against a world full of monsters. Over time, Geralt became more jaded towards the world as he saw how terrible mankind could be. He became renowned for all the beasts he slayed.
In 1249, Geralt and Dandelion came across a jar containing a djinn. Upon releasing the djinn, Dandelion was injured, so Geralt sought out help for his comrade. Reluctantly, he was sent to Yennefer of Vengerberg for assistance.
However, Yennefer had her plans with the djinn. Geralt was warned that Yennefer only helped others if something was in it for her, and in this case, Yennefer wanted the djinn to give her back her fertility after it was taken from her when she underwent a procedure to cure her twisted spine among other physical disabilities. The procedure made her beautiful but took her fertility, which she has always regretted. This is a whole other story in itself.
From that point on, Geralt was always infatuated with Yennefer, but the two could never really get the timing right with their love, making them star-crossed lovers of sorts; there is much more the book goes into with their love, but the show has not gone there yet.
Geralt eventually becomes frenemies with Yennefer and the two protect Princess Ciri, who has powerful abilities she is not yet able to completely control. That is where the show ends, but the highly anticipated third season should dig into this more.
Personality Traits
Geralt of Rivia has a crude, pragmatic, and cynical personality. Life has been somewhat cruel and unrelenting to Geralt, and from that, he has formed his personality, which has left him with exuberant amounts of self-doubt and uncertainty. 
He does not show much affection or kindness to most people, except very few like Princess Ciri. To her, he shows an unrelenting drive to protect her. 
Geralt is a very powerful deciding force in quite a few conflicts, but he does not like having this power at all. He has seen the worst in humanity and does not like aiding many people.
He also struggles to retain his humanity, and the world seems pretty set on stripping this away from him as many see him as a monster himself. 
Powers and Abilities
During the Trial of the Grasses, Geralt survived numerous mutations. During this time he gained superhuman physical and mental abilities including increased reflexes, speed, strength, and hearing. He is also a master swordsman, so he's fighting abilities are hard to rival. It is said that Geralt can kill a bear with only one punch. 
All Witchers drink a potion that gives them stark black eyes as well as black veins that run throughout their face as well as a pale complexion. The reason for this is for better night vision since Witchers do most of their work in the dark.
Geralt (and other Witchers) are not immortal, but age very, very slowly. It is not clear the lifespan of a Witcher, but they can live for much longer than a human.
Weapons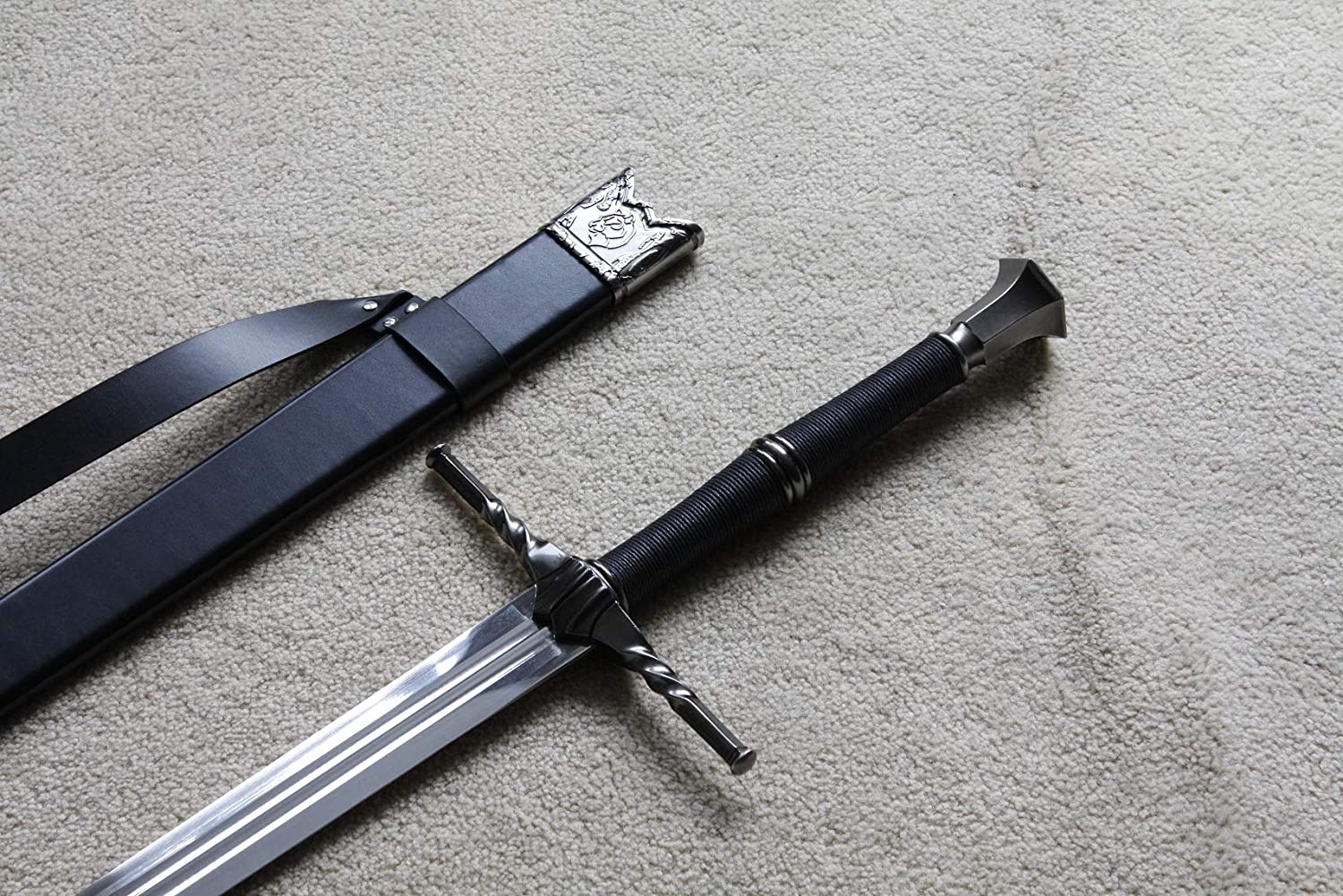 Besides his powers (which are pretty darn strong on their own), Geralt carries two swords as he is a master swordsman. He has a steel sword and a silver sword. In the show, however, he only has one sword, which is a longsword. His silver sword is known as Zireael.
Quotes
Although Geralt is not known for being a man of many words, he does have some awesome quotes he is known for and should be used in cosplay to nail down his personality. Here are a few of his catchy quotes:
"I run into dilemmas all the time. Situations where it's hard to judge, hard to know what's right, make a decision. This is not one of them. You disgust me. And deserve to die."
"There's nothing behind me. I'm a Witcher, I'd have heard it. Just like I can hear your heart. Which is pounding . . . Like a liar's."
"Why men throw their lives away attacking an armed Witcher… I'll never know. Something about my face?"
"You don't need mutations to strip men of their humanity. I've seen plenty of examples."
"Witchers were made to kill monsters. It doesn't matter who posted the notice, the coin has to be right, that's all."
"First soldier you she'll kill you . . . Boots. He'll kill you for your boots."
"Well, we're afeared. And what of it? Do we sit down and weep and tremble? Life must go on. And what will be, will be. What is destined can't be avoided, in any case."
"Beware of an old man in a profession where men usually die young."
"If I have to choose between one evil or another, I'd rather not choose at all"
"Nonsense…And what's more, it doesn't rhyme. All decent predictions rhyme."
"It's hard to regret something you didn't choose."
"Wizards are all the same. You talk nonsense while making wise and meaningful faces. Speak normally."
"A dynasty can't survive on arrogance alone."
"Humans? I have learned to live with them so that I may live."
"Chaos is the same as it's always been. Humans just adapted better."
"People linked by destiny will always find each other."
Conversational Quotes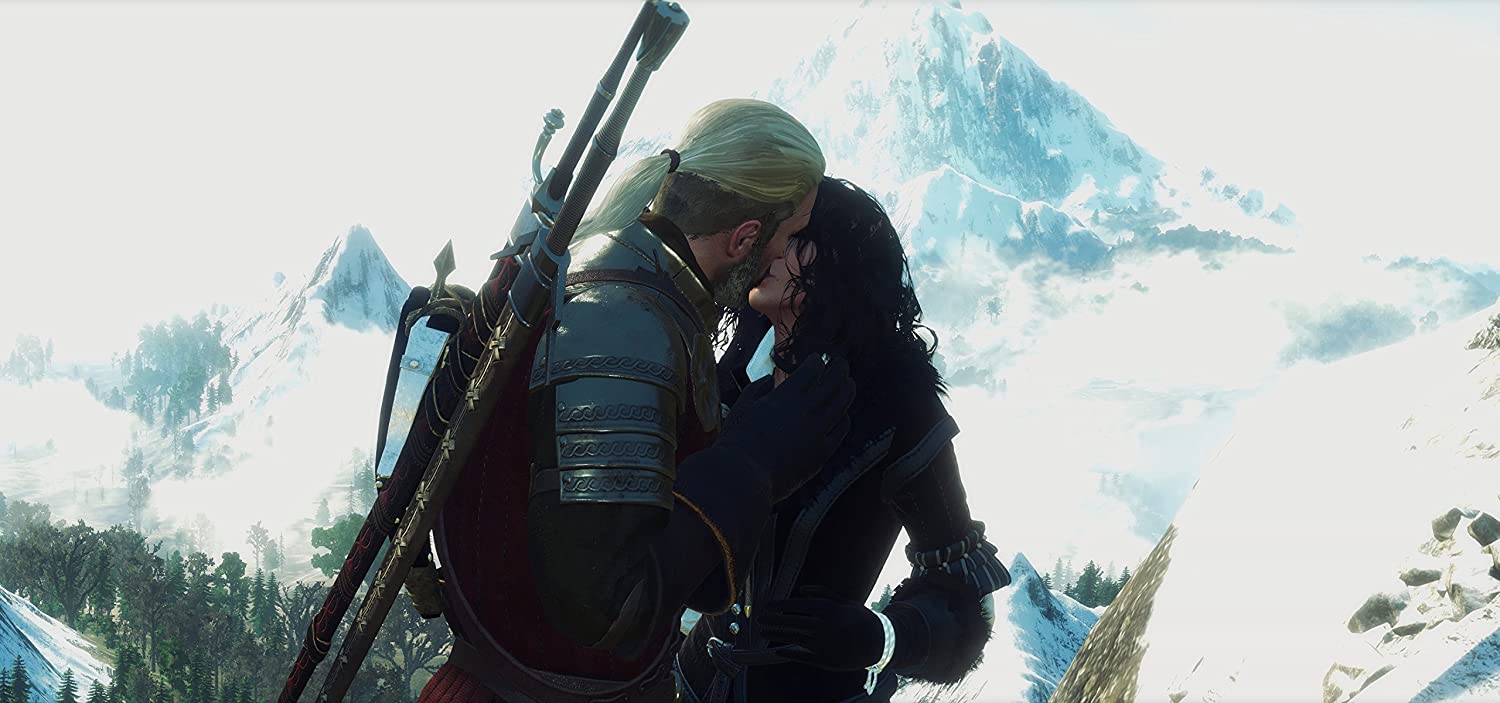 Geralt and Yennefer:
Yennefer: "I've heard tales of your kind, Witcher. You are a mutant. Created by magic. Roaming the continent. Hunting monsters…for a price. I thought you'd have fangs or horns or something.
Geralt: "I had them filed down."
Geralt and Yurga:
Geralt: "Ill winds Follow grave robbers."
Yurga: "If I was a robber, I'd be taking their belongings, Butcher.
Geralt: "If I was a butcher, you'd be amongst the corpses."
Geralt and Jaskier:
Jaskier: "Tell me, be honest. How's my singing?"
Geralt: "It's like ordering a pie and finding it has no filling."
Appearance
Geralt is described as ruggedly handsome. He is relatively tall (over six feet) with a pale (some say almost white) skin color. He is extremely muscular and has stark white hair, which is usually tied back with a hairband.
In the book, he is described to have many scars from previous battles, but in the show that is not the case. He also has unmistakable yellow eyes; unless he has taken the Witcher potion then his eyes turn black without any pupil. His face is a traditionally good-looking manly face.
Geralt of Rivia Costume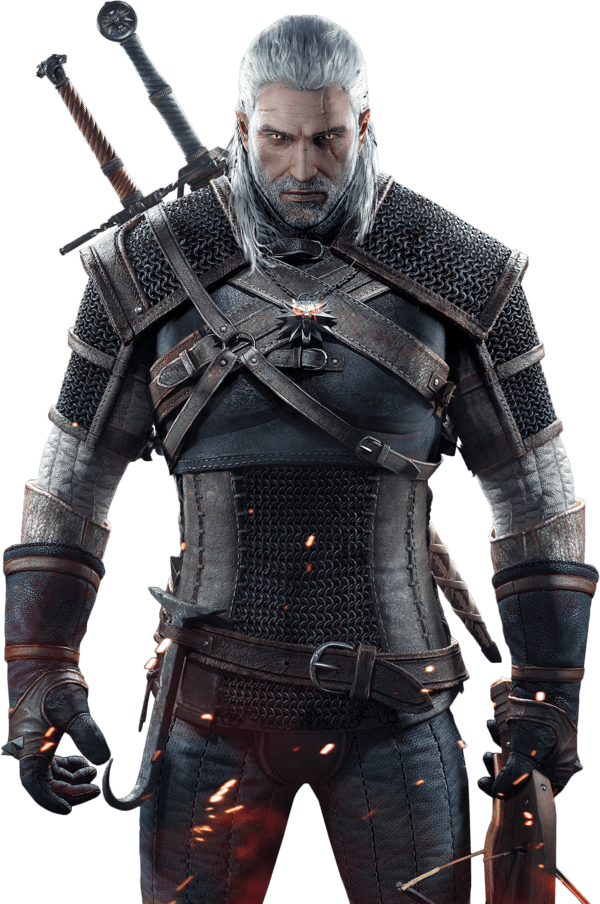 Geralt doesn't have a ton of costume changes, and this probably goes along with his personality. He doesn't place a whole lot of mind into personal possessions beyond his horse, Roach. He has a couple of variations in his armor (most notably the armor that is scalloped looking in the shoulders), and he also has an all-black or black shirt outfit where he doesn't have his armor on.
His color palette for his wardrobe is black, black, and more black with a hint of gray or charcoal with a small number of silver embellishments. 
Hair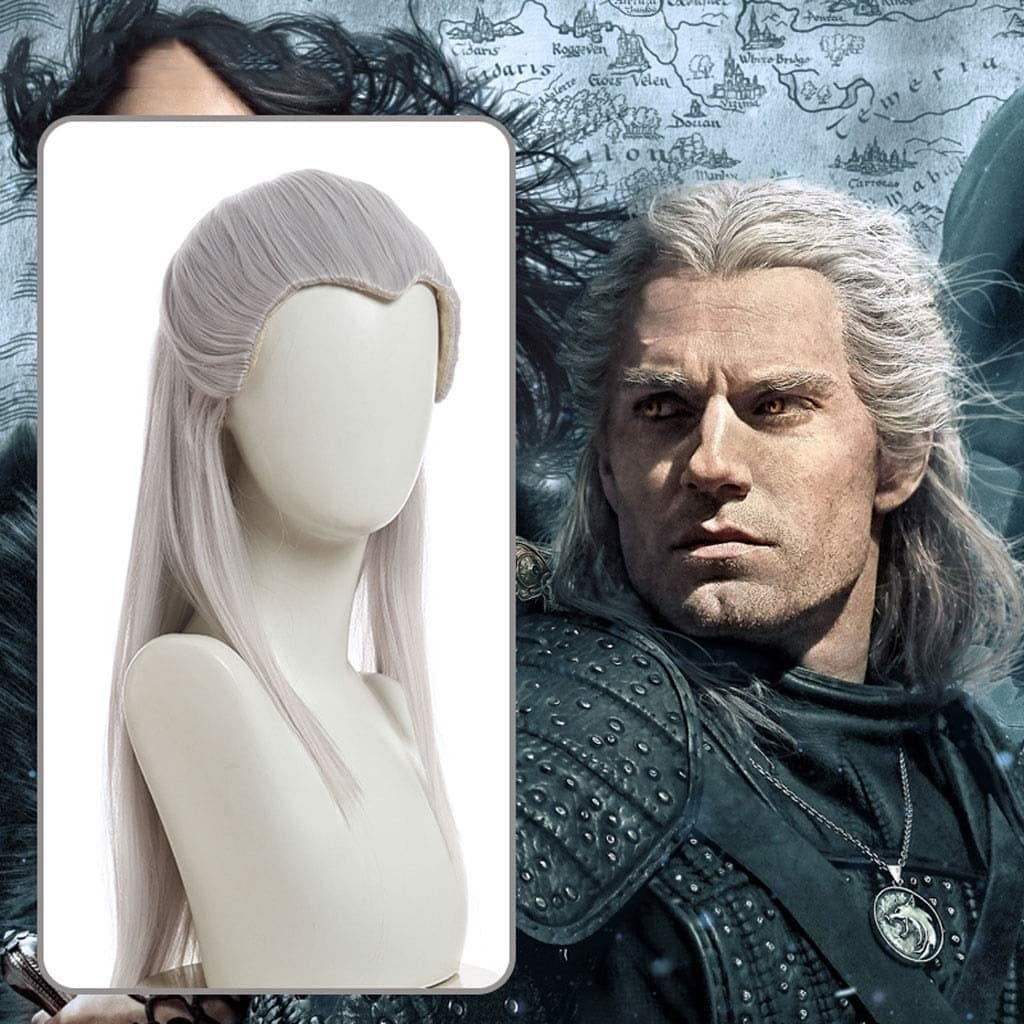 Geralt's hair is an unmistakable, stark white that is roughly shoulder length. He also ties the top half of his hair up in a hair tie. To get the look right, buy a shoulder-length grey wig.
Part the hair along the middle of your scalp and pull the hair back into a black hair tie. Geralt also is known to have a little stubble on his face, so grow a five o'clock shadow when creating your costume for the most accurate results.
Eyes
You will need to invest in yellow contacts to properly complete Geralt's look. Either that or you will have to get blackout contact lenses if you decide to do the full-on night-mode Witcher look.
If you do go for this look, you will also have to draw on black veins coming from your eyes with black makeup. Either way, contact lenses are required here.
Sword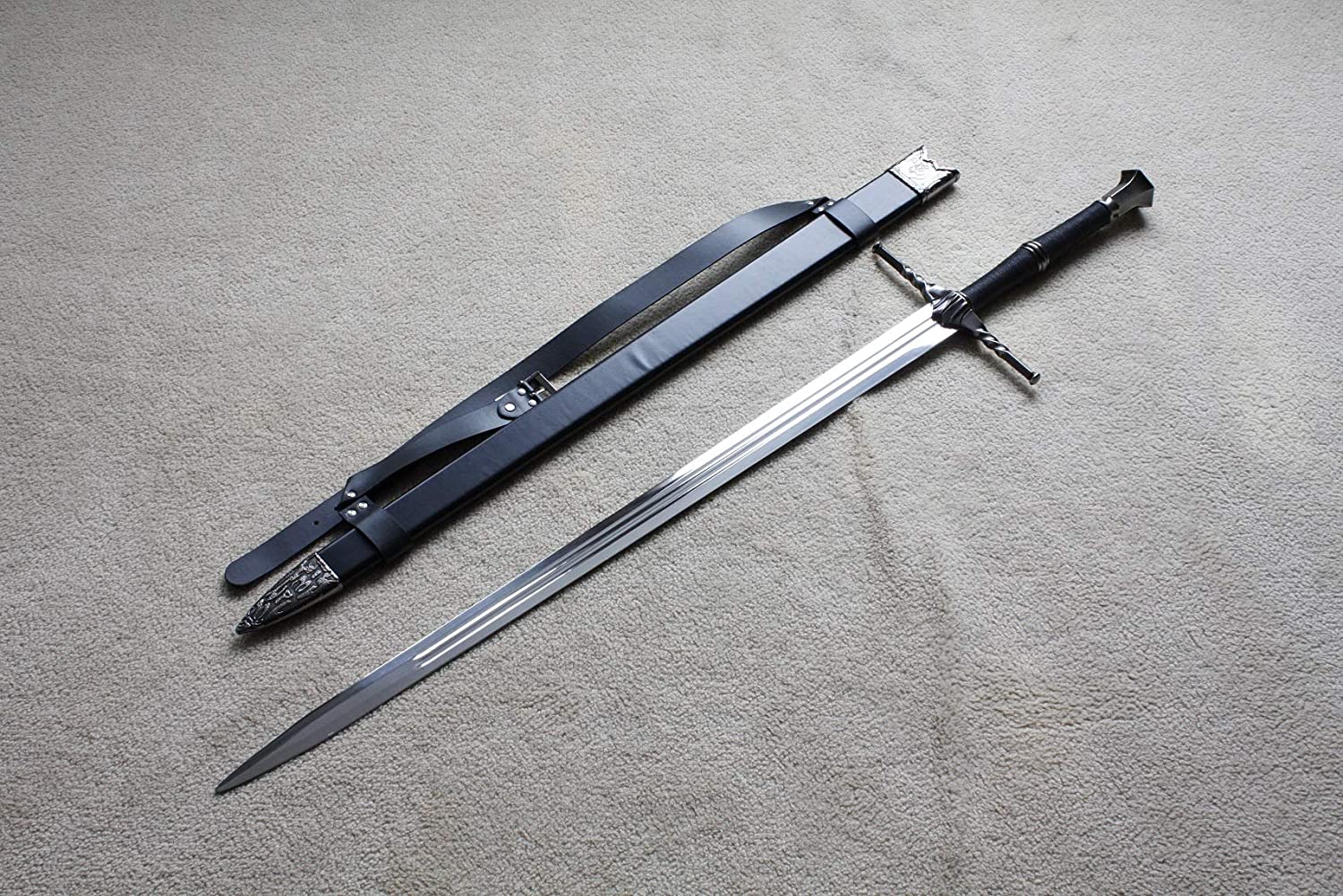 In the book and video game, Geralt had two swords, but in the series, he only had one sword. This thin sword is not hard to find online with a simple search on Amazon, Etsy, or other similar sites. You will also need a holster (or scabbard) that goes on your back to complete the look. 
Wolf Head Medallion
If you know anything about Geralt, you know that you must have a wolf head medallion to complete your look as he always has his own. It is the mark of a Witcher as every Witcher wears one. This is worn with a simple chain and is not hard to find whatsoever.
Boots
Geralt's boots are not super complicated to replicate as they are pretty simple black boots that go up to the knees or even a little below. Honestly, a simple pair of black leather (or pleather) boots will do it. There is nothing super fancy needed here.
Armor Outfit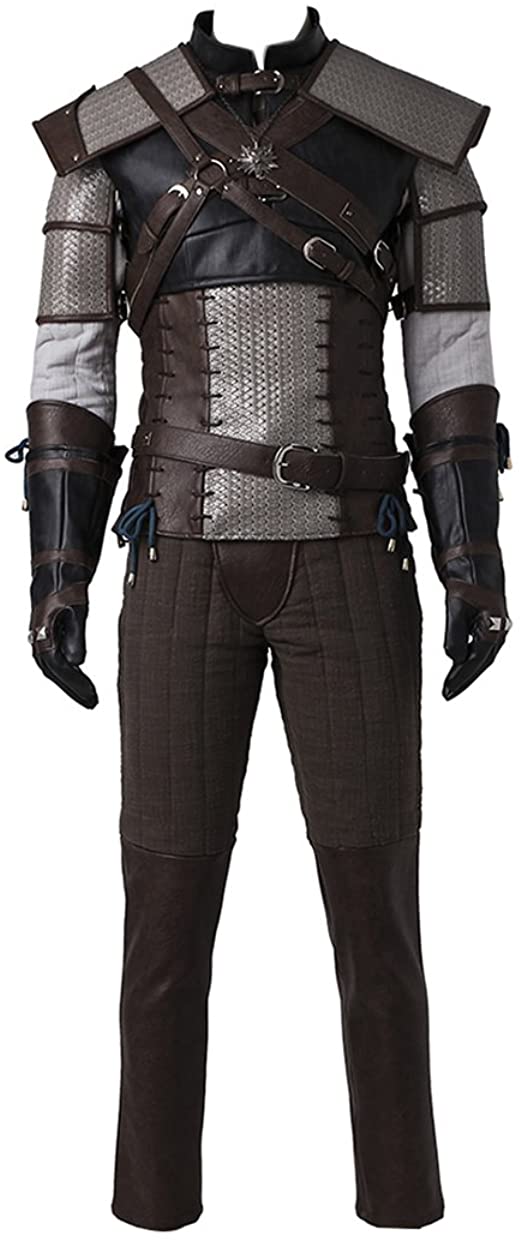 Geralt has a few armored outfits, but the most notable one is the one with the scalloped shoulders. There also needs to have pecks and a six-pack on the armor for it to look right. He also wears a black belt at the base of the armor as well.
As par as pants, Geralt wears simple "skinny style" black pants that button up rather than zip up. He also wears black plated gloves to match the whole armor look.
Black Shirt Outfit
Another outfit you can choose is the outfit we lovingly call the "black shirt outfit." This outfit is much easier to portray as it is as simple as it sounds—a long-sleeved black shirt that Geralt rolls up to his elbows. All you need to do is purchase a collared, long-sleeved black shirt.
Along with that shirt he wears black "skinny style" black pants that button (not zip) up. As long as you have the white wig and yellow contact lenses, this look should be pretty recognizable.
Idea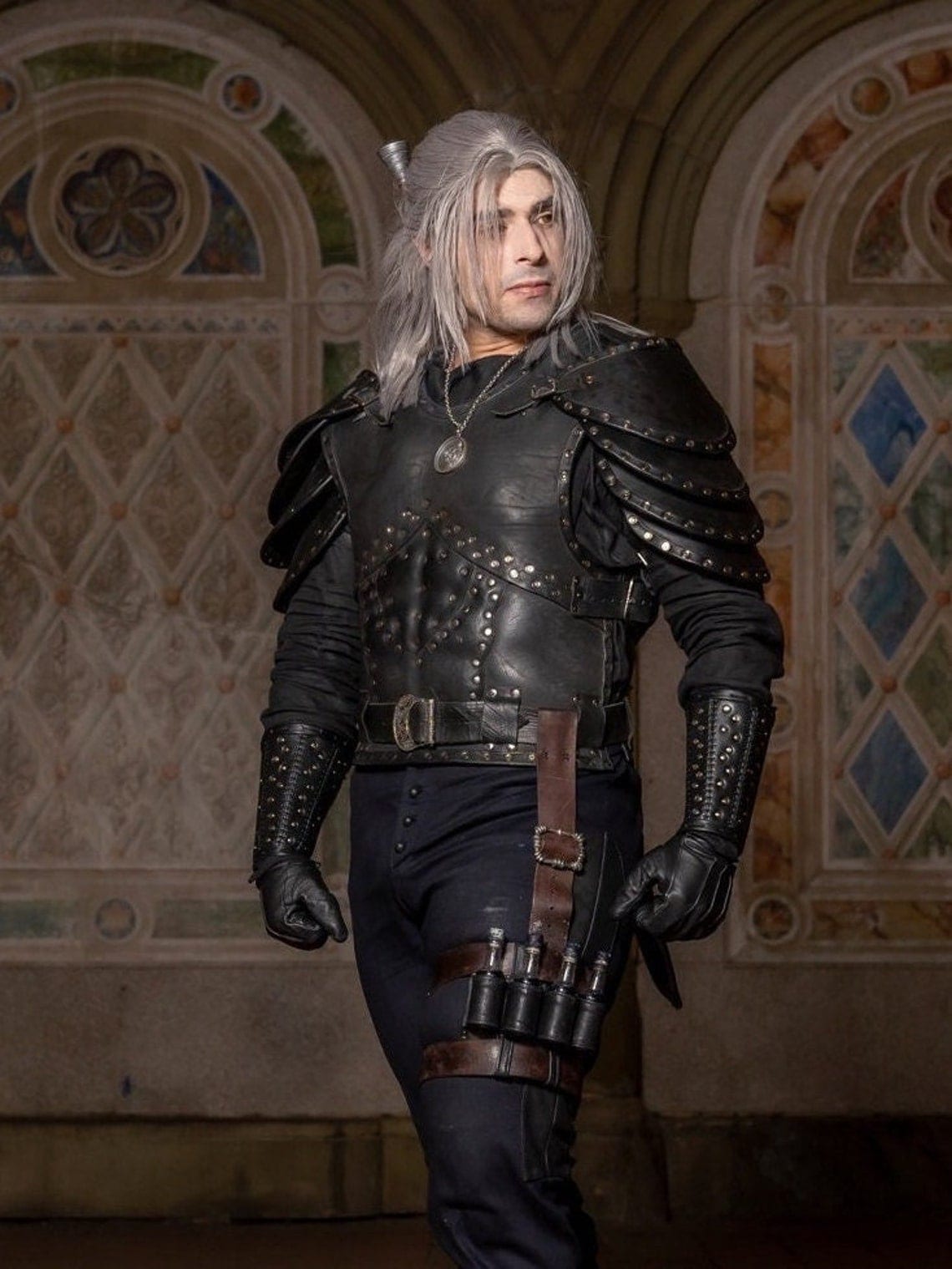 Additional Characters Costumes
Yennefer of Vengerberg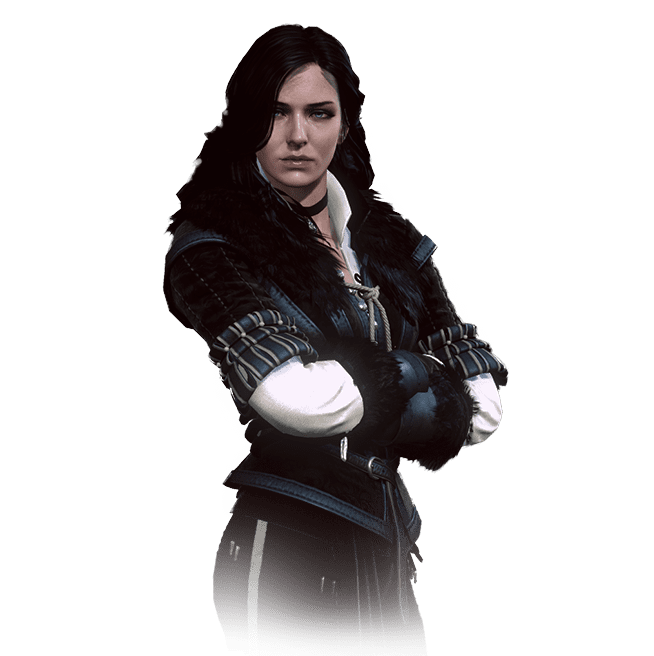 Eyes
If you know anything about Yennefer, it's that her eyes are a piercing violet, so that means violet contacts are needed here. That in itself makes the costume pretty recognizable.
Hair
If you don't already have black hair, a wig is needed. Get a black wig that is a little longer than shoulder length and style it from there. For the most part, you can just leave the locks down loose and the costume will still be pretty recognizable.
Boots
Yennefer has black knee-high boots that have small silver embellishments all over them. These boots can easily be found online for a reasonable price. However, the more authentic you go the more expensive it is.
Costume
Yennefer is known for her all-black outfits. Black patterned stocking, black wrist-high gloves, a black dress with black feathers, a black choker, and a black garter belt that ties in the front.
This costume is very affordable on Etsy, or you can attempt to assemble the outfit yourself.
Makeup
It's no surprise that Yennefer wears…yup, all dark make-up. This includes dark lipstick, dark, thick eyeliner, and somewhat dark eye shadow.
Idea:
Dandelion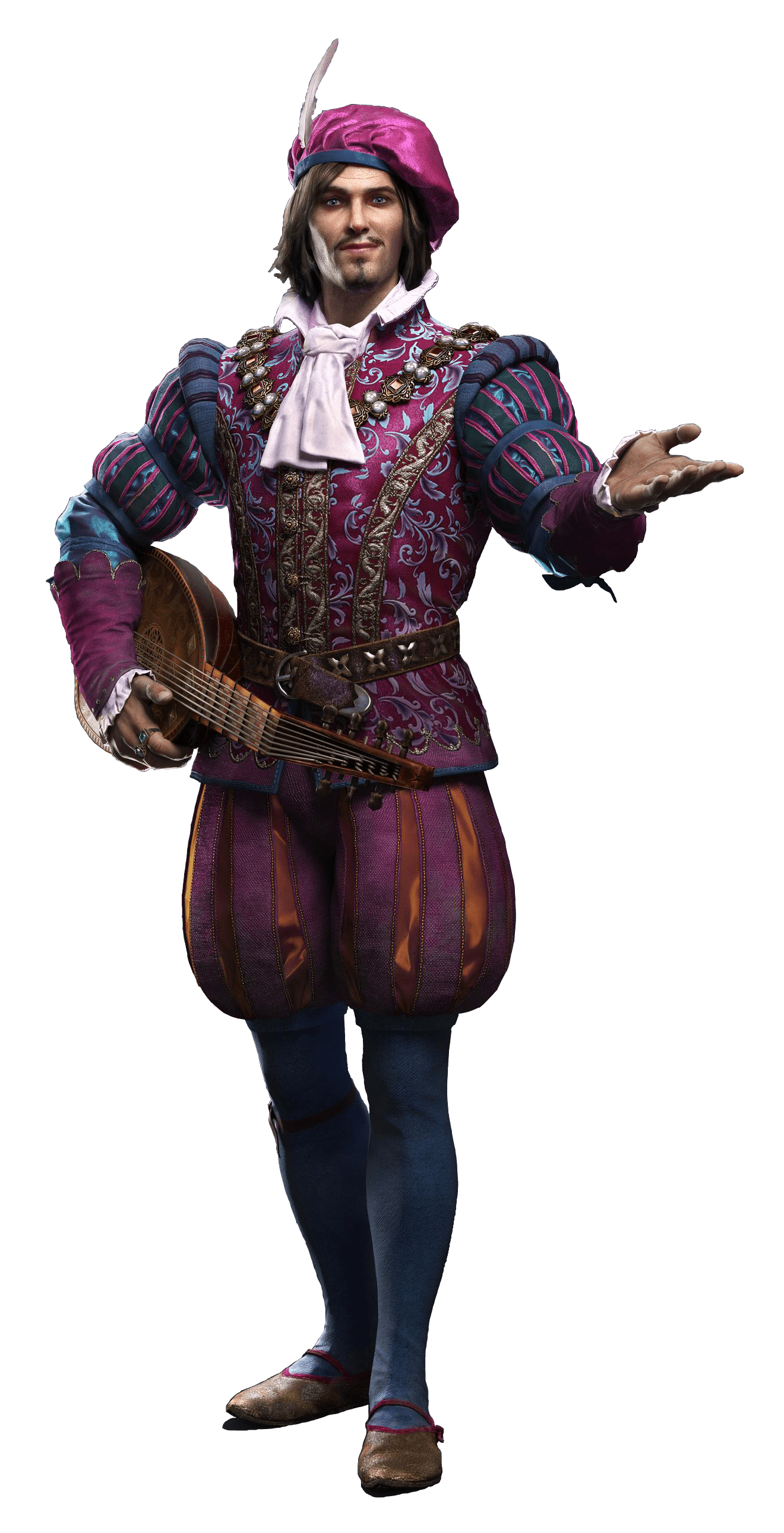 Costume
As far as costumes for The Witcher, Dandelion's costume might be one of the easiest to assemble. Dandelion wears a gray medieval-looking suit of sorts with a red and yellow pattern.
This specific outfit is all over the internet for purchase at various price points depending on the quality you want to buy.
Boots
This is also very simple; all you need is simple, unpatterned, knee-high boots. You don't have to spend a whole lot of money here as it is pretty easy to find.
Accessories
This may be a little more costly, but if you want to emulate Dandelion you can get a lute to carry around. Again, this isn't 100 percent necessary, but it does come with bonus points as your costume will be even more recognizable.
Idea: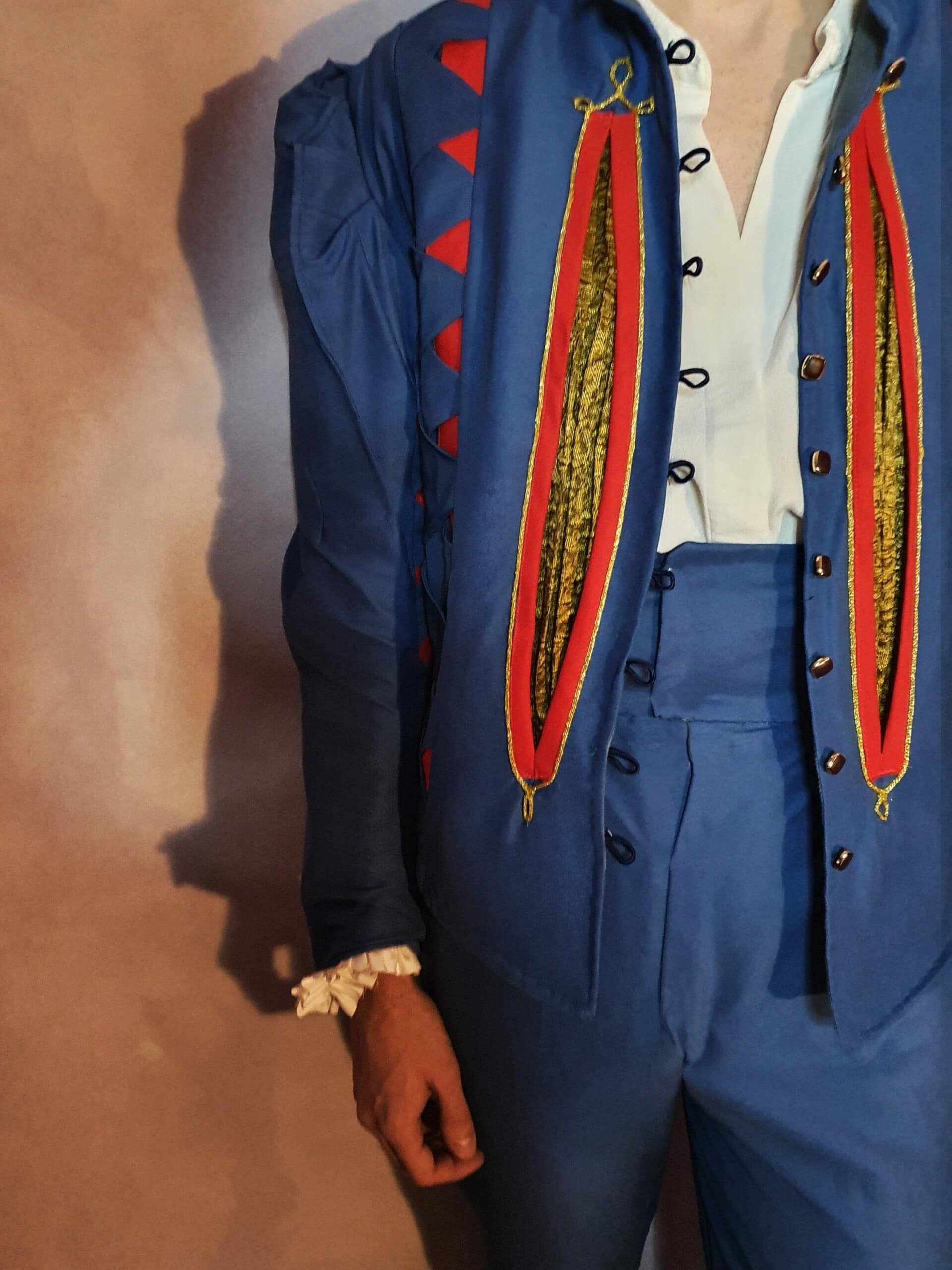 Ciri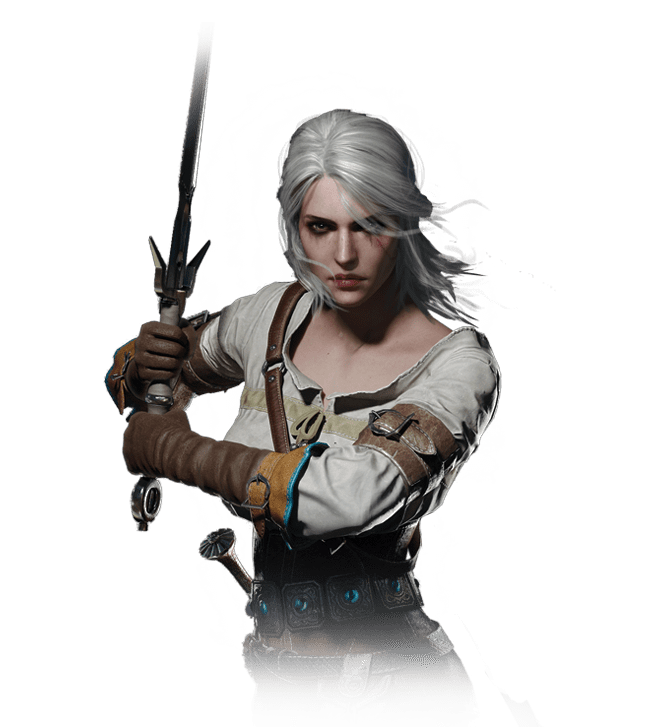 Hair
If you don't have long blonde hair, a wig will be needed. Get the lightest shade of blonde you can find and also get it at a relatively long length. Tie it back in a loose braid, and that is all you need.
Boots
Ciri's boots are a little more difficult to find, but there are entire Ciri costumes available on sites that Etsy make the entire purchase pretty affordable
. Ciri wears knee-high mustard-colored boots that do not have any embellishments. To get this accurate, we recommend buying the boots with an entire outfit because these boots aren't easy to find.
Costume
A recognizable costume of Ciri's is a mostly brown outfit that has bits of mustard yellow and white. The pants are brown with little embellishments along the legs.
The shirt is white on the top, brown on the bottom, and has a silver thick belt around her lower chest with a scabbard around her waist.
Her gloves match her outfit as they are brown all the way up to her elbows then become mustard yellow. This complete outfit can be found on Etsy for a reasonable price.
Accessories
For bonus points, you can get a small silver-looking sword as Ciri carries it around with her. It is not the end of the world if you don't have it, but just makes your costume a little more recognizable.
Idea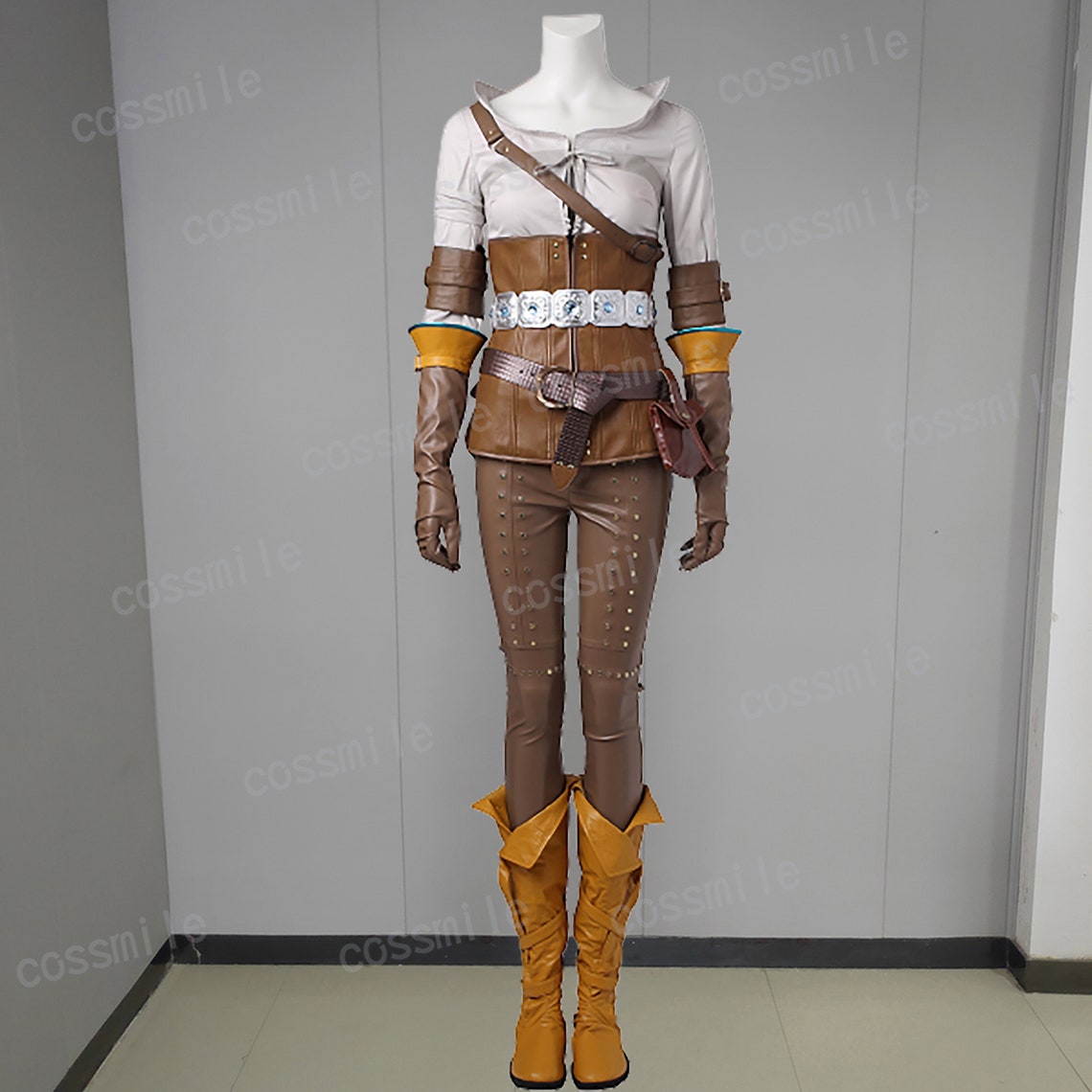 Frequently Asked Questions
Question: Where does Geralt get the "of Rivia" part of his name?
Answer: Many think that Geralt is from Rivia therefore that is where his name comes from. This is not the case. Geralt gets his "of Rivia" moniker from where he was knighted by the Queen of Lyria for his courage and valor fighting in the Battle for the Bridge on the Yaruga.
Question: Are Witchers immortal?
Answer: In short, no, Witchers are not immortal as we see quite a few Witchers die during the show. However, Witchers age extremely slowly, which extends their lives much longer than regular humans.
In the book, Triss meets Geralt after a very long period and remarks how he remains unchanged. It is not mentioned the life expectancy of a Witcher beyond that they live a long time compared to humans. 
Question: What is a Witcher?
Answer: Witchers are mutants that are created by magic for hunting and killing monsters—for a price. Many people speak of them as if they are mythical or fairytale creatures as it is said that Witchers cannot feel human emotions. Everyone knows a tale about a Witcher, but few have met a Witcher. They are most feared by the masses because of their strength and abilities despite being paid by humans to keep them safe.
Question: What world does The Witcher take place?
Answer: The realm where The Witcher takes place is called "The Continent." This land was settled by elves thousands of years ago who found gnomes and dwarfs living there. The elves battled the dwarfs back to the mountains where they ruled…until humans came around. The humans then colonized the land leaving elves and other non-human creatures to be subjected to being second-class citizens. 
Final Thoughts
In all reality, Geralt is not super difficult to cosplay. The most difficult venture in creating a costume for Geralt is his armor. However, you can purchase armor virtually identically with a simple Google search. The more accurate the outfit, the more you will pay though. This would make his simpler all-black outfit without armor the easiest to portray. 
His accessories are pretty affordable online as well. A simple search on Etsy or Amazon will give you the results you are looking for at a very affordable price tag. Also investing in a white wig with yellow contact lenses isn't very costly either.
In conclusion, dressing up as Geralt of Rivia isn't a very difficult task. If you can find people to dress as Dandelion, Ciri, or Yennefer you really will have your costume put together unmistakably. We hope this guide has given you all the information you require for getting to know and properly portraying Geralt of Rivia from the popular series, books, and games of The Witcher.