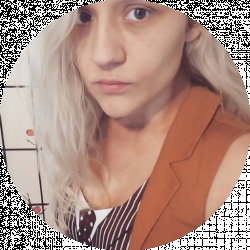 Latest posts by Emily Medlock
(see all)
Elf cosplay can portray a specific character who is an elf or a custom cosplay involving the Elven race. While you can stick on some elf ears and consider your cosplay complete, taking a few more steps will always pay off. I was dangerously close to wearing elf ears at my fantasy-themed wedding, so there may be exceptions.
While the best elf cosplay ideas may be subjective, there will always be ideas that the majority of the population can agree on. My primary focus is the popular elf cosplay ideas, with imaginative ideas close behind.
Best Elf Cosplay – At A Glance
| | | |
| --- | --- | --- |
| Character | Franchise | Difficulty  |
| Legolas Greenleaf  | Lord of the Rings | ** |
| Galadriel | Lord of the Rings | *** |
| Dobby | Harry Potter | ***** |
| Sylvanas Windrunner | World of Warcraft | ***** |
| Emilia | Re: Zero | *** |
| Kira | The Dark Crystal | **** |
| Fairy King Oberon | Sword Art Online | *** |
| Nissa | Magic: The Gathering | ** |
| Link | Legend of Zelda | *** |
| Adoring Fan | The Elder Scrolls IV: Oblivion | ** |
| Malekith the Accursed | Marvel  | ***** |
What Is An Elf?
Pointy Ears
Magic-infused
Fae-inspired
Dextrous
Youthful
Graceful
The term "elf" has changed tremendously over the years. What was originally German folklore turned into a special fantasy race with fair skin and bright eyes. Today, the term can be used to describe a variety of races and creatures. An elf can have any skin color and no longer have to be shorter than humans.
Though their description is now broader than it once was, there will always be an elven aesthetic for custom costumes. There were also always be Elven characters that will show up at every convention.
In this guide, I will go over a few pre-made costumes that you can buy today. I'll also list different types of elves to inspire you, specific Elven characters, and the basics of becoming each of them.
Pre-Made Elf Costumes
Creating a cosplay piece-by-piece can take months and is often more expensive than buying one. If you need a quick costume for your party, then check out these elf cosplay ideas, with costumes that you can buy on Amazon.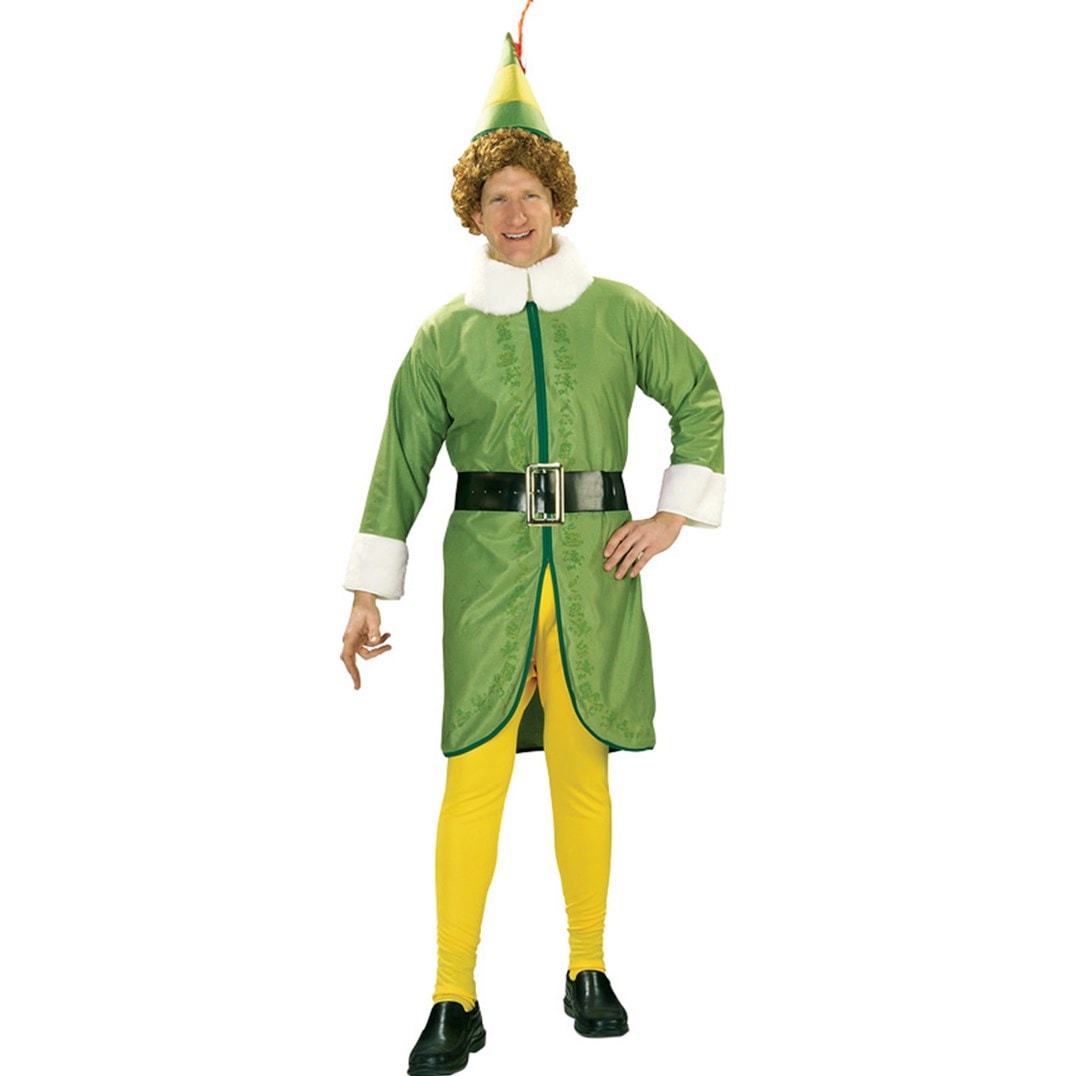 If you want to go with a classic Christmas elf, then a good route is to be either Buddy or Jovie (in her elf costume). You can purchase either of these on Amazon, each for under $100.
Just remember that it's essential to get into character; otherwise, you're just another elf. Memorize the lyrics to "Baby, It's Cold Outside," and don't forget to ask everyone what their favorite color is.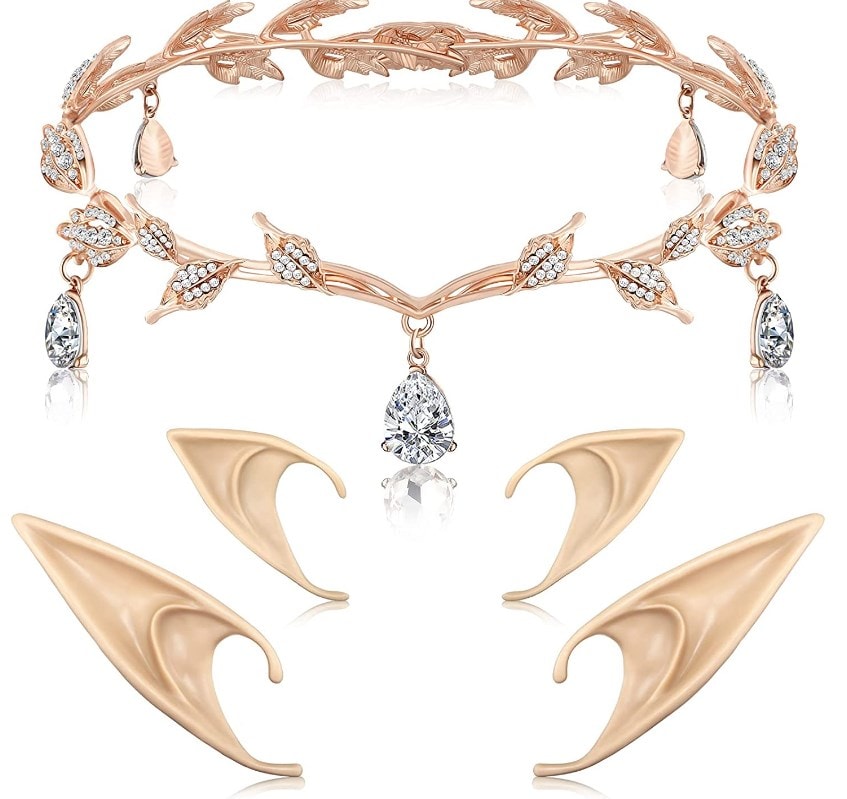 Honestly, I'd wear elf ears and a tiara on any given day. Elf ears can literally turn any standard costume into an elf costume. The tiara is icing on the cake, giving you a magical royal vibe that is an elven favorite.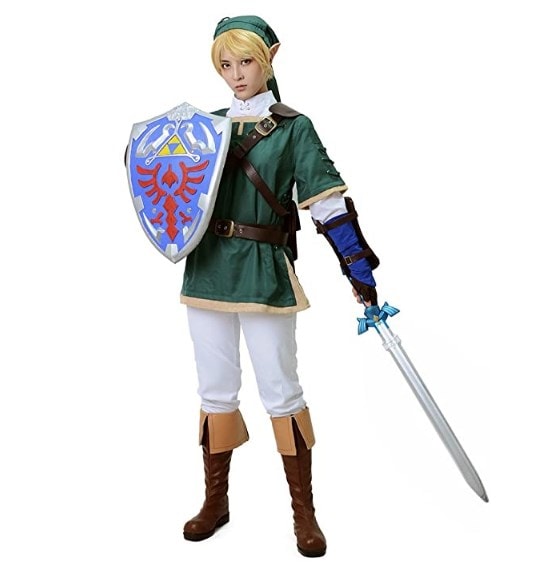 Later, we'll delve deeper into whether or not Link is an "elf." But for now, I find comfort in knowing that I can buy a full Link costume and have it arrive this week. If you're looking for an elf costume that the entire world will recognize, look no further. Zelda costumes are popular for those who want to wear a dress.
Miccostumes Men's Link Cosplay Costume Green | Amazon
Made with 100% high quality material, uniform cloth, that's durable, comfortable and breathable to wear. Green tunic, sand tunic, white inner shirt, pants, hat, belt prop with waist bags, sleeves, wrist guards and gloves.
Buy at Amazon
We earn a commission if you make a purchase, at no additional cost to you.
08/02/2023 10:45 pm GMT

Types Of Elves
There are countless varieties of elves in today's pop culture. Since it is easy to get overwhelmed with all of these variants, I'm going to take the time to break it down. There may be other elves, but these are some of the most traditional.
High Elves
The High Elves I'm most familiar with can be found in World of Warcraft and Dungeons & Dragons. These elves are often elitists (the last pureblood elves) who look down upon other elves with arrogant attitudes. Not all elves, of course. High Elves are intelligent, gifted in the ways of magic, and loyal once befriended.
High Elf Cosplay Tips
Extra-pointy ears
Staff or scepter
Gold or royal blue throughout the clothing
Dark Elves (Drow)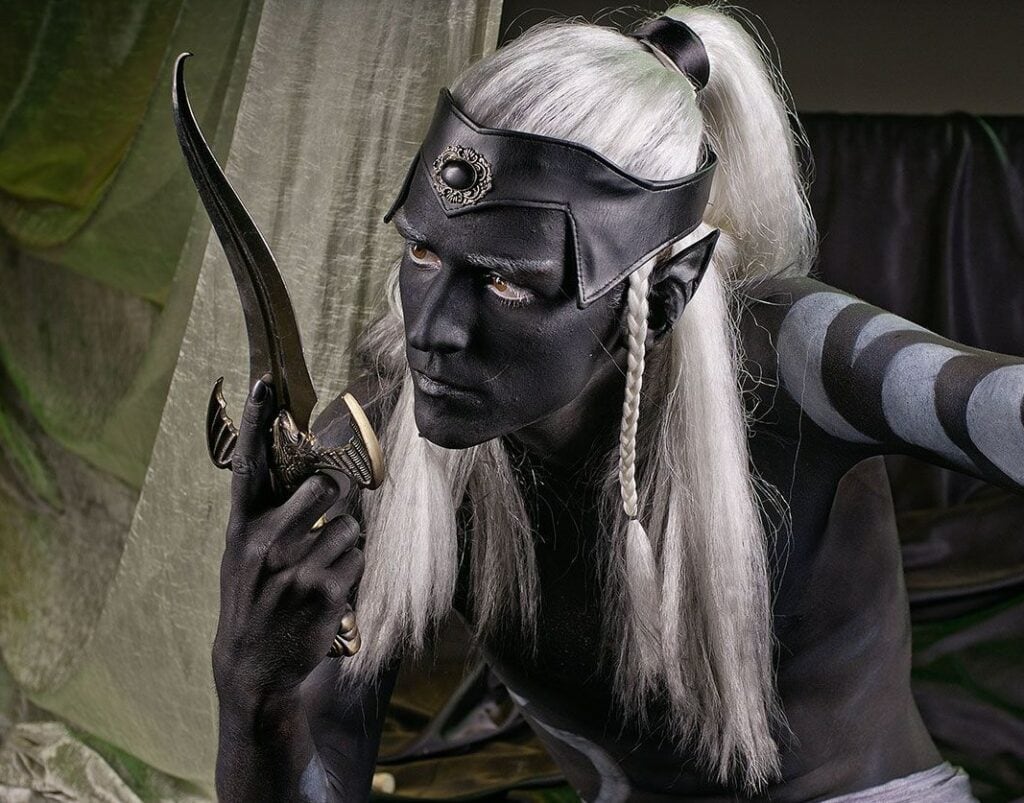 The Dark Elves are often stigmatized in video games and cinema. They are depicted as evil beings more often than not. Sometimes, the Dark Elves aren't just born into the life of darkness, but they choose it, which tags them with the name Drow. However, this is all a traditional viewpoint. You can be any alignment that you wish and still be a Dark Elf for your cosplay.
Dark Elf Cosplay Tips
Blue or grey skin
White hair
Face paint or decorations
Daggers or dark magic
Forest/Wood Elves
This is my favorite type of elf. Forest Elves and Wood Elves (any Bosmner fans?) are inspired by nature, and their cosplay should be too. My favorite Guild Wars 2 race, the Sylvari, is based on modified Forest Elves. Variants of this type of elf include Dryads and Nymphs. 
Wood Elf Cosplay Tips
Add twigs, leaves, vines, and branches
Grab a wooden bow
Implement woodland creature characteristics, such as feathers and antlers
Keep things down-to-earth
Green/brown color scheme
Christmas Elves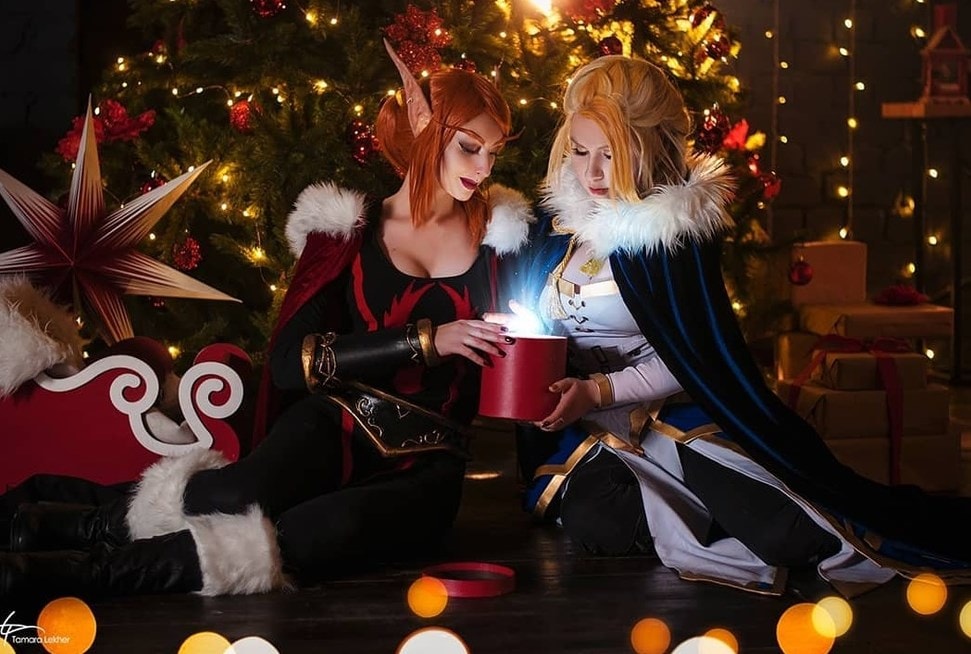 Need I say more? Christmas elves had to make an appearance. From Hermey in Rudolph the Red-Nosed Reindeer to Elf on the Shelf, no elf list is complete without Santa's little helper.
Christmas Elf Cosplay Tips
Green and red theme
Pointy hat and shoes
Sunny disposition
Elemental Elves
Elemental Elves are dedicated to a specified element. This could be earth, air, fire, water, or perhaps something more distinct. Choosing an Elemental Elf for cosplay is so much fun as it leaves a lot of room for creativity.
Elemental Elf Cosplay Tips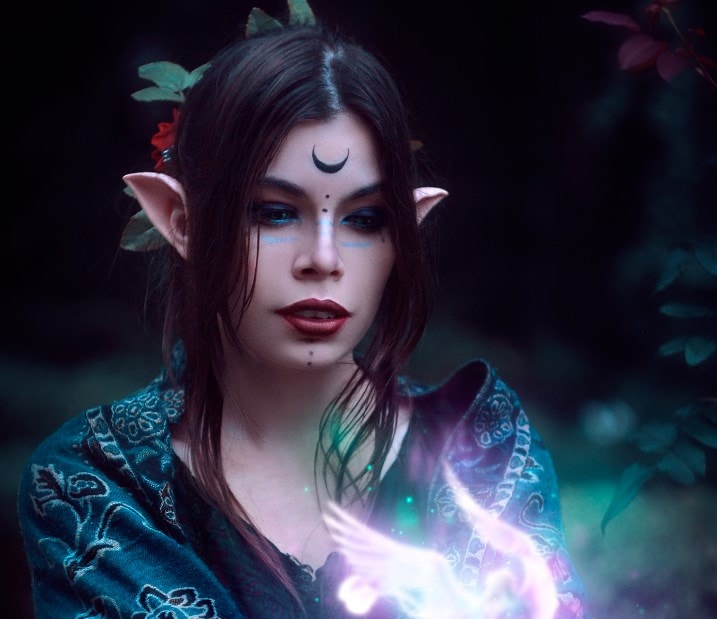 Stick to one element
Cohere the color scheme to the element
Ensure backstory and homeland is relevant
Add another race (mermaid for water, Aasimar for air, etc.)
Half-Elves
Half-Elves are half-elf and half another race. It is safe to assume that if the other race isn't specified, that other race is human.
Half-Elves may be stronger than their full-blooded parent elf, in other ways, but they will not live as long. You may notice signs of aging eventually, but at a later age than a human.
Slightly pointed ears
Rugged as opposed to pristine
Incorporate your own style/personality
Best Elf Characters In Pop Culture
If you want to copy a famous elf, then I've got you covered. While creating your own elf character is fun, sometimes, it's even more impressive to do your best impression of an already beloved character.
Legolas Greenleaf – Lord of the Rings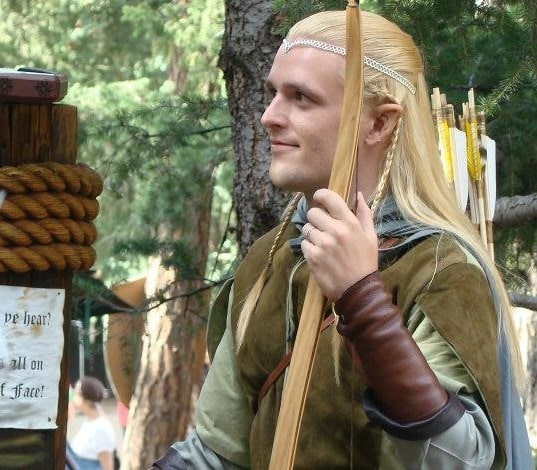 Dark cloak
Green/brown tunic
Bow
You likely expected Legolas to make an appearance and rightfully so. While there are multiple outfits that Legolas wears in the movies and the books, my favorite is his classic unarmored version.
Not only does this depict him most accurately, in my opinion, but it also is easy to replicate. You can also reuse the pieces and if you want to stray from what is canon, you can create your own Tolkien elf.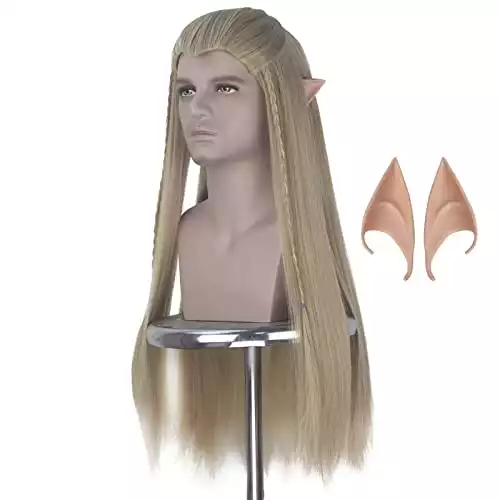 Yan Dream Men Braids Prestyled Legolas Wig | Amazon
Legolas wig is made of high quality matte high temperature synthetic fiber and can withstand high temperature styling up to 180 degrees Celsius (356 degrees Fahrenheit). Natural luster, soft texture, tangle free, more lightweight.
Buy at Amazon
Buy at Rolecosplay
We earn a commission if you make a purchase, at no additional cost to you.
08/03/2023 06:53 am GMT

Galadriel – Lord of the Rings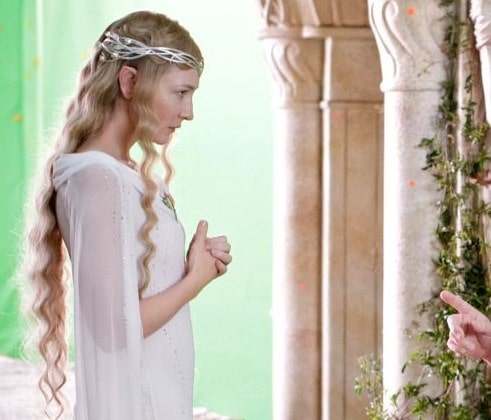 White dress
Elven tiara
Long white, sparkly dress
Sheer white cape
I don't believe that I can consider my cosplay life complete until I cosplay as Galadriel. Any of her outfits will do; for example, the double-layered, low-maintenance outfit in The Hobbit: An Unexpected Journey is impressive.
Her white dress in the mirror scene (The Lord of the Rings: The Fellowship of the Ring) is also stellar. But my all-time favorite is her all-white dress in The Hobbit: An Unexpected Journey. The dress is so graceful and her tiara is on point. 
Dobby – Harry Potter
Fantastic prosthetics
Even better makeup
Tunic/potato sack
Bodysuit/body paint
A sock
Do you prefer to think outside the box? Then attempt to become Dobby at your next convention. I've only seen one or two decent Dobby cosplays in my life, and I want to see more. While I do not believe I could pull it off, we can't forget the fact that Dobby is an elf.
Sylvanas Windrunner – World of Warcraft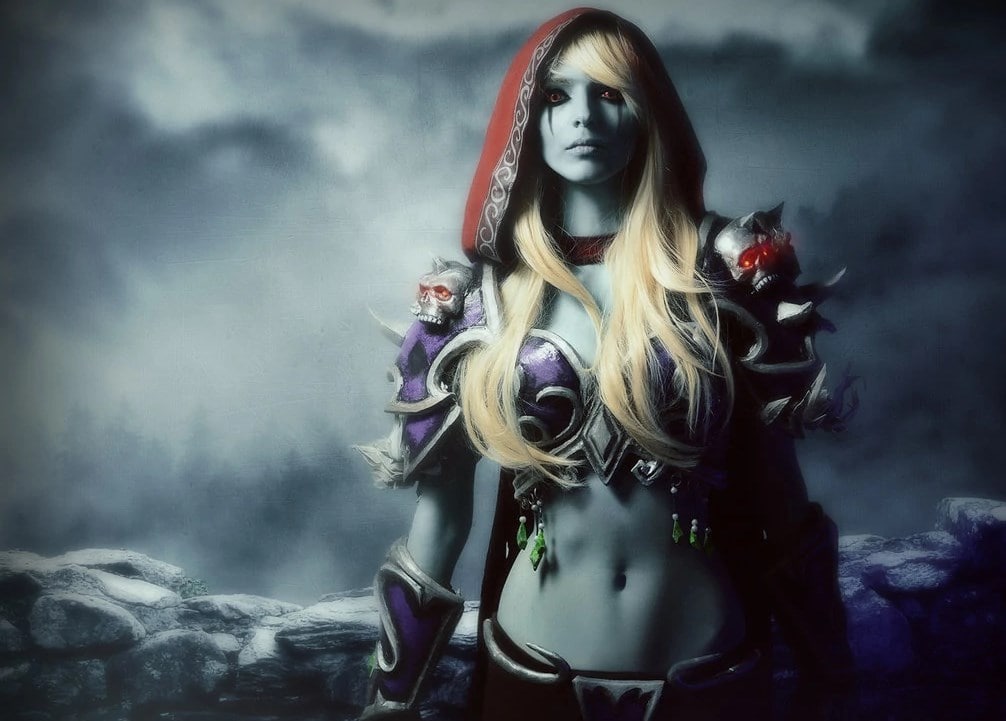 Red contacts
Purple and gold armor
Blue skin
Bow and arrows
World of Warcraft has a few NPC elves to choose from. Illidan Stormrage is my favorite choice for the bold, but Sylvanas Windrunner is a lot easier, which isn't saying a lot.
You can go with the pale-skinned, human-like version of her, but I reference the blue-skinned, drow version of her, which I deem easier to recognize. If you don't feel comfortable with her Leia-like bikini armor, then go with the full suit of armor.
Emilia – Re: Zero
Purple contacts
White boots/leggings
Emilia dress replica
Rem and Ram may be popular cosplay choices, but since we're talking about elves, Emilia takes the well-deserved cake. She's friendly and is an advocate for equality.
Who wouldn't vote for her? If you can sew, then this costume is a simple project. But if you can't, then you may be better off buying part of her costume or choosing another route.
Kira – The Dark Crystal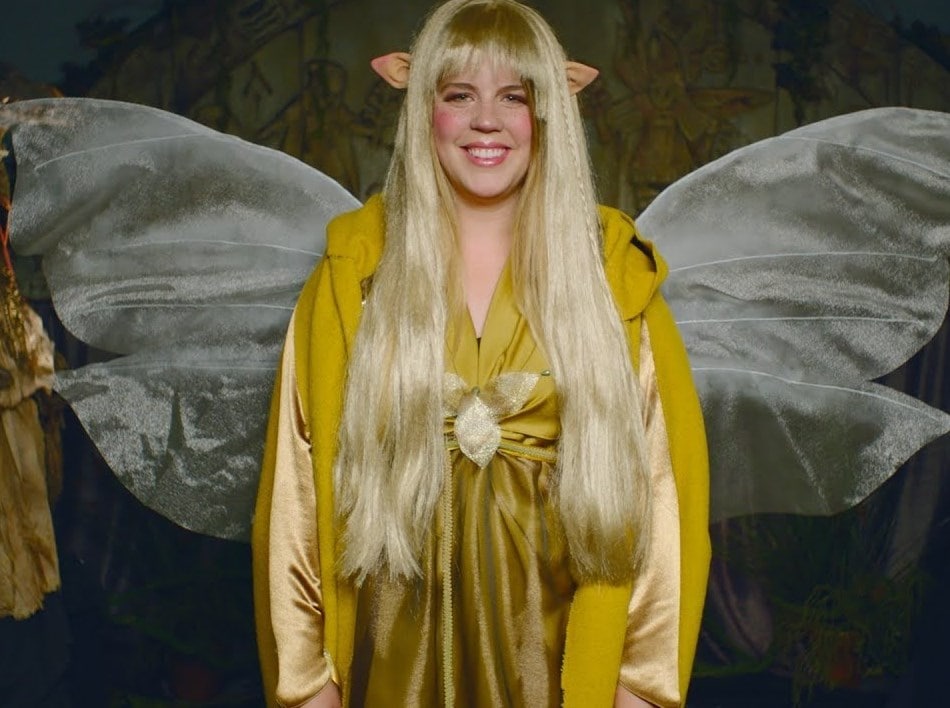 Tan/sage medieval dress
Greek cloak
Makeup and/or prosthetics
Wings – Bonus
Kira from The Dark Crytal is a gem, as is Jen. Either of them would be a unique and fun cosplay. Though technically a Gelfling, Kira can be considered an elf as well, as Gelfings are elf-like.
What I love about this choice is that you can get a simple dress and spend your time focusing on makeup and hair. This rarely happens with the cosplay that I choose.
Fairy King Oberon – Sword Art Online
Blonde wig
Crown
Green cloak with emerald brooch
White long-sleeved shirt with gold trim
Malicious expression
Sugou Nobuyuki is my least favorite character in any anime I've ever seen. This makes him a good character because all good villains should either be loved or despised.
Since talking about him infuriates me, let's focus on the cosplay instead. While it looks impressive, achieving the look is fairly simple since the cloak covers the majority of his garments and the crown isn't complex.
Nissa – Magic: The Gathering
Brown hair
Green face paint
Wooden staff
Brown leather gloves
Green clothing
How could I not mention Nissa, savior of the elves? Although I could be more specific on the costume, there are now so many versions of Nissa that you can really create your own. Nail the face paint and the rest is customizable. Anyone who plays Magic: The Gathering will recognize her immediately.
Link – Legend of Zelda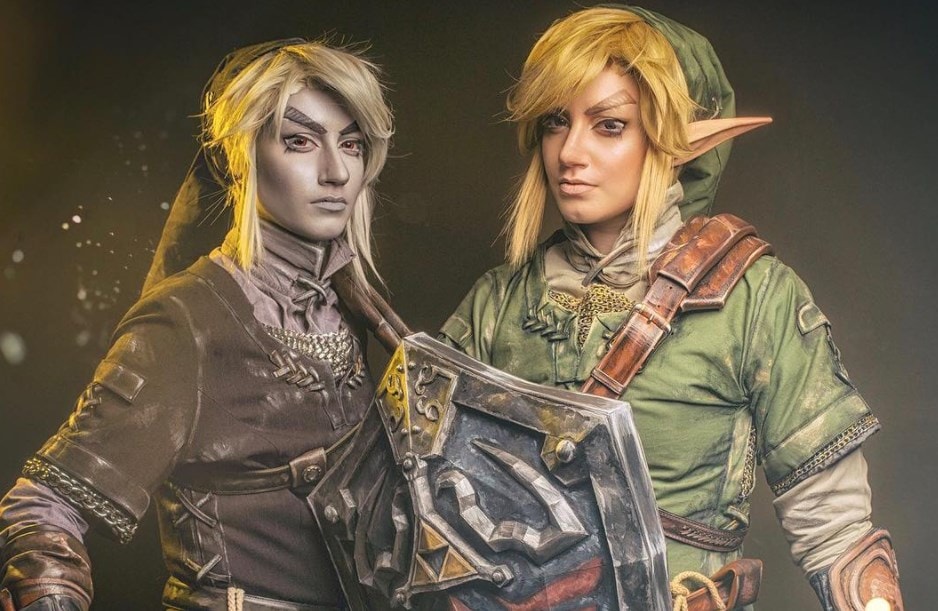 Blonde wig
Green tunic
Green skirt
White tights
Brown Boots
Brown sash/quiver
Master Sword and Shield – Bonus
Link now comes in a few different forms, and although Breath of the Wild is a hit, I still prefer to reference the Ocarina of Time version.
You can create this cosplay in various ways and choose your favorite accessories. If you learn to play Zelda's Lullaby or another song on the ocarina, then your performance score will go through the roof.
Adoring Fan – The Elder Scrolls IV: Oblivion
Fiery hair
Simple brown tunic
Brown shoes
Green pants
There are plenty of elf-related characters in Skyrim, but I have to mention Adoring Fan above any of them. Oblivion does not receive enough recognition, and with characters like the Adoring Fan, that's a shame.
This Bosmer can follow you around after you become Grand Champion. He's sweet, obsessive, and a bit insane, but as lovable as they come.
Malekith the Accursed – Marvel Comics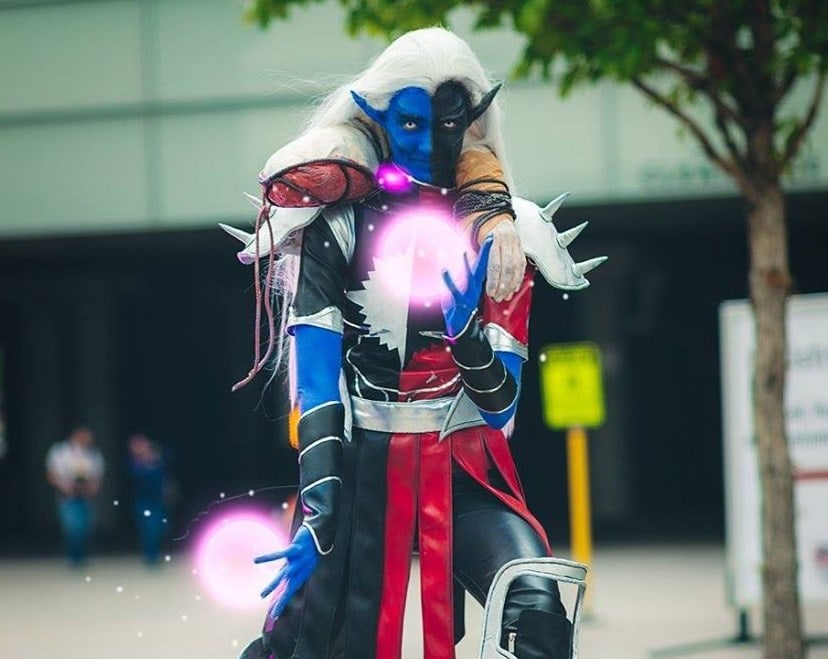 Thanks to MCU, there are two primary versions of Malekith. In the comics, he normally has long, white hair and blue skin. But in Thor: The Dark World, he's bald and pale-skinned.
This is great because now you can choose your favorite version. Neither version will be easy to throw together and cannot be completed using a list of features.
Elf Cosplay FAQs
Question: How Do I Do Elf Makeup?
Answer: Elf makeup varies, depending on the character. However, eyes are usually exaggerated to turn up, face paint is common, and softness is added. Step-by-step tutorials are excellent for practicing elf makeup.
Question: How Do I Make Elf Ears?
Answer: You can buy elf ears at an affordable price. While you can make your own with prosthetics, I find it easier to start with the base that is already formed and build on it with latex.
Question: What Do Elves Wear?
Answer: Fantasy elves can wear anything. Since elves are often thrown into medieval fantasy, fashion from that time period will heavily influence traditional elven garments.
Final Thoughts On Elf Cosplay
Elf cosplay is a vague type of cosplay that lets you go in any direction you please. You can be Santa's elf all dressed in felt while your friend is the mystical Galadriel, and you are both elves in your own right.
That's the beauty of choosing to be an elf. Elves are just a race of people. They are breathtaking, extraordinary, and the epitome of charm. If you want to walk with confidence and grace, then become an elf today.