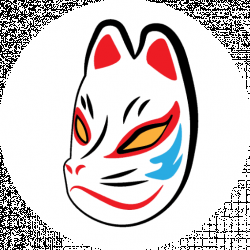 Latest posts by Core Cosplay Team
(see all)
All of us are well informed about the popularity of the Japanese anime television series Dragon Ball. The series has immense popularity, and people can't seem to get over its iconic characters regardless of their age. 
Dragon Ball garnered so much popularity that the series returned for not one but three new seasons, Dragon Ball Z, Dragon Ball GT, and Dragon Ball Super. With Halloween sitting just around the corner, it is obvious that you might be skeptical about your character choices. Well, not anymore! 
Bulma, one of the main characters on the series Dragon Ball is the perfect character to rock any Halloween parties or cosplays. In the series, she portrays the wife of Vegeta and the mother of Trunks and Bulla. Apart from this, we all know what a savior she is, right? She was constantly saving people with her innovations throughout the series. 
Besides, Bulma has a unique, bold, and quirky vibe to her appearance, so yes, you will be having fun creating this look. Nevertheless, we've got you covered if you are wondering how cosplaying an anime character is possible. Read this comprehensive Bulma cosplay outfit ideas guide and get a clear idea of the items you would need for the costume.
Also, even if you are unable to find the listed items, we have provided an alternative for each. Before we move on to the cosplay costume guide, let us understand more about the character. To know more about Bulma and how you can ace the cosplay, read on!
Who is Bulma? 
Tang Sanzang from the Chinese novel 'Journey To The West' is the inspiration behind the character of Bulma. Bulma's family comprises several members, including her parents, an elder sister, her spouse, father-in-law, brother-in-law, and multiple descendants. 
She was born as the second daughter to Dr. Brief and Panchy. Tights were her older sister. She was the spouse of Vegeta, thereby becoming King Vegeta's daughter-in-law. Her children were called Trunks and Bra. 
She was the third character introduced in the Dragon Ball anime series, following Grandpa Gohan and Goku. She was initially touted to be the romantic interest of Goku and was introduced alongside him. 
The primary occupational interests of Bulma include being an inventor and eventually becoming Capsule Corporation's CEO. Initially, in the series, she is shown to be a teenager who devised the Dragon Radar. This device was used to track the Dragon Balls. 
Personality 
Due to her position as a teenage heiress, Bulma was depicted as a selfish and spoiled woman. The combination of her ravishing beauty and immense intellect further fuelled her self-centered nature extensively. 
She is also known to be the smartest character in the entire series. However, she was also controlled by many characters mentally throughout the series. 
Her temperament was infamous for fluctuating regularly. When she finds herself in tough situations, she throws tantrums as a result of fear and anger. She has turned against her friends and well-wishers in multiple circumstances as a result. 
However, as she matured further on, she became much more likable. Her scientific prowess, combined with her rationale, makes her highly reliable. She shifts her focus towards the Dragon Team and adds valuable contributions to it in the form of inventions. 
Her invention of the time machine is highly talked about in the show. The Future Trunk capsule was created by future Bulma, who guided present Bulma, thereby making it the best in class. 
She is also known to follow a mix of girly and tomboyish personality traits. This is reflected in her general fashion choices as well. 
Appearance 
As mentioned above, Bulma's fashion sense has always been an amalgamation of both girly as well as non-girly elements. A noteworthy fact regarding her sense of style is that she has donned over 15 hairstyles throughout her appearance in this series. 
Her hair color has also kept varying as the show progressed. Some of the unique colors of her hair include purple, fuchsia, turquoise, and blue. She is petite, and her skin is mild-complexioned. 
She has experimented with multiple hairstyles throughout her stint on this show. Shoulder-level hair, braided hair, pigtails – she has carried it all. Her outfits are mostly bright-colored and specifically designed. 
Some of her outfits have the logo of the Capsule Corporation as well. Red is a prominent color that is often repeated in her outfits regularly. Apart from this, she also wears orange, blue, pink, and purple often. 
As the show progresses, Bulma keeps cutting her hair and maintains it in a short length constantly. The shoulder-level hair makes a reappearance briefly around the middle of the show. 
Prominent Abilities 
Most of Bulma's abilities are directly linked to her genius mind. Her intelligence is one of the main tools she uses to her favor throughout the series. Her physical strength is not out-of-the-ordinary. She possesses the body powers of a normal human. 
Her tremendous intellect is beyond the grasp of most other humans, thereby wielding her a superhuman-like advantage mentally. As Dr. Brief's daughter, she takes after his intelligence and the techniques he employed in the creation of the Dynocap technology. 
The similarities keep continuing, as Bulma's abilities are also used for the welfare of the Dragon Balls, exactly like her father's inventions. Most of her inventions have been deemed too complex for scientists to decode and understand the working mechanism. 
She is a skilled pilot as well. Her ability to operate spaceships and airplanes at supersonic speeds mesmerize her son. She is also capable of operating these machines at sub-aquatic levels. 
Intelligence 
Apart from her genius intellect, Bulma is prominently known for her rational bent of mind. She keeps her calm in unnerving situations and comes to a solution with gradual analysis. Her perseverance towards achieving her goals has been reflected time and again. 
Biology and alien technology have been two regions of her forte. She also specializes infusion techniques, as depicted through the creation of EX-Fusion. 
Her research abilities have also been highly lauded. She is also known to recognize other people's talents that surpass her own. For instance, Emperors Pilaf's programming skills were greater than hers. She was highly accepting of this fact. 
The Complete Bulma Cosplay Guide

Being a Dragon Ball fan, you must have dressed up or thought of dressing as one of its characters at least once. And if you still haven't, now is the time. Goku is a great character, but it is common too! Try starting your Dragon Ball Cosplay journey by dressing up as the dynamic Bulma. 
Bulma is an exceptional character, brimming with new ideas and saving the day with her intelligent and intellectual innovations. She is temperamental, spoiled, and a tad bit selfish. For which, she never fails to pin her exquisite looks. To be precise, she is a hoyden. 
Creating her look is easy as pie. All you need to do is follow these guidelines. Also, relax yourselves, because we have provided a DIY guide too. So, if you are unable to get your hands on certain items, look around the house and channel the creator inside you to accomplish the perfect cosplay outfit! Without further ado, let's get started. 
Things You Will Require to Cosplay Bulma
Whenever you cosplay a character, divide the outfit into two sections. For starters, understand the basic outfit and essential items. Essential items are ones without which the outfit stands incomplete and appears scrappy. After you are done with the basic items, look for add-ons or extra accessories. Accessories are significant because they can spice your outfit.  
Below are the details of everything you require to cosplay Bulma, alongside their alternatives, and details as to where you can find them and how you DIY them. 
Before starting, gain an understanding of which of Bulma's looks you would like to cosplay. You do not have to stick to the look we have mentioned below. Play around and create a different Bulma look, as you please!
The aim is to have a Bulma-like persona, not to replicate her. So, if you are unable to find a couple of items, it is perfectly fine. Enjoy the cosplay, do not try to be in some competition.  
Wig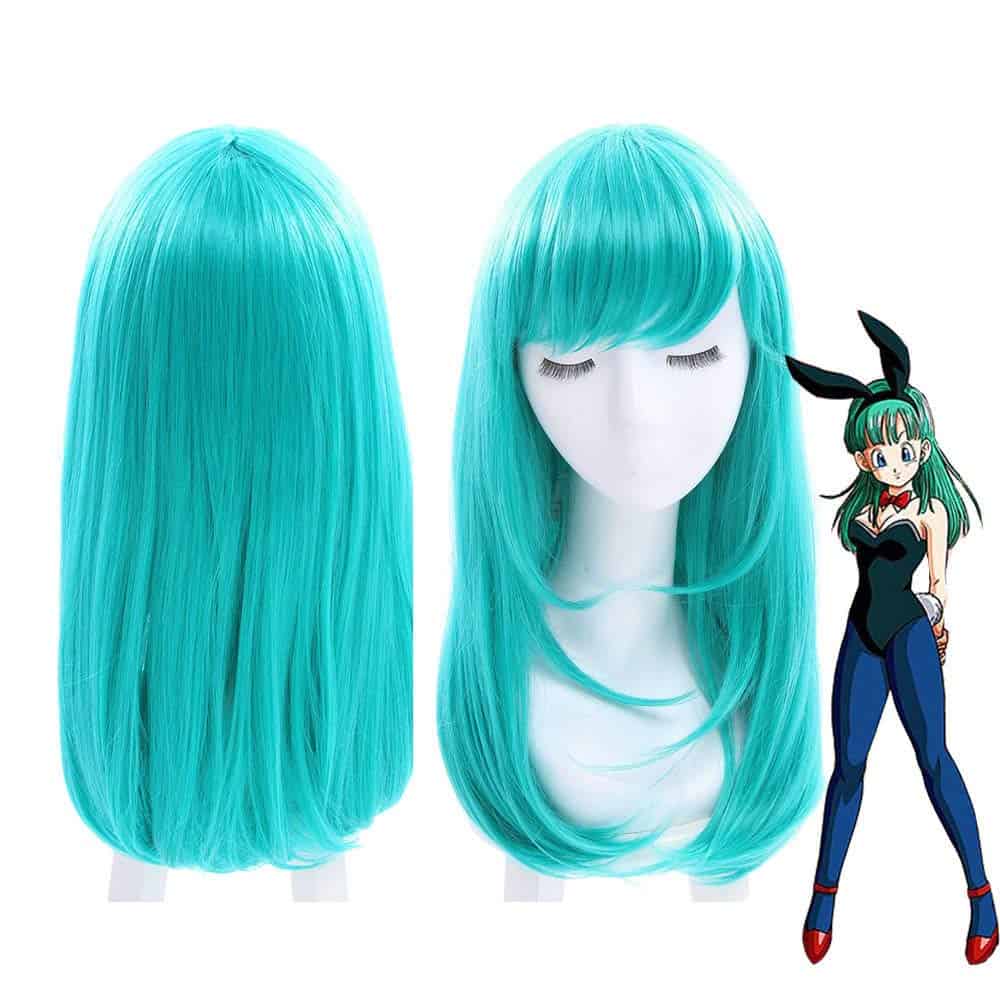 Bulma is all about her radiant, blazing cerulean-blue colored wig. That is the first thing you notice about Bulma; all other things are secondary. She rocks an attractive short hair look. Ideally, you should go for a similar short-haired blue colored wig. However, it is not always easy to find exact pieces; thus, it is alright to have slightly different shades of blue or even long-haired wigs. Besides, she also rocks a pleated ponytail look. So, you can always go for that if need be.
Availability: Anime-themed wigs are available on Amazon or other e-commerce sites. You can also search for anime-themed wigs at your nearby costume shops.
Alternative: If you cannot find an ideal wig for the costume, you can style your hair in the same manner by dying them blue to achieve a similar look. There are all kinds of options from permanent to temporary, choose what suits you best!
A Bright Pink Dress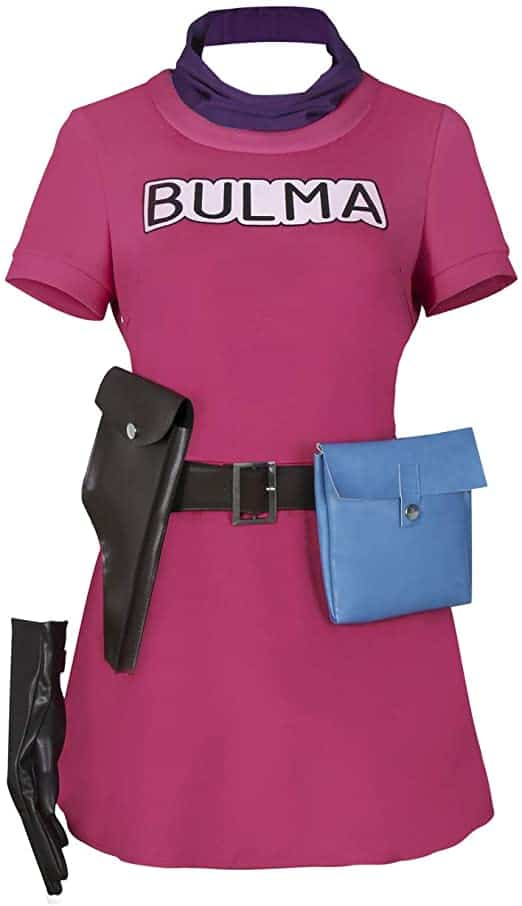 Although there are other looks that you can always go for, the pink outfit is our favorite. And, if you want to create a recognizable look, look no further than Bulma's iconic fuchsia pink dress with her name on it. Any pink dress would do. It does not have to be sleeveless if you cannot find one. Alternatively, you can also create one of her bold crop top looks and amp up your Bulma game.
Availability: You can easily get a fuchsia pink dress at a nearby garment store, or you can search it on Amazon. You can also find this iconic Bulma dress at a nearby costume shop. 
Alternative: If you cannot find a fuchsia pink dress whatsoever, no worries. Try looking for slightly different shades of pink. It is important to have a similar vibe. Somewhat different color shades won't affect the outfit much. 
A Bandana Scarf or Neckerchief
Probably the most easily available item on the list. Bulma dons a neckerchief look. The triangular-shaped neckerchief wrapped around her neck gives her a gorgeous cowgirl look. Ideally, the scarf should be purple or lavender-colored. However, it is your look; play around. Adding a bandana is necessary; color is not a problem. 
Availability: Scarfs are all over the place. Look around the house; you might find plenty of them; nevertheless, search on Amazon if you would love yourself a replica. Alternatively, you can always find one at a nearby scarf store. 
Alternative: Again, you can always make do with whatever you have. Suppose you don't feel like ordering or purchasing one, no worries. Find a purple-colored fabric and cut a square out of it. Fold it into a triangle, and there you go! Now, wrap it around your neck, and voila!
Purple Colored Socks
You are cosplaying Bulma, and if you think you can go without her loose staple socks, you're mistaken. Bulma loves herself a pair of Purple-colored socks (loose socks, even better). However, if you do not have Purple-colored socks, try finding them in a similar shade, and you will be good to go.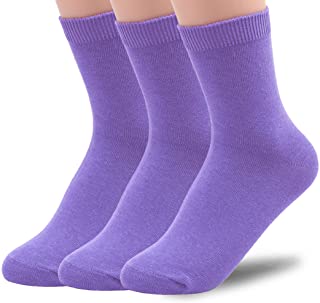 Availability: You can easily find purple-colored socks on amazon or any other e-commerce site. Also, you can always shop at nearby garment stores and find yourself a pair of purple-colored socks. 
Alternative: If you cannot find a pair of purple socks even after thorough searches, go for a purple dye. Dyes are easily available both in the market and online. Order some purple dye. Prepare it and drop some old white socks in. Let it sit for a while and bingo!
Casual Lace-Up Sneakers
We bet you have the next item resting in your closet for years. Yes, you read that right. Now is the time to take them Converse shoes out! To complete this distinctive Bulma look, all you need is a pair of casual canvas lace sneakers. Although she wears a pair of turquoise bluish-green sneakers, color doesn't matter until and unless they give out that laid-back vibe. 
Availability: Casual canvas sneakers are a staple; mostly everyone has them. However, if you don't have them, they are worth every penny, and you can find them easily both online and offline. 
Alternative: If you don't want to buy them, you can always borrow them from your friends or cousins. And lastly, you can always wear your casual shoes if you have no other options. Remember, the persona is necessary; you do not have to replicate the whole look. 
Brown Belt and Utility Bag
Bulma completes her look with a brown belt or belt bag. However, not everyone has a belt bag so put on a brown belt instead. If you have a utility waist bag, nothing better. Style it with your Bulma outfit to complete the final look. Don't even think about missing on the brown belt. The belt makes Bulma's personality more defined and bold. 
Availability: You can easily find both brown belt and utility bags on Amazon or any e-commerce site. You can also buy them from a nearby garment store. 
Alternative: Since fanny packs are in trend, your friends or cousins might have them. Ask them if you can borrow. Moreover, brown belts are not hard to find, so that shouldn't be an issue. 
Bulma is one enigmatic character, and cosplaying her can be super fun if you thoroughly enjoy it. And finally, you can also go for her dark, shady bunny look, which is also super-easy to accomplish. All you need is a black swimsuit, black stockings, and a pair of black bunny ears. 
All the items mentioned above are easy to find or arrange. Now that you know all the essentials, let's learn about the accessories that can help you spice it up! 
Additional Accessories And Make-up 
Apart from the key components that put together this outfit, you shall also have to incorporate other small yet significant elements in the outfit. This will aid immensely in preserving the authenticity of the outfit. 
Such additional accessories have been discussed below in detail: 
Waist Bag 
A waist bag is a highly defining component of Bulma's attire. She dons it often throughout the series. Therefore, make sure that you include this in your outfit without fail. 
Another added advantage of this accessory is its ease of availability. You will not face any difficulty in procuring a normal waist bag, as it is available everywhere. 
Knife Holster 
Bulma also wears a knife holster next to her waist bag. You can purchase a knife holster along with a fake knife to complete the look in the best possible manner! Knife holsters are available at all makeover websites and cosplay purchase sites. 
Ankle Warmers 
As a part of her outfit, Bulma uses ankle warmers. Whenever she wears one-piece suits and shorts, ankle warmers form an integral aspect of her overall look. Hence, you can invest in a pair of ankle warmers, as they will be useful to you in general as well. 
Hairbows 
Hairbows are another major accessory that is associated a lot with Bulma. She incorporates this hair accessory in all of her hairstyles. A red hairbow is her signature piece of accessories. Therefore, do try to incorporate a hairbow of a similar shade in your complete makeover.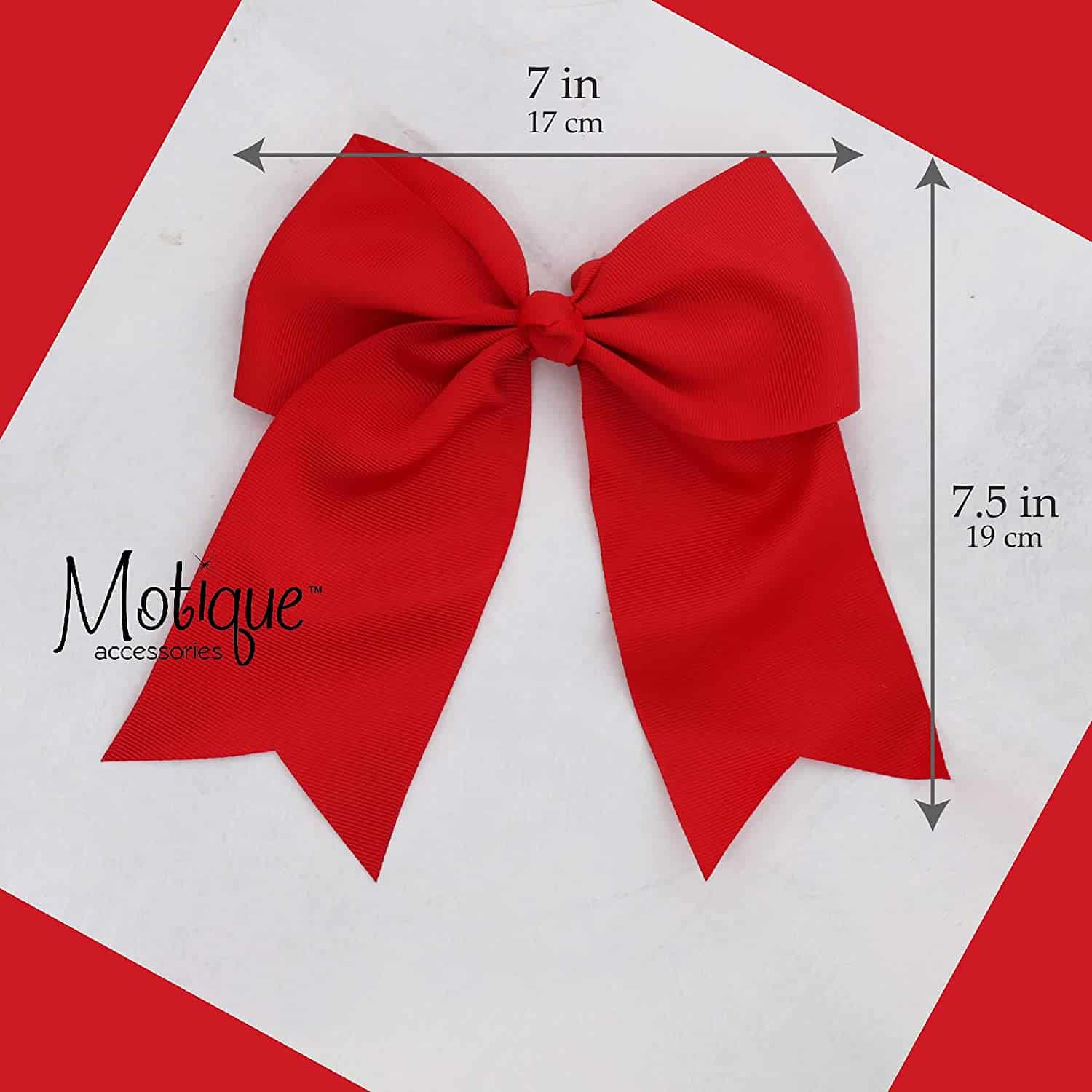 Printing Name 
Another significant component of Bulma's outfits is the presence of her name on them. Since she wears several costumes that are also associated with her profession as a scientist and inventor, her name can be observed on them frequently. 
You can also add your unique twist to this and get your name engraved on your cosplay outfits! 
Bulma: Character Trivia 
Some of the lesser-known facts about Bulma are mentioned below: 
The main reason why Bulma's hair color kept changing shades throughout the series and was not consistent was due to technical difficulties. Digital animation was employed when Dragon Ball was created. As a result, the makers used whatever shade of ink mixture that was available to color Bulma's hair. 

Bulma's name is derived from a form of undergarment. This is a recurring trait in her family, as all of them are named after different kinds of underwear. Bulma stands for 'bloomers.' This interesting fact does not end here. Bulma's kids are also named in the same manner, with the names Trunks and Bra. 

Bulma's immense love for strawberries has been highlighted throughout the season. Her liking for this fruit was so immense that she even tried to create a lifetime supply of this fruit for herself. 

Bulma's mother's name was not revealed for a long time on the show. She was called Panchy only around the middle of the season's progression. 

She also has an elder sister named Tights. Tights was a sci-fi writer, taking after their father's knack and scientific bent of mind. 

Although Bulma was known to be extremely intelligent, she has been manipulated in several instances throughout the show. This becomes a prime source of embarrassment for her constantly, as she takes pride in her intellect. 

Bulma was initially supposed to be the pair of Goku, according to the show's former editor. However, she was later paired with Yamcha and then, finally, with Vegeta. Although she broke up with Yamcha, she has maintained a healthy and cordial relationship with him. 
FAQs 
As you attempt to cosplay Bulma, you will face many doubts and queries regarding the overall procedure. We have tried to break these challenges for you entirely by answering the frequently asked questions in this section. 
Question: What is the ideal physique needed to dress up as Bulma? 
Answer: Bulma is known to be quite petite and light-complexioned in color. However, this will not be a hindrance to you while cosplaying. The entire practice of cosplaying is getting into the skin of the character and replicating most of their trademark features. 
The body physique of a character should not be a stumbling block for you at this juncture. Having fun should be the main priority and objective associated with cosplaying. You will have to concentrate only on obtaining the right clothing, types of equipment, and accessories. 
Question: What is the overall theme I need to follow while cosplaying Bulma? 
Answer: Bulma is a highly intellectual character who focuses a lot on her looks. She is highly particular about her youth and beauty. This has even led her to try and obtain the Dragon Balls to look five years younger than her age. 
Therefore, you can go for a mix of a nerdy as well as a sexy tone for your Bulma cosplay. This mixture will help you to bring out all the major characteristics of Bulma in a natural way. Ensure that you do not skip on any of the defining accessories used by Bulma. 
Colored hair, bright clothes, hairbows, neckties, waist bags – these are the main accessories that you need to look out for a while dressing up as Bulma. 
Question: What is the ideal make-up look for Bulma? 
Answer: Bulma's hair and make-up are highly defined by their bright color palette. Since blue is one of the most common colors in Bulma's entire outfit, her hairstyle also follows suit. You can dye your hair blue to achieve a similar look as to what Bulma usually follows. 
Your choice of hairstyle will also help you slip into the skin of the character effortlessly. You can opt for pigtails or long braids to achieve a unique look. If you are unable to achieve the looks of these hairstyles, you can resort to the classic, shoulder-length hairstyle that Bulma wears at the start of the series. 
Her make-up is also kept quite vibrant and attractive. She dons bright lipsticks and eyeshadow shades that are in tandem with her bright outfits. You should not have much of a problem in recreating her iconic make-up looks. 
Wrapping It Up 
Bulma is one of the most iconic female characters of Dragon Balls manga. Her well-defined character arc and unique characteristics have made her a huge fan favorite. The multiple dimensions of her personality make her a great character to replicate during cosplay. 
She is widely renowned for her beauty and her intellect. She is extremely obsessed with her looks and goes to extreme lengths to preserve them. Although she is known to be selfish and manipulative initially, she matures later on and becomes an immensely loved character. 
Her intelligence enabled her to create multiple inventions, including the time machine that forms a crucial aspect of the series. She becomes the CEO of the Capsule Corporation, which showcases her innate prowess effectively. 
Cosplaying Bulma is not an uphill task. However, several components are specifically associated with her. These include her strong sex appeal, her bright hair colors, and unique hairdos, her vibrant outfits, and so on. 
She also uses several specific accessories such as hair bows and neckties. Her tools include a waist bag and a knife holder. You must take utmost care and make sure that you incorporate all of these aspects to the best of your abilities to achieve an original look. Hence, you can cosplay Bulma for your next event with the help of this comprehensive guide and make several heads turn
Continue reading related Dragon Ball Z Costume guides and ideas: