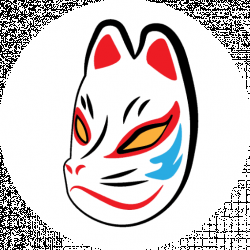 Latest posts by Core Cosplay Team
(see all)
Undoubtedly, one of the most popular genre series is comedy animated series. Among these, you can find a wide range of different anime series like Spongebob, Family Guy, Central Park, and so on. 
However, there is one particular series called Hazbin Hotel, a dark-humor comedy series that is created by Vivienne Medrano that has recently become extremely popular. And one of the most loved fictional characters of this series is Angel Dust.
In short, Angel Dust is nothing but a spider demon. Now that you have got the word spider in your head, you can picture the character to be long, tall, and scary. 
However, the actual Angel Dust character is nothing like how you have imagined him to be. Sure, he is around about eight feet tall. But he also likes styling a pair of pink thigh-high boots. 
You will also notice that he has pink pupils with dark pink sclera in his left eye and light yellow sclera in his right eye. In addition to this, he also has white-colored skin/fur which a few pink dots all over. Not so scary now, is it?
It comes as no surprise that Angel Dust has a unique appearance. This makes him a popular choice for people to cosplay. However, this character's appearance also comes off as one that is hard to nail.
Lucky for you, this cosplay guide has it all! From the things you would need for his costume to even makeup and other accessories, we have listed an entire guide of all things you would need to rock his look!
But before we jump into the actual Angel Dust cosplay ideas and costume guide, you will need to have a clear understanding of what he is like. This will help you perfect the details of his outfit while also showcasing his hilarious personality!
So, without further ado, let's get started!
Who Is Angel Dust?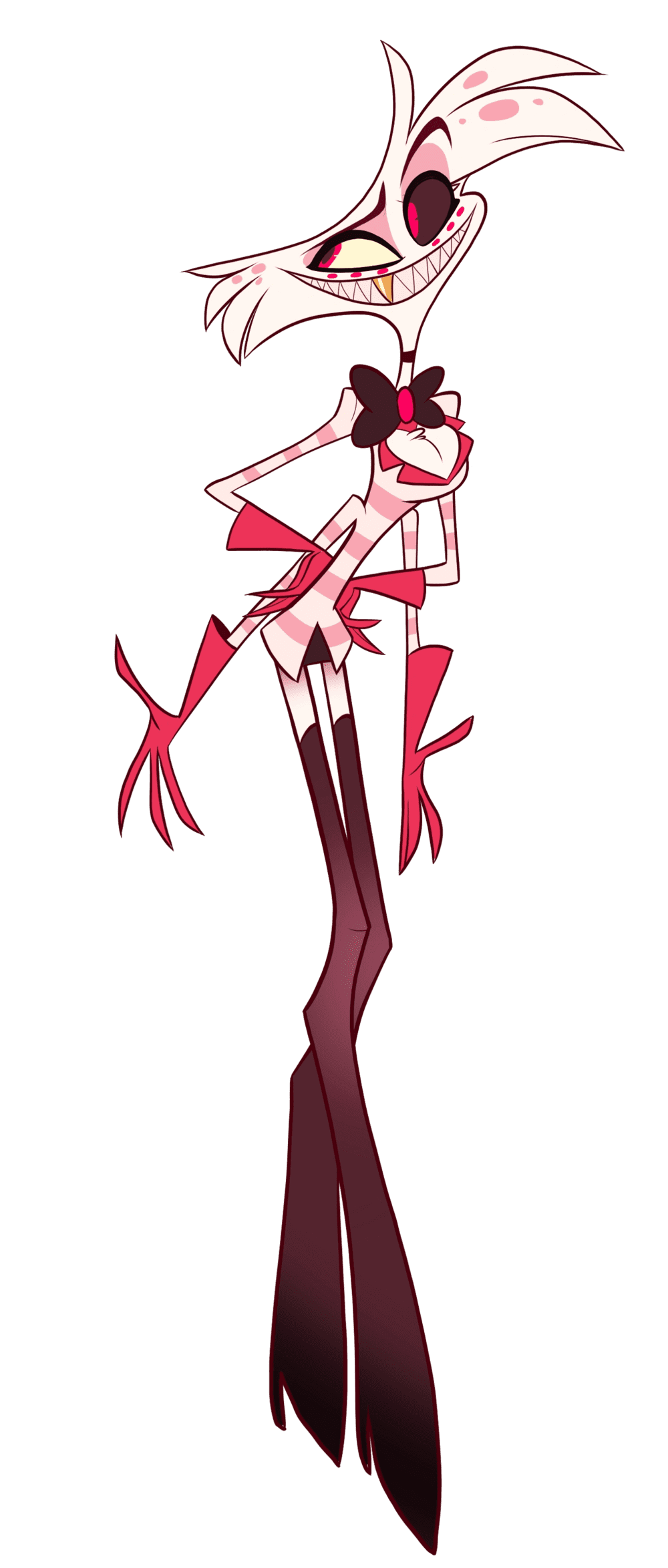 Angel Dust is one of the most popular characters that can be seen in Hazbin Hotel and animated adult series. Also known as Anthony, this character plays the role of the central protagonist.
By profession, Angel Dust is a well-known adult movie star. He is also the first patient who is checked into the Happy Hotel. As mentioned before, Angel Dust is a spider demon, and once he is enrolled into the Happy Hotel, he begins to act selfishly and foolishly and starts to use the Happy Hotel as his one living space without paying the rent.
This, in turn, starts to threaten Charlie's lifelong dream of running a hotel.
The character is extremely quirky, and he is voiced by the talented Michael Kovach.
Appearance
If you want to cosplay as Angel Dust, just keep in mind that he is a demon spider. 
He is an extremely tall character who loves sporting thigh-high boots of bright pink colors. You will also notice that he has pink pupils in his eyes. Moreover, he has a dark pink sclera in his left eye and a light yellow sclera in his right eye. 
However, his skin/fur is not pink as you might think. Instead, it is fully white. To add the touch of Angel Dust to it, he also has a few pink spots that you can see on his hair. 
As for his body, he comes with a huge bust that can be sticking out his quirky, striped pink and white suit. He finishes off his looks by accessorizing with a choker, fashionable pink bow tie, and pink gloves to match the look. 
He can also be wearing a pair of black shorts with this, and this accentuates the outfit. 
Angel Dust also loves to turn himself into a drag queen every now and then. For this look, he shows off his long hair, thanks to his choice of wigs. 
In certain drawings done by Vivienne herself, Angel Dust can also be seen with the long hair and highlights for more attraction. He even has funky patterns on the wig while doing drag!
Personality
If you have ever watched an episode of Hazbin Hotel, you would know that his personality is bold and loud. With this, he also packs in a witty, quick sense of humor and an extremely slutty attitude.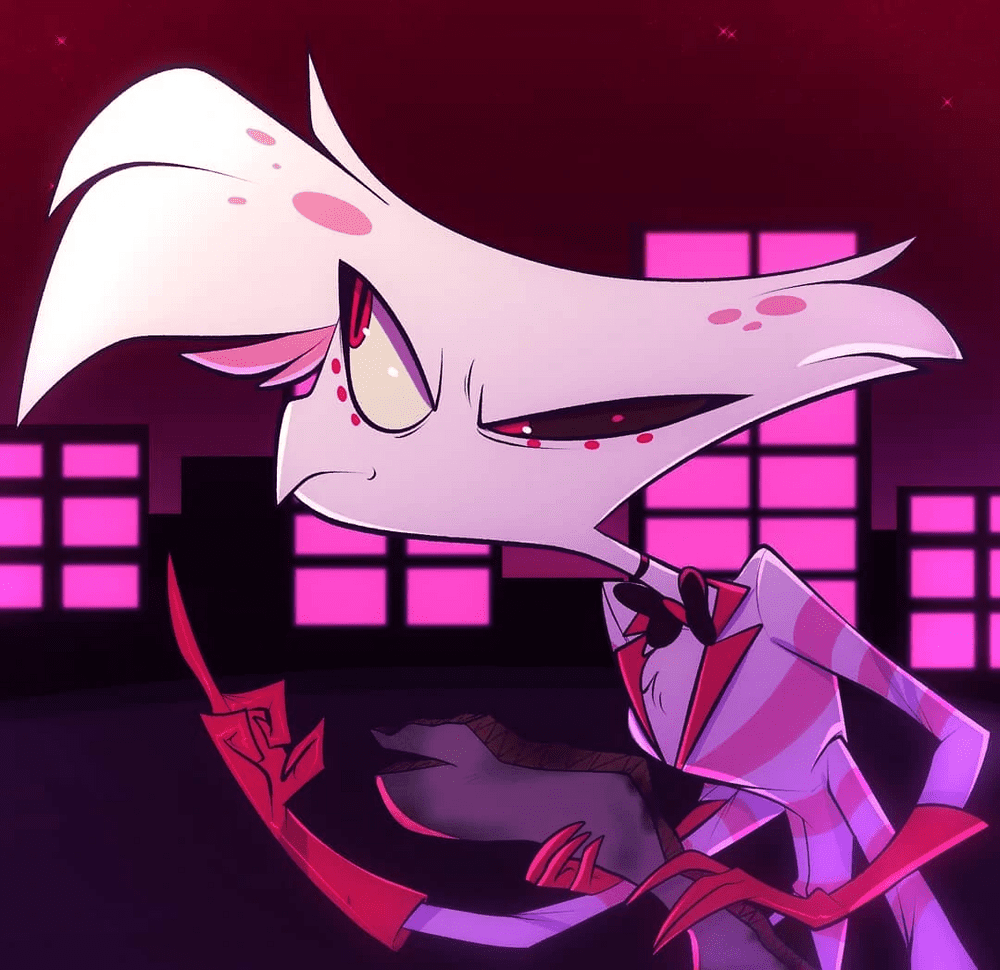 The other characters in Hazbin Hotel tend to mock and insult him, but he never lets the pain of it faze him.
Moreover, he is also an avid drug user and can often be seen snorting drugs, drinking, and smoking.
While Angel Dust is a funny character, he also has a savage side to him. There have been times where he started bar fights or gotten into bloody fights themselves. He also uses his fists to knock out his opponents and often uses guns to take them out.
Therefore, it can be understood that he is quite the hotheaded character, but he enjoys getting into fights. This also helped to develop a very prideful, egoistic nature, which has him constantly trying to prove himself to be someone strong and mighty.
He even went to the extremes by blowing off all his close friends when they felt he was becoming vulnerable. However, that does not necessarily mean he does not care about his friends either. It is quite the opposite!
His two closest friends are Charlie and Cherri Bomb, who Angel is extremely protective of. Even though he was reckless during the first few days of staying at the Happy Hotel created by Charlie, he eventually started to feel bad for his wrongdoings that destroyed the hotel's reputation.
In most of the episodes, Angel Dust presents himself as a big, bad villain. However, there is also a vulnerable tragic side to him underneath his rough demeanor. This is because the young Angel Dust was often subjected to physical abuse (like rape), mental and emotional abuse from his overlord, Mr. Valentino. 
This caused Angel to become very self-conscious and eventually led to extreme depression, low, self-esteem and so on. Therefore, he can often be seen crying in private on the show. Out of his two friends, Cherri Bomb is the only person who is aware of this side. However, she goes to prove that she always has back.
The only way we will ever know if Angel Dust will one day break down the stone walls around his heart is with time. 
Magical Abilities
Angel Dust is a man of many talents and abilities. Some of his most popular abilities include:
Transforming into a full-fledged Demon

Can speak various languages

Extremely knowledgeable with weapons

Has good sensitivity

Super flexible

Can ace athleticism

Has long retractable arms

Has multi-arm ambidexterity

Can kill you with a venomous bite

Extremely agile

Proficient cooking skills

Stellar marksmanship
Why Can Cosplaying As Angel Dust Be A Great Idea?
The art of cosplaying and taking on the roles of your favorite characters is not as easy as it looks. It requires a lot of brainstorming and intense creativity to help bring out a person's best skills and abilities.
Most professional cosplayers love to take on this challenge by dressing up as their favorite characters. Whether it is anime, or an animated series, cosplaying is a great way to bring their favorite characters to life!
As for the character of Angel Dust, you can easily recreate his look with very few elements. Even if you do not have the exact accessory, there are always other ways to get them DIY style.
If you take a look at Angel Dust, you will notice that more than the clothing elements, there is a lot of creativity in his outfit. Whether you are a professional cosplayer or a beginner, you are sure to have fun while taking on the role of this quirky character.
What makes it more exciting is the dual persona of Angel Dust, and this makes him an extremely interesting figure. Since Angel Dust is more of a dark yet quirky character, people are naturally drawn to him, making it a perfect match.
The best part about Hazbin Hotel is that while Angel Dust himself is a unique character, there are various other characters from the series that you can capture and represent!
Cherri Bomb (Best friend)

Charlie Magne (Best friend)

Vaggie

Alastor

Nifty

Husk

Fat Nuggets (Beloved pet)

Valentino (Archenemy)

Sir Pentious
If you decide to cosplay the fun cast of Hazbin Hotel along with your friends, make sure to snap a lot of pictures to share with the rest of the cosplaying clan on social media!
The Complete Angel Dust Cosplay Guide
If you are a lover of dark-humored characters, you are sure to love cosplaying as our demon gangster, Angel Dust. What better way to start the season of Halloween than by cosplaying as Angel Dust and his team!
Undoubtedly, Angel Dust is a character in Hazbin Hotel that shows a lot of strength, intelligence, and brilliance. This is what makes him a highly attractive character to cosplay.
Therefore, if you want to dress up exactly like Angel Dust, you will first need to find all the right clothing and other accessories. The good news here is that most of these items are available easily. If not, they can also way be done the "DIY way" with minimal effort!
Moreover, a DIY custom outfit is better than a store-bought, ready-made costume. There are a few complex elements, but we can assure you that it will not take up a huge chunk of your time. 
Listed below is a complete guide on everything you need to truly bring out the essence of the amazing Angel Dust. 
What You Will Need
As mentioned before, there are a few complex elements that make up the outfit for Angel Dust. To make things easier on your end, we have divided the parts of the Angel Dust costume into two parts.
In the first section, we will walk you through all the essentials that make up Angel's outfit. This mainly includes the clothes, as they will be an integral part of your Angel Dust costume.
In the second section, we will go through all the finer details, including the accessories of the outfit. We have also listed an alternative for each item mentioned on this list to help you sort things out with your very own custom Angel Dust outfit.
So, let's jump into it!
White Shirt
Let's start this outfit from the base. You will first need a simple, plain white shirt. 
Ideally, our hero Angel Dust wears a white shirt as his base. Therefore, your first requirement will also be a white shirt. 
However, if you do not own a white shirt, you can also try using other light-colored shirts that will go well with the outfit. 
This plain base does not require any type of additions as it will mostly be hidden under the jacket on top. 
Availability: You can try getting a white shirt for a low price at your nearest garment store. 
Alternative: If you do not own or cannot find any white shirt alternatives, you can consider opting for any light-colored shirt. A light pink or light blue shirt would work just as fine. You can also wear a plain white t-shirt instead of a white shirt. 
White Suit Or Jacket
Once you have got your white shirt ready, you will need to pair it with a jacket.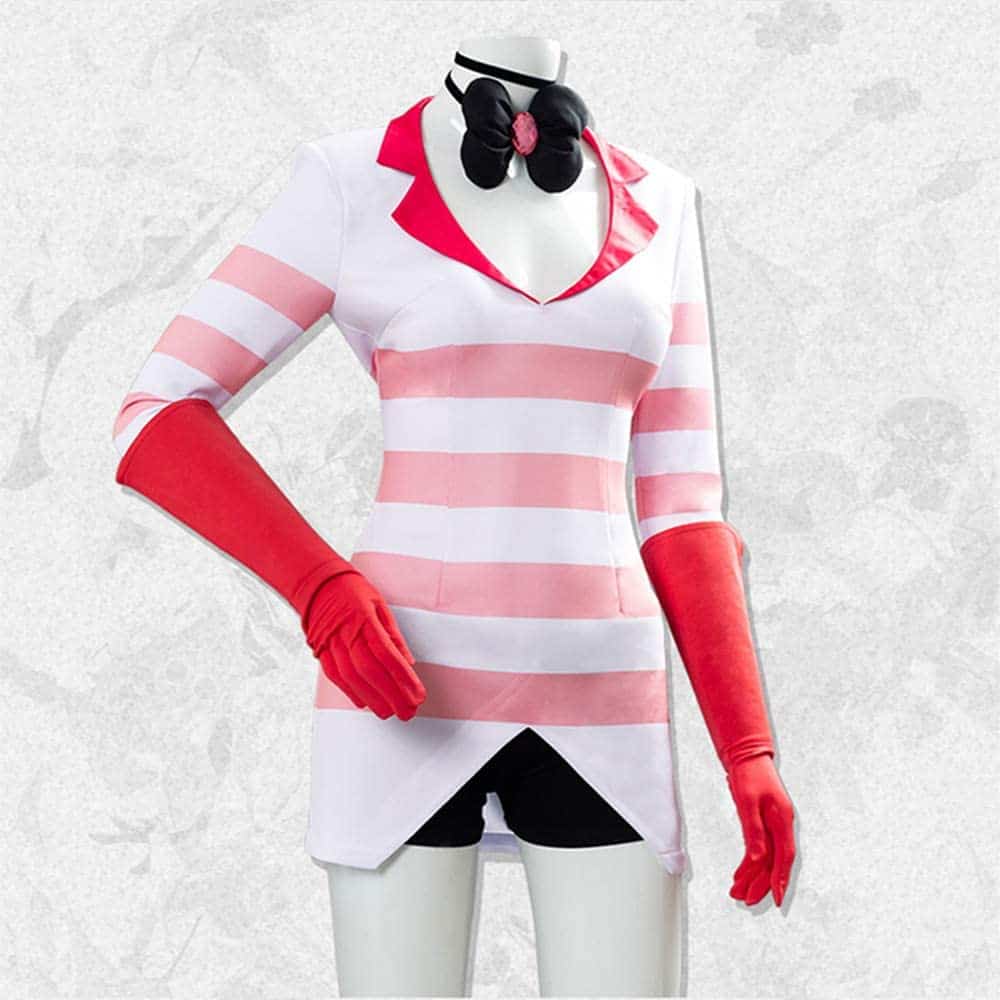 To begin with, start by using a white suit or jacket. However, if you notice the details on Angel Dust's jacket, you will know that the jacket comes with pink stripes. 
To do this, grab some thick tape, and stick it alternatively on the vest. It should be stuck in a way that the jacket is painted with pink and white stripes alternatively. Once you have stuck your tape properly across the jacket, grab some light pink paint, and start painting the jacket. 
Make sure to only paint over the surface without the tape, as this will give you the desired striped finish. After painting the jacket, allow it to dry completely before you remove the tape. 
And voila! Your very own Angel vest!
Availability: Due to the character's popularity, Angel Dust's pink and white striped jacket is available in cosplay stores. However, you can also find a few budget-friendly Angel vests on online stores like Amazon. 
Alternative: If you do not have a white vest, you can opt to choose a less expensive jacket online.
White Leggings
For the lower part of your cosplay outfit, you will need a pair of white leggings to match the rest of the white outfits. 
If you are looking to buy a pair of white leggings, be sure to find one that is of a similar color to the white on the stripped jacket. Make sure the leggings are easy to wear and just as comfortable and stretchable as well!
If you want to opt for a pair of white leggings to make your outfit more accessible, feel free to do so. However, it is also okay to wear a pair of normal white pants as well. 
Availability: You can get a pair of white leggings online very easily. Even if you are not able to find them on the online market, you can easily pick them up in your local garment store!
Alternative: It is not necessary to use a white pair of leggings for this part. If you feel more comfortable wearing white pants instead, feel free to settle with that choice instead!
Pink Gloves
Yet another important element of Angel Dust's outfit is his classy pink gloves.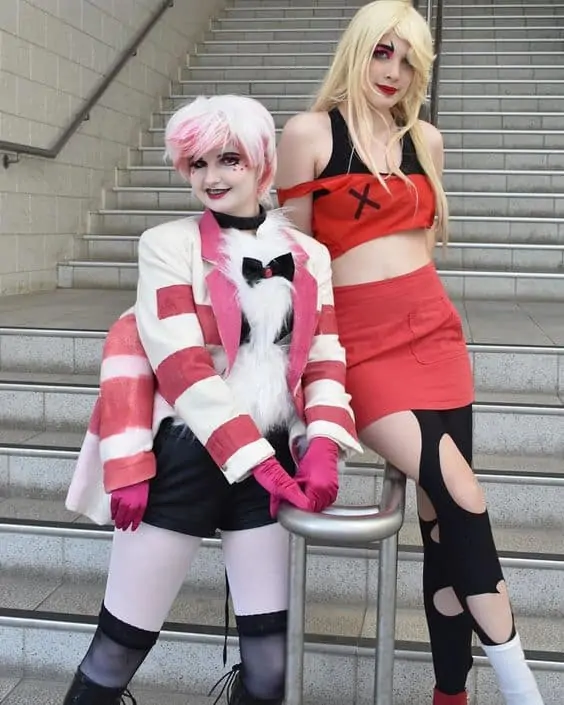 These gloves cover his long, spider hands, and they serve as protective gear when he engages in fistfights. Moreover, these gloves help to give him a good grip while holding his guns without hurting his hands. 
The same reasons apply to you as well. His pink gloves will keep your hands safe against bruises while holding heavy guns, and so on. 
They will also help to accentuate your look while doing so. 
Availability: It is extremely easy to find pink gloves as they are available for affordable prices both in the online and offline market. 
Alternative: If you cannot find a pair of pink gloves, don't worry! You can always buy a pair of white gloves and dye them pink to match your Angel outfit!
Long Black Boots
Whether you want to cosplay a lover or a fighter, the shoes are always an essential part that completes the outfit, and the same applies to your custom Angel Dust outfit.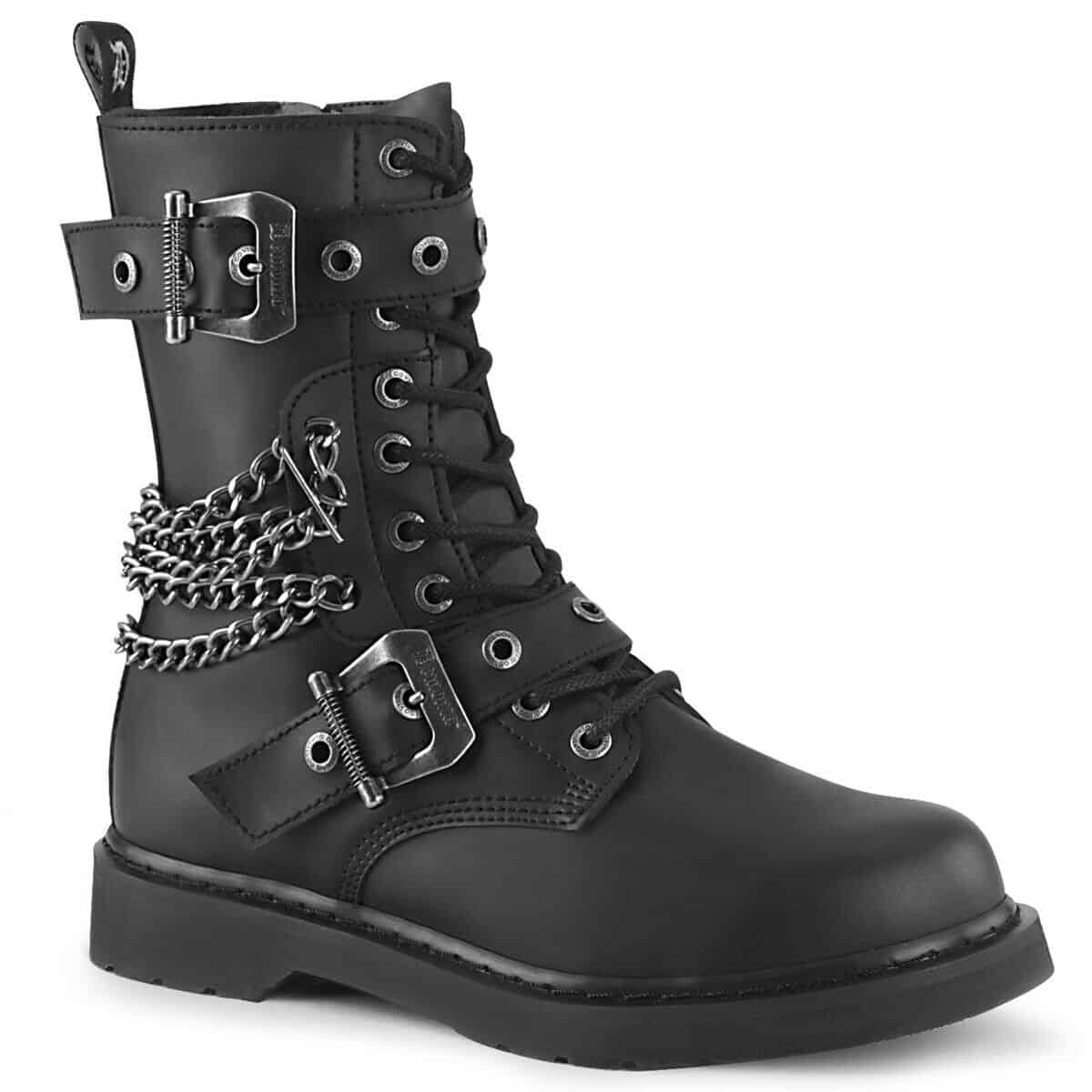 While Angel Dust can be seen rocking out his classic thigh-high boots, you will understand that his shoes are different from your regular shoes. So if you have pair of thigh-high boots, you are in luck!
Availability: The good thing is, thigh-high boots are all the rage right now. Therefore, it will not take you long to spot a pair of these shoes on the online and offline market as well. 
Alternative: If you find thigh-boots to be an expensive buy, don't worry! You can always buy yourself a pair of thick-high black socks and wear a matching set of black shoes to complete the look.
Black Bowtie
The next part of the costume is Angel Dust's bowtie. 
This bowtie gives his outfit a look of uniqueness and elegance. The good thing here is that bowties are an extremely easy outfit to purchase. 
Availability: You can get easily get a black bowtie at any online or offline store as they are a popular accessory. 
Alternative: If you do not own a black bowtie or do not wish to invest in one, you can use a thin black strip of cloth and tie in a bowtie fashion around the neck. 
Additional Accessories and Other Make-Up
Now that we have completed the major part of his outfit, we will now move on to his additional accessories and his makeup that you need to include in your costume.
Do not try to exclude these items, as they are essential in completing the look of your outfit.  Therefore, make sure to include at least most of these in your outfit.
Along with just the accessories, we have also included all the makeup items you might need to complete your look. This second section will help you wrap up the costume and make you feel ready for your cosplay competition!
As mentioned earlier, Angel Dust has white hair with spikes that extend in different directions giving him a very rugged appearance. 
To keep up with Angel Dust's style, you will also need to create the perfect Angel hairstyle with a wig. Therefore, you will first need to purchase a white wig for yourself. If you cannot find a white wig, you can also choose to buy a silver wig that is similar to Angel Dust's hair.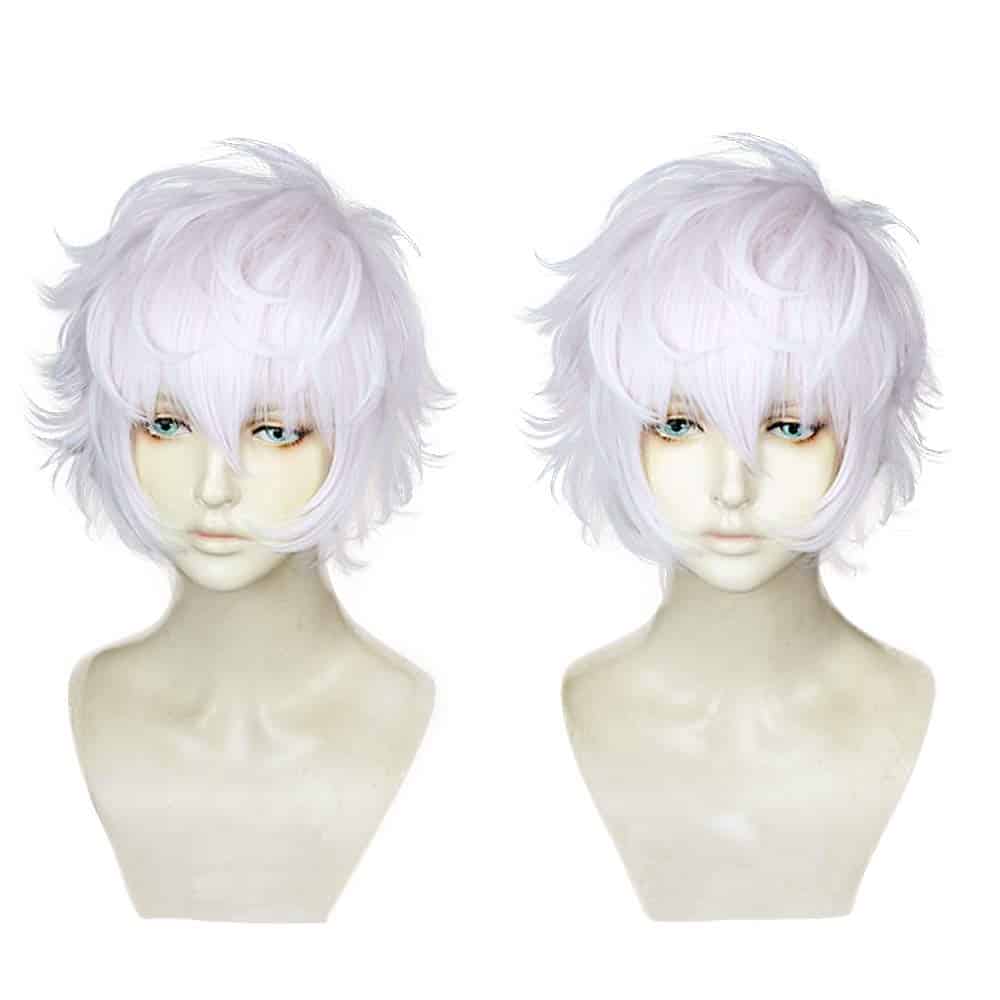 Ideally, the hair should also be styled to have spikes that add an element of style to the outfit. For this, you can use a handy hair gel to lock your tresses in place!
Availability: There are plenty of wigs available on the online store, such as Amazon and other e-commerce websites. However, you can easily get your hands on the perfect wig at your local costume store. 
Alternative: As mentioned earlier, if you are unable to find a white wig to match the rest of the outfit, you can purchase a silver wig and style the hair in the same way. You can also use a white spray to give the hair a more realistic look.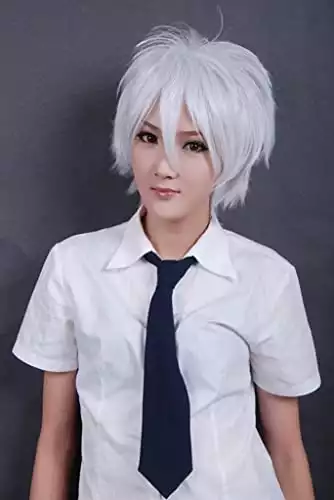 Pink Hair Chalk
Not only does Angel Dust have the sexiest hair, but he also has it detailed with pink spots. 
Therefore, to recreate this, you will need to purchase pink hair chalk. These are also easily available in online stores for affordable prices. 
Once you have one in hand, you will need to draw pink dots on the wig. Make sure to be as gentle as possible if you have already styled the hair to have spikes. 
Even the lightest tint of pink color will show up well on the wig, so don't worry if the color transfer on the wig is not that great.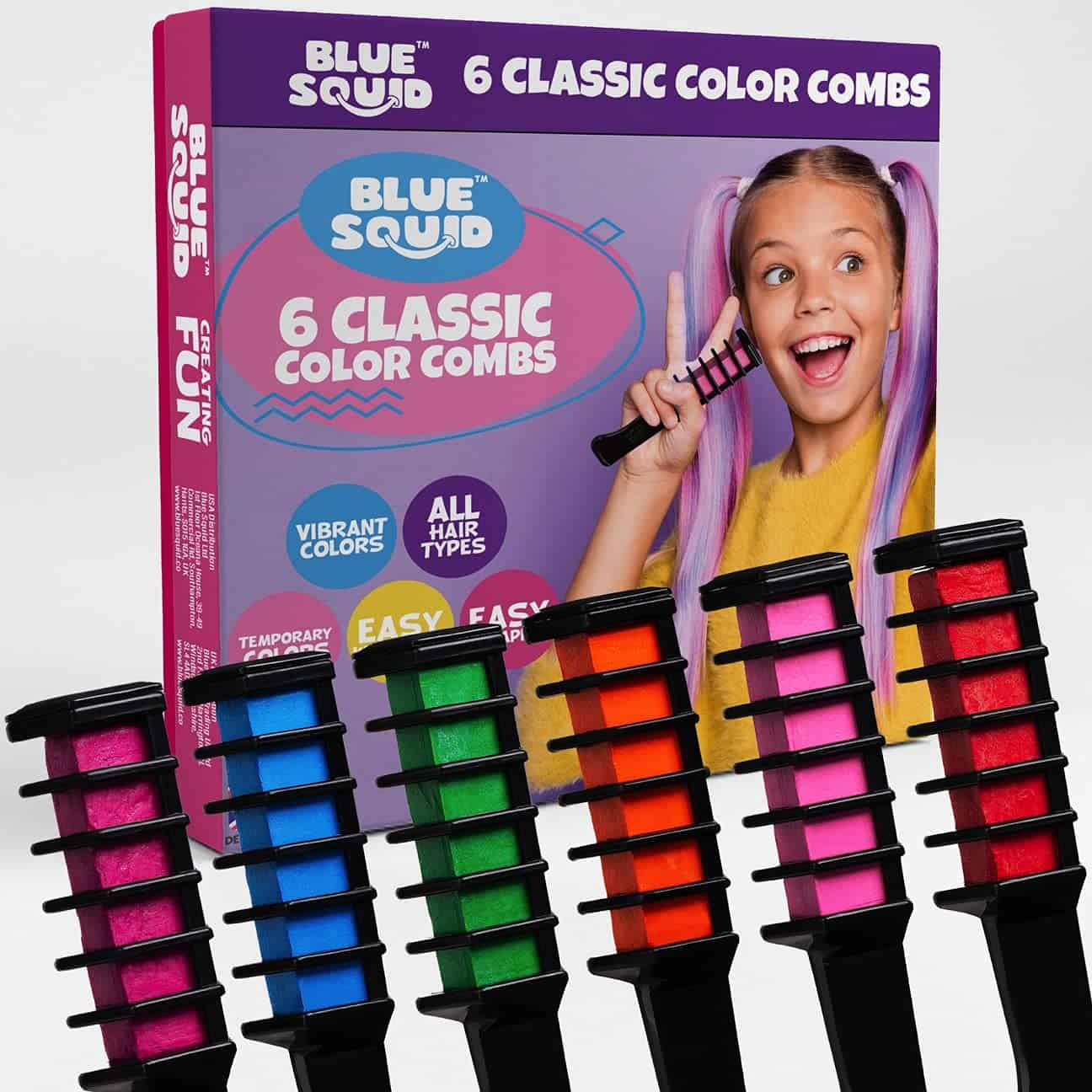 Availability: Hair chalks, in general, are available in a wide range of online stores. You can also find them at your local arts and crafts stores.
Alternative: If you are cannot find one in your locality, don't worry! Feel free to cut up little pink dots off of colored paper, and stick them on your wig in a neat fashion. 
Fake Teeth
Last but not least, you will need a set of fake teeth. 
In case you had forgotten, allow us to remind you that Angel Dust is a demon spider. Therefore, if you plan on cosplaying him, scary teeth are a must-have accessory. 
The good news is that you can find fake teeth to cosplay in today's market. All you need to do is look it up on Amazon and order your set of fake teeth. 
This accessory helps to uplift your look and brings your closer to looking like Angel Dust himself!
Availability: The best place to purchase fake teeth is on the online market. You can find them on online stores like Amazon and other similar e-commerce websites. 
Accessibility: Unfortunately, there are no good alternatives for fake teeth. However, you can consider using fake nails and re-shaping them to look like fake teeth. 
Makeup
In terms of makeup, you will notice that most of Angel Dust's face is white.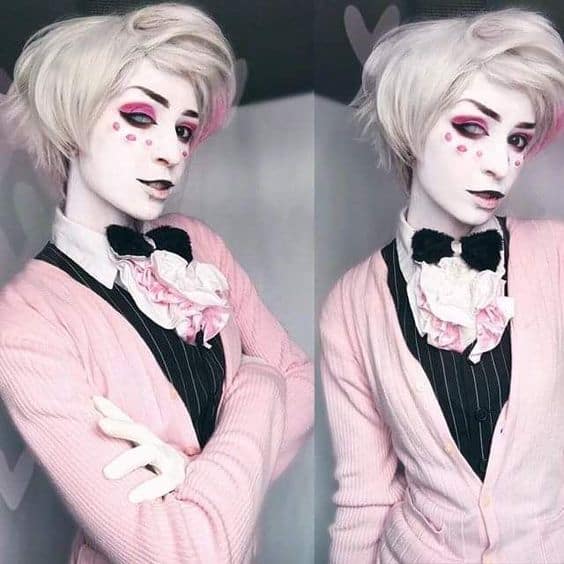 To achieve this look, you can use white body paint, which is easily available on websites like Amazon, and so on. Make sure to start with a clean face, as this works as the best canvas for you. 
You can also check to see if there is a white foundation available, as this will help protect your skin and keep it hydrated even with thick coats of makeup. 
First, you need to layer your face completely with base makeup which is the primer. Using liquid foundations in this situation is better as it blends easily with the sponge. After this, you can add pink eye shadow to highlight your eyes and make them more defined. 
Choose a darker color and start applying the shadow from the corners of the eyes. Feel free to add a pair of dramatic lashes to further accentuate your look. You can also use eyeliner to give it a more flared look. 
The next detail that you can notice with his eye is his pupils. As mentioned earlier, Angel Dust has different colored pupils. While making changes to your actual sclera can be difficult, you can consider applying pink pupils to the eyes to perfect your look! 
Make sure to also use a pink lipstick or eyeshadow to apply three dots under each of the eyes. 
Once you are done with the look, seal it off with a makeup fixing spray to help lock your looks in! This will protect it against sweat and water and keep your makeup intact 24/7. 
Where to find everything you need
Frequently Asked Questions
Question: What Are The Kind Of Clothes That Angel Dust Wears?
Answer: Angel Dust can often be seen rocking a sleek pink and white striped jacket, a classy black bowtie, pink latex gloves, and pink thigh-high boots.
Question: What Kind Of Boots Does Angel Dust Wear?
Answer: Angel Dust can normally be seen wearing long thigh-high boots that make up for his signature look.
Question: What Kind Of Make Up Is Best For Cosplaying Angel Dust?
Answer: Most of Angel Dust's face is white with pink eyeshadow. Therefore, it is best recommended to use body paint to cover the face in white or use a white foundation. You can also use pink eyeshadow to take the look to new heights!
Final Words
Undoubtedly, Angel Dust is one of the most incredible characters at Hazbin Hotel. Despite his cold-blooded demeanor, Angel Dust is a vulnerable character that teaches us how to rise against abuse of all kinds. 
He can also be seen constantly trying to overcome his past to become the best version of himself. By cosplaying Angel Dust, you will also be bringing to life his strong character. 
It is also extremely easy to cosplay Dust if you follow the instruction in this guide down to the T. By doing this, you can perfect every detail of the outfit to help you transform into Angel Dust. 
Whether you end up using the amazing original ideas or the equally amazing alternatives, you can be sure to create your own Angel Dust costume that matches the one he wears on the show. 
Also, make sure to follow the makeup and accessory details, as well as they are an integral part of Dust's outfit. 
Have fun creating the perfect Angel Dust outfit, and remember to have an amazing night!