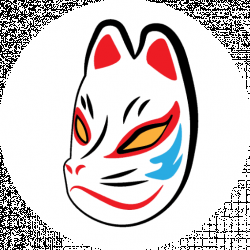 Latest posts by Core Cosplay Team
(see all)
There always comes a show every season which stands out from the rest and just completely takes over the whole internet, for the year 2018 winter season it was Darling in the Franxx.
It was such an emotional rollercoaster for so many of us, the premise of the show is your average mecha anime cliche where kids pilot huge mechs to save the world.
Darling in the Franxx rose up in popularity after only the first episodes and continued to rock the world of anime because of the female lead Zero Two and her use of the word Darling which shook the anime world and immediately crowned her the best waifu of the season.
The show initially became popular for being a mecha anime but there is so much more to it, the fantastic animation, action-filled battles, and lots of drama, and the incredible cast of characters with a strong plot keeps you emotionally invested.
In the cosplay community, fans are crazy about Zero Two, everyone wanted to dress up as her and you would always see at least see five to ten Zero Two cosplays in every cosplay convention and even tho the show is over and hype has died around it, her costume is the first choice for many cosplayers.
Who is Zero Two?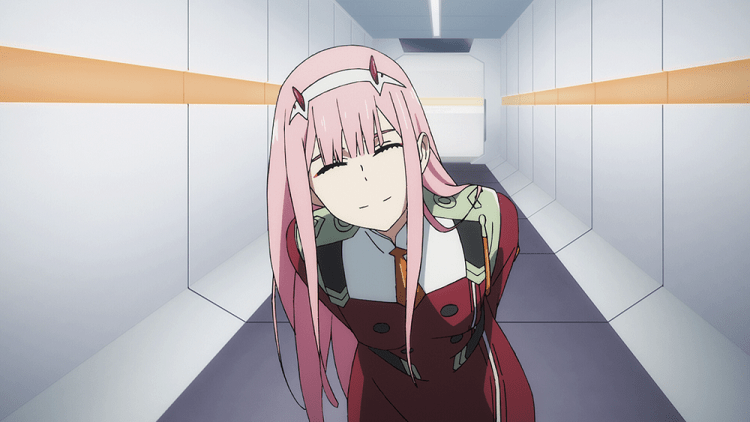 Zero Two is an elite Franxx pilot and the main female lead of the show Darling in the Franxx, she is half human and half Klaxosaur hybrid who as a part of the special APE forces fight on the front lines.
She is also given the name "Pilot Killer" because all of her partners die after riding three times with her, she is shown to not take interest in human life and prefers to fight alone.
Despite being isolated and feared by others due to her Klaxosaur blood and her horns, she takes an interest in Hiro (Protagonist) and offers him an opportunity that she would let him ride with her, and even though the journey was tough and seemed impossible at times, after riding 3 times with Zero Two they become the newest pair of 13th plantation.
Zero Two always chased after her dream to "become human" by defeating Klaxosaurs to be with the one she truly loved. Earlier in the show, she appeared to be somewhat cold and distant and didn't bother remembering the names of her previous co-pilots because they would eventually die, though she did take quite a liking to Hiro, always being playful towards him and sometimes calling him a pervert.
Quotes
"Once we die, we'll only be a statistic. It won't matter what we were called."
"If you don't belong here, just build a place where you do. If you don't have a partner, just find another one. If you can't find one, just take one by force!"
"The Jian, also known as "the bird that shares wings," only possesses one wing. Unless a male and female pair lean on each other and act as one, they're incapable of flight. They're imperfect, incomplete creatures. But, for some reason, their way of life, struck me as profoundly beautiful."
What I'll Cover
There are quite a few Zero Two cosplay outfits to go through in this list, I've picked the most popular ones for you to decide which one suits you the best. Here's what I'll cover
High school Uniform
Standard Military Uniform
Before and After Pistil Suit
Bunny Girl Costume
Swimming Suit
Highschool Uniform
Though only seen in the first outro song of Darling in the Franxx, we get to see an alternate universe where all the kids from the show are living completely different lives as normal teenagers, showing us how everything would be if not for the Klaxosaur's attack on planet earth.
Our heroine is seen standing on top of a crane earlier and then running towards something for the rest of the show and behind her is Ichigo, many people have different interpretations of the outro.
However, to me it symbolized that she was not going to stop for anything until she got what she wanted, facing every problem head-on and chasing after her goal.
Her incredibly simple and unique high school uniform is quite popular in the cosplay community, people love to dress up as different versions of cosplay. Though not being the first choice for many cosplayers, her high school uniform is still quite an amazing choice.
What You'll Need
Plain white shirt
Gray-colored coat
Gray plaid skirt
Red scarf
Blue striped tie
Kneehigh socks
Costume
The simple high school is quite easy to recreate, all you need are these few things. A plain shirt which you can buy from anywhere, you might have one in your closet already, a gray coat, and a gray striped skirt to complete the basics.
Next, we'll need a blue striped tie with gray and red stripes (the pattern doesn't matter much), and a red scarf to put on top of it all. You can use any black socks and loafer-style school shoes and to finish the outfit you will need Zero Two's horns headwear.
Hair
Zero has long pink hairs and straight bangs from the front just above her eyes and two hair strands down to her chest.
You can use a light pink hair dye, however, if you have darker hair you might have to use bleach and let it rest for about 20 minutes before you apply the coloring.
You can buy a simple light pink wig if that is easier for you.
Accessories
She has a black Japanese-style school bag which she rests on her left shoulder, resting her arm on it.
Military Uniform

The first-ever costume Zero Two appears in during the first episode Alone and Lonesome where she is seen on a carrier plane flying over plantation 13 with nana to meet the Doctor, during flight she asks nana if there is an ocean at plantation 13, that she is the mood to swim because she tastes so bad.
Zero two in this scene is wearing the military uniform with a military overcoat and a white hat which she throws away while running off away from everyone else, she goes to a lake for skinny dipping and is spotted by Hiro who assumes that she is drowning and jumps in to save her.
Zero Two has a different uniform from everyone else, she prefers the color pink just like her hair, and is seen in her military uniform for the most part of the show, one of the reasons this costume is a popular outfit in the cosplay world.
What You'll Need
Custom red military uniform
Black leggings
White boots
Military white overcoat
Horn headwear
A pink Lollipop
Costume
Zero Two's military uniform is quite the popular choice for cosplayers, the tough part would be to create the military top. You'll need a simple red uniform, black buttons, a white collar with a small orange tie, and some military badges to get a somewhat similar look.
Next, you'll need some black leggings along with white zipper boots with black soles, and to finish the outfit you'll need her headwear and a pink lollipop.
Hair
Zero Two has long pink hair reaching down to her hips, she has straighter cut bangs around her eyes, and two hair strands reaching to the chest.
You can achieve that easily by using a pink dye or you can purchase a wig if that is easier for you.
Accessories
There isn't a particular prop Zero Two uses for this cosplay, though she is sometimes seen with a pink lollipop in her mouth, get some of those to make your experience better.
Squad 13's Pistil Suit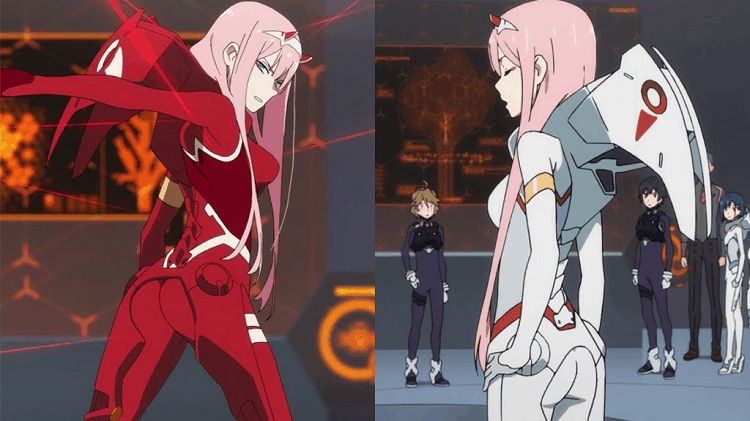 Every pilot is required to wear these suits in order to operate the giant mech known as the Franxx, the children who are able to pilot these mechs are called parasites, while most of the children wear bland colored pistil suits- white-grey suits for pistils (girls) and dark-gray colored suit for stamens ( boys).
Zero Two originally wore a red-colored pistil suit with white highlights as part of her previous squad- the 9's, however after joining squad 13 she adopted their standard uniform which basically had the colors contrast (white-colored suit with red accents).
The Pistil Suit costume easily takes the top spot for being the most popular and an amazing costume choice for many cosplayers, not only for the totally incredible design but also for the impact it had on the community.
What You'll Need
Red or white spandex jumpsuit
Zero Two's armor props
Costume
Zero Two's pistil outfit is just a simple jumpsuit with a complex pattern made to look like she's wearing an actual battle-ready uniform.
You can order this simple jumpsuit from Amazon to create the base of the costume, next we move onto props, you can create the armor props yourself with some cardboard, glue, and some foam. And do not forget her headwear.
Bunny Girl Costume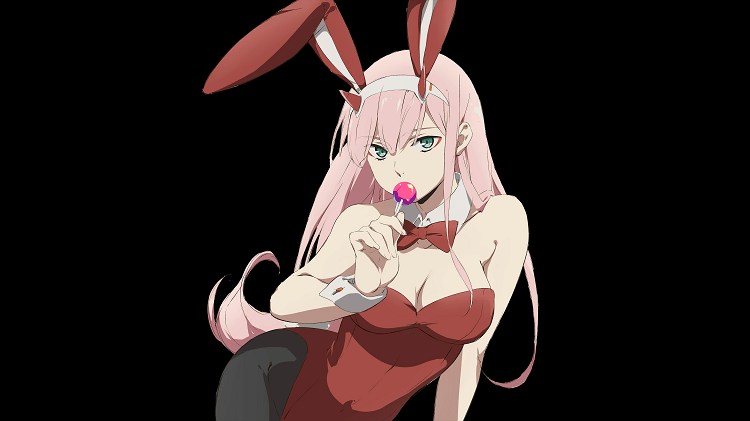 (Image source: Midori_Y__ via Twitter)
Do not question how the bunny girl costume from Bunny Girl Senpai made its way to Darling in the Franxx just be grateful and say thank you, anime community is in love with the bunny girl costume and will always find ways to intertwine their favorites waifus into the bunny girl costume through their beautiful artworks or cosplays.
The cosplay community doesn't just sit around when a new outfit comes into town, the red bunny girl costume became so popular that it was all over social media and everyone was excited to see their favorite cosplayer dressed up as the infamous bunny girl.
Something that makes this non-official costume even more amazing is that there is a bunny girl Zero Two anime figure.
What You'll Need
Bunny girl costume
Fishnet bottoms
Black high heels
Golden buttoned cuffs
Golden armbands
White collar with a red bowtie
Rabbit tail
Rabbit ears headpiece
Costume
Zero Two's rabbit costume is one of the more popular choices for cosplayers, you can easily recreate this with proper items, you need a red bunny girl costume, fishnet tights, and black high heels to finish the base of the outfit.
Next, you'll need white cuffs with golden buttons, golden armbands, a white collar with a red bowtie to give it a more classy look, red and white rabbit ears, and a fluffy rabbit tail to finish the outfit.
Swimming Suit
After the successful mission with plantation 26, squad 13 is granted a two days vacation to the ocean, everyone is excited to be there, Zero Two pulls Hiro and pretends to kiss him but instead licks him and teasingly asks him "what were you expecting darling?"
The simple Zero Two Swimsuit is another choice for many cosplayers, it's mainly popular with exotic cosplayers who love taking pictures on a beach to recreate the scene from Darling in the Franxx.
There is nothing that people do not love about Zero Two and even this simple white swimsuit is proof of that, you will see many cosplayers rocking Zero Two's swimsuit look all over social media.
What You'll Need
White swimsuit with red accents
Zero Two's headwear
Costume
Her Swimsuit is a simple costume, all you need is a white swimsuit with red accents that begin from her navel and curve around and meet right on her back.
Hair
This was one and the only time Zero Two changed her hairstyle, she tied her hair up in a single ponytail, leaving two hair strands on her sides.
Zero Two Makeup Guide
Zero Two's has a few unique features such as the pinkish-red markings on the canthi or her turquoise-colored eyes with rings around her pupils which require you to bring forth your makeup skills in order to shine brightly from the rest.
What You'll Need
Liquid Foundation
Concealer
Pink Lipstick
Makeup sponge
Eye shadow palette powder
Eyeliner
Turquoise contacts
Frequently Asked Questions
Question: Why Did Zero Two and Hiro Die?
Answer: Zero Two and Hiro died defending the earth from VIRM who was the real antagonist of the series, VIRM who came from outer space in order to take control of earth's resources.
They were disguised as humans and pretended that Klaxosaurs were the real enemies of the earth.
Question: Does Zero Two Really Love Hiro?
Answer: She always has loved Hiro, she took a slight interest in him because unlike the rest of her pilots who were always afraid to pilot the Franxx with her, Hiro was not afraid of her horns and did not see her as a monster.
After a few episodes when the real story unfolds, we see that Hiro was the "prince" in her story that she was looking for, ever since she was a child.
Question: Why Does Zero Two Call Hiro Her Darling?
Answer: To answer this question we have to go back a few ways, as a child Zero Two was always alone, locked inside a dark room with no one to talk to, except her mother who would always bring her food, read her stories and spend time with her showing affection.
She would always refer to Zero Two as "My Darling", it was the only world she Zero Two knew to call someone who is important to her, that's why she calls Hiro her darling because she truly cares about him.
Final Touches To Zero Two Cosplay Outfits
Ask yourself, what makes cosplay great? What does it take for you to make people go "wow" when they see you dressed up as their favorite character? Does your character has a specific pose that people love? or do they have a facial expression that separates them from the rest?
Zero Two is often seen giving a bright smile when talking to her darling, I'm sure you will kill people with your charms if you do that. She is cheerful and always quite friendly with most people so getting her mannerisms will definitely help.
A cherry on top would be holding a lollipop in your hand or in your mouth while you do certain poses, It seems to be a stereotype with many cosplayers and no one seems to mind so why not.