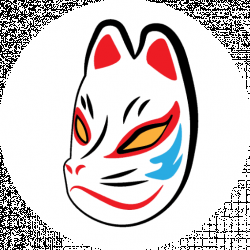 Latest posts by Core Cosplay Team
(see all)
Violet Evergarden isn't your average slice of life anime; it is a beloved series developed by studio Kyoto Animation and cherished by millions of fans worldwide.
Violet Evergarden is based on a famous novel written by Kana Akatsuki and illustrated by Akiko Takase; there was so much hype around the show before its initial release because it was going to be animated by Kyoto Animation, and the popularity of the light novel.
So many things make Violet Evergarden a fantastic drama series, such as the impeccable storyline, flawless animation, loveable cast, and phenomenal music. The emotions you feel while watching Violet Evergarden are indescribable, you get to experience the pain and suffering of other people and grow as a person.
The story follows a young girl named Violet Evergarden who wants to know the meaning of the words "I love You", which were the last words said to her by Major Gilbert Bougainvillea. Violet was treated as a military tool and nothing more, she didn't know how to read or write. Gilbert taught her how to read and requested Lieutenant Hodgins to take care of Violet if something were to happen to him.
There is no question why Violet Evergarden is the top choice for female cosplayers, the female characters are gorgeous one after another, and cosplayers love to show their love and affection for the show via their costumes.
Characters I'll Cover
Violet Evergarden has some unique characters to choose from, all with different personalities and unique costumes. This is a complete Violet Evergarden Cosplay Ideas guide on the most cosplayed characters from Violet Evergarden to help you decide which character is best for you.
Violet Evergarden
Gilbert Bougainvillea
Benedict Blue
Cattleya Baudelaire
Claudia Hodgins
Luculia Marlborough
Iris Cannary
Violet Evergarden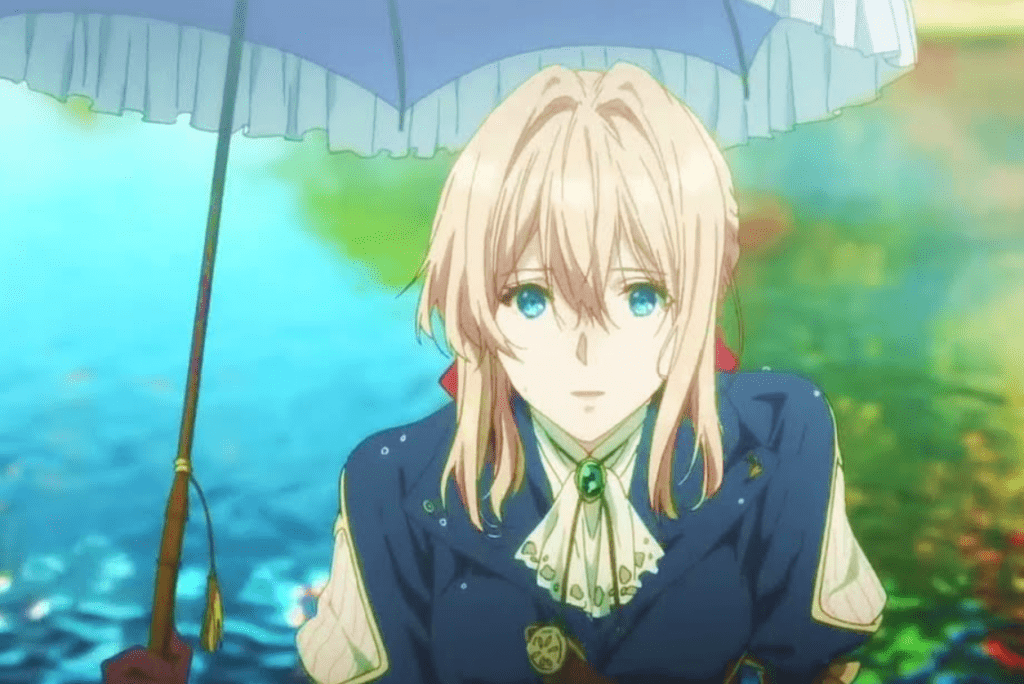 Violet Evergarden is the protagonist of the series Violet Evergarden, and an Auto Memories Doll at CH Postal Service. She wants to learn the meaning of "I Love You", the last words said to her by Major Gilbert Bougainvillea.
Before working as an Auto Memories Doll, Violet was a soldier in the Leidenschaftlich Army. Back then, Violet didn't have a name and was referred to as Leidenschaftlich's warrior maiden. Violet was Given to Gilbert by Dietfried Bougainvillea to celebrate his promotion. Gilbert treated and cared for Violet, giving her a name and teaching her how to read and write.
Perhaps that's why Violet never forgot about the Major. He was the first person who treated her as more than just a tool, and he gave her a beautiful name so she may grow up into a beautiful woman someday, and she did.
Violet doesn't understand human emotions very well. That's because she wasn't treated as a human being but as a weapon. She wasn't educated and had no sense of right from wrong. She was only trained to follow orders from her superiors. After meeting different clients with unique personalities and characteristics, Violet began to show other emotions and understand her feelings.
Quotes
It is a pleasure to meet you. If it is your wish, I will travel anywhere to meet your request. Auto Memory Doll, Violet Evergarden, at your service.
What You'll Need
Dress
jacket
Pleated skirt
red hair ribbon
brown leather belts
Neck accessory
Brown Gloves
Brooch
Brown lace-up heel boots
Costume

Violet's appearance makes her seem like an actual doll, as many people who've hired her said the same.
Her working attire consisted of a white ribbon dress with leather strips sewn from top to bottom and a ruffle puff sleeve design, and she also wore a pleated white skirt in a one-piece crease arranged in a wavy shape behind the dress.
Violet wore a Prussian blue half jacket with a belt diagonally tied around the coat and two shoulder straps with buckles.
She wore an emerald brooch in the middle of her white ribbon tie, her costume would be incomplete without it. She also wore brown leather gloves and long brown lace-up heel boots.
Hair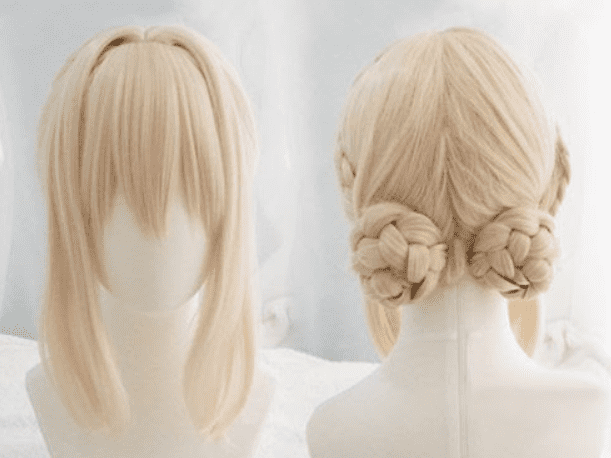 Violet's hair is the most striking feature of her, except her eyes. Of course, she has long blonde hair reaching down her hips with hair fringes around her eyebrows, her fringes are divided into three hair strands, with one being in the middle and the other two blending with her bangs that end on her shoulder.
Amy would describe her hair as "velvet" when styling it for her. Violet tied her hair in a loose ponytail with a black ribbon when she was in the army and later into two french braids when she started working as an Auto Memory Doll, which she would wrap on themselves and tie with two red ribbons.
To achieve a similar color tone, you need to use bleach and sit for a few minutes before applying the blonde hair dye. For the hairstyle, you can go with either the first one, which is very simple or the latter, which is more popular with cosplayers. We know that Violet has long hair, but the way she styles it doesn't make it look that way, so even if your hair is only around your back, that is perfectly fine.
Alternatively, you can decide to go with a blonde wig if you do not want to color your hair; you can even shop for the exact Violet Evergarden Wig from Amazon and skip over this part entirely.
Eyes
Violet has gleaming large blue eyes with thick dark eyelashes, so get yourself a pair of blue contacts and some mascara to make your eyelashes prominent.
Also, if you're planning to go with fake eyelashes, I would advise you against it because it can cause problems such as eye injuries, allergic reactions, and damage to your natural lashes.
Accessories
The accessories that Violet wore were all gifts from people she met on her journey, such as
Green Brooch: The green brooch is a gift from Gilbert. It is her most precious item because it reminds her of his eyes. She wears it in the middle of her neck ribbon.
Blue Parasol: Violet always carries a frilly blue parasol when she's going on long trips. This was a gift from Oscar, who was a children's story author.
Brown Gloves: Violet received those brown gloves from the Evergarden home.
Makeup
Your Violet cosplay would be incomplete without her childish facial features and doll-like appearance, so you should always try this makeup tutorial.
You will need the following products:
Circle Lenses
Eyeliner
Mascara
Powder
Highlight
Blusher
Gilbert Bougainvillea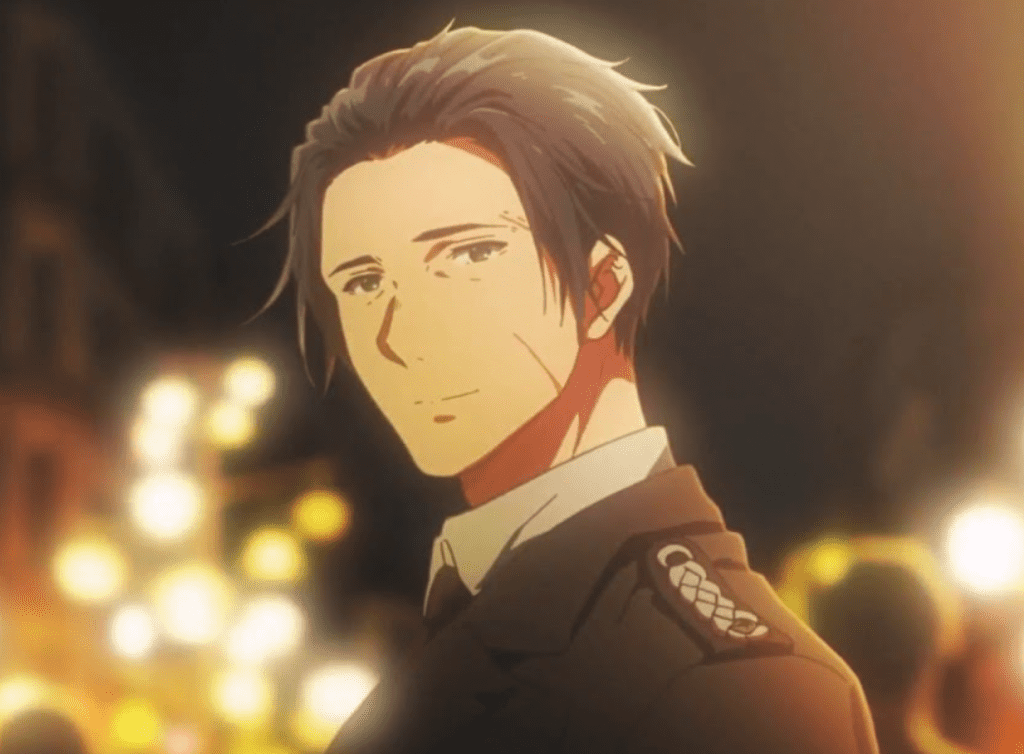 Gilbert Bougainvillea, in my opinion, is the deuteragonist of the Violet Evergarden series. After he was promoted to the rank of Major in the Leidenschaftlich army, he received Violet as a gift from his older brother Dietfried Bougainvillea.
Gilbert truly cared for Violet and wanted to give her an everyday life. He taught her how to read and write, even treated her with kindness. Gilbert was against his brother's behavior of treating Violet as a tool for war.
Being born into a family of soldiers, Gilbert and Dietfried had no choice but to join the army and follow in their father's footsteps; Gilbert took the burden away from his older brother by enlisting in the military and becoming the head of the Bougainvillea Family.
Gilbert always pretended that there was nothing else he wanted to do. He never showed his true feelings to anyone except Violet. Gilbert felt like he wasn't allowed to say what he wanted. He was always envious of people around him who would actively speak about their dreams.
Quotes
"Live… and be free. From the bottom of my heart, I love you."
What You'll Need
Top
Pants
Strap
Belt
Boots
Costume
Major Gilbert Bougainvillea is mainly seen wearing his green military uniform with an olive green strap belt around the shoulder and his waist. You can buy a basic green military uniform from Amazon or any local vendor.
He wears matching-colored military pants and dark-green or black leather boots.
Hair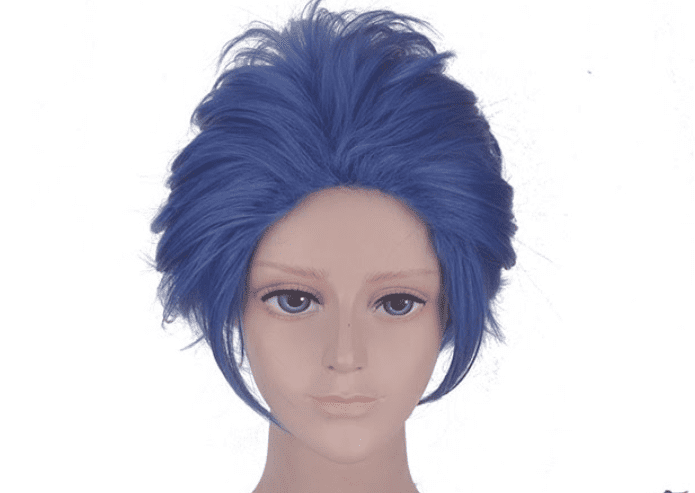 Gilbert's hair is my favorite. He has short slicked back hair with several fringes free falling and somewhat framing his face, his hair may seem black in some scenes, but it is dark blue.
Use a dark blue hair dye to match his hair color, and for the hairstyle, you will need to use a weightless water-based pomade and not a hair gel if you want that silky smooth feel.
An alternative would be a dark blue wig. However, you still need to use a pomade for those slick hair.
Eyes
Gilbert has emerald green eyes similar to Violet's emerald brooch, so buy yourself a  pair of green contacts to make your cosplay look amazing.
Accessories
After the war ended, Gilbert received a metallic prosthetic arm and started wearing a black eye patch over his right eye due to his vision loss.
Makeup
Major Gilbert has a few scars on his face as a war veteran, one being on his left cheek and the other above his left eye. You need to draw those with a makeup pen concealer and fill them with red eyeshadow.
Benedict Blue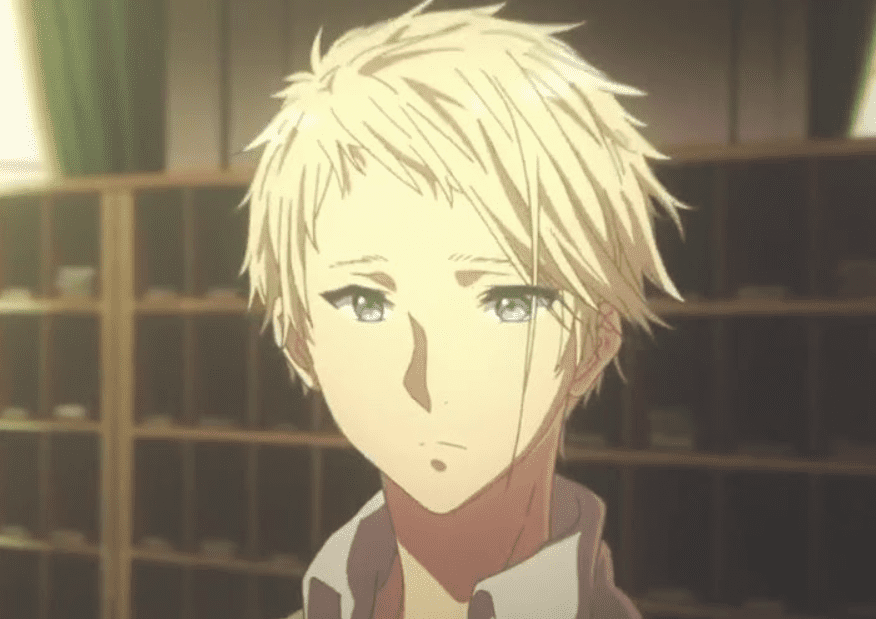 Benedict is my favorite character from the Violet Evergarden series. He is a gorgeous and handsome postman at the CH Postal Company, he knew Hodgins before the company was established, and even though he profoundly respects him, he has a blunt attitude towards him.
He is a stubborn and slightly short-tempered young man who may come off as a bit blunt or rude, but that's how he is. He isn't good with words or even being respectful. He doesn't hesitate to say what's on his mind and often offends people with his words.
Despite all that, he is kind and considerate toward those he cares about, and he will go to any length to make his co-workers happy. He has a calm demeanor and always knows what to do; on top of that, he is a diligent worker, which are all the qualities required in a mail carrier.
Quotes
"I am in hell with no hope. Without you, there is no future."
What You'll Need
Shirt
Strap
Underpants
Pants
Gloves
Long black boots
Costume
Benedict dresses up even fancier than the ladies, and he understands fashion better than anyone.
He wears a loose pale white shirt on top of a sleeveless black top with beige suspenders and a brown strap around his shoulders tied at the back and hanging loosely around his knees.
He wears front open green military pants tied with a black shoelace instead of a belt, and his pants are sewn together with a black shoelace or a ribbon, revealing his black underpants.
I'd say his shoes are the most fantastic part of his costume. He wears black high heel boots with a one-piece cloth organized in a wavy pattern above the heel.
Hair
Benedict has short and spiky sandy-blonde hair styled in a side-fringe hairstyle, and he has a short hairline with lengthy hair strands hanging on the left side of his face.
The official color of his hair is sandy-blond; however, many cosplayers have decided to go with bleach-blond, so the choice is yours in terms of hair color.
It would help if you used a water-based pomade for the hairstyle to make your hair stay down and then style it accordingly.
As an alternative, you can purchase Benedict's wig from Amazon or any popular cosplay store online; Benedict's wig is available in two different shades of blonde so that you can decide for yourself.
Eyes
Benedict has sky-blue eyes and skinny eyebrows, so a pair of sky-blue contacts will do the trick, and for the thin eyebrows, you can try using a pencil or eyebrow powder.
Accessories
Benedict carries around a satchel with him while he's delivering posts around town. I'm not sure if he carries posts in those; what else could it be, huh?
Cattleya Baudelaire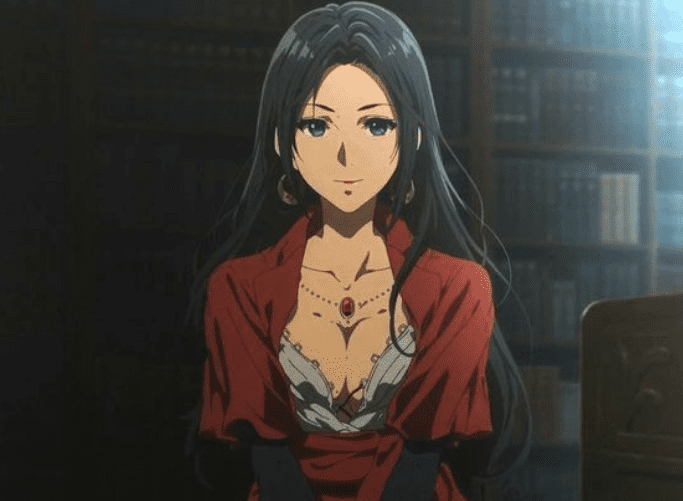 Cattleya is a beautiful lady from the Violet Evergarden series. She's a role model for other auto memory dolls at the CH Postal Company. She is constantly being requested by clients left and right; most clients come to her with love troubles. She's known Hodgins before the company was established and has a little crush on him.
Cattleya is a lady with strong emotions, and she can be pretty sensitive, often worrying about her feminine appeal towards Hodgins. She believes that love is required for living as it is a symbol of joy; she is quite talented when it comes to matters of the heart, which is why she is in charge of the clients with love troubles.
Cattleya is a warm and welcoming person who is always ready to help anyone in need. She was gentle with Violet and helped her in her work as an Auto Memory Doll. Cattleya also has a cheeky and teasing side to her; she enjoys teasing Hodgins about his name.
Quotes
"Words can have different interpretations. What one says isn't the whole truth. It's a human weakness. They test others to confirm their own existence. It's a contradiction.
What You'll Need
Long coat
Black arm sleeves
Skirt
Red sash
Long brown heeled boots
Costume
Cattleya is the most beautiful and mature lady from Violet Evergarden. She also has a bit of a crush on lieutenant Hodgins.
Cattleya wears an open red long coat on top of a white bustier with transparent straps, and her coat is tied around the waist with a red sash.
She wears charcoal-grey elbow sleeves and thigh-high brown leather boots. You can roll down your boots for that loose, long boots look, but keep them above your knees to prevent falling.
Hair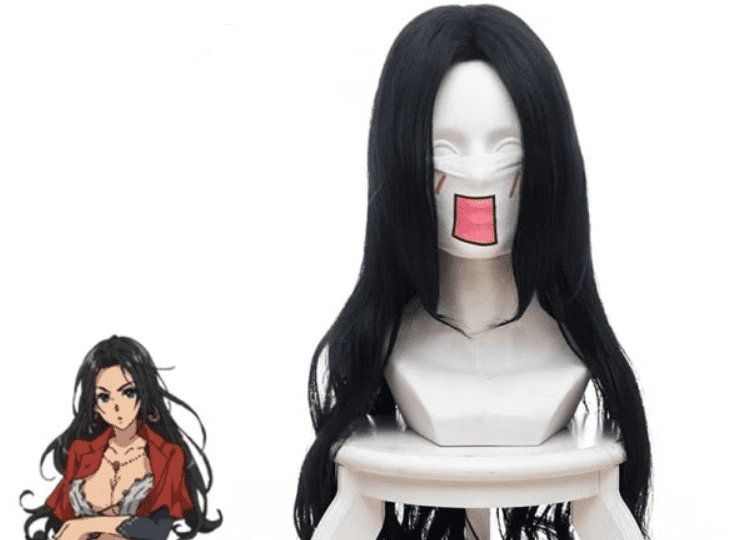 There's no doubt that Cattleya is a beautiful lady and her beautiful long black is worthy of being praised. She has long, shiny, and wavy black hair that reaches around her lower back and curls at the end; his hair is parted from the middle into short-sized bangs that frame her face.
Natural long hair is a blessing, and if you have decent long black hair, I'd say you are halfway done, and if you don't have long hair, you will need to buy a wig.
As for styling your hair, you can use any hair curl tool available to you and use it at the end of your hair.
Cattleya Baudelaire's wig is no different from an ordinary black wig, so do not go for that.
Eyes
She has gleaming amethyst eyes with thick eyelashes and skinny eyebrows, so get yourself a pair of amethyst/purple contacts and some mascara to make your eyelashes more prominent.
Accessories
Cattleya is always seen wearing a Beaded Pendant, and she doesn't wear many accessories while working at the CH postal office.
Claudia Hodgins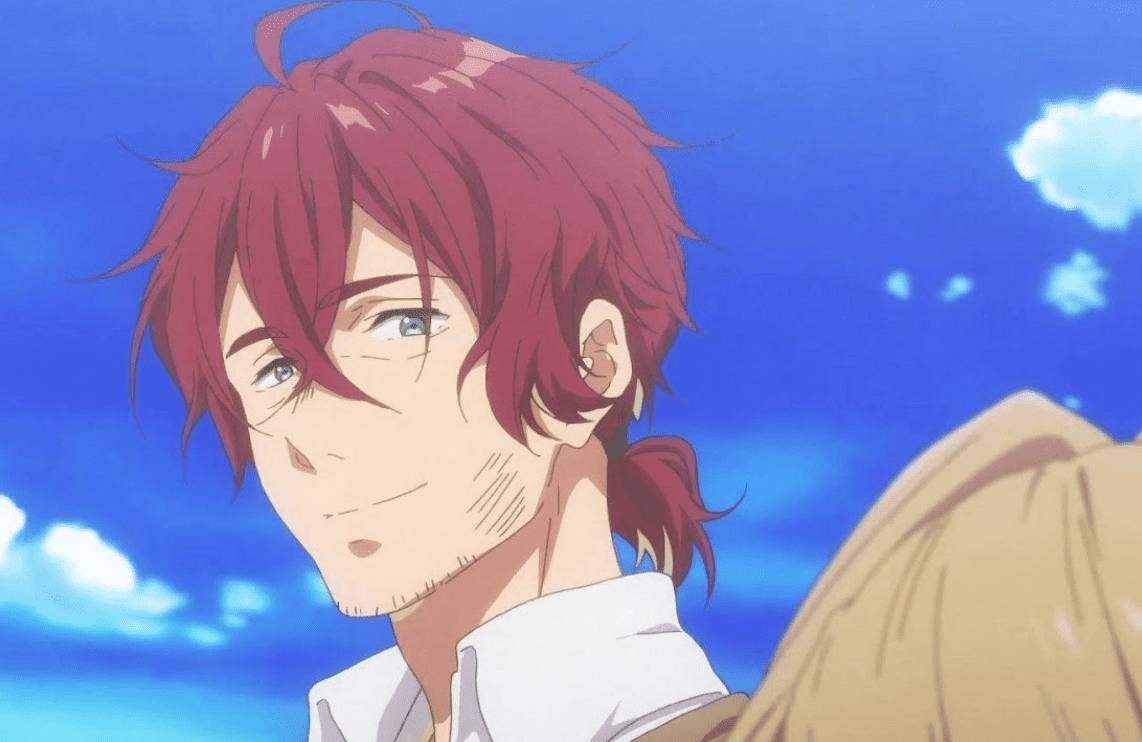 Hodgins is the former Lieutenant of the Leidenschaftlich army and the president of the CH Postal Company. After the war ended, he established the company to help the soldiers send letters to their loved ones but later became accustomed to helping the general audience send letters. He was given the task to watch over Violet by Gilbert Bougainvillea.
Hodgins is my favorite character because of his calm and considerate personality. He is kind and welcoming, like Cattleya, who believes in giving people second chances. He is always quiet and speaks politely. He is patient and cares for his workers, as he takes Violet in and believes in her work as a Doll.
Quotes
"You don't realize your body is on fire and burning up because of the things you've done." 
What You'll Need
Shirt
Vest
Pants
Belt
Boots
Costume
Lieutenant Hodgins is a straightforward man, and his everyday outfit consists of a plain white shirt with a suede vest on top; he wears maroon wide pants with a green-ish blue ornamental webbing belt and brown dress boots.
Hair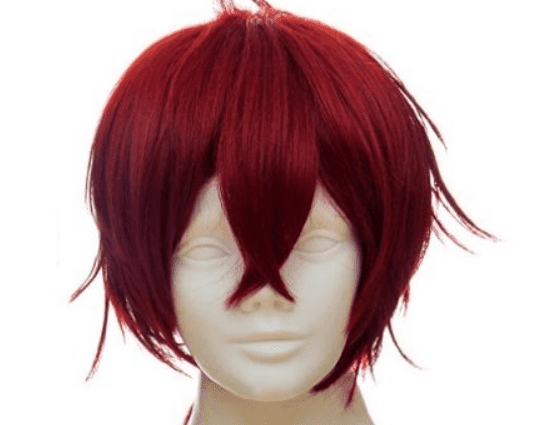 Claudia has decent long wavy crimson hair that he styles in a low ponytail with hair strands between his eyes and messy bangs framing his face, and he also has the iconic hair antenna.
Lieutenant Hodgins has a rather dark shade of crimson hair, so you should go with a dark red hair dye, you will also need to blow dry your hair for the shaggy texture, and then you can proceed with the simple low ponytail hairstyle.
Alternatively, you can buy a shaggy dark red wig from Amazon and proceed with the low ponytail.
Eyes
Claudia has droopy turquoise eyes; his irises are pretty small compared to other characters in the show.
Makeup
As a military veteran, Claudia has quite a few scars on his face, two on the lower part of his cheeks. It would help if you used a makeup pen concealer to draw them on your face.
Luculia Marlborough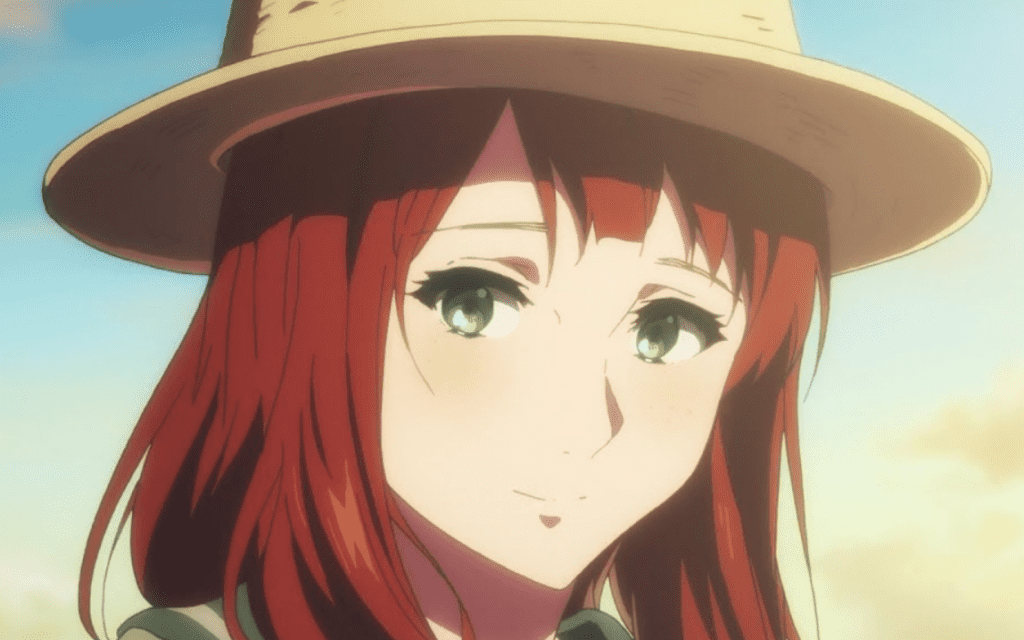 Luculia has always been the true friend of Violet; they met each other at the Auto Memo Doll Training School. Luculia graduates from the class and later helps Violet write a letter for Gilbert Bougainvillea.
Luculia has shown to be a genuinely kind and considerate person, always going out of her way to help other people. Despite losing her parents, she kept a positive attitude in life. If I describe Luculia in one word, that would be "Selfless".
She has a colonial charm and expressive demeanor in public but somehow struggles to convey her true feelings, especially to her brother. Violet helped Luculia by writing a letter for her brother.
Quotes
"A letter can sometimes be short and sweet, and still, express important feelings."
What You'll Need
Victorian Green Dress
Waist belt
Costume
Luculia is seen wearing different types of victorian dresses. Her most common look is with a green shirt-dress with puff sleeves and spread collar design which is quite common with cosplayers, she also wears a black belt around her waist.
So, all you need is a green victorian dress, and you can decide if you want a belt around your waist or not.
Hair
Luculia has long scarlet-red hair that reaches around her lower back, she has short hair in the middle and long bangs that frame her face, and her hairstyle is unique; she styles her hair with a braided headband. After becoming an Auto Memories Doll, Luculia decided to style her hair in a high ponytail wearing a yellow band.
Officially, Luculia has scarlet-red hair, but in some scenes, her hair looks orange-ish; many cosplayers have decided to go with reddish-orange because it's easier on the eyes, and it looks pretty nice.
So, you can either go with a scarlet-red dye that is more prominent or the reddish-orange hair dye, and you can style your hair into a braided headband with either a high ponytail or straight open.
Eyes
Luculia has olive-green eyes with large pupils and thick eyelashes, so a simple pair of light green or olive contacts will do the trick.
Makeup
Luculia has freckles on her face and blushy cheeks; you can use a powder blush to get those blushing cheeks and a freckle pen for the fake freckles.
Iris Cannary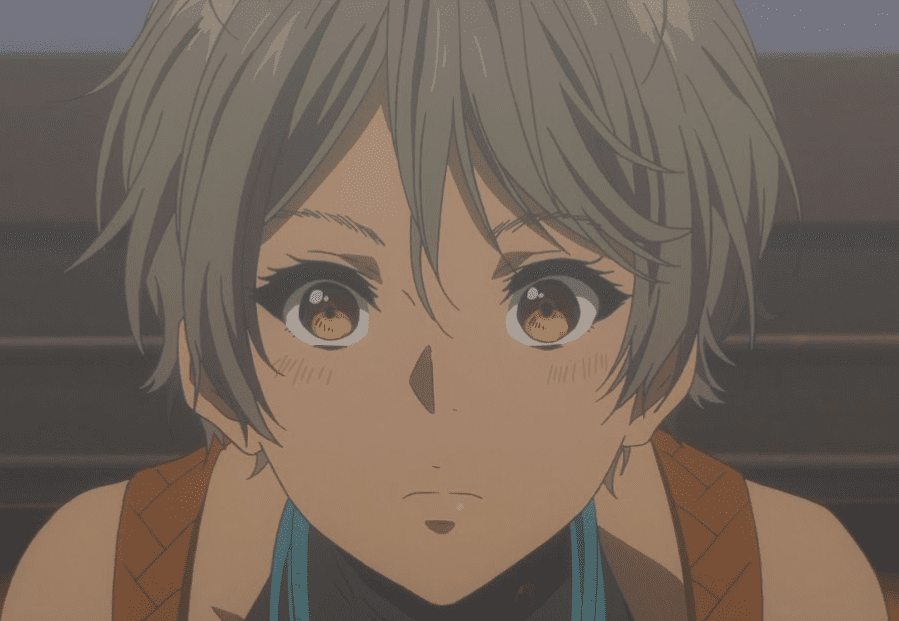 Iris is an Auto Memories Doll at the CH Postal Company; she left her small town to work in a big city and to make a name for herself.
She was initially against Violet becoming an Auto Memory Doll because of her bad people skills and no understanding of human emotions.
Iris never hesitates to say what's on her mind; she's very much like Benedict in that regard. She's jealous of Cattleya because of all the exciting job requests she receives; she openly expresses how much she dislikes the boring jobs as a Doll.
Quotes
"One needs a lot of courage to say the words 'I love you.' Especially if the feeling isn't mutual and it makes you want to flee."
What You'll Need
Black shirt
Gray undershirt
Gallus trousers
Apron
Wrist Guard
Black-gray heeled shoes
Costume
Iris goes overboard with her costumes; her work attire consists of a black sleeveless shirt with a gray sleeveless shirt underneath. She wears unbuttoned gallus white trousers of short length with black and orange striped suspenders.
She keeps a blue cloth tucked in her back pocket and wears a wrist guard on her left arm. Lastly, she wears gray lace-up heel shoes.
Hair
Iris has short cedar-brown or golden brown hair around her ear and bangs framing her face; she also has hair strands poking out from the top, much like the iconic anime hair antenna.
You can use a golden brown hair dye for the color tone and then style your hair down using a water-based pomade. Her hair is a little messy in the anime, but cosplayers have gone with a straighter look.
An alternative would be to purchase a straight golden brown wig.
Eyes
The most striking feature about Iris is her golden yellow eyes with large Irises and small pupils, so a simple pair of golden yellow contacts will undoubtedly rock your Iris cosplay.
Frequently Asked Questions
Question: Should you buy Pre-made Violet Evergarden Costumes?
Answer: In the case of the female costumes, Yes! It would help if you bought the pre-made costumes because of the complex designs. The dresses appear to be from the Victorian era in the late 1800s; you can purchase the pre-made dresses from Amazon or another well-known market for cosplay items.
Question: How old is Violet in Violet Evergarden?
Answer: At the very start of the series, when Gilbert adopted her, she was ten years old, and she was at the age of 14 when the war ended, and Violet began working as an Auto Memory Doll.
In the latest movie Violet Evergarden Gaiden, Violet is 18 years old when she finally meets Gilbert Bougainvillea.
Question: What is Violet Evergarden Real Life Location?
Answer: Violet Evergarden series is set in Leidenschaftlich. It is a country with old-school European culture with victorian architecture and costumes.
Even though Leidenschaftlich is based in France because of the Eiffel Tower, many buildings resemble the same architecture as those in Germany.
Conclusion to Violet Evergarden Cosplay Outfit Ideas
Violet Evergarden has so many unforgettable characters to cosplay as characters with unique personalities, styles, and characteristics so you can decide on the best cosplay for you.
The essential thing in any cosplay is the accuracy in detail and mannerisms, and you try to mimic the characteristics of your cosplay characters, such as how they speak, how they walk, and their way of talking.
Many characters are known for a specific pose, such as Violet's greeting whenever she meets a new client, Cattleya's hand folding pose. You must try to behave like the character and have fun doing it.
Facial expressions are also an essential part of any cosplay, so you need to focus on those if you want to leave a good impression, and lastly, you should edit your photos for any visual effects.