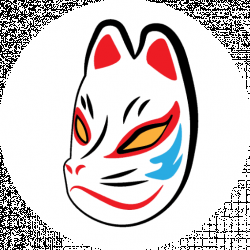 Latest posts by Core Cosplay Team
(see all)
Fire force is one of the up roaring anime of 2019. It quickly rose up the popularity charts and became the favorite for so many people around the community; I suppose people were looking for a new Shonen anime to get behind. The plot is not much different from your average Shonen anime, where the main character, along with his friends, fight back against the evil forces. However, the unique twist to this show is that all of their powers revolve around the element of fire, hence the name "Fire Force."
The synopsis of the show is very bland. The story follows the main character known as Shinra Kusakabe, who had a tragic past. According to what he remembers, his powers got out of control, and he burned down his last remaining family, including his mother and his little brother. But little does he know, he is in possession of a great power known as the Adola Burst. Becoming a teenager, he joins a fire company and begins protecting people from spontaneous human combustion.
There is no question that Fire Force is a fan-favorite show; the 2nd season was in progress before the first season even finished. The cosplay community didn't get left behind when it came to showcasing their love for the series, there are over thousands of amazing Fire Force cosplays that will make you hyped.
What I'll Cover
There are far too many characters to cover in this list, so I've decided to cover the most popular cosplayer choices from the community polls and social media. Here's what I'll cover.
Shinra Kusakabe
Maki Oze
Tamaki Kotatsu
Arthur Boyle
Iris
Hibana
Takehisa Hinawa
Leonard Burns
Haumea
Benimaru Shinmon
Off Duty Uniform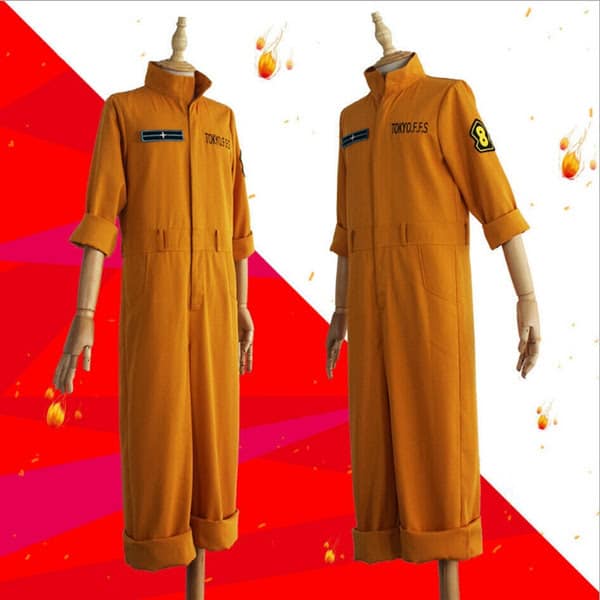 The off duty uniform that brigade members of Company 8 wear are a simple orange jumpsuit with a patch on the right arms with "8" on them, symbolizing that this is the company 8 bunker uniform and on the left breast side, you can "TOKYOFFS" as the Special Fire Force of Tokyo, the jumpsuit also includes belt loops.
To recreate something similar is quite easy. You can simply purchase an orange jumpsuit which, let's be honest, looks quite similar to the orange jumpsuit that prisoners wear. You can purchase the embroidered version of the company 8 patch and attach it to your left arm, sow the "TOKYOFFS" letters on your left side, and you have got the outfit.
Many characters in the list have different variations of wearing this outfit. For example, some characters wear only the bottom half part and tie the upper half around their waist, such the captain Akitaru Obi and Maki Oze.
Field Duty Uniform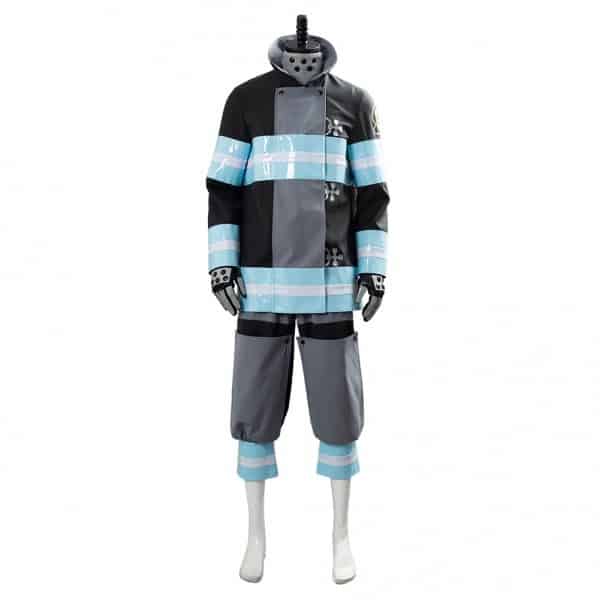 One of the more complicated outfits to recreate would be the Fire-Force jacket. Everyone company in Tokyo wears this uniform. To recreate this outfit, you need a black jacket and high black boots for the base of the outfit.
The costume is coated with blue and white lines on several parts of the outfit. You can use plain blue and white laces to recreate those. The buttons on his protective jacket are shaped like a cross similar to the back of his jacket. There is a patch with "8" on the left that symbolizes his brigade and simple black gloves with metallic plating on them. You can just use paper or any other glow material to achieve the metallic aesthetic.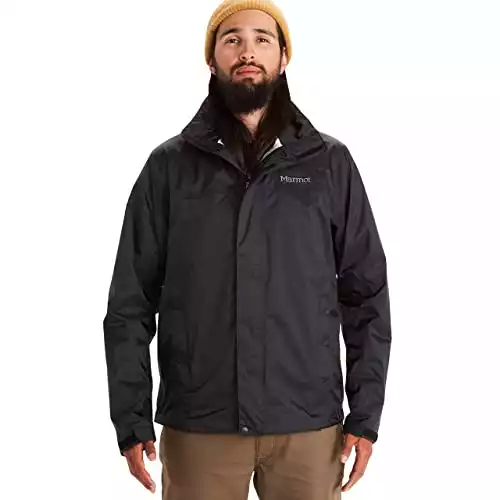 Marmot Men's PreCip Jacket | Amazon
The PreCip Jacket is reliable, value-oriented, full-function rainwear for backcountry and urban travelers alike. The PreCip Men's Rain Jacket features Marmot's comfortable and breathable NanoPro waterproofing technology.
Buy at Amazon
We earn a commission if you make a purchase, at no additional cost to you.
08/03/2023 02:34 am GMT

Shinra Kusakabe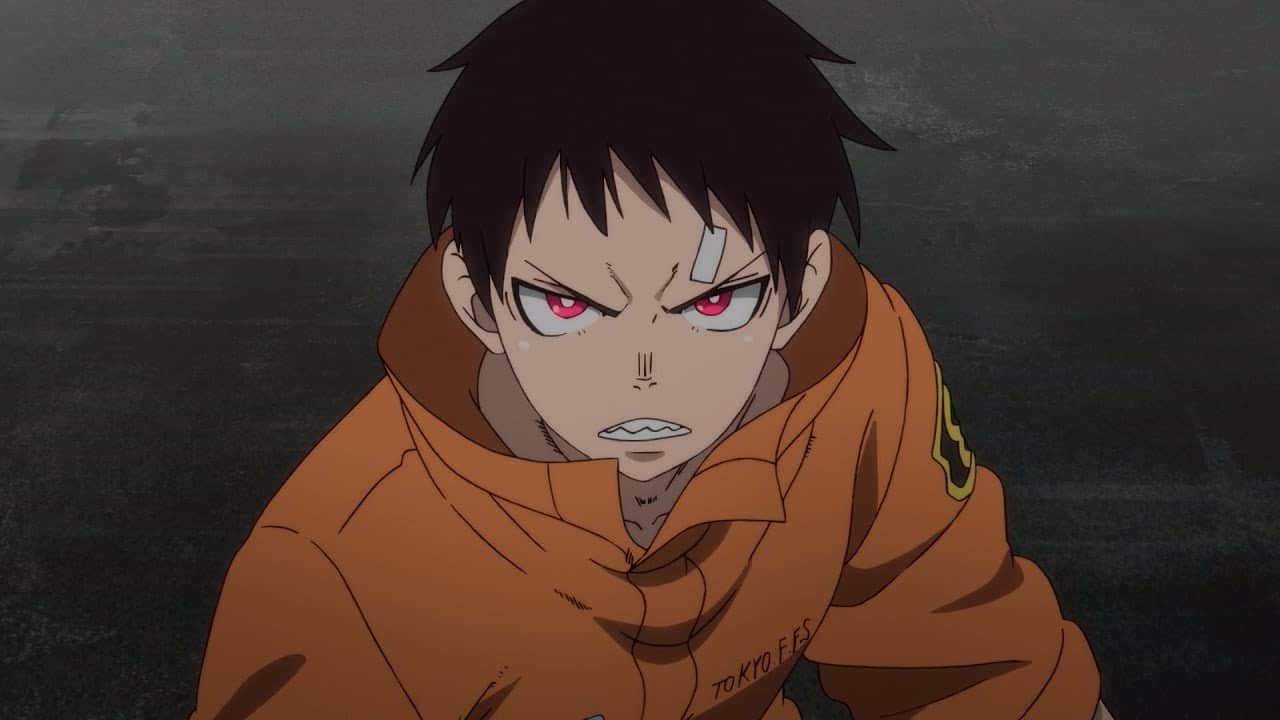 Shinra is the protagonist of the series Fire Force, third and fourth generation pyrokinetic and working with fire force company 8 under the leadership of Akitaru Obi, their fearless leader who is the tank of the company. He doesn't have pyrokinetic powers, which is why he relies on his equipment.
After the horrific accident that killed his family, he decided to keep the promise he made to her mother about being a hero and protecting everyone, he joined the special fire force company 8 when he was 17. His goal is to uncover the truth behind his family's death 12 years ago.
Shinra is quite awkward when it comes to conversing with females, and especially when he has to smile, his nervous smile is the funniest thing about him; it'll probably make you laugh every time you see it. Shinra is a very brave and determined person. He has a strong sense of justice and will always be there to help those who need him.
Costume
Shinra's uniforms were tailored by Maki Oze to reach only around his shoulders, so he can use his ignition ability without burning his clothes.
Hair
Shinra has short spikey black hair; it's not much different from an everyday look. You just need to have short hair and black hair, and that's it.
If you don't black natural black hair, you can always use hair color to achieve that.
Eyes
Shinra has crimson red eyes with white pupils instead of black, so get yourself a pair of crimson/red contacts to bring your cosplay to life.
Pose
It is something to notice that Shinra loves to do flashy entries, often seen to arrive at the last moment to save the day.
During his fight against Company 5, he does the basic superhero landing with his right knee bent on the ground and his right hand placed on the ground for support.
His original pose is standing sideways on his left leg and his right foot slightly off the ground like he is ready to strike at any moment.
Quotes
" It doesn't matter how many times I try to keep it inside, this demon. It wants to come out."
Maki Oze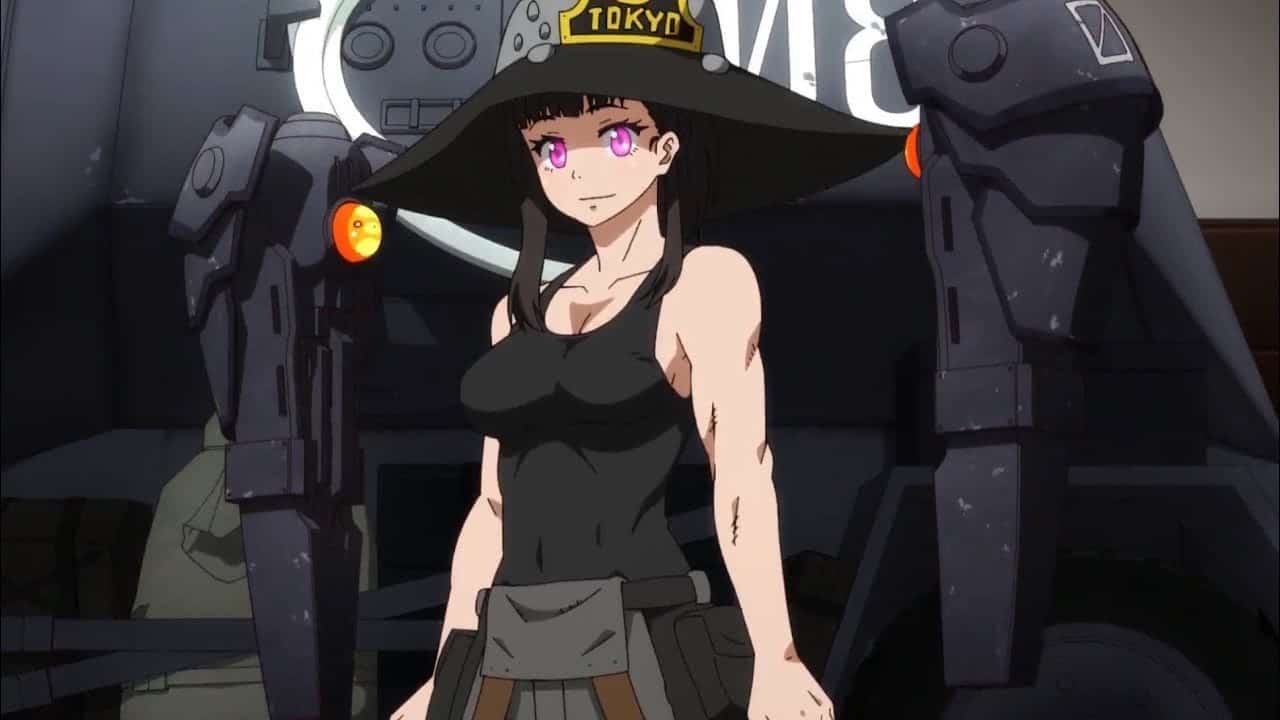 Probably my favorite girl from all of Fire Force, Maki is a 2nd generation pyrokinetic fierce and strong female member of the special fire force company 8, often seen around weights and heavy machines, she has developed quite a muscular figure which she is not proud of when her fellow fire soldiers tease her by calling her different names, she always mistakenly hear being called "gorilla cyclops" which makes her angry.
On her average day, Maki is like a big sister of the group, always doing chores around the base, helping her fellow fire soldiers in their training, and sometimes slack off because why not. She loves to play with her sentient fire spirits called Sputter (pusu, pusu); as seen in her fight against Shinra and Arthur she uses Sputter to take control over their flames.
Now, Maki is someone who may seem very reliable with a driven exterior who is focused on completing her missions but deep down, she is a hopeless romantic and quite insecure about her body.
Costume
Maki is often seen to tie her jumpsuit down to her waist and wear a black tank top underneath, that is the classic Maki we know.
Hair
Maki has decent long black hair reaching just under her shoulder that she ties in a ponytail with bangs over her eyebrows and hair strands framing her face.
For the hair color, you can simply use a hair dye to get the hair tone. Next is the fairly simple hairstyle. Alternatively, you can purchase a Maki's hair wig if that is easier for you.
Eyes
Maki has large gleaming purple eyes, so a pair of purple-colored contacts would make your cosplay come to life.
Accessories
Iron Owls: created by Vulcan, the iron owls are a pair of sturdy cannons that Maki can control using her fire spirits Pusu Pusu. She can control them very easily, making them float with her fire spirits.
Quotes
"As a sister and our lovable Iris, violence does not become you."
Tamaki Kotatsu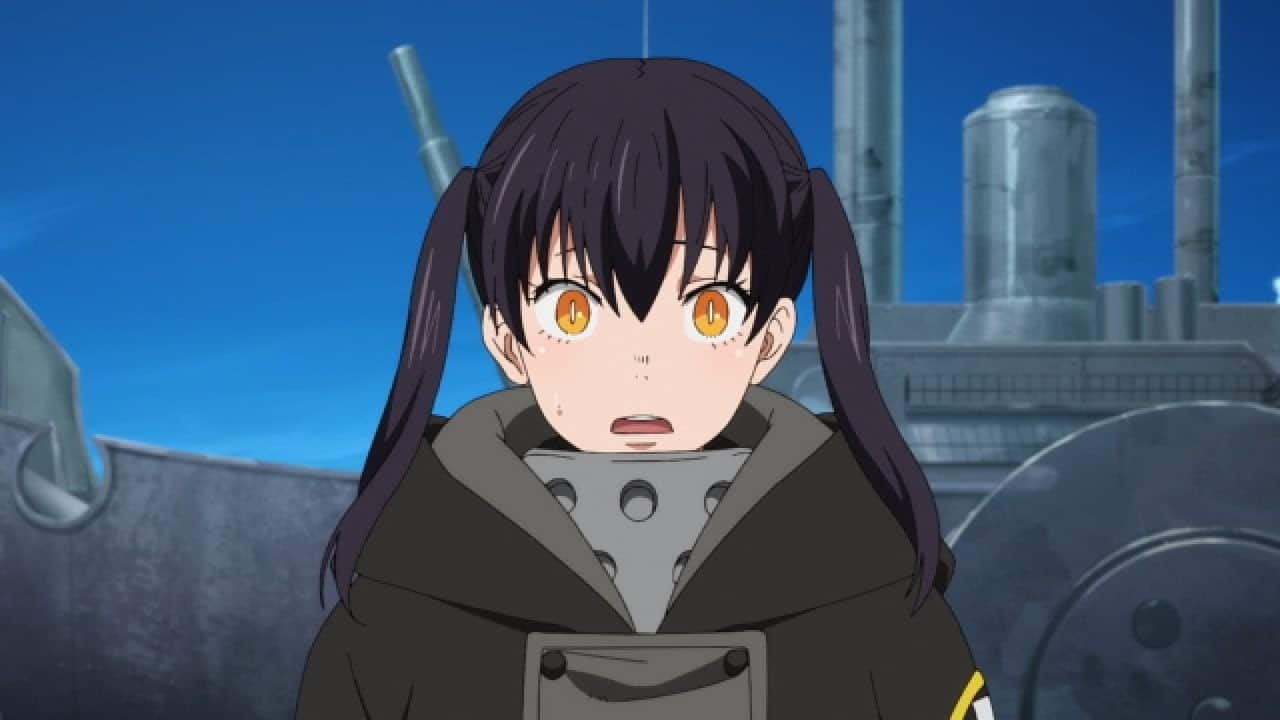 Now let's talk about the fanservice girl Tamaki Kotatsu; I swear it feels like the Tamaki is only in this show to provide fanservice, her character is very dull and lacks personality, and it is built around the shy tsundere cliche. She is a third-generation pyrokinetic, who was initially in Special Fire Force Company 1 serving under their lieutenant Rekka Hoshimiya who was secretly an associate of white-clad, Tamaki is now serving under company 8.
Tamaki is kind and friendly toward her teammates and children, at times, she is shown to be quite boastful and proud of her abilities but sometimes feels insecure about her conviction and strength compared to other members. She is shown to be clumsy, often stumbling into humiliating and embarrassing situations which she blames on others.
Costume
Tamaki never buttons her protective jacket, always leaving it open. She wears a black bra underneath.
Hair
Tamaki has straight black hair that she ties into twintails with asymmetrical bangs short around her eyes and longer in the middle.
You can use a black hair dye to achieve a similar hair tone and do the hairstyle yourself, or you can purchase a black hair wig and do the hairstyle yourself.
Eyes
Tamaki has golden eyes, with white verticle long pupils instead of black. So get yourself a pair of golden contacts to make your cosplay look even more amazing.
Ability
When activating her ignition ability, she gains cat-like traits and appearance, including twin tails, cat ears, and claws; she also Poses like a cat.
Quotes
"Why does my lucky lecher lure always have to activate?!"
Arthur Boyle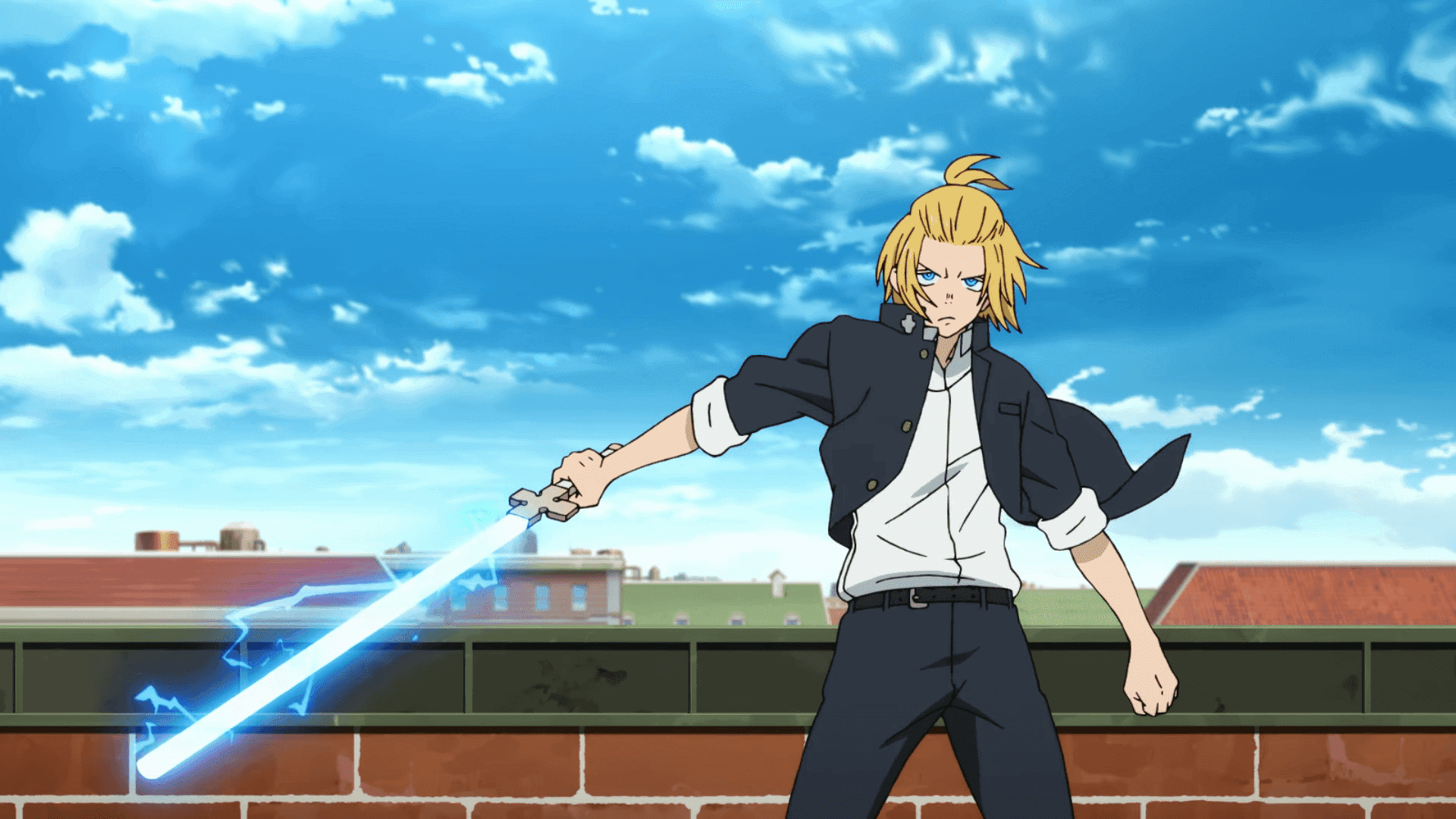 Arthur is a third-generation pyrokinetic and member of the special fire force company 8, a rival of Shinra Kusakabe. Though they with each other about almost everything, they know how to rely on each other during a battle, strategizing accordingly to take down their opponents.
Arthur is quite arrogant and often forgets manners when talking to his superiors, his most noticeable habit is perceiving himself as a noble knight from a medieval reality and the funny thing is, he becomes stronger the more he dissolves into this made-up reality.
Arthur was a kid when he became fascinated by this delusional reality where his father and mother were the king and queen of the kingdom, and he was the prince destined to save the world.
Costume
Arthur wears the standard field uniform with a green hoodie underneath his protective jacket.
Hair
Arthur has neck long shaggy blonde hair that he ties in a very funny way, in an upward ponytail to keep his vision more clear during battles.
Try using bleach before you apply the blonde hair dye, and you can use a simple hair rubber hand to make the ponytail. Alternatively, you can purchase a blonde wig and do the hairstyle yourself if that's easier.
Eyes
Arthur has gleaming blue eyes with white pupils instead of black, so a pair of blue contacts will make your cosplay look amazing.
Accessories
Ever since Arthur was a kid, he always fantasized about being a noble knight in a medieval universe; he bought the fire-resistant carbon sword which he could power up with his ignition ability.
Quotes
"Everyone is equal before the round table. Don't sweat it."
Iris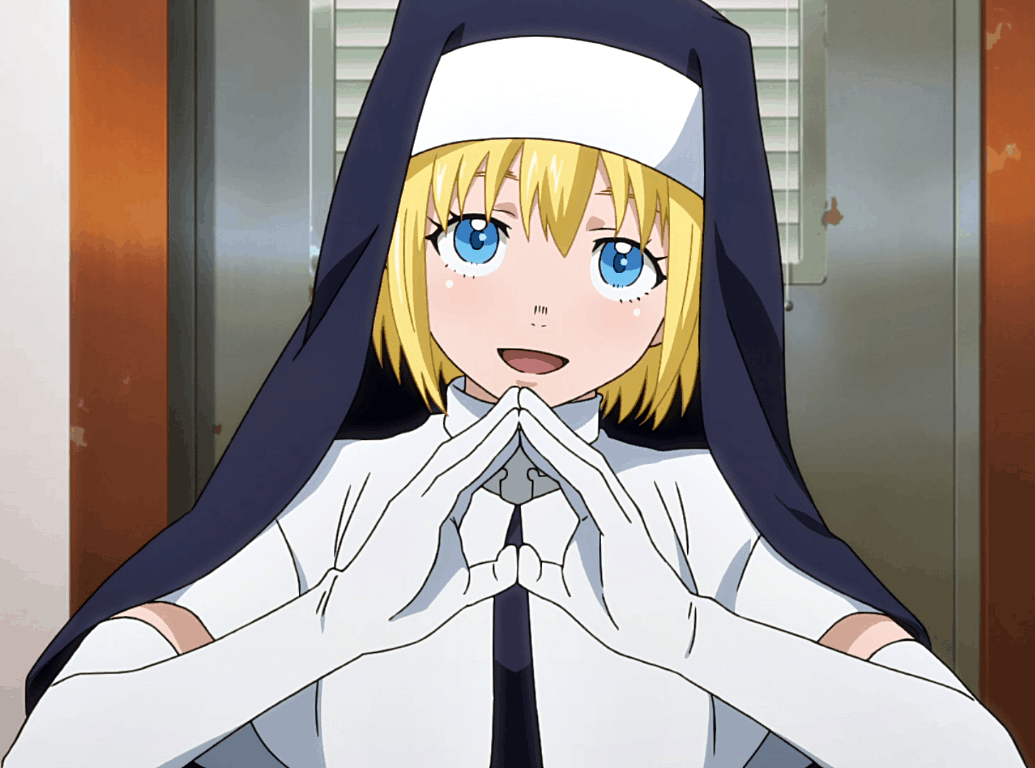 Iris is the fan-favorite "must protect that smile" girl from the series. She used to live and study at the Holy Sol Temple along with Hibana. After the temple was burned down she escaped from it with Hibana and separated from her to join the Special Fire Force Company 8. She uses her prayers to get rid of the infernals who take over as a result of the spontaneous human combustion, later revealed that she is also one of the eight pillars and the doppelganger of Amaterasu.
Iris is a kind-hearted shy person; she is always helpful toward others and does her best no matter what. Despite having no combat experience, she is not afraid to fight the infernals; she appears to be a private person, always keeping her feelings in check.
What You'll Need
Costume
Iris wore the standard nun uniform. Every company has at least one sister in their brigade for chanting prayers. Recreating her costume is fairly easy if you all the materials, you need a basic dark blue nun hat with a white front, a white shawl that splits in the middle, and has a white cross as the patch that is worn on top of a dark blue sleeveless top, white long gloves, thigh-high sandal socks and a white dress slit dress with a dark blue cloth covering it.
Hair
Iris has short blonde hair that reaches around her neck with bags around her eyebrows. Iris has light blonde hair so try using bleach before you apply the hair color.
You can purchase a short blonde wig if you prefer that.
Eyes
Like many blondes in anime, Iris has blue eyes with regular black pupils, so get yourself a pair of blue contacts to make your cosplay come to life.
Pose
The most common hand gesture is when the fire soldiers chant the prayer and connect their hands in a way, making an upside-down heart and ending the prayer by saying Latom, which lets the infernals pass on to the afterlife.
Quotes
"If you pray with all your heart, you can find comfort, and people have been saved by it."
Hibana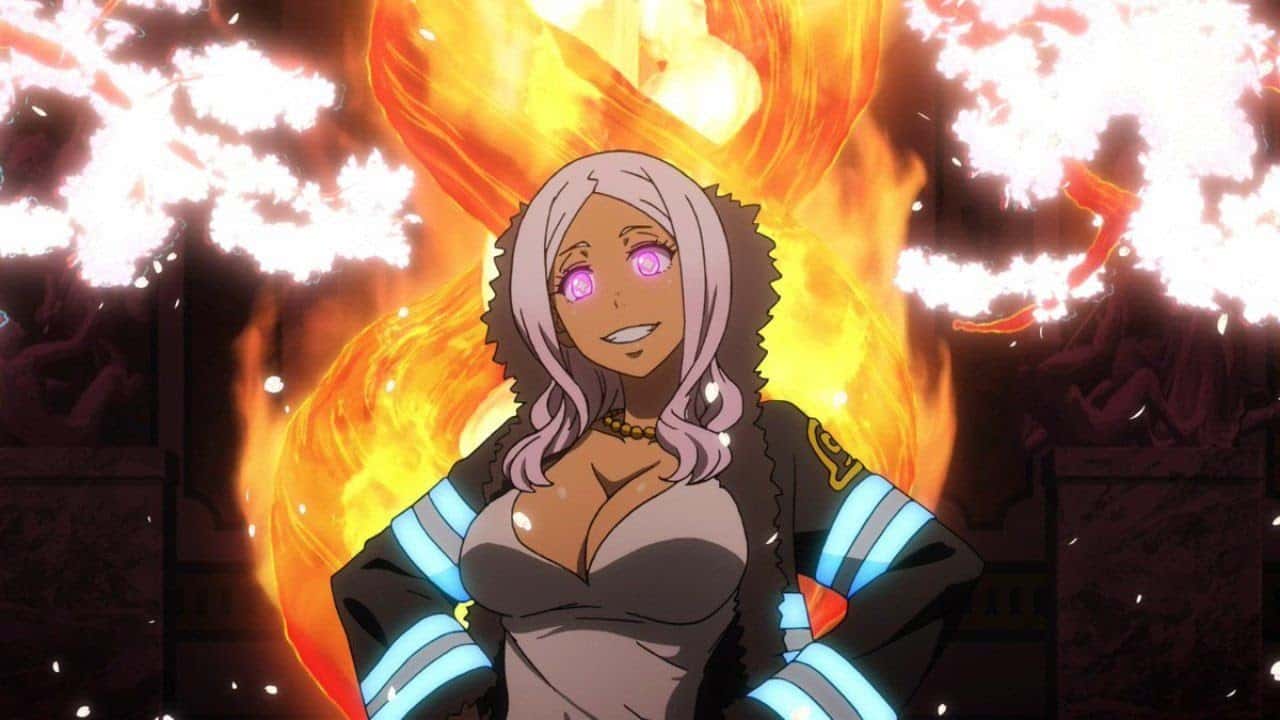 Hibana is more popularly known as "Princess Hibana" is a third-generation pyrokinetic and the captain of the Special Fire Force Company 5; she is also the childhood friend of Iris during their time in the Holy Sol Temple, Hibana was always the big sister for all the children there, she was looked upon as their beautiful and strong hero, being the only pyrokinetic at the time she would her use powers to create fiery flowers to impress the other kids.
On an unfaithful day, due to the spontaneous human combustion, one of the children was overtaken by an infernal and started destroying the church and killing everyone was in it at the time. Hibana saw this and ran away with Iris leaving the church forever. Soon after that, she parted ways with Iris to join Company 5 and become their captain.
Costume
Hibana wore a knee-high slit dress underneath the protective jacket; also her jacket had puffy fur outlines a very different design.
Hair
Princess Hibana has shoulder-length pink hair that is split in the middle with her bangs framing her face, reaching down to her chest, her hair is slightly curled around the end.
You can use a mellow pink hair dye to achieve similar color and use a Curling Iron for the slight curls in her hair. You can also purchase Hibana's hair wig and move on to the next step.
Eyes
Probably the most beautiful eyes in all of Fire Force, she has blue eyes with flower-like pink pupils. During her battle with Shinra, her eyes had a pink shade.
You can either purchase simple blue contacts or the exclusive princess Hibana contacts with heart-shaped pupils.
Accessories
Beads necklace: Hibana wore a brown beads necklace throughout the series.
Japanese hand fan: Hibana treats herself as royalty and uses the traditional Japanese paper fan. She can use it with her ignition ability to send in a wave of fire.
Quotes
"You do know, don't you, that there is no God, let alone heroes in this world?"
Takehisa Hinawa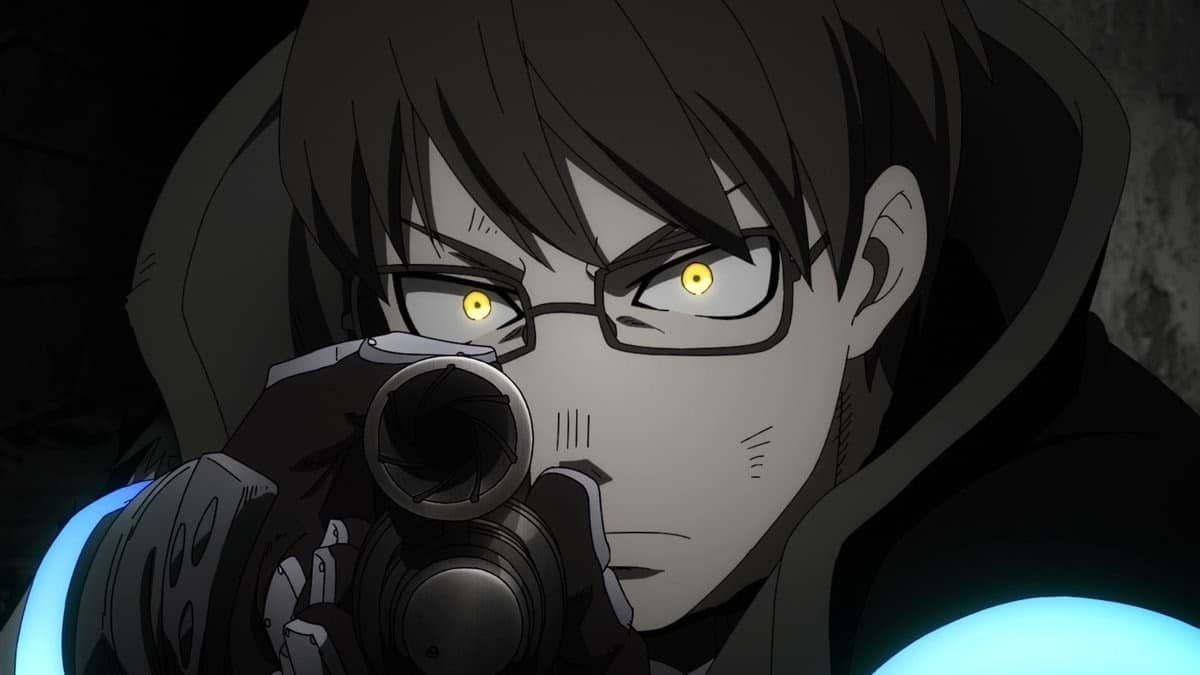 Takehisa Hinawa is a 2nd generation pyrokinetic and the lieutenant of the Special Fire Force Company 8. Before joining the fire force, he was a member of the military and the direct superior of Maki Oze. He would always see Maki as someone who always gave her best in everything and would often discuss it with his friend Tojo. One day while they were having casual talk while reading, Tojo was combusted and was overtook by an infernal; Takehisaa could not bring himself to shoot his friend.
While walking in the town, he came across a double simultaneous human combustion case and saw Akitaru arguing with the authorities about protecting the loved ones of the Infernal and rushes in. Takehisa joined him, even though being hesitant, he says that chant and takes down the infernal.
Costume
Takehisa wore the standard Fire Force uniform, even while he was at the bunker or out on the field.
Hair
Takehisa has short brown hair styled in long side fringes, slightly toward his left with bangs around his eyes.
If you already have short hair, all you need is a brown hair color, and you'll be done. And If you have long hair, just get a haircut with long fringes.
Eyes
Takehisa has very small brown eyes with a hint of red, often glowing yellow when he uses his ignition ability. Simple brown contacts will do the trick here. Make your cosplay shine above the rest.
Accessories
Takehisa is a gun expert; he uses various guns from a simple handgun to a full auto SMG. He can use his ignition ability to control the speed of the bullet and the impact.
Quotes
" Damn you, Obi, making me a captain when the 8th isn't even big enough to call a company, I'll feel guilty leaving you to run things on your own."
Leonard Burns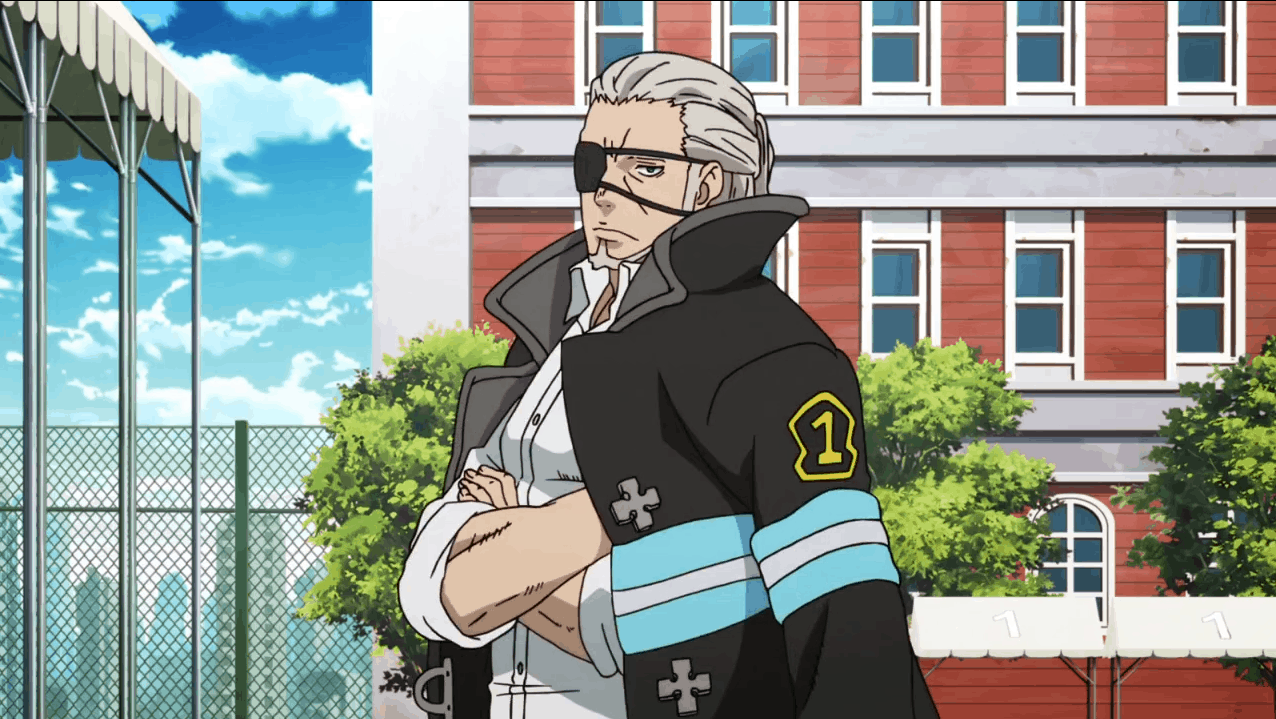 Leonard Burns is a third-generation pyrokinetic and the captain of the Special Fire Force Company 1. He was there when Shinra's house burned down, and he lost his family, and somehow is connected to it. Shinra recognizes him from 12 years ago and tries to get to answer a few of his questions which doesn't help him any conclusion.
He used to work for the holy church, serving them as it was part of his duty, but his belief in the church started to waver when he came across the Evangelist. Leonard has an intimidating personality; he is respected and equally by his fellow fire soldiers. Despite seeming logical and calm, he is a stubborn man; he will do whatever is in his power to achieve his goal.
Costume
Leonard burns didn't follow the dress rules. He was always seen wearing his white shirt with cuffs folded to his elbows and the Fire Force protective jacket loosely hanging over his shoulders.
Hair
Captain Leonard has long grey wavy hair that he ties in a tight ponytail in the back. His hair often blows up he uses his ignition ability.
If you have decent long hair, you can use a grey hair dye for the color and some hair wax to achieve wavy hair. You can also purchase the Leonard Burns wig and skip over this part.
Eyes
Leonard has green-colored eyes. He wears an eyepatch on his left eye, and his eyepatch is engulfed in flames when he uses his ignition ability.
You can simply use the eyepatch and ignore the contacts as I've seen many cosplayers do the same, but if you want to go the extra mile then you are ahead.
Pose
Leonard burns have an intimidating personality, and he stands firm while folding his arms, observing the situation like most intimidating guys in anime.
Quotes
"You will need to wield a hotter flame than that if you want to cut me."
Benimaru Shinmon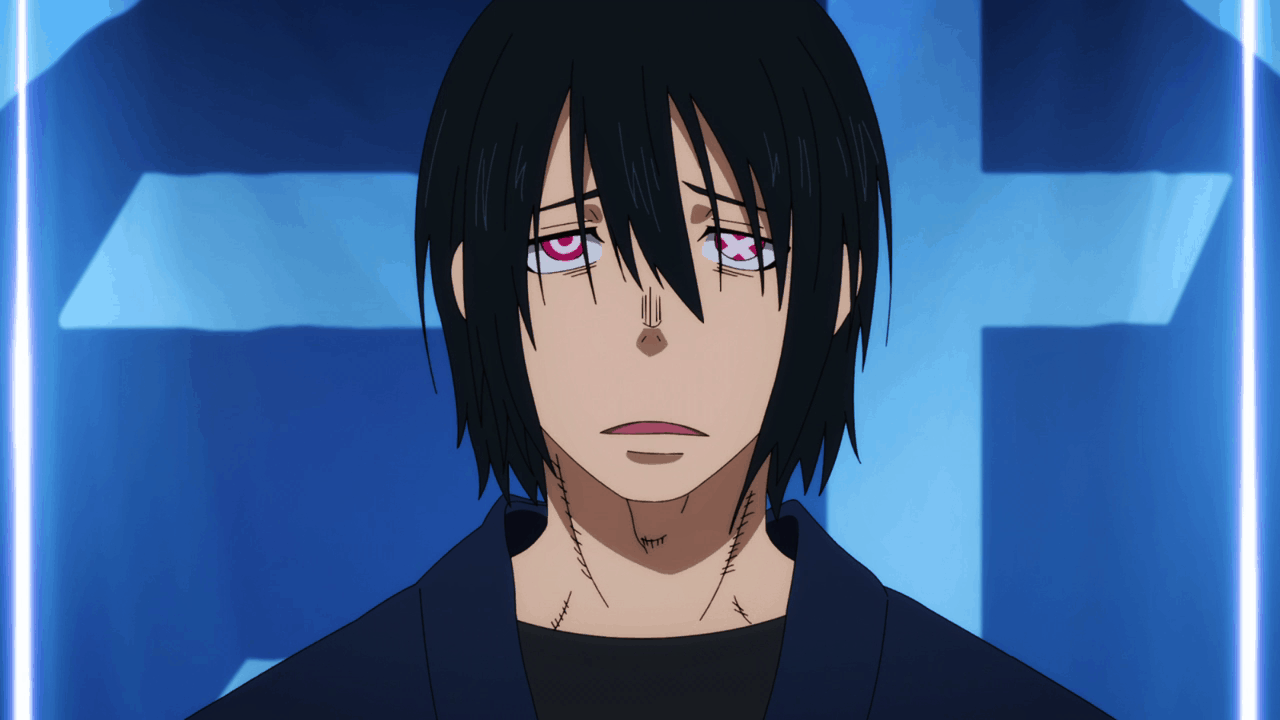 Benimaru is a hybrid 2nd and 3rd generation pyrokinetic and the captain of Special Fire Force Company 7. He is incredibly strong and has good control over his powers, he is quite stubborn when it comes to his decisions, he prefers to work solely or with his brigade, he doesn't like to involve other companies or collab with them regarding any issue in his district.
He cares deeply for his brigade and the people of Asakusa and is respected in return. Whenever someone from his district turns into an infernal, Benimaru comes as the shinigami to take their life. During the "attack on Asakusa" arc, Benimaru was hesitant to take charge as the leader but after some encouragement from his brigade and Shinra, he stepped in to take matters into his own hands.
What You'll Need
T-shirt, Sash
Trousers
Black boots
Costume
Benimaru wears traditional clothing when he's not on his missions. He wears a blue hakama on top of a black shirt and a sash around his waist. As for the bottom half, he wears the standard Fire Force trousers and black boots.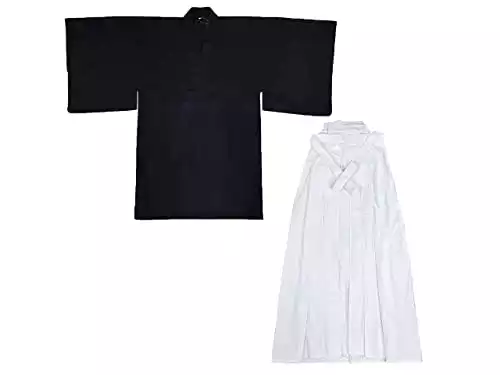 Hair
Benimaru has neck long straight black hair with bangs reaching to his nose that partially cover his face. You can use a hair product to make your hair silky straight and style your hair accordingly for a similar look. If you have short hair, you can purchase a neck long hair wig and do the hairstyle.
Eyes
Benimaru has the most unique eyes in all of the Fire Force that I have seen. His right eye has a white iris encircled in red and a red pupil. His left pupil is a white cross with a red iris.
There is no alternative to his eyes; you either purchase the exclusive Benimaru Shinon contact lenses or finish your cosplay with them.
Accessories
Matoi: A flag used by the firemen in the Edo period of Japan to inform the civilians that there is a fire nearby. Benimaru and his brigade use these flags to fly around the district and even use them as spears to take care of the infernals.
Quotes
"Don't whine to me about losing an arm, you can never defeat me."
Haumea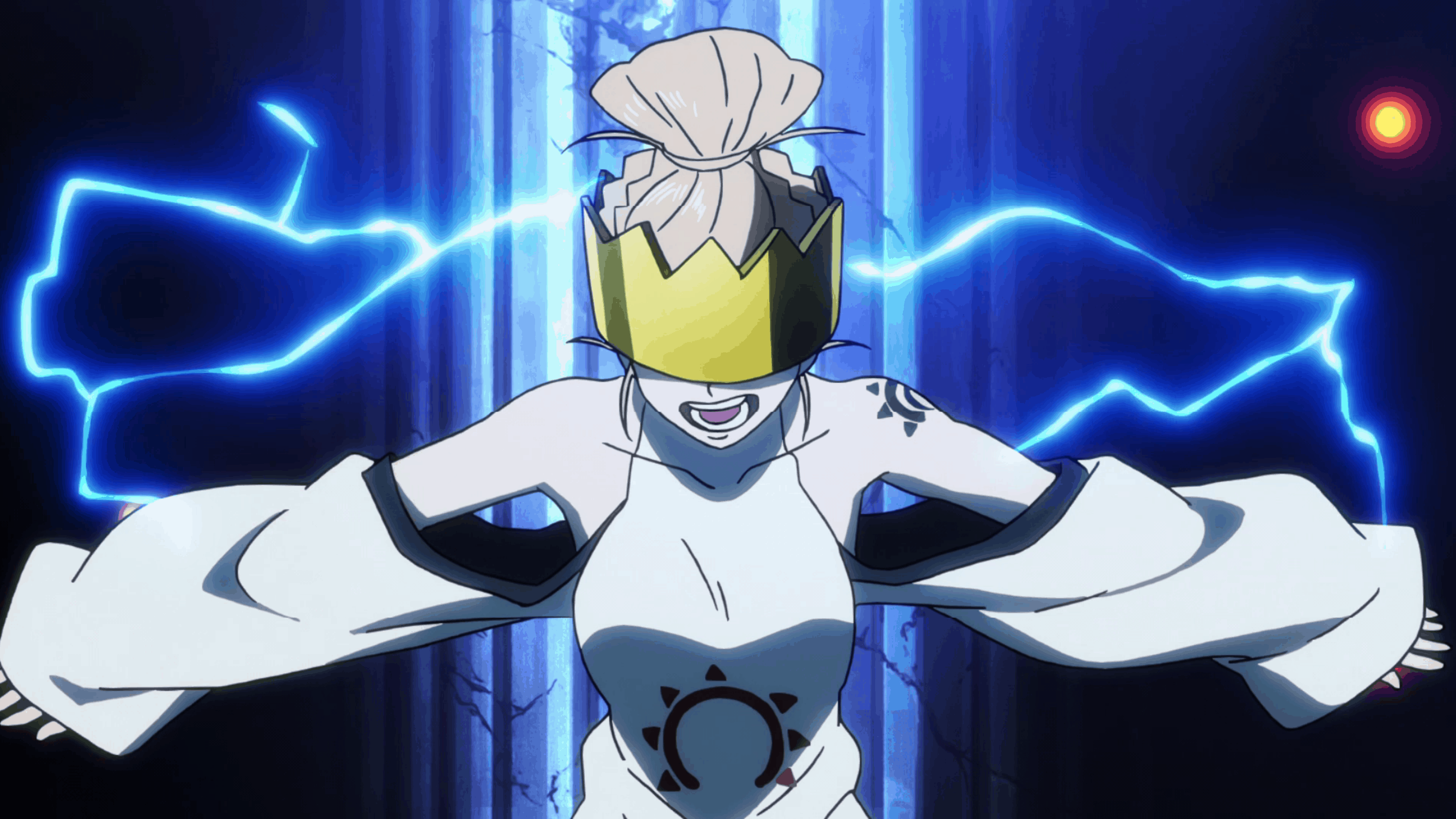 Rising up the scale of popularity is the Haumea, and not just among the anime fans, but in the cosplay community, every day you get to see a new Haumea cosplayer showing their love for the character.
Haumea is a minor antagonist of the series and a member of the white-clad organization. She is a third-generation pyrokinetic who, just like Shinra, possesses the Adolla Burst and is among e one of the eight pillars just like Iris.
Earlier in the series, she was shown to be quite an observant, nonchalant character but soon revealed how enthusiastic and upbeat she is. Often teasing Sho despite being his equal, she treats him like a child and gets what she wants from him using his abilities.
Costume
Haumea's outfit basically consists of three things.
The first one being her headdress, she wears a golden crown like a visor that covers most of her facial features except her mouth.
The second one is her white baggy jumpsuit that is wrapped around her neck which exposes her shoulders and the side of her breasts, she also has a sun-like pattern on her robe.
Lastly, it's her unique white sandals that have an amazing design, covering most of her feet except her toes and heel.
Hair
Haumea has pale blonde hair that she ties into a hair bun on the top and hair bangs on the side.
You have to use bleach before you apply any hair color to get the hair tone right, and then it's fairly easy to the hairstyle. You can even purchase a pale blonde hair wig if u don't feel like dying your hair.
Eyes
Haumea covers her eyes with a golden crown, wearing it like a visor or sort, covering all her facial features except her mouth.
Facial Expression
One of the most noticeable characteristics of her character is her vicious smile; she is always smiling, giggling, or doing an evil laugh.
Quotes
"It will only take me a few moments to crush all these guys."
Where to find things you need
Frequently Asked Questions
Question: Is there any romance in Fire Force?
Answer: I think I might know why people are curious about the romance in Fire Force, to answer once and for all. There is no romance in Fire Force; there is comedy and instances where their characters might feel affection towards one another.
All characters of Company 8 treat each other as a family. Shinra respects both Iris and Maki and cares for them as a family.
Princess Hibana is in love with Shinra, but we all that it's just one-sided and not going anywhere.
Question: Is Fire Force worth watching?
Answer: Definitely, Fire Force is not just a lame copy of the ongoing trendy anime. It's a unique Shonen anime with so much offer much like the popular My Hero Academia, with such a rich storyline, amazing characters, and great animation that will make you excited with every episode.
Question: Who is the strongest character in Fire Force?
Answer: There is no doubt that Benimaru Shinmon is the strongest character in Fire Force. He has complete control over his powers. His nickname is Akasuka's King of Destruction, we have seen him take down the entire Company 8 single-handedly, including Shinra and Arthur.
Conclusion to Fire Force Cosplay Outfit Ideas
There is something so amazing to see cosplayers doing cosplays from Fire Force with so many amazing characters to choose from, all with different and unique personalities. You can be whoever you want to be, you can even experiment with their unique characters and traits, but you should always choose the character you want to cosplay as, so you can enjoy it.
I would say that the most important for any cosplayer is to stay in character at all times. For example, Arthur is always living in his world boasting about his skills so maybe keep that in mind while you talk to people.
Tamaki Kotatsu is a klutz no matter what you say. She constantly gets into awkward situations and ends up embarrassing herself, and she also has a cheerful personality, so try talking to people with a smile.
Takehisa is their fearless leader who always has a scary aura to him, and you can try looking intimidating with a scary, serious look on your face.
Every little detail will make your cosplay one step further to you enjoying what you love, so just have fun.